Your summer was truly unforgettable; it was filled with fun under the sun as well as laudable fashionable moments. You loved donning your white dresses everywhere and as much as you could, and they looked gorgeous on you! You would want to continue sporting them this fall, of course, but you fear they will not be appropriate for the cold weather. Well, we have news that is sure to delight you. There are some sure-fire ways to continue wearing your favourite white dresses and we will be mentioning them in this article, so don't let the cold weather give you second thoughts!
Just because summer is over, it does not mean you have to pack everything away – including the gorgeous white dresses you are still crazy about – to make way for your winter wardrobe. Hold on to those white frocks, don't put them away just yet, even as you start bringing out your winter essentials. In fact, we will be providing some ideas and inspiration so you can work out how to wear your white dresses effortlessly this fall and look amazing!
Image Source: Jason Hargrove
In case you're looking for your outfit for an upcoming formal event, there are some stunning simple short white prom dresses and other dresses for various occasions that you can find online. Just a quick search through Google should lead you to stores offering various options and you are bound to find the styles you go for. The trick is, you just have to wear those white dresses right. As soon as you know how to dress up your white dress favourites, you'll be super confident to wear them. Instantly feel your mood lift as you wear the magic of the white dress and feel free to wear it anywhere in the fall.
Tips On Wearing A White Dress
Depending on where you live, a white dress in fall can be a little optimistic. Moreover, we are going to provide some top tips on pulling off your favourite little white dress even if the weather isn't in your favour. Just make sure you have your favourite wardrobe staples stocked up like boots, jeans, jacks and more.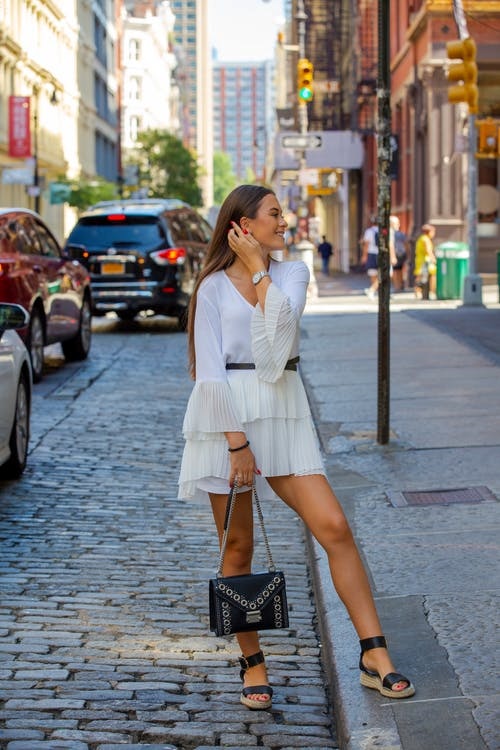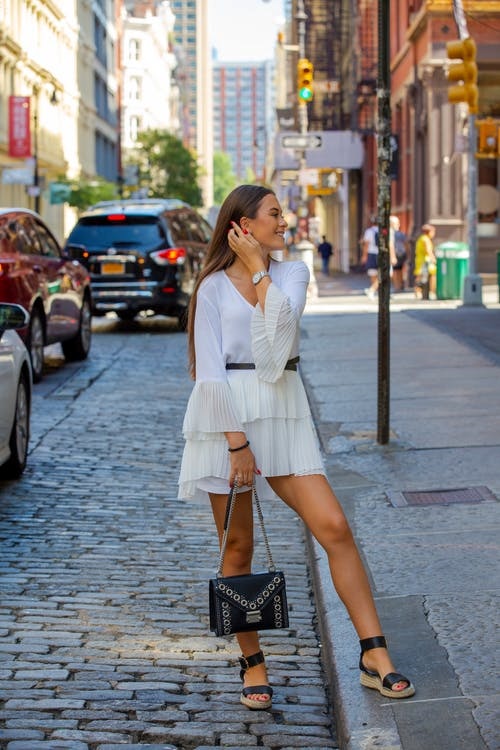 Image Source: Pexels
Get a black or leather belt – A white smock dress, for example, can be wonderful for fall but you will need to clinch it with a thick belt. This provides a little more security and warmth when the wind sets in and things get a little chilly. Put on a thick pair of tights underneath and throw on a pair of those trusty jeans or leather jacket on top and you are all set to go. A clinch waist belt is also a great way to complement your hour-glass shape and figure in many ways.
Get the jacket in check – As we already mentioned above, you are going to want to invest in some solid jeans or leather jacket for the fall if you plan to sport your white dresses. We prefer these types of jackets as they are flexible. They work really well with white dresses and compliment them no matter what the occasion. They are also great for providing the warmth and comfort you need now that the weather is getting colder.
Get a great pair of boots – You will want to ensure that your feet are kept warmer, so it is best to forget about those sandals and pumps for now. With your white dress, you will want to get knee-high or ankle boots to complement the look. Leather or suede seems to work really well with white dresses whilst keeping your toes snug as a bug in a rug.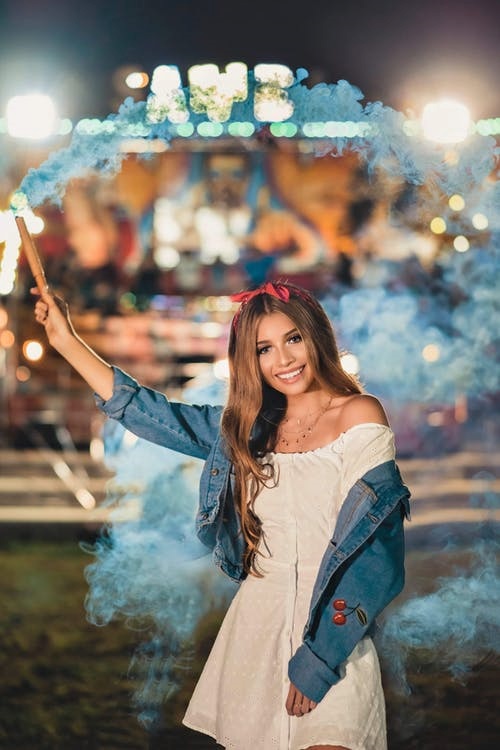 Image Source: Pexels
This is only the tip of the iceberg and there is a lot more you can do with your white dress this fall. With just a few tips mentioned above, you should have an idea on how to continue wearing your favourite white dresses from summer. The start of the cold season should not stop you and instead, you should take it as an opportunity to get more creative with what you wear. Your white dresses are just as flexible as your black ones, so feel free to experiment whether it's with suede boots or cable knit cardigans!
This article is published in partnership with Mediabuzzer.
YOU MIGHT ALSO ENJOY:
Get Kylie Jenner's 22nd Birthday Wardrobe
20 Trendy Winter Outfit Ideas To Keep You Warm
Get Gigi & Bella Hadid Outfits At The VMAs
5 Famous & Inspiring Celebrity Style Icons