Usually, I wouldn't think that words such as quilted and mule can be used together, but Bottega Veneta managed to do that. At the brand's SS20, a collection of mules in quilted design were showcased. Ever since then, public figures and influencers all over the world have been going nuts about this quilted shoe trend!
Here you can see Leonie Hanne styling a pair of Bottega Veneta's baby blue quilted sandals, matched by a cassette shoulder bag.
It didn't take long for other retailers and brands to get inspired and create their own quilted styles. Thus, today I'm going to show you some of the best budget-friendly quilted mule sandals, inspired by Bottega Veneta.
Ahead, you'll find some great options to get you inspired for your spring and summer outfits. From day to night, you can wear these stiletto mules with jeans, dresses and everything in-between. Available in a plethora of colours, I'm sure you'll find a pair of sandals for every occasion!
Disclaimer: The products below do not infringe on the original brand's copyrights or trademarks – these are designer-inspired pieces.
Designer-Inspired Quilted Mule Sandals

Black Quilted Mule Sandals here | White Mule Sandals here
These open-toe quilted mules are available in black and white in synthetic leather. They are currently selling for under $50 and you can pair them with any outfit! Also, the 9cm heel will definitely keep your feet comfortable.

Designer-Inspired Blue Quilted Mule Sandals here | Nude Quilted Mule Sandals here
If you liked Leonie Hanne's blue Bottega Veneta sandals and are looking for a similar budget-friendly design, then you might like these designer-inspired mules by Essex Glam. Personally, I prefer the nude option as it gives you more opportunities when it comes to styling.
Related: Affordable Quilted Handbags To Fall In Love With

Ego Quilted Mule Sandals in red here | Quilted Mule Sandals in Purple here
Want to add some colour to your outfit? No worries! One of my favourite shoe retailers is currently selling these amazing square-toe mules in vibrant red and purple. Moreover, these designer-inspired sandals are currently half-priced at $29.99!

So Toxic Quilted Stiletto Sandals by Akira
Certainly, these funny-named sandals aren't toxic but really give that designer-inspired look. With a quilted band and 4inch heel, you can these mules in either black or nude!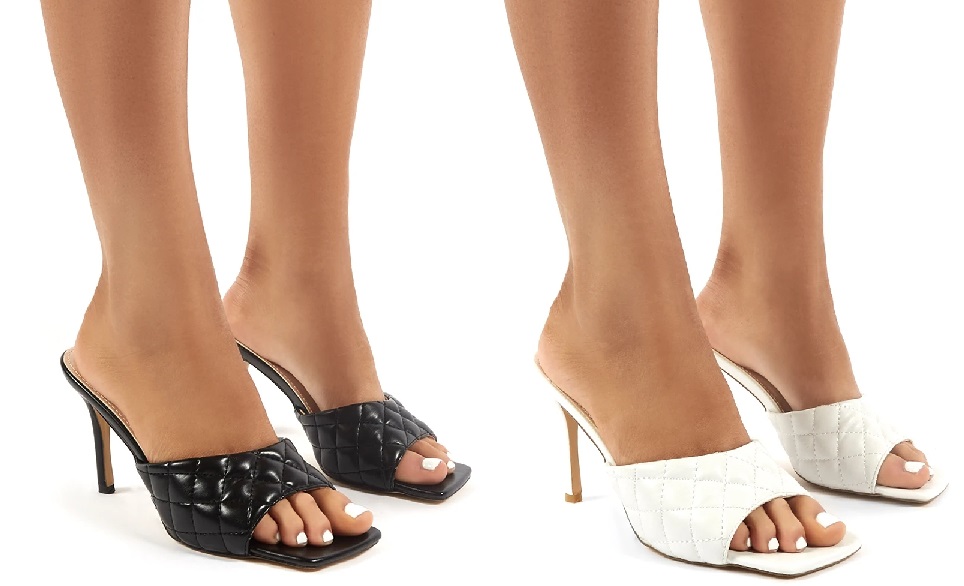 Public Desire Quilted Mule Stiletto Sandals here
Apart from Ego Shoes, Public Desire is another great retailer to shop for trendy shoes and clothes. The brand has taken inspiration from Bottega Veneta and designed their own version of the trendy quilted sandals. Pair with jeans for day drinks, or a cute mini dress for date night. As per PD's suggestion, pair with jeans for day drinks, or a cute mini dress for date night.
What to do you think about these budget-friendly quilted sandals?
YOU MIGHT ALSO ENJOY:
Classic & Contemporary Vibes From Marge Sherwood
Aspinal of London Is Having a SUMMER SALE!
Kate Spade's Elephant Bags & More Collection
Amazon Fashion | What I Bought In January '20