Handbags and accessories are just getting cuter and more creative with time! I just came across Kate Spade's latest 'tiny elephant collection' and my day was immediately brightened. If the design looks similar to you, that's because Loewe had a huge success with their elephant bags. Actually, the public responded so well to the elephant design that the Spanish brand decided to feature it on their own phone case line!
Without a doubt, a lot of other brands have taken inspiration from the luxury designer. Yet, Kate Spade's tiny elephant bags can bring out the child in you! They are adorable, affordable and colourful. Moreover, the elephant motif is across a variety of other accessories. You will find on scarves, wallets and even bag charms!
Don't believe me?!
Just scroll through to get a glimpse of Kate Spade's adorable Tiny Elephant Collection!
Disclaimer: The products below do not infringe on the original brand's copyrights or trademarks – these are designer-inspired pieces.
Tiny Kate Spade Elephant Bags

Blue Dotted Kate Spade Elephant Bag here | Tamarillo Elephant Bag here
Kate Spade might have taken inspiration from Loewe when designing these bags, but they even cuter in their own way. I love the fact that you can see all of the details of the little elephants. From the shiny gold-tone stud eyes to the zip which is transformed into adorable little tail. Both bags are made from Italian leather and have a luxe suede interior to keep all of your essentials. Even though I like the blue-dotted design, I really prefer the colours of the other tiny elephant. It comes across warmer and I can see the potential of styling it with a lot more colours!
Kate Spade Wicker Elephant Bag here | Wicker Elephant Bag here
If you thought the leather designs were cute, how about these wicker versions? I can't even say that they are inspired by Loewe's bag anymore. Actually, the only resemblance they have is the word 'elephant'! Although both of these bags feature an elephant's trunk, I would say that the main body looks more of a little pig. Like those piggy banks, you used to have as a child, right?! To say the least, that makes the design of the bags even cuter. These little wicker bags are also perfect for the beach or as an accessory for your picnic outfit. Moreover, the bags open from the top just like a picnic basket!
The Adorable Elephant Accessories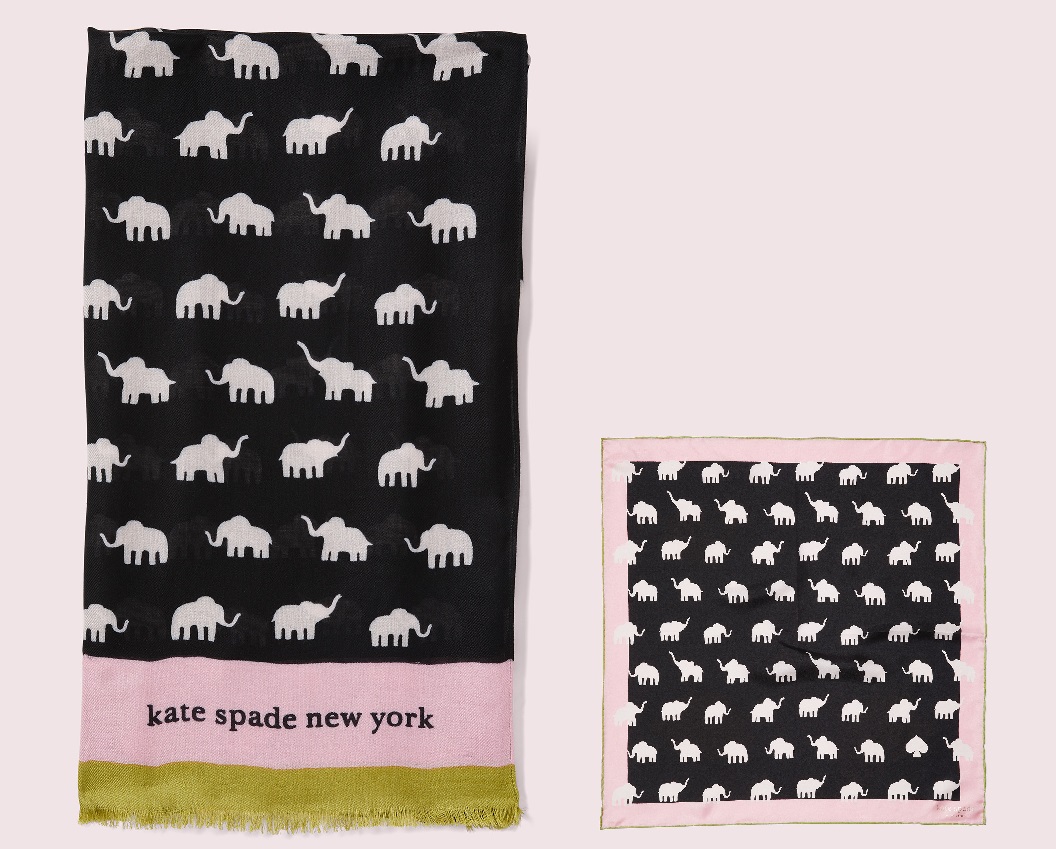 Kate Spade NY Elephant Scarf here | Elephant Bandana here
If you liked the tiny elephant as a bag, you'll probably enjoy it as other accessories too! Here the elephant motif is present on a black oblong scarf and a bandana. If you're feeling chilly but want to keep the fashionista in you, then definitely go for the scarf. It will surely make you smile no matter the weather conditions. Otherwise, you can opt for the bandana during the warmer months. You can wear it on your neck, head or even compliment a ponytail hairstyle!

Beaded Tiny Elephant Continental Wallet here | Beaded Tiny Elephant Small Wallet here
You can also find the elephant motif on these gorgeous wallets! Pink mama and baby elephant are beaded onto contrasting black smooth leather. You can get the continental wallet for your growing card collection or keep it minimalistic with the small option. Either way, you will definitely add a bit of playfulness into your everyday accessories.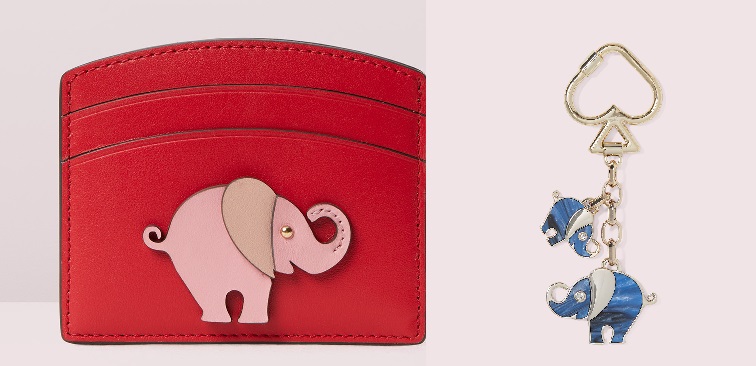 Tiny Elephant Cardholder here | Elephant Bag Charm here
Speaking of tiny elephant accessories, what do you think about this cardholder and bag charm? The designer inspired motif is appliquéd on a red leather cardholder. It is perfect if you're out and about with a clutch bag and would like to take a break from carrying a big and heavy wallet. On the other hand, you can still have your tiny elephant as a bag charm. Styled with a shiny metal ring in the shape of Kate Spade's signature spade, you can clip this adorable accessory to your purse. Moreover, you can put on your backpack or keyrings! It is also a very good and affordable idea for a present.
What do you think of Kate Spade elephant bags and accessories collection?
YOU MIGHT ALSO ENJOY:
Aspinal of London Is Having a SUMMER SALE!
What To Get From Amazon Furniture | Summer Styles
Affordable Quilted Handbags To Fall In Love With
Classic & Contemporary Vibes From Marge Sherwood
Sweat In Style With These On-Trend Activewear Designs