Ah, how I wish I could show you a nice spring look! Maybe an off-the-shoulder crop top with high-waist skinny jeans and a leather biker jacket? How does that sound? Perfect (at least to me)! Unfortunately, we already had our spring week full of plenty of sunshine and temperatures of over 18 degrees C. Now, we're back to clouds, wind and rain, and I have to crawl back to wearing trench coats and trousers.
There is, of course, a silver lining to all this. That bright side comes in the form of my newfound love for flared trousers! Yes, these green geo jersey flare trousers are probably one of the most exciting purchases I've made lately. They are most certainly not a piece of clothing that I could call 'versatile' but they do fit nicely!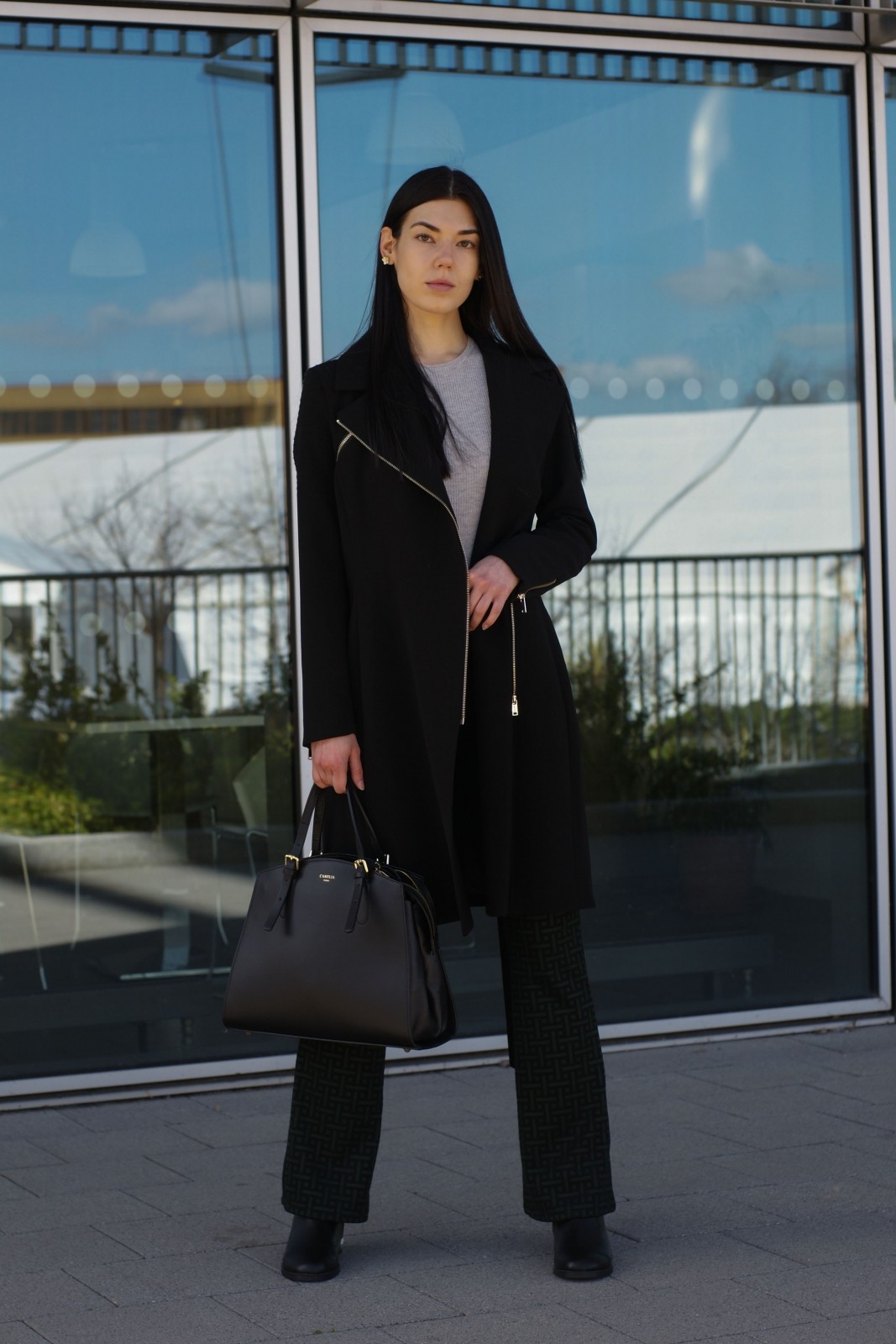 Black Asymmetrical Trench Coat (H&M old; similar here) | Green Geo Jersey Flare Trousers | Pearl Ankle Boots | Black Leather Handbag (similar here)
When Is The Right Time To Buy Flared Trousers?
Well, it really depends on what you understand as the 'right time'?
Is the right time for you dictated by seasons or mood?
The season. If you're looking for the perfect season to get yourself a pair of flared pants, then the colder months would definitely be the right time. Of course, there are always linen flared styles that would go quite well with a cropped top in the summer days. These styles are thin enough, so they won't make you feel like you've spent the whole day in a sauna. However, I prefer to wear my flared pair during the fall, or in this case – the colder days of spring. Apart from the obvious dark green colour, perfect for the winter days, the material itself is a great perk. The jersey jacquard fabric is thick enough to keep you warm while giving you good freedom of movement!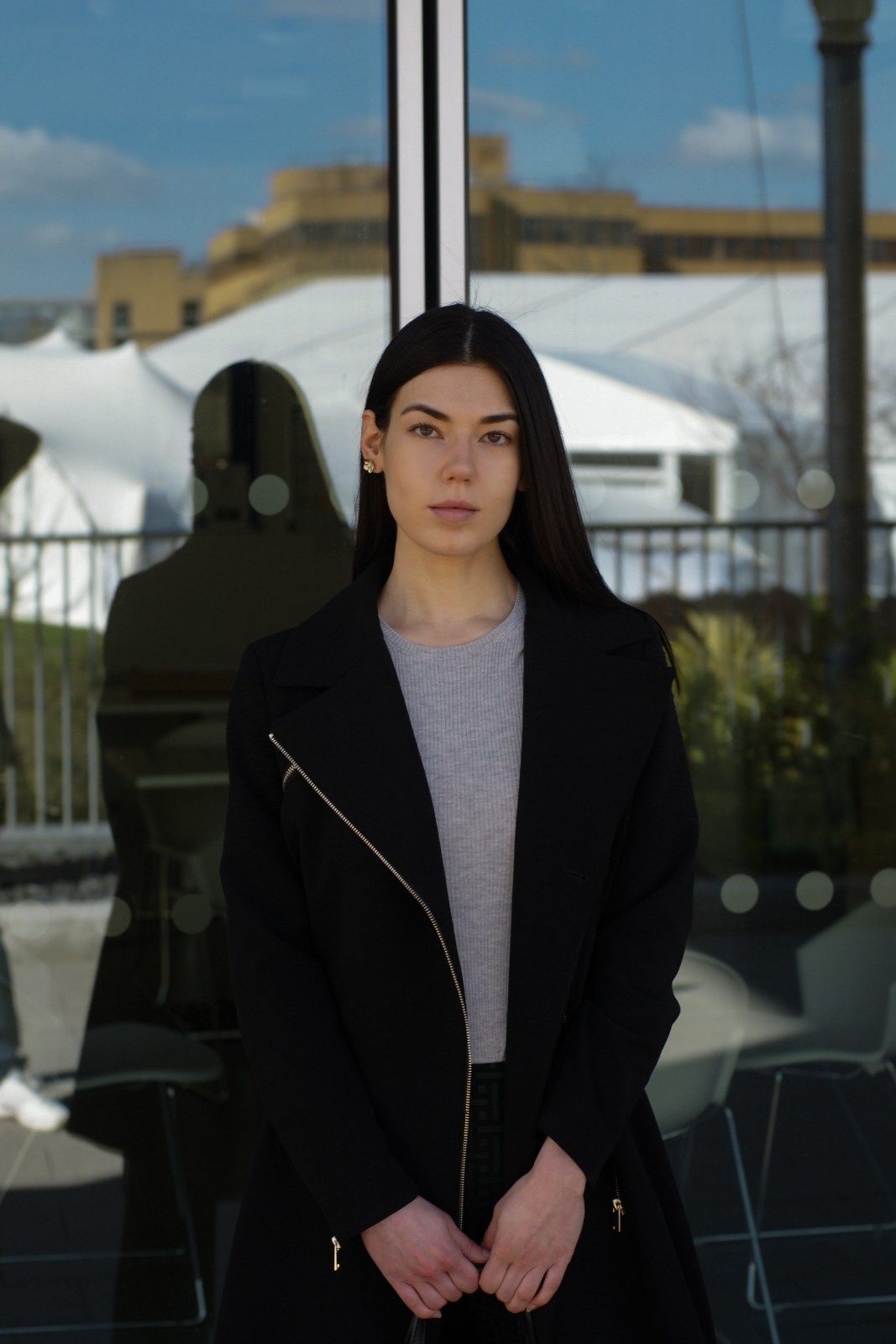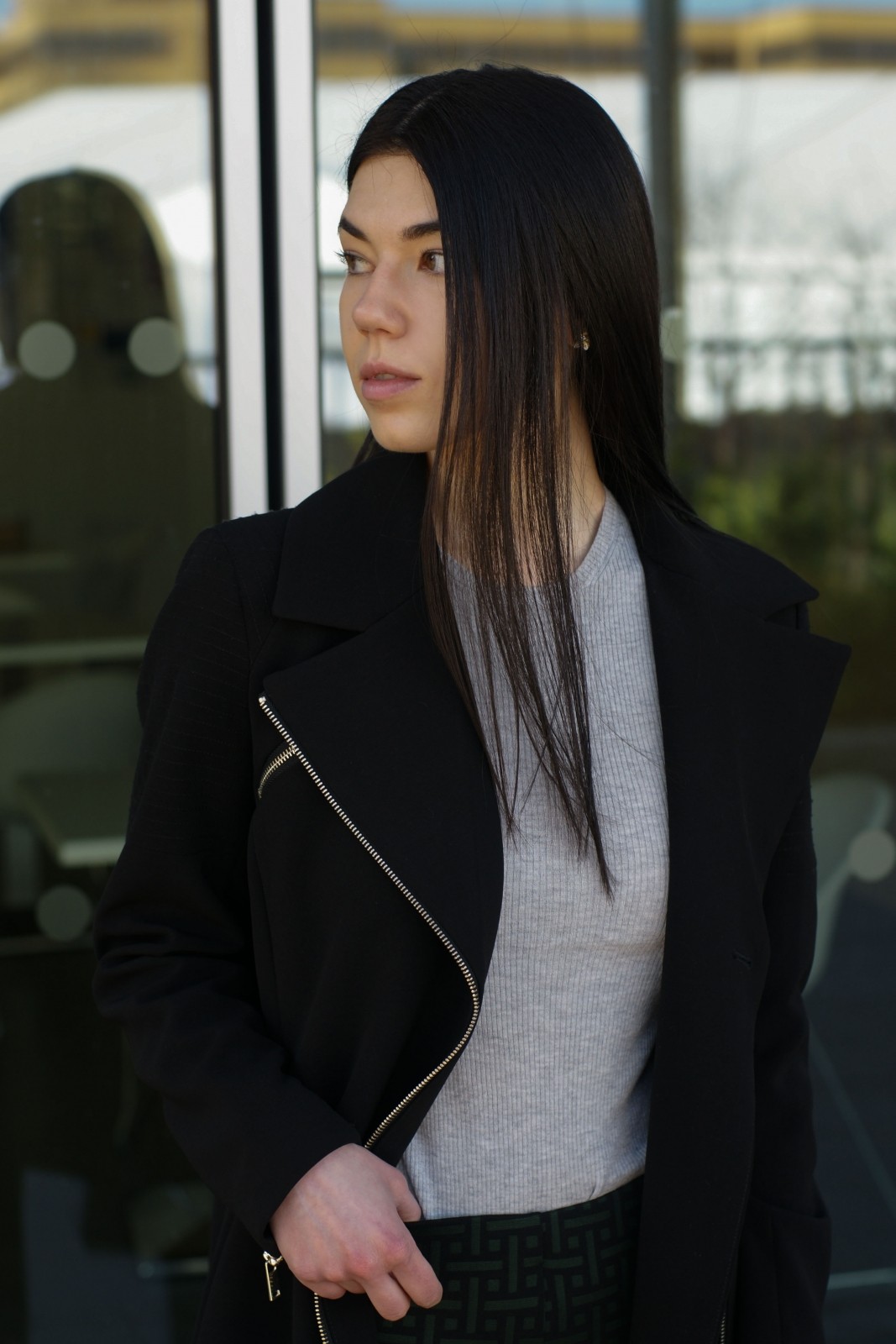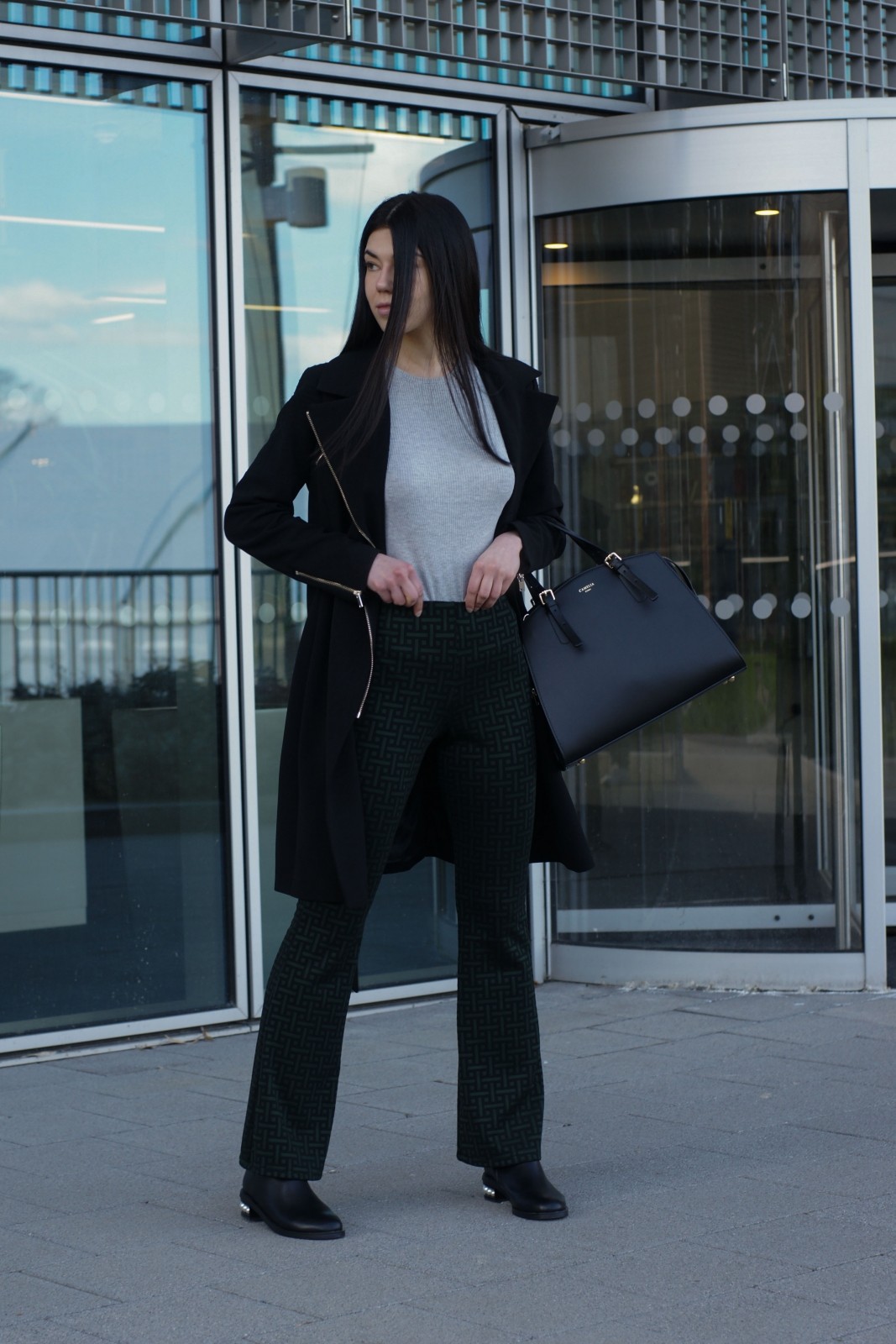 Your mood. Of course, if you want to wear flared trousers, just wear them. The season doesn't really matter if you're in the mood for some ootd mixed with flare details. There are plenty of styles and materials that will suit your needs no matter the weather. Opting for flare pants can also be a great confidence booster! If you feel like experimenting with your style or stepping out of your comfort zone, then start with a flared pair. Its unusual shape will inevitably make you think outside the box in terms of styling them.
SHOP FLARE TROUSERS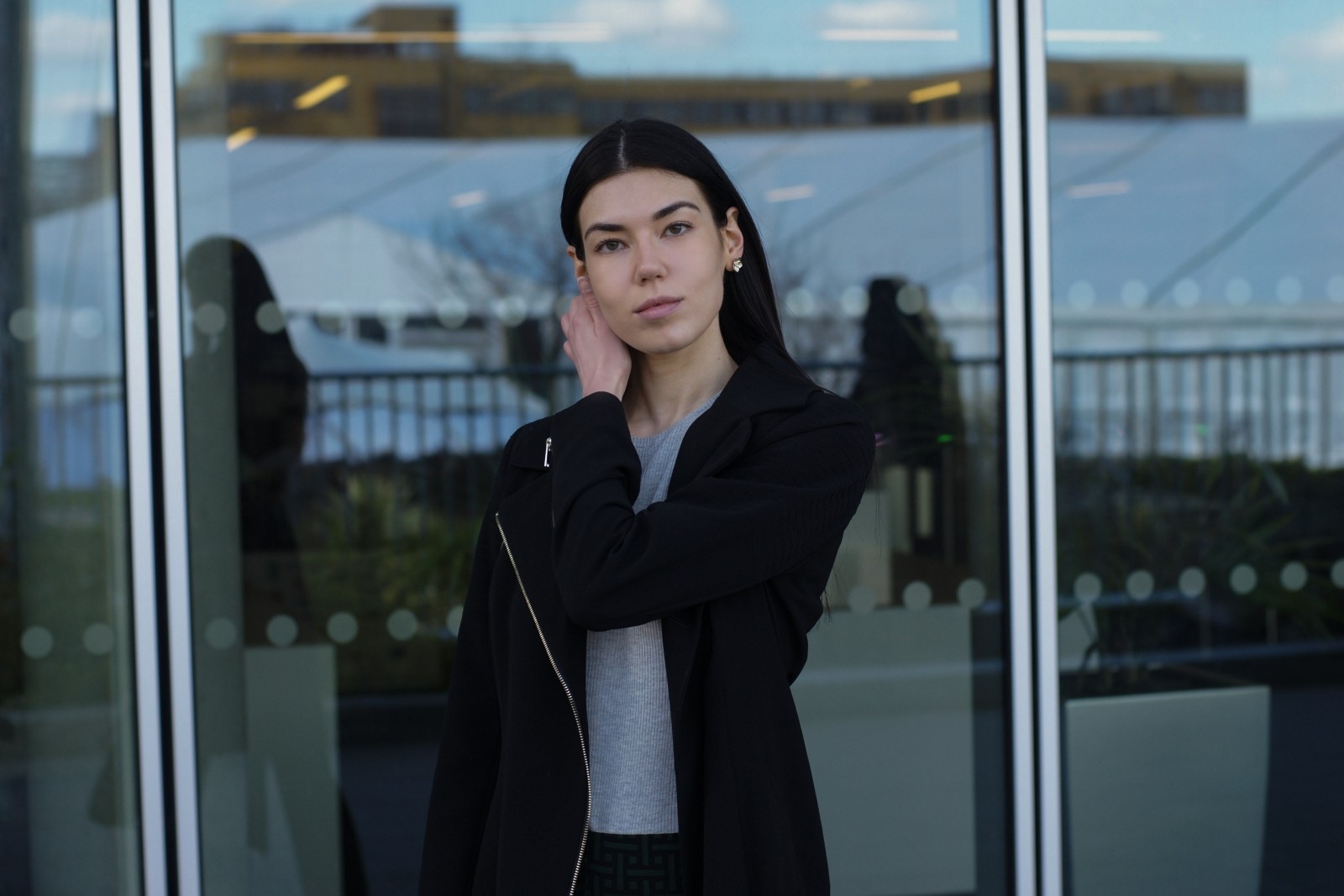 How To Style Your Flare Trousers
Styling a pair of flared pants can be particularly tricky if you're a flare newbie! You might slip into thinking that either nothing or anything goes with this style. However, it all really depends on two main factors.
The material. There are so many different fabrics for flared trousers. Apart from the obvious and most common cotton types, there are also sequin, denim and event leather styles! Yikes, how do you choose just one?! With so many options, you really have to put your finger on it and decide which one you really need. Although you might eventually get all flared styles, you'll probably have to start with one. Choosing the right one will depend on how you'd prefer to wear your flared pair. Cotton types, for instance, are your go-to for the office attire. Match them with an oversized jumper and ankle leather boots. Denim styles are perfect for daily casual wear and you can pretty much wear them with anything – tops, blouses, jumpers, etc. Footwear choice is also not an issue either!  As for sequin and leather – I would leave them for the nights out.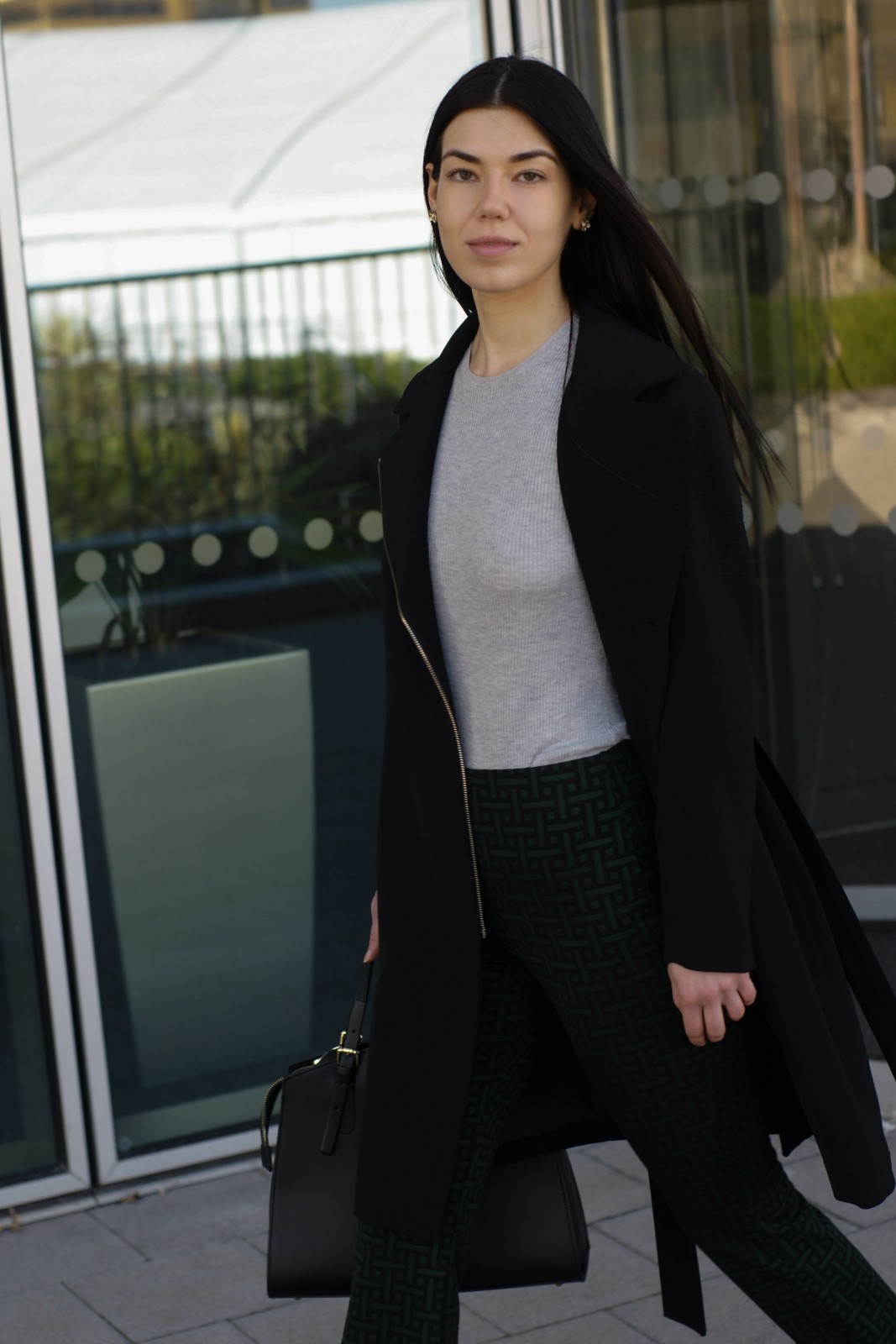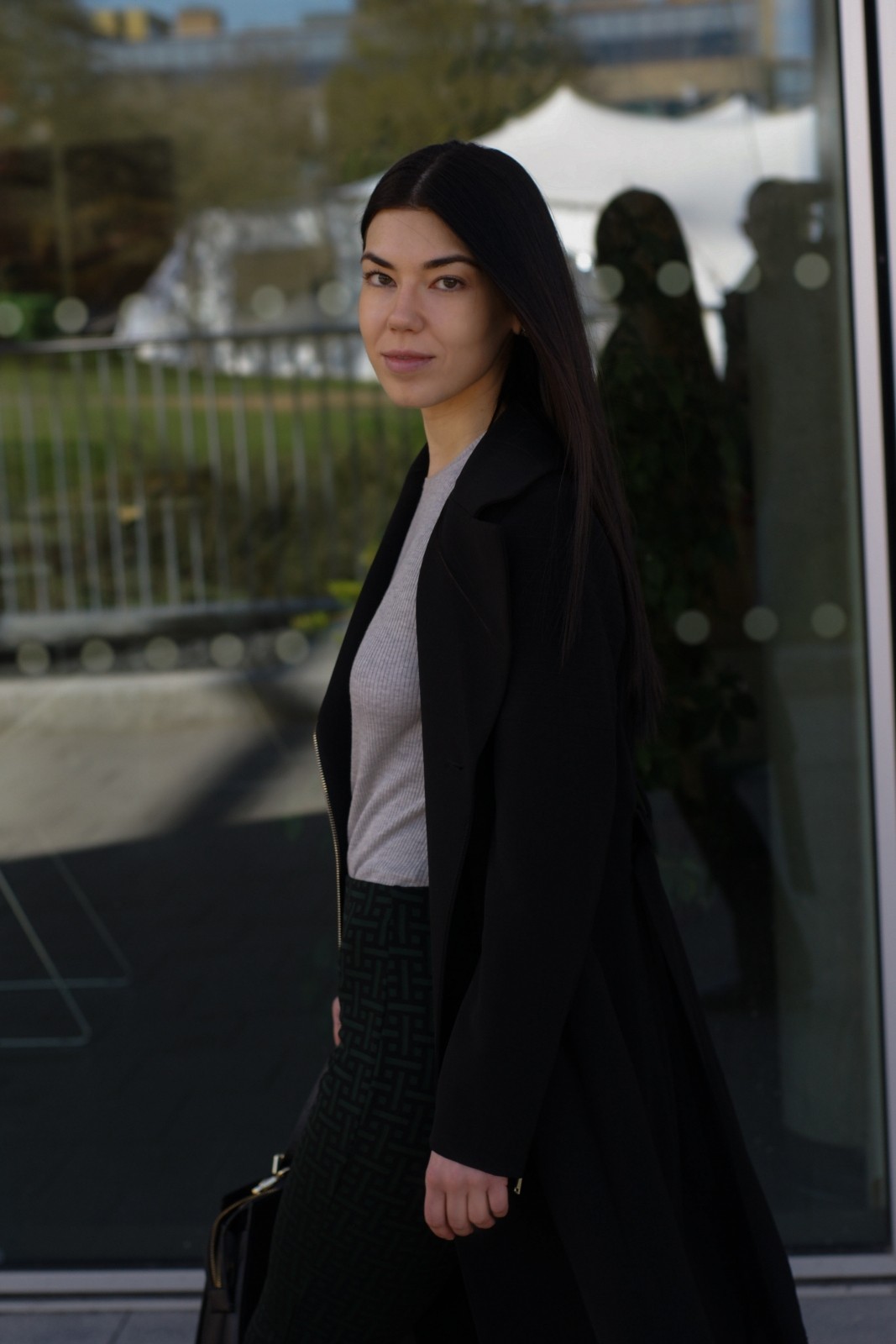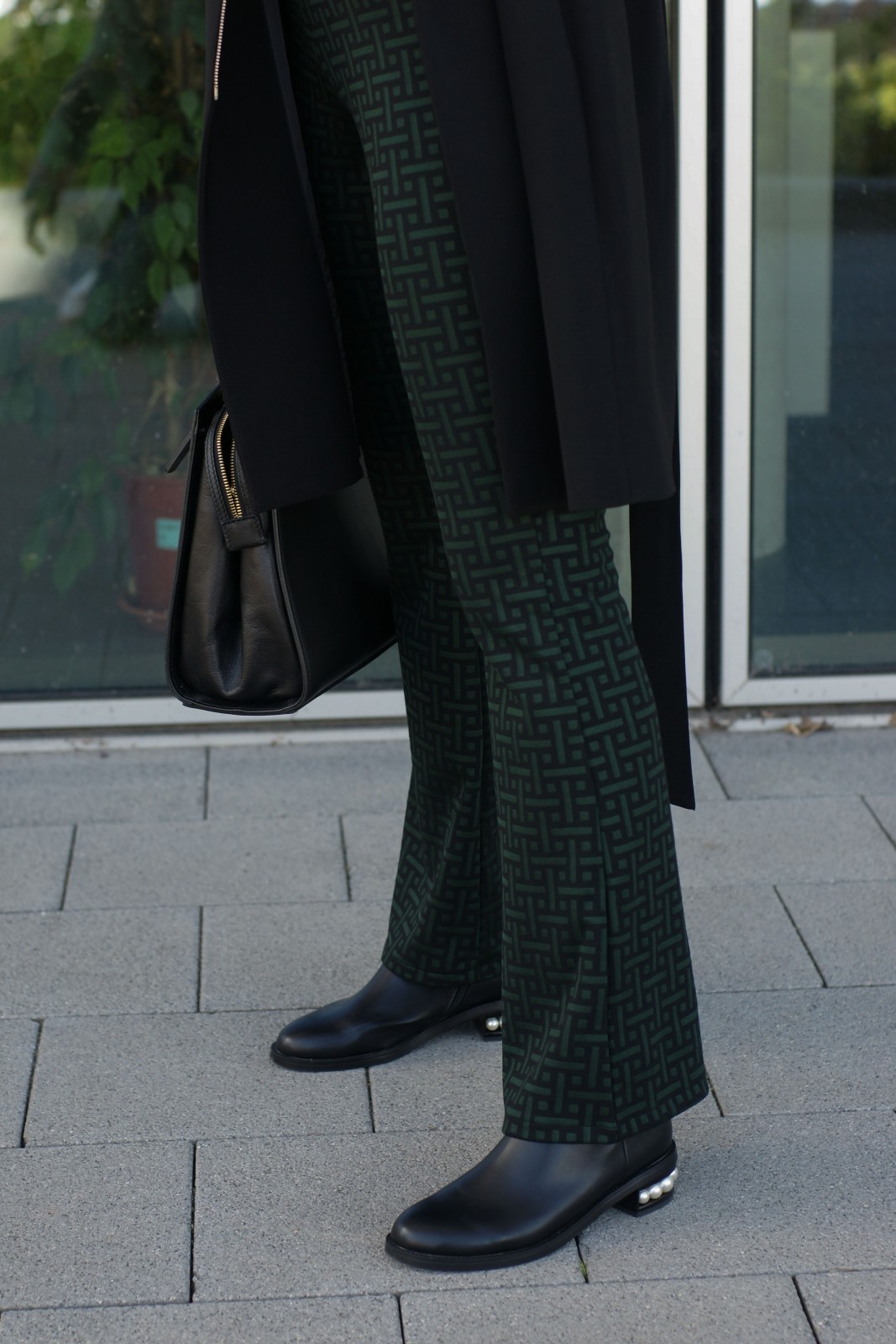 The colour. You might have figured it out, however, when I think of flared trousers, I can only imagine cold dark colours. It's no wonder that I prefer to wear them in the cold months. However, there are so many colour options that you can choose from! There are bright, colourful and even gold styles. For example, these hot fuchsia pants will make your spring Sunday brunch so much brighter. However, you really need to be careful with styling colourful flared pants. I really don't recommend going for dark colours, as they'll bring your whole outfit down. Instead, opt for matching or other brighter colours!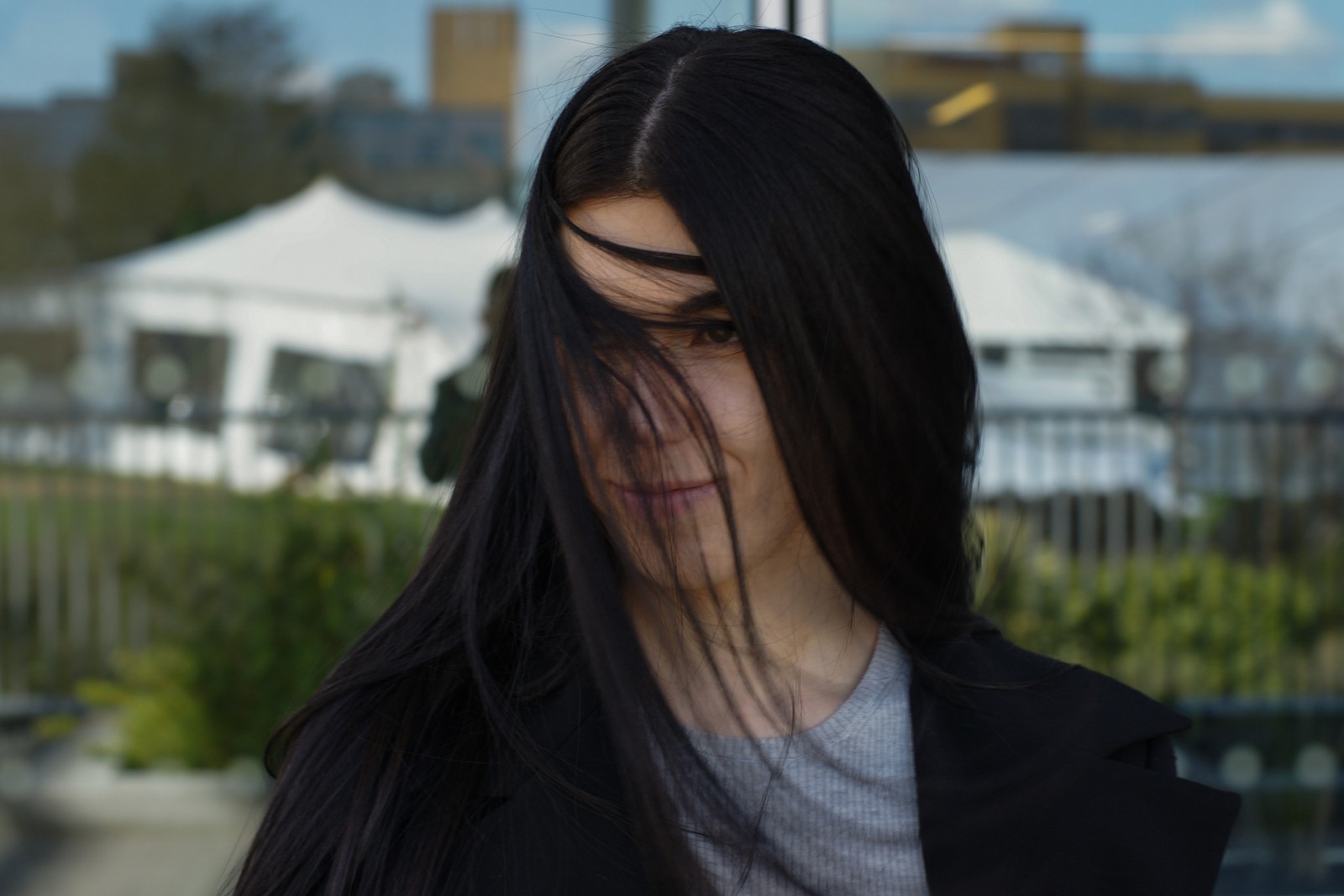 Do you own a pair of flared trousers?
Check out my other style tips here!
YOU MIGHT ALSO ENJOY:
Daily Look | Suedette Check Trench Coat & Snake Print
2 Reasons To Get A Trench Coat For Spring
Daily Look | Green Belted High Neck Wool Coat
Two Undeniably Chic Ways To Wear A Satin Blazer
The Outfit You Need To Try: Cropped Sweatshirt & Tracksuit Pants