Although denim jumpsuits might not be your best option for your 9 to 5 or a glam night out with the girls, they can be quite comfy for a street style look. Denim styles are and have always been a huge trend for years now. So, wearing a head-to-toe denim outfit will make you look nothing less than a true fashionista. From long-sleeved to wide-leg denim jumpsuit styles, just pick one that suits your preferences and needs. Personally, I went for a straight leg denim jumpsuit with long sleeves to keep me warm in the chilly weather. We also found this cool big loader (I think that is what this is called!) and we took the opportunity to take some not-so-ordinary shots! Without further ado, here are 3 denim jumpsuit styles to try this year!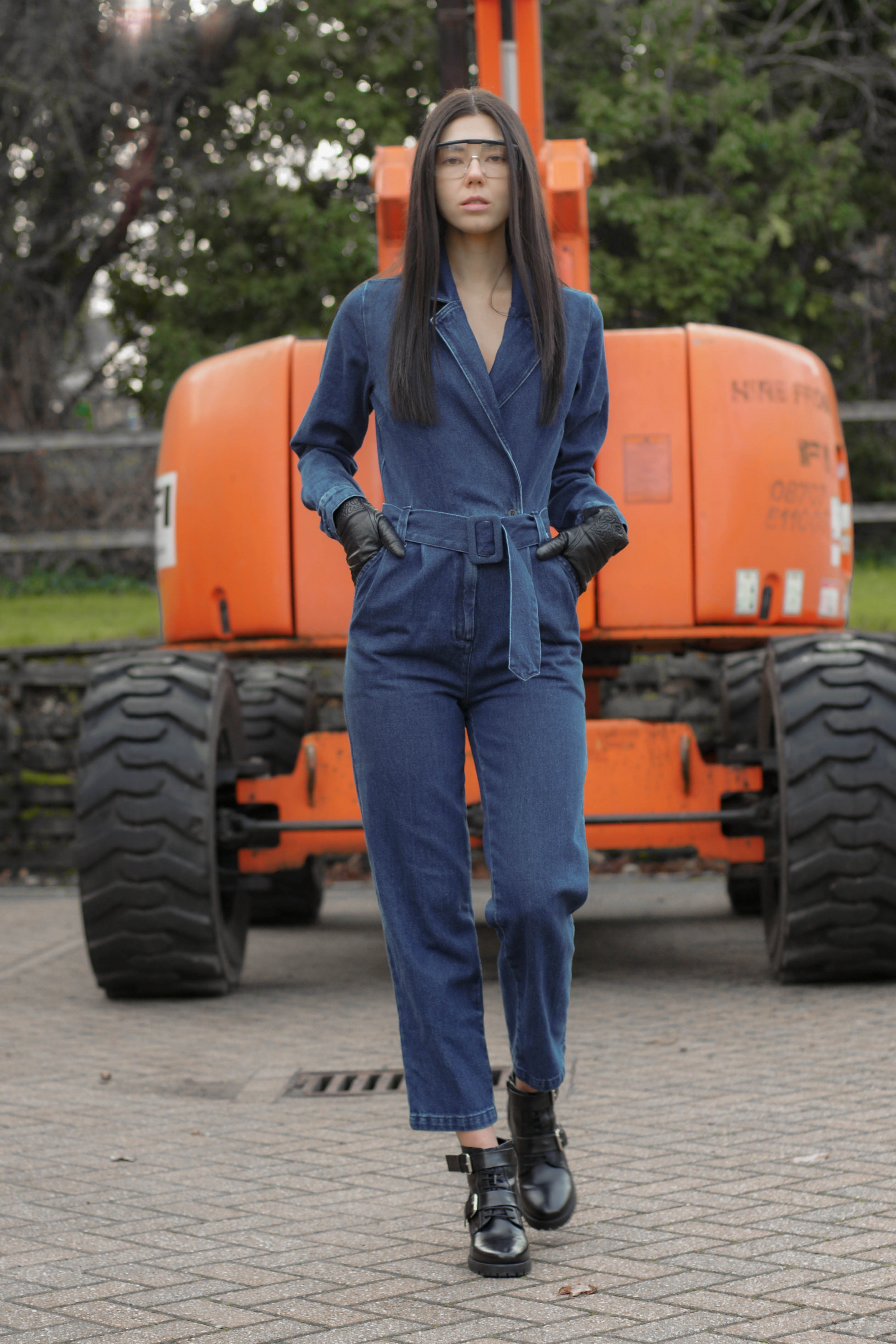 Denim Blazer Jumpsuit | Lace Front Hiker Boots (similar) | Leather Gloves In Black (similar) | Safety Frame Glasses (similar)
The Long Sleeve Denim Jumpsuit Style
For those unpredictable weather conditions when the temperatures are neither scorching hot nor shivery cold, long sleeve denim jumpsuit styles are perfect! This denim blazer jumpsuit in midwash blue should keep you comfortably warm until you reach your destination. With a blazer-front design, it really gives it that little bit extra compared to your regular buttoned-down jumpsuits. Moreover, the belt puts a very delicate and feminine emphasis on your waist. Combine this long sleeve denim jumpsuit style with chunky white trainers for a sporty look. Otherwise, you can give it a more biker-ish vibe with a pair of black lace hiker boots.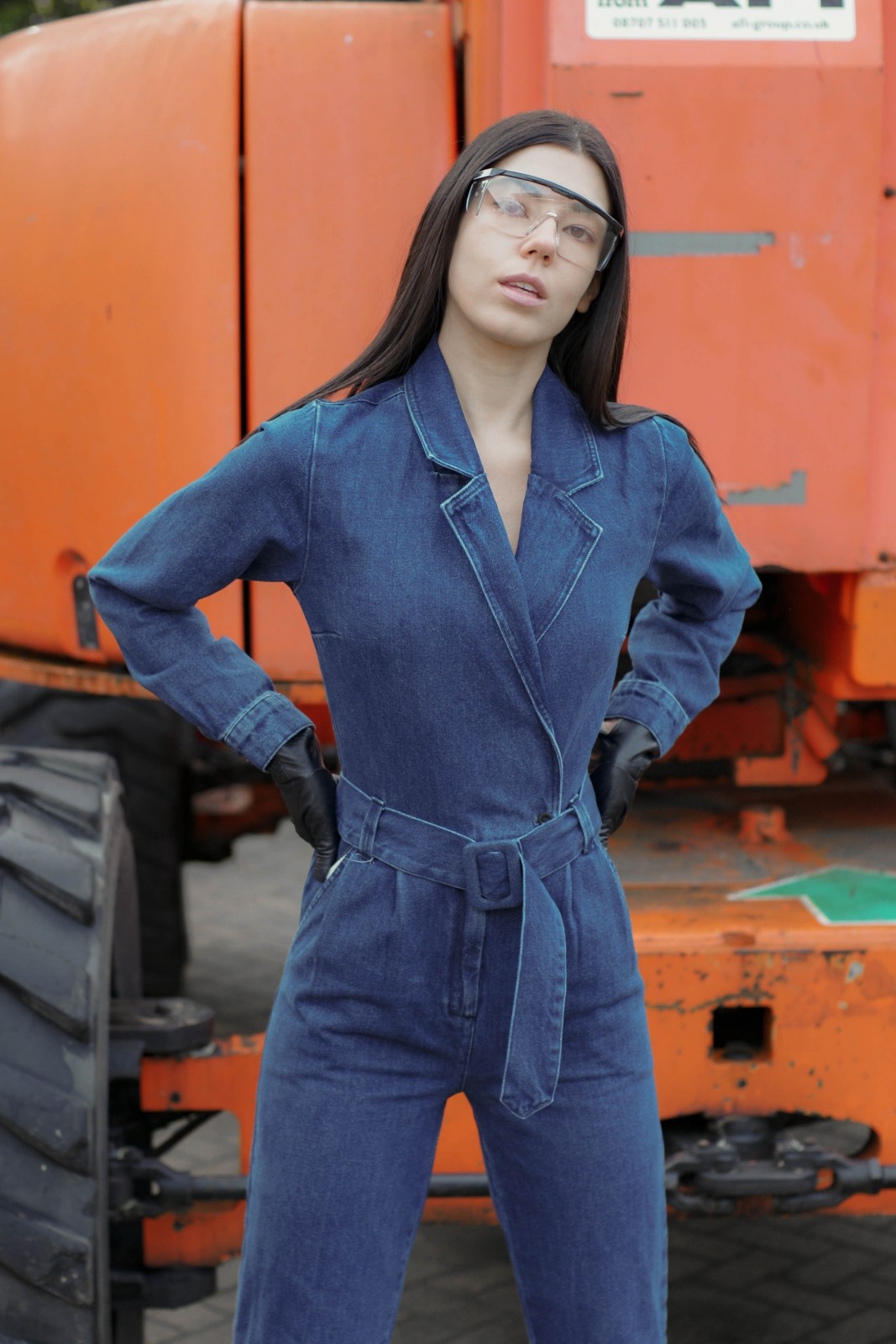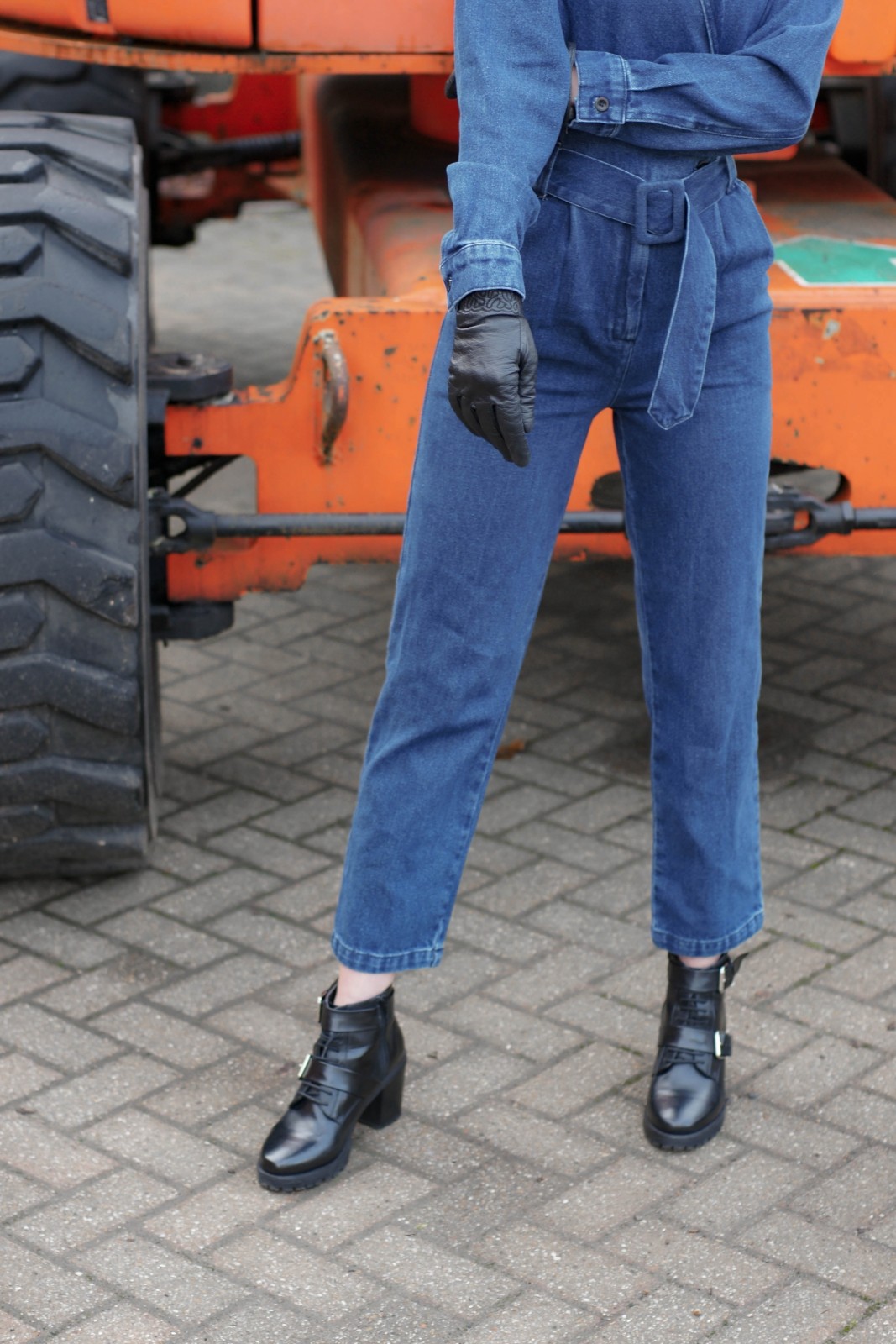 Despite the fact that we don't usually associate denim jumpsuits (or anything denim for that matter!) with glamorous nights out, some styles can really surprise you. For instance, this open-back stretch-denim jumpsuit from Ulla Johnson could be the perfect evening outfit. The open-back design and puff sleeves really effeminate the whole jumpsuit. You also combine two denim jumpsuit styles in one – a long sleeve one and a wide leg one. Match it with a pair of red hot stilettos for the ultimate killer evening look!
SHOP LONG SLEEVE DENIM JUMPSUIT STYLES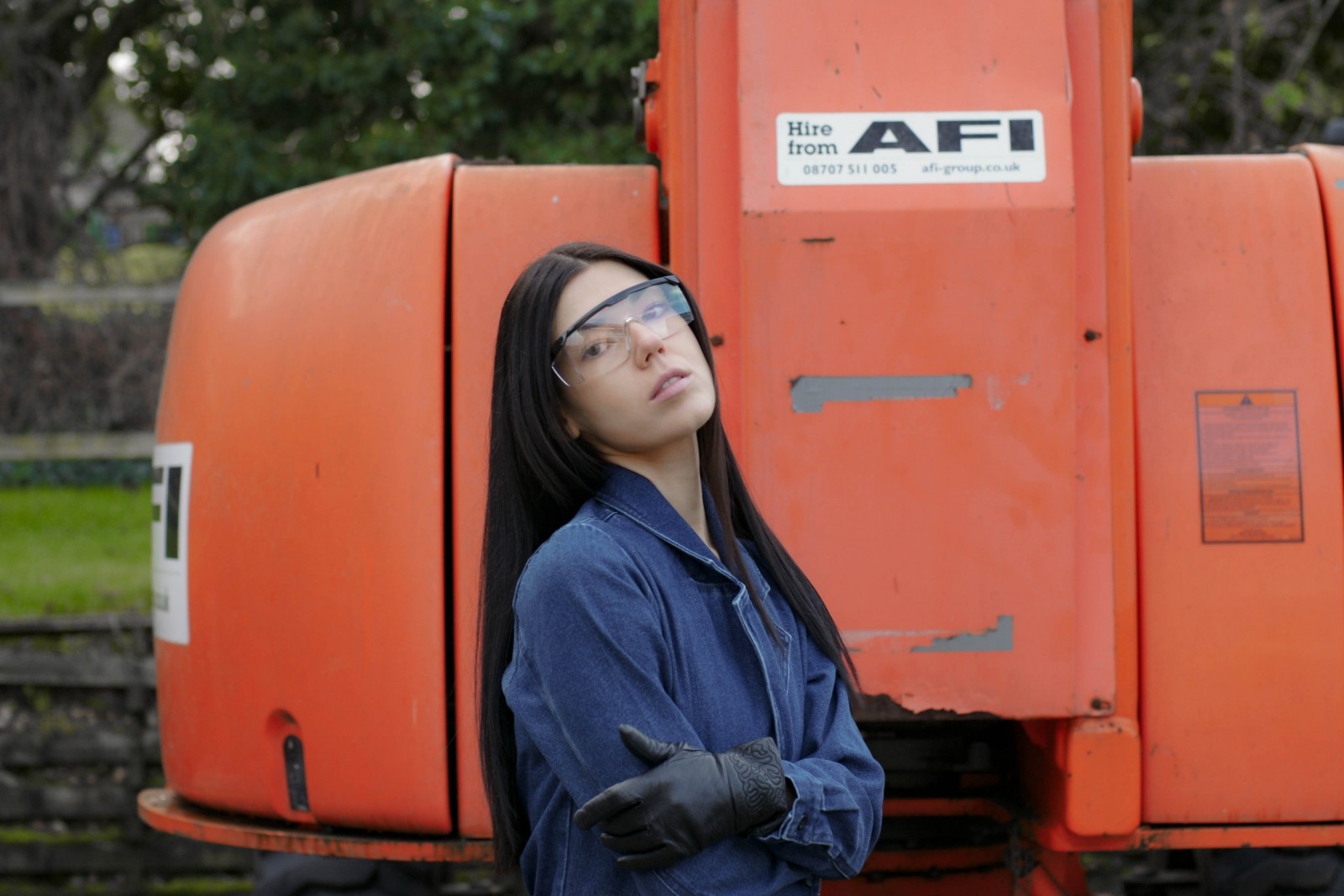 The Sleeveless Denim Jumpsuit Style
The opposite of keeping you warm is the sleeveless denim jumpsuit style. If you want to wear this jumpsuit style on its own, then it's best to save it for late spring. Otherwise, you can always put on a leather jacket for some extra warmth. If you're looking for an absolutely sleeveless denim style, then this jumpsuit with bodice detail is the ideal choice.  With a sweetheart neck design and a bodycon fit, this jumpsuit should make your list of must-have items for the summer. It will go perfectly with both trainers and high-heels!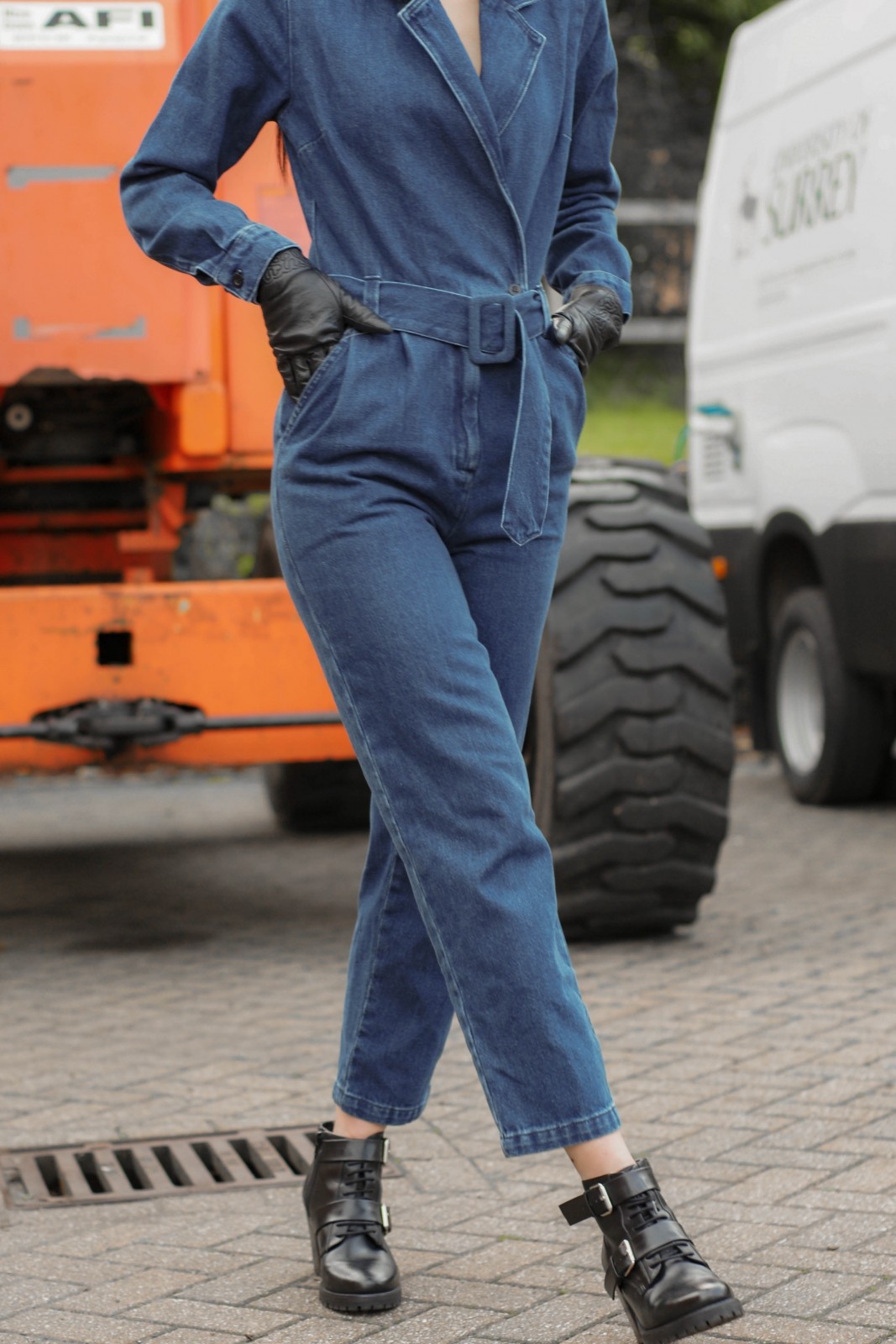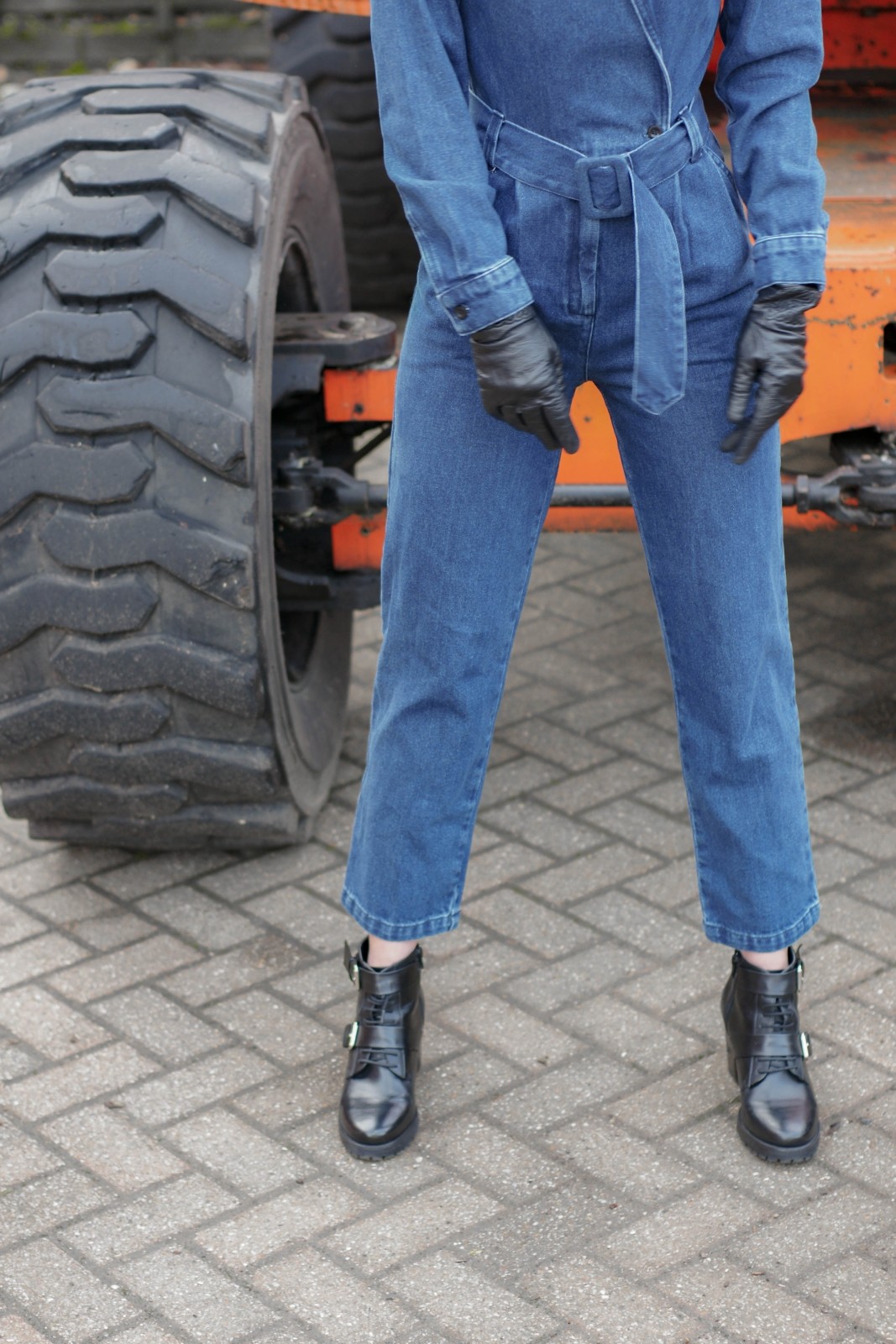 Another sleeveless denim style, great for the summer conditions, is this halterneck jumpsuit in white. With a square neck, crop legs and a cross back design, this has to be your go-to choice for a daily look or a picnic date with that special someone. Wear it with espadrille sandals or matching white woven mules to finish off the look. Also, the white colour of the jumpsuit should definitely keep the UV rays away. Well, not away-away, but it is better than wearing something dark, right?!
SHOP SLEEVELESS DENIM JUMPSUIT STYLES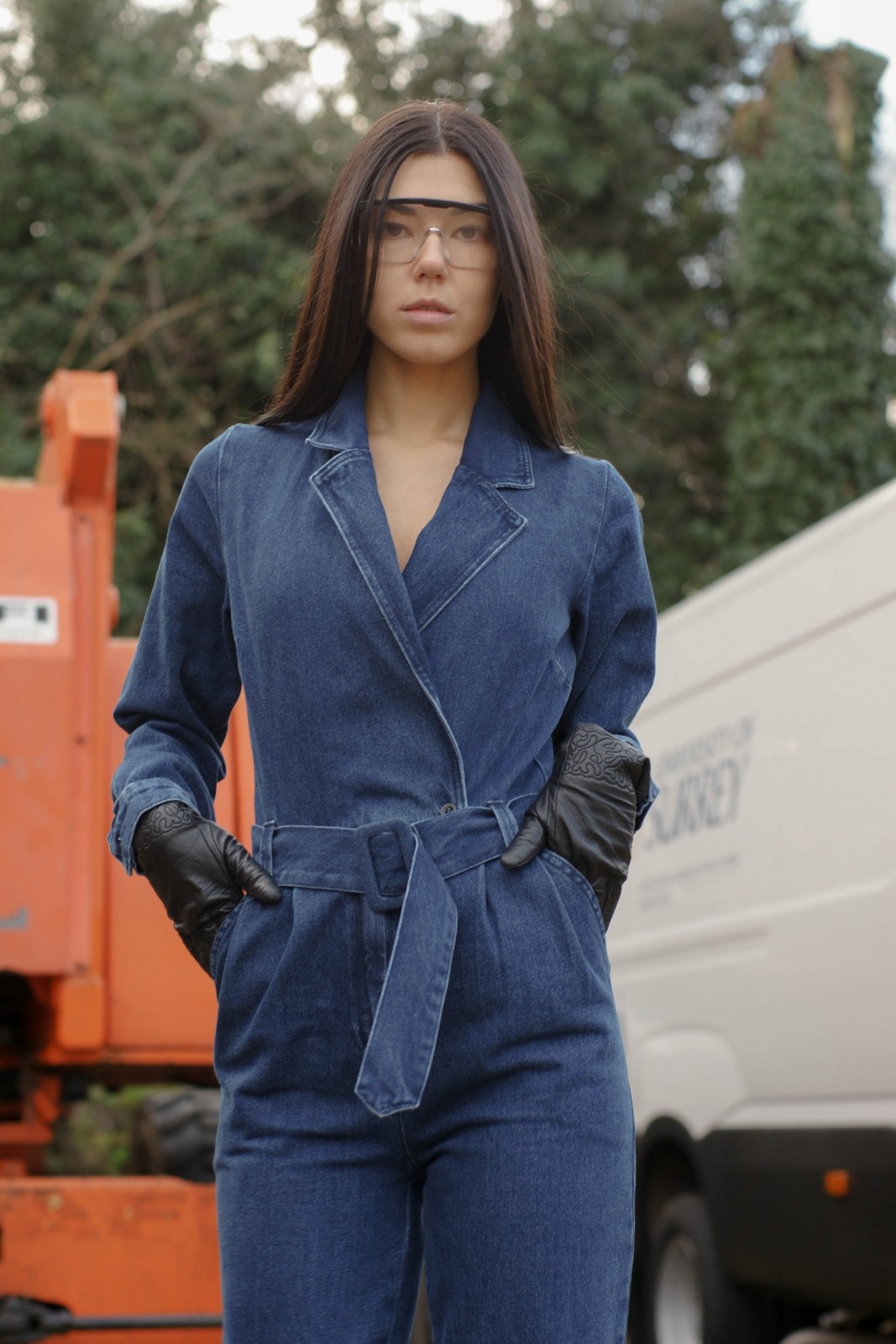 The Wide-Leg Denim Jumpsuit Style
I've already given you a couple of wide-leg options, but let's discuss why this specific style of denim jumpsuits would be the perfect fit for you. Let's say it is one of those days. You know which days I mean, right? We're not feeling our best and there is nothing wrong with that. I know the thought of slipping into something that looks more like a bin bag than actual clothing is tempting, but why do that when you can still be stylish and comfortable? This is when the wide-leg denim jumpsuit style steps in. Just look at this denim jumpsuit with a V-neck design and wide-leg pants. The belt will still give you some definition, whereas the wide-legs will add that much-needed extra room to feel comfortable.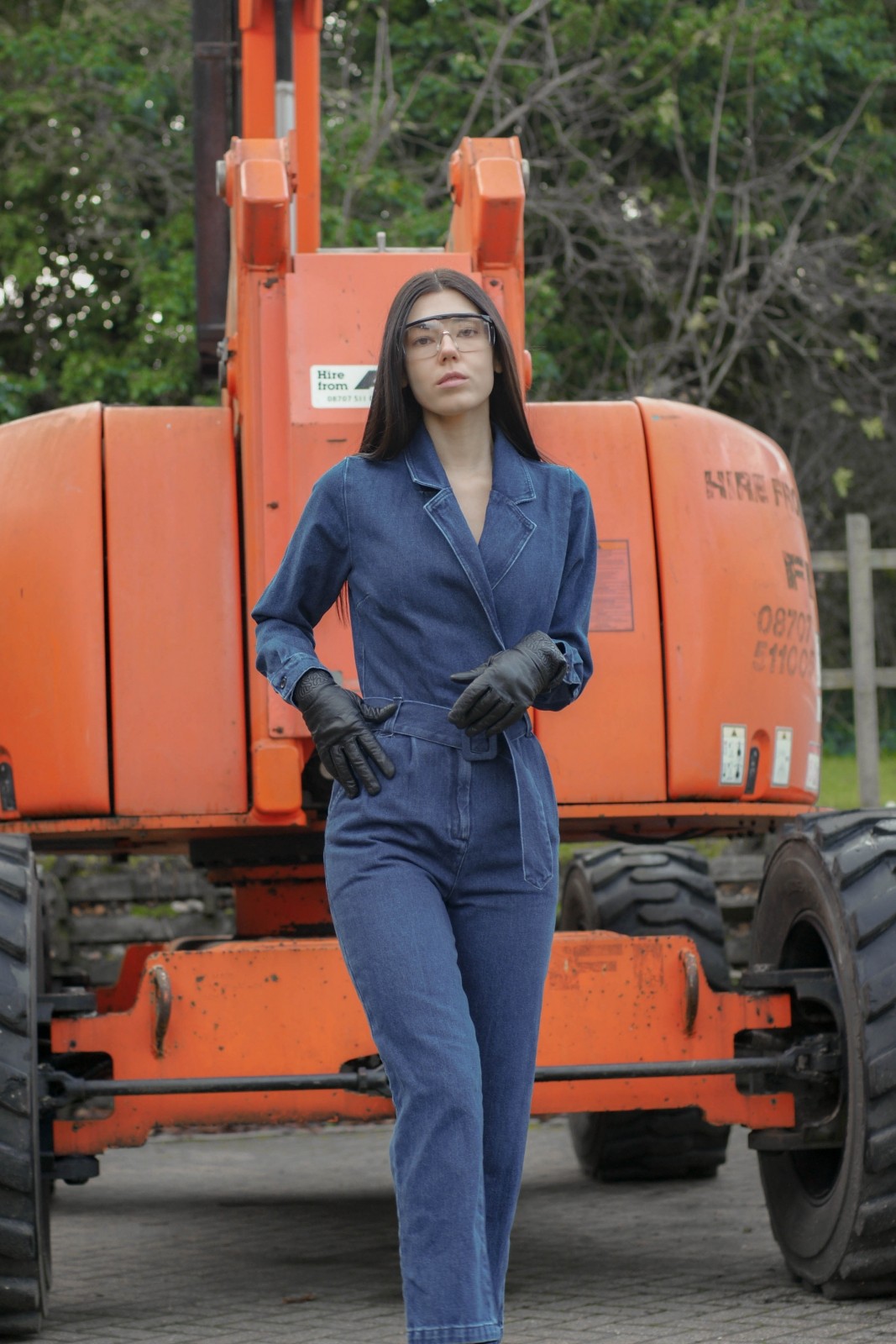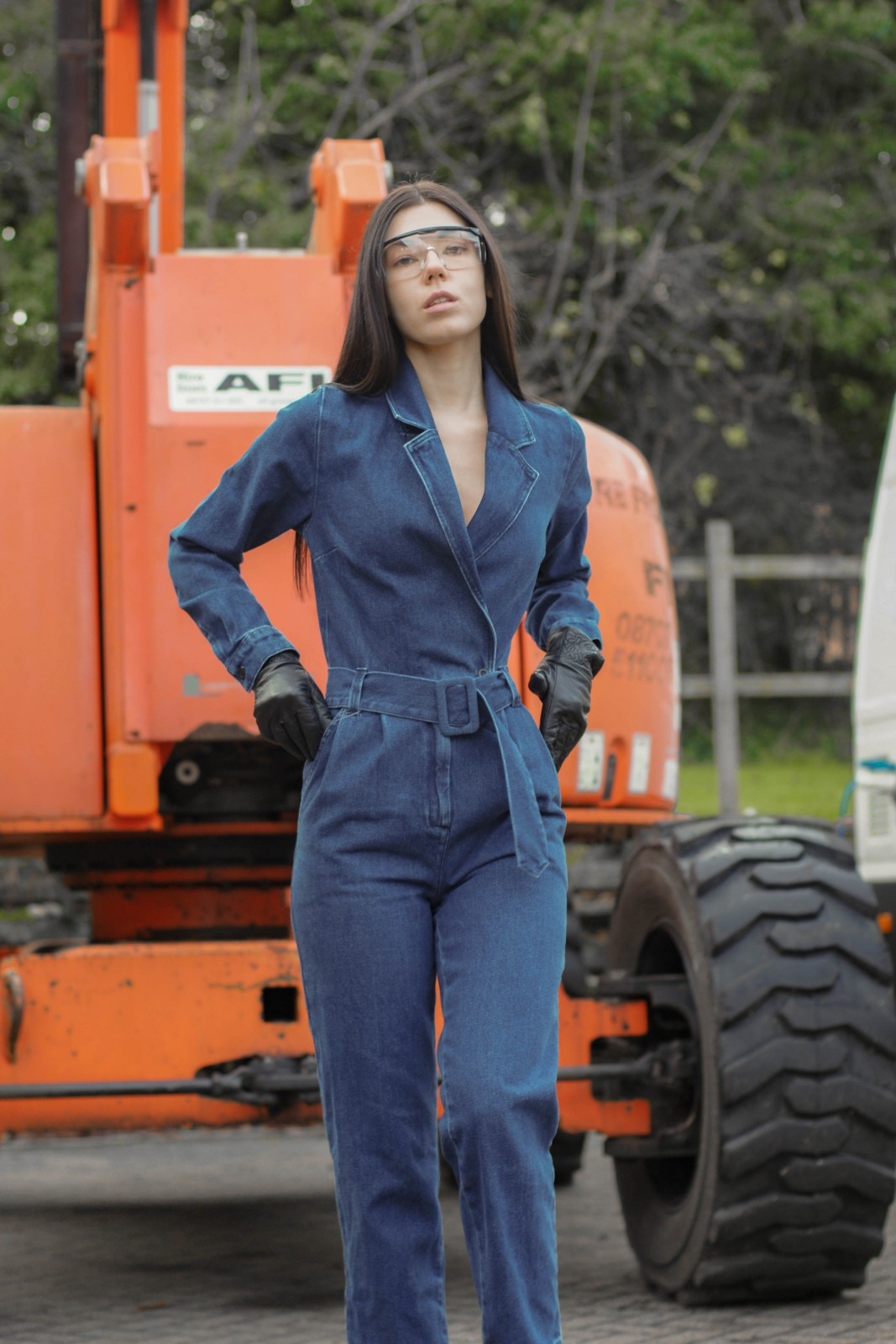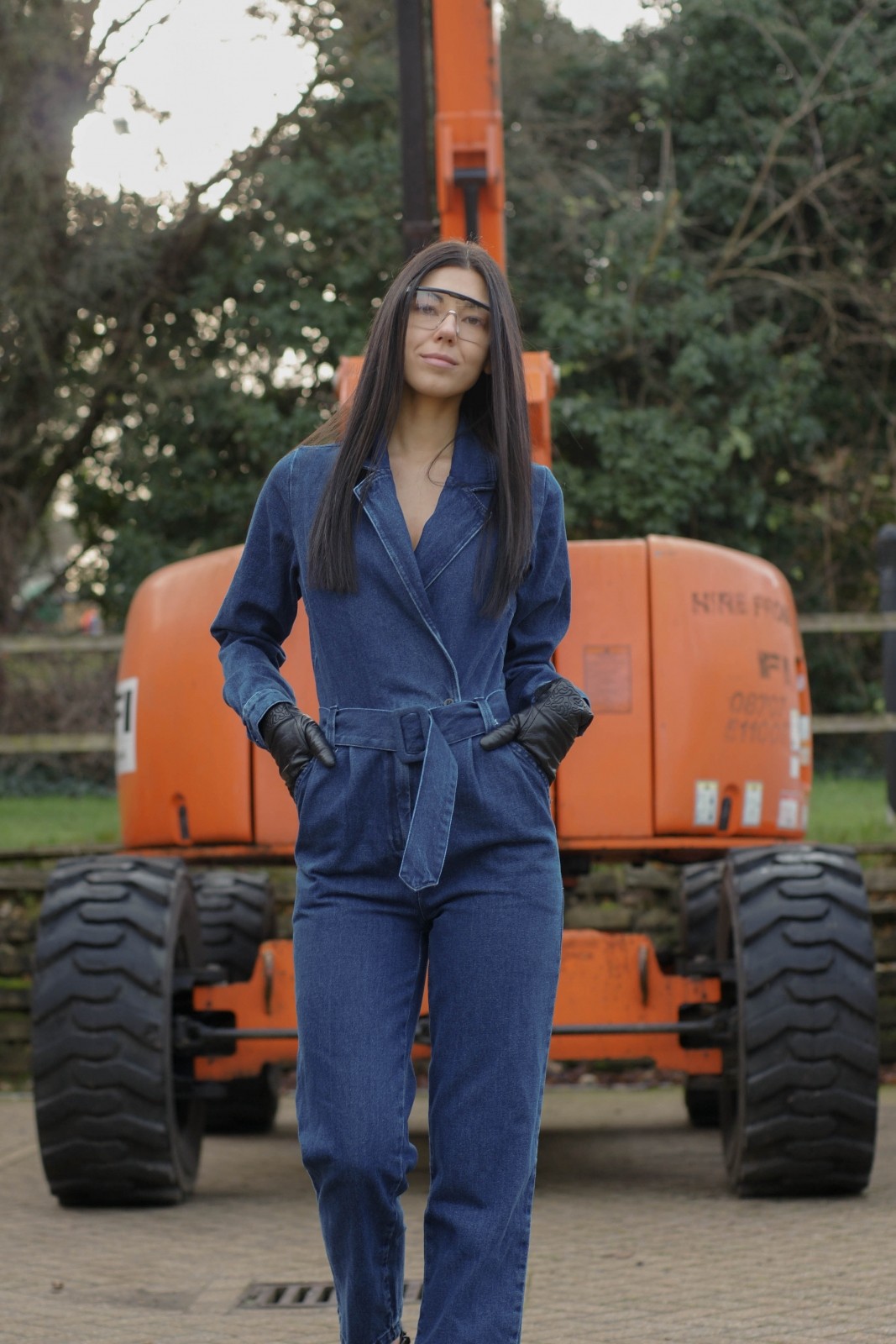 If you just fancy the wide-leg design but prefer a more fitted style, then these Palazzo denim overalls will hit just that soft spot. Cut to be fitted at the bust and waist, they feature slim top design pants with wide-leg bottom trouser legs. Wear it with crystal-embellished leather slip-on sneakers to give this look a bit of an edge.
SHOP WIDE-LEG DENIM JUMPSUIT STYLES

There you go, 3 denim jumpsuit styles to try this year!
Which one is your favourite?
Check out the fashion category for more inspo!
YOU MIGHT ALSO ENJOY:
How To Wear Your Aviator Jacket
Keeping It Casual With A Long Coat & Trainers