I think 2019 is definitely going to be the year I really start to experiment more with leather. After I gave a chance to these leather pants, I thought I should make a leather pencil skirt a part of my wardrobe too. So, I went online (as I usually do!) in the pursuit to find the perfect leather skirt. Following a bit of search, I found it! Although leather skirts are usually worn during the colder seasons, I think they could be quite versatile. I can certainly see myself wearing one during the summer. I just need to make sure it's during the evening, otherwise by the end of the day I'll look as if I just walked out of the sauna. However, it's safe to say that the colder season is the most suitable one to opt for a leather skirt. If you have one and are in a major need of inspiration, here are 3 ways to style a leather pencil skirt!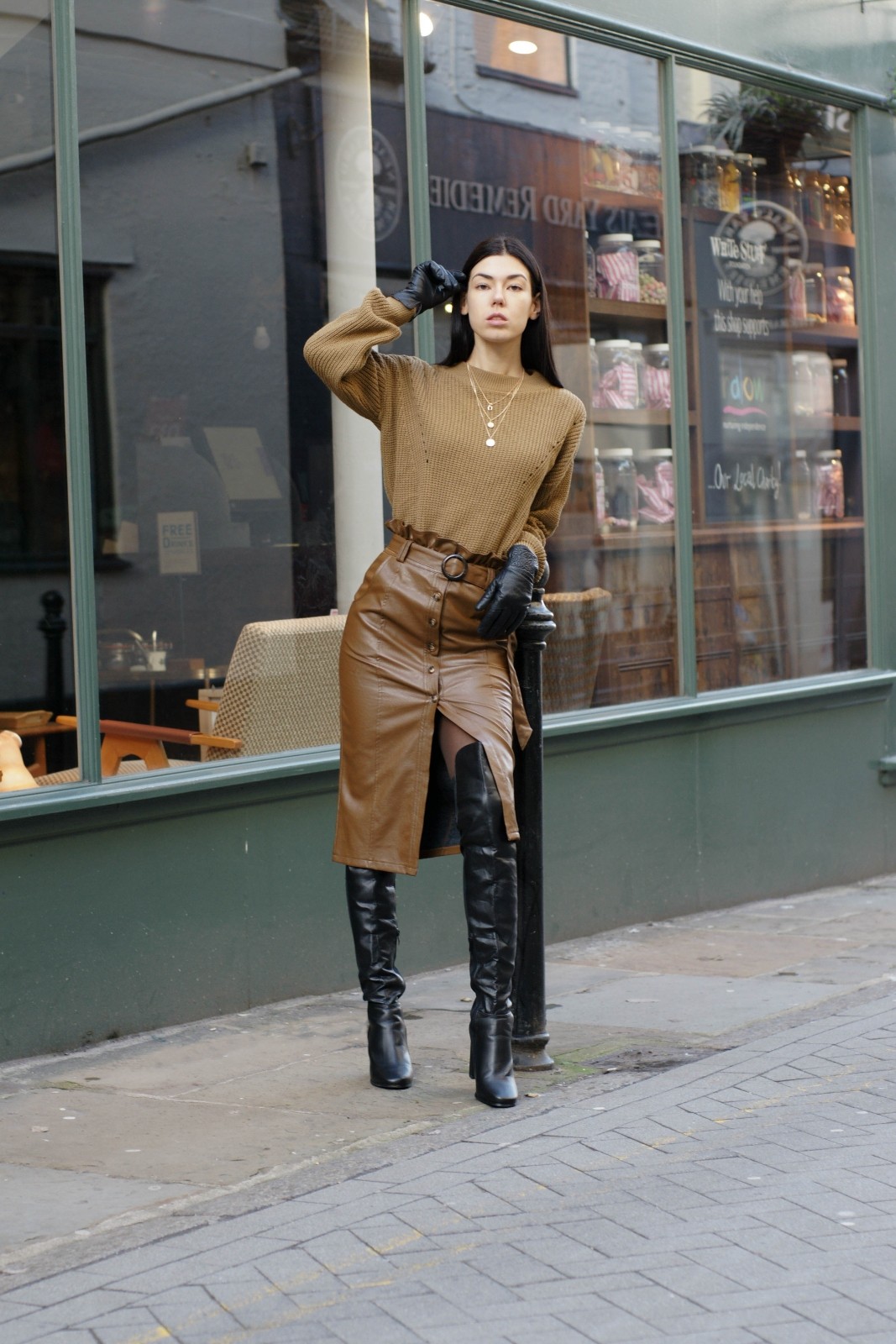 Open Knit Turtle Neck Jumper | Leather Button Pencil Skirt | Over-The-Knee Boots (similar; cheaper version here) | Layered Necklace
With An Oversized Knitted Jumper
Although you can wear a simple blouse or a fitted top with your leather skirt, a jumper would be a far better choice. Styling your leather skirt with an oversized knitted jumper is the safest and warmest choice for the winter months. Also, depending on the style of the jumper, you can look both stylish and work-ready. For the office, you can opt for this chunky jacquard knit sweater. The brown colour makes it really versatile. You can wear it with darker or lighter leather skirts. On the other hand, the voluminous sleeves give it a bit of a style edge that won't go unnoticed!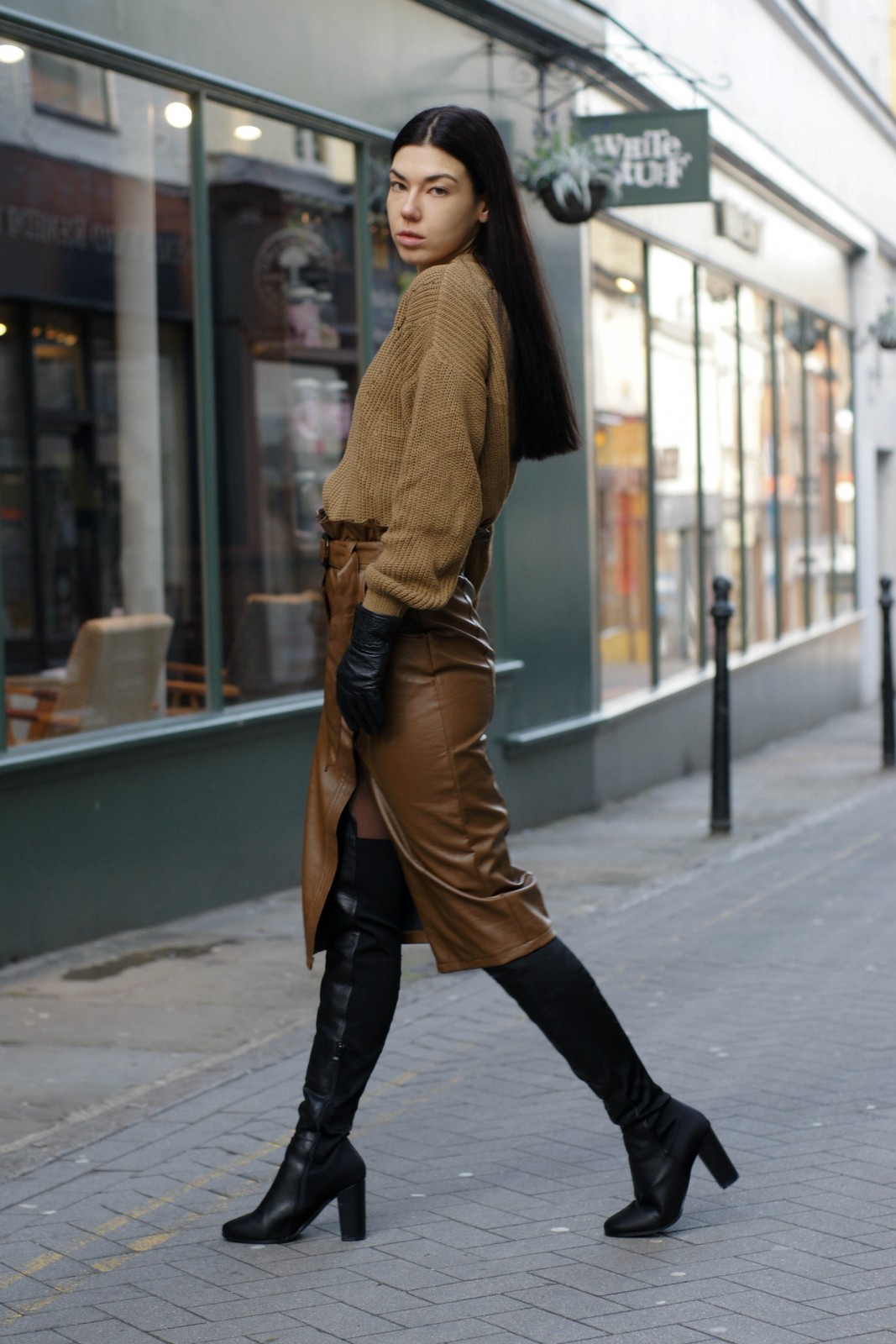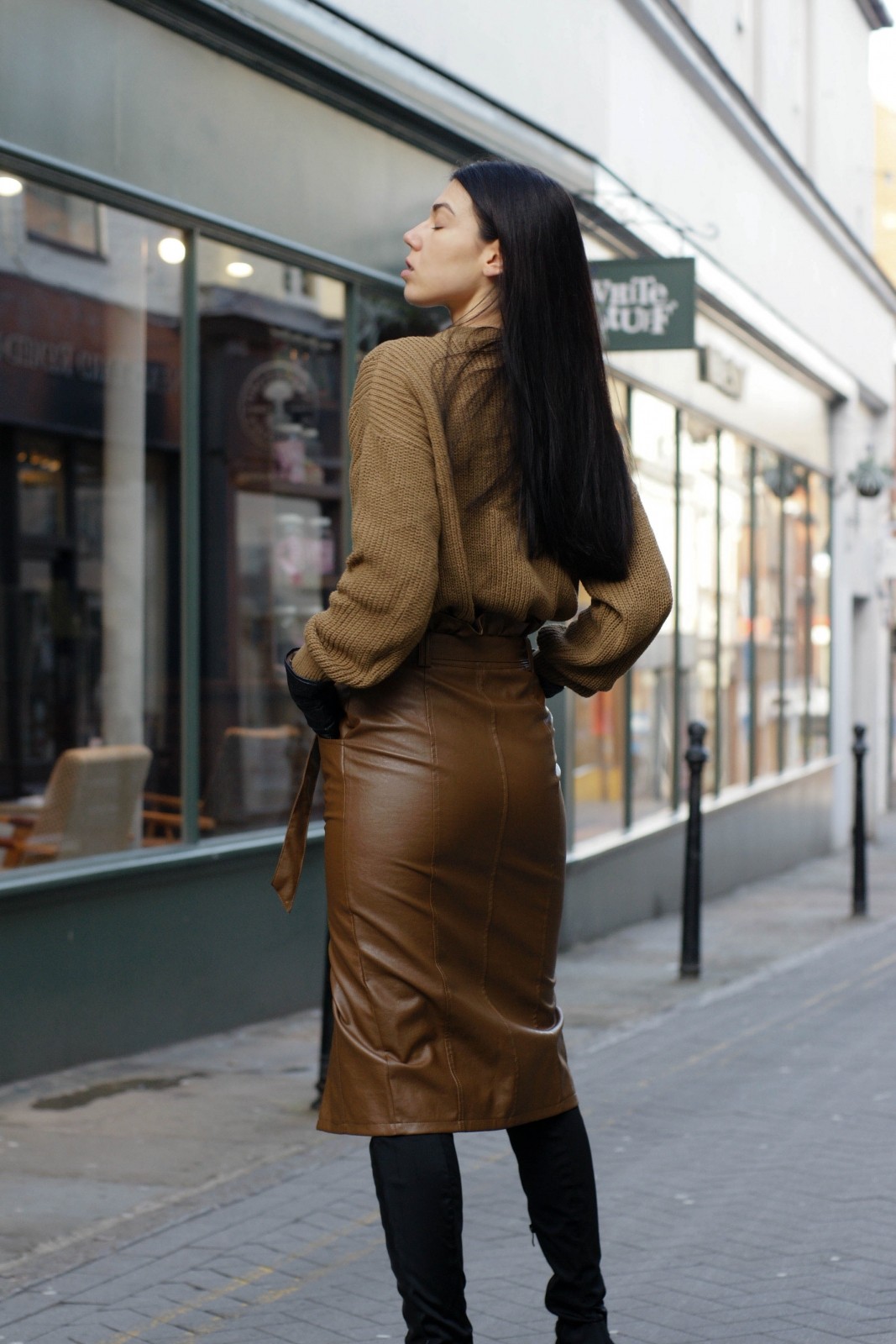 If you want to take your leather pencil skirt from an office to a going out look, pick a jumper with a little extra here and there instead. This Self-Portrait striped cotton and wool-blend jumper is a perfect example. Its striped profile is detailed with open-knit panels and billowing blouson sleeves. Match it with a black bodycon leather skirt and you'll be ready to hit your favourite cocktail spot with the girls.
SHOP OVERSIZED KNITTED JUMPER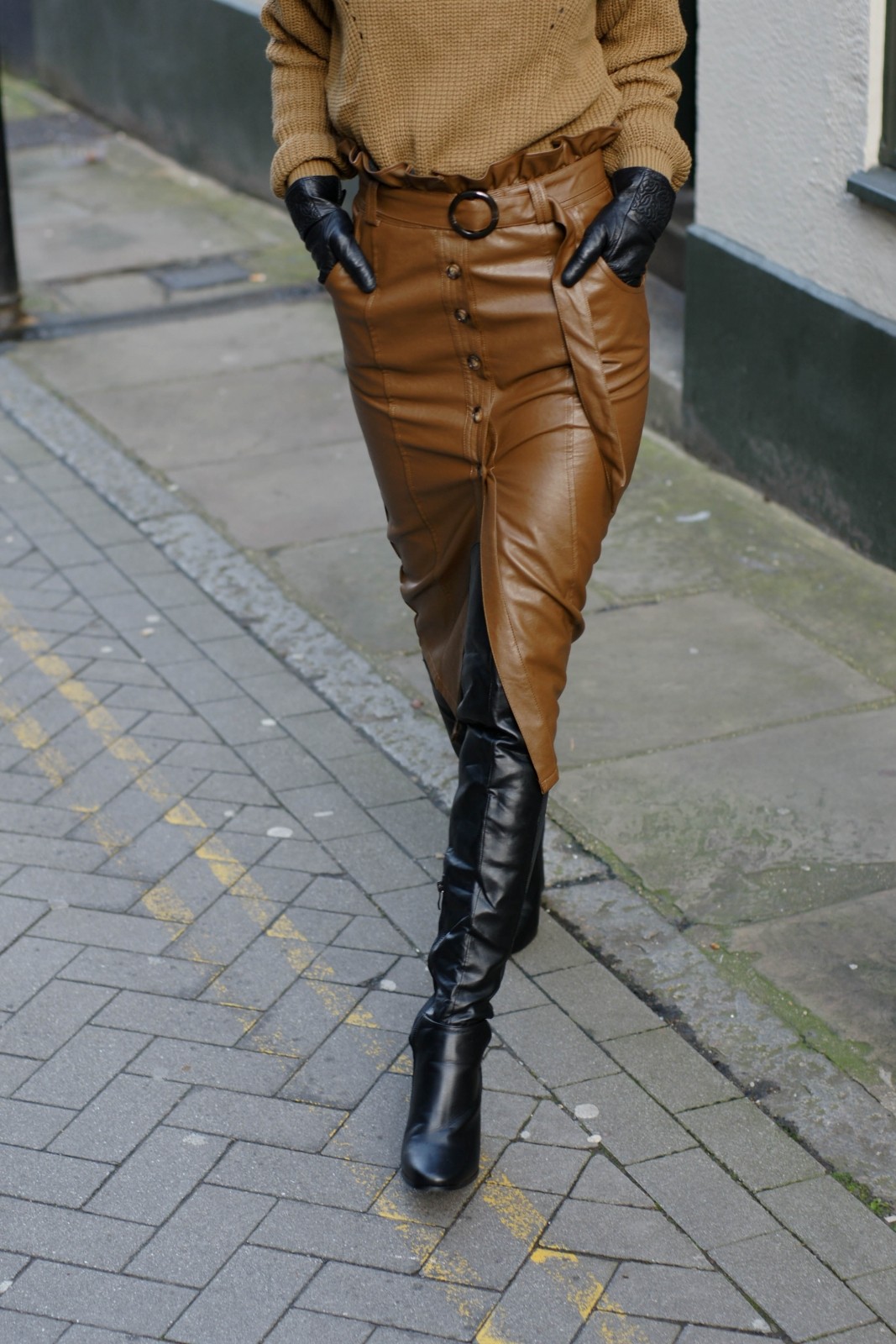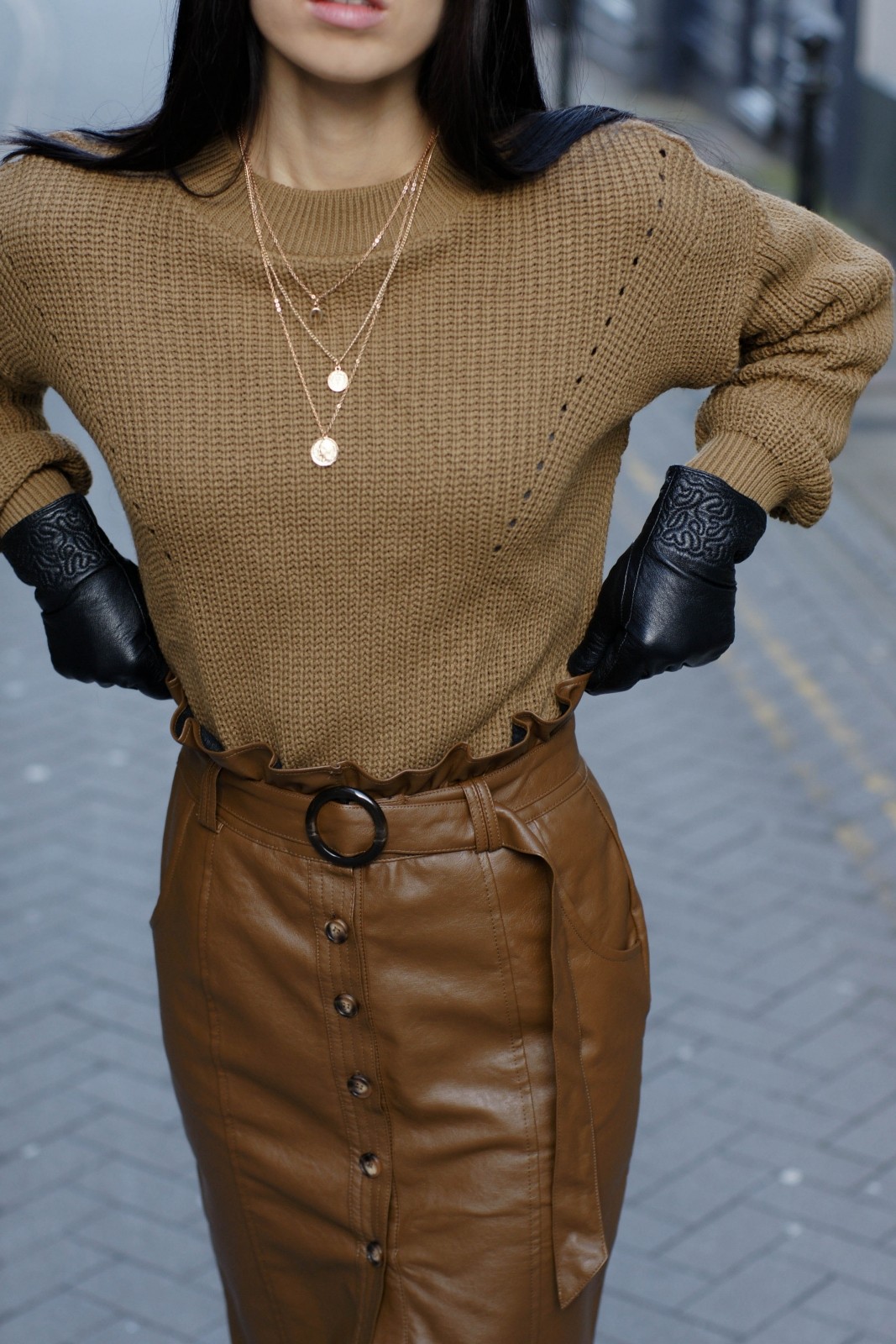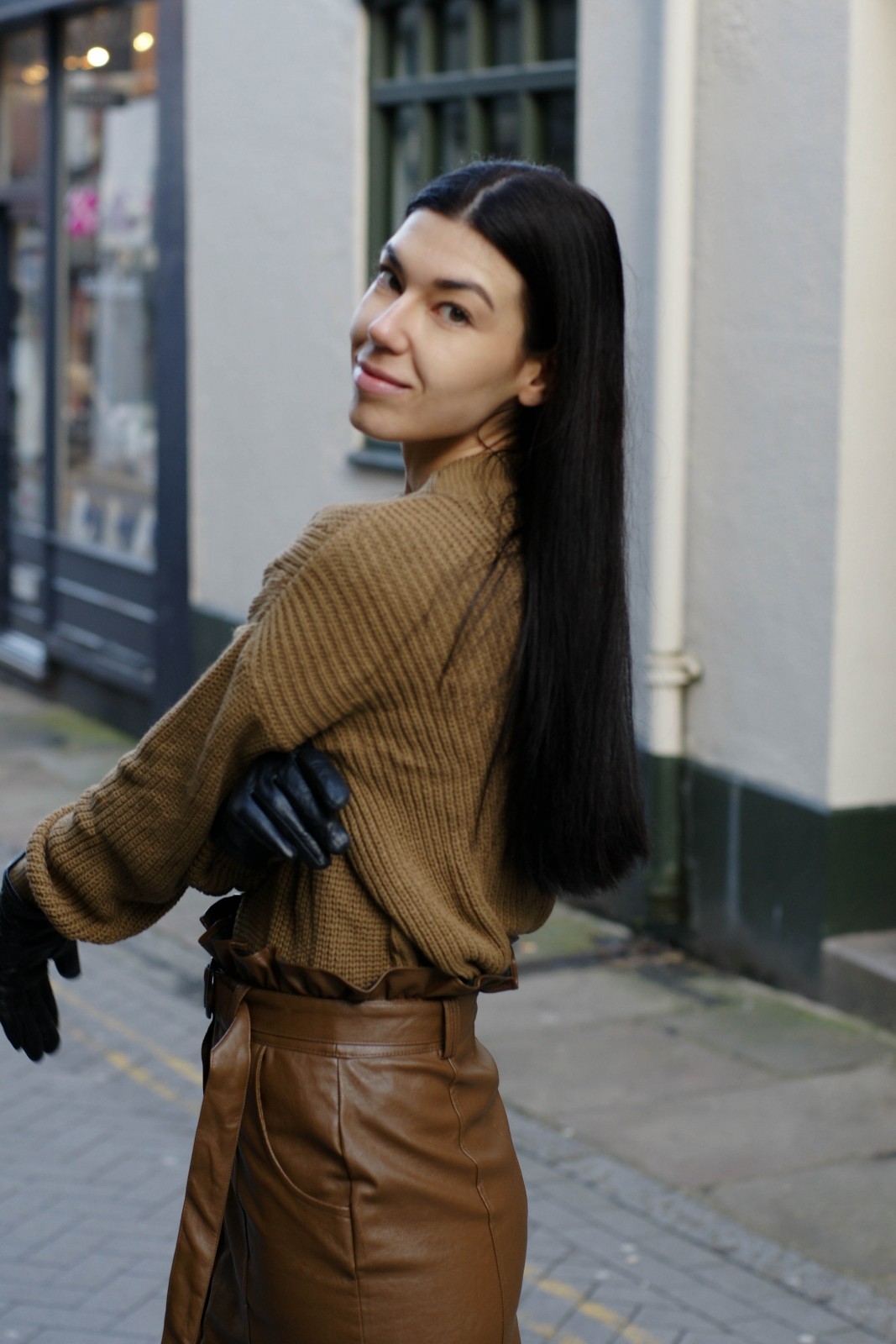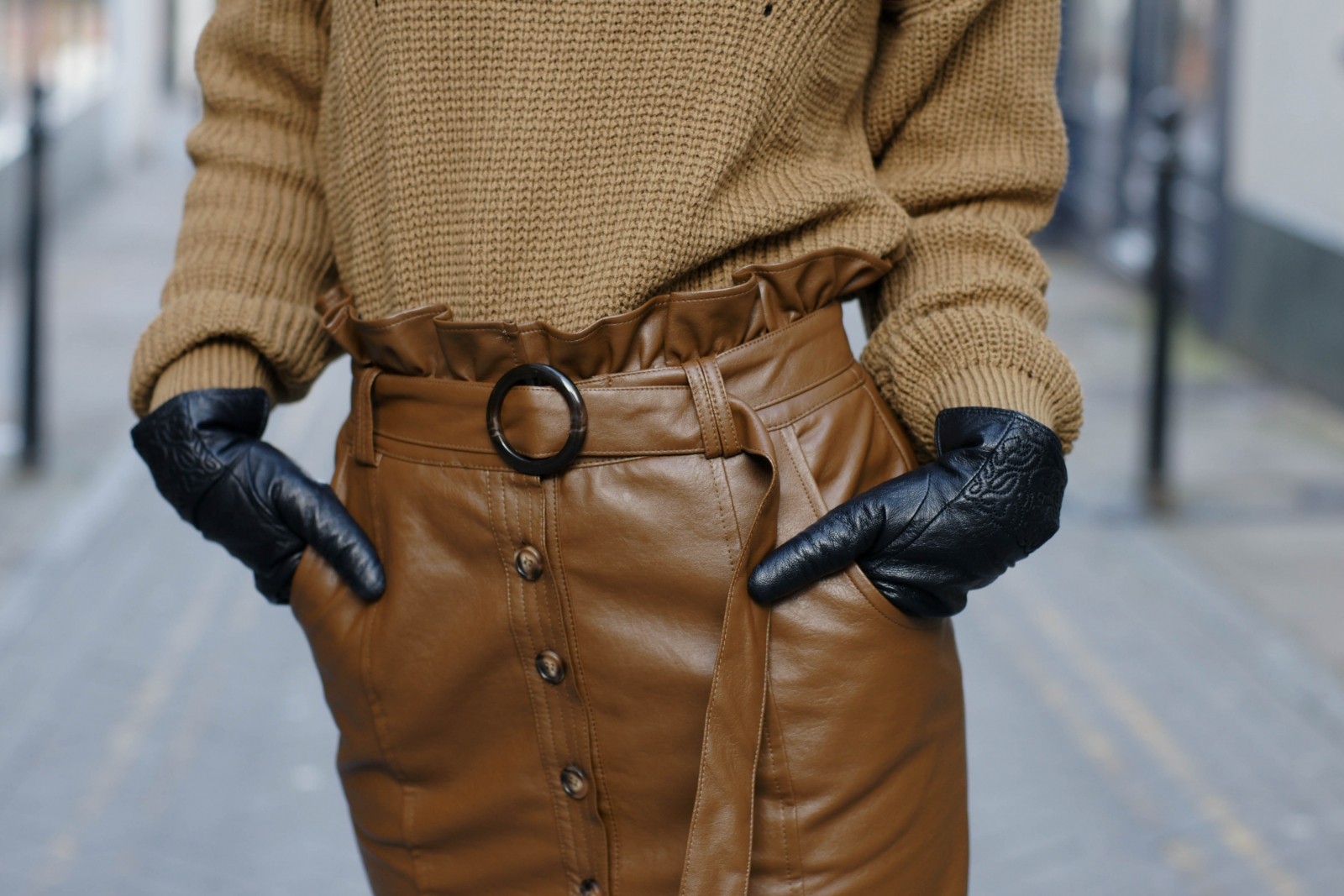 With Over-The-Knee Boots
You've probably seen this one coming (from scrolling through the various images!) but here we go. You can never go wrong with styling your leather pencil skirt with a pair of killer over-the-knee boots. I wouldn't recommend wearing these at 9 am while taking the metro to work, but why not for the Christmas office party? Beware, pairing your leather skirt with over-the-knee boots can be a bit too much at times. Remember Julia Roberts in Pretty Woman and her 'outfit' before getting a huge makeover? Yes, I'm talking about her skirt and vinyl boots combo. That can be slightly excessive no matter the occasion or the hour!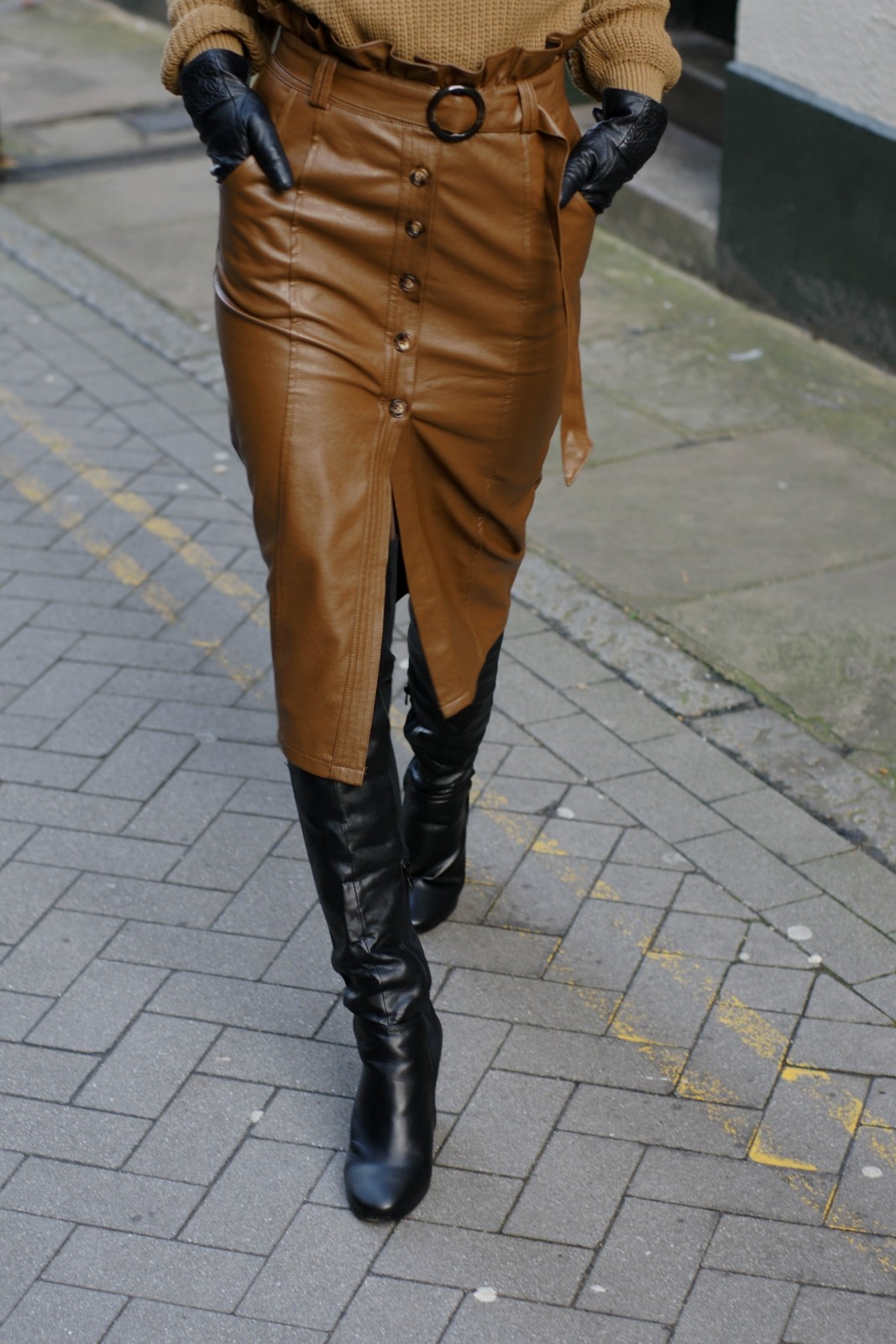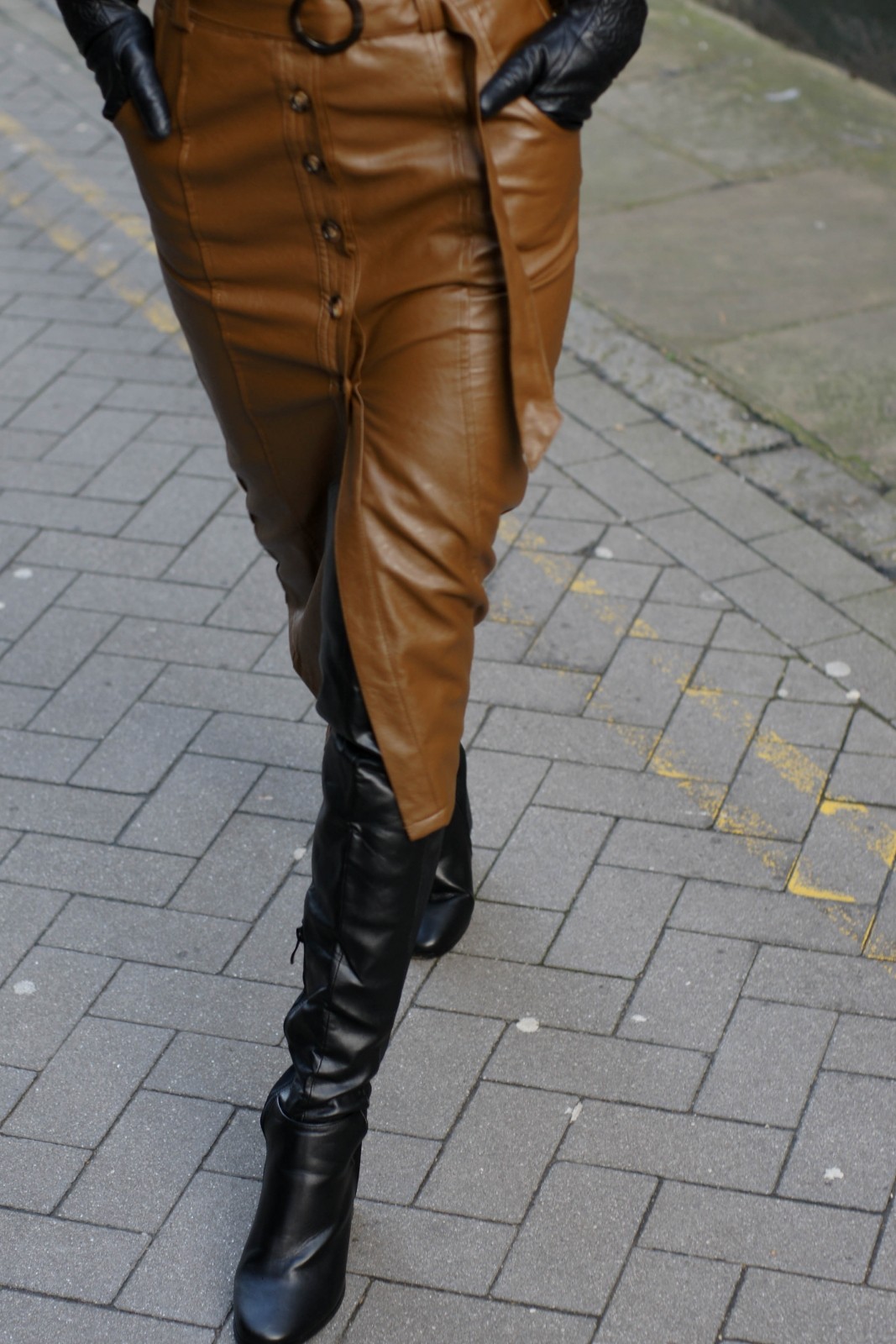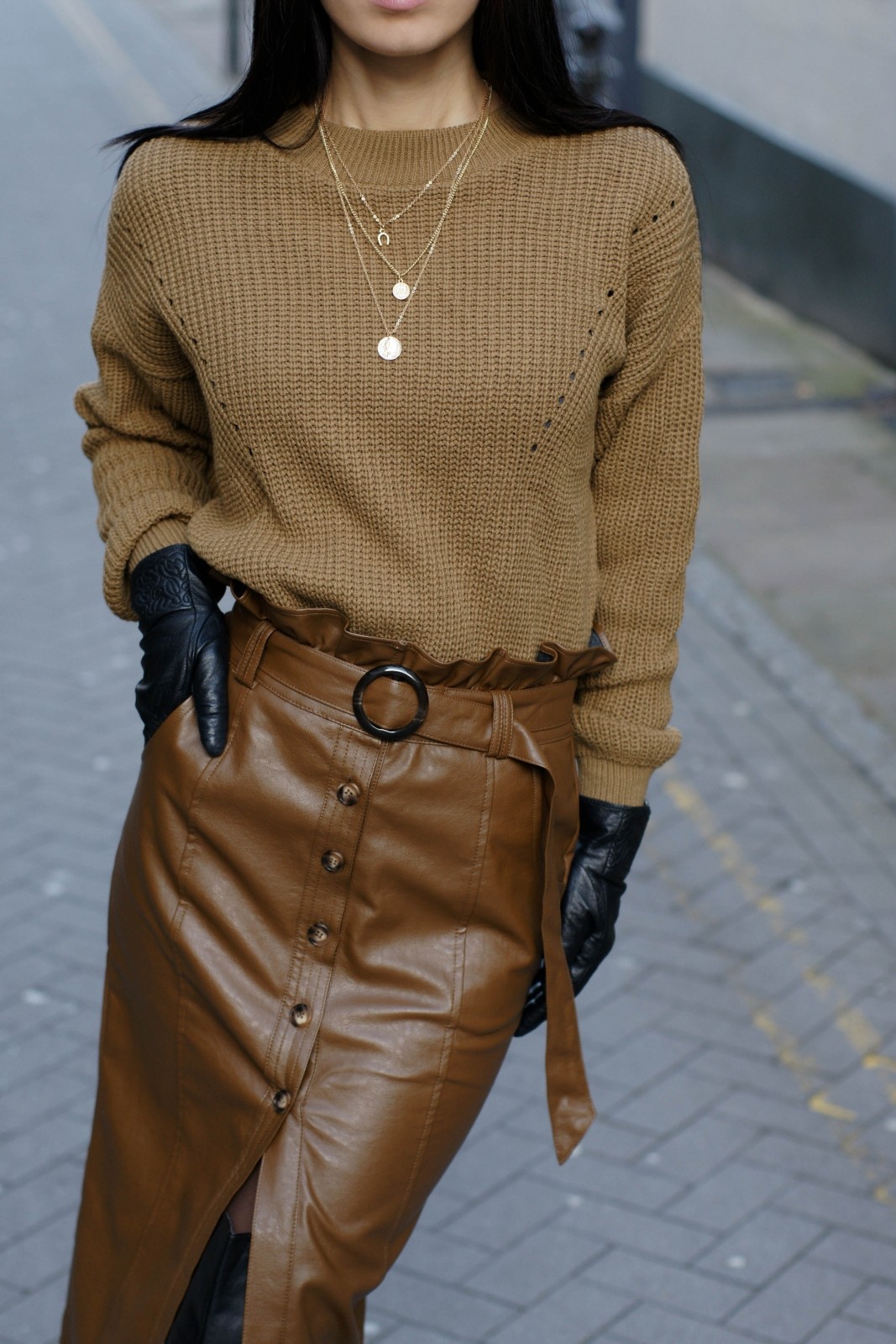 However, choosing the right style of over-the-knee boots can really bring your outfit to a whole different level. I've paired my leather skirt with simple black leather boots with a block heel to achieve a more daywear look. Also, black boots will complement any coloured leather skirt. If you want to achieve a more glamorous look for a night out, then opt for these stiletto-heeled over-the-knees! You can wear these boots to the club with a sleeveless top alongside your leather skirt. If you choose not to wear a leather skirt after all, then rock the thigh-high boots with an oversized hoodie to create a grunge look.
SHOP OVER-THE-KNEE BOOTS

How do you style your leather pencil skirt?
Check out more of my outfits here!
YOU MIGHT ALSO ENJOY:
The Outfit You Need To Try: Cropped Sweatshirt & Tracksuit Pants
How To Wear Your Aviator Jacket
Why Leather Pants Are Still In Style (& You Should Get A Pair!)
20 Trendy Winter Outfit Ideas To Keep You Warm
4 Must-Have Over The Knee Boots Styles