There is nothing worse than a thirsty, dehydrated skin! Especially during the frigid winter months, right? The feeling of dryness can not only be very painful but also extremely uncomfortable. When your skin is dry all of your makeup (at least mine!) seems to find its way into your otherwise non-existent wrinkles. What's worse, all of a sudden you can see 1 or 2 dry patches that you're absolutely sure weren't there when you left your flat in the morning. Gladly, there is always help! The solution comes in the form of moisturising creams and products. Recently, I've tried some amazing moisturisers and I wanted to share my experience with you in the hopes you'll also find relief for your thirsty skin.
Ahead, three moisturising products for your thirsty skin!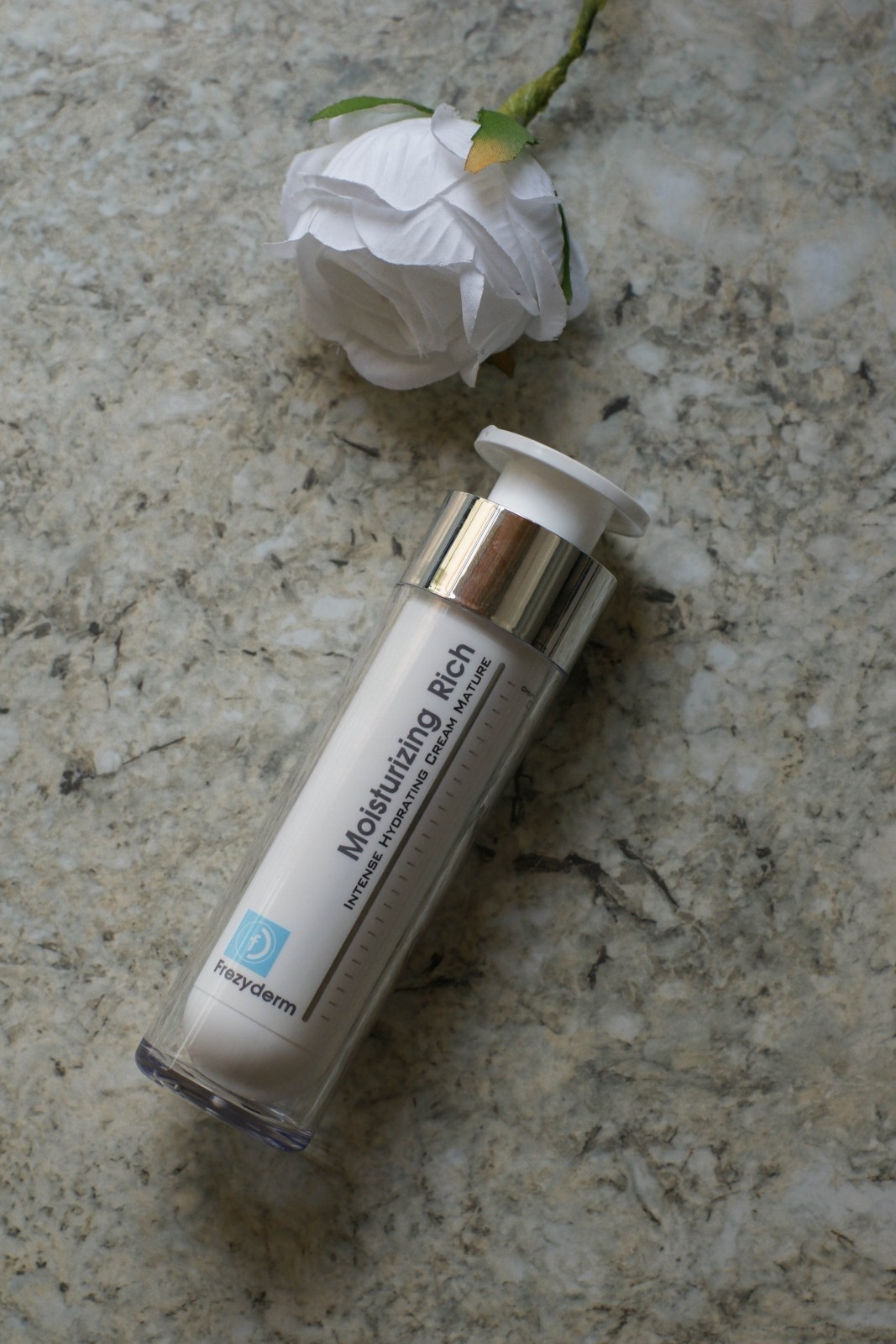 *Frezyderm Hydrating & Repairing Moisturising Plus Face Cream
I was very excited to try the Frezyderm Hydrating & Repairing Moisturising Face Cream! If you check the description, you'll notice it is intended for adult skin (30+). Although I haven't reached the big 3 0 yet, I love using skincare products for more mature skin! I've also mentioned and discussed this in other posts such as EUCERIN: Salvation For My Dry Skin and Are You Ready For The Lierac Magnificence Range?
Thus, you can imagine my excitement when the Frezyderm Moisturiser arrived. This is a very rich and gentle cream for the face and neck, intended to deeply hydrate the skin. Based on the description, it is a unique blend of three types of hyaluronic acids. Each of them is of different molecular weight, working together to hydrate all three levels of the skin. Moreover, the Frezyderm cream can promote the production of collagen and elastin. This, in turn, should result in reduced fine lines, firmer and more toned skin.
While I can't comment on this last statement, what I can definitely say is that this cream is extremely moisturising. I like to apply it after I've taken a shower as my skin is at its driest at that point. Instantly, my skin becomes softer and more toned. It also has a pleasant smell, which I'm guessing is owed to the active fig and herbal extracts. What I would definitely recommend is to steer clear from applying the Frezyderm face cream during the day. It could feel rather heavy if your skin is not overly dry. This can be an unpleasant sensation, especially if you know you'll be spending the whole day out and about.
Garnier Moisture Bomb 3 in 1 Day Cream Moisturiser
Now this one was a rather impulsive purchase. I got it the day before our flight to Japan in the summer. Truthfully, I was looking for the Garnier Moisture Bomb Glow Booster, but they'd run out of the stuff in Boots. It was no surprise, as this one received such amazing reviews during the past year! As a result, I had to go for something else. And when I eyed the Garnier Moisture Bomb Moisturiser, I knew I had to have it!
I'm not sure how different the cream is from the booster, but the Garnier Day Cream Moisturiser is definitely worth it! It has an ultra-light texture and it feels like you're applying thin air of pure unicorn magic (whatever that might feel like)! If you have dry, thirsty and dull skin, and are looking for a quick moisturising boost, then this is your go-to saviour!
It combines two antioxidant super fruit extracts – amla and pomegranate, combined with daily UVA/UVB protection. I apply the Garnier cream every morning after cleansing and prepping my skin for makeup application. The moisturiser melts immediately and has no greasy or sticky effect. Moreover, it makes my skin super soft and all of my makeup glides on smoothly. Although it says that it provides 24-hour hydration, I wouldn't rely on this. If you have excessively dry skin, like myself, everything stops working after 5 hours, especially during winter.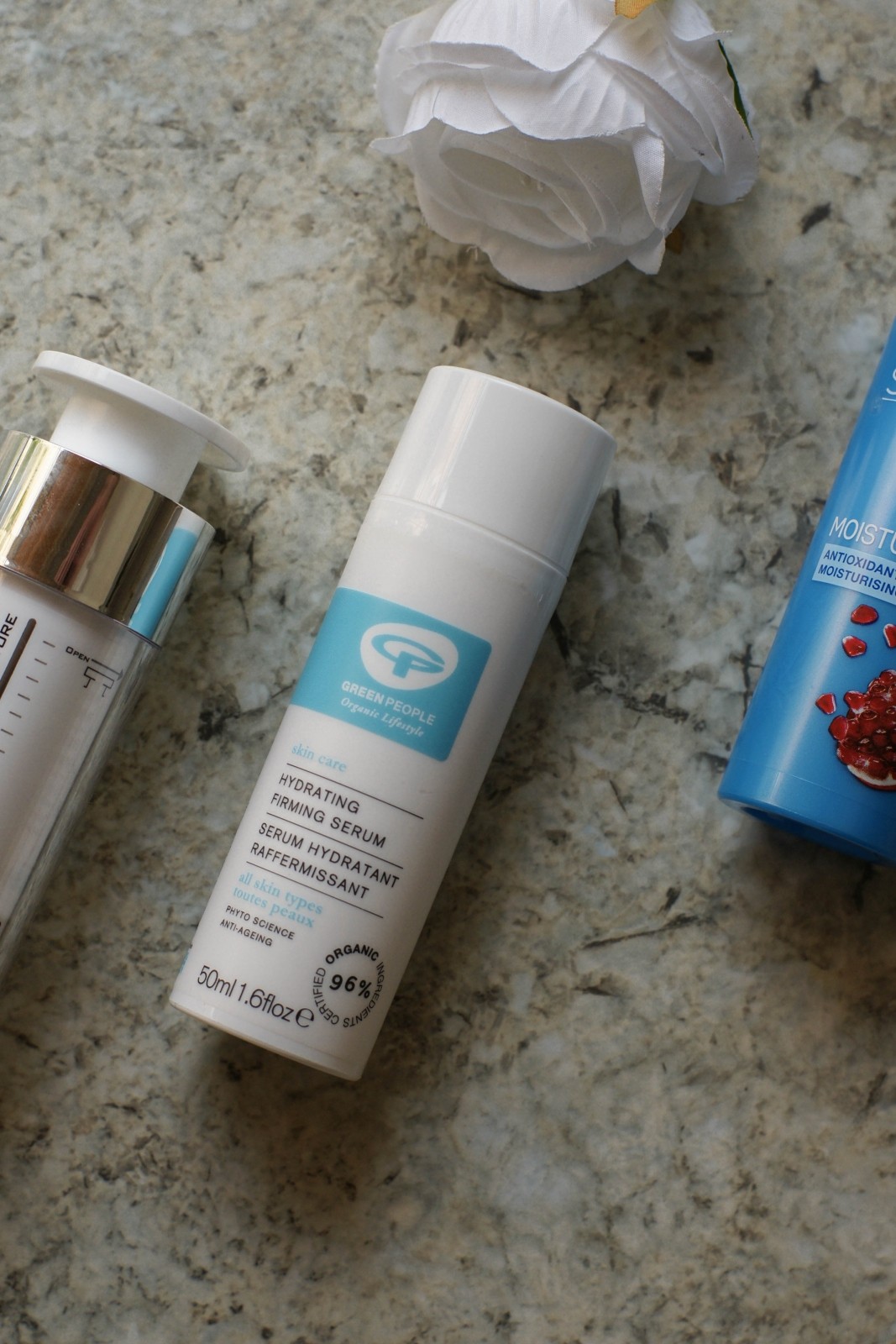 Green People Hydrating Firming Serum
The Green People Hydrating Firming Serum is another exciting product I was very keen to try. Upon reading the reviews, I was amazed to discover that this product is organic. I'm not sure why I had such reaction, considering the name of the brand – ahem, Green People… I guess I'm not quite used to seeing organic firming serum, hence the reaction.
Anyway, this hydrating serum not only moisturises your thirsty skin but also provides you with great anti-aging benefits. Just one pea-sized drop can cover your whole face and you can really feel the moisture locking into your skin! Green People's firming serum contains organic chamomile, seaweed, marshmallow and rose.
Is this for your face or tummy?!
Additionally, it is suitable for both congested, oily skin as well as very dry skin. I apply this serum first thing in the morning, after washing my face. I found out that if you apply it right before your makeup, it won't be able to soak in properly. Thus, you need to leave it for quite a long time in order for it to do its job. Apart from that, it really does hydrate my skin, leaving it soft and moisturised. Also, considering it is 96% organic, I can't really find any flaws with it.
Have you tried any of these products?
What are your go-to moisturising products for your thirsty skin?
Click here for more skincare tips and product reviews!
*This product was received as a PR gift in exchange for a review. My experience, opinion and thoughts are all mine.
YOU MIGHT ALSO ENJOY:
Avène Hydrating Cream, Moisture Mask & Barefaced Rice Oil Mask Review
La Roche-Posay Effaclar Duo Plus & Avon Anew Products Review
DHC Face Wash Powder & DHC Eye Bright Review
L'Oréal Favourites: Smooth Sugars Scrub, Pure Clay Wash & More