Hello, dearests!
We are now well and truly into December, can't wait for the snow I won't have in the UK! To cheer myself up I decided to do a post about my red biker jacket. Weird, I know. Nevertheless, if you think about it – it actually makes sense as the jacket is in this beautiful bright red colour that you can't help but look at and smile. Or is it just me?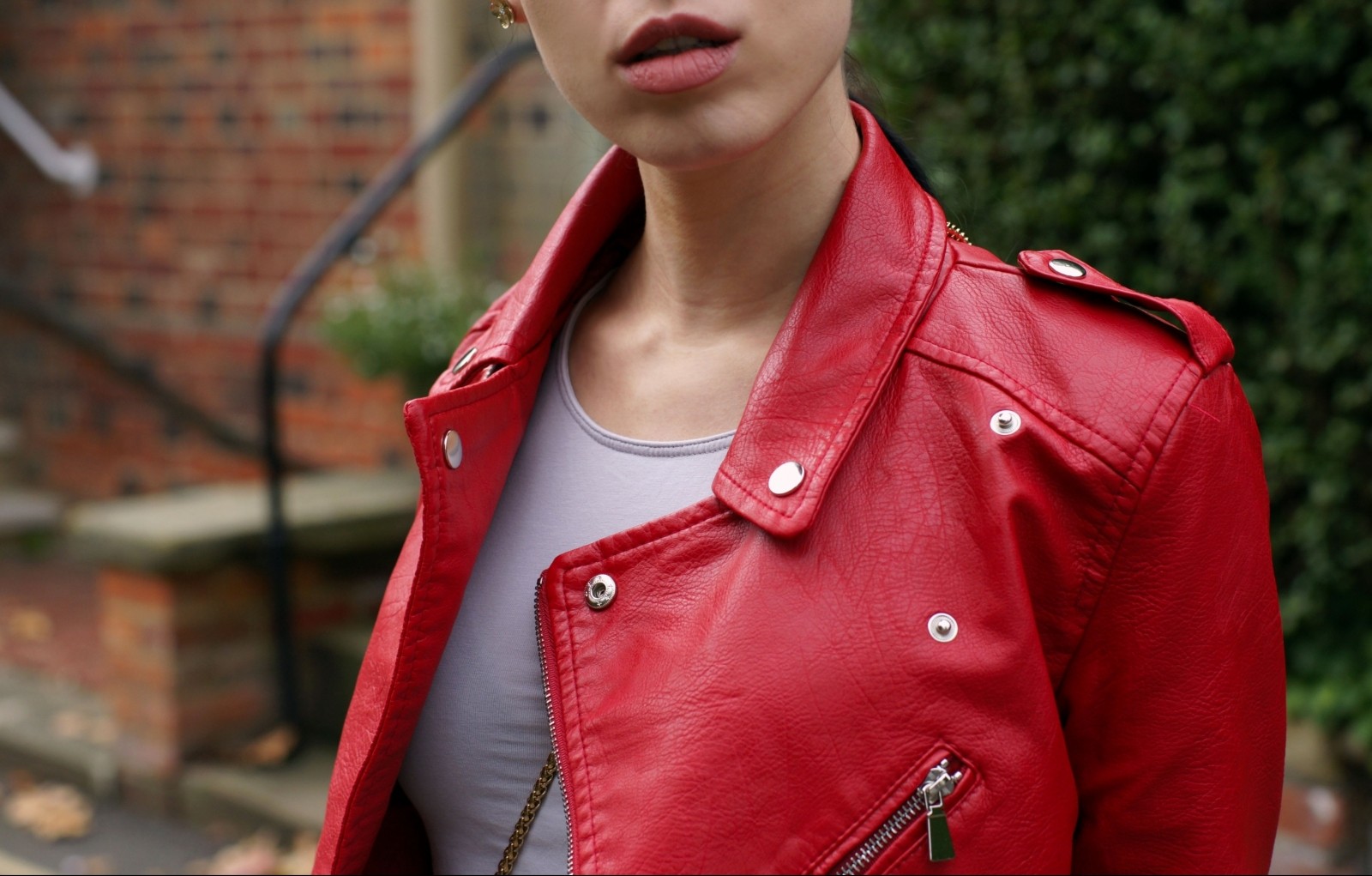 Some Background
To be perfectly honest with you this is my second leather jacket… EVER!!! Surprisingly or not, I got my first one six years ago from H&M. I was in Uni back then and I was seeing this biker-look trend everywhere on campus. Eventually, I decided to join the squad by including this much-needed trendy outerwear in my wardrobe. So, one grumpy morning I decided to go on a shopping trip to the town centre. Actually, shopping trip is an exaggeration! You can't do a proper shopping trip with a limited budget, can you now? To be precise, I had only £20 to spend. That's all the money I had and was comfortable splurging on a biker jacket. For this reason, the budget-friendly high-street shops were my best options. I targeted New Look, Primark, Next, Zara and H&M – the latter being my last stop as it was on top of the high-street. As you might have figured it out by now I didn't find what I was looking for in the other stores. In the long run, H&M saved both my back and piggy bank! There and then, I saw my black leather biker jacket for just under £20 and grabbed it!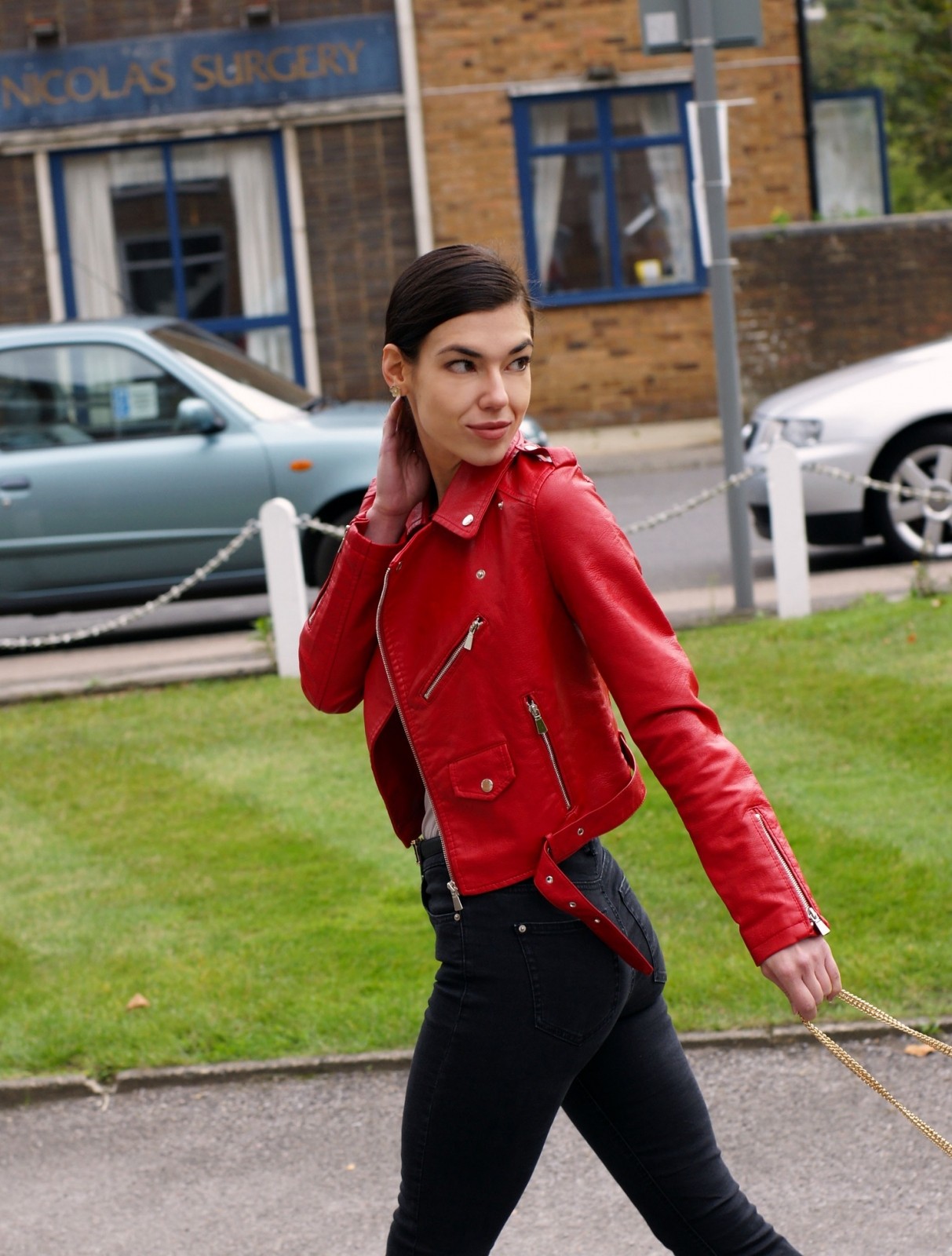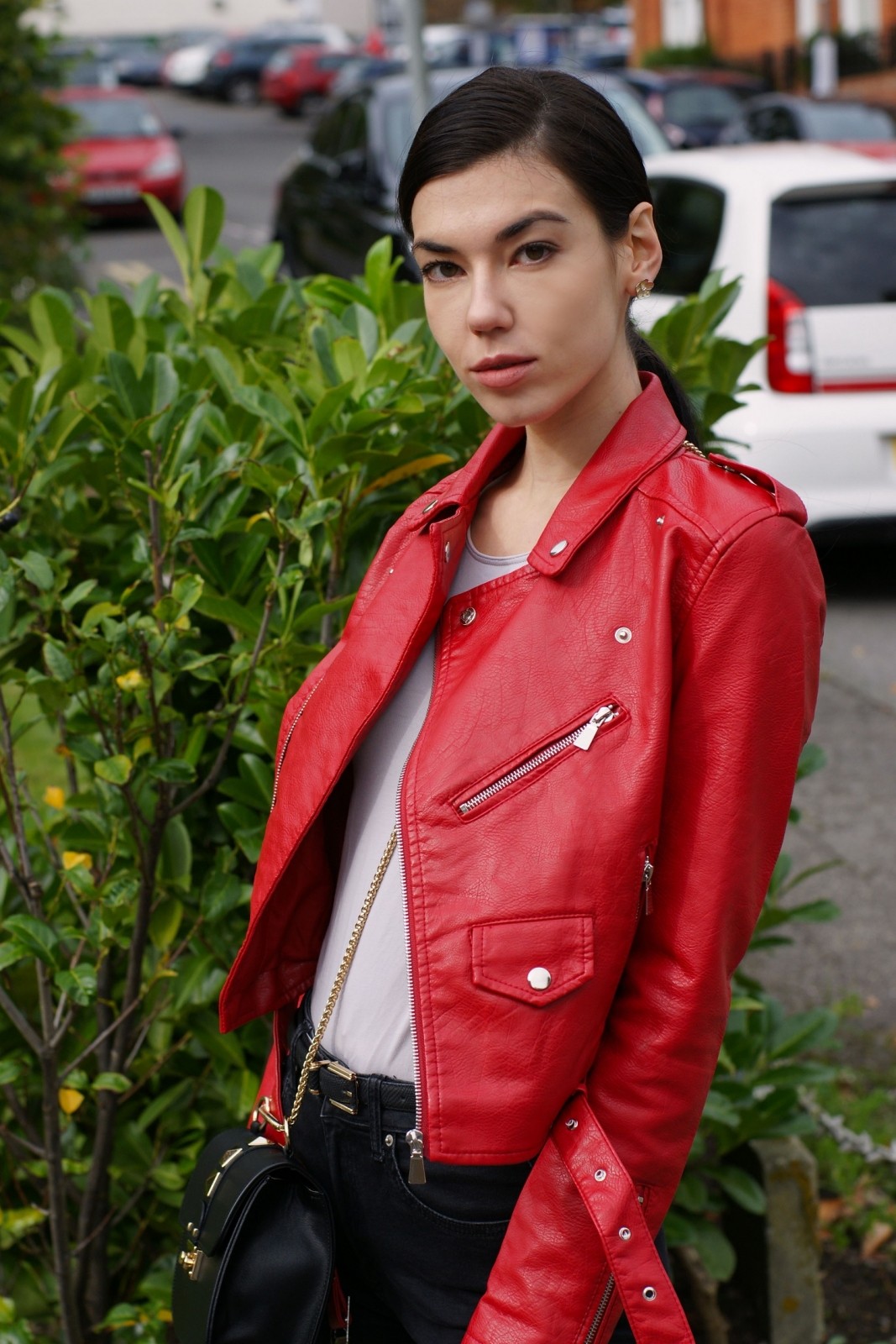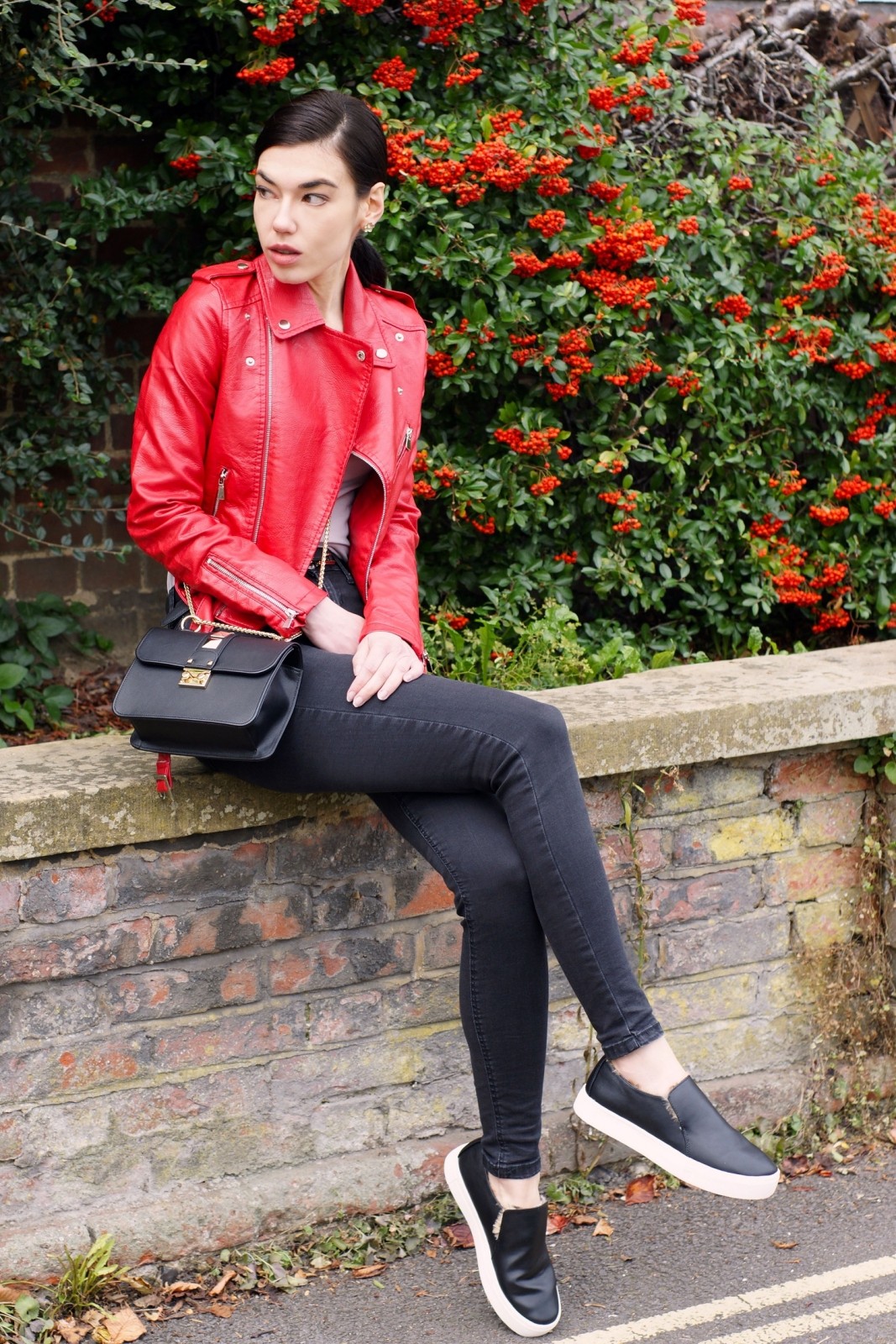 I was so happy I finally had this trendy staple in my closet, that I wore it every single day for a month! Yes, a whole month! Don't worry, I didn't end up smelling like Pepe Le Pew! My happiness was short-lived as winter came. Sadly, I had to swap the jacket for something thicker and warmer! Winter behind, then spring came and I was happy to take it out again. I was on holiday in Bulgaria when the sad realisation hit me. Almost everyone in Bulgaria was wearing the same boring black leather jacket. I then realised we all look like clonings. Dark hair, dark eyes, jeans and black jackets were all around me! Consequently, I started to hate my black jacket and immediately put it away after coming back to the UK. Actually, the last time I wore it was in March before I decided to give it away to charity. Without delay, I swore I won't get a leather jacket ever again, but here we are! Never say never, I've learned that the hard way.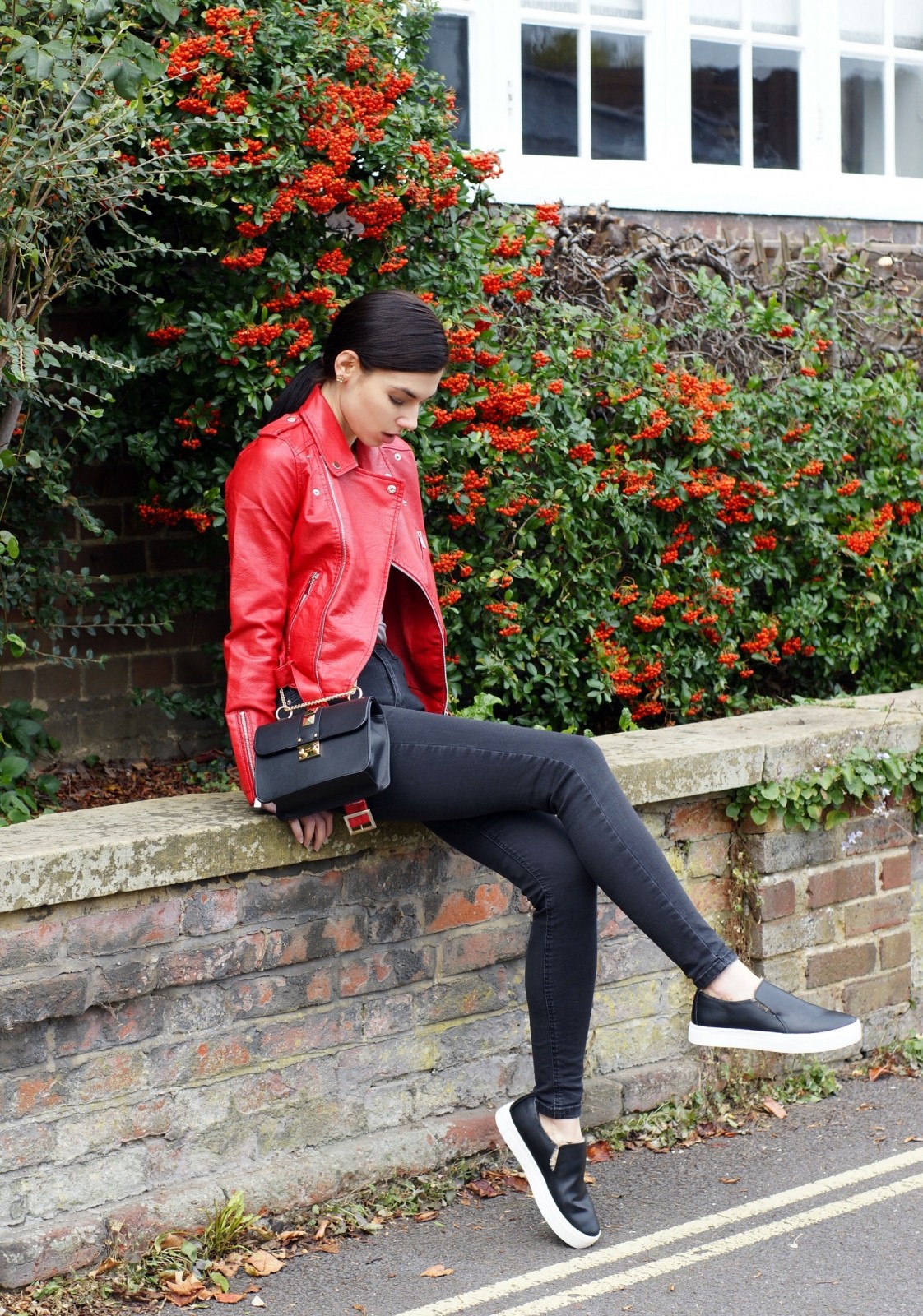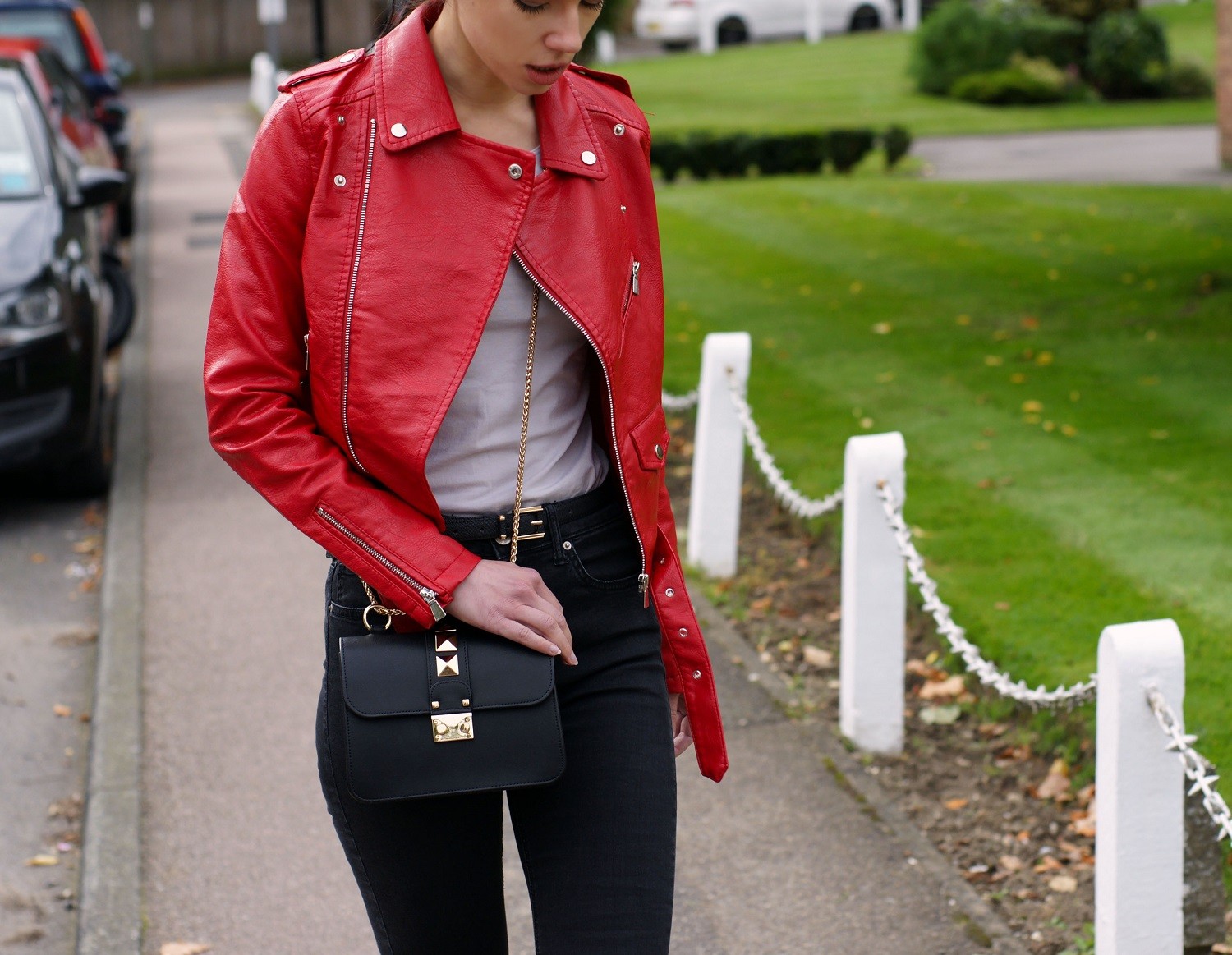 Long story short, I was searching for something on Nasty Gal when I saw the beautiful variety of biker and moto jackets they had on their website! There were so many colours available – varying from baby pink to strong mustardy shades. Moreover, I could choose between suede and leather fabrics. I came to the conclusion that I would go for the leather type again as the weather in the UK limits my suede ventures. Howbeit, I found myself drawn to the darker shades again. Hence, I did a fashion U-turn and opted for the lighter, more colourful and striking varieties. I've singled out the red biker jacket and mustard biker jacket as my top choices – the red biker jacket being the winner! I wouldn't usually go for anything red as it draws too much attention, but I wanted to challenge myself and my fashion decisions. Some very wise people have said it – why fit in when you can stand out?!
The Red Biker Jacket
Truth be told, when the red biker jacket arrived it was even brighter than the pictures on the website! Howbeit, the design was astonishing! Made from vegan leather, it looks and feels like the real deal. And what could beat that? It features a moto design and cropped silhouette for the badass biker chick in you. The asymmetric zip closure at front differentiates it from the other leather jackets out there. Plus, you get snap pockets at sides and belt at waist. Nasty Gal say you can wear it with anything because this jacket goes with everything! Hands down, I couldn't agree more. I would love to wear this jacket with a skirt or shorts, yet these pictures were taken in October. As you might have figured it out – skirt and shorts in October weren't on top of my list! Hence, I went for the ultimate biker/moto look – jeans + plain beige top (read about my beige obsession) and warm-lined slip-on trainers! I couldn't recommend these highly enough. Super comfortable, stylish and warm, these slip-ons need to have a place in your shoedrobe! H&M are also offering them in the lovely light pink and light grey colours. Complementing my whole outfit is the gorgeous Rock Stud Chain Bag from Minusey. Channelling the ever-so-elegant design from Valentino, this rock stud will give you the quality of the famous brand but without the extra zeros!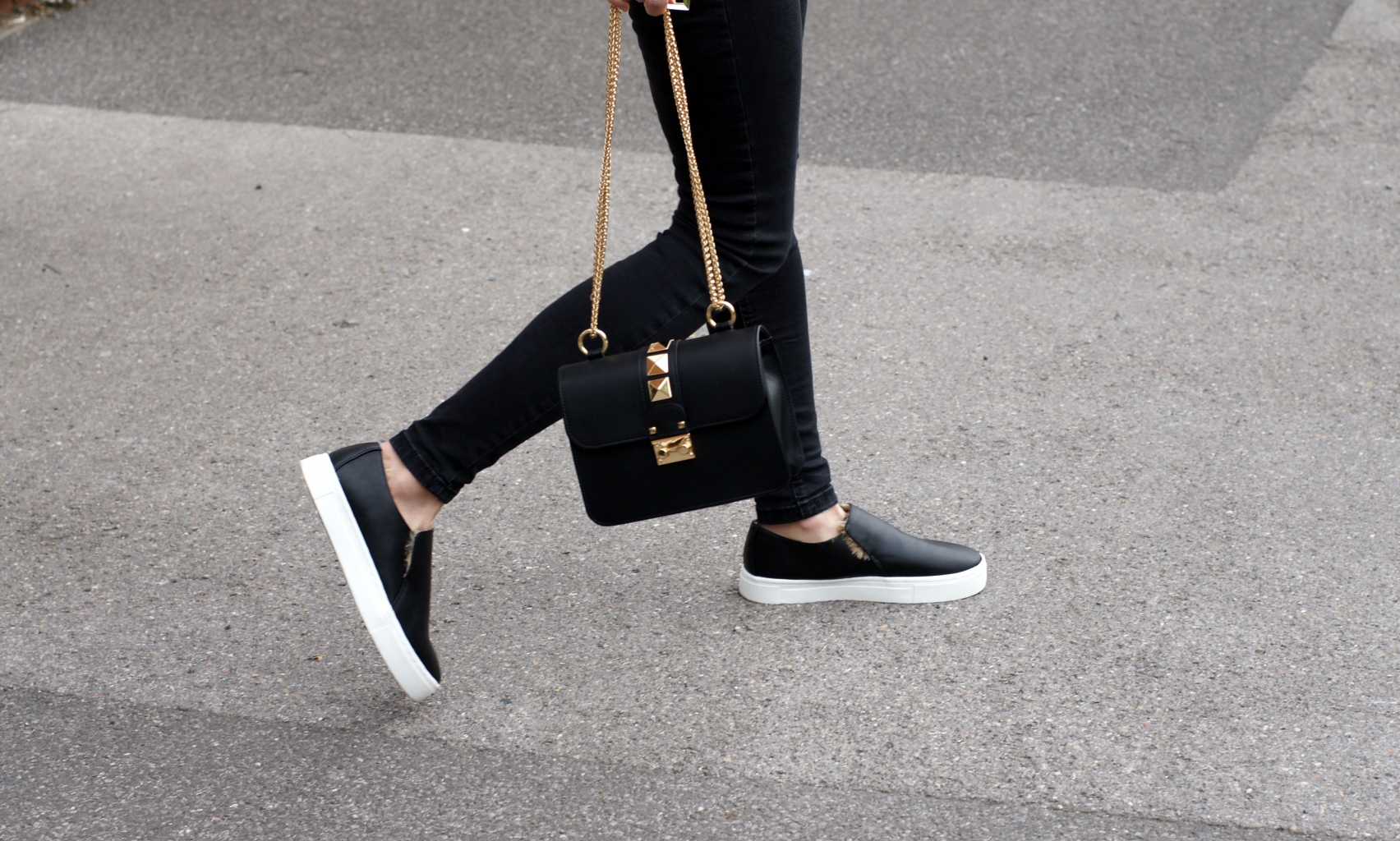 You can shop everything from the links on top of the post or the slidebar below! Would love to hear your feedback about my red biker jacket in the comments section!
Outfit details: Nasty Gal Leather Biker Jacket (last seen here, similar here, here and here); Bershka High-Waist Jeans (here, similar here, here and here); Tom Tailor Top (last seen here, similar here); H&M Warm-Lined Slip-Ons (here); Minusey Rock Stud Chain Bag (here)
x Mariya
YOU MIGHT ALSO ENJOY:
Vest And Jeans: How It All Started
Obsessed With Beige – I Regret Nothing!