Total: 40min | Prep: 15min | Bake: 25min | Level: Very Easy
Energy per muffin: 323kcal | Carbs: 38.8g | Fat: 15.8g | Protein: 6.4g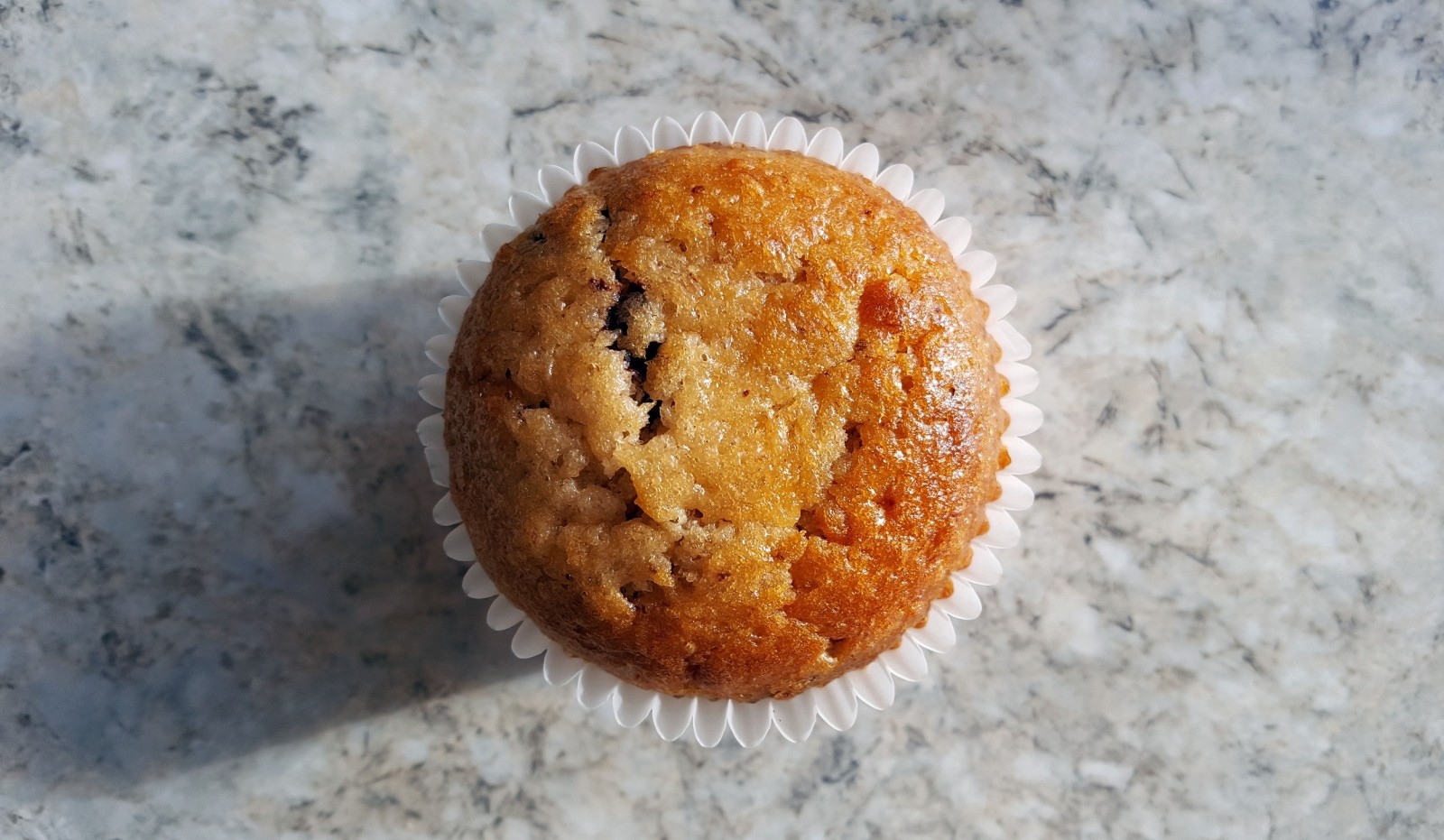 It was a lovely sunny afternoon and I was once again in the kitchen, facing the everyday conundrum of what to do with that brown-spotted banana – casually and rather sadly sitting in my fruit bowl. While I usually go for the basic banana bread, I felt adventurous and decided to put on my creative hat. Therefore, after careful, mostly delicious investigation, I picked my base for the muffins and went for my banana peanut butter muffins plus chocolate adventure. I was a bit sceptical as I've tried making muffins before and they didn't turn out that well, but these turned out to be just fine. Actually, more than fine! My boyfriend's brother wolfed two in a 4-hour period… Honestly, I should really give myself more credit sometimes…
Most of all, this recipe is super easy to make, hence you won't burn down the kitchen. Even the most fearful and uncertain bakers-to-be will succeed in this challenge and I promise you a scrumptious outcome! You are more than welcome to alter the main ingredients to your liking as I've been a bit scroogy with the chocolate – I'm ever so the calorie freak! For a gooey-ier and nuttier experience, double the amount of peanut butter, I now regret not doing it! Whenever the opportunity arises, I always try to mix peanut butter with something as it's super healthy. You can check my long and boring post on why peanut butter is healthy. Also in my regret aisle – I didn't have self-raising flour… Consequently, I've used plain flour. Note to self: ALWAYS CHECK THE CUPBOARD STOCK IN ADVANCE… damn it! Thankfully, we can all make our own self-raising flour by increasing the baking powder! Thank you, smart people, thank you internet! Now let's get down to business.
Banana Peanut Butter Muffins + Chocolate Chip
What you'll need aka the ingredients:
55g Butter (Unsalted; Softened)
1 Very Ripe Banana (Mashed)
50g Dark Chocolate (or whatever you fancy!)
1 Medium Egg (Free-range)
110g Plain Flour (or Self-raising)
1.5 tsp Baking Powder (1/2 tsp if using self-raising flour)
90g Caster Sugar
Spoonful of Peanut Butter – about 40g(Crunchy or Smooth, your choice!)
30ml Milk (I've used semi-skimmed)
1 pinch Salt
Method:
01. Preheat the oven to 180°C (fan 160°C, gas mark 4), then line a 6-hole muffin tin with paper cases.
02. Place everything except the flour, baking powder and peanut butter in a bowl and beat with electric mixer until smooth. It takes about 5min.
03. Sift through the flour, baking powder and salt. Mix until just combined, don't overdo the mixture.
04. Spoon half of the mixture into the paper cases and place a spoonful of peanut butter in the middle. I've used my favourite Sun-Pat (link to PB article) Crunchy Peanut Butter. Once done, fill the muffin cases with the rest of the mixture.
05. Place in the oven for 25 minutes or until a skewer comes out clean and hot. The muffins should have a golden brown colour.
06. Remove from the oven and cool on a cooling rack.
07. Final and most important step – ENJOY!
Finally, I've also made a quick video for you guys, you're welcome! Check out the video below or head over toYouTube. I promise to get a professional camera in the near future to make your life a bit yummier and a lot more HD! 😉
Let me know if you also make these delicious banana peanut butter muffins!
x Mariya
YOU MIGHT ALSO ENJOY:
Healthy & Delicious Cavolo Nero Pasta