For anybody reading this right now – don't worry – this is not my outfit for 1st December! I might be bonkers, but not to that extreme! I've been so busy getting this website done that I've completely missed out on the opportunity to write about my recent outlooks (last one here). Vlad took these pictures end of September, hence my late-summer-early-autumn look. As a matter of fact, my next couple of posts will be from September and October – just to get the record straight! So much for that, moving onto the important stuff.
Beige Obsession
I've always been a sucker for beige. From light to dark and its pale to yellow and greyish varieties. You see, beige is one of those colours that suit everyone no matter their hair or skin colour. Actually, I've met so many people who say beige is not their colour and they couldn't be further from the truth. That's when I draw the line and disagree almost always openly disagree with them. Like every other colour out there, you need to find the shade that suits you! A long time ago, I had this colleague who wouldn't stop complaining how much she loves beige but beige didn't love her. Reason being, she had a very pale complexion and she was focusing on the lighter shades instead of the darker ones. Luckily, I can wear every shade of beige… or so I think?! Please tell me if I'm wrong!
Beige Blazer
I really like wearing blazers, especially long ones. It's my go-to-outerwear whenever I feel a bit under the weather, especially during that time of the month! I retain a lot of water weight, my thighs being the main victims and I don't feel like showing them off. Hence, if the weather allows it, I turn to my favourite wool blend blazer. My mom found this one last year online from the Bulgarian brand Replica. Unfortunately, they no longer have it on their website, but feel free to have a look at their other options. They deliver to Europe and Asia, just send them a quick email to double-check! I specifically like this blazer because 1 – it's beige and 2 – the detailed black and white sewing threads going along each side including the imitation pockets. For me, the details make this blazer outstand. Wearing it I feel casual, yet stylish! Personally, I prefer to match it with a similar colour camisole or top. If you feel adventurous, experiment with other colours. I'm yet to wear this lightweight with anything else but jeans. Skirt, shorts, trousers wouldn't cut it – I'm just not feeling the match!
Beige Mini Crossbody Bag
Give me a good bag and I'll rule the world! Sadly, I can't buy all of them… especially the ones that will cost you a small car or a 2-bedroom flat in some countries! Have you ever since that picture of the girl that needs money for Chanel (here)?! That's me! Not the girl, obviously. I'm not gonna lie, I'm willing to spend half of my salary for a good clutch! The other half will be spread across clothes and makeup, duh.  Anyway, going back to my original point – I can't resist a good handbag. Overwhelmingly, there are so many options out there that most of the time I just feel dizzy. But every now and then I find little gems like this beaut from Camelia Roma. I came across Camelia Roma through an Instagram post and it was love from first site! It's an Italian brand and all of their products are made of leather with a woven interior. This specific mini has a shoulder strap with gold chain details and clasp closure. I went for the cameo colour as it is an all-season favourite. However, I'm also glancing at the light blue and fuchsia ranges!
Complementing My Beige Outfit
Ok, the shoes and watch are not beige, but I do feel they complement the whole outfit in their own way. Both feature golden details, channelling the gold chain from the crossbody. The shoes are from Vivienne Westwood + Melissa collaboration, found on Nonnon. Sadly, there are no longer available but have many other options on which you can dribble. Varying from glossy to matte finishes, there is something for everyone's taste. Moreover, made from patented super-soft Melflex plastic, there are super easy to clean with just a cloth and warm water! And no, your feet won't smell after wearing them for 8 straight hours! As Melissa say on their website – accentuated with the Orb-logo pin, this is the shoe with everything!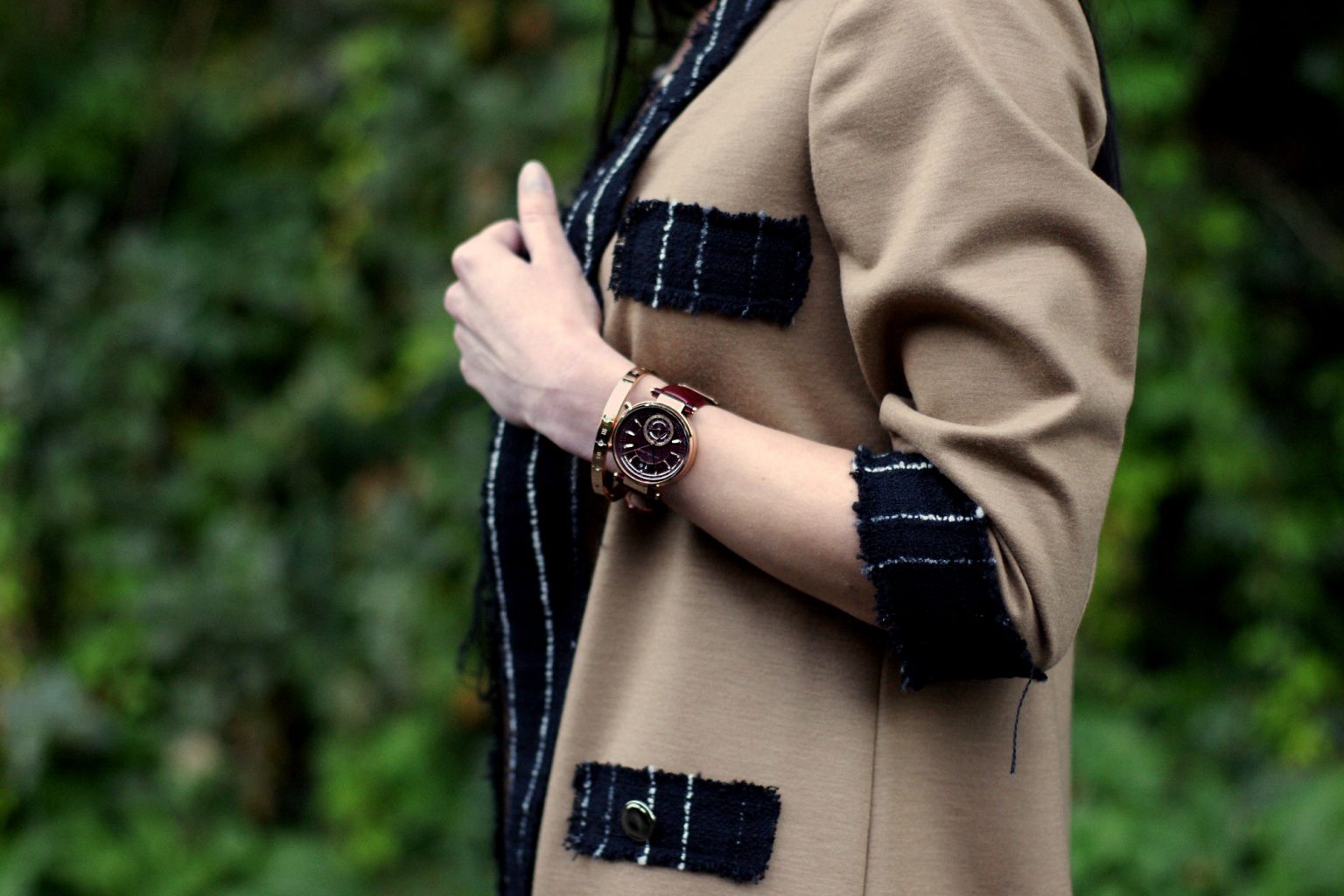 Next in order – the Michael Kors Sawyer Watch! Truth be told, I've never really looked at Michael Kors watches before. I've always had other brands in mind when I've been on the lookout for a good statement watch. However, I think I'm officially converted and from now on I'll MK will be on my list for watches! Actually, scratch that. Not only for watches but for accessories as a whole. The leather strap is in a gorgeous dark plum colour with fixed rose gold-tone bezel. Also, featuring plum dial with rose gold-tone hands and crystal-tipped index hour markers. It's a very beautiful must-have elegant watch, last seen here and here, available here.
Outfit details: Beige Blazer (last seen here, similar here); Bershka Stretchy Push-up Jeans (here); Camelia Roma Mini Bag (here); Vivienne Westwood x Melissa (similar here); Michael Kors Swayer Watch (last seen here and here, available here)
What do you think about my beige obsession?! Yay or nay?
P.S: I'm probably exaggerating with the word obsession…
 x Mariya
YOU MIGHT ALSO ENJOY:
The Red Biker Jacket In My Wardrobe