I'm so excited to write this post!
It's probably because my partner and I did the best photoshoot ever (ha!)!
As you've probably guessed from the title, I'll be doing MAC matte lipstick swatches! I must confess that I am more or less a newbie in this whole matte lipstick field, but already a fan of the makeup trend. I was only 23 when I bought my first MAC matte lipstick back in 2014 and I immediately fell in love with it! Still remember thinking 'Why the hell haven't I tried matte lipstick before?!'; I was that shocked by how good it looked on my lips…
You might wonder why I chose MAC for my first matte lippy purchase? Well, a friend of mine recommended the company and promised me that I'll get the best value for my money, hence I gave them a go… For £16.50 RRP you get quality and quantity! I'm always on the look for a discount or sale, hence I get MAC lipstick and other products cheaper. Needless to say, I haven't stopped buying their makeup products ever since! And it all started with a single lipstick…
Before I present you with my fab photo shoot… ahem… I give you a very professional review of the lipsticks, I thought I might interest you with some random lipstick facts!
Did you know…
1. Sumerian men and women, not Egyptians, were probably the first to invent and lipstick (that's about 5,000 years ago).
2. During the Islamic Golden Age cosmetologist, Abulcasis invented the solid lipstick.
3. It was Queen Elizabeth I who made red lipstick fashionable!
4. Guerlain was the first official lipstick manufacturer in the 19th century.
5. The first commercial lipstick was covered in silk paper and made from deer tallow, castor oil, and beeswax… (um, yummy?!)
6. There were limited lipstick colours until 1930 when Elizabeth Arden invented other shades, hooray!!!
7. In the 1960s, lipstick was officially associated with femininity and women who did not wear lipstick were suspected of mental illness and lesbianism (I laughed a lot, sorry!).
8. Brown matte shades were inspired by shows such as 'Friends'!
9. 2014 was the birth year of nude lipsticks!
10. In late 2015, liquid matte lipsticks were invented!
I would also like to give you a bit of a background behind my decision to do the photoshoot you're about to see. I almost never look for lipsticks in physical stores. It's just a personal decision due to my high a bit weird hygienic standard. I can't bear the thought of applying or even trying something placed on the shelves as a tester and hundreds of people have touched it… I'm probably a freak, sorry not sorry as they say nowadays! I always do my research online prior to buying any type of makeup products, hence when I like something I would like to see a review. In the case of choosing the right lipstick, I always look for photos or YouTube videos and trust me when I say that I can spend hours watching lip swatches!
MAC Matte Lipstick Swatches: A New Approach
However, I saw a tendency that most bloggers/vloggers do the same boring shades swatches… You know what I mean – swatches on the wrist, pout swatches, daylight swatches, etc. It's boring and inaccurate! Wearing a lipstick is an art (at least for me!). Very few of the bloggers out there make the effort to do something different. And by effort, I mean taking into consideration various factors such as skin complexion, hair colour, hairstyle, and even your clothes choices! Believe me, I've went above and beyond in my search to find something miraculously distinctive from your basic lip swatches! For this reason, I tried to be somewhat unique and creative (I might have failed, I probably have ;( !), hence I changed clothes and hairstyles in the hope to deliver a fresh new approach to lip swatching. The rest of my makeup is minimalistic as I wanted to focus on the lipsticks (ok, I was lazy, there, I said it), although I'll probably spend some good 15 minutes to do my eyeshadow look when I go out…
Here we go!
MAC Matte Lipstick Swatches: Russian Red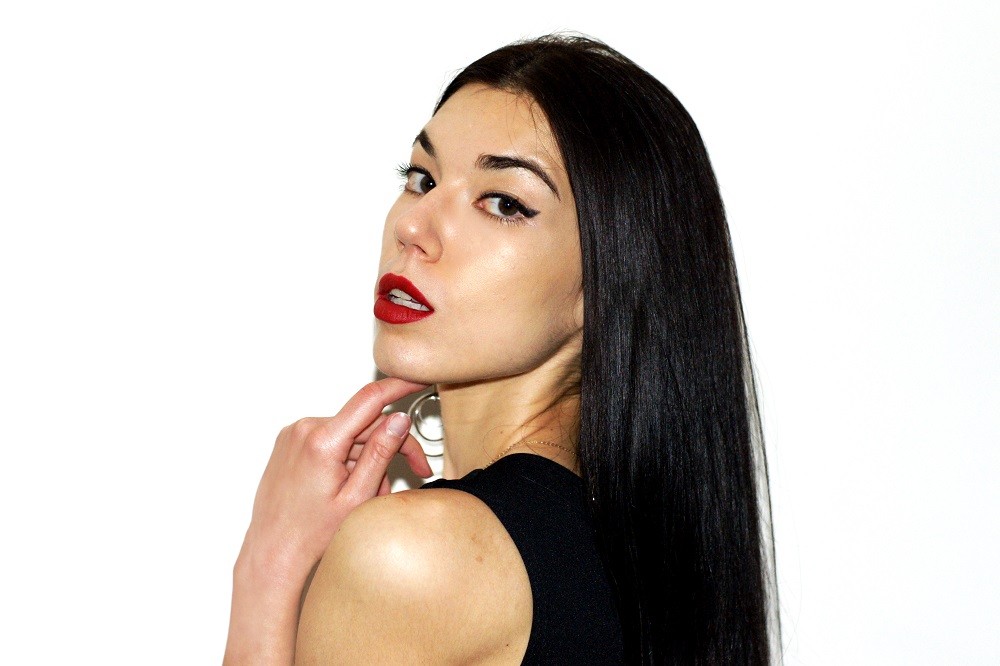 Shade: Intense bluish-red
Finish: Matte
Formula: Creamy and rich, glides on smoothly
Lasting: Long-lasting (8h +), as long as you don't eat anything greasy
This is the lipstick I was talking about in my intro! Yes, my first MAC matte purchase was the bold Russian Red! Very risky, heh? You know what they say – go big or go home; in this case – go red or go home?! I was so nervous when I first tried this on and I was very sceptical about pulling this Satanically-associated shade off. Shockingly, I was on cloud nine when I saw the result in the mirror! I'd say anyone could wear this statement colour and would definitely suit all skin complexions! I've paired it with a black deep V crop top and poker straight hair. In my humble opinion, you will never go wrong with the black/red or white/red combination. Hairstyle-wise – any hairdo will work, honestly – messy buns, ponytails, updos, wavy, curly, the list goes one and the choice is yours!
P.S: I only wear Russian Red during night outs and when I'm super confident; I'm absolutely dreading wear to wear in broad daylight… Shout out to all women out there who have the balls to do it!
MAC Matte Lipstick Swatches: MEHR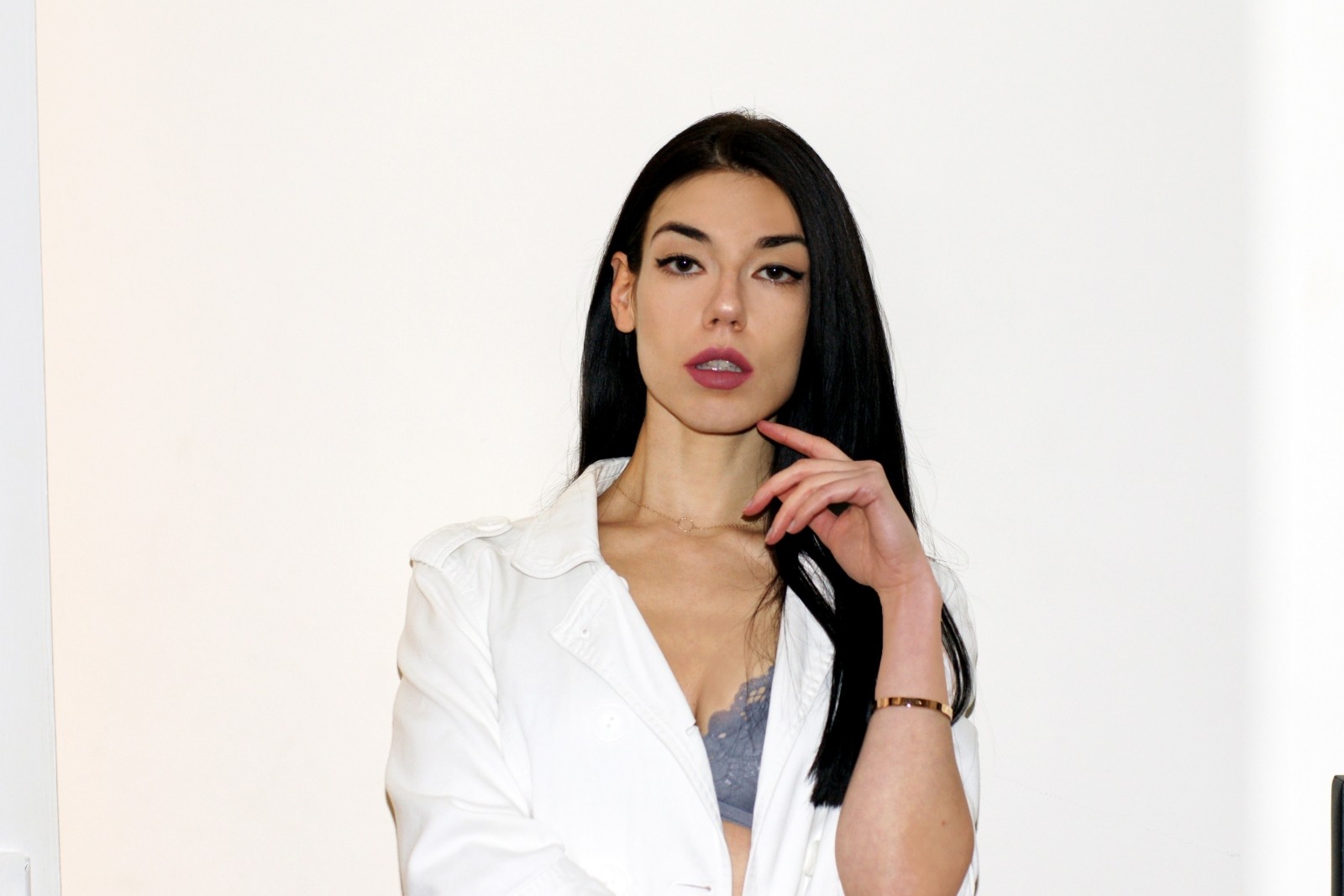 Shade: Dirty blue pink
Finish: Matte
Formula: Creamy and rich, glides on smoothly
Lasting: Long-lasting (8h +), faded a bit after eating
I really like this shade, because it's both feminine and bold! Preferably, I pair this lipstick with pastel or light-coloured clothing. This is probably my favourite look out of the whole bunch – sassy but classy – drawing just the right amount of attention without being too much 'in your face'! I've decided to go with the signature short-sleeve-jacket-over-bralette summer '17 look and poker straight hair (again!). Put on a pair of high waist super skinny jeans and you're good to go.
MAC Matte Lipstick Swatches: Honeylove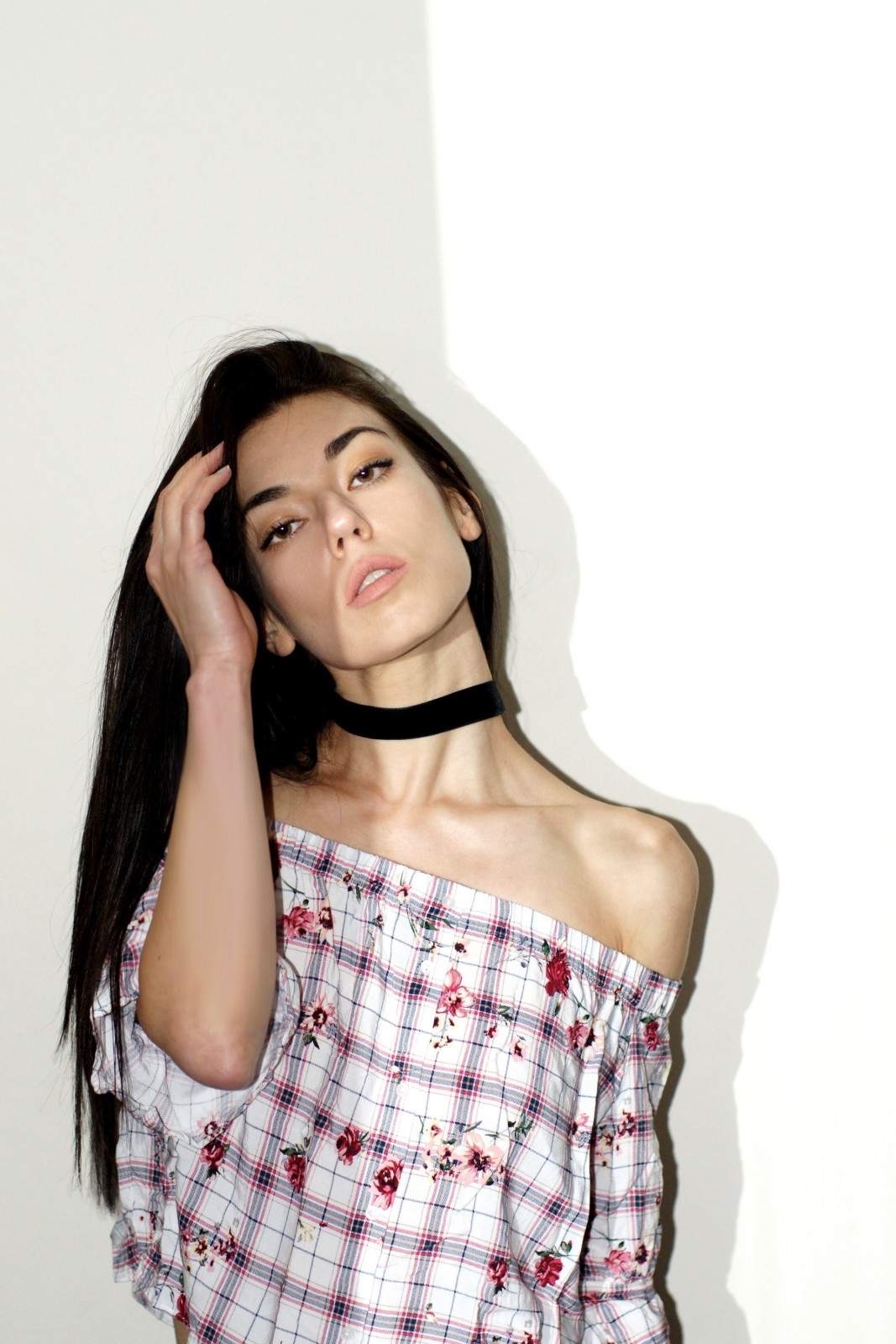 Shade: Light beige rose
Finish: Matte
Formula: Supposed to be creamy, but it's a bit dry
Lasting: Long-lasting (10h +), transfer-proof
LOVE, LOVE, LOVE this shade! Although the application is a bit tedious and strangely dries my lips further compared to the other matte shades, I go bananas whenever I get my hands on this little one! On top of that, it is undeniably long-lasting. Good for all seasons and occasions, I can wear this colour with absolutely everything. An eleventh-hour decision, I went for my favourite summer off-the-shoulder crop top, side part hairstyle and the never-dying trendy choker. Moreover, I'm utterly convinced that wearing a choker will get you locked up for being too sexy!
MAC Matte Lipstick Swatches: Velvet Teddy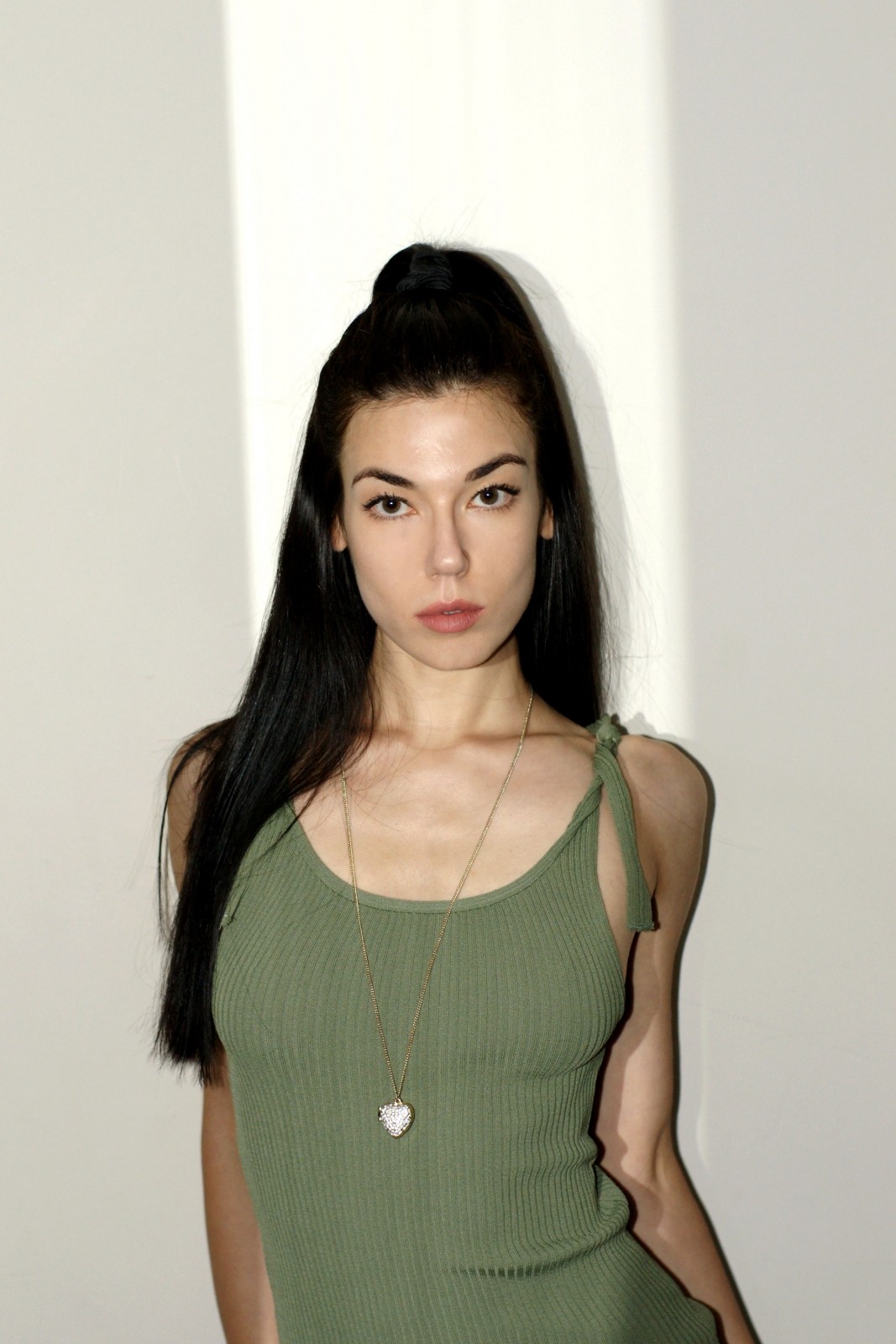 Shade: Warm-tone beige
Finish: Matte
Formula: Creamy
Lasting: Long-lasting (8h +), need top-up after a big meal
This is one of MAC's iconic shades, it's the nation's favourite go-to lipstick! My first impression was that Velvet Teddy is similar to Honeylove, just two shades darker. However, when applied, it does give you a beigey lip look. The picture might not give you that sense of assurance, but trust me, when you have a look at the colour in broad daylight you'll see the difference. This colour gives me forest(y)/autumn vibes, therefore I usually match it with something brown, green or nude in terms of clothing.
MAC Matte Lipstick Swatches: Whirl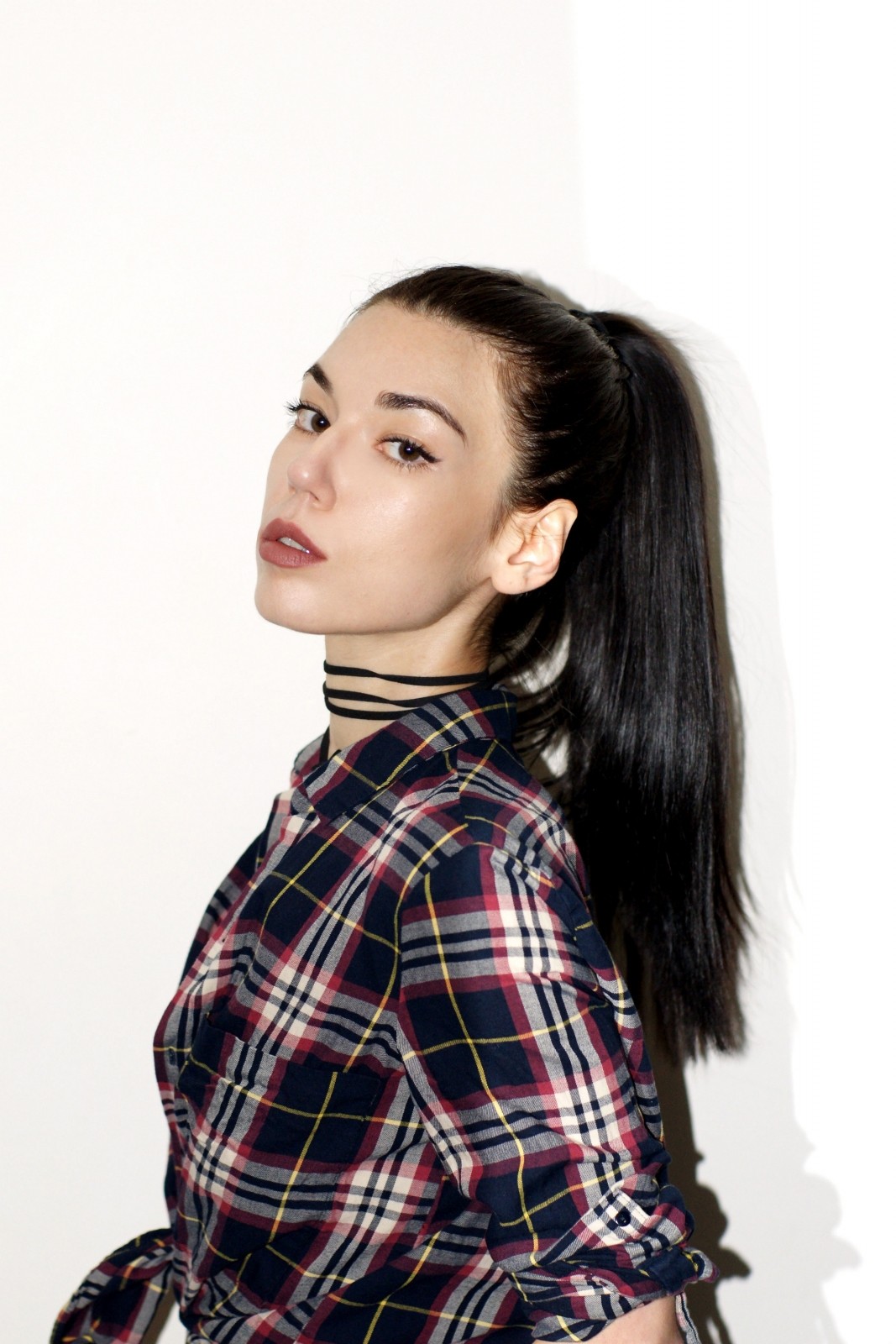 Shade: Medium-dark brown
Finish: Matte
Formula: Lightly creamy
Lasting: Medium-lasting (5h +)
This is my go-to autumn/winter lippy! MAC say it's 'Dirty Rose' shade and at first glance it does give you the impression of having pinkish/rose undertones. However, when applied (at least on my lips), it's more of a medium-dark brown. I wouldn't say it's long-lasting – I have to reapply it every five hours or so, but it feels ok on my lips and it doesn't dry them. My fav combo is a lumberjack shirt, distressed jeans and boots. Finally, leather or biker jacket is also a must for achieving a signature rocker look!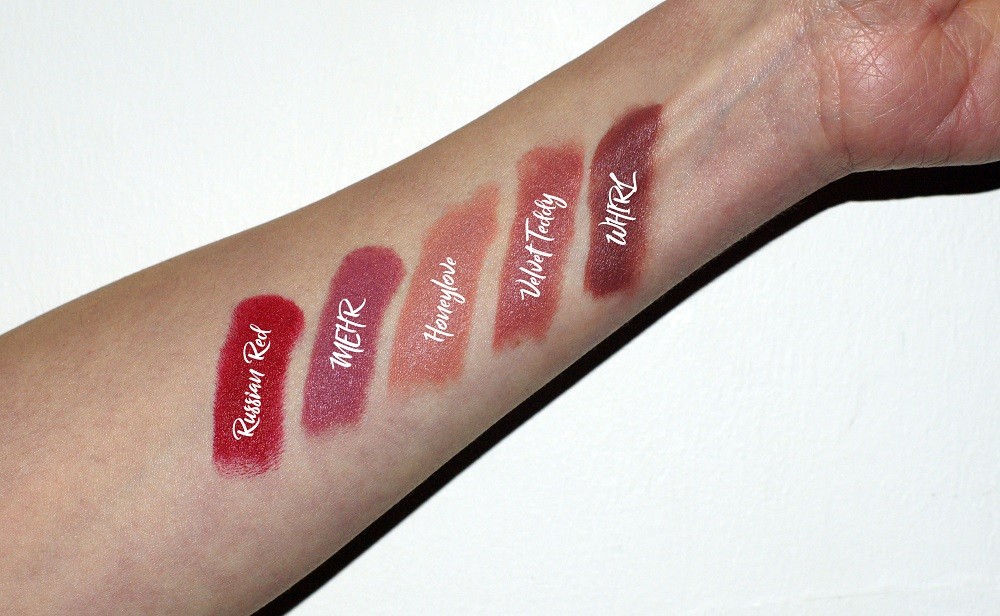 That's all folks! I hope you've enjoyed my not-so-creative-not-so-boring lip shades review, maybe next time I'll stick to the 'old-fashioned' swatch post. I'm always up for suggestions, thus please let me know what you think, but be gentle!
Did you enjoy my MAC Matte Lipstick Swatches? What is your favourite MAC matte shade?
x Mariya
YOU MIGHT ALSO ENJOY:
Are These Makeup Revolution Products Worth Buying?
MAC Matte Lipstick Swatches – Top 5
Urban Decay Naked 2 Basics Palette Review + Swatches