More often than you'd want to admit it, you're probably scrolling through the Instagram Explore page, just looking for some outfit inspirations. Well, today I came across this very cute summer outfit by a fashionista, living in the Big Apple! The red polka dot dress is absolutely perfect for the summer season. To achieve that casual but stylish look, the dress is styled with a pair of white Adidas shoe and a lovely brown Chloe Hudson bag! I know that many of you, count me as well, would like to own one of these stunning Chloe handbags. Sadly, our budgets would simply not permit us. Thus, I thought I should look for handbags and satchels that at least have some of the amazing features of the designer piece.
Gladly, there are a lot of online retailers that have more or less taken inspiration and designed their own whipstitch satchel bags. They don't have that expensive designer look but you can still appreciate the details!
Ahead, some amazing whipstitch satchel bags inspired by Chloe.
Disclaimer: The products below do not infringe on the original brand's copyrights or trademarks – these are designer-inspired pieces.
Designer-Inspired Whipstitch Bags

Whipstitch Dayla Crossbody Bag here
Although this crossbody bag by Sole Society is far from Chloe Hudson's design, it does feature a similar shape. Also, you can't miss the never-ending whipstitch details on the front of handbag. It looks very stylish and the colour could be styled with plenty of outfit options. Moreover, it's made from vegan leather and currently has a price tag just under $60. A very cute and affordable designer-inspired whipstitch bag for all seasons!

Designer-Inspired Whipstitch Bag here
If you like the oval shape of the Hudson bag, then you definitely won't like this designer-inspired crossbody option. What I really like about this handbag, though, are the whipstitches on the magnetic over-flap and the tassel. You can buy the bag in either pink or white and introduce it into your summer wardrobe!
Satchel Bags Inspired By Chloe Marcie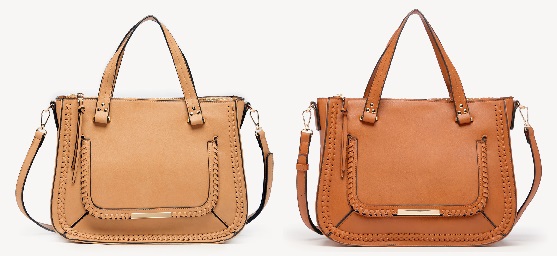 Dayla Whipstitch Satchel here
If you need more space for your daily essentials, then you'll probably enjoy the size of a satchel. Furthermore, if you like the whipstitch details of the Chloe Marcie, then you'd perhaps enjoy these Dayla designer-inspired satchels. Made from vegan leather, the bag also features gold-tone hardware to give it some extra notch of elegance. You can buy it for $79.95 in camel, canyon and cognac colours.
Read next: Affordable Michael Kors Handbags & Wallets on Amazon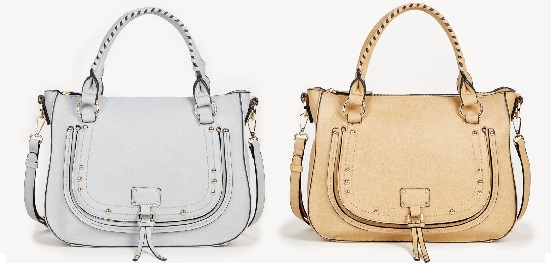 Sole Society Studded Whipstitch Satchels here
Prefer fewer whipstitches?! Well, you in luck! Sole Society has an incredible satchel, inspired by Chloe Marcie. This luxurious satchel with whipstitch top handles also has gleaming studded hardware on the front. Moreover, the tassel trim is your quick access to a hidden front flap pocket. Ultra-versatile and stylish, you can carry the bag by the top handles or sling it over the shoulder with the crossbody strap.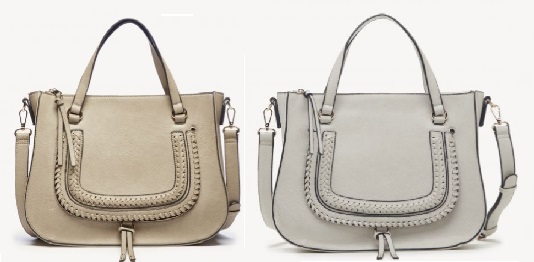 Vegan Studded Whipstitch Satchel here
If you're looking for a casual whipstitch satchel, then you'll love this option. It has a plain but smart design, which makes it extremely versatile. You can style it with just a plain T-shirt and jeans or combine it with your smart-casual office outfits. Furthermore, this satchel is made from vegan leather and it is available in a plethora of colours. You can opt for darker shades when during colder months and brighter colour during spring and summer!
What do you think about these whipstitch satchel bags inspired by Chloe?
YOU MIGHT ALSO ENJOY:
Cloud Pouch Bags You Need In Your Life!
Kate Spade's Elephant Bags & More Collection
Affordable Quilted Handbags To Fall In Love With
Aspinal of London Is Having a SUMMER SALE!