Although Michael Kors sells plenty of beautiful ready-to-wear clothing, gorgeous footwear and stunning watches, he's extremely famous for his handbags! Celebrities like Jessica Chastain, Amy Adams, Heidi Klum and Zoe Saldana have been seen not once or twice with the designer's handbags. The classic, stylish bags and the affordable price tags are also alluring to the regular folks. In the UK, for instance, you can see Michael Kors handbags on every other shoulder! Due to ever-lasting demand by customers, the American brand is available pretty much everywhere. Although you can always visit one of the beautiful on-site stores, you might want to shop from the comfort of your own home. One online seller that offers low price tags, new as well as past seasons' Michael Kors collections is Amazon!
From totes to wallets, ahead, I've prepared a selection with the most affordable Michael Kors handbags and wallets on Amazon!
The Best Michael Kors Totes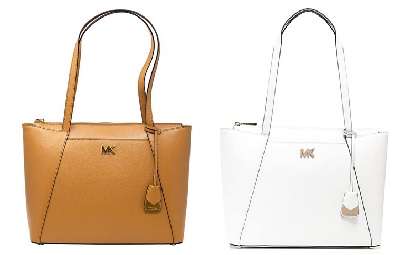 MICHAEL Michael Kors Maddie Medium Tote here
This stunning medium-sized tote is currently selling at $124, offering a very classic and elegant style. It also features gold-tone hardware and it is made from genuine leather. You can buy it in black, white, brown, pink and green! If you want to use this tote every day, opt for neutral colours.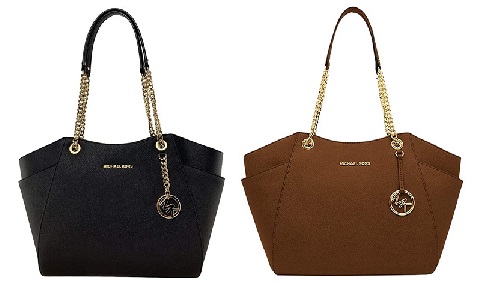 Michael Kors Large Chain Shoulder Tote here (UK) & here (US)
If you're a fan of gold-tone hardware, then you'll love these Michael Kors handbags! Featuring the designer's strap logo and signature lining, there also leather double handles with chain design. Moreover, these totes are available in a variety of colours including monogram designs.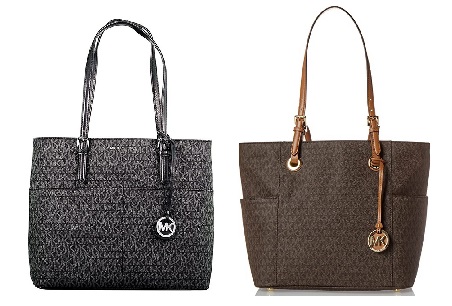 Michael Kors Monogram Totes here & here
Speaking of monogram, you'll definitely these two totes. With MK's signature printing, you have the option between black and brown colours. The black tote features leather handles and shiny rhodium-tone hardware. The brown, on the hand, has gold-tone details. For just under $230, you get not a quality handbag, but also a timeless classic that can be styled with any outfit.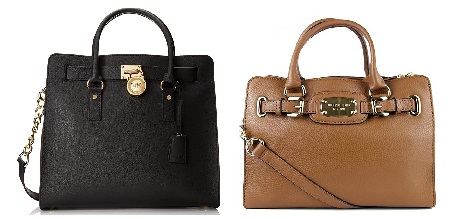 Michael Kors Black & Brown Hamilton Totes here & here
The Hamilton totes by Michael Kors offer nothing less than effortless elegance. Although they are currently selling on Amazon with a price tag above $300, you are buying a quality handbag. With a gold-tone snap-close that reminds of the Hermes Birkin bag, you can buy the Hamilton in black or brown. Moreover, the size is perfect if you want to carry a tablet as well as all of your daily essentials!
MK Crossbody Bags on Amazon

Monogram MK Jet Set Crossbody Bags here (UK) & here (US)
I must admit that Michael Kors' logo is perfect for monogram designs! If you don't like it on a tote or would simply prefer it on a smaller size handbag, then opt for a crossbody design. With the signature coated canvas design, you can currently get yourself a nice present for just under $100! You can also buy this MK crossbody bag in other colours, but the black and cream options look really versatile. Furthermore, you can style with both casual and formal outfits during any season.
Read next: Cloud Pouch Bags You Need In Your Life!

Brown & Pink Leather Saddle Bags here & here
Perhaps thanks to Dior and its popular Saddle Bag, the saddle design is back in fashion and Michael Kors has its own affordable styles. I especially like the acorn and rose colours with the signature MK in gold-tone hardware. The acorn saddle bag offers a more versatile and casual design with its whipstitched details. The rose version, on the other hand, offers a pebbled leather design and is more suitable for the spring and summer seasons!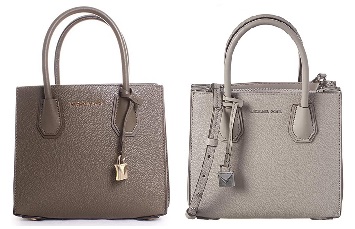 Michael Kors Accordion Crossbody Bags here (UK) & here (US)
The best feature of the MK Accordion is that you can wear it as a small tote as well as a crossbody bag! Just under $170 on Amazon, you can get in black and dark brown colours and brighter designs such as green and red. Made from pebbled leather, the handbag has an accordion-like design on the sides, hence the name.
Affordable Wallets from Michael Kors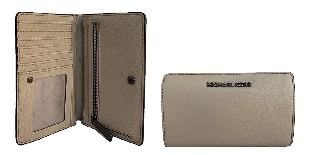 Michael Kors Travel Leather Wallet here (UK) & here (US)
Available in black, nude and blue, this MK bifold wallet is perfect to fit in your clutch, laptop bag or just carry it as it is. Made from super soft pebble leather, it has an ID window, multi-function slot compartments and zipper pocket. Of course, you also have the signature Michael Kors logo on the front.

MK Large Leather Jet Set Wallet here (UK) & here (US)
Another great travel wallet but a larger version is available in a plethora of colours. This Michael Kors wallet features 12 credit card slots, full-length bill compartments and exterior back slide pocket. Stylish and elegant, it currently sells under $80 on Amazon!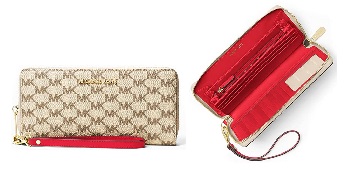 Michael Kors Monogram Continental Wallet here (UK) & here (US)
Beside on totes and crossbody handbags, MK's monogram canvas print can also be found on these fabulous continental wallets. The classic continental wallet has a removable wrist strap, zip-around closure and plenty of slot compartments to fit all those important credit cards!
What's your take on these Michael Kors handbags and wallets on Amazon?!
YOU MIGHT ALSO ENJOY:
Designer Inspired Studded Pumps You Need To See
Aspinal of London Is Having a SUMMER SALE!
Kate Spade's Elephant Bags & More Collection
Affordable Quilted Handbags To Fall In Love With