Some people definitely adore the design, whilst others definitely do not! The slouch look is definitely becoming a new trend in the design of bags. Moreover, the cloud-like handbags are becoming so popular that Bottega Veneta has made styles out of recycled paper! The rather unsustainable but trendier leather version, however, has been seen on or under the arms of many celebrities. Bloggers and influencers also appear to adore the cloud pouch bags. Trendy and versatile, with a magnetic closure, there are many design and colour options that fit the dumpling bag description.
From day to night, the pouch look is extremely versatile and you can style it with casual, smart and even formal clothing. From dark to vibrant colours, scroll down for the most amazing cloud pouch bags you definitely need in your life!
Disclaimer: The products below do not infringe on the original brand's copyrights or trademarks – these are designer-inspired pieces.
Stunning Cloud Dumpling Bags

Black & Brown Cloud Pouch Bags here (UK) & here (US)
Made from calfskin leather, these cute dumpling bags come in a selection of colours in a large size. It is soft and delicate, whilst the leather is actually quite strong and durable. It also seems to be a favourite among customers and has outstanding reviews on Amazon!

Quilted Dumpling Bags here (UK) & here (US)
There are also some available quilted designs of this trendy pouch bag! Although these are made from faux leather, you can still enjoy the design and simplicity of the bags. The black option can be styled with absolutely everything, yet, I'd still prefer a jeans and tee combo over anything else. On the other hand, you can wear a white pouch with more formal clothes!
Read next: Affordable Quilted Handbags To Fall In Love With

Small Black & White Cloud Pouch Bags here (UK) & here (US)
I also managed to find a smaller size of the incredible pouch bags! My favourite ones come in black and cream, but you are more than welcome to check out the rest of the colours through the link. If don't have to carry a lot of your essentials with you, then this is the perfect size for you. You can comfortably put your phone, keys and wallets in this stunning little cloud bag.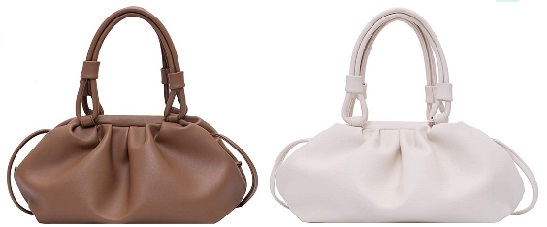 Pouch Dumpling Crossbody Bags here (+ more colours!)
Made from durable PU leather, you can also buy a medium-sized pouch bag. Apart from the extra space, this design offers two removable handles. This is essential if you want to be able to carry your pouch in different ways. For instance, you can it on its own as a clutch for night outs with the girls. You can also wear it as a handbag for work or as a crossbody when out and about!

Cloud Pouch Bags with Chunky Chain here (UK) & here (US)
If you're looking for a luxury version of the trendy pouch bags, then these options will definitely hit the spot! Available in medium size, you can buy yourself a pouch in black, grey, green, khaki and even yellow designs. You won't be able to fit as many items as you can with the large size, yet, there is still enough space for everything important. Also, the gold-tone chunky chain is the perfect add-on for more stylish and elegant outfits!
Are you a fan of these cloud pouch bags?
For more stylish handbags, click here!
YOU MIGHT ALSO ENJOY:
Kate Spade's Elephant Bags & More Collection
Aspinal of London Is Having a SUMMER SALE!
Classic & Contemporary Vibes From Marge Sherwood
Budget-Friendly Quilted Mule Sandals Worth Checking Out!