Even though wearing a suit is definitely considered as female empowerment, it could be still quite tricky to get it right. Especially if we're talking about bright and colourful shades! Styling a pink suit, for example, can be extra challenging. At first glance, wearing such shade on its own can be already considered over-the-top. Thus, adding extra layers and accessories can put you in a very tricky fashion dilemma. Yet, there are a number of useful tips that you can apply the next you want to style a pink suit!
From picking the right shade to mixing the proper accessories, scroll down to get a bit more clarification on your pink-suit-dilemma styling!
Choose The Right Shade Of Pink
The first and most important factor before beginning the actual process of styling your pink suit is to choose a shade! If you've been frantically searching on the internet 'How To Style A Pink Suit', chances are that you haven't even been aware of the importance of picking the right shade of pink. There are so many variations of light, dark and pastel tones that you'll probably get a migraine if you have a thorough research. Still, deciding on which shade of pink suit you should go for is extremely important! For instance, if you have a fair skin tone, opt for hot and cotton candy pink suits. Medium to dark skin tones, on the other hand, will benefit from wearing pastel and solid shades of pink suits.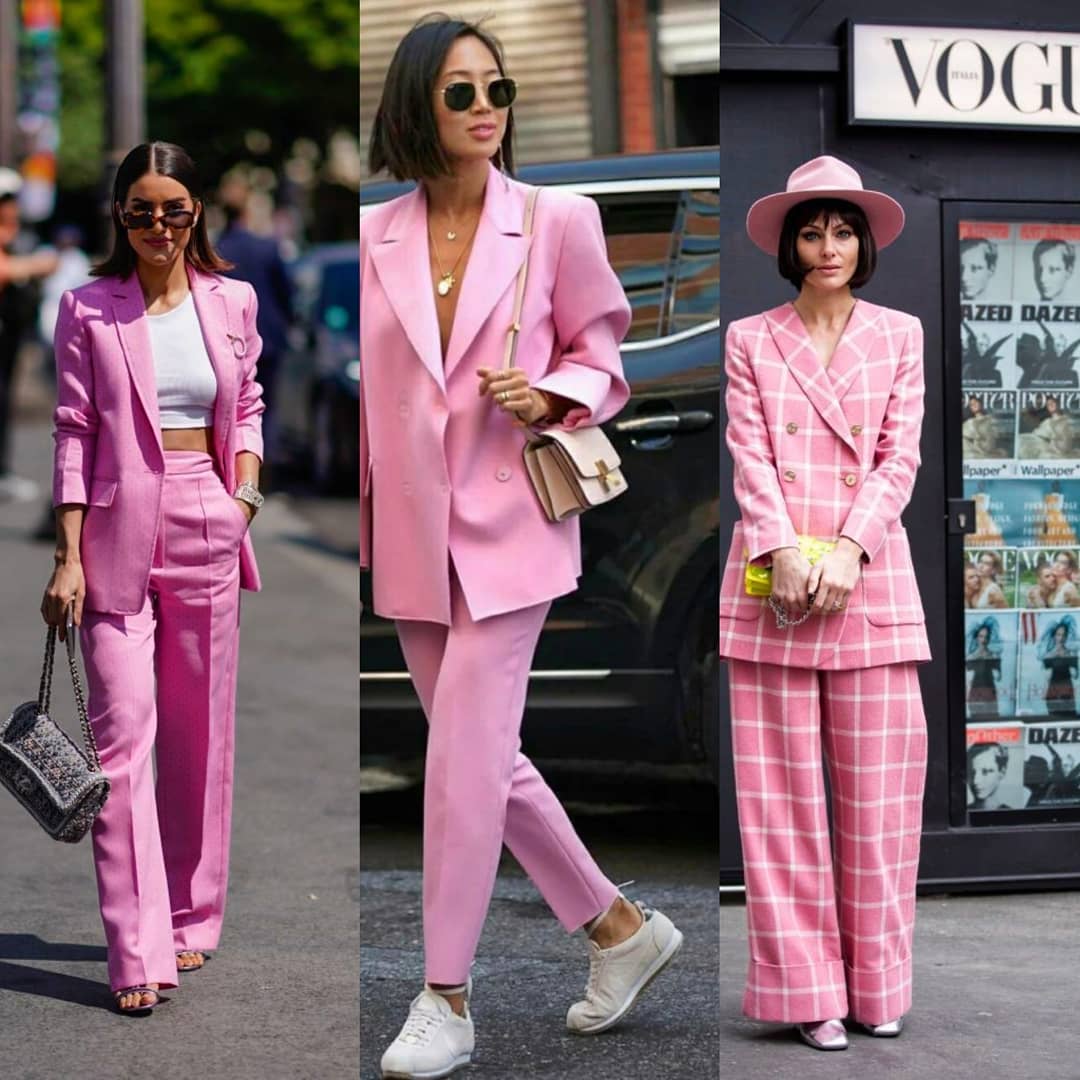 Image Credit @victim_offashion
Your hair colour also determines which shade of pink you should choose. Blondes, for example, will make a great choice by wearing a vibrant pink-toned suit. If you're a brunette, then opting for the darker palette of pink would be your best bet. Redheads can also pull off this colour as long as it is a rouge shade or something similar. Rouge is the ideal pick as it is a mixture of a bright red and a subtle pink.

Determine The Style Of Your Pink Suit
After you've successfully decided which shade of pink is the best according to your skin tone and hair colour, it is time to choose the style. Determining which suit style you should focus on is also a great factor when you're deciding how to style a pink suit!
Although usually, you would associate a suit with more formal events, there are styles which determine if your suit is appropriate for more casual or formal situations. Firstly, wearing a pink suit will most probably not be appropriate for office space. On the other hand, if your work in PR or want to experiment with wearing a suit for a date, then pink suits wouldn't be a problem.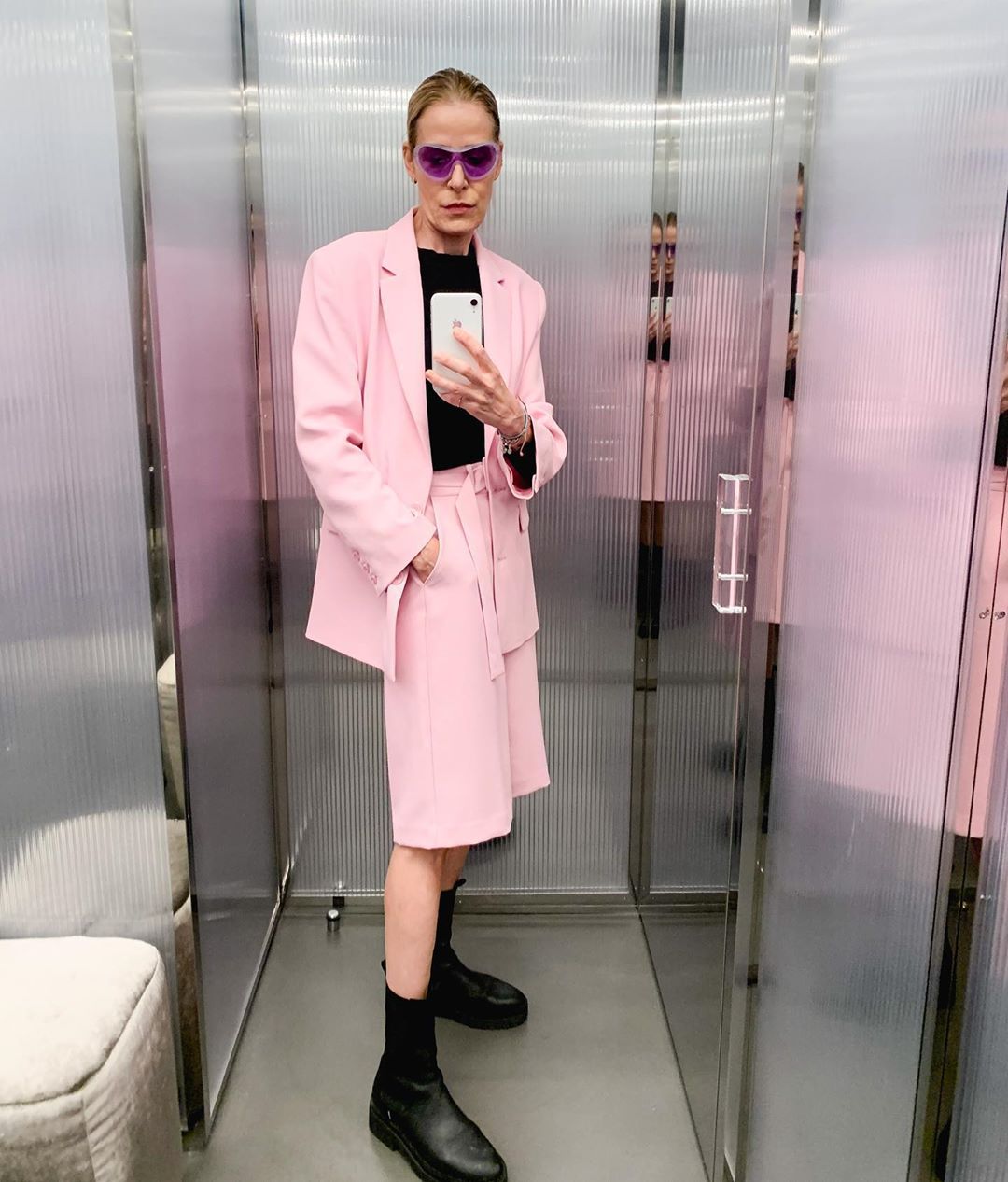 Image Credit @roselangenbein
Long-tailored pink suits with straight lines are perfect for important meetings and dates. Wearing a white pair of stiletto heels will complete the look without being over-the-top. Otherwise, if you feel like wearing a suit during the day without losing your inner-fashionista, then look for a more casual style. Oversized suits are perfect if you want to have extra space for movement and would rather wear a pair of sneakers. On the hand, you can opt for co-ords! A pair of high-waist pink shorts and matching blazer will be perfect for out and about during the day or breezy summer evenings. Style your pink co-ords with a basic white tee and matching pair of quilted mules or flat sandals!

Choose The Right Accessories To Successfully Style A Pink Suit
The last, but definitely an important factor of styling a pink suit are the accessories. By wearing such a colour, you're already attracting enough attention. Thus, it is really easy to go overboard with your accessories. Usually, I would recommend to only opt for a minimalistic white clutch bag but you might want to accessorise a bit more. Maybe you'd want to put a necklace on, a pair of earrings, or even a nice scarf. In this case, I would always recommend going minimalistic when choosing your accessories.
Don't mix and match, don't overdo it. If you want to wear a necklace, opt for a simple silver or gold thin chain. Pair your necklace with a matching bracelet and ring. Want to wear a scarf? Then go for single-coloured options. Styling your pink suit with a watch, on the other hand, is not an easy decision. Watches are a type of accessory that is mostly associated with formality, thus, you won't want to overstyle your suit.
Image Credit @carlahinojosar

Next time you want to wear a pink suit and wondering how to style it, use the above three tips to help you out. Choose the right shade of pink, style and accessories to feel pretty in pink no matter the occasion!
Check the main category for more style tips and trends.
YOU MIGHT ALSO ENJOY:
These Floral Dresses Will Make Your Summer Even Hotter
8 Red Slip Dresses To Consider For Your Next Date Night
Aspinal of London Is Having a SUMMER SALE!
Classic & Contemporary Vibes From Marge Sherwood