The first time I noticed the fur sleeve trend was in 2017 when Gigi Hadid was heading for a night out in New York. Wearing a white sweater and matching wide-leg trousers outfit, she was the definition of elegance. Although her wide-leg pants were undoubtedly chic, it was the sweater that caught my intention. A delicate design, no doubt, featuring huge fur cuff sleeves. I soon found out that she was wearing the new collection from Sally LaPointe! Needless to say, I immediately fell in love with her designs. Starting with her NYFW FW18 collection, I knew she was poised to become one of my favourites!
Her elegant and feminine approach can be seen throughout every single garment she designed. However, it was the fur sleeve jumpers that became my wished-for wardrobe must-haves!  Although her cashmere sweaters are heavenly gorgeous, they are also incredibly expensive. On top of that, their fluffy sleeve details are made of fox fur. Now, I'm no PETA campaigner, but in today's age, it is a nice gesture towards all animals to go for faux fur whenever possible!
Thus, inspired by Sally LaPointe and her fur sleeve designs, I thought I could show you 2 ways in which you can also embrace this faux fur sleeve trend!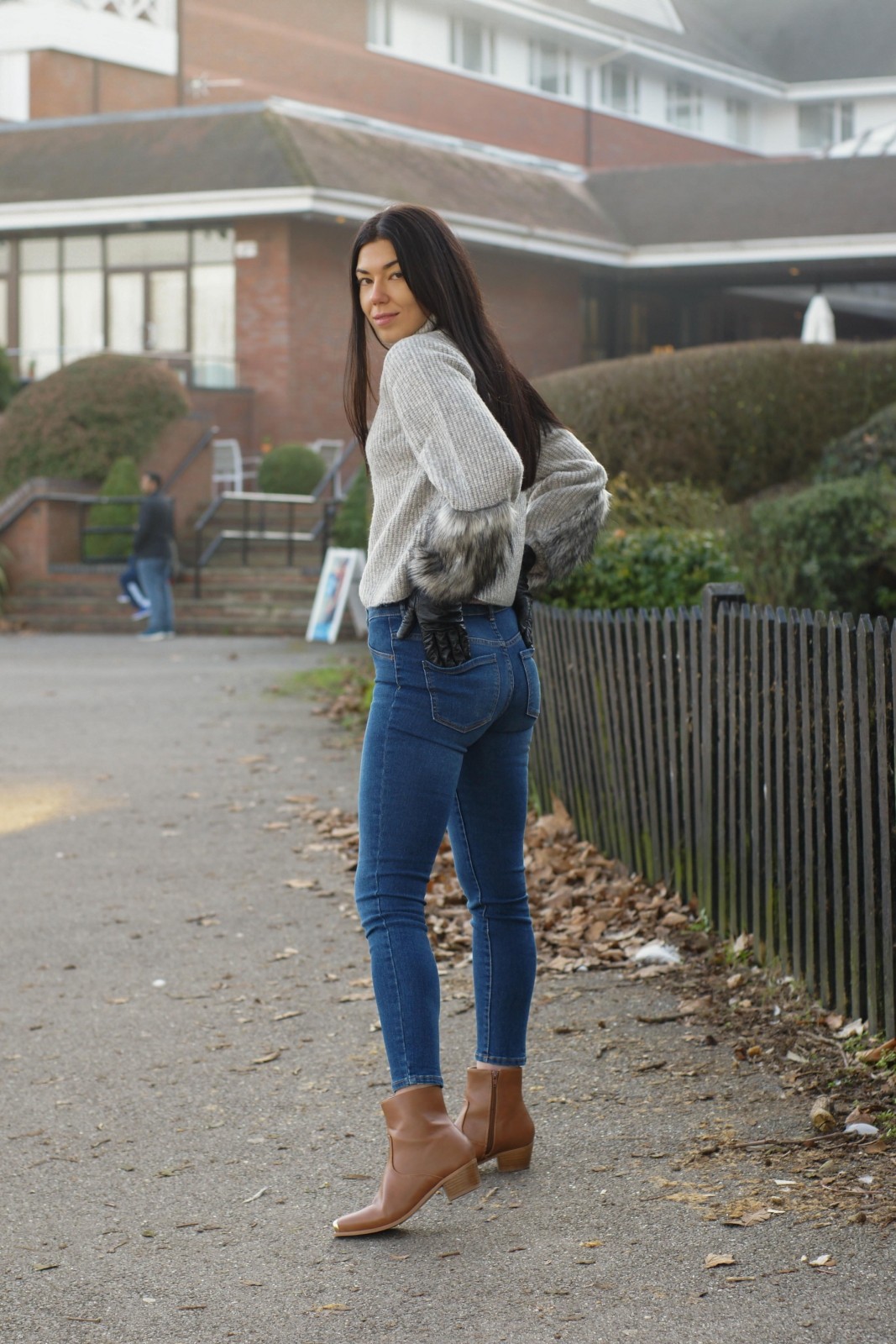 Grey Knit Faux Fur Trim Roll Neck Jumper | Skinny Jeans | Metal Toe Cap Western Ankle Boot
#1 Get Yourself A Faux Fur Sleeve Sweater
Being a huge fan of Sally LaPointe sweaters, it came as no surprise that I got myself this grey knit jumper with faux fur sleeves. By opting for faux fur sleeve version of the designer number, you'll not only prevent animal cruelty but also save yourself a lot of money! Best of all, you won't be settling for anything less. Indeed, the fabric of this knit is not cashmere, but its acrylic alternative. However, it is pretty much as soft as the real one! The fashion industry has evolved to the point that unless you have a magnifier glass somewhere in your pocket, you won't really see or feel that much of a difference.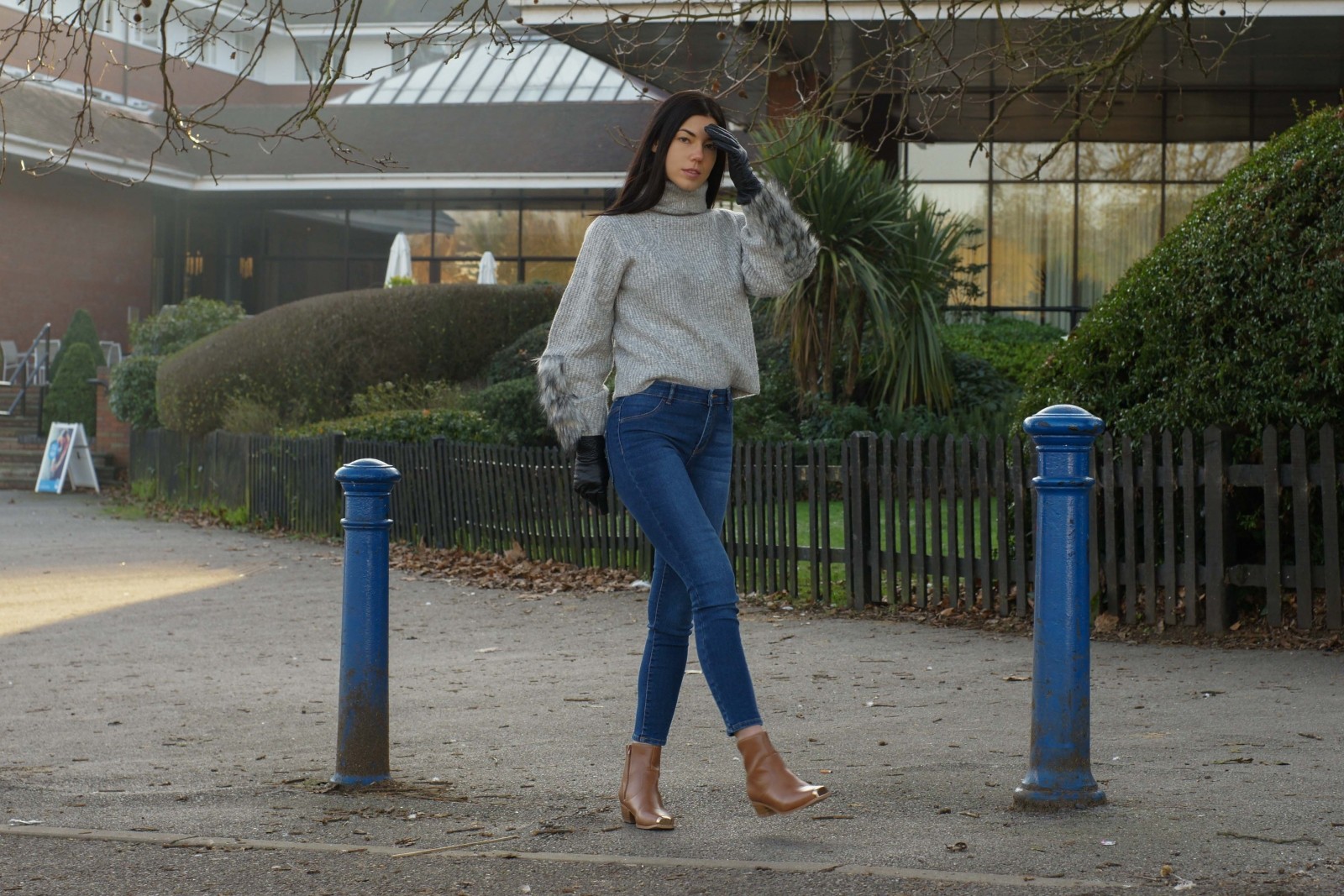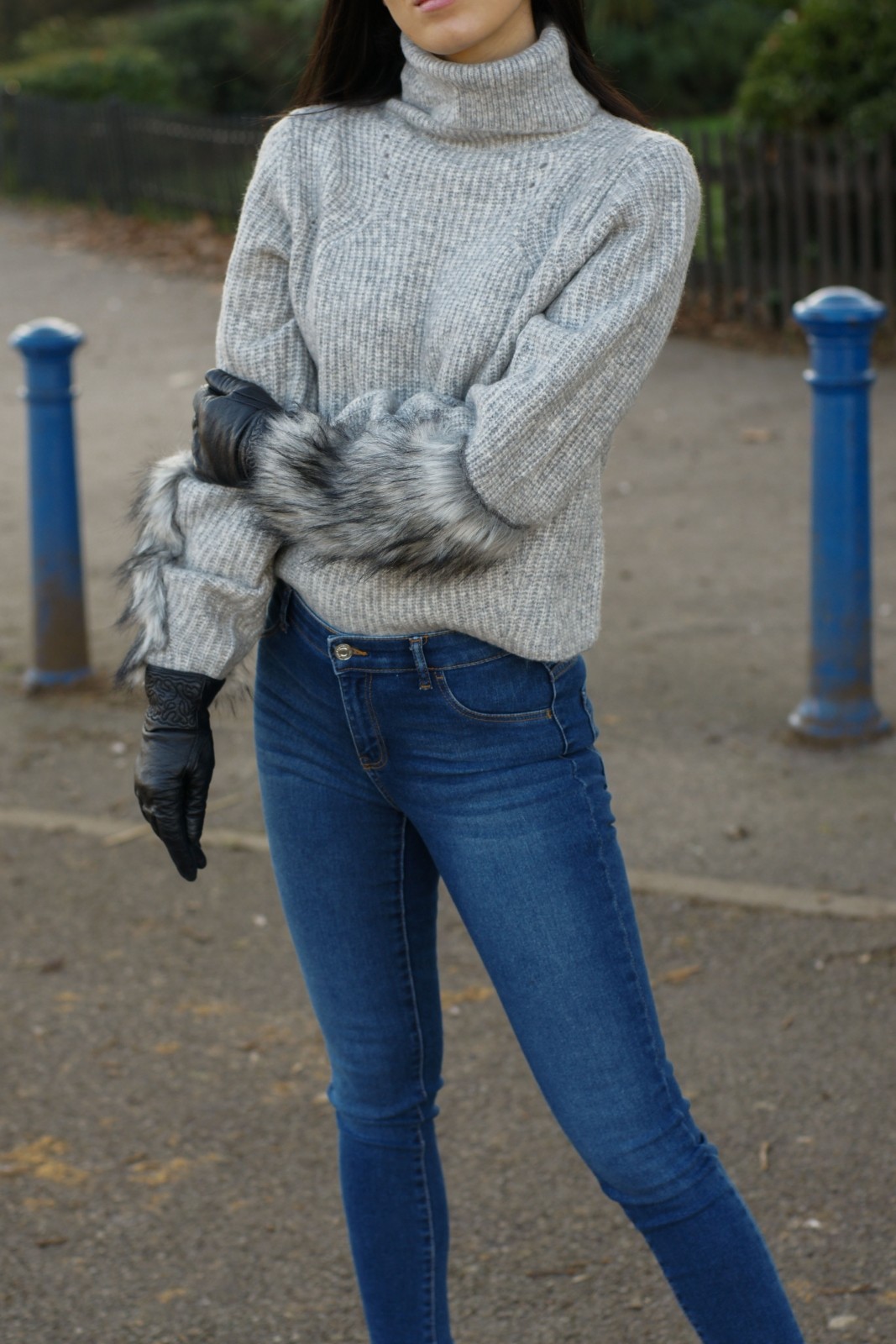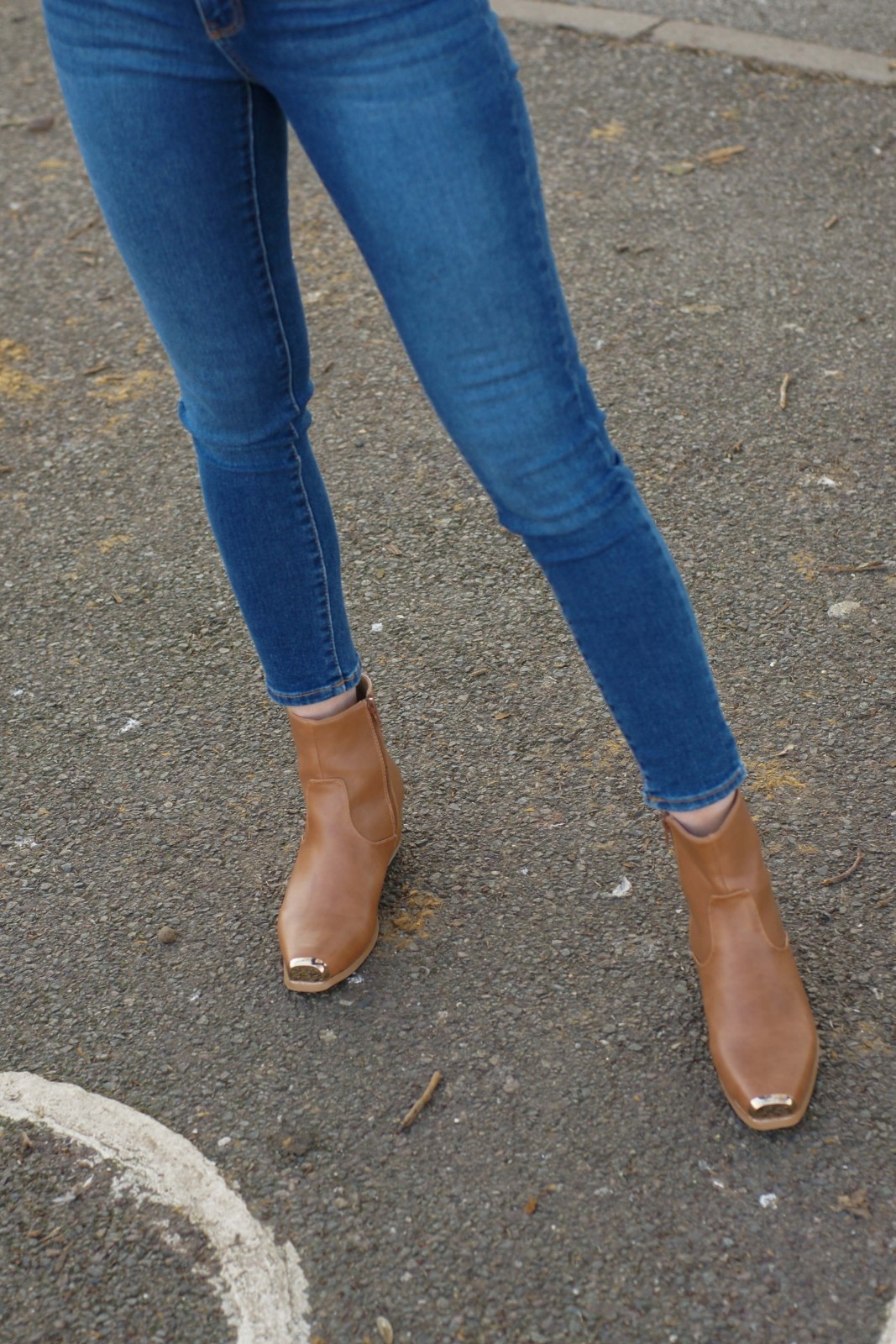 Opting for a sweater is not only the easiest way to incorporate the faux fur sleeve trend in your wardrobe but also the most versatile one! Jumpers are an extremely easy and comfortable way to style a winter outfit. Moreover, provided you choose the right style, you can wear them on their own! Pick a sweater with oversized faux fur sleeves when you're heading out for a Sunday brunch. Style it with a pair of skinny jeans and stiletto heels for an elegant and cosy winter ootd!
SHOP FAUX FUR SLEEVE SWEATERS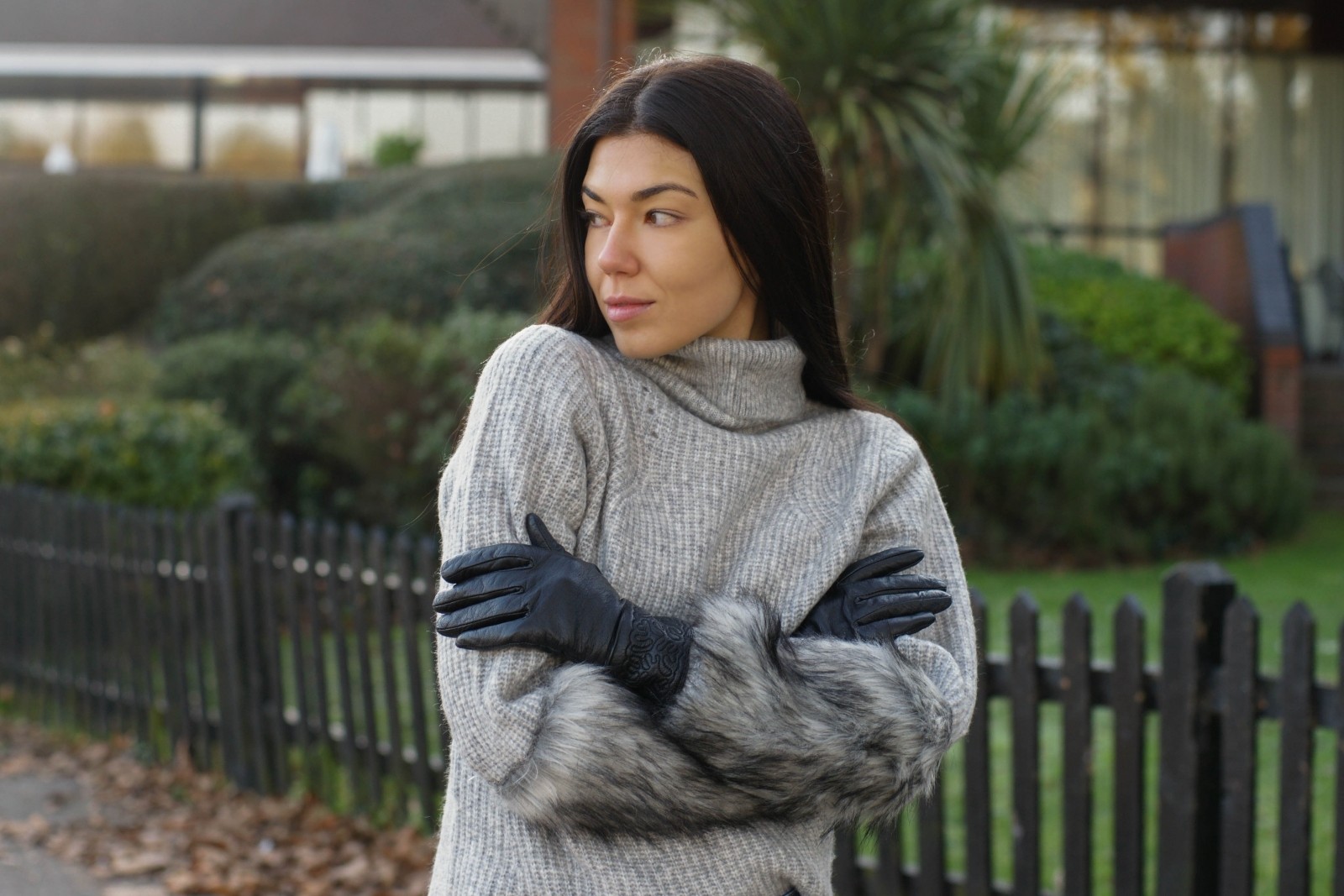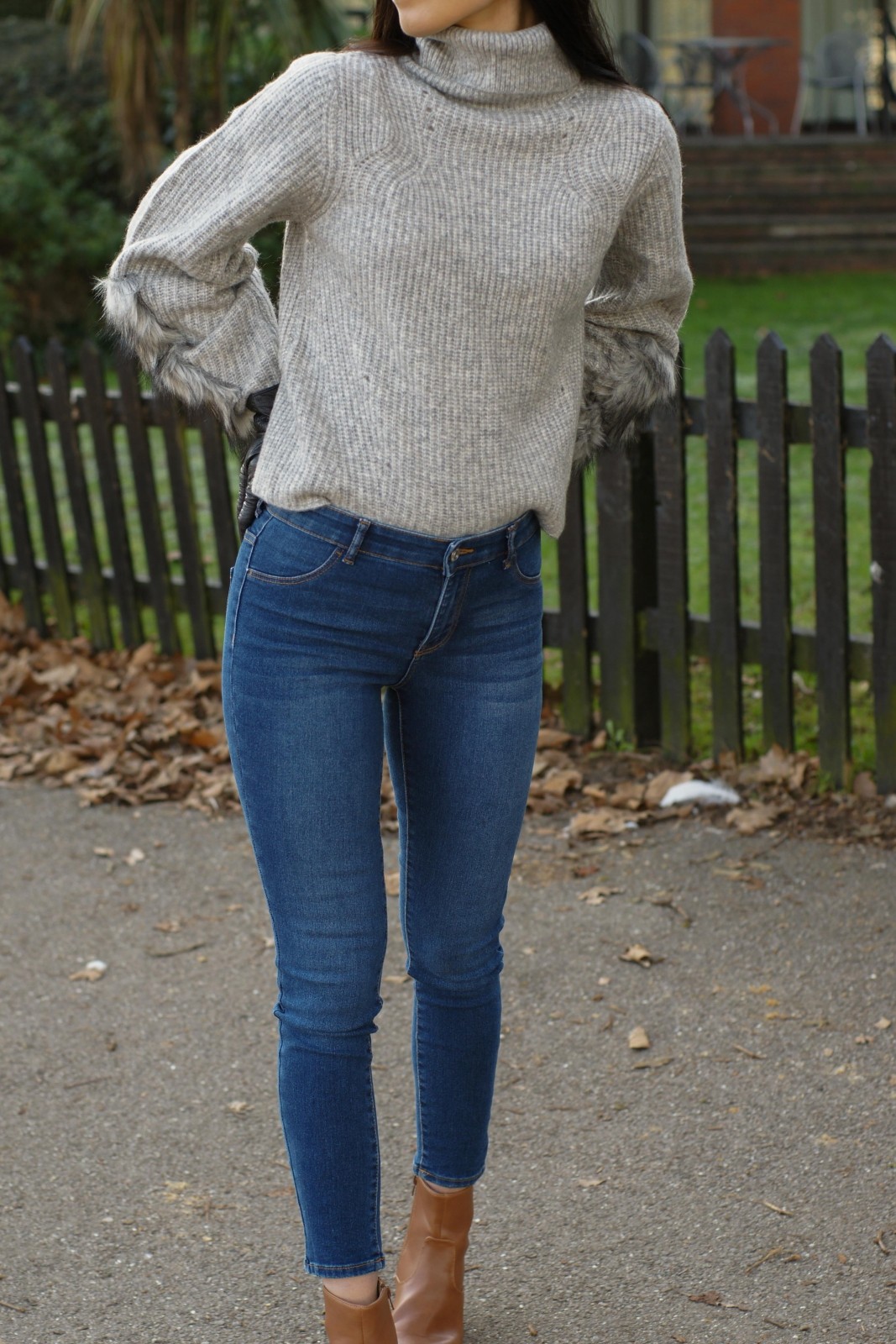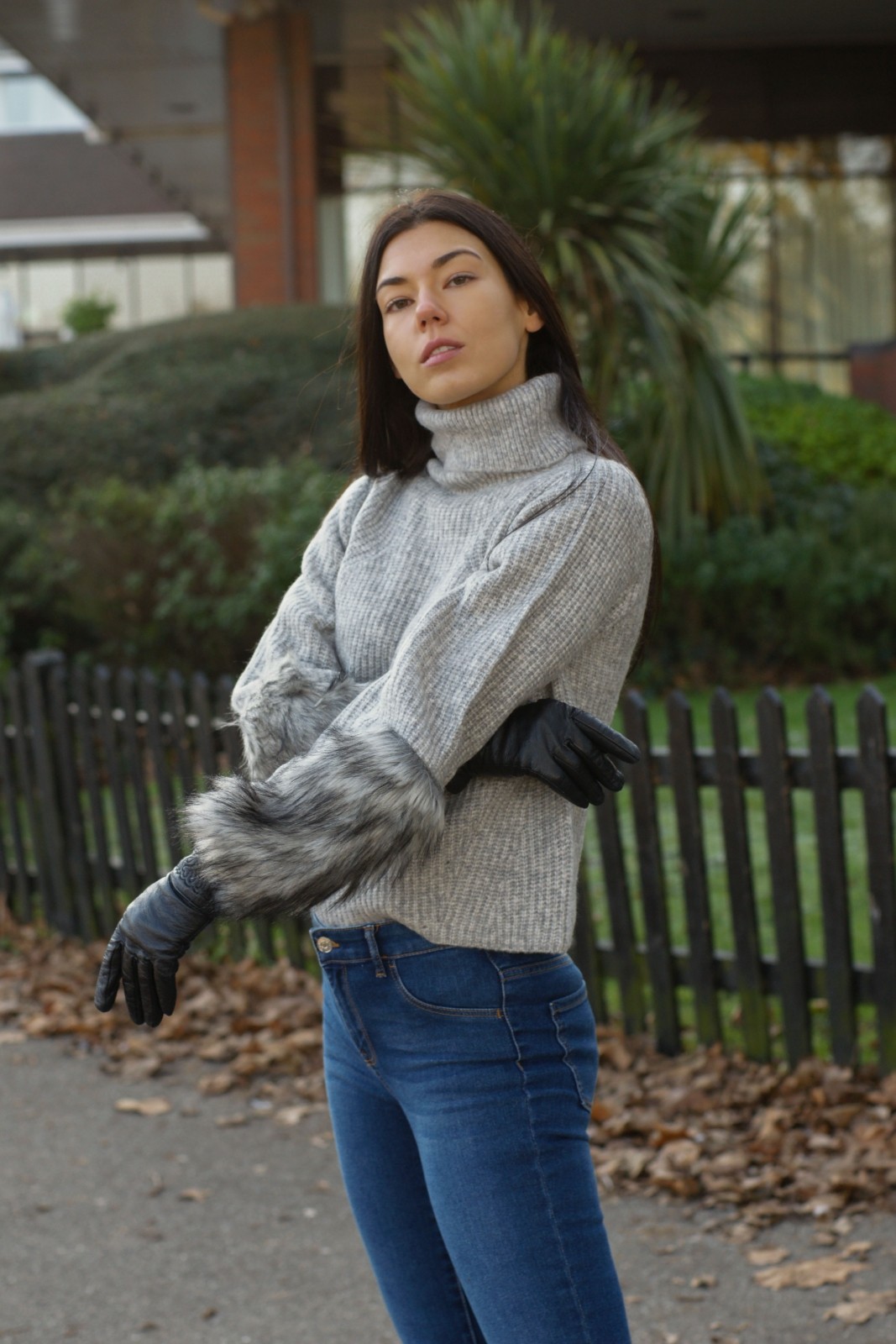 #2 Opt For A Comfy Faux Fur Sleeve Coat
The second way in which you can embrace the faux fur sleeve trend is by including a winter coat to your wardrobe. Although sweaters are probably more versatile than coats, they can really stand out when you're looking for that extra chic factor. If you're new to my blog, you'll soon realise how much a love plaid coats! I thought there really isn't anything more simple yet elegant than a plaid coat. Well, that was before I laid eyes on this outstandingly gorgeous plaid coat with faux fur sleeves! The brown faux fur details of this coat can elevate any winter outfit.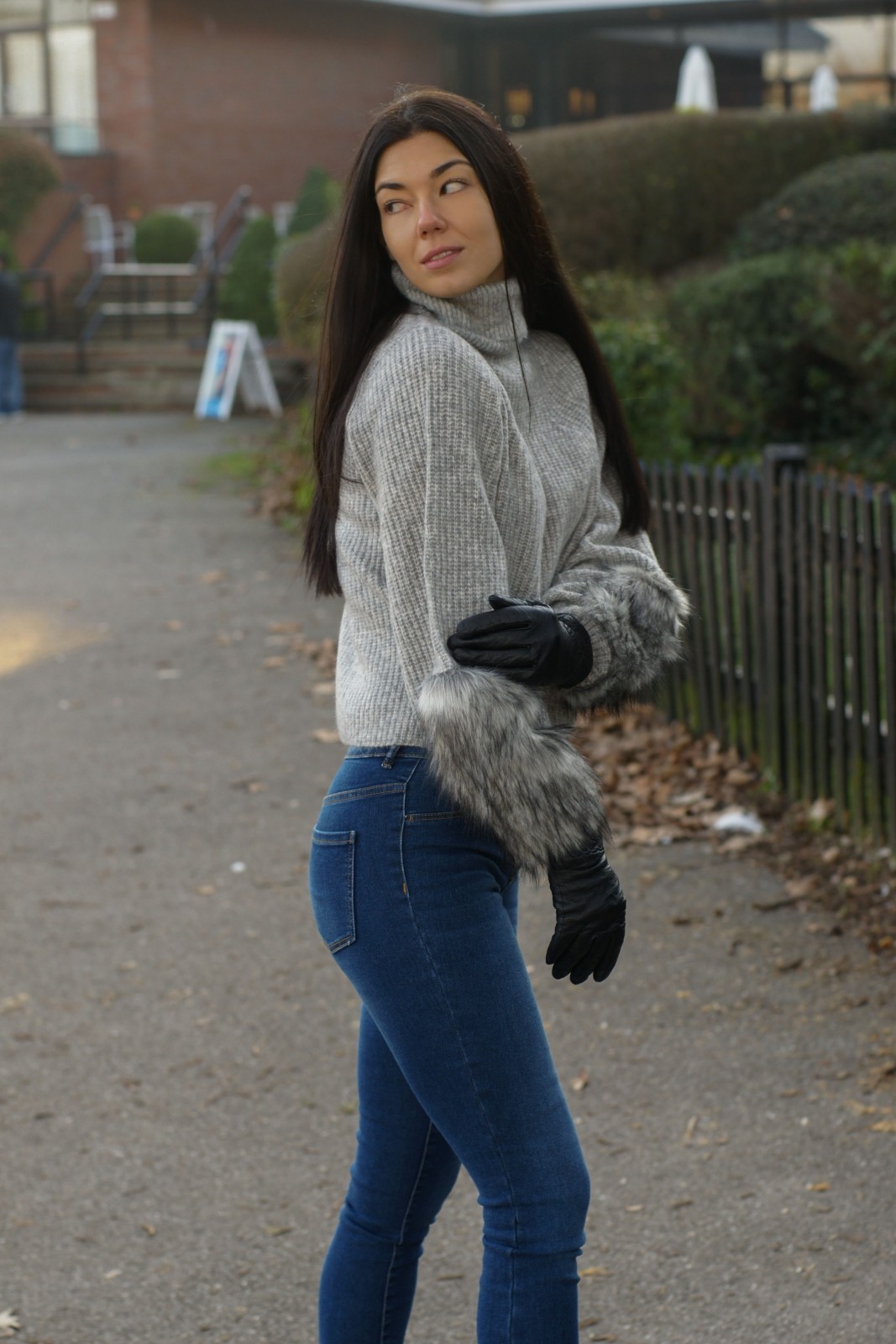 By going for a comfy faux fur sleeve coat, the choices of what to wear underneath it are unlimited. For the endless days in the office, opt for a straight line suit or A-line skirt with heels. Want a casual look for out and about? Achieve it by layering your coat over a pair of faux leather leggings, a jumper and white trainers!
You can even wear your faux fur sleeve sweater on your nights out! You just have to choose the right style and colour. A black double-breasted coat would be the perfect match for your little black number!
SHOP FAUX FUR SLEEVE COATS

Faux fur sleeves are by far the most attractive design I've seen lately and I hope they never go out of style. Personally, I feel that these are the two easiest ways to embrace the faux fur sleeve trend.
Psst! More of my outfits here!
How do you feel about faux fur sleeves?
YOU MIGHT ALSO ENJOY:
A Faux Fur Longline Coat For Your Winter Wardrobe
3 Quick Tips To Successfully Style Vinyl Trousers
How To Style A Leather Pencil Skirt