In February, Vlad and I had the pleasure of watching Cirque du Soleil in London for the third year in a row! The show is always held at Royal Albert Hall, so it presented the perfect opportunity to wear something stylish, but not over the top. Moreover, it was the beginning of London Fashion Week FW19, so I had no excuse not to wear something appropriately chic!
This green belted high neck wool coat did an outstanding job in terms of daily chic elegance! Suffice to say, I was getting more than one or two looks of approval from strangers passing by. I even got a compliment from one of the lovely girls at Maitre Choux! We stopped by to get one of their Vanilla & Pecan Eclairs before heading to Royal Albert Hall. Needless to say, the eclair was absolutely divine!
Before that though, we took the opportunity to take some pictures for the blog. Queen's Gate street in London looked like the perfect match for this green wool coat! Agree?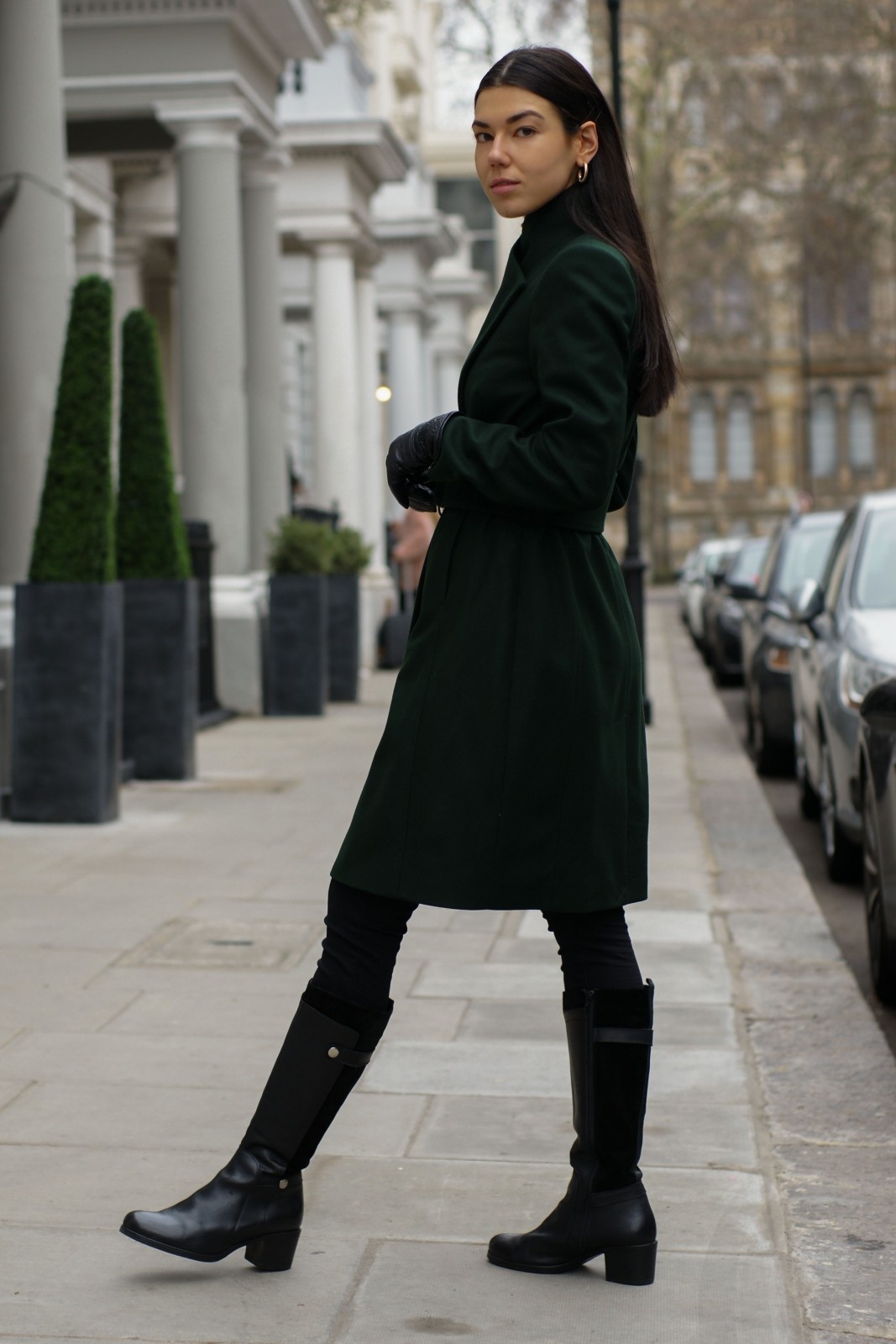 Green Belted High Neck Wool Coat (cheaper version here)| Black Skinny Jeans | Knee-High Boots (similar) | Leather Gloves (similar) | Gold Hoop Earrings (similar)
Wear It With Jeans & Boots For #OOTD
At first glance, you will undoubtedly think that this coat is not suitable for a daily casual look. The stitching and tailoring techniques used to design it definitely scream formal attire. Further contributing to this formal feel is the wide belt with two gold metal loops. To top it all off, this high neck coat is a blend of wool and cashmere. While cashmere is extremely soft to the touch, I primarily associated it with more sophisticated and formal looks!
SHOP GREEN COATS

Yet, I was pleasantly surprised to see that wearing jeans and boots with it delivered a subtle casual chic look! However, you couldn't just put any pair of jeans or boots with this type of coat. For a smart casual look, always go for black skinny jeans with matching knee-high boots. If you want to wear lighter jeans, you can get this belted wool coat in black. Pencil skirts and light jumpers are also a good option for a casual look with a chic vibe. If you decide to take the second route, opt for a pair of high heels to complete the outfit.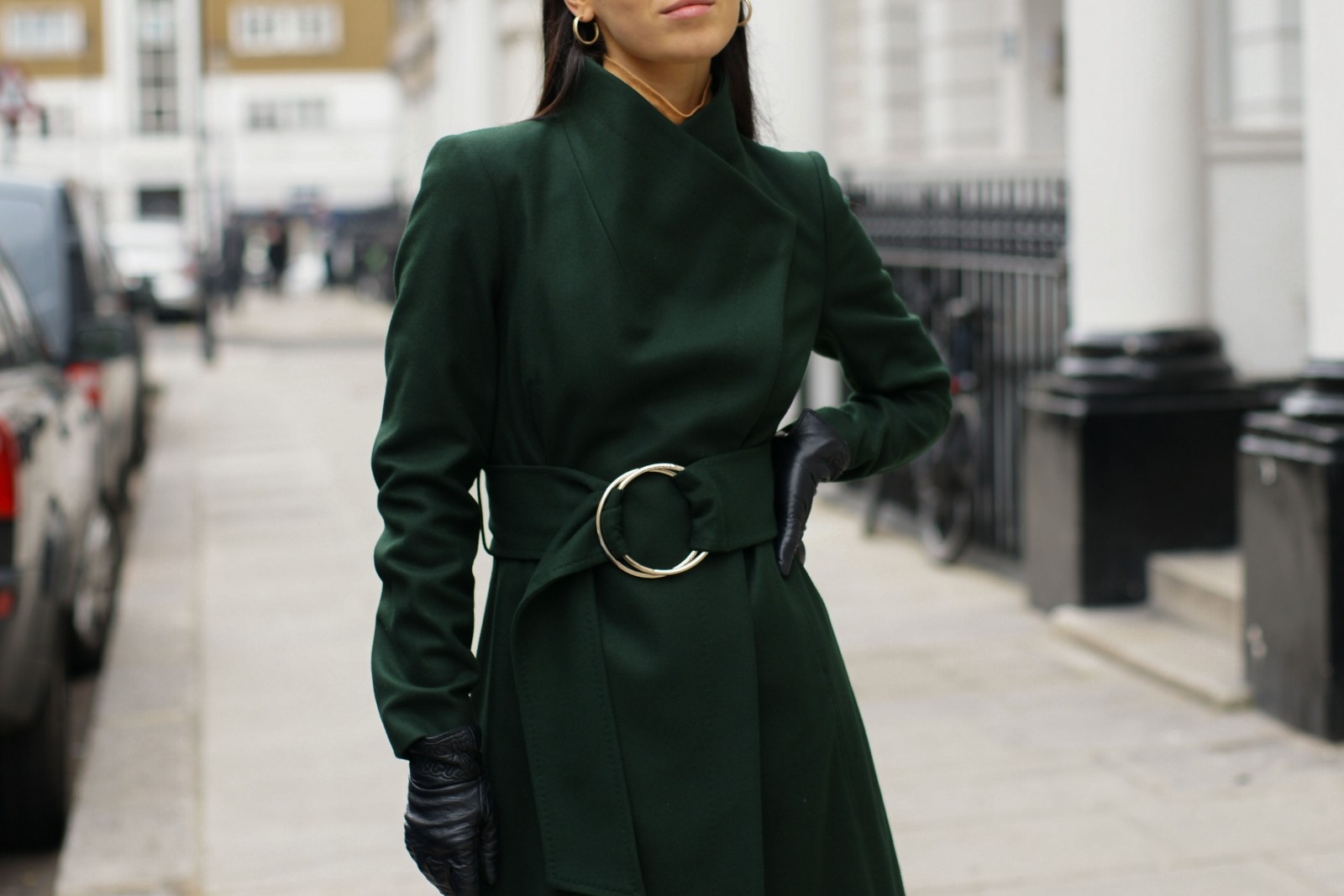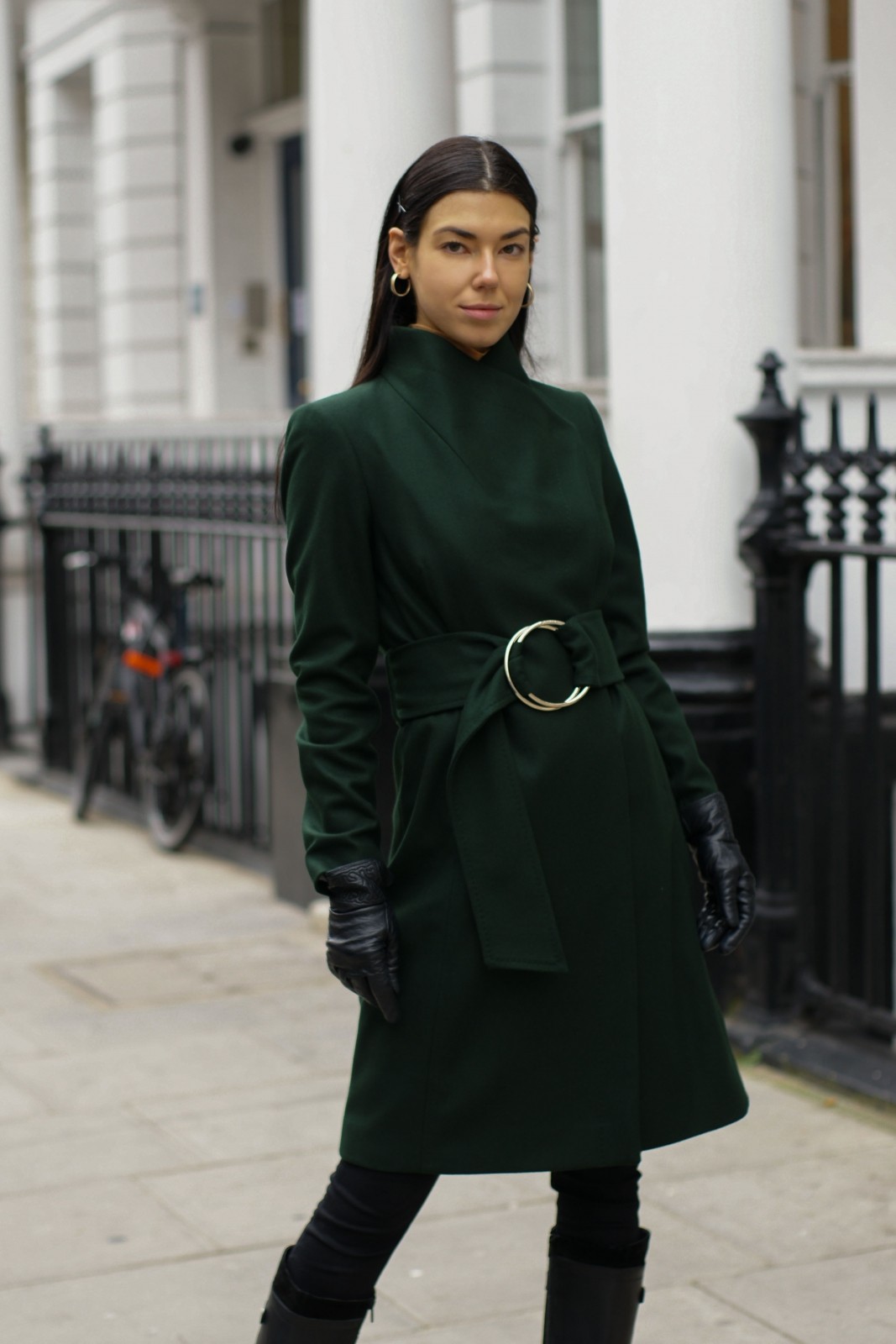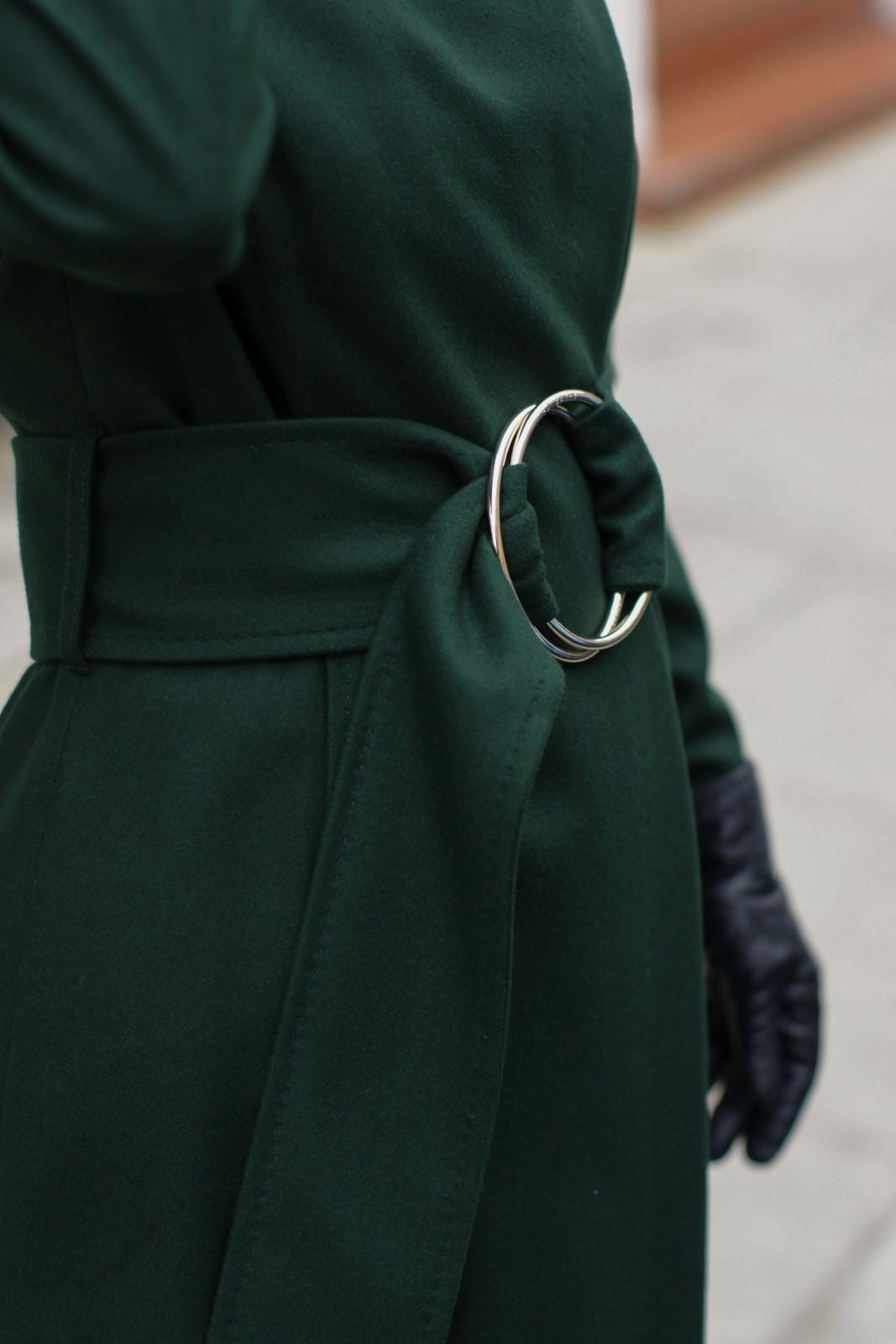 Add Gold Details For An Elegant Touch
Had you asked me a year ago, I would have said that there wasn't a more elegant combination than a black and gold outfit! However, I have been converted. This cashmere blend wool coat comes in a beautiful dark olive green shade, which brings out the best in anything golden! No wonder the hoops of the belt are gold-plated. Personally, I feel that this shade of green and gold complement each other much more than a black and gold combination! Wouldn't you agree?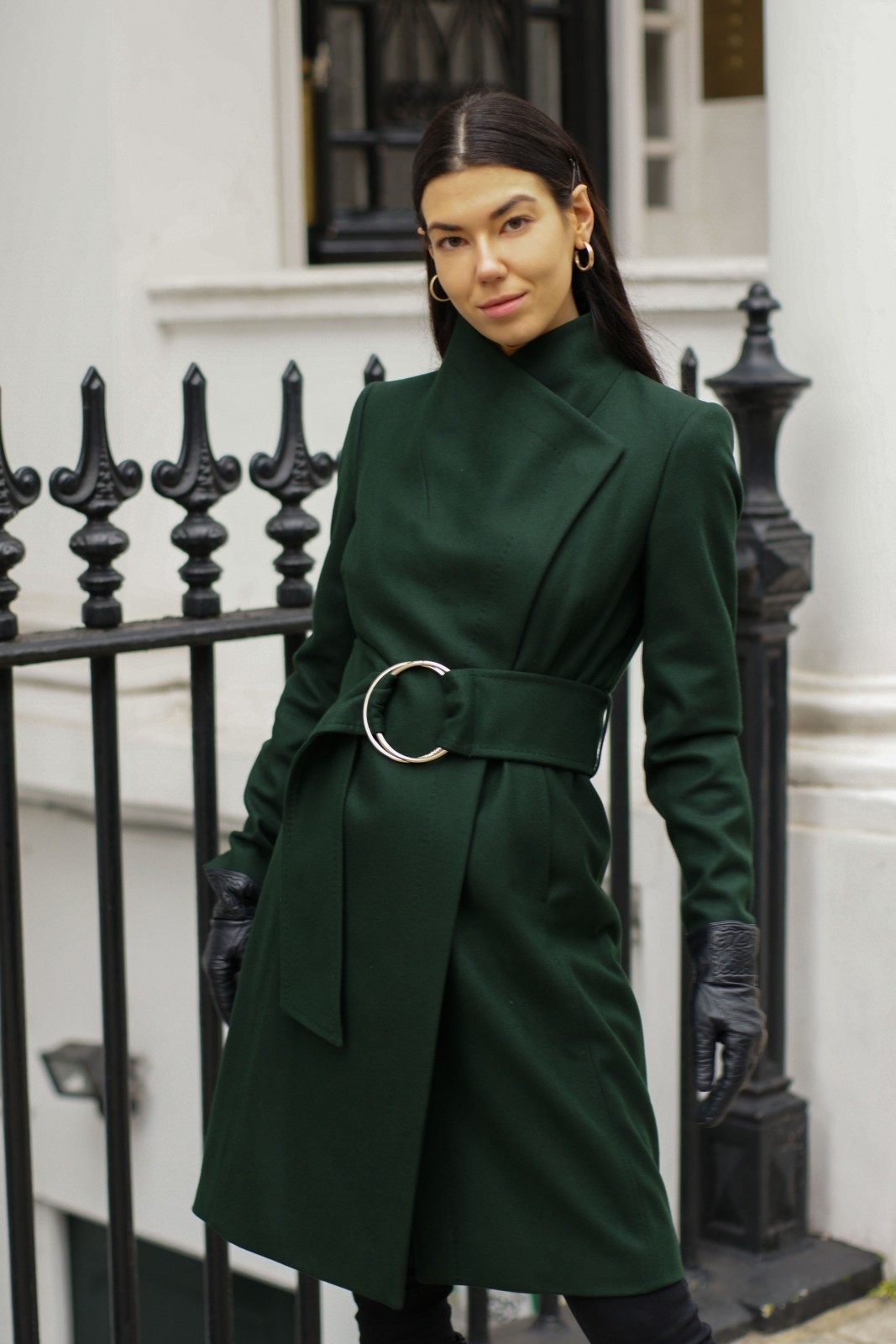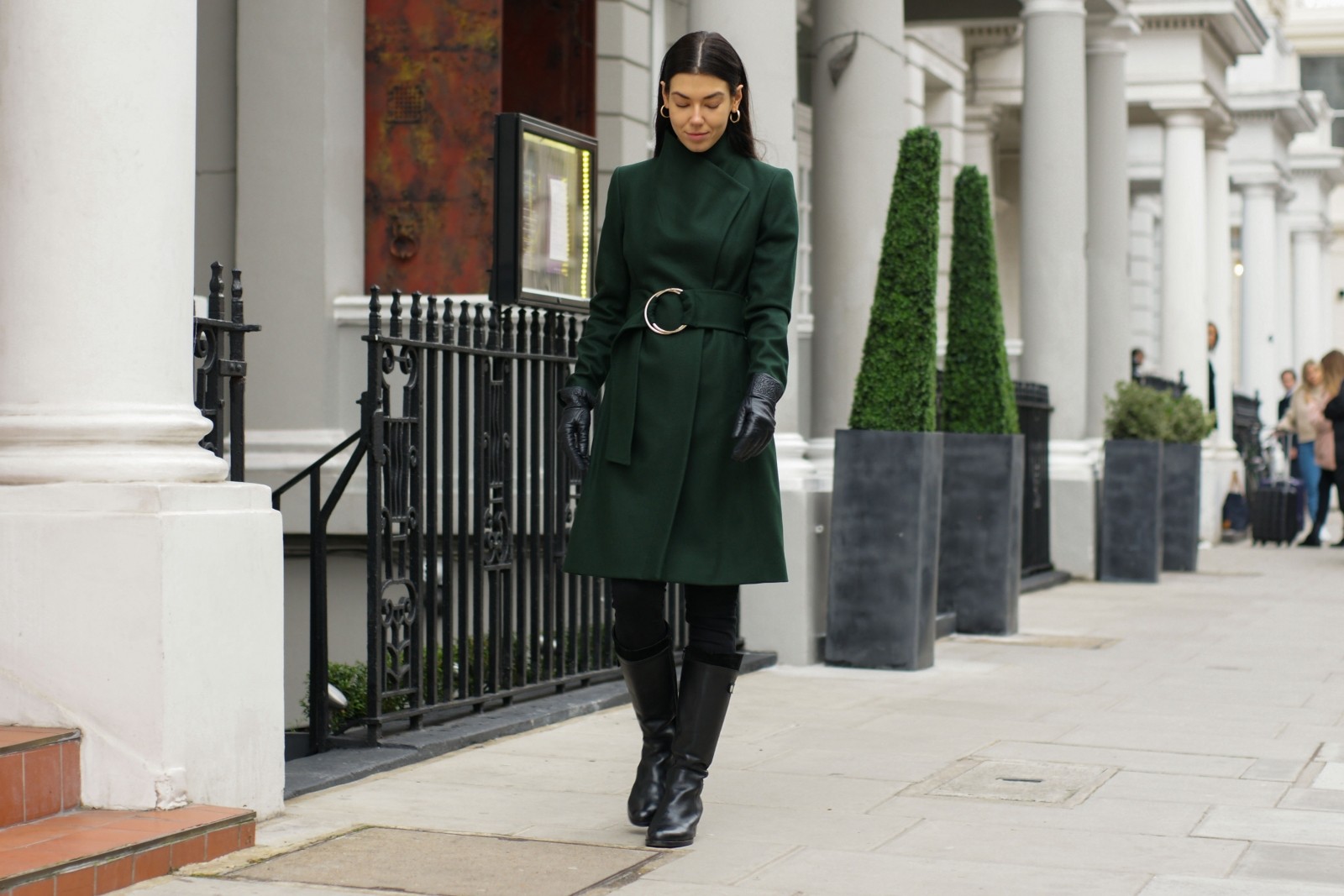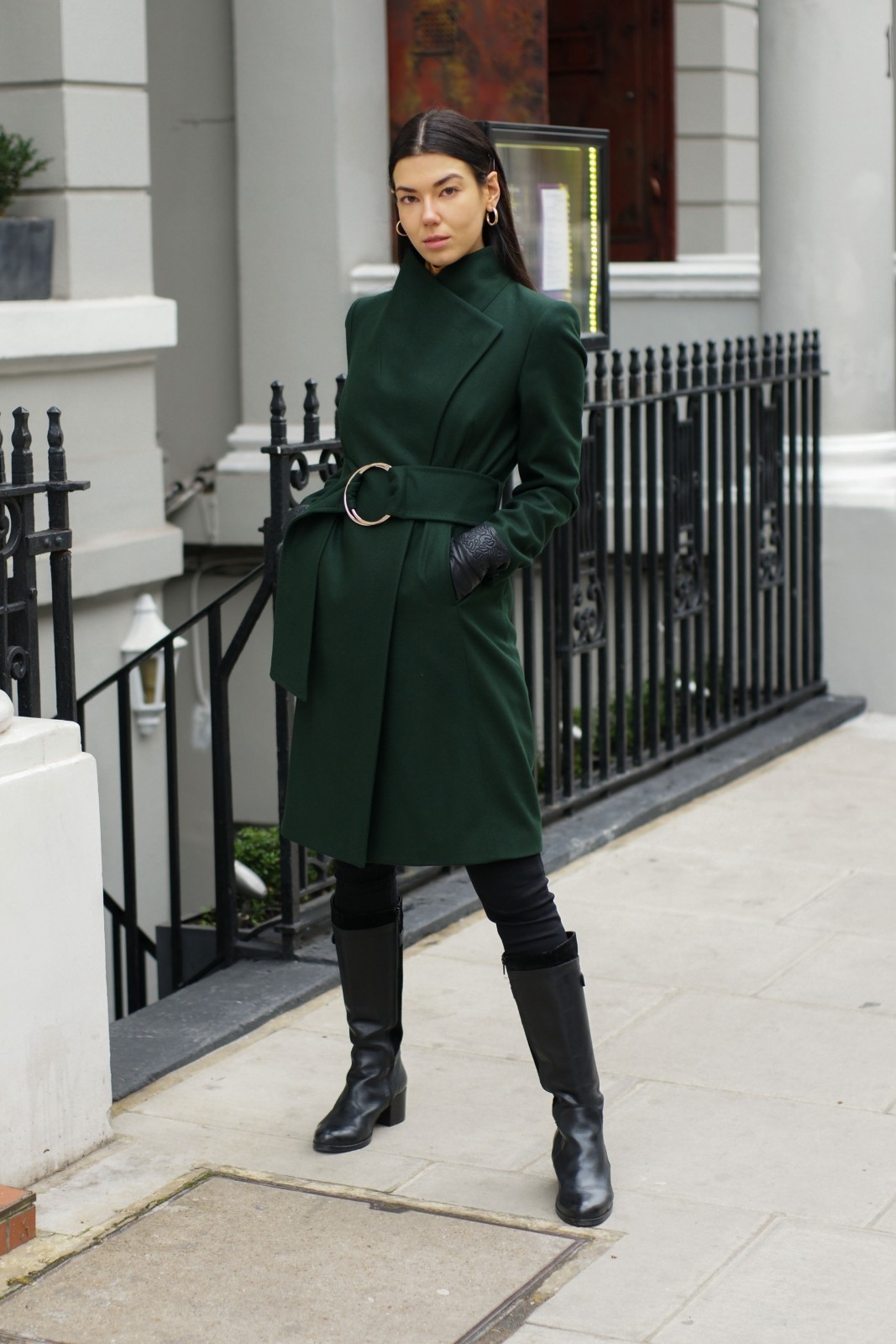 To finish off the look, I added a pair of gold hoop earrings for an elegant touch. They not only perfectly matched the style of the belt, but also its colour. Bringing anything gold into the mix is a sure way to elevate pretty much any daily outfit. Although you can choose a garment or shoes in the same gold shade, I would stick to accessories only. In this way, the gold won't be too prominent, ensuring the coat is getting most of the attention!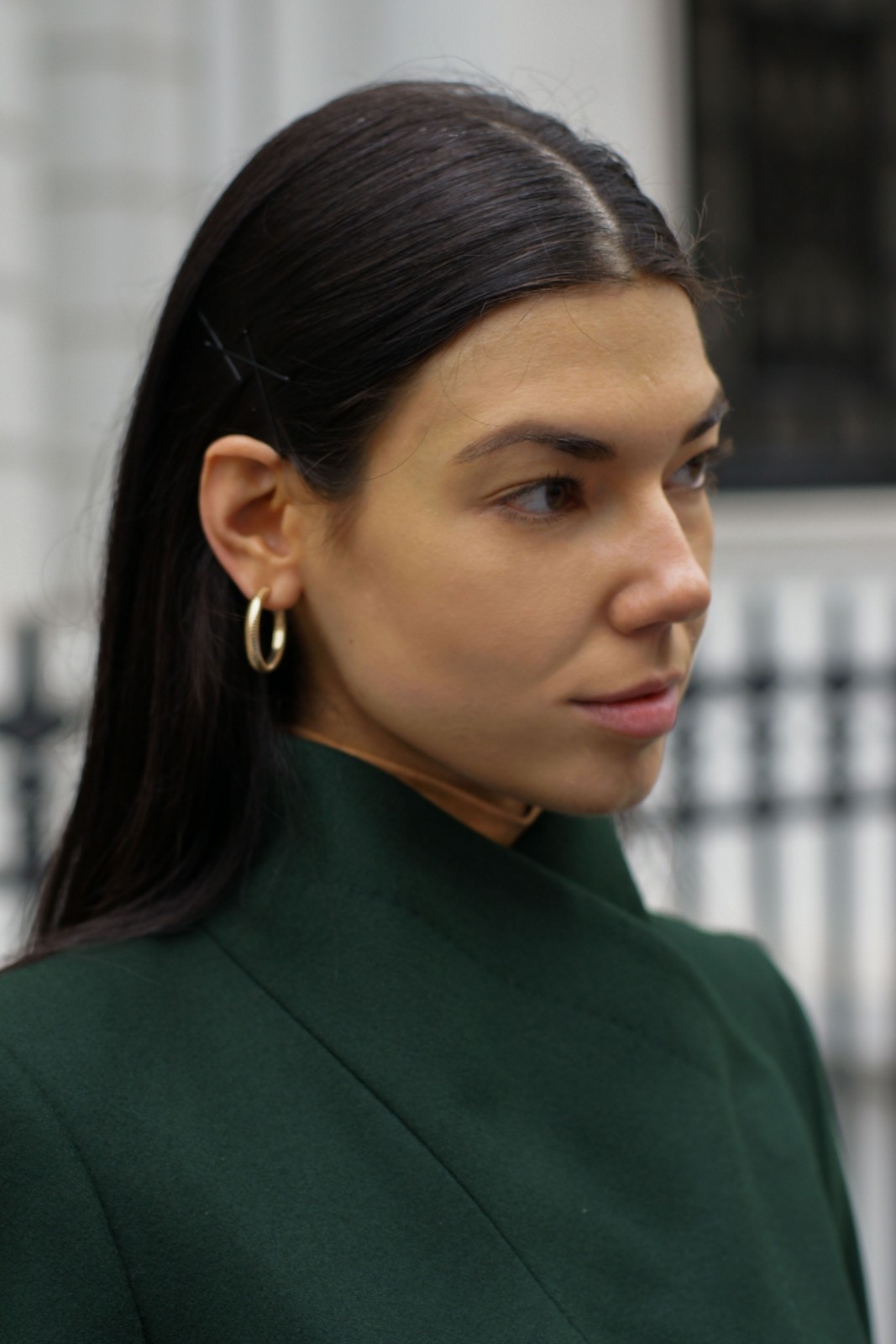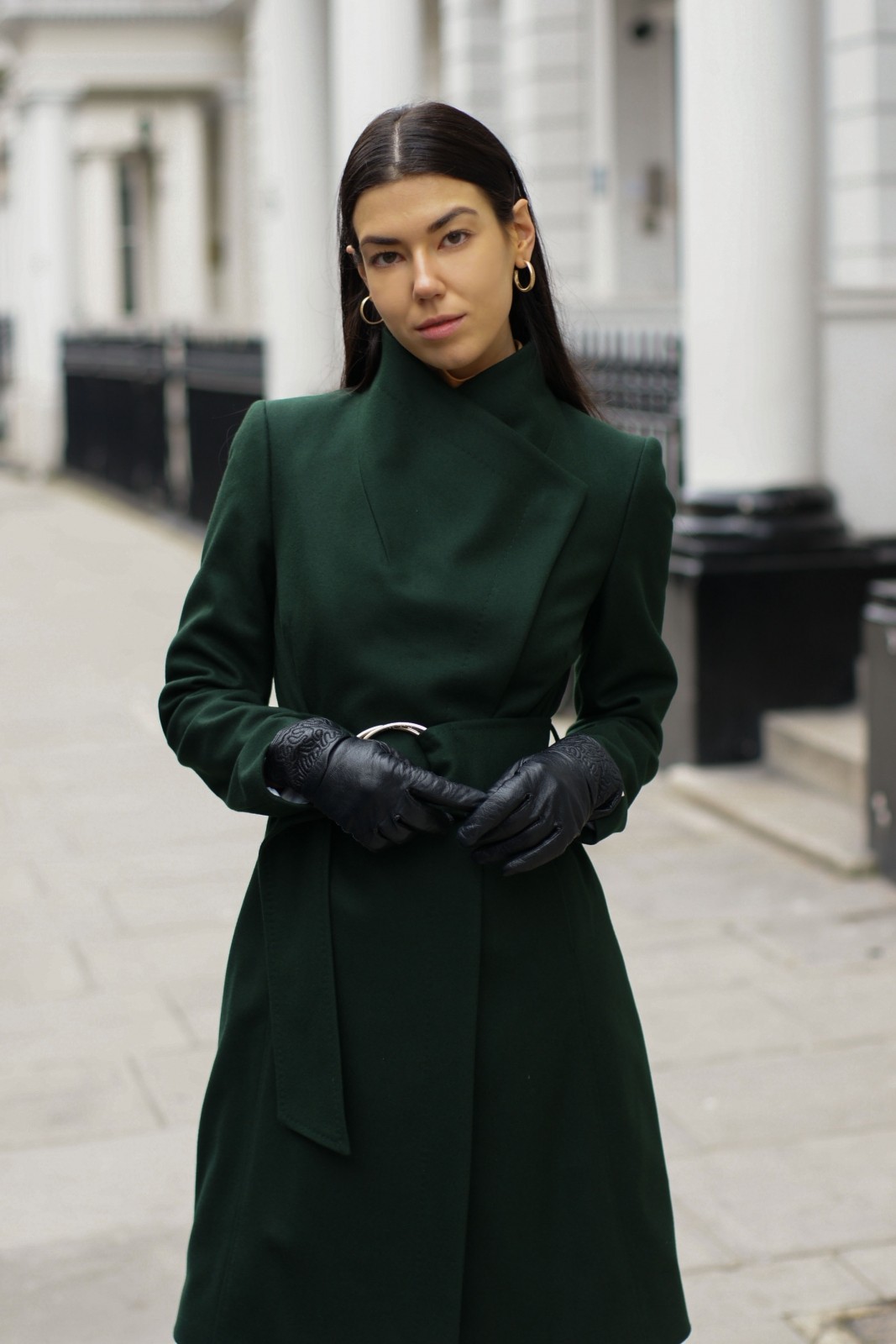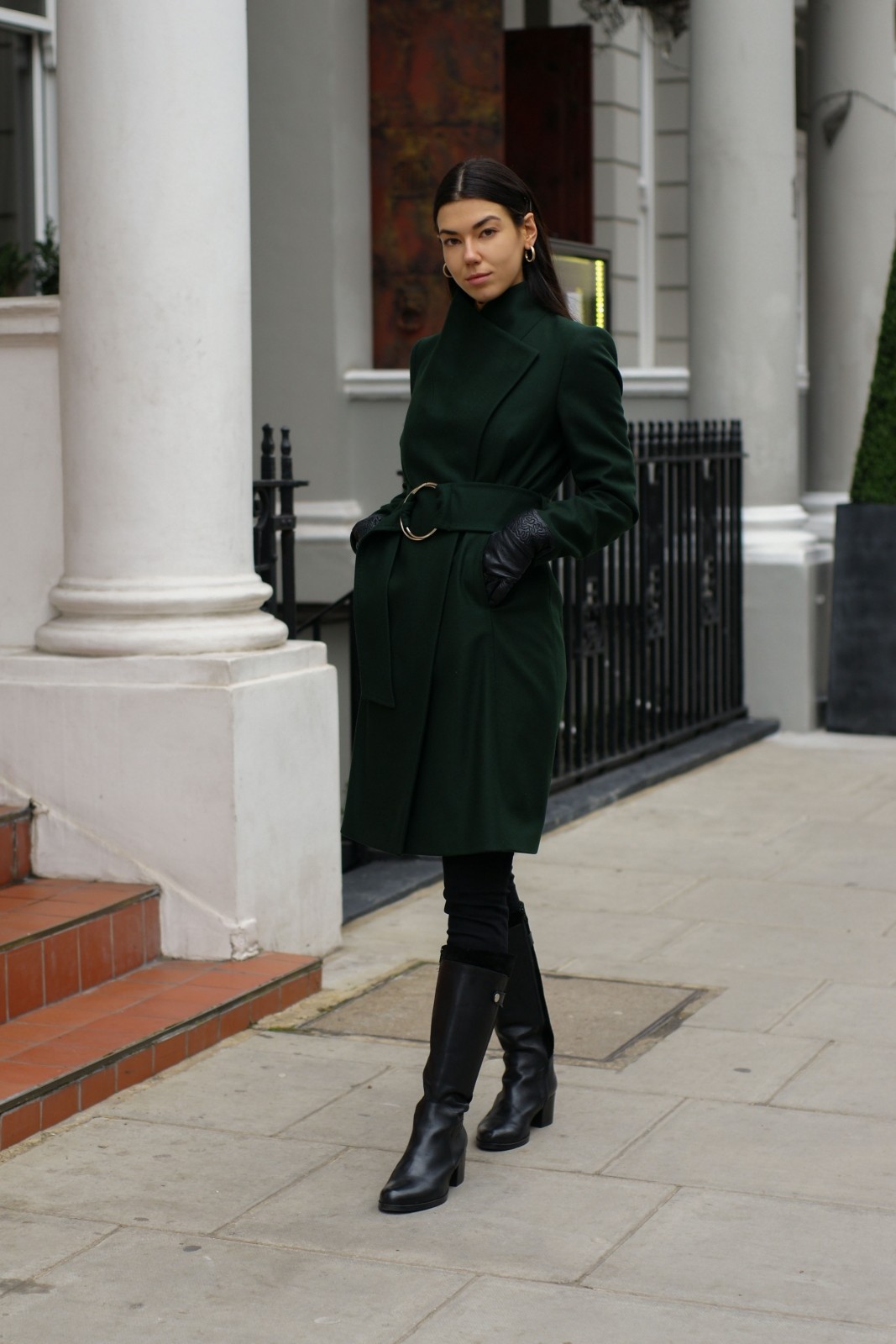 Nonetheless, if you decided to wear clothing in a gold shade, select something plain and simple. For instance, underneath the coat, I wore a turtle neck t-shirt in a light gold shade. Apart from its straightforward design, this shirt has an elegant satin finish. Ideal if you don't want all of the fabrics visually clashing with each other!
What do you think of this daily look?
How would you style a dark green wool coat?
Check out more of my outfits here!
YOU MIGHT ALSO ENJOY:
Trend Alert | A Faux Fur Longline Coat For Your Winter Wardrobe
3 Reasons To Get A Plaid Coat This Winter
4 Reasons To Get A Red Coat This Christmas