The health and fitness industry is growing with the speed of light, whether we like it or not. As a self-proclaimed gym junkie… ahem, I'm more than excited when I come across a good and yummy protein supplement. Up until 2 years ago, I've never tried a protein bar or anything else that is not the occasional protein shake. Vlad introduced me to this whole new world of protein goodies that could undoubtedly take the place of your favourite Mars bar or chocolate cake. Before you call the bullshit police, just hear me out! Are you a chocolate lover? Or maybe caramel one? Would you wish that your favourite sweet snack wasn't going on your waistline or increasing your chances of diabetes? Well, I have some great news for you – protein bars are the answer to your prayers!
In my last protein snacks post, I wrote about my favourite Oh Yeah Protein Bars. Then and there I promised that I will continue to show you what protein snacks I have on a regular basis. Today I'm going to introduce to you two new favourites that are part of our growing selection of protein bars – Fit Crunch and Sci-Mx Pro2Go.
Fit Crunch Cookie & Cream
Created by co-founder and celebrity chef, Robert Irvine, Fit Crunch is an award-winning protein bar that is set to take your taste buds on another level. If you've ever tried a protein bar, you'll know what I mean the second you get a bite of Fit Crunch. Although all of the protein bars I've tried have an amazing taste, they always have that dry aftertaste. Well, Fit Crunch is quite the opposite. The only 6-layer baked bar is gooey, chocolatey and creamy. This is not a protein bar, people, this is a dessert! Soft baked cookie core, rich vanilla cream layer, and a cookie crunch in every bite. But worry not – your waistline won't increase from this goodie! If you're worried about the calories, simply split your Fit Crunch with your loved one or friend. Sharing is caring you know! Otherwise, have one part in the morning and save the second for later! Get your Fit Crunch Cookie & Cream today!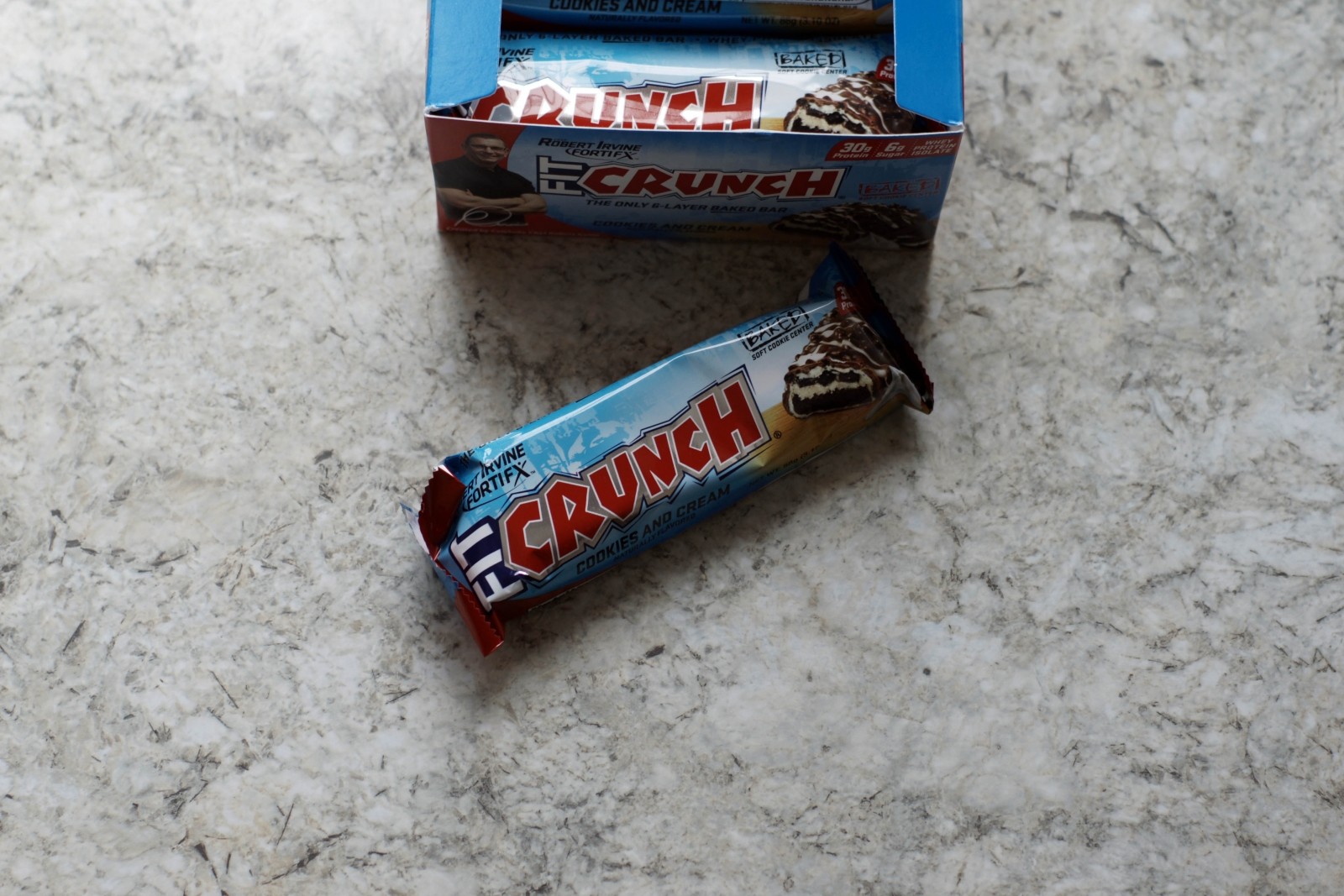 Nutritional value per bar (88g): 380kcal; Fat 16g of which saturates 8g; Carbs 27g of which sugars 6g; Protein 30g
Other varieties: Birthday Cake, Caramel Peanut, Chocolate Chip Cookie Dough and Peanut Butter
Sci-Mx Pro2Go Caramel Crisp
Have you ever heard somebody saying 'I have a sweet tooth!'?! You'll know they're lying if they can't eat half a kilo of a salted caramel chocolate cake. Believe it or not, I've recently done just that. As far as I enjoyed that delicious piece of caramel heaven, the consequences were rather disastrous. Half an hour and 1000+ calories later, I couldn't move, breathe nor blink. Although I enjoyed this sweet disaster, I wouldn't afford physically or mentally to eat like this. For this reason, I turn to my favourite Caramel Crisp protein bar from Sci-Mx. The UK-based company has done the impossible to produce high-quality and tasty protein snacks. Training or not, craving cake or just something to keep you going until your main meal, Sci-Mx are here to save you and your hips! With triple layered chocolate, soft fluffy nougat, cream caramel, milk chocolate and soy crispies, the Pro2Go Caramel Crisp will give you the ultimate protein experience!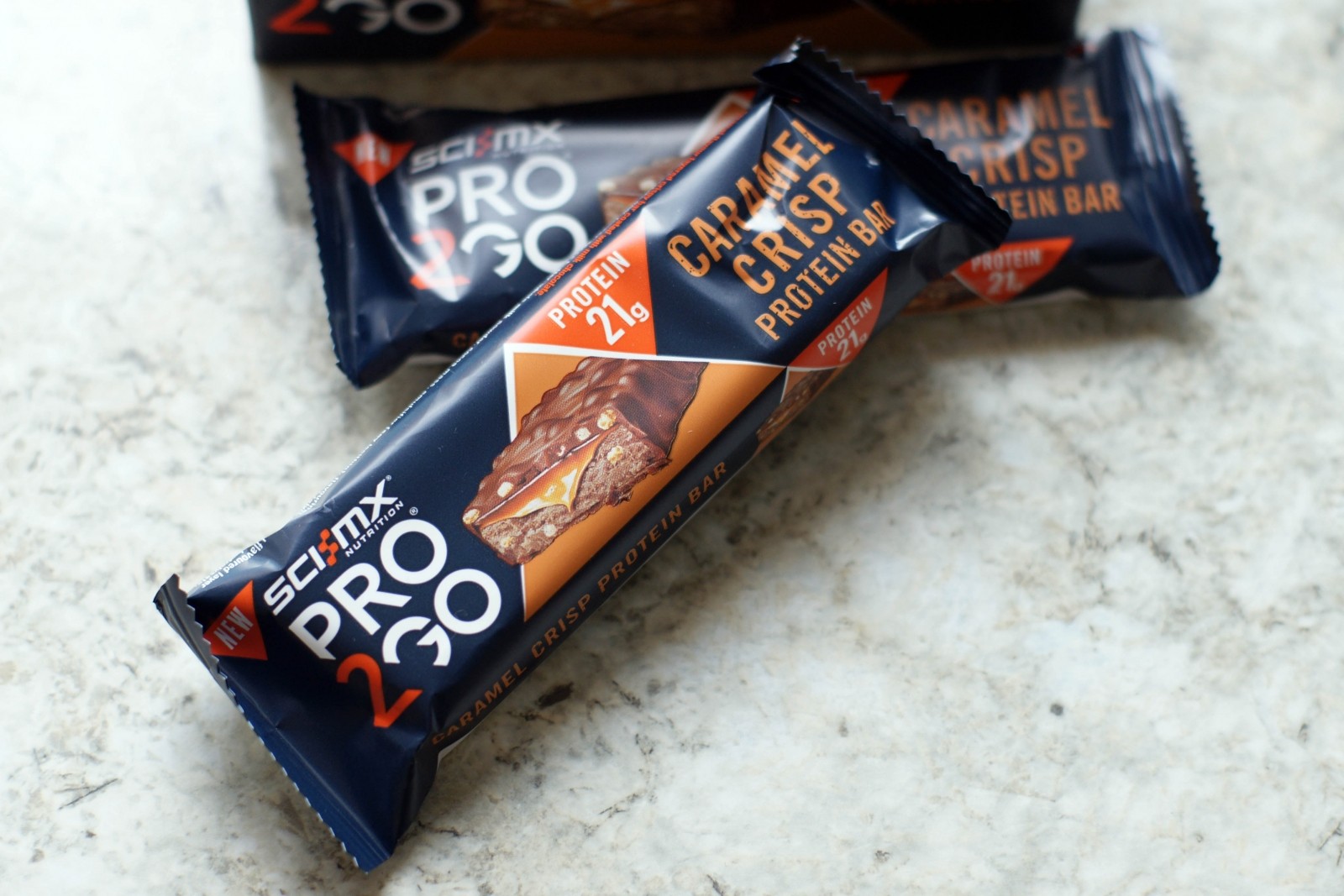 Nutritional value per bar (65g): 253kcal; Fat 10.2g of which saturates 5.4g; Carbs 21g of which sugars 7.4g; Protein 21g
Other varieties: Pro 2Go Brownie, Pro 2Go Oat Bake, Pro 2Go Duo Bar and Pro 2Go Flapjack
Have you ever tried any of these bars or any other protein bars? I'll be also interested to hear your thoughts on this type of posts. Are you interested in protein snacks and, specifically, which protein snacks I take?
Check out the health + fitness category for more protein bar reviews!
x Mariya
YOU MIGHT ALSO ENJOY:
FitSpo, FitJoy & King Whey Protein Bars Review
Protein Bars Review: BPI, Dymatize & PhD Smart
Is Sugar Good For You? Yes, But There's A Big BUT!