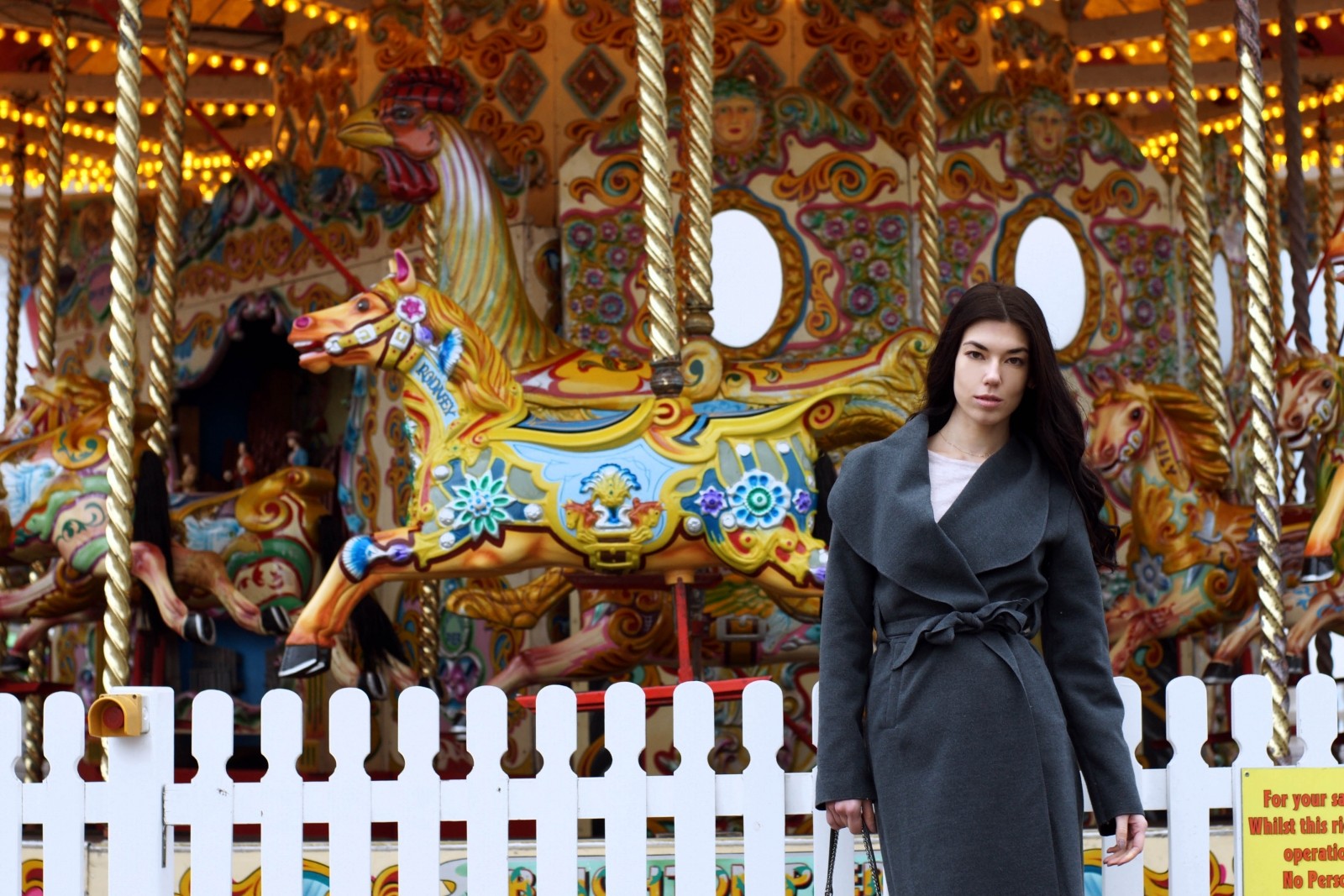 Long gone are the days when your only option to style a long coat would be a pair of boots. As a matter of fact, if I were to wear my Brighton wardrobe in public a few years ago, I was probably going to get fined by the fashion police! Ok, probably not, I don't think anybody could fine you for that. Unless you live in Italy! There is definitely a hidden law that says you should always be presentable while walking on an Italian street. All jokes aside, compared to the old days, now we can experiment much more with our long coats and boots are not the only option to match our outerwear. Thanks to street style and supermodels in the likes of Gigi, Bella and Kendall, we can now keep it casual yet stylish with a long coat x trainers combo.

Long Coat
When choosing a long coat, I always think of the ways I can wear it and, most importantly, where I can wear it. With this long coat from iKrush (sadly, no longer available in grey!) I knew I could have both stylish and casual. It's all in the tailoring and what accessories you'll pair it with. The waterfall details of the coat let you experiment with your style without the worry of sticking to a specific pattern. This long coat has a medium thickness and a wool blend feel, but it's actually made from polyester. I always afraid that it might not be the perfect long coat for the chilly season, however, it kept warm the whole time in Brighton. The medium thickness also gives the opportunity of switching between formal and casual looks.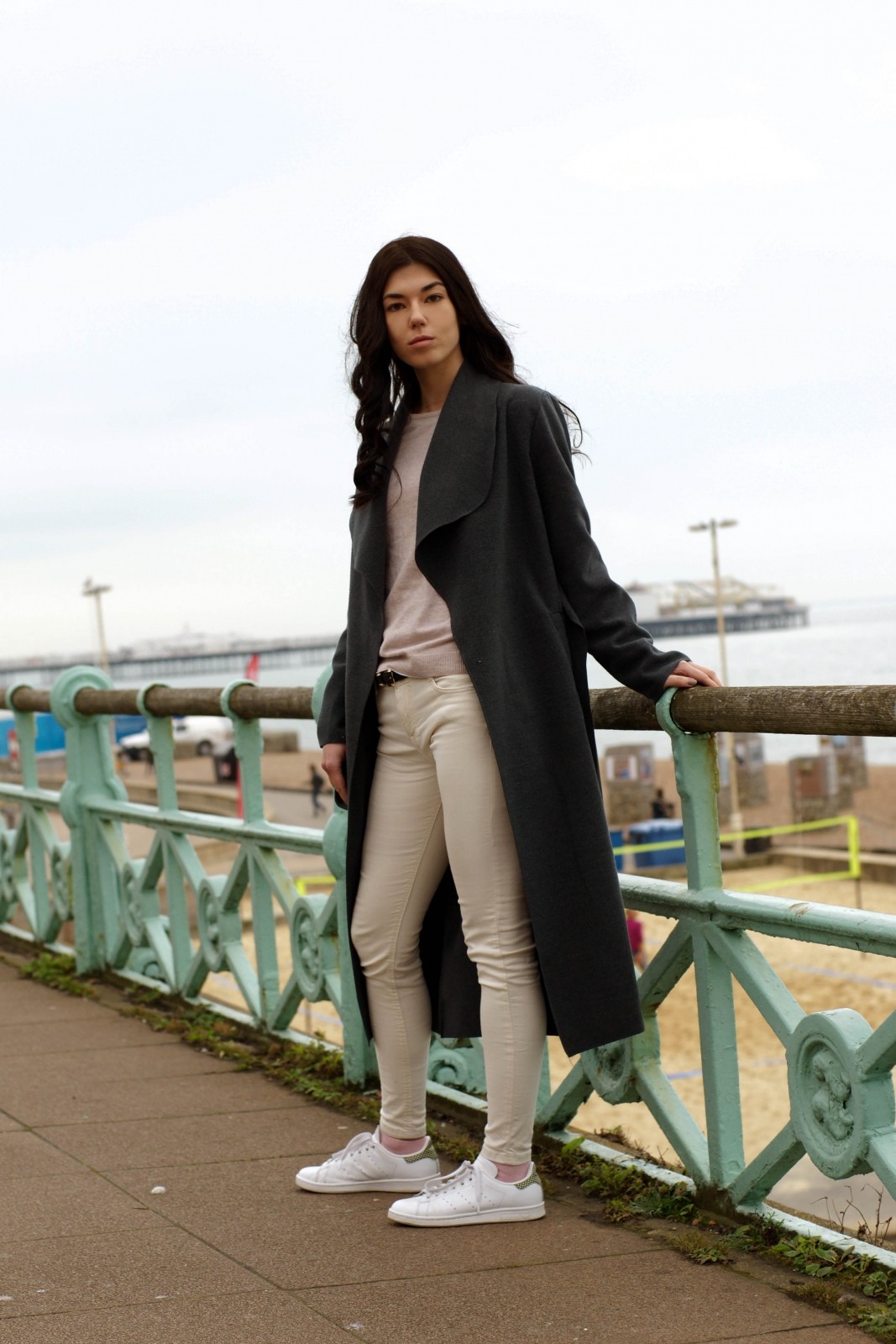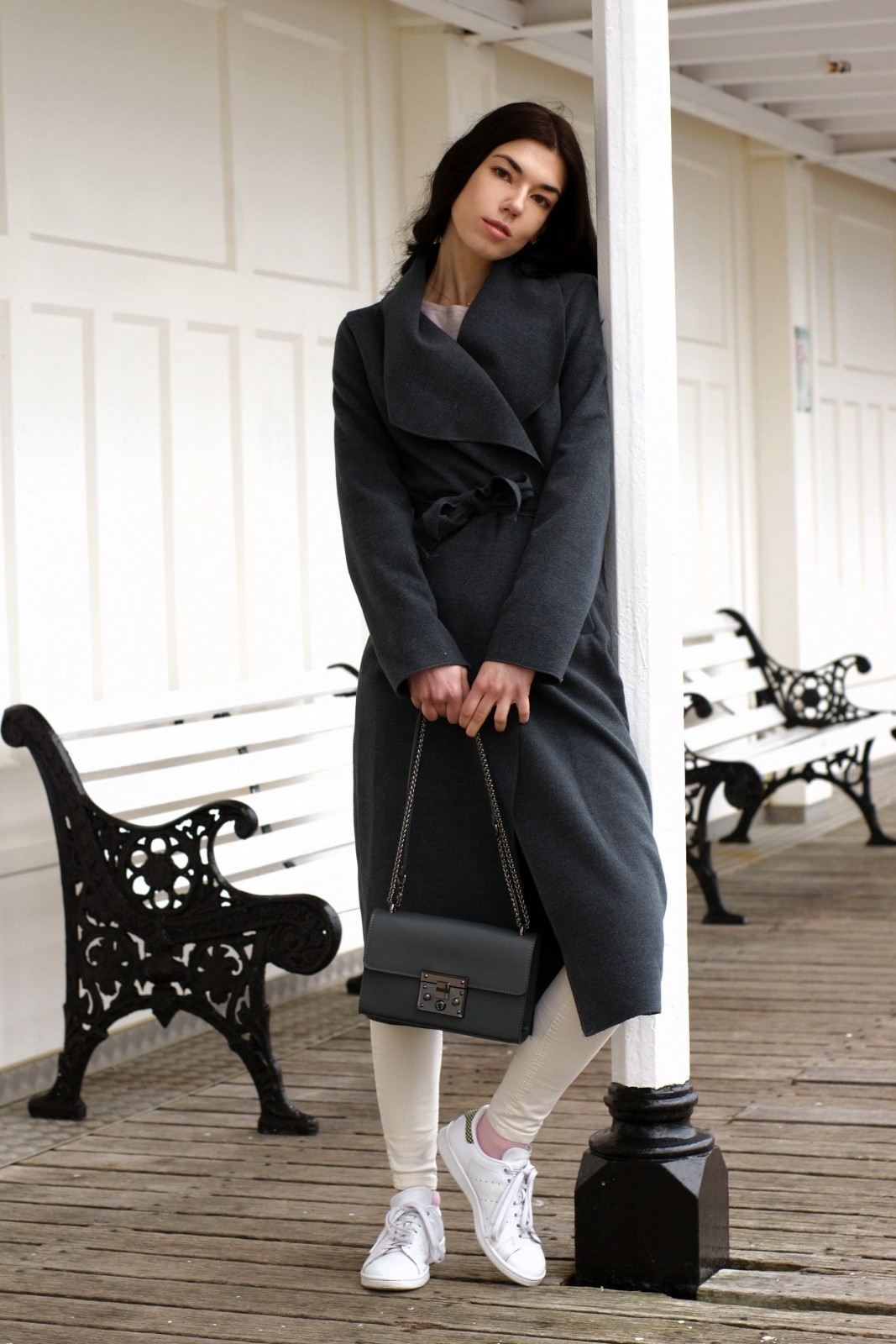 If formal is the look you want to achieve, a stylish long sleeve bodycon dress with zip details is the way to go. Match it with these black sock ankle boots and finish off with an elegant brooch on the collar. For a more casual appearance, take my word for it and go for the usual jeans and shirt mix. In this instance, I opted for lighter apparel as the weather was grumpy and I wanted to mix things up. Whether it improved my mood or someone else's, I couldn't tell, but it made me feel super comfortable and warm! These push-up trousers from Bershka are sure to add some colour to your long coat. To add further warmth and colour, finish off with this chunky geometric scarf.

Trainers
I don't know about you but nothing else screams comfy to me like a good pair of trainers. These Stan Smith's not only keep my feet on cloud nine but their leather material also adds an extra layer of warmth. In addition to the warming factor, the leather lining is sure to give you a smart-casual look instead of casual-casual type. If you're not a fan of white trainers, go for darker ones or any other colour that for that matter. To be perfectly honest with you, the Stan Smith's are the first whites to make a feature in my shoedrobe. There were two reasons holding me back prior to making this purchase: a) they are white! (i.e. attract attention) and b) they'll easily get dirty and I'll have to clean them after every walk.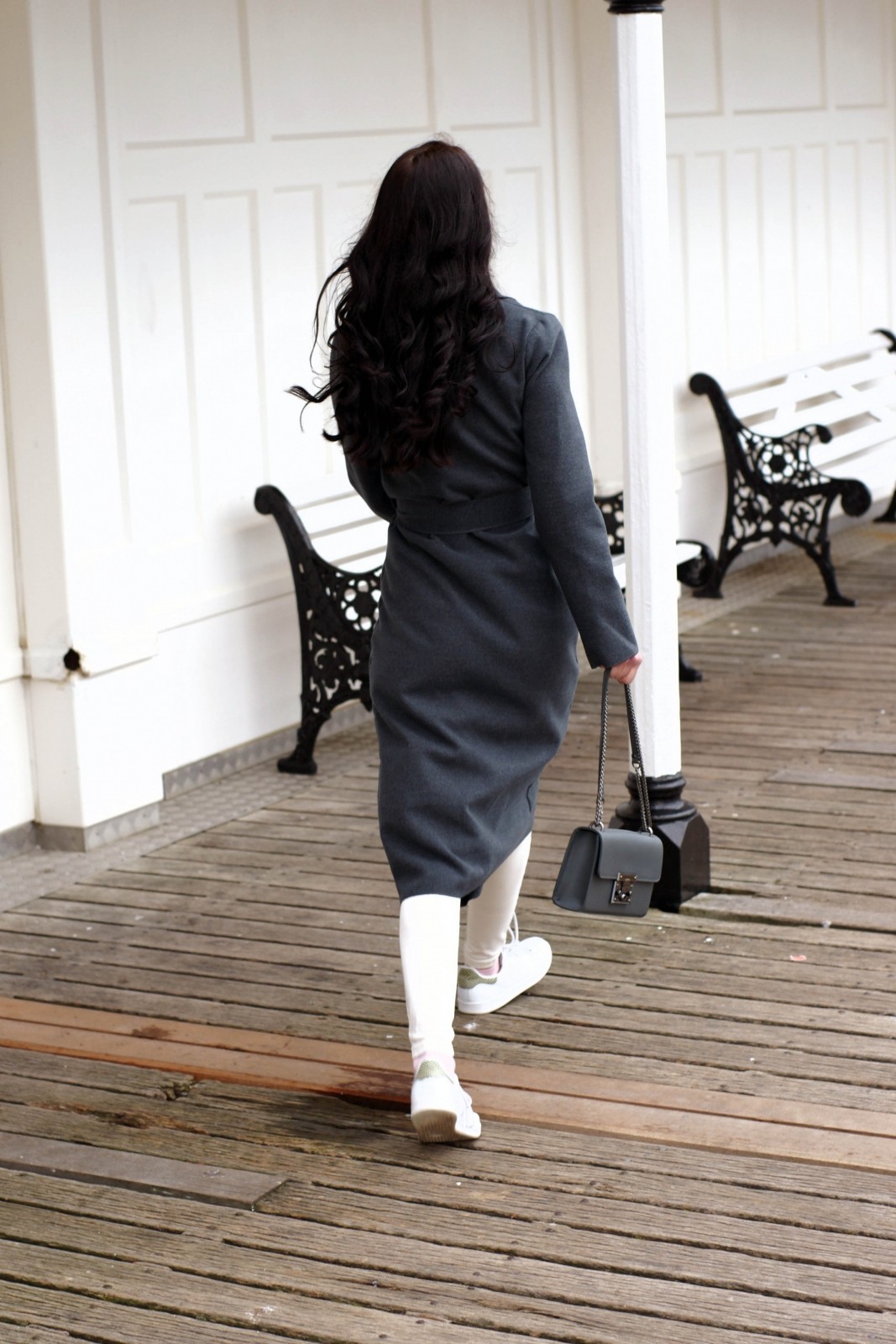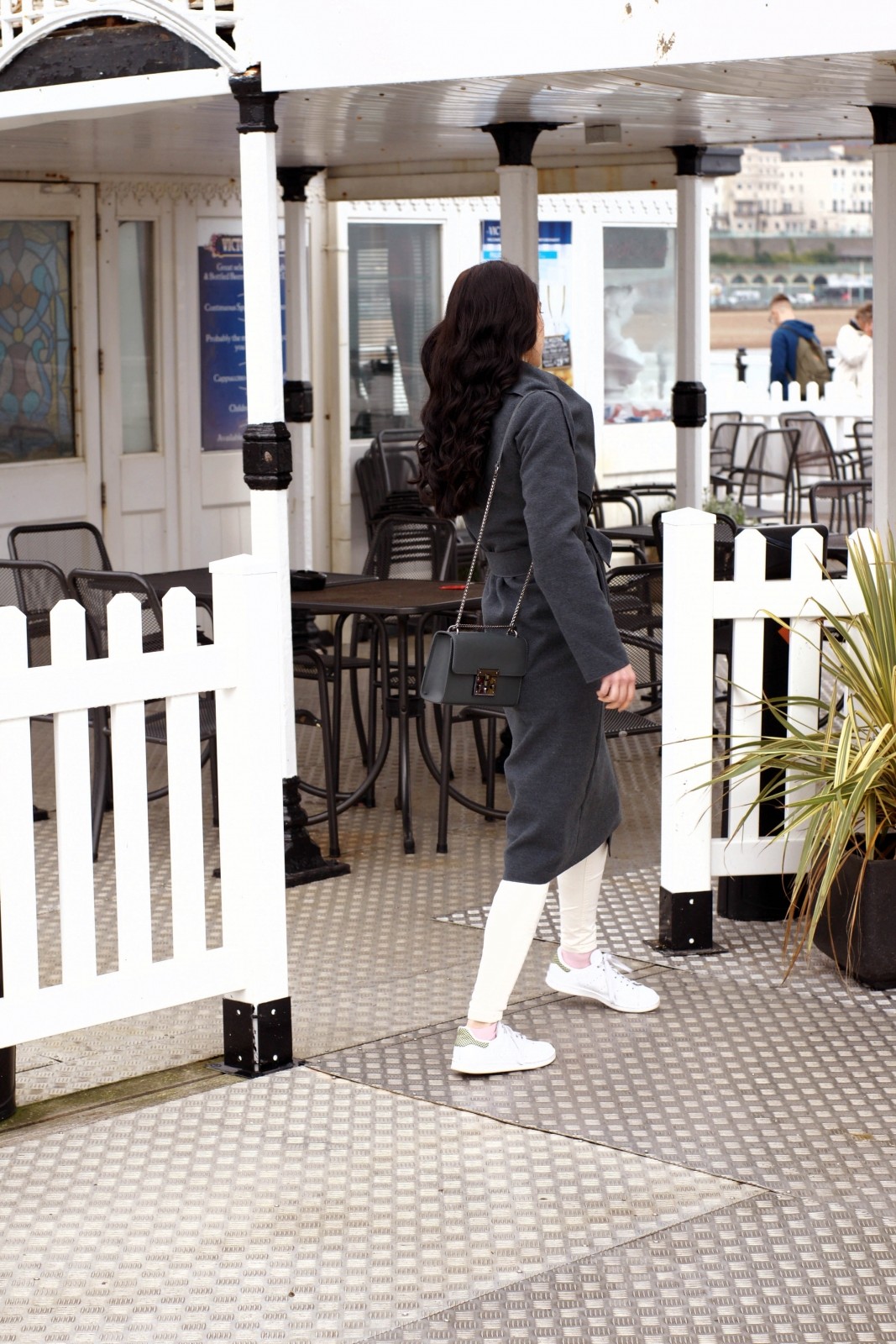 Turned out that I was right on both instances. They do attract a lot of attention, especially when they are freshly cleaned and whiter than white. However, I don't really pay that much attention to what people do and look at. I like how they feel, I like how they look. And, yes, they get dirty rather easily. But there's nothing that a warm cloth wouldn't fix. Besides I'm living in the UK, hence I'm used to the whole daily-shoe-cleaning process. Living in the UK = rainy days = yucky shoes.
We did a lot of walking in Brighton, hence I wanted to be comfortable and limit the chances of getting sore feet. However, I also wanted to look stylish yet casual. The long coat and trainers combination was perfect for the occasion.
Would you keep it casual in a long coat and trainers this winter?
P.S: There are eve more outfits in the style category!
x Mariya
YOU MIGHT ALSO ENJOY:
Daily Look | Green Belted High Neck Wool Coat
A Faux Fur Longline Coat For Your Winter Wardrobe
4 Reasons To Get A Red Coat This Christmas