For years, all-black outfits were considered a no-no unless you were attending a formal event or a funeral. Equally, I accepted and followed those fashion principles since I can remember. As a matter of fact, I was known for unconsciously rolling my eyes each time I saw somebody wearing an all-black outfit. However, I've been converted to think otherwise. The past year has had a tremendous effect on how all-black outfits are styled and worn. Nowadays, wearing all-black is no longer considered a taboo but rather chic, stylish and even empowering. I'm not only referring to the trending #bossbabe movement but also the very inspiring #MeToo and #TimesUp campaigns. In case you've missed the Golden Globes in January, celebrities wore all-black dresses and suits on the red carpet. Since that event, black garments' sales, dresses, in particular, have increased by 225% (compared to January last year)!
Gladly, black is now associated with something much more and I'm certain that 2018 will be the year of all-black outfits. However, there is a thin line between looking like you're going to a boring corporate event and looking stylishly chic when wearing an all-black outfit. In case you don't want to fall into the first category, ahead are three simple ways with which you can make your all-black outfit stand out.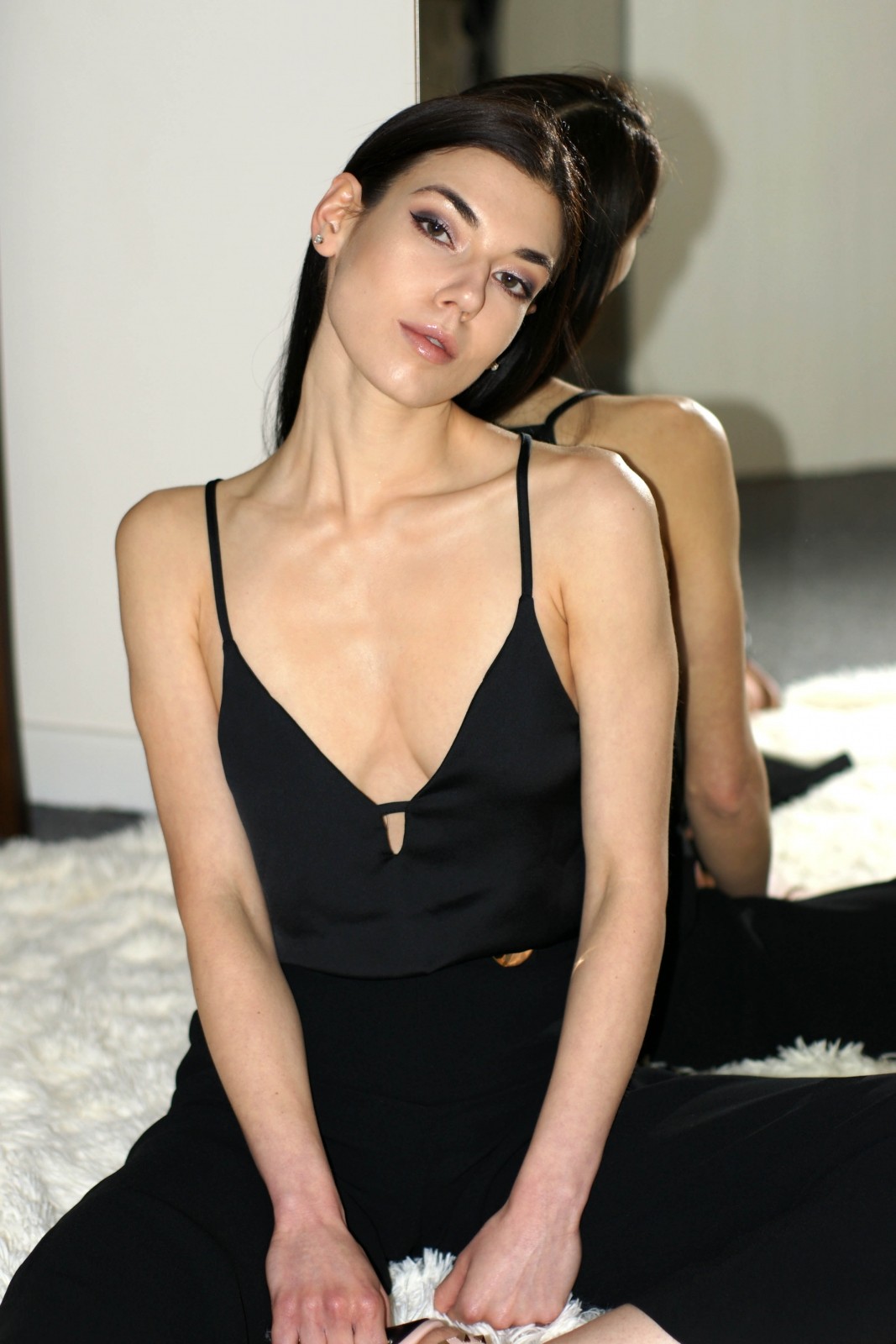 Play With Textures
It's important to play with textures when assembling an all-black number. When you have to mix and match two separate garments, choose wisely! If your bottom choice is made from polyester or viscose, layer it a more delicate fabric such as silk, cashmere or linen. During winter you can even throw a warm wool sweater or jumper to make your look a little more casual. In this instance, I particularly like the leather x sweater combinations. The 60s' are back – leather pants and skirts are once again fashionable. Simply chuck an oversized sweater on top of your leather choice and you'll take your look from biker chick to biker chic! If you have a one-piece all-black assemble like a suit or dress, worry not. You can still kick it up a notch by incorporating an accessory with a different texture. Scarfs, belts and bags are your best matches.
Here, I've matched my black wide leg trousers with a silky-like top. Not only the shiny fabric makes my all-black outfit stand out, but it also brings a much-needed stylish vibe for a night out in town.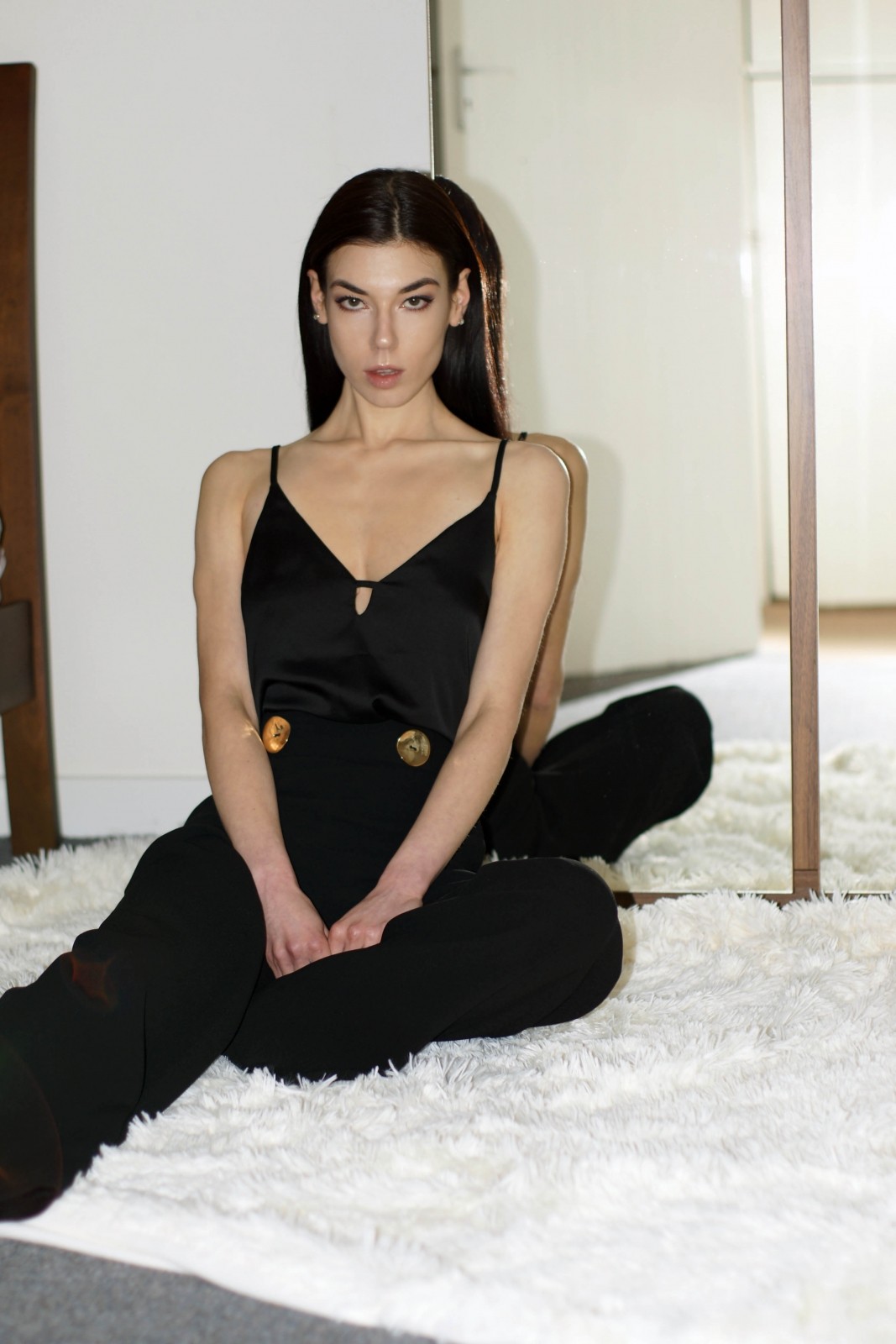 Black x Gold
Black x gold is a match made in heaven. Recently, I've seen celebrities in the likes of Olivia Culpo to rock the black and gold combination. Thankfully, my black trousers from Zara (sadly no longer available!) are already injected with gold details. FYI, I'm talking about the two huge buttons in front that will pull your eyes out! If your all-black outfit is not blessed with gold elements, just introduce them yourself. Necklaces, rings, belts, shoes or a huge chunky bracelet with gold components will help take your all-black outfit to another level.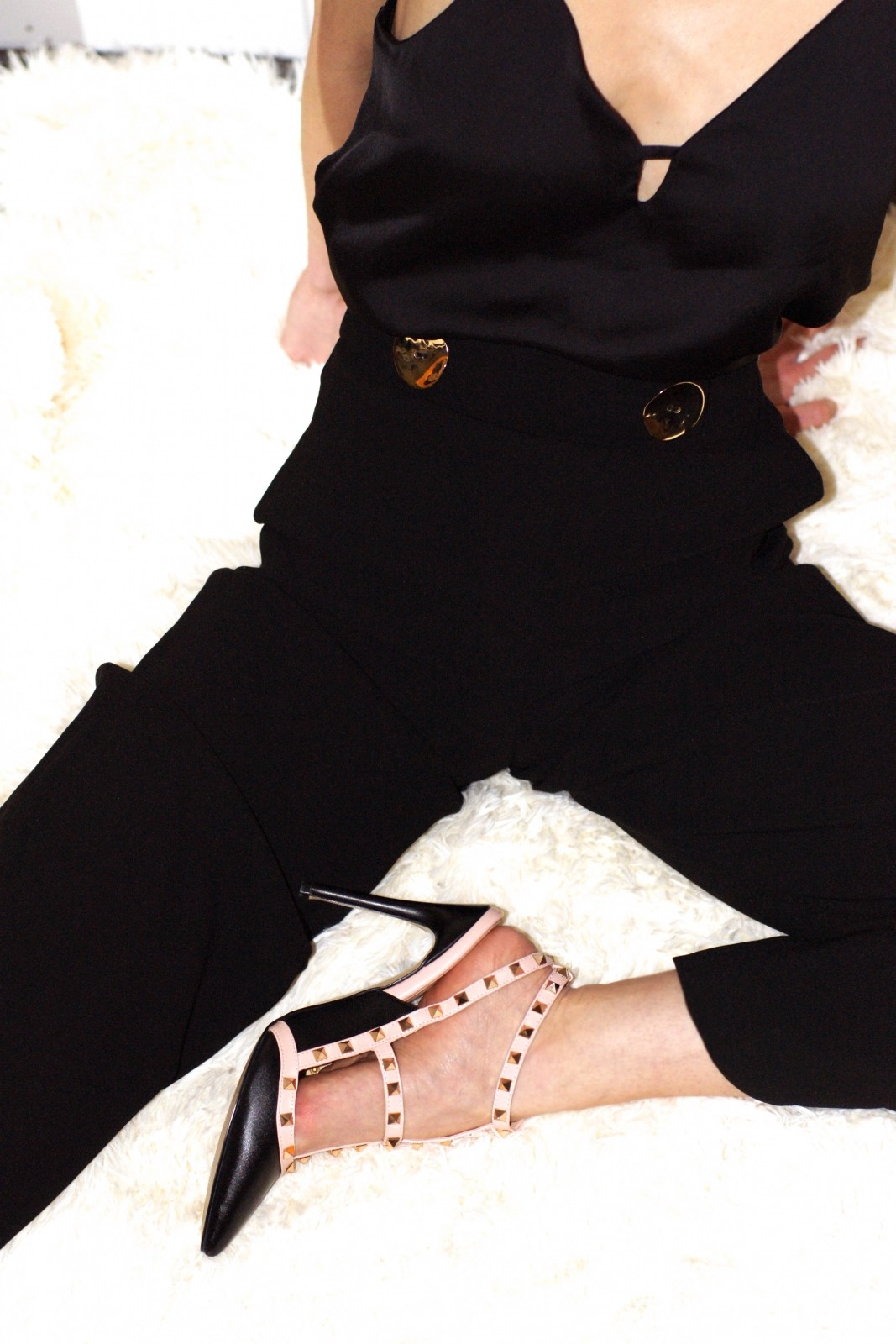 Signature Piece
If you're unsure which textures go with each other or there's a lack of options in your wardrobe, just pick a signature piece. You only need one object to make your all-black outfit stand out. A nice piece of jewellery (preferably gold) or an outstanding evening clutch. For me, this pair of Valentino Rockstud dupes is the much-needed signature piece that takes my all-black outfit to the next level. Whatever you choose, just make sure to play with colours. Don't pick something black, don't be afraid to experiment. You might think that a certain colour might clash together, but you'll never know until you've tried!
What do you think – will 2018 be the year of all-black outfits?!
Check out the fashion category for more style tips and fashion trends!
x Mariya
YOU MIGHT ALSO ENJOY:
The Outfit You Need To Try: Cropped Sweatshirt & Tracksuit Pants
3 Off-The-Shoulder Top Styles You Need To Try