Who knew that a pinafore dress could be both stylish and comfortable at the same time? Probably every single person on Earth except me – that's who! Believe it or not, until recently, I had never worn a pinafore dress in my life. Ok, maybe when I was a child I might have worn one, but who remembers such things?!
I've always associated these jumper dresses with super casual, more laid back looks.  However, the second I saw this faux suede pinafore dress from Zara I knew I had to try it! In fact, I liked this style of dress so much that I thought I should do a bit of research. Depending on the model, a pinafore can be really versatile. You can switch from a day to an evening look just by choosing the right fabric! Depending on the fabric, you can even have seasonal pinafores in your wardrobe. Eventually, I managed to find a few extra pinafore styles to cater for different occasions.
Ahead, three pinafore dress styles you need to try right now!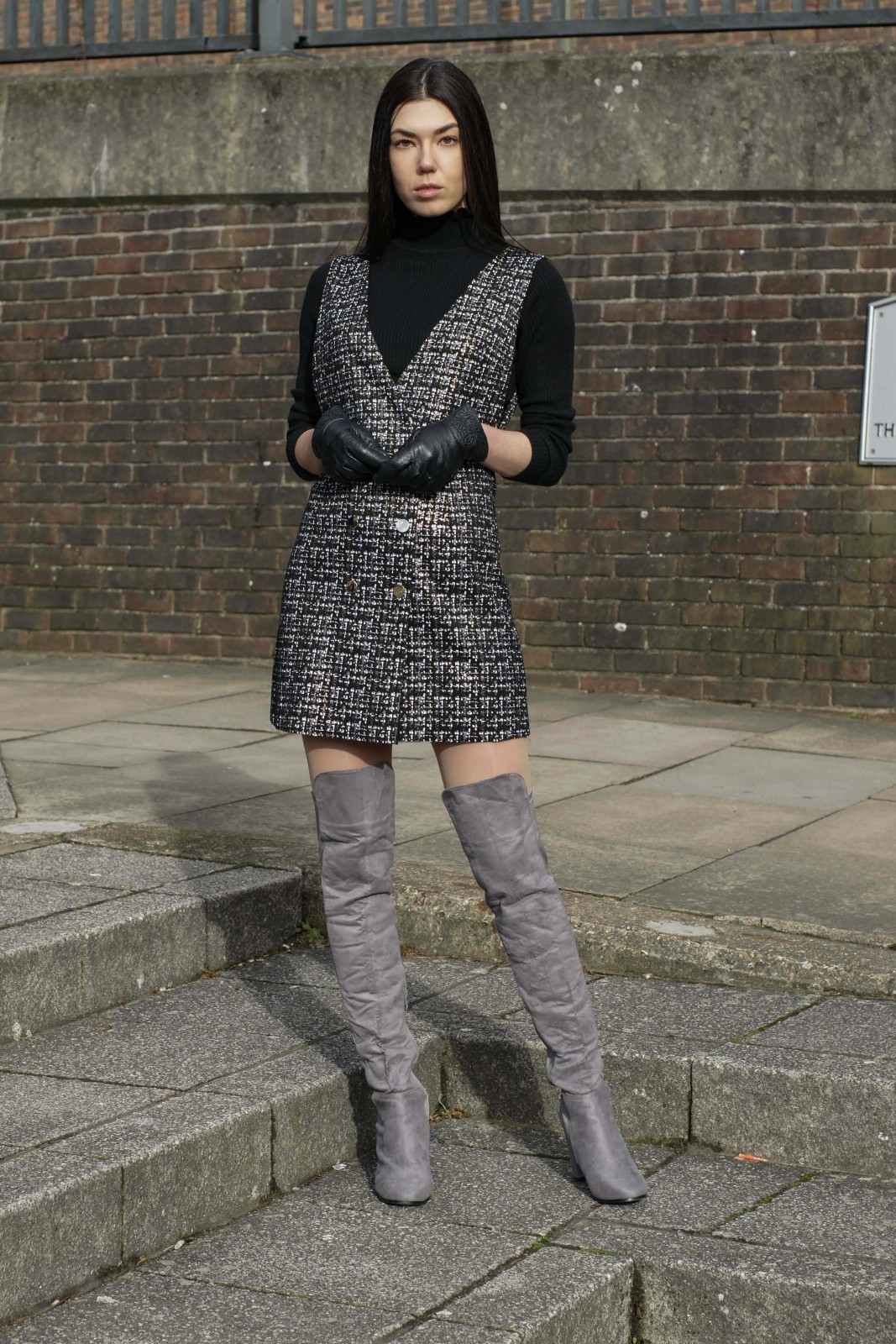 Tweed Pinafore Dress (Zara, no longer available) | Skinny Rib Jumper With Roll Neck (similar, here) | Grey Over-The-Knee Boots (similar, here)
#1 The Suede Pinafore Dress Style
The first pinafore dress style you need to try (for obvious reasons!) is the suede type! This pinafore style is suitable for both formal and informal occasions. Suede fabrics are also perfect for the in-between seasons. Moreover, suede and similar fabrics of pinafore dresses will keep you warm enough during the chilly early days of autumn and spring. The soft feel of the material will also provide you with an extra layer of comfort.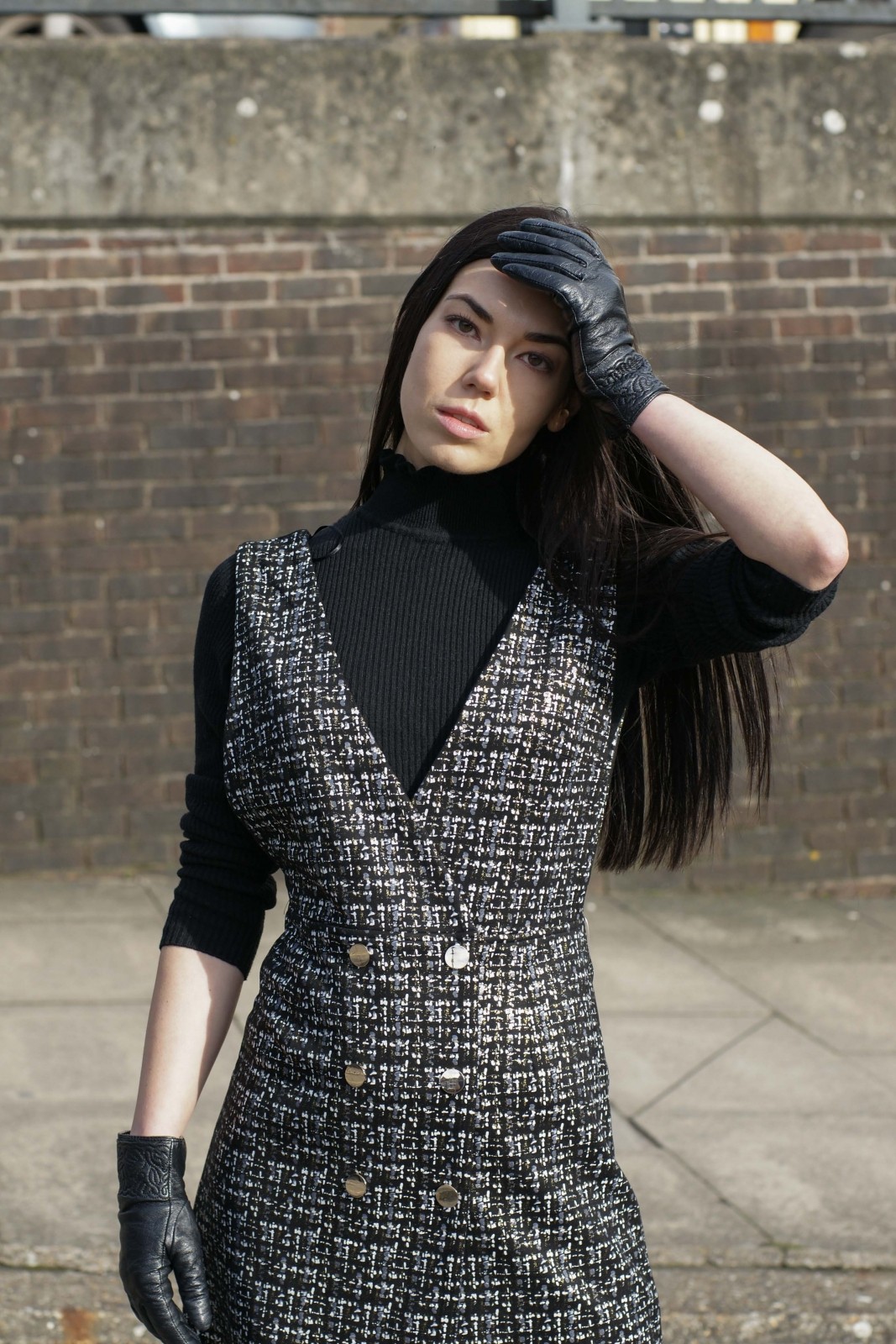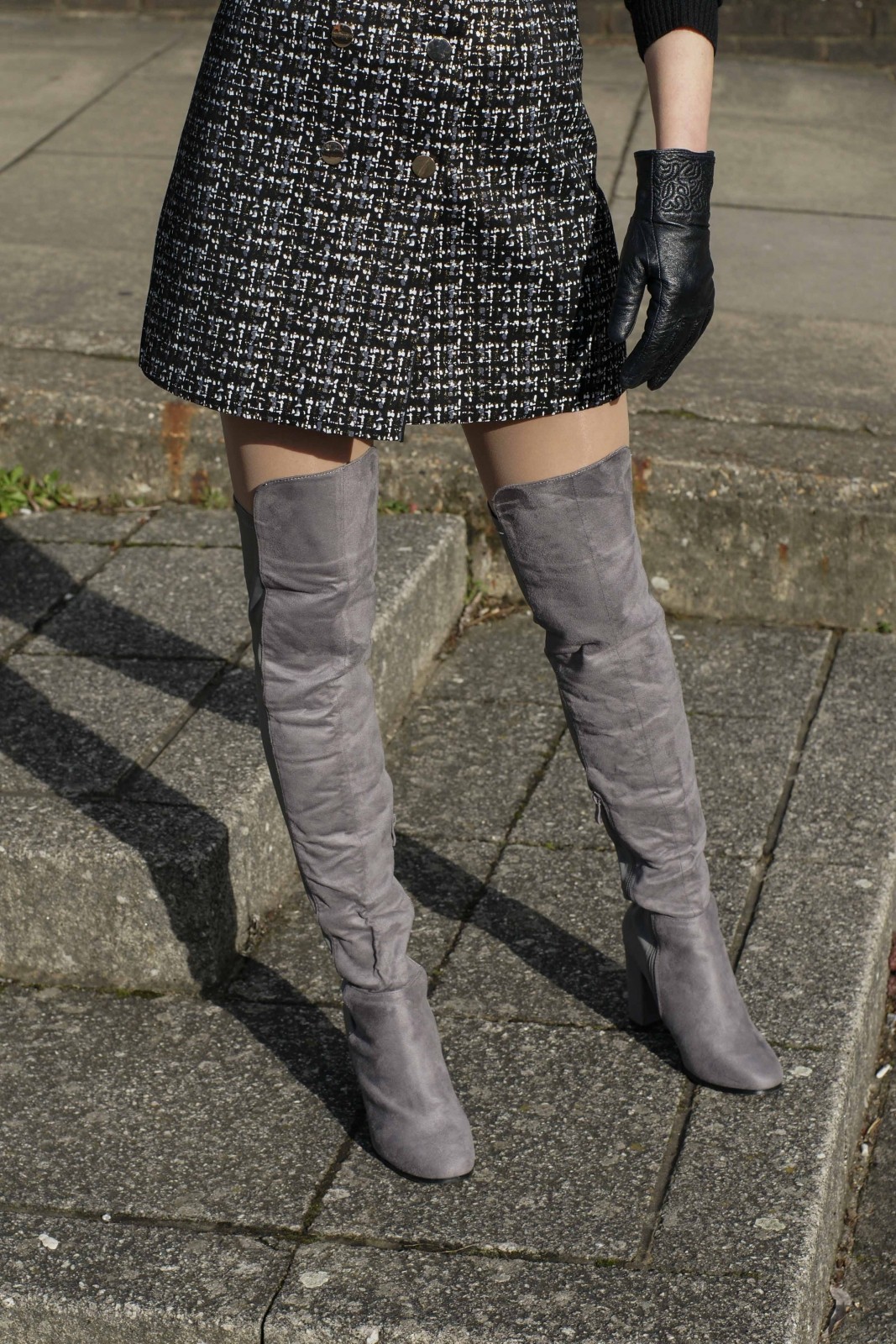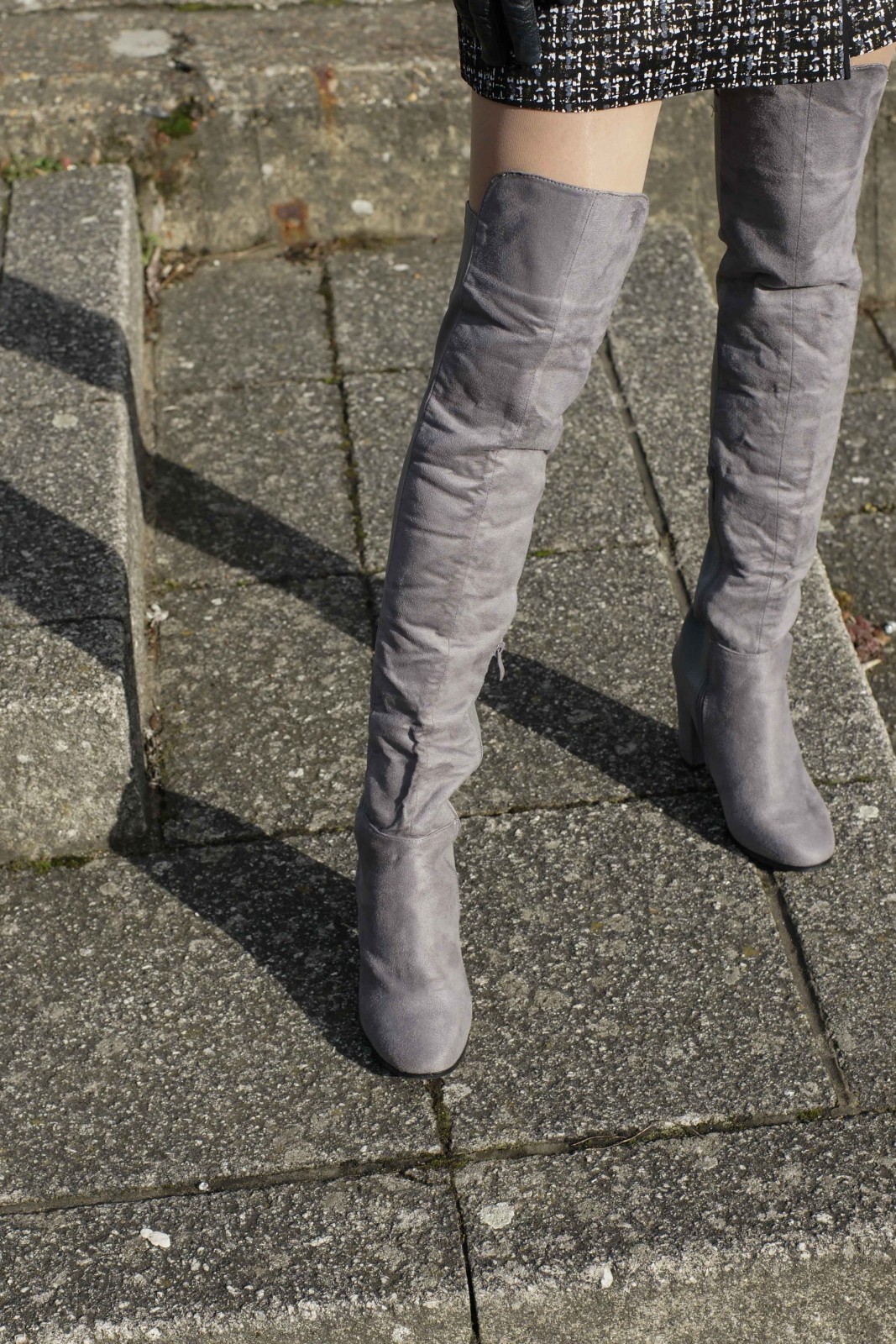 Speaking of layers, a suede pinafore dress style goes really well with jumpers and sweaters. When it comes to colour 'mix & match', be careful with your choice, though. If your pinafore dress is a mixture of colours, opt for a jumper in the dark or nude shades. If you're dealing with a single-coloured style, on the other hand, you can add even more colour with your knitwear choice! Black and nude pinafores, for instance, go hand-in-hand with bright vibrant colours. Green, yellow and red variations will elevate your whole outfit while pushing you out of your comfort zone!
SHOP SUEDE PINAFORE DRESS STYLES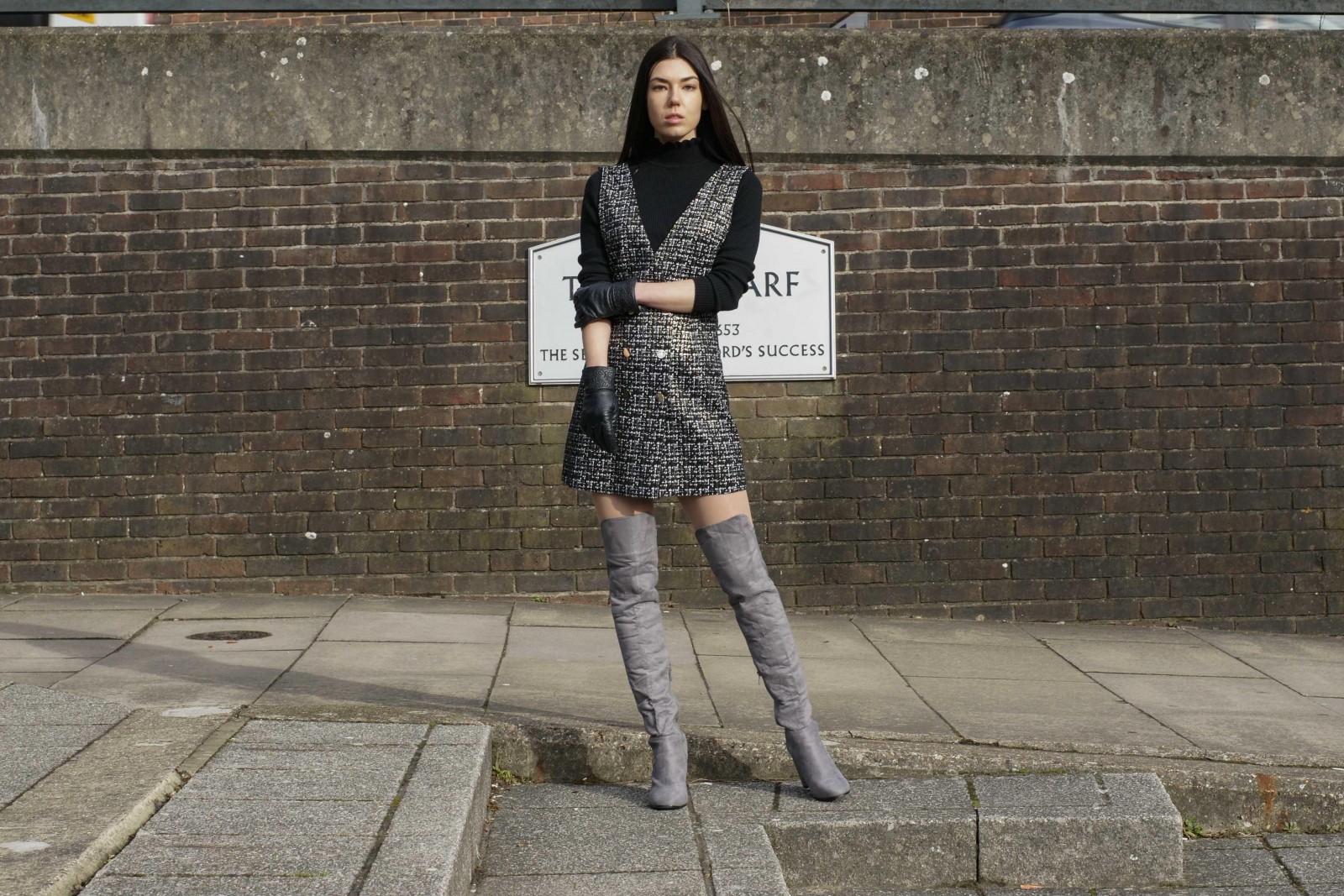 #2 The Denim Pinafore Dress Style
Another great pinafore dress style you need to check out is the denim one! This style is suitable for your casual outfit needs when you're looking to slip into something more comfortable. Although I've seen denim dresses being worn during the winter months, I would recommend wearing this particular pinafore style during the spring or summer. There is just something awfully 'out of place' whenever I see a denim pinafore over leggings or tights. For some reason, the whole outfit combination gives me farmer vibes. Or is it just me?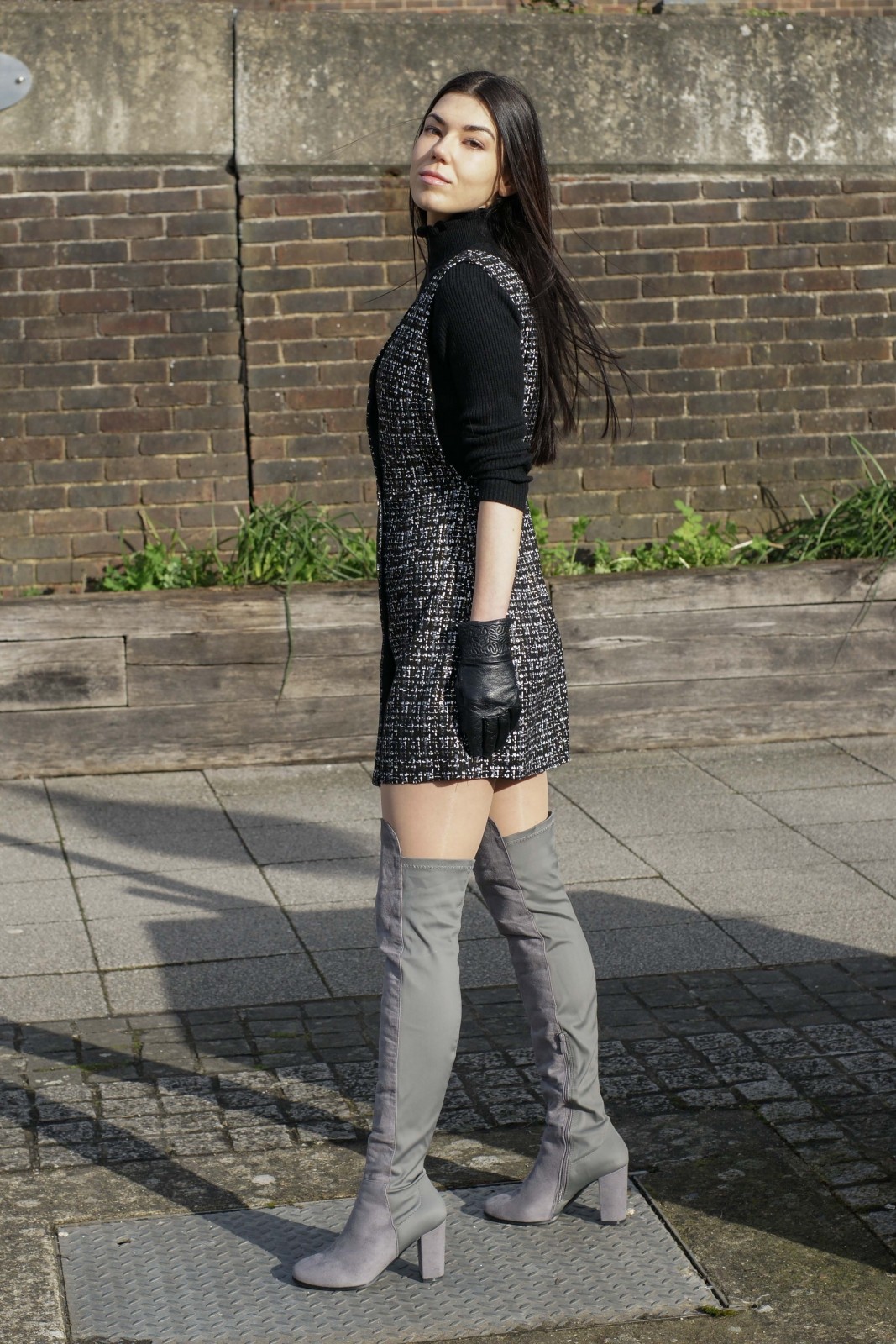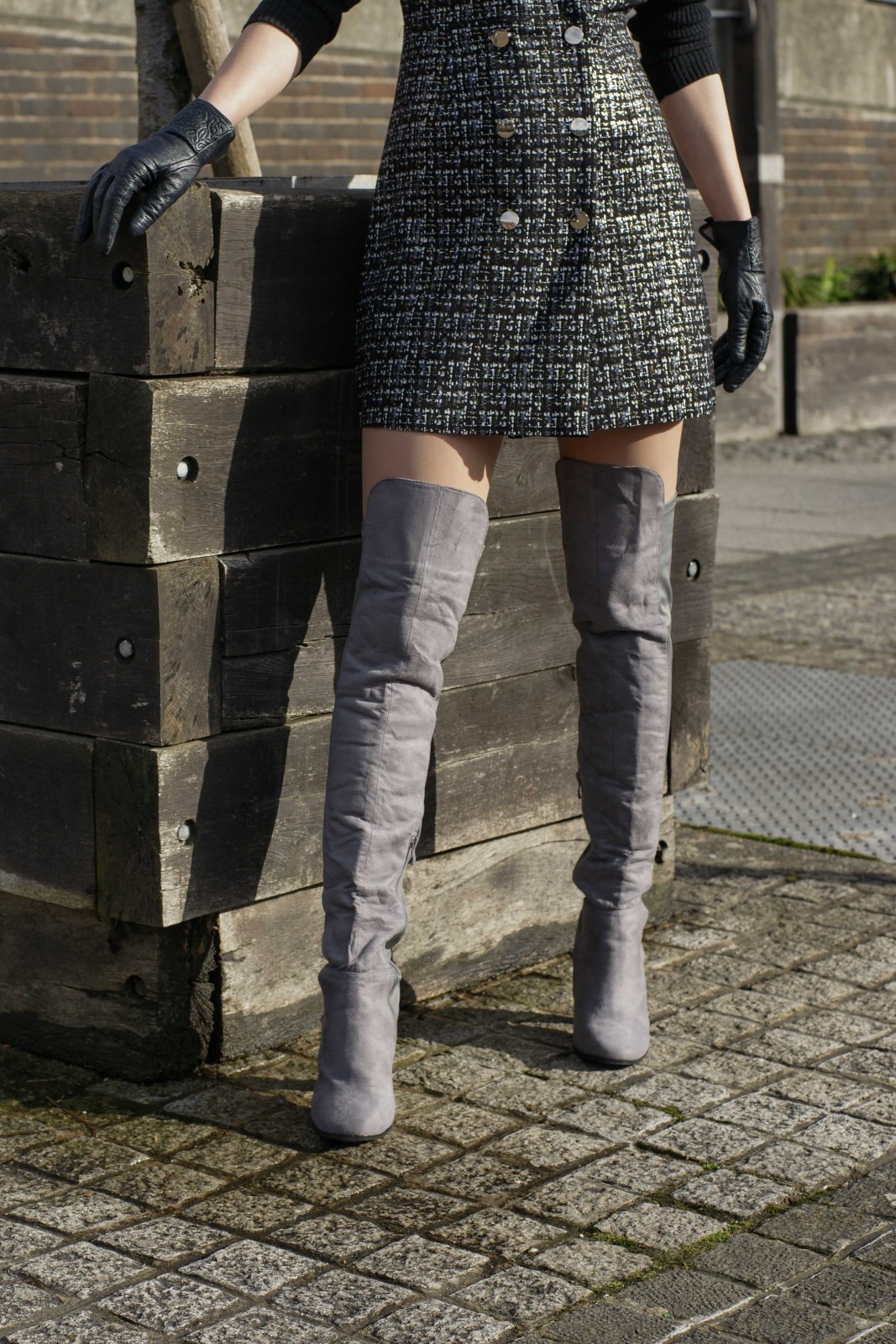 Nonetheless, a denim dungaree would be perfect for the warmer months. You can wear it with a long-sleeved shirt and trainers for a sporty look. During the summertime heat switch to a white tee or balloon-sleeved crop top with matching sandals. What I like about this style of pinafore dress is the level of comfort it provides. Whatever you decide to wear it with, it will always make you feel pleasantly relaxed. The design of the dress is perfect for that kind of days when the blues hit you.  It will hide whatever you feel like hiding while giving you sufficient room for movement… and breathing!
SHOP DENIM PINAFORE DRESS STYLES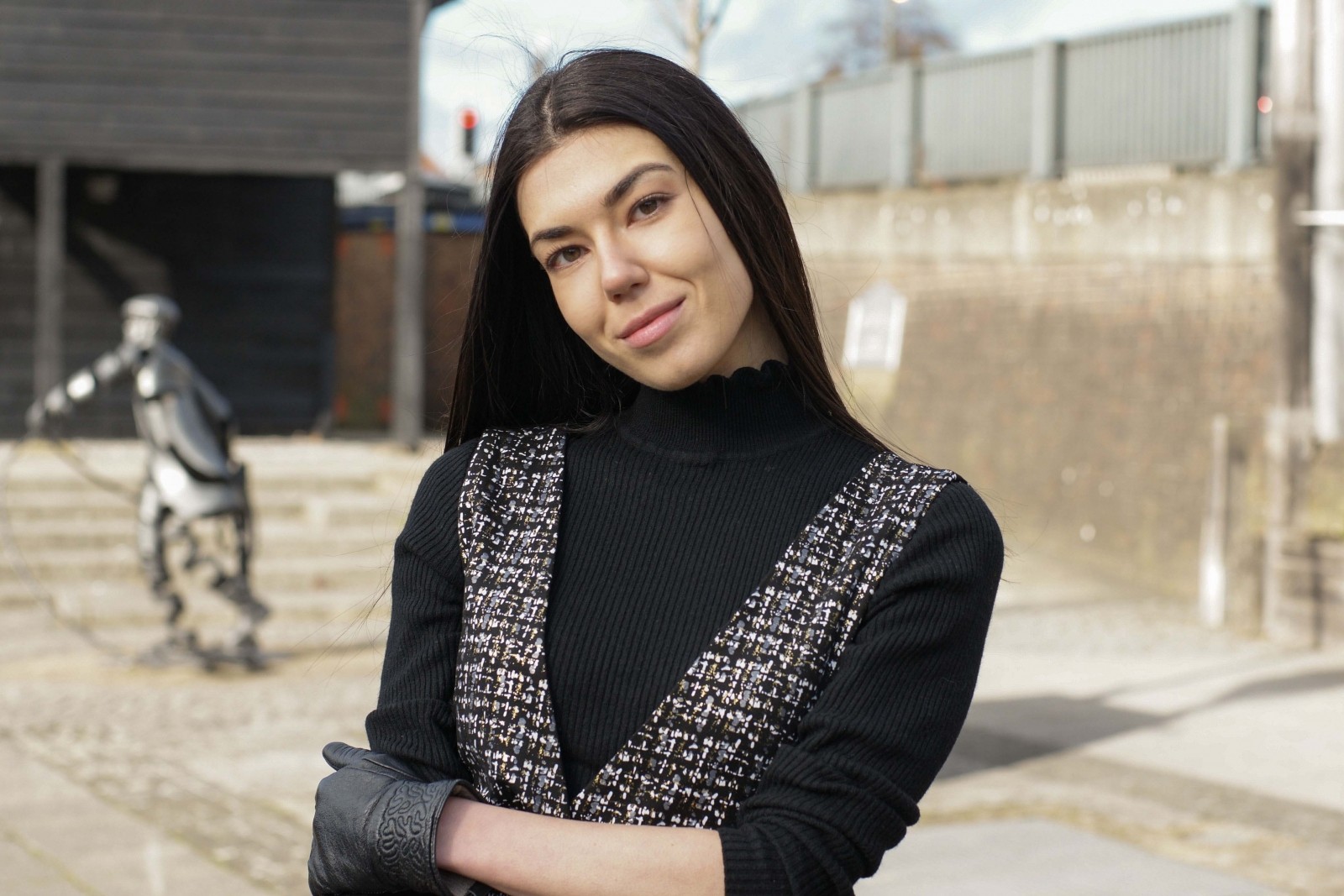 #3 The Leather Pinafore Dress Style
This pinafore style is quite new, at least to me! Prior to my 'investigation' as to what types of pinafore dresses are out there, I was not even aware of the existence of the leather pinafore dress style! Most the designs I've found come in black, however, there are some colourful options as well. In my humble opinion, this particular design could come across as too raunchy. A not-so-well thought out outfit combination can give a surprisingly wrong vibe. Wear this style on its own during the day with a pair of high heels and you might as well stick a price list with certain services on your back! You know where I'm getting at with this, right?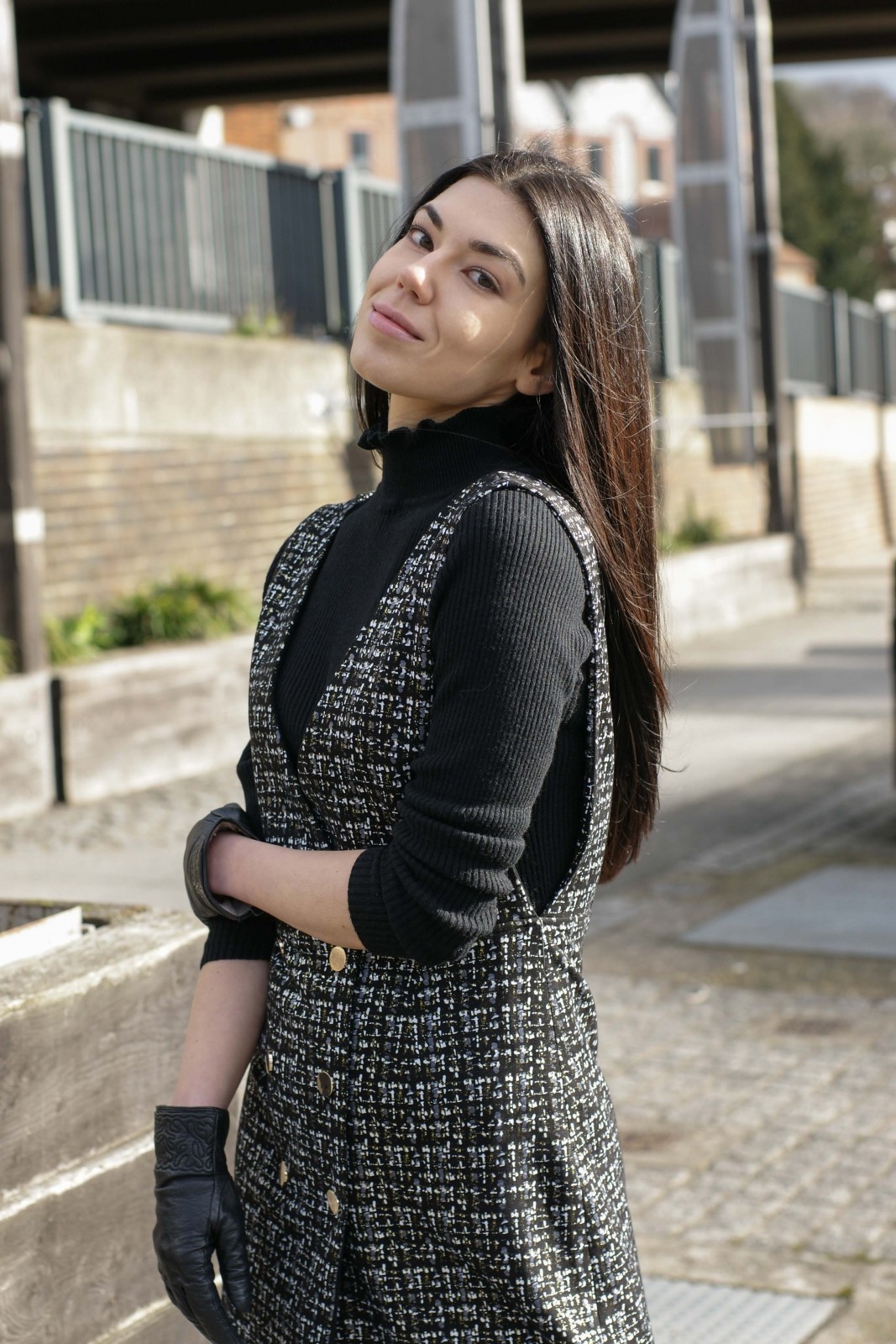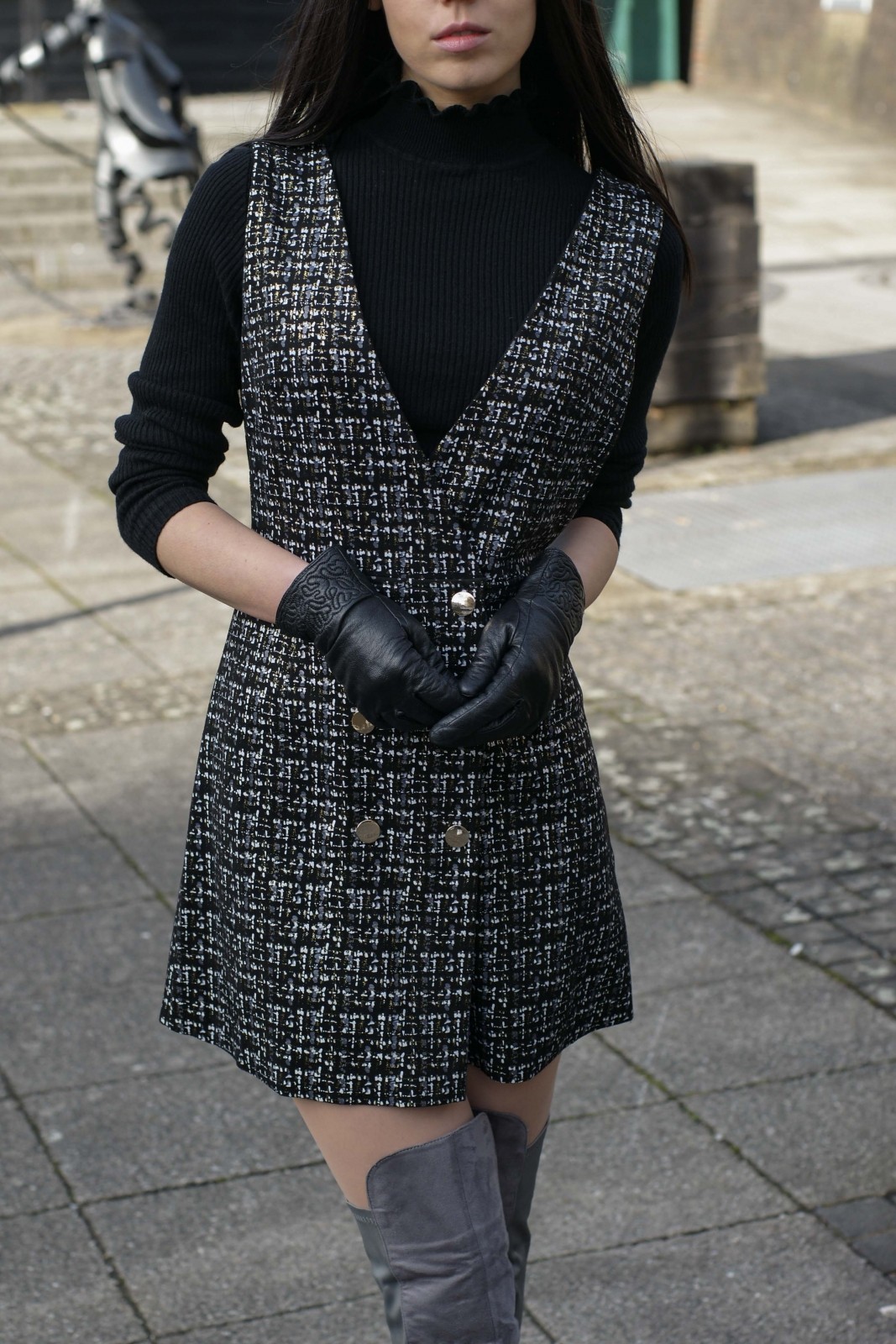 In contrast, if you put a jumper or shirt underneath, the whole vibe of your outfit changes. An oversized jumper, for instance, can be worn during the day for a casual winter outfit. A casual summer look can also be achieved by switching to a white tee and trainers. For a more sophisticated and stylish appearance, match your leather dress with a pair of block-heeled boots! Just remember, whatever you decide to style your leather pinafore with, choose wisely. The wrong combination can easily give the wrong impression.
SHOP LEATHER PINAFORE DRESS STYLES

YOU MIGHT ALSO ENJOY:
3 Off-The-Shoulder Top Styles You Need To Try
2 Easy Tips To Style An Oversized Suit Blazer
3 Reasons To Get A Leather Pleated Skirt
Two Undeniably Chic Ways To Wear A Satin Blazer