Yes, I am still wearing jumpers and trousers! I'm starting to believe that spring will never come… Even worse – maybe we won't even have a decent summer this year!
Nevertheless, I do enjoy wearing some of my winter clothes, even in May. There is no better feeling than being comfy and warm. And indeed, these pencil trousers combined with a slightly oversized jumper are perfect for the in-between seasons!
To be honest, I've never really enjoyed wearing trousers. Prior to shooting this look, I'd put trousers and pants strictly under the 'office attire' category. However, I had a change of heart and thought I should cut trousers a bit of slack.
As a result, I'm presenting you with today's daily look – pencil trousers and cow print vibes!
Enjoy!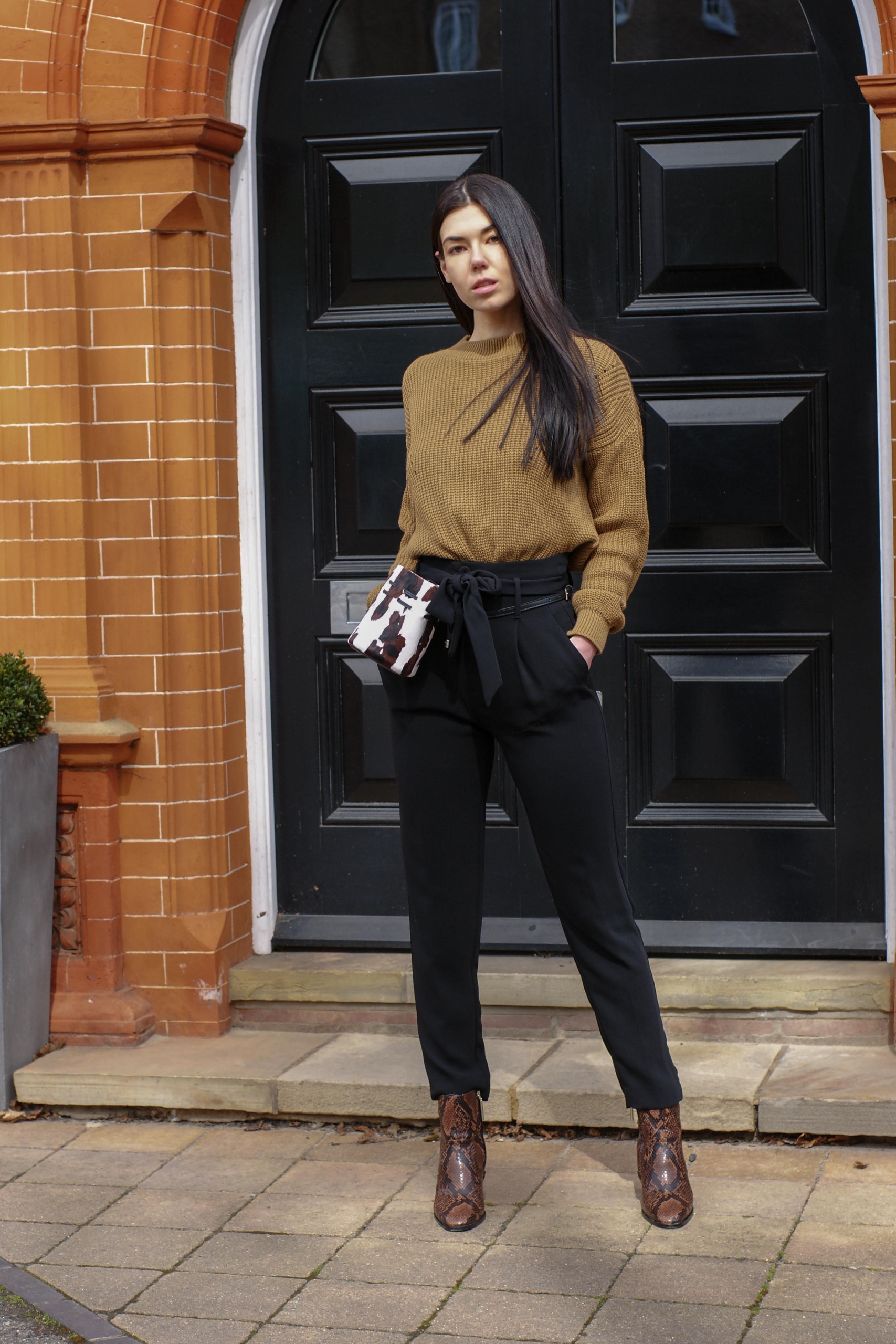 Belt High-Waist Trousers | Brown Jumper | Cow Print Bum Bag | Snake Print Ankle Boots (similar here)
Pencil Trousers Are Not Only For The Office
As I said previously, I'd never really thought of wearing trousers as part of a daily outfit. However, when I came across these belted high-waist trousers, I couldn't resist the temptation to click that buy button!
The second I tried the pencil pair on, I knew I'd made a huge mistake by discarding trousers as an office-attire-only item! On the contrary, pencil overalls are actually really versatile. You can easily come up with both daily and night looks.
Of course, it all depends on the style of trousers. For instance, if you go for a simple black pair, then you are definitely limiting your options to office-wear only! This type of cigarette pants is tailored in a manner that doesn't give you a multitude of style options. However, if opt for a denim pair, you have the option to wear them as a daily outfit. Layer them with an oversized jumper for fall or a tank top for spring!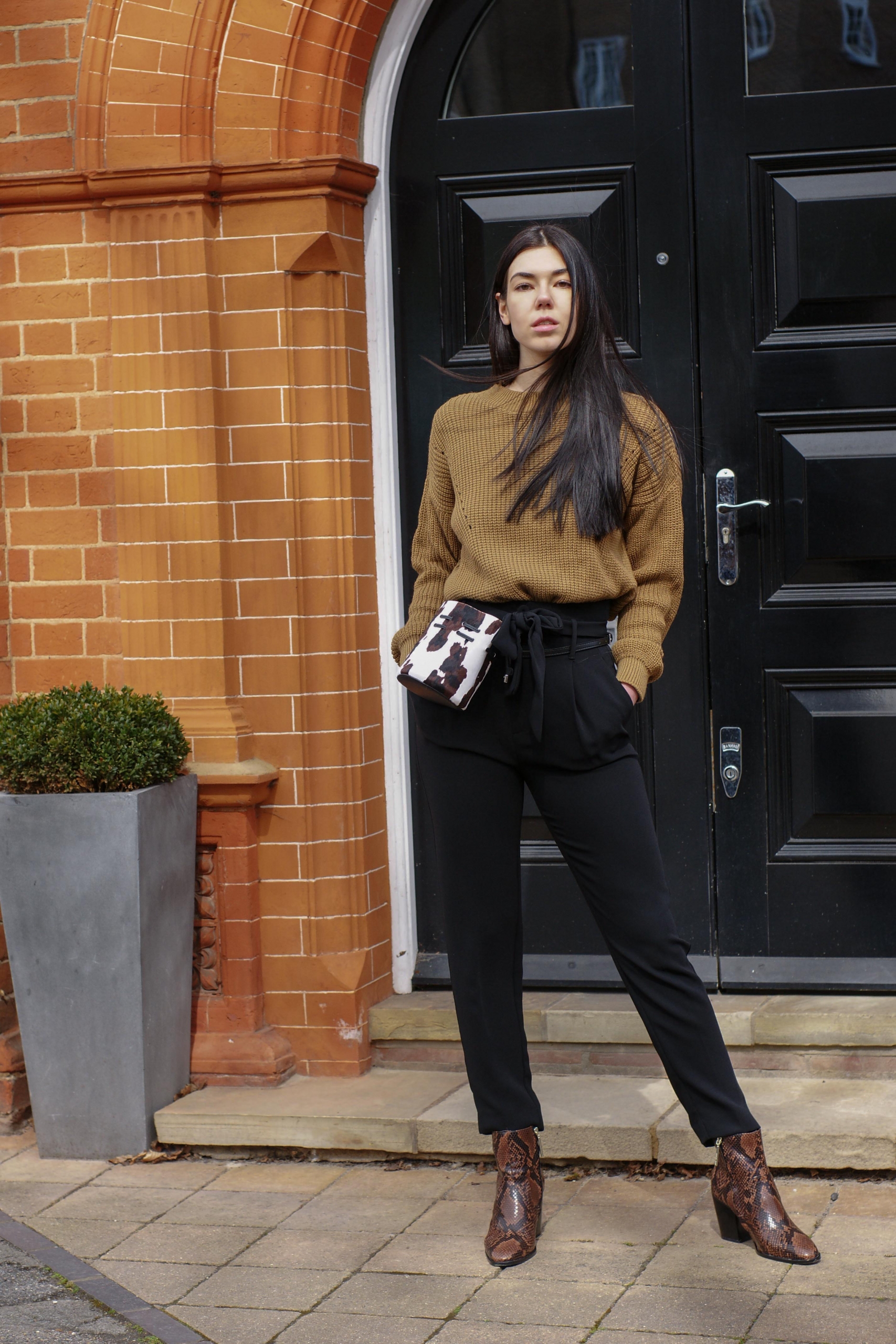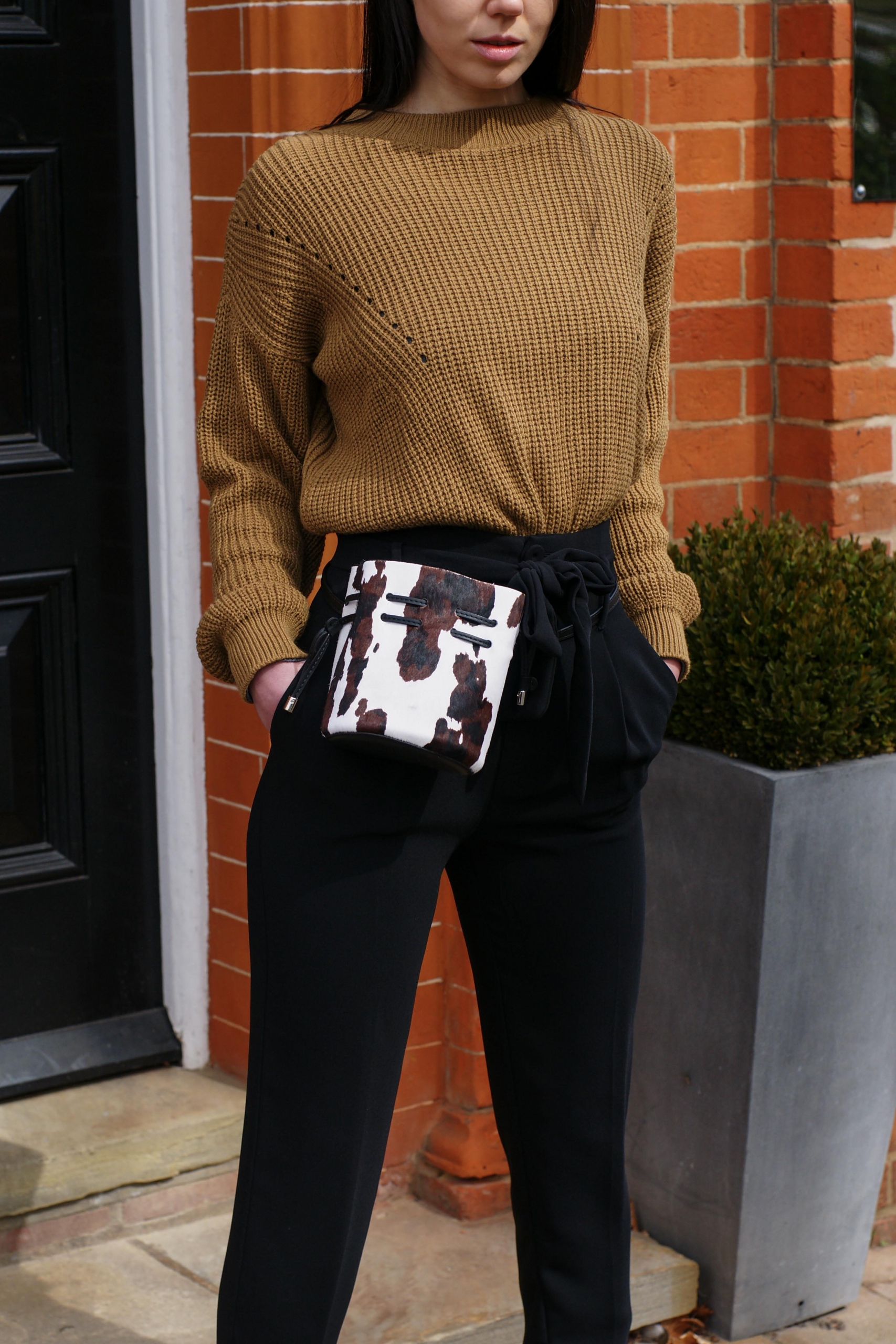 High-waist pencil trousers are also great for more casual and daily looks. You don't have to restrict your choices to wearing them with jumpers, tank tops or tees. Experimenting with different footwear can also take your whole outfit from day to night pretty quickly! Ankle boots, for instance, are perfect for casual looks, whilst heels – for going out!
Apart from the style and material of the trousers, another important factor to keep in mind is the colour! The more colourful the trousers are, the higher the chances that they won't be office appropriate. This bright red pair, for example, might be great for going out but not necessarily a good option for the office. Unless you work in fashion, PR, marketing or similar industry, stick to the approved (rather boring) darker cigarette pants!
SHOP PENCIL TROUSERS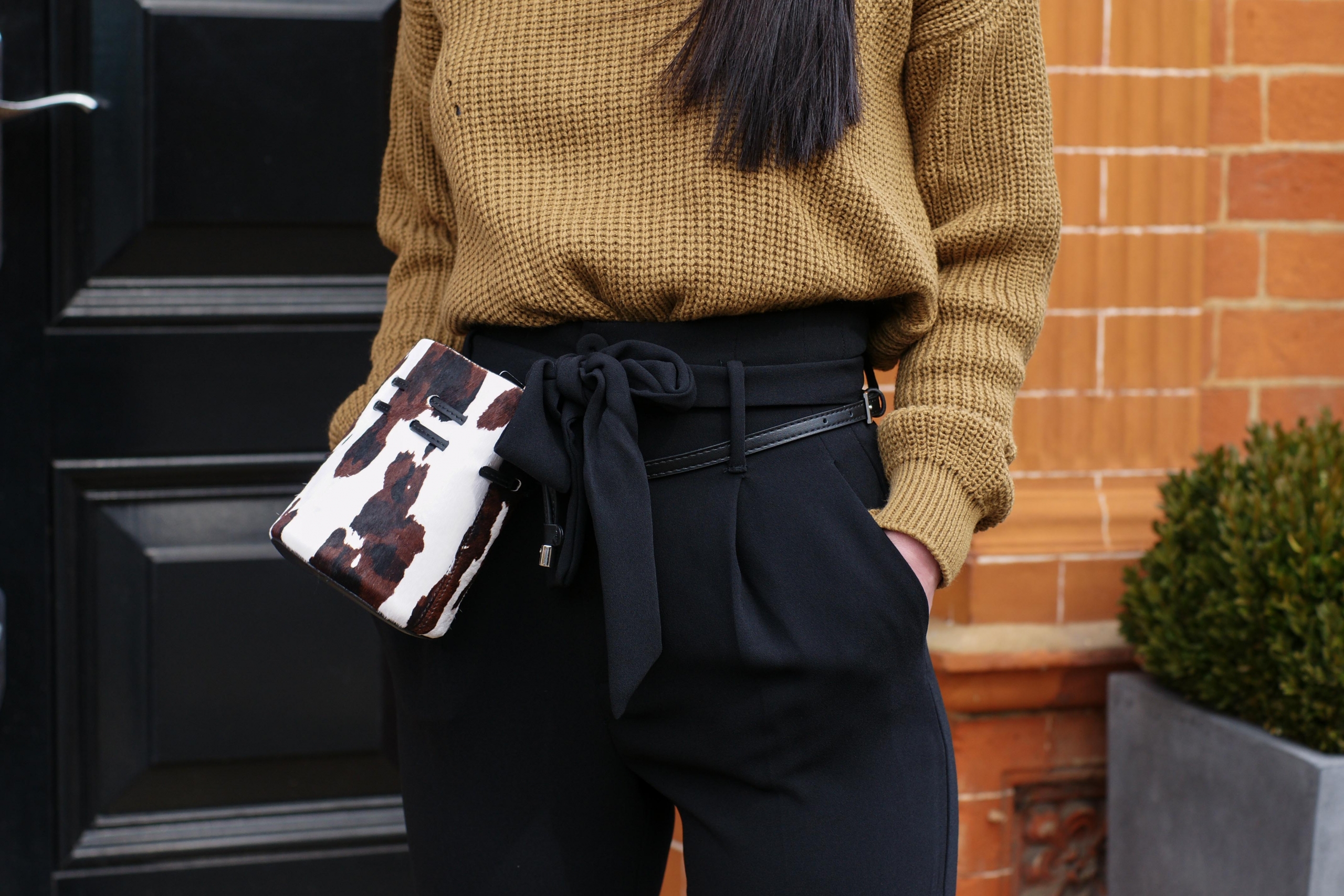 New 'Addiction': Cow Prints
Yes, yes, I know, having only one cow print item in the form of a bum bag barely classifies as 'addiction'! However, I really liked how incredibly chic and eye-catching the cow prints stood out against the black trousers.
Remove the bum bag and you'll be left with a casual jumper and trousers look. Nothing special, just a simple but smart-casual ootd. Still, by adding an animal print to your whole look, you completely change the vibe of the outfit. Thus, not only have you got an eye-catching item worth showing off, but also street style worth copying!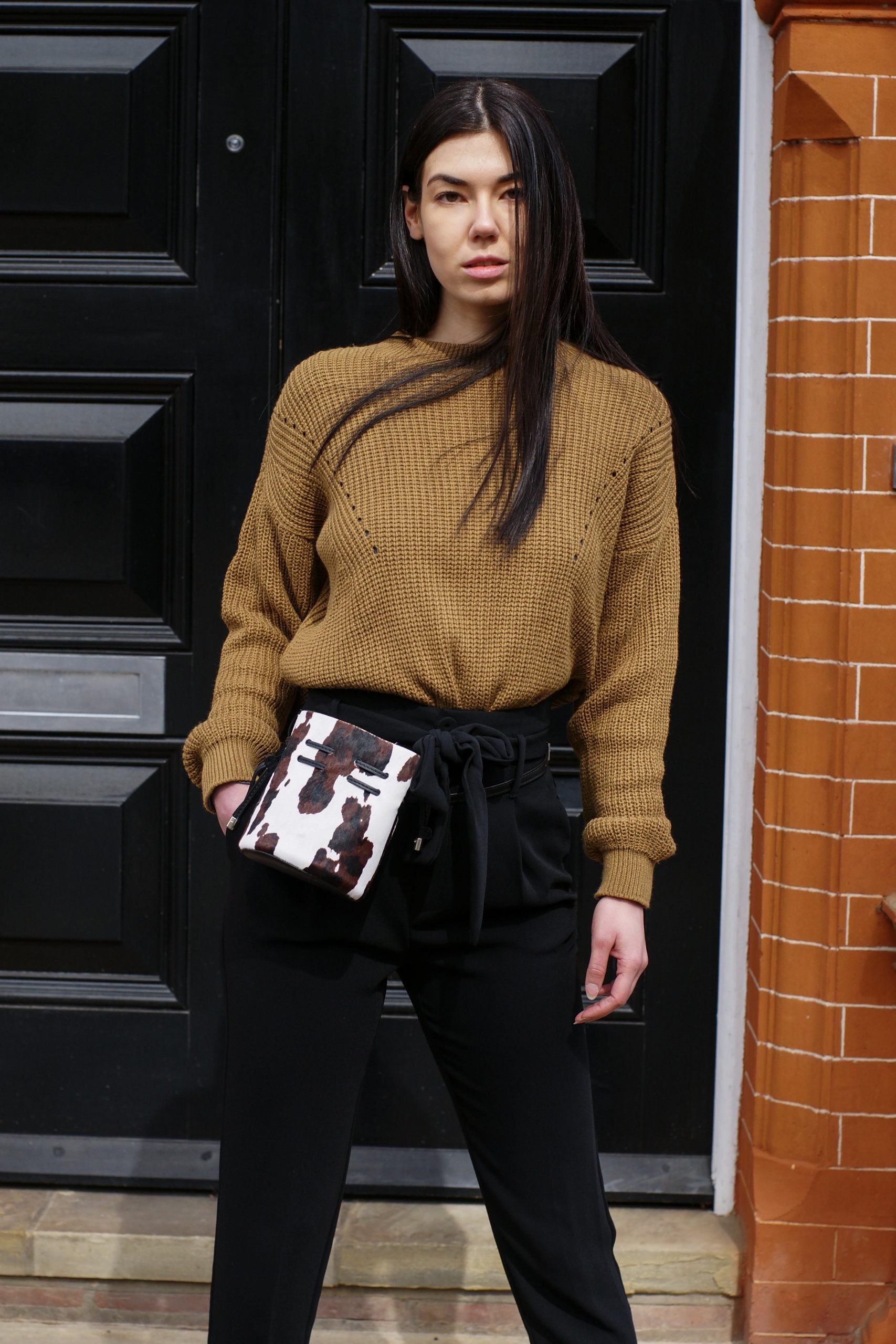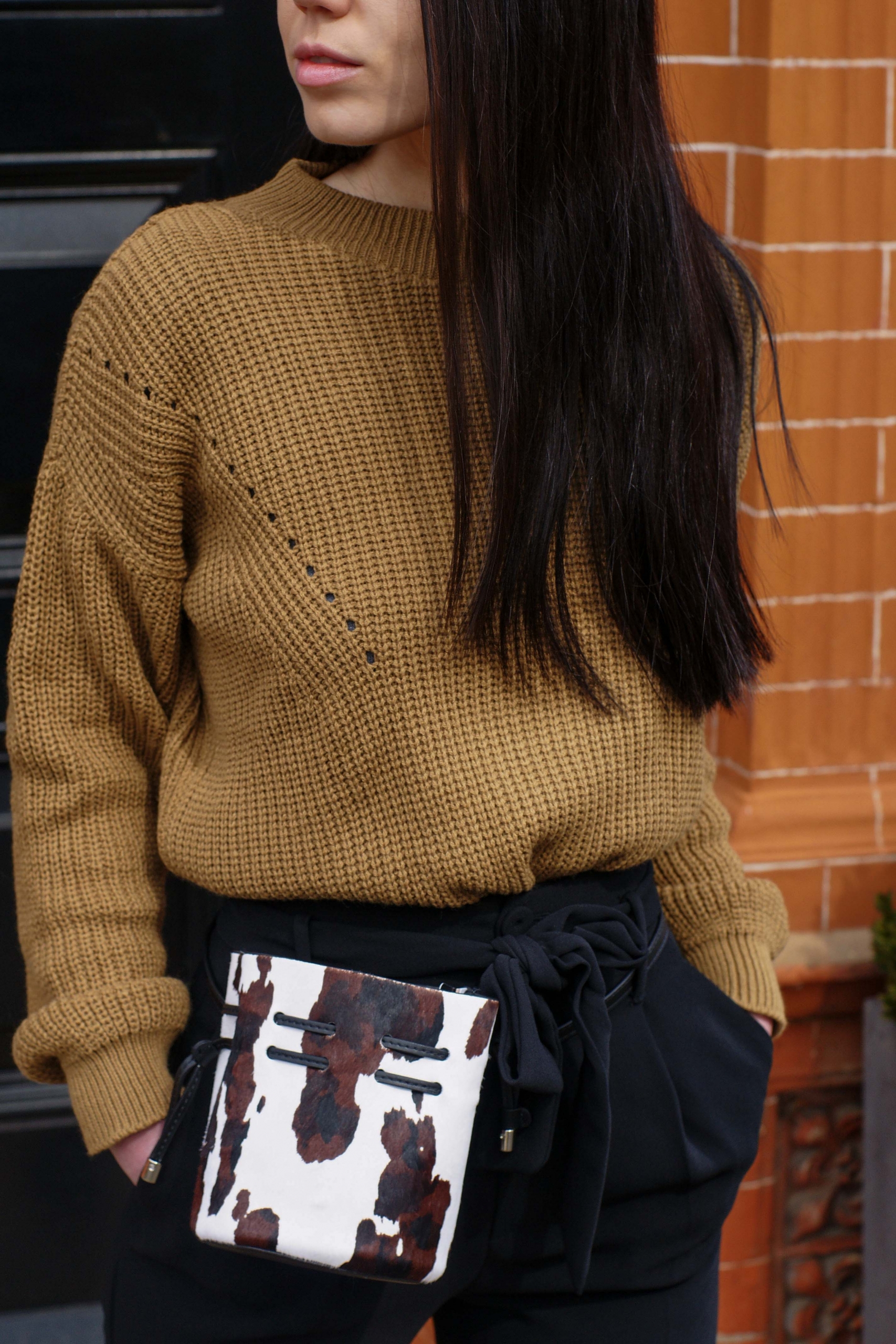 Of course, you can add different animal prints to your look. I, for instance, have also used my favourite snake print ankle boots from Zara. Back to the topic – cow prints are something completely new for me. Actually, I don't even remember having seen people wearing cow-printed anything. Naturally, I'd never really thought about cow prints.
That's until I came across this printed bum bag! I was immediately attracted to its chicness. Well, that, and the whole cow-printed Mango look that the model was wearing. Although I'm certainly not yet ready to wear a complete 'cow look', this print is slowly but surely becoming a favourite of mine!
SHOP COW PRINTS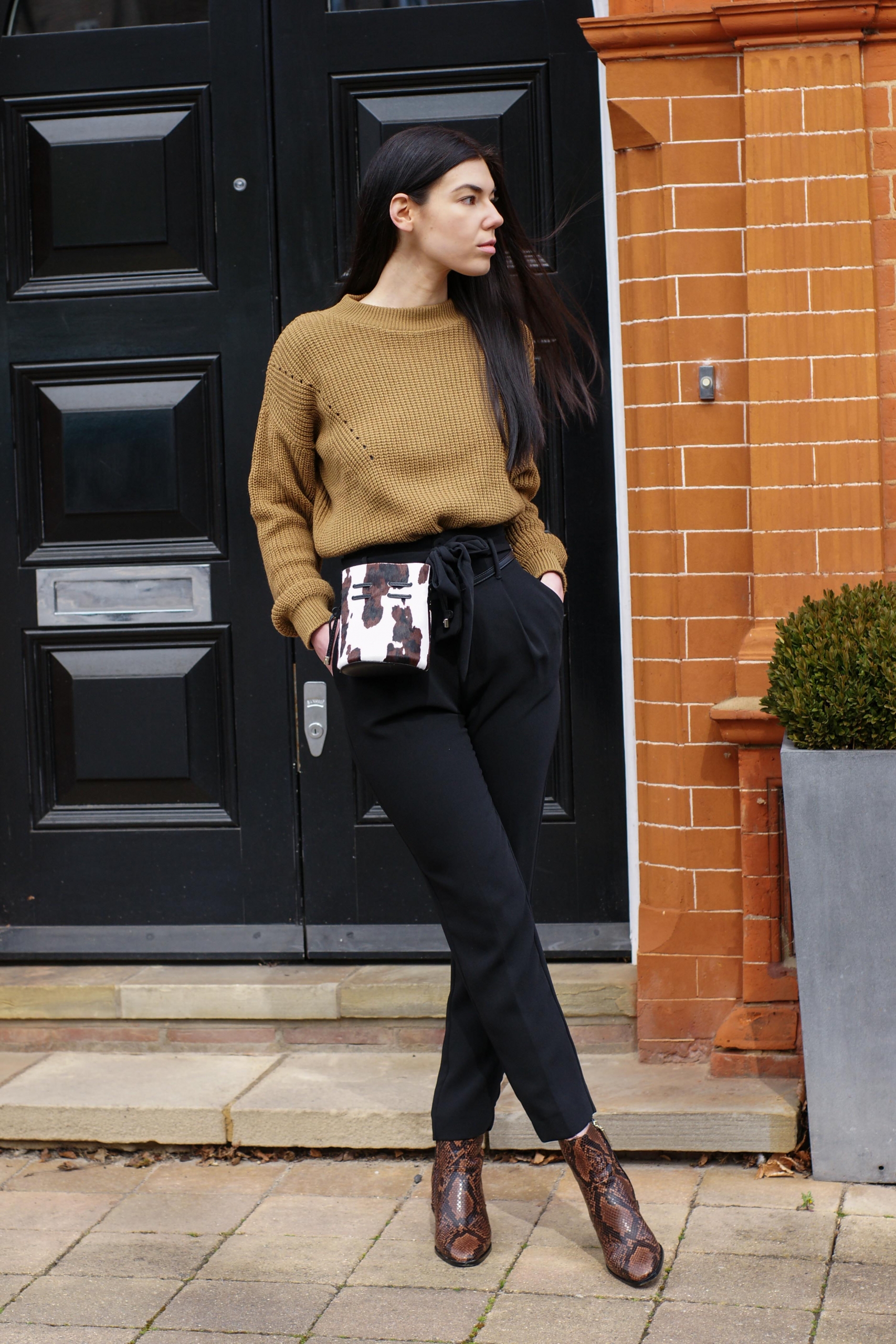 What do you think of this look – are you a fan of pencil trousers and cow prints?
Don't forget to check out my other outfit looks here!