OMG, guys! I've been asked so many times 'Is peanut butter healthy for you?'. I was about to start off this post by writing something 'cheesy' ('peanuty', can I make that a word?!) such as 'Do you love peanut butter? Well, you're about to dig it even further!', however, the 'geek' in me took over and googled the history of peanut butter! My mind has been blown away… yeah, there are small bits of it on the wall behind me (ha, I'm hilarious, I know!)!
Anyway, before I present you with the health benefits of this delicious treat, I must give you my facts findings:
1. Peanuts are not nuts! They are legumes – like beans, peas and lentils.
2. There is a National Peanut Butter Day – YES, it's on 24th January!
3. Peanut butter dates back to Aztec times – Aztecs mashed roast peanuts into a paste (I'm not sure it was that delicious though).
4. George Washington Carver is not the inventor – he simply promoted more than 300 uses for peanuts!
5. In 1884, Marcellus Gilmore Edson of Canada patented peanut paste.
6. In 1895, Dr John Harvey Kellogg (YES, the creator of Kellogg's cereal!) patented a process for creating peanut butter from raw peanuts, which was marketed as a healthy protein substitute for patients without teeth.
7. In 1903, Dr Ambrose Straub of St. Louis, Missouri, patented a peanut-butter-making machine.
8. In 1922, chemist Joseph Rosefield invented a process for making smooth peanut butter that kept the oil from separating by using partially hydrogenated oil.
9. China is the largest peanut butter producer!
10. Peanut butter is legit the best thing ever! (ok, I made that up, but it is pretty great)
Is Peanut Butter Healthy For You?
I don't know about you, but I definitely feel more peanut-butter-knowledgeable, hence let's move onto the main part of this post – is peanut butter healthy for you? Of course, it is! I'll tell you the health benefits of peanut butter and why we should all make it an essential part of our lives! As you can see, I love peanut butter so much that I decided to sit on the kitchen marble top with some of my favourite peanut and other varieties butter!
But first, let's look at the health benefits:
Is Peanut Butter Healthy For You? Yes, It Contributes Weight loss
Have you ever come across articles that say bodybuilders and fitness lovers eat peanut butter? Or, swap your breakfast cereal for peanut butter, etc? If you have, the likelihood is that your bullshit alarm went off. With an average of 600 calories and 50 grams of fat per 100gr, you'll have the full right to think peanut butter is far too calorific and fatty. And you'll be asking yourself 'is peanut butter healthy for you?'. However, you're wrong and you'll be missing out a lot by overlooking the main benefits of this sticky treat!
Firstly, the fat in peanut butter is not bad for you! You might have heard of good and bad fats. Well, peanut butter is packed with the goodies – monounsaturated fats! When eaten in moderation, they can help lower your cholesterol and reduce the risk of heart decease. Moreover, peanut butter is naturally high in fibre and protein; hence it will keep you fuller for longer, which may result in lower daily caloric intake. Studies have shown that people who regularly consume nuts tend to have a healthier body mass index than those who don't. So, next time when you want an indulgent snack, go and get yourself a big jar of peanut butter!
Is Peanut Butter Healthy For You? Yes, It Is Packed with Nutrition
If the mono fats, fibre and protein are not enough to convince you of the benefits of peanut butter, and peanuts as a whole for that matter, you're in for a treat! Peanuts are packed with vital vitamins and minerals! The following include – high amount of phosphorous and manganese for healthy and strong bones; niacin (or Vitamin B3) to support your metabolism; potassium to reduce the build-up of lactic acid and sodium in your body. Iron, zinc, copper and magnesium are also part of the peanut's nutrition, to name a few. To get the full benefits, I recommend buying organic peanut butters as they don't contain added salt and sugar.
Is Peanut Butter Healthy For You? Yes, It Is An Energy Booster
Do I even need to explain why? "The protein, fibre and healthy fat in peanut butter can give you that kick you need to start the day or as a pick-me-up midday," says Ilyse Schapiro. "It also helps to keep blood sugar stable, which prevents those crashes later on." Either before or after work out, peanut butter is equally good as an energy booster or post-exercise pick-me-up.
As you might have already guessed (from my other blog post My Weight Loss Tips + Journey: 10kg Down!) I have a very healthy lifestyle and go to the gym regularly (at least 5 times a week!), hence I'm always on the lookout for healthy protein snacks! Whenever I don't fancy a protein bar, I have a spoonful of peanut butter and here are my top choices!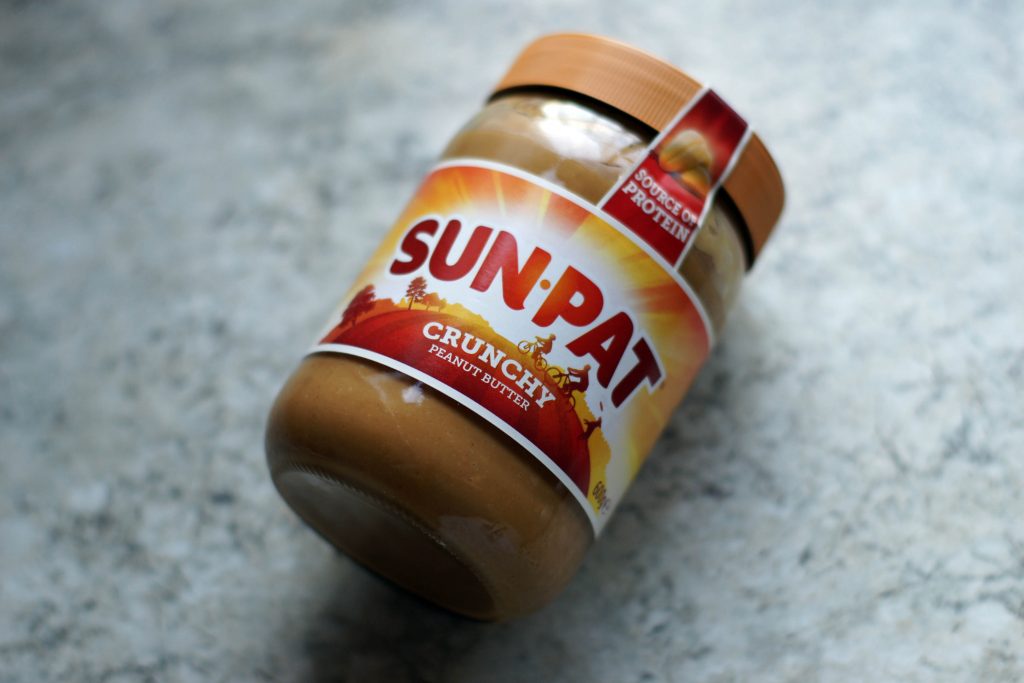 Yes, I'm on the crunchy side! I still like the smooth varieties, but not as much, no offence to the smooth lovers! Personally, I think Sun-Pat is by far the best value for money. It's made of 96% peanuts, full of phosphorous and niacin, and contains only 1% palm oil (palm oil contains a lot of saturated fat and is not recommended for frequent consumption). Typical values per 100g: Energy 2530kJ/611kcal, Fat 48.7g of which saturates 9.2g,
Carbohydrates 14.5g of which sugars 6.7g, Protein 24.8g, Salt 1g
Price starts at £2.49
Available at most supermarkets and health stores.
Update: Since I wrote this article, Sun-Pat has swapped the pail oil for peanut oil. More reasons to enjoy Sun-Pat now!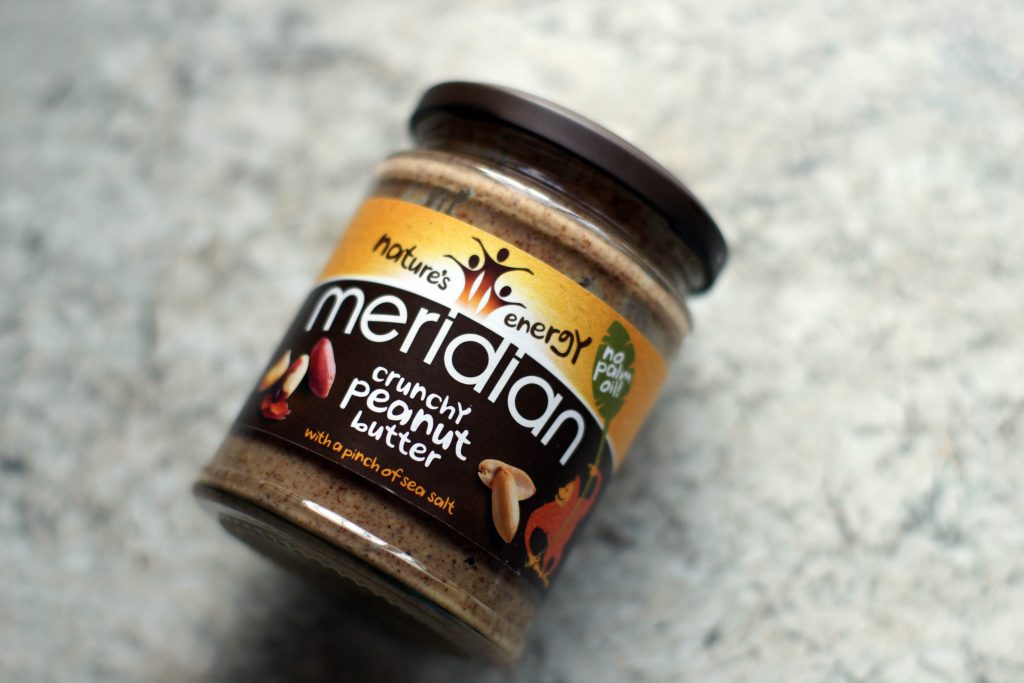 Personally, I like everything from Meridian! They specialise in organic products such as seed butter, specialty nut butters, fruit spreads, nutty bars and a lot of free-from goods. The interesting fact about their peanut butter is that it is full of Biotin, which is essential for your hair, nails and skin. Gladly, it also doesn't contain palm oil. Typical values per 100g: Energy 2446kJ/590kcal, Fat 45.5g of which saturates 8.1g, Carbohydrates 11.5g of which sugars 5.8g, Fibre 8.4g, Protein 29.3g, Salt 1g
Price starts at £2
Available at most supermarkets and health stores.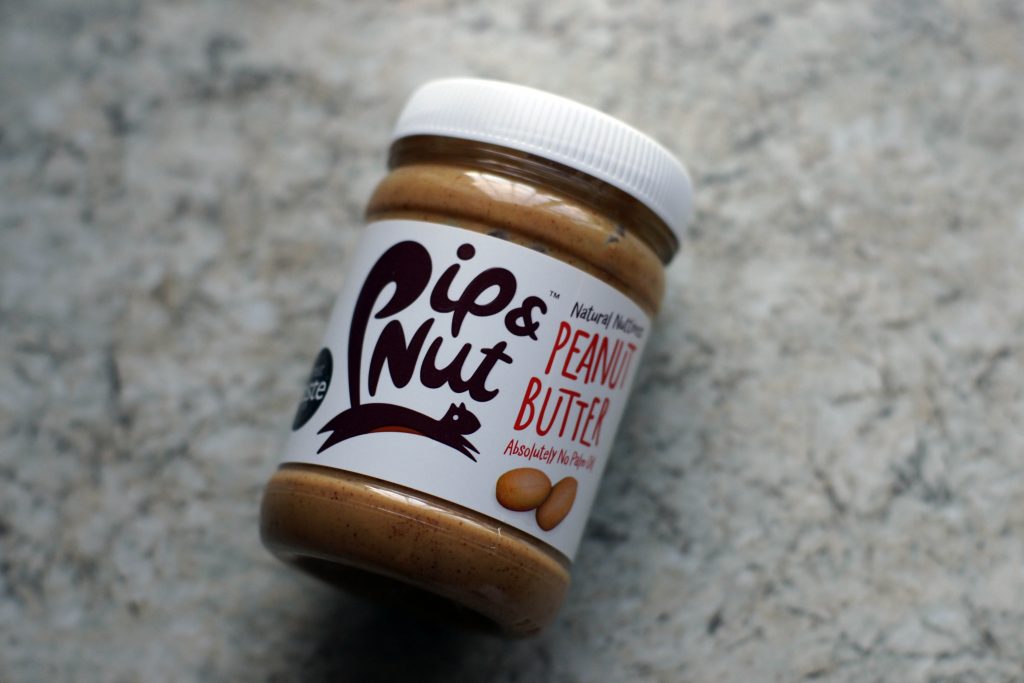 For the smooth peanut butter lovers out there, this is the crème de la crème! For a crunchy lover, I almost found myself converting to the 'smooth' side, but just almost… phew! It' super creamy and yummy! It contains no palm oil and it is full of Vitamin E. Typical values per 100g: Energy 2539kJ/612kcal, Fat 49g of which saturates 6.8g, Carbohydrates 13g of which sugars 4.1g, Protein 27g, Salt 2g
Price starts at £2.30
Available at most supermarkets and health stores.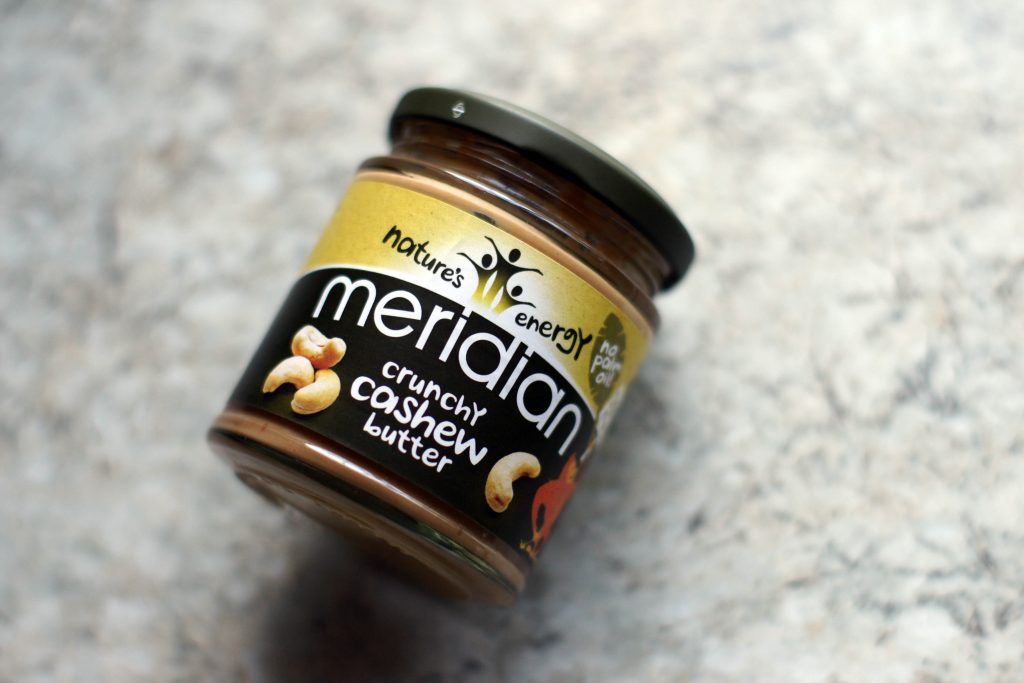 This crunchy cashew butter is part of the Meridian specialty nut butters and I couldn't be more thankful when my lovely partner found it! If you're a fan of cashew, you wouldn't regret getting one of these. Sadly, it has less protein than the peanut varieties, but it is totally worth it! Typical values per 100g: Energy 2604kJ/628kcal, Fat 51.3g of which saturates 10.2g, Carbohydrates 18.9g of which sugars 5.6g, Fibre 4.3g, Protein 20.6g, Salt 0g
Price starts at £2.75
Available at most supermarkets and health stores.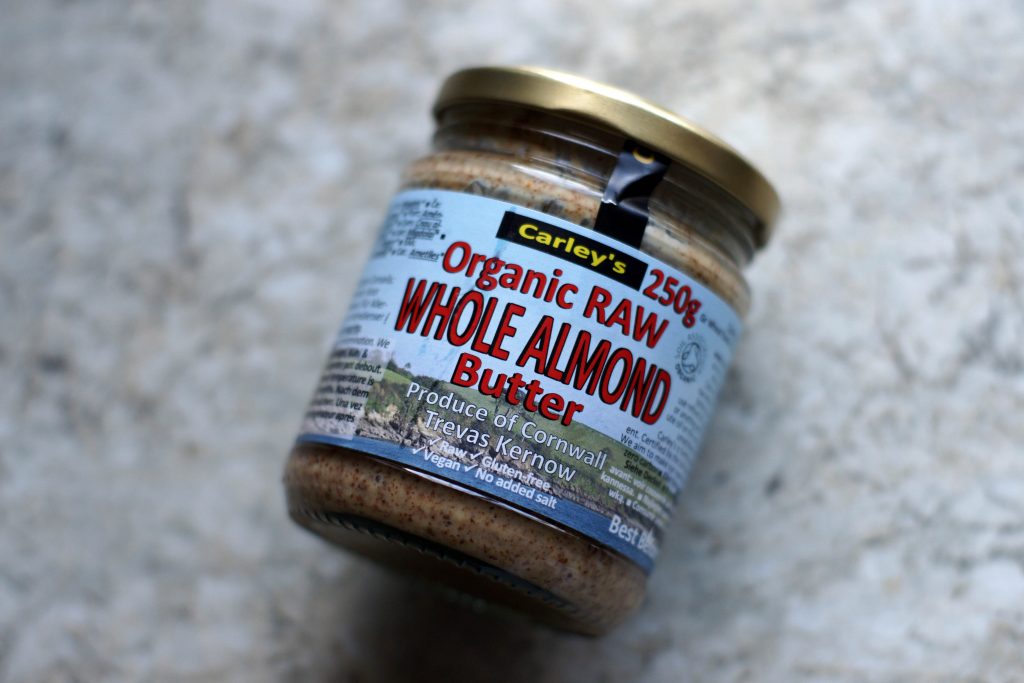 Have you ever heard of almond butter?! Shockingly, I definitely haven't until we bought Carley's completely organic and free-from-everything almond butter! It's smooth and creamy, but a bit pricier than other alternatives, so we won't be buying it regularly. Typical values per 100g: Energy 2418kJ /578kcal, Carbohydrates 19.7g, of which sugars 4.8g, Fat 50.6g of which saturates 3.7g, Fibre 11.8g, Protein 21.3g, Salt 0 g
Price starts at £3.75
Available at supplement and health stores.
So, next time someone asks you 'is peanut butter healthy for you?', you'll know the answer. I hope I've convinced you about the benefits of peanut butter and you put the jar full of nutty goodness on your next shopping list. Preferably, I have my nutty butters on their own, but you can spread on the good old toast, mix them cereal, porridge or whatever you fancy – you know the drill! You can also try my simple Banana Peanut Butter recipe!
x Mariya