Have you ever felt your face tightening after a steamy hot shower?! Wondering whether or not some invisible hands have grabbed your skin and pulled it slowly but painfully? Or maybe you felt a worrying itch and when you examined your face in the mirror you saw a few fine lines and cracks (not wrinkles!) accompanied by redness?
If you've answered yes, 'congratulations' – YOU HAVE DRY SKIN!
The skin tightness and itchy red patches got the better of me for some good couple of months before I realised I had dry skin. The reason being wasn't my lack of knowledge or unwillingness to research my symptoms – it was foolish refusal! Refusing to acknowledge the fact that there was a problem with my skin! I was, in fact, utterly convinced that my skin was just going through some sort of a seasonal phase. Truthfully, I've never had a problematic skin before I moved to the UK. I guess the weather started to change my skin complexion for the worse.
Despite my OK-ish skin care routine, the autumn of 2016 made me take a bird's eye view of the whole situation. After my painfully dry skin patches got out of hand, I did a good online research on the subject to check out what was on offer as a solution to my problem. Simple steps included avoidance of harsh soaps, chemical cleaners, regular application of moisturiser, etc. However, I was already doing everything mentioned and my skin was just worsening with each passing day. For that reason, I decided to investigate what the professional pharmaceutical world was putting on the market.
That's how I found about Eucerin!
To give you some background, Eucerin has over 100 years' experience in dermatological skin care. The brand's origins are in a pharmacy, that of Paul C. Beiersdorf in Hamburg. According to the company's background page: 'In the year 1900, young chemist Isaac Lifschütz filed a patent for an emulsifying agent, which he named Eucerit – inspired by the old Greek word for "the beautiful wax".' It was not until 1970 when the first Eucerin product range suitable for use on all skin areas appeared. Since then, the company has been producing specialised skin care products ranging from blemish prone skin to scalp and hair problems.
Eucerin Dry Skin Replenishing Cream 5%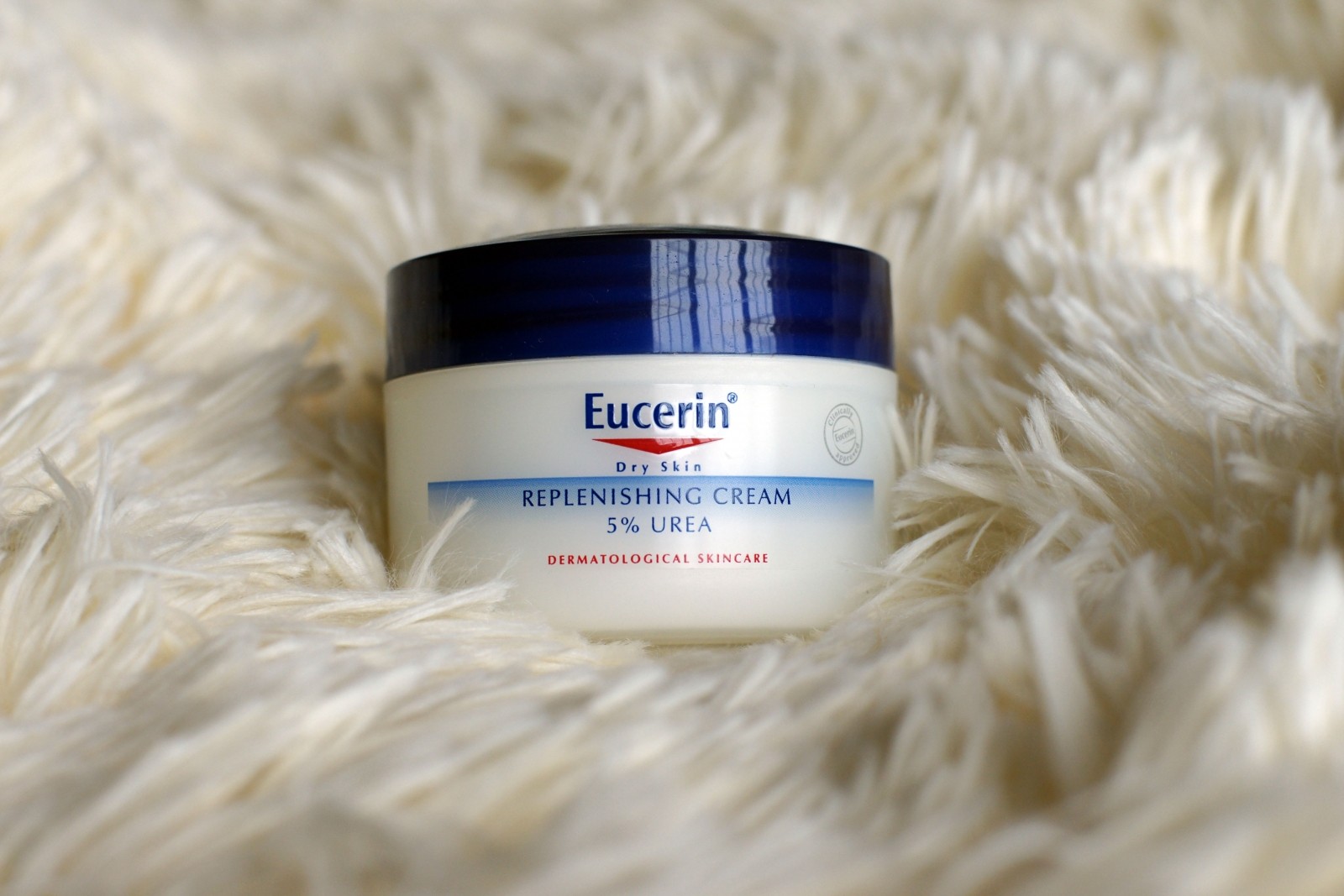 Eucerin Replenishing Face Cream 5% Urea is the first product I bought from Eucerin! However, it only managed to moisturise and sooth my powder-like skin, which is what the product description says. Although I used the whole bottle, the underlying problem was still there. My skin was still dry and felt extremely tight. So, I went for Eucerin Dry Skin Replenishing Cream 5% Urea which promises to deliver long-lasting relief to problem areas such as…wait for it…elbows and knees! Yeap, you read correctly! I applied an elbow and knee cream on my face! My logic was the following – since elbows and knees are probably the driest areas of the body, it should have an even further moisturising effect on my face! You know what? It worked! I applied a thick mask-like layer on my face every night before bedtime for over a month. Don't be put off by the strange milk-cleanser-like texture and odd body-cream-type smell, because the final results were astonishing! I no longer felt the horrific tight sensation, the red patches disappeared and the itch was gone. I still have a bit of the moisturising goodness left, but I only use it in extreme conditions as I no longer need it. If you find yourself suffering from a horrific dry skin condition, get one of these, you'll thank me later! It's just under £10 and you can get from most drugstores or Feelunique.
Although I managed to salvage my skin, the dreadful dry-as-a-bone condition worsened another feature of my face – my nasolabial folds (the wrinkles running from the nose to the mouth). I've had them since I can remember, I guess I haven't had proper collagen distribution. Moreover, I wasn't using the appropriate sun protection creams when I was young.
A moment for self-confession – I was using a sunbed from a very, very young age! I was probably 14 when I first started my fake-tan routine. Going twice a week probably led to their appearance…

Having had the superb results from the ankle-cream-turned-face-mask beauty buy, I went for the Eucerin Anti-Age Hyaluron-Filler Night Cream. In the hope of getting a more plumped up appearance of my foldies, I started applying the filler every night and prayed for my wrinkles to magically disappear. Unfortunately, life is not a Harry Potter book… Picking up a random wand or cream from the park won't do the trick! A full month went by before I noticed an improvement. However, I am now on my third jar and I swear by this night cream. It has helped a lot; my folds are looking better than ever, actually, they are hardly any left! I'm still very conscious when somebody stares at my face. I can feel their eyes pointed at my smile lines, but I know it's all in my head. Yet I still spend around 15 minutes every day investigating them in the mirror. It just shows you how fixated a person can be… okay, how fixated I can be…
I was 25 when I started using hyaluronic fillers (26 now). Sadly, I was raised to believe that I don't need wrinkle creams until I reach 30+. Nevertheless, I place confidence in getting your hyaluronic-infused creams and serums sooner than later. If you build-up a proper skin care discipline in your 20s, the chances of ageing gracefully increase. If you're on the same page, you can get Eucerin Hyaluron-Filler for £26 from your local drugstore or online and feel the results for yourself.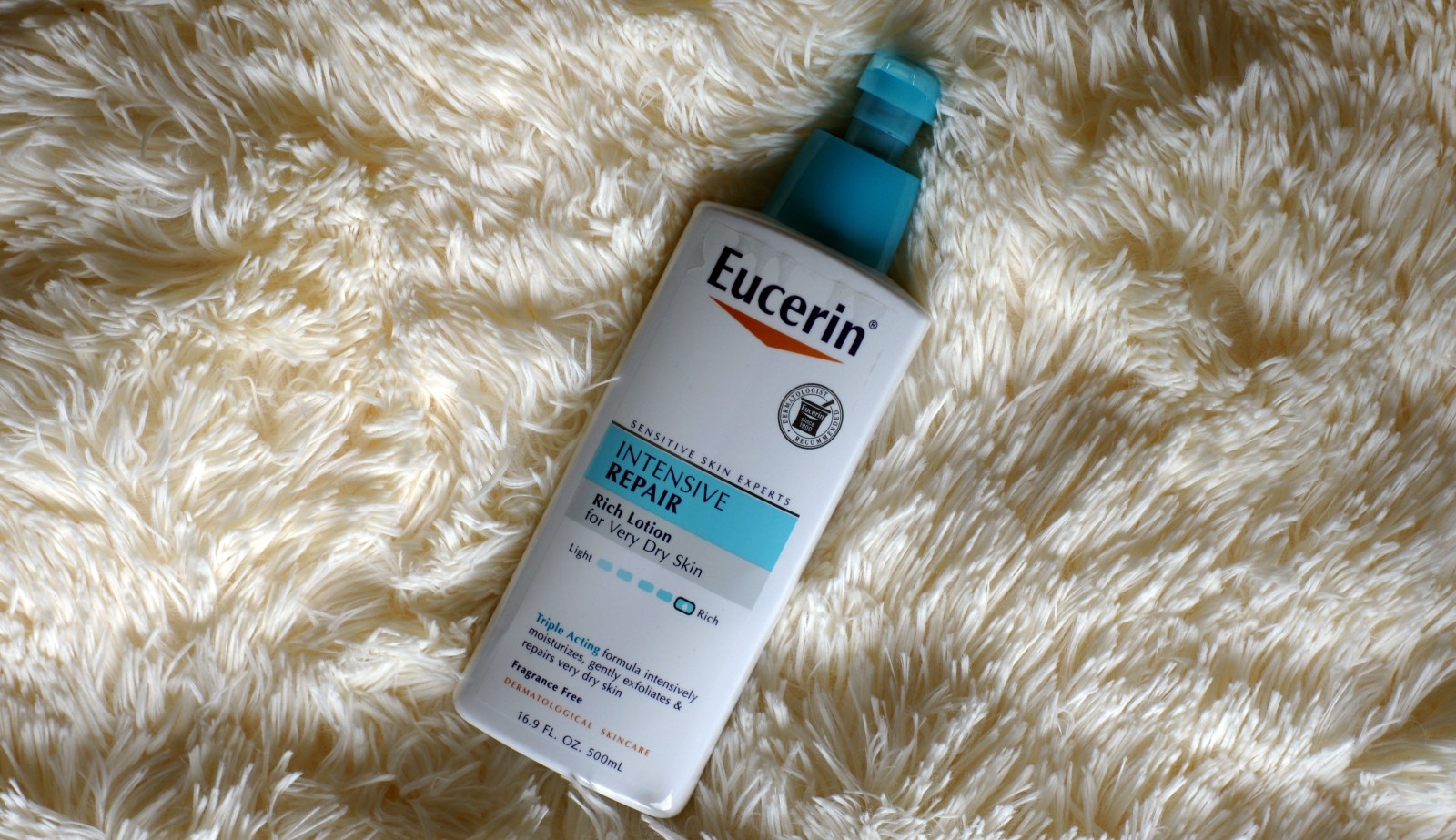 Being a fan of Eucerin now, I also treat my body with one of their lotions. I would like to mention that my body skin is normal, not dry! I just prefer richer lotions, hence I got Eucerin Intensive Repair Lotion for very dry skin. The lotion is very thick and tedious to apply, but it's pleasant once you get the hang of it. I usually apply it after showering and wait for it to absorb – well, sort of. Once applied, my skin is soft for the next couple of days. Hence I only use it 2 to 3 times a week. Unfortunately, I can no longer find this exact lotion. They might have discontinued it or changed the branding I have no idea. Therefore I've found a substitute for you here.
Let me know if you try (or have tried!) any of the Eucerin products mentioned here!
x Mariya
YOU MIGHT ALSO ENJOY:
Mario Badescu Glycolic Eye Cream Review + Collagen Mask
3 Beauty Brands To Look Out For In 2018
Are You Ready For The Lierac Magnificence Range?