Ah, I feel like it's been ages since my last beauty blog post! Truth is, I'm becoming a lot more conscious with my spending on skincare and makeup products. I used to want whatever was in at the moment, regardless of the fact whether I needed it or not!
Especially with the rising climate change problems, I felt slightly hypocritical to spend so much money on beauty products. I used to buy lipsticks, foundations, face masks and a whole bunch of creams without even needing them. My old creams were sitting on the shelf, catching dust while I was browsing for the next 'it' product!
Recently, I realised that this made me feel even worse than my imaginable FOMO of not reviewing the next trending beauty product on Instagram. Thus, I took the decision not to buy anything prior to finishing the product that I already have!
A big decision, yes, but it had to be taken. I knew that even if I didn't really like the product, I had to finish it. As long as it didn't cause any breakouts or any other health-related problems, it was safe to use!
Thus, you'll be seeing a lot less beauty content on my blog. However, I'll still give you my honest reviews whenever I buy something new. Be it a new night cream, face mask or new colour lippy, you'll still read my two cents.
Today, I'm excited to review some new beauty products that I've used for the past year. The products I'm reviewing are the Rimmel Insta Flawless Tint, L'Oreal Glam Nude CC Cream, W7 Prime Magic and NYX Dewy Finish Setting Spray!
Rimmel Insta Flawless Review
I've started using the Rimmel Insta Flawless Tint at the beginning of last year. I came across it on either Feelunique or Lookfantasic. It had such amazing reviews that it was hard not to buy it!
Rimmel's description of an Insta flawless skin sounded so promising! The tinted makeup primer works to perfect and brighten the look of your skin. It has an ultralight texture to deliver a natural-looking glow. What's more, it is supposed to keep your face moisturised for up to 24 hours!
Or so it says…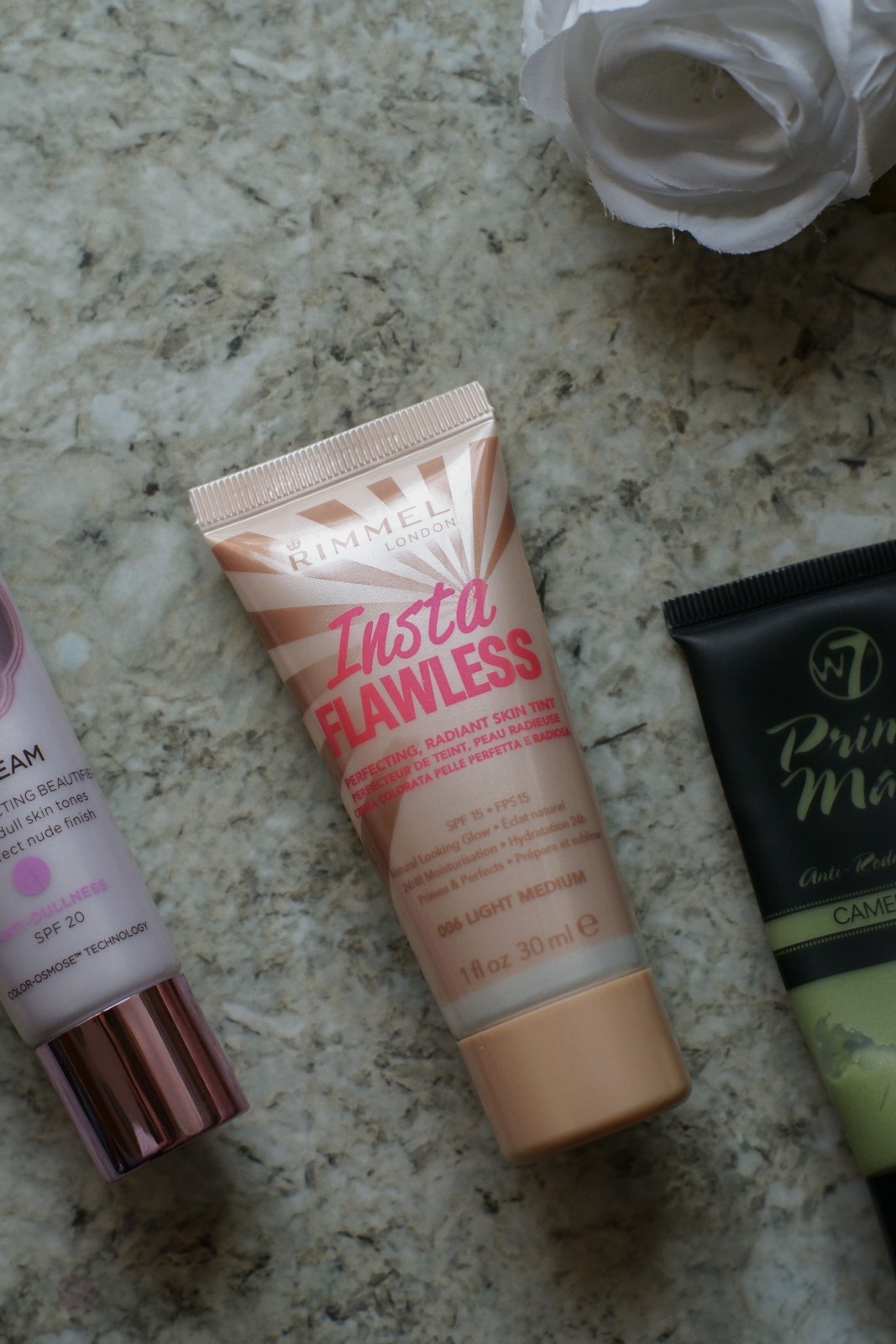 Sadly, it didn't work quite that well! Trust me, I really wanted to like this primer. It's really affordable and it sounded like the perfect primer. However, it now sits behind another primer… Why?
Well, I really didn't like this primer. I bought the Rimmel Insta Flawless tint in light medium. First of all, the shade looked nothing like the one from the pictures. It had more of an orange finish rather than light beige. Moreover, one settled on my face, it looked even more orange. The application wasn't smooth either. It also takes ages to settle in and the smell is horrible. Honestly, I really wouldn't recommend this primer to anyone! Sadly, I'll have to throw it away…
L'Oreal Glam Nude CC Cream Review
This is what every CC cream should be! The L'Oreal Glam Nude CC Cream is such a beautiful and affordable product. Honestly, I have no idea how I've managed to live without it!
I'm already on my second bottle of this CC cream. I even bought it prior to finishing my first bottle as I was scared I'll be left without one!
First of all, the L'Oreal CC Cream has a really lightweight texture. You need a very tiny amount of product to cover your whole face. However, you really need to apply it carefully. At first, you might think and feel the cream as a sunscreen cream. It even looks and smells like one! Thus, you need to give it some time to absorb into your skin.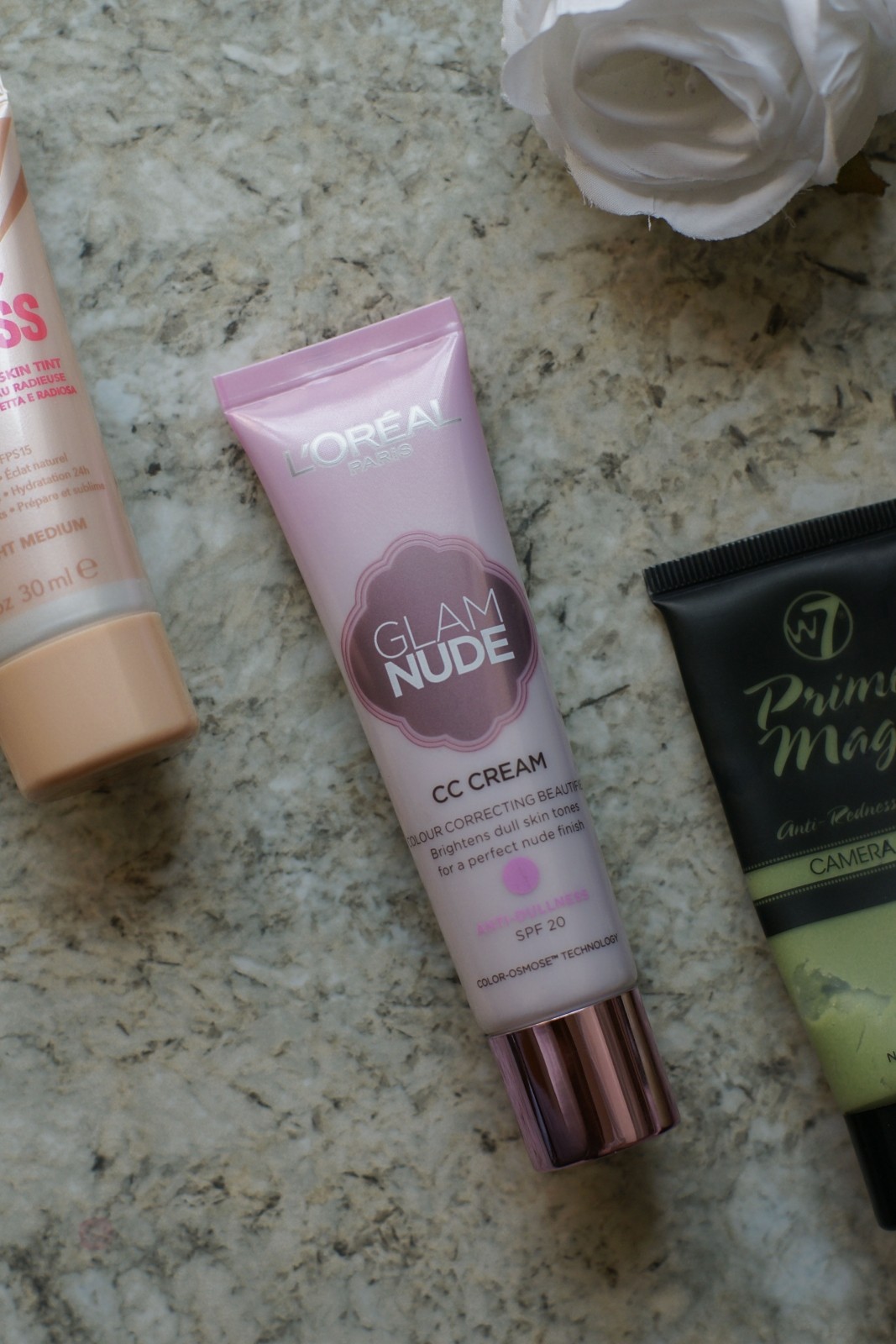 Glam Nude is packed with smart pigment capsules that work with your skin tone upon application. Within 10 minutes or so, the cream will transform itself into the colour of your skin tone.
Eventually, you'll be left with a radiant, healthy looking skin! Furthermore, it really does make your skin less dull. Actually, all blemishes are gone and you're left with a beautifully even skin tone!
Honestly, I couldn't recommend enough this L'Oreal product. It's so good and affordable! It is also perfect for the summer when you need something lightweight that will give your skin enough coverage without clogging it. I use this CC cream every single day instead of a foundation!
W7 Prime Magic Review
This is the first ever product I bought from W7. Actually, I don't think I've ever come across this brand before. Have you heard anything about W7?
Anyway, I was sick of all 'must-have' primers that I was seeing all over Instagram and Youtube. I wanted to try something new and exciting. Thus, I went onto Amazon to find what primers were trending there. That's when I stumbled across the W7 Prime Magic primer.
Based on the good reviews and costing just over £4, I thought I should give this primer a try. I've now had it for over a year and still have loads of it! You really need a tiny amount of it. However, I only use it to cover my pores prior to applying any CC cream or foundation.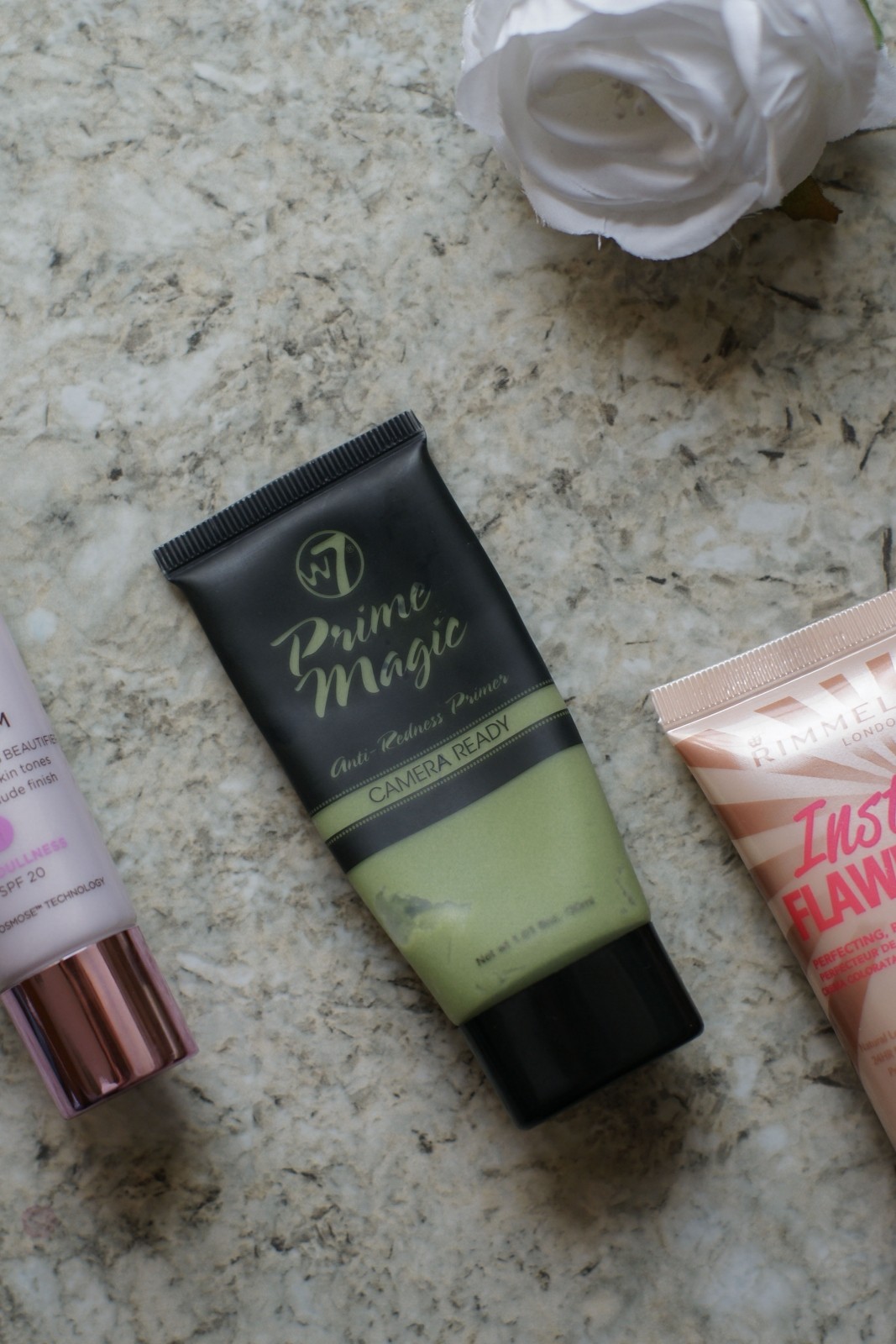 Now, if you want to give the W7 primer a try, be prepared for its odd texture. It's really green and greasy! Yet, it won't leave your face oily. It takes seconds for the skin to absorb it and will keep your skin moisturised. It's especially good in the winter if you' re left with dry patches. My nasolabial folds tend to dry out during winter, causing even deeper lines. This primer has really helped me keep them moisturised.
I'm not a primer expert but for the price, I really like the W7 primer. It does leave your skin with an even skin tone and it is the perfect base for a foundation.
NYX Dewy Finish Spray Review
This is my first setting spray ever! I thought I should give the NYX Dewy Finish Setting Spray a go after I read so many good reviews about it.
I bought it last winter as I wanted to give my skin a bit of a healthy glow after I apply my makeup. As I suffer from dry skin, especially during the cold months, any foundation and makeup would make my skin even drier!
Moisturisers and creams didn't really make a difference, thus I thought I should opt for a setting spray. So, I bought the NYX Dewy Finish from Feelunique. I hoped this spray would not only ensure my makeup stays put for longer but also give my dry skin a bit of a healthy glow.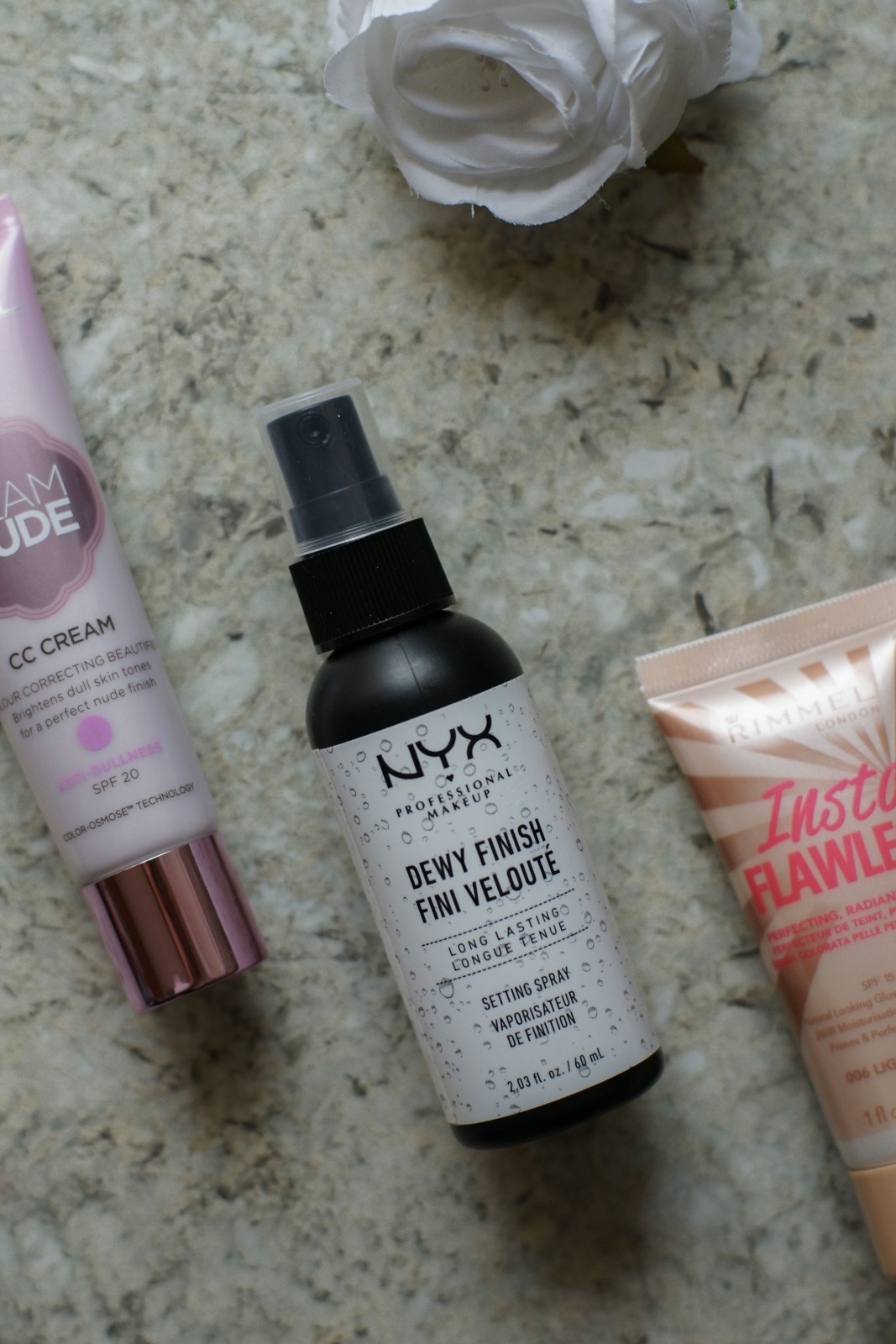 Guess what?! It did the job!
Once I applied my makeup, I sprayed my face with the NYX spray and waited for it to dry. It only takes a couple of seconds but it really does provide your skin with a moisturising boost. Not only that, but the spray also helps to set your powder, especially if you're using one to set your concealer!
I haven't used this spray during the warmer months as my skin doesn't need that extra glow but if you're looking for an affordable setting spray, then this is the one to go for!
I hope you've enjoyed my beauty products reviews!
Don't forget to check out my other reviews here!
Have you tried any of these products?
YOU MIGHT ALSO ENJOY:
Avène Hydrating Cream, Moisture Mask & Barefaced Rice Oil Mask Review
3 Moisturising Products For Your Thirsty Skin
Are These Makeup Revolution Products Worth Buying?
Drugstore Concealers For Dark Circles I've Tried In 2018