Brushing your teeth is the foundation of good oral health. By keeping your teeth clean and healthy, there is far less risk of developing cavities. And we don't want any cavities, do we? Having one will not only cause physical but also financial pain! Having to go to the dentist could be quite expensive, especially in countries like the UK and USA. As a result, we do everything we can to keep good oral hygiene.
The most common and effective way to keep your teeth clean is by using a toothbrush. Nowadays, there are three types of toothbrushes – manual, electric and sonic. Personally, up until a couple of weeks ago, I was a typical 'manual' user!  It's not that I didn't want to try an electric toothbrush. Quite the opposite, actually, I was dying to try one! So, when I was approached to try the new ION-Sei Electric Toothbrush by Sanyei*, I couldn't be any more excited!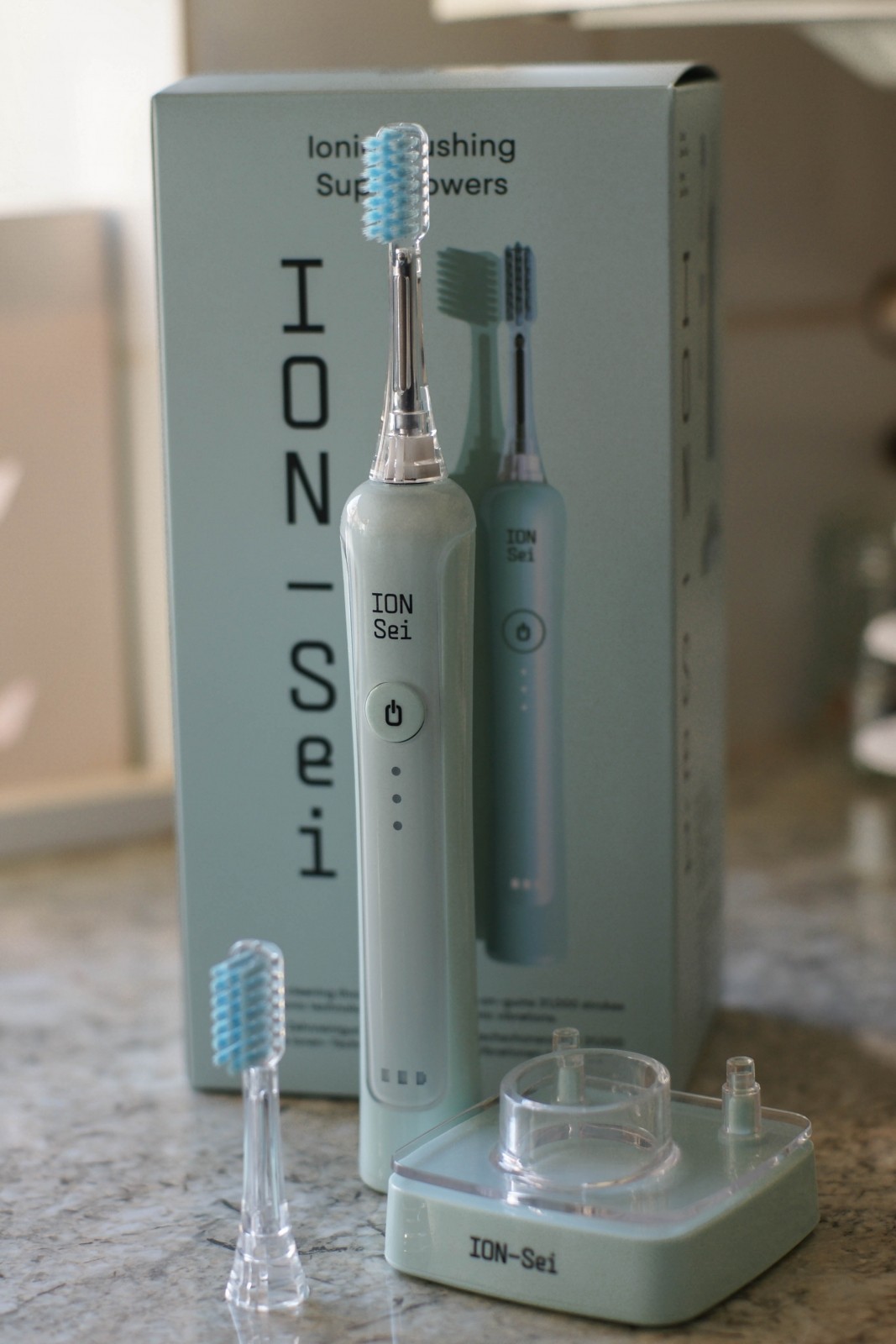 In the next few paragraphs, I'll give you a bit more information about Sanyei, the technology behind the toothbrush and an honest product review.
Who Are Sanyei?
Sanyei is a Japanese company based in Tokyo. It was established in 1946 and they opened their first overseas office in Hong Kong in 1958. They also opened another one in Germany in 1969.
Sanyei's vision is to inspire people to experience Japanese comfort and enjoy their lives more through cleverly designed lifestyle goods. From traditions in developing technology and patents, today Sanyei works with many well-known global businesses across the areas of technology, manufacturing and distribution. The company is working on a wide range of innovations under its name. Among the first in the product range is the ION-Sei toothbrush with patented ion technology.
ION-Sei Electric Toothbrush Technology
ION-Sei's superpowers lie in its patented ionic technology. Why is this important, you ask? Whereas most electric toothbrushes only remove some of the plaque and bacteria, ionic technology actually suppresses the bacteria causing plaque.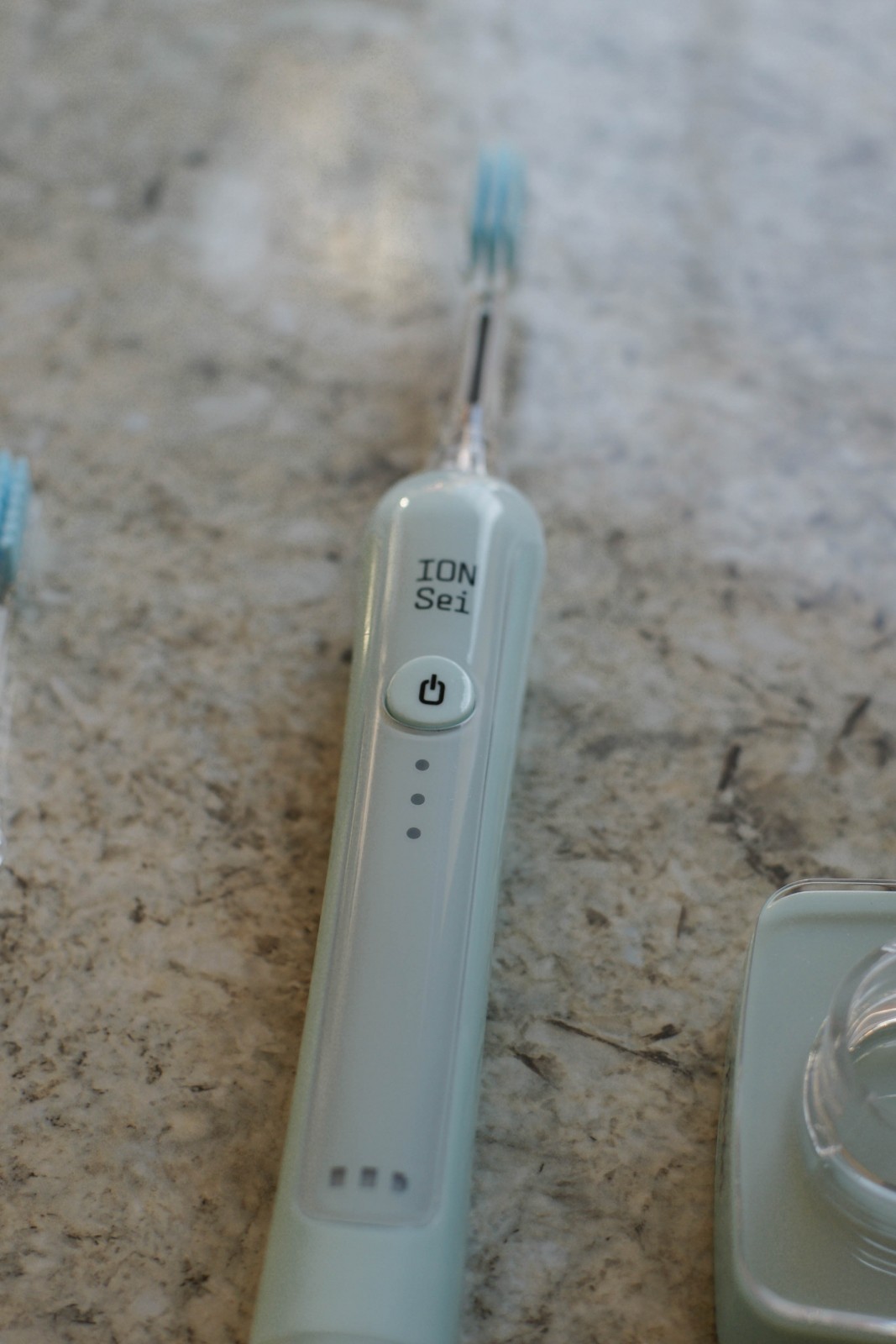 The ION-Sei electric toothbrush uses a UV LED light that reacts with a titanium dioxide bar in the brush handle. This releases the ions that suppress the bacteria causing the plaque. The negative electrons are sent to your mouth via water or saliva. ION-Sei also works with your body's natural electrical charge through a conductor on the handle, producing a weak charge that inhibits bacterial growth and helps to attract bacteria from teeth onto the brush. To find out more about ION-Sei's technology, click here.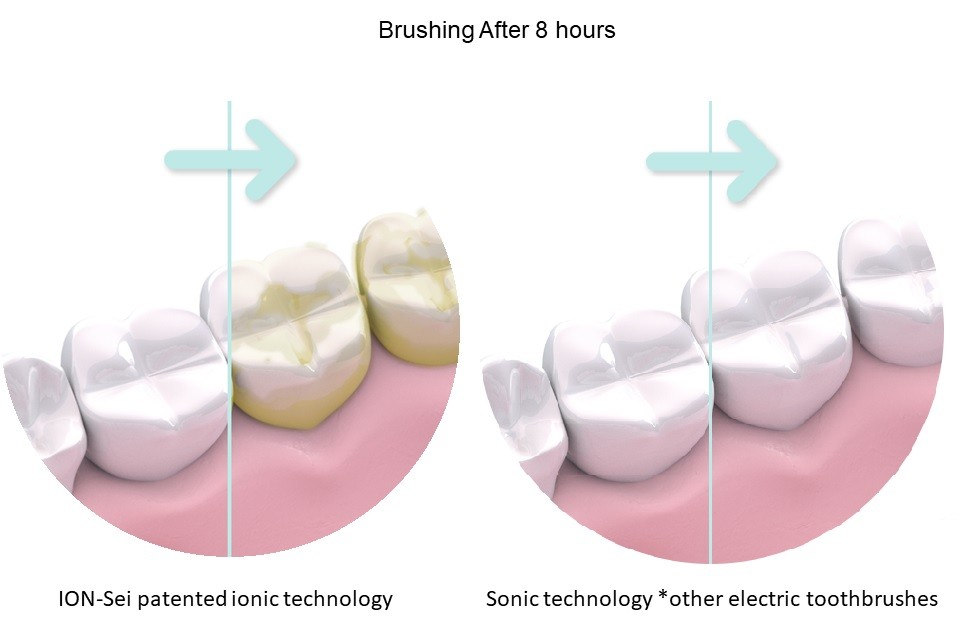 ION-Sei Electric Toothbrush Specifications
The ION-Sei electric toothbrush comes in a beautiful lake blue or day white colours. Moreover, the toothbrush arrives in a box with the same blue or white colours.
The specifications are as follow:
31,000 strokes / min sonic vibrations
UV LED light and patented TiO2 bar
Brushing Modes | Deep, standard, sensitive.
Size | Diameter Φ31 mm, length 234 mm (with brush) / 210 mm (without brush).
Weight | 96g (with brush) / 93g (without brush).
Battery | Nickel-metal hydride battery, not Lithium-ion, as a safer option.
Operating Time | Approx. 10 hours: 40 cleans (1 clean = 2 min).
Metal Allergy Free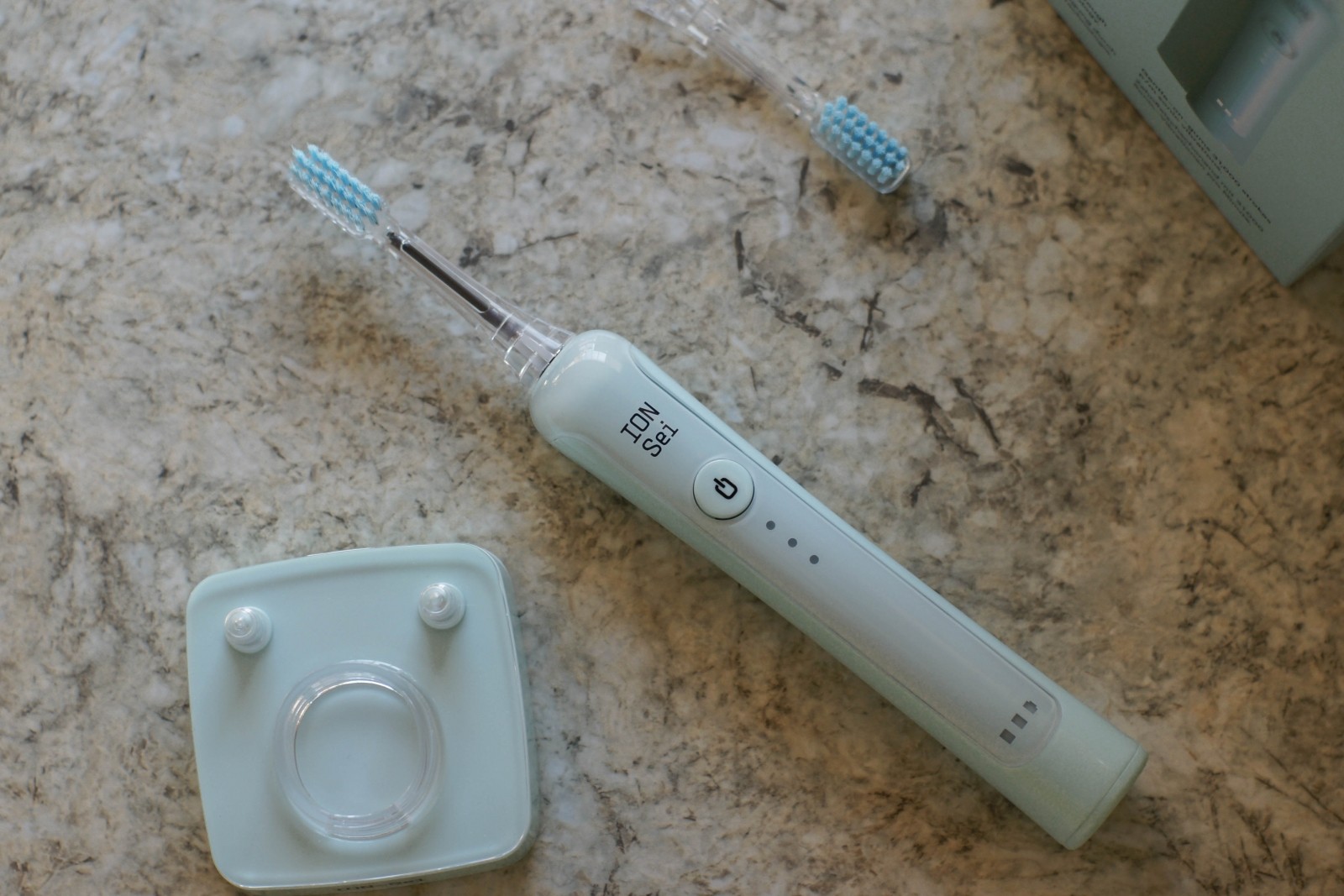 In the box, you'll find:
2 brush heads – one with a spiral standard bristle for extra plaque removal, and one with soft and tapered bristles to reach deep between your teeth.
Waterproof charger stand. The charging system is a USB, and it has 2 different plugs – UK and EU.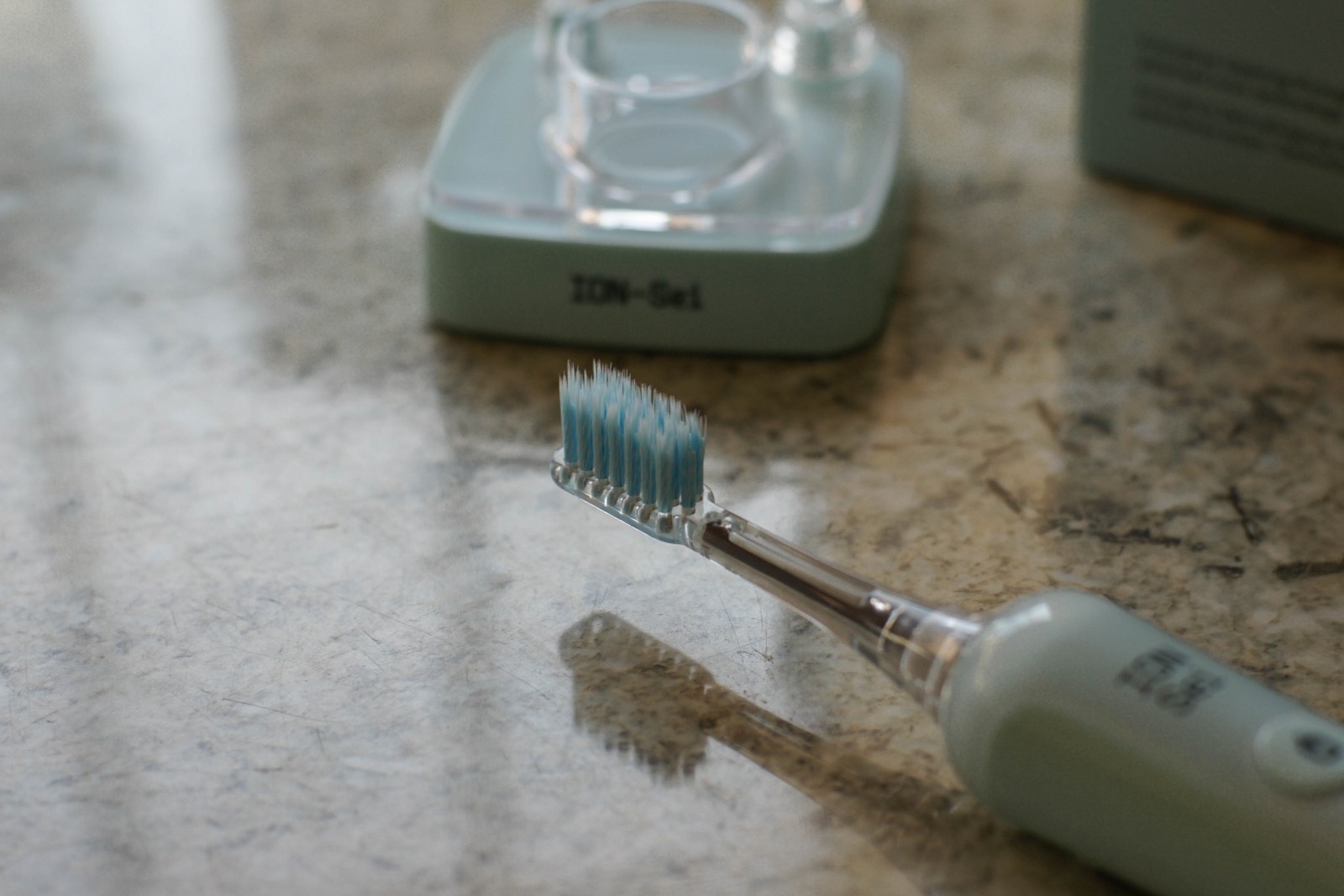 ION-Sei Electric Toothbrush Key Benefits
I use the ION-Sei electric toothbrush every morning and evening. In order to give you an honest and more detailed review, I used the toothbrush for 2 weeks straight. At first sight, let me just say how aesthetically pleasing I find this toothbrush. It might be because it reminds me of Tiffany's blue colour, nevertheless, it really stands out from your other manual and electric toothbrushes.
Believe it or not, the ION-Sei electric toothbrush is extremely lightweight, so I can take it with me when travelling. Furthermore, the 3 brushing modes give you the opportunity to choose the right vibration intensity for you. Personally, I prefer to use mine on the 3rd bar – the deep cleaning. Another selection I made was to go with the soft bristles toothbrush head as I have sensitive teeth and gums.
Now onto the key benefits:
The sonic vibrations not only give you deep yet gentle cleaning, but they also sort of 'massage' your teeth. Whenever I use the toothbrush, I feel my teeth almost massaged (if that makes sense?). You know that feeling after you've been to the dentist? After the part of the horrific poking and tooth filling? When you feel like you have brand new teeth? That's what I feel after each brush with the ION-Sei electric toothbrush.
Every 30 seconds or so the toothbrush pauses for a second to let you know to switch sides. That way, I know how much time I've spent on each side. Also, after 2 minutes the toothbrush automatically turns off. Moreover, the next time you use it, it automatically turns on in the brush mode you'd used.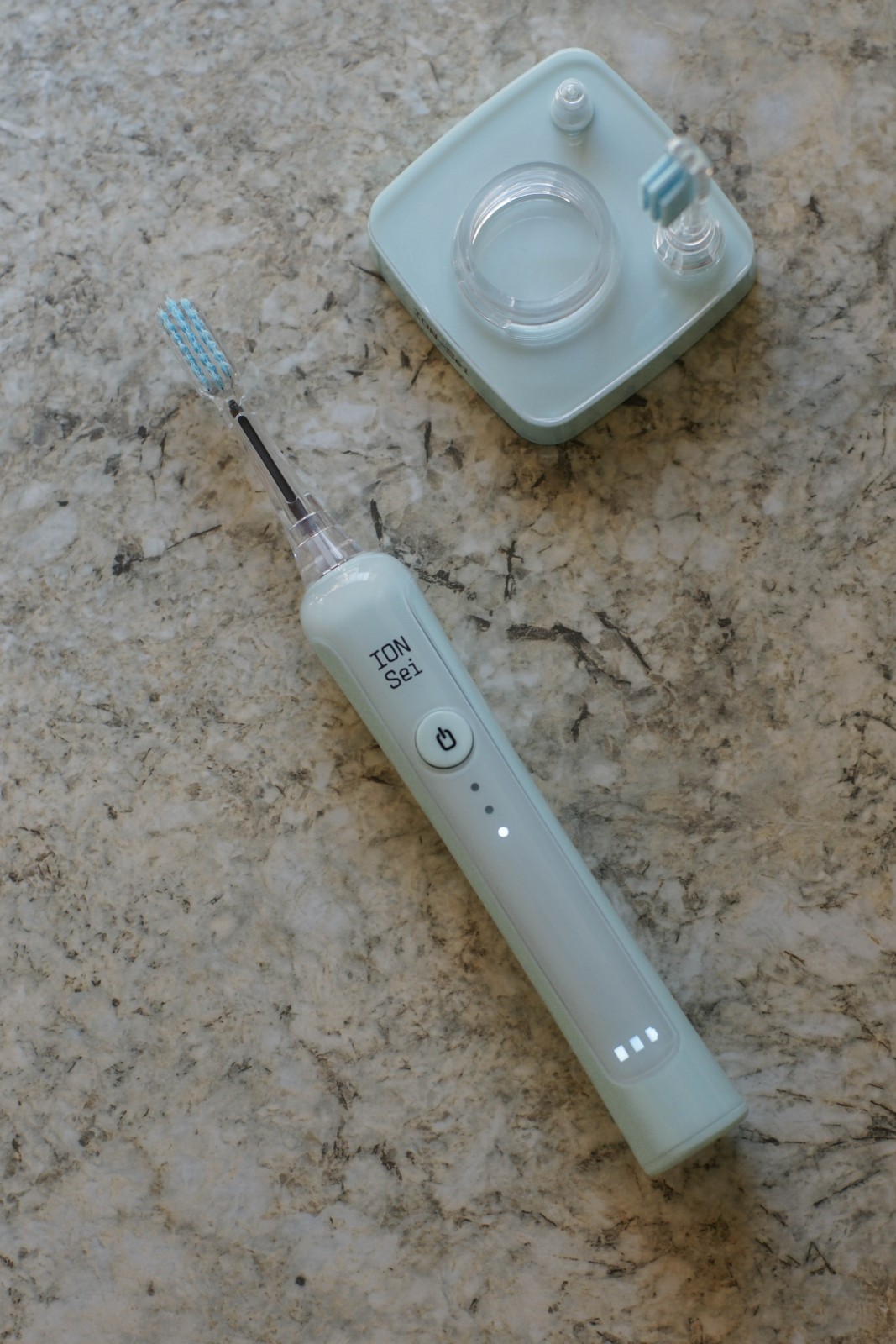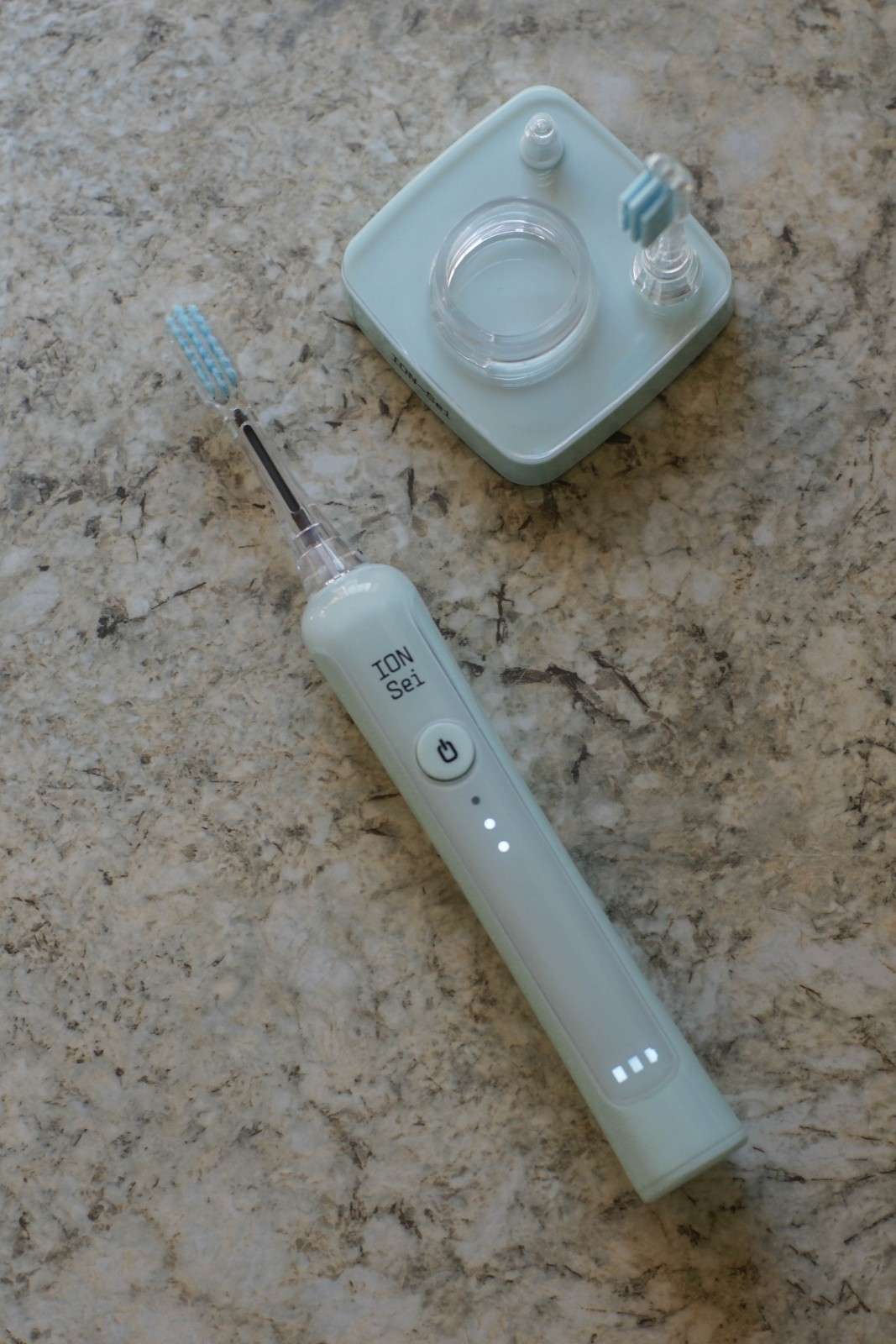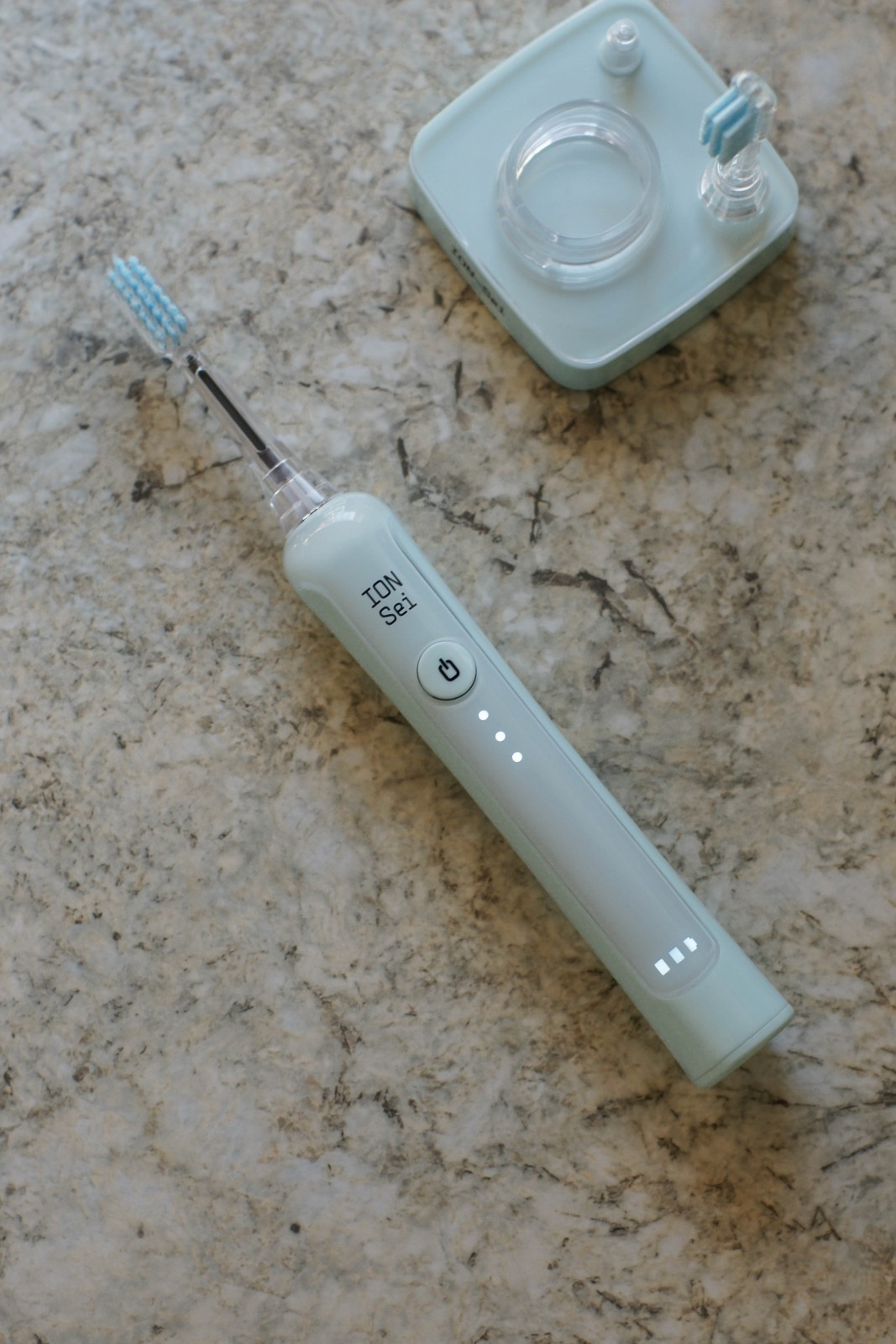 After brushing, my teeth feel cleaner compared to using a manual toothbrush.
Moreover, after washing my teeth in the morning, I've noticed that they maintain their whiteness. Even after drinking coffee and tea, my teeth remain unstained. Personally, I find this to be the main benefit. I've used every toothpaste on the market, promising you whiter teeth, with no luck!
Speaking of toothpaste, you can use the ION-Sei electric toothbrush without one for a more natural clean. I haven't used this method yet, but if you try it, let me know in the comments below!
Overall, I really liked the ION-Sei electric toothbrush! This was my first experience with an electric toothbrush and I'm glad it was a positive one. In my opinion, sonic technology really does work and there are much greater benefits compared to a manual toothbrush. Also, the ION-Sei toothbrush came in 5th place according to Tech Advisor' Best Electric Toothbrush 2019. At the moment, the ION-Sei electric toothbrush is only available in the UK through Amazon.
Would you give the ION-Sei electric toothbrush a try?
Check out the lifestyle category for more product reviews and healthy tips!
*PR gift in exchange for an honest review. All thoughts and opinions are my own.
YOU MIGHT ALSO ENJOY:
Is Sugar Good For You? Yes, But There's A Big BUT!
Is Peanut Butter Healthy For You?