Let me start this post by saying that I've never ever worn anything cropped in my life! Okay, I do wear sports bras but only at the gym. Surely that doesn't count, right?! Nobody has ever seen my midriff outside of the gym, so let's agree that I've never worn anything cropped prior to taking these pictures. Apart from cropped tops, trying tracksuit pants was also a first for me!
What made me think of this outfit combination, I have no idea… What I do know though is that I was looking for some sort of inspiration. You could say that I was bored with my everyday clothes. Yes, beautiful coats over skinny jeans and oversized sweaters would be my number choice during the winter. However, I wanted something that would take me out of my comfort zone!
So, when I came across this white drawstring sweatshirt, I couldn't help but think 'what if'? Eventually, I combined it with a pair of black tracksuit pants.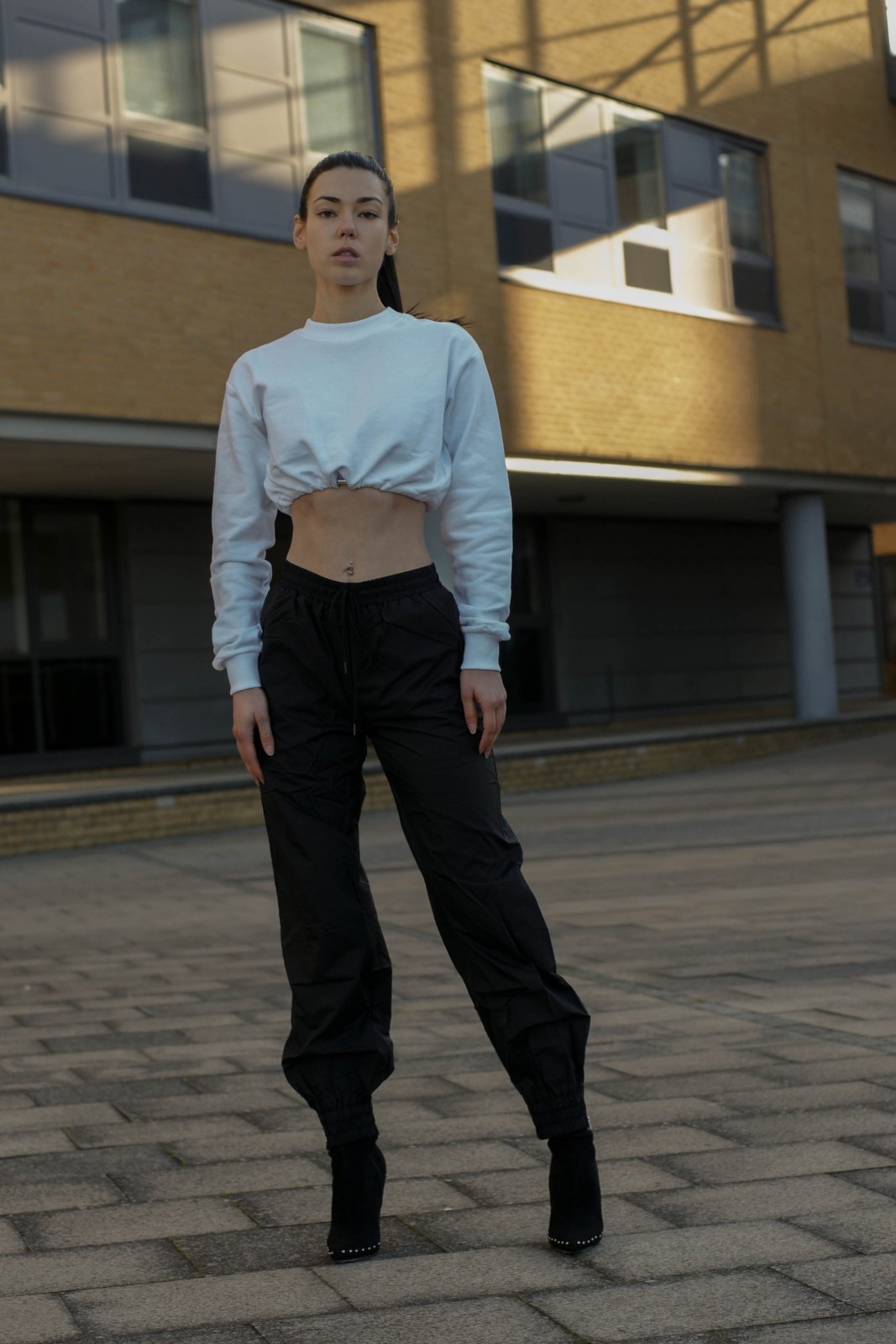 White Drawstring Sweatshirt | Pair Of Black Tracksuit Pants | Black Studded Heeled Sock Boots
You know what?
It was the best decision ever! And in the next few paragraphs, I'll tell you exactly why you also need to try this cropped sweatshirt and tracksuit pants outfit.
Try An Outfit That Will Take You Out Of Your Comfort Zone
I briefly mentioned this at the beginning of the post but I want to emphasise the importance of this statement. More importantly, I want to convince you to try this yourself!
Now, why did I need an outfit to take me out of my comfort zone?
As I said, I was bored. However, that was not the only reason. Truthfully, I've always had more or less the same 'style' – smart casual. If you've been reading my blog for a while, you would know about my mom passing away and my health issues that followed. That moment was the turning point in my life. I soon started experimenting more with everything. Also, started to challenge myself – learning new skills, a new language, etc. Eventually, the need of a profound change to my wardrobe also came along.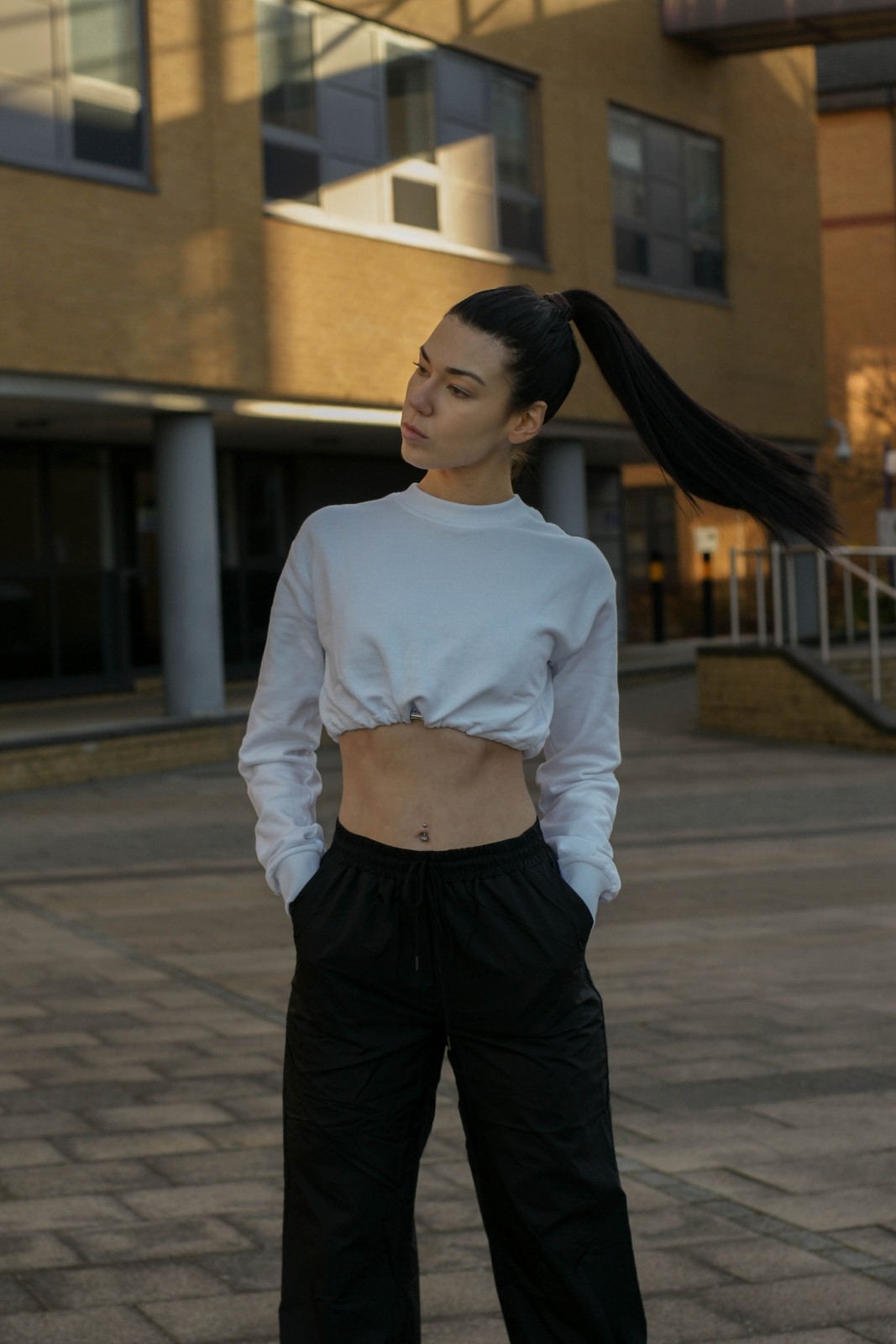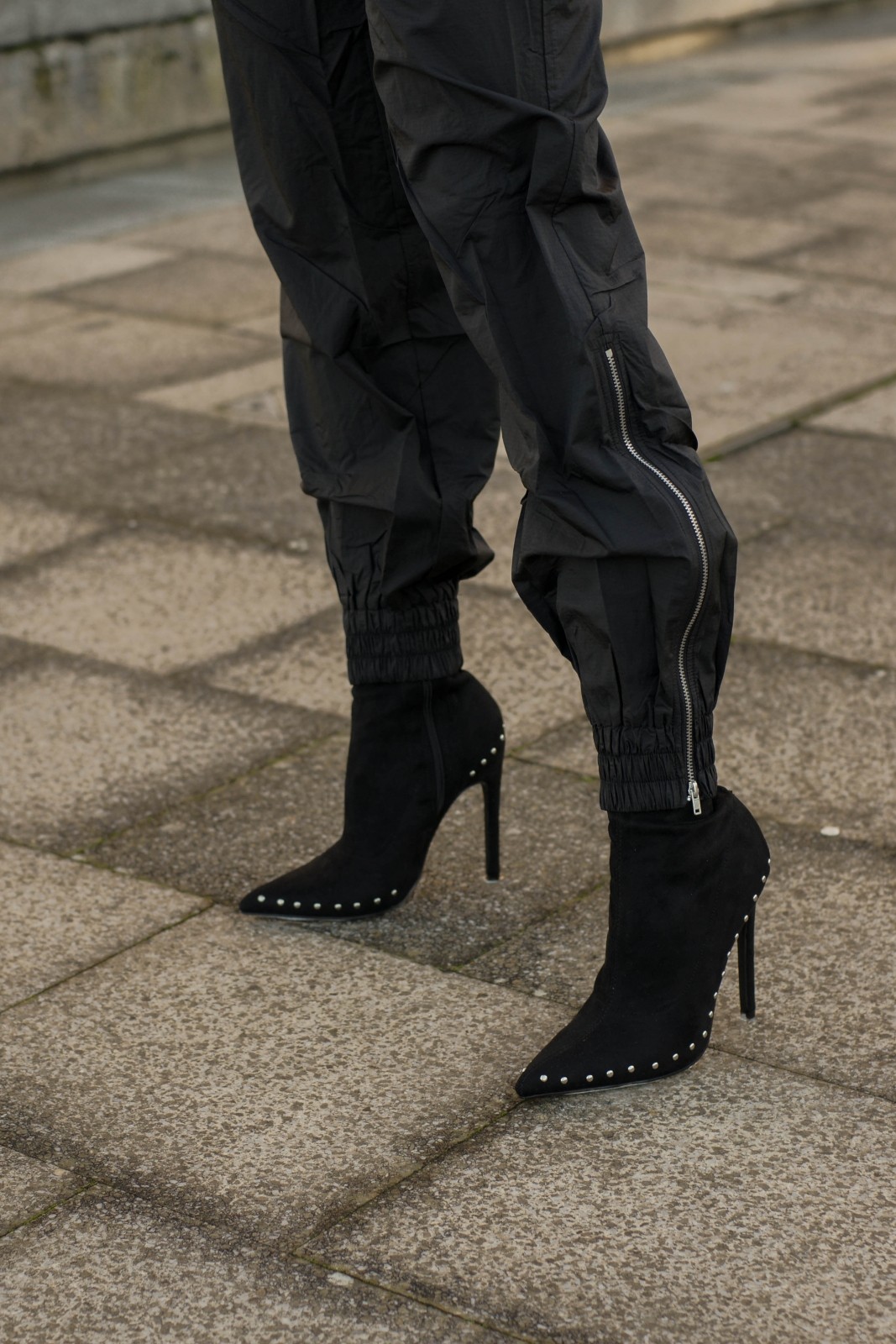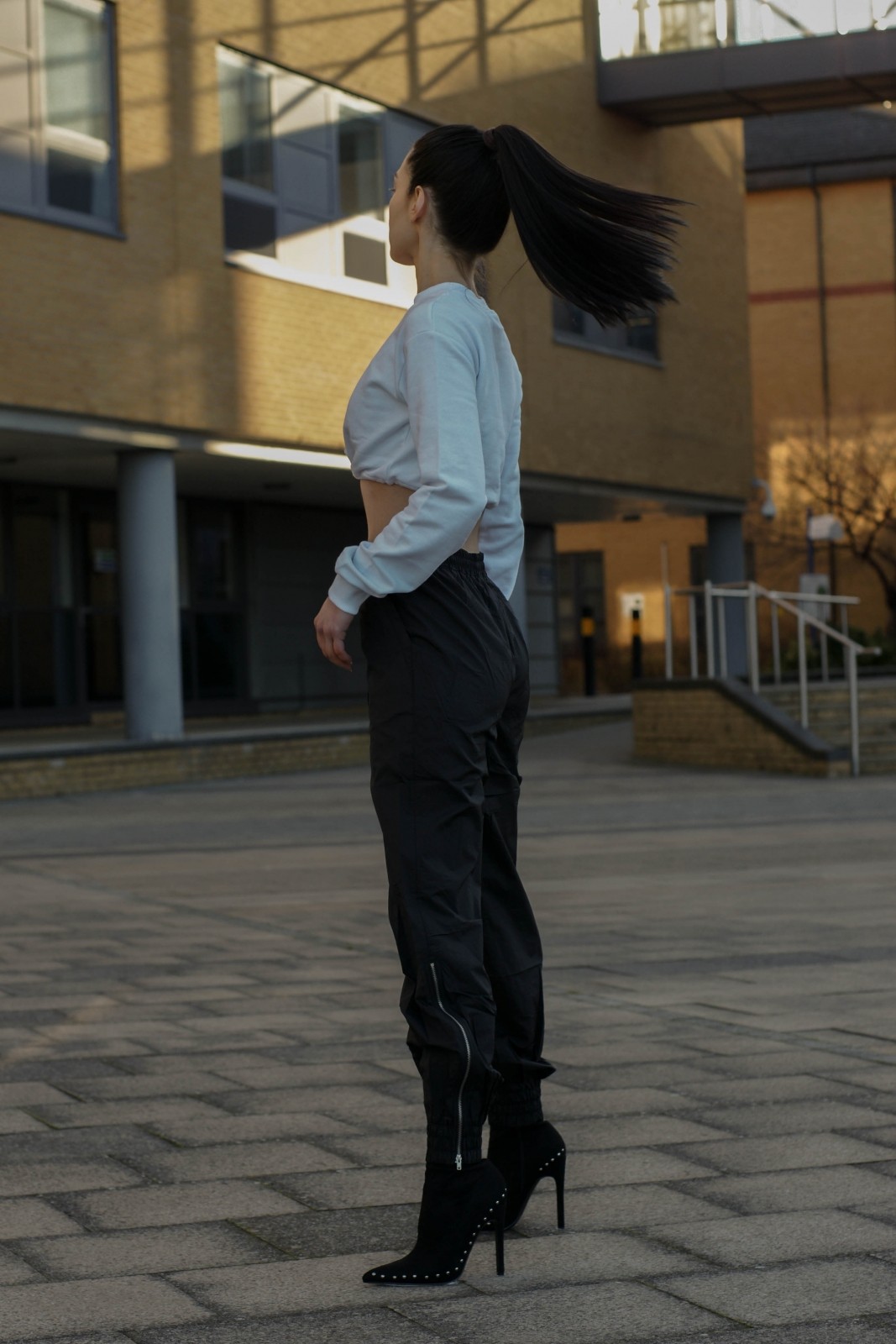 I thought that by wearing an outfit that I had never even thought of trying before would not only take me out of my comfort zone but also challenge me. A new challenge, whatever that may be, is always a good idea. It makes you think outside of the box and explore various options. So, the next time you want to try something new, why not start with a new outfit combination?
Okay, maybe track pants with crop sweatshirt could be a bit too much for you, but you know where I'm heading with this. Trying clothing that you've never thought of wearing before! Maybe it is a faux leather skirt, a bright red leather jacket or a colourful plaid coat. Whatever it is, just try that outfit that will get you out of your comfort zone!
SHOP TRACKSUIT PANTS

By Challenging Yourself, You'll Become More Confident
Wearing an 'out-of-your-comfort-zone' outfit will not only challenge you but also boost your confidence! Just consider it for a moment. If your deepest worry was how you'd look in a cropped sweatshirt, then overcoming other fears might be as easy as 1-2-3!
Believe it or not, some people would actually prioritise wearing a specific outfit far above trying sky diving, for instance. By overcoming the fear of wearing a bright green pair of track pants, for example, you will soon realise that you are capable of rising above other challenges as well.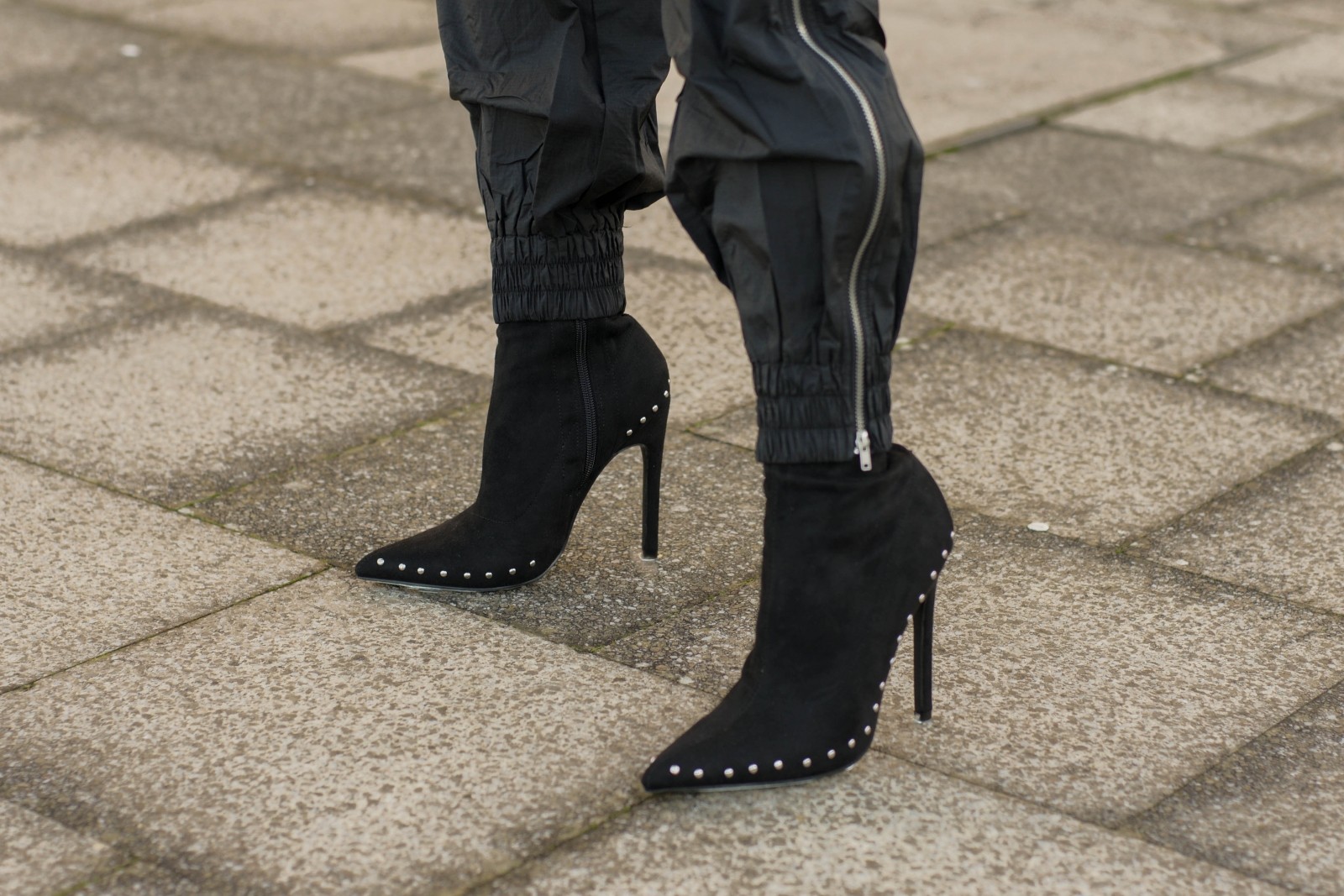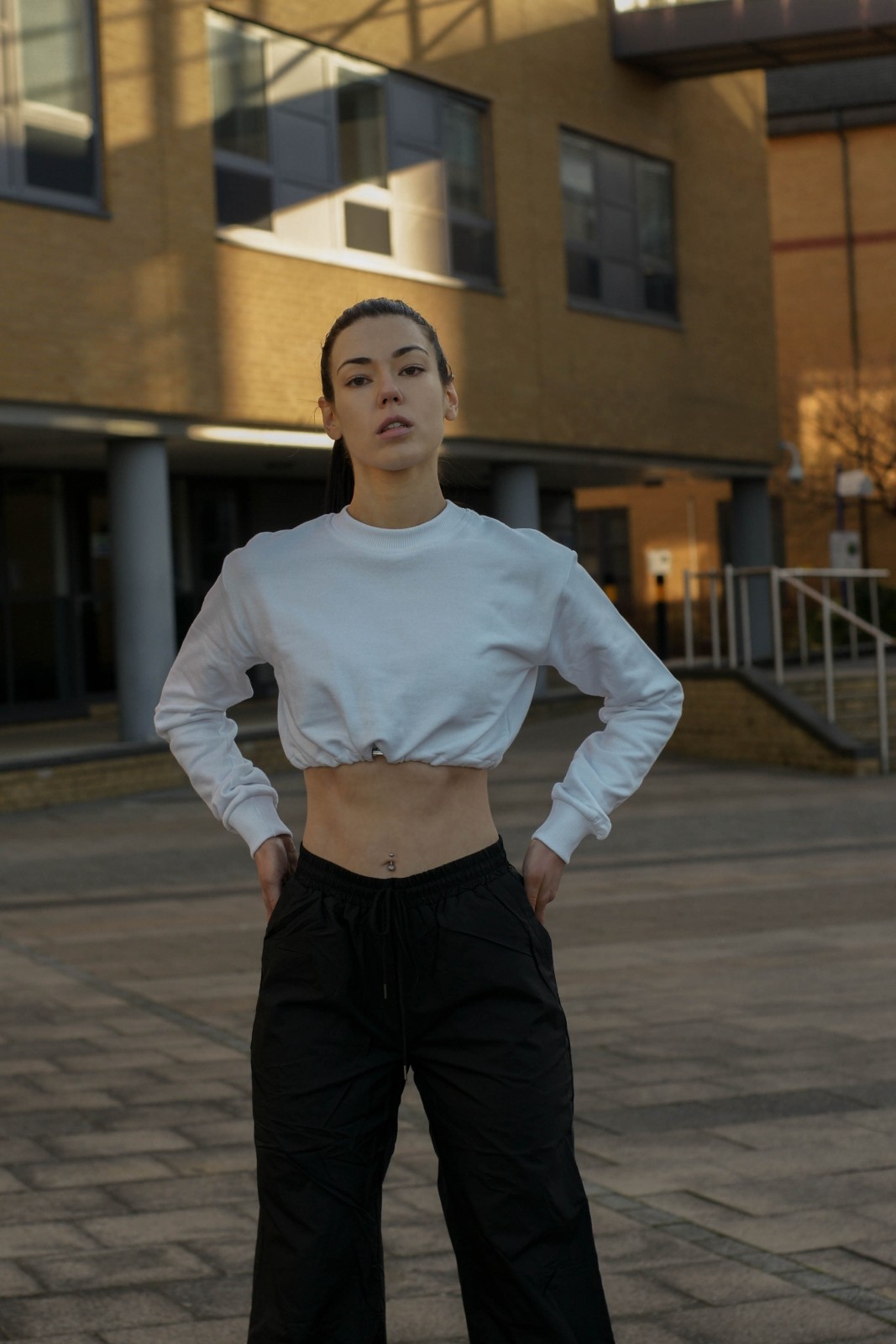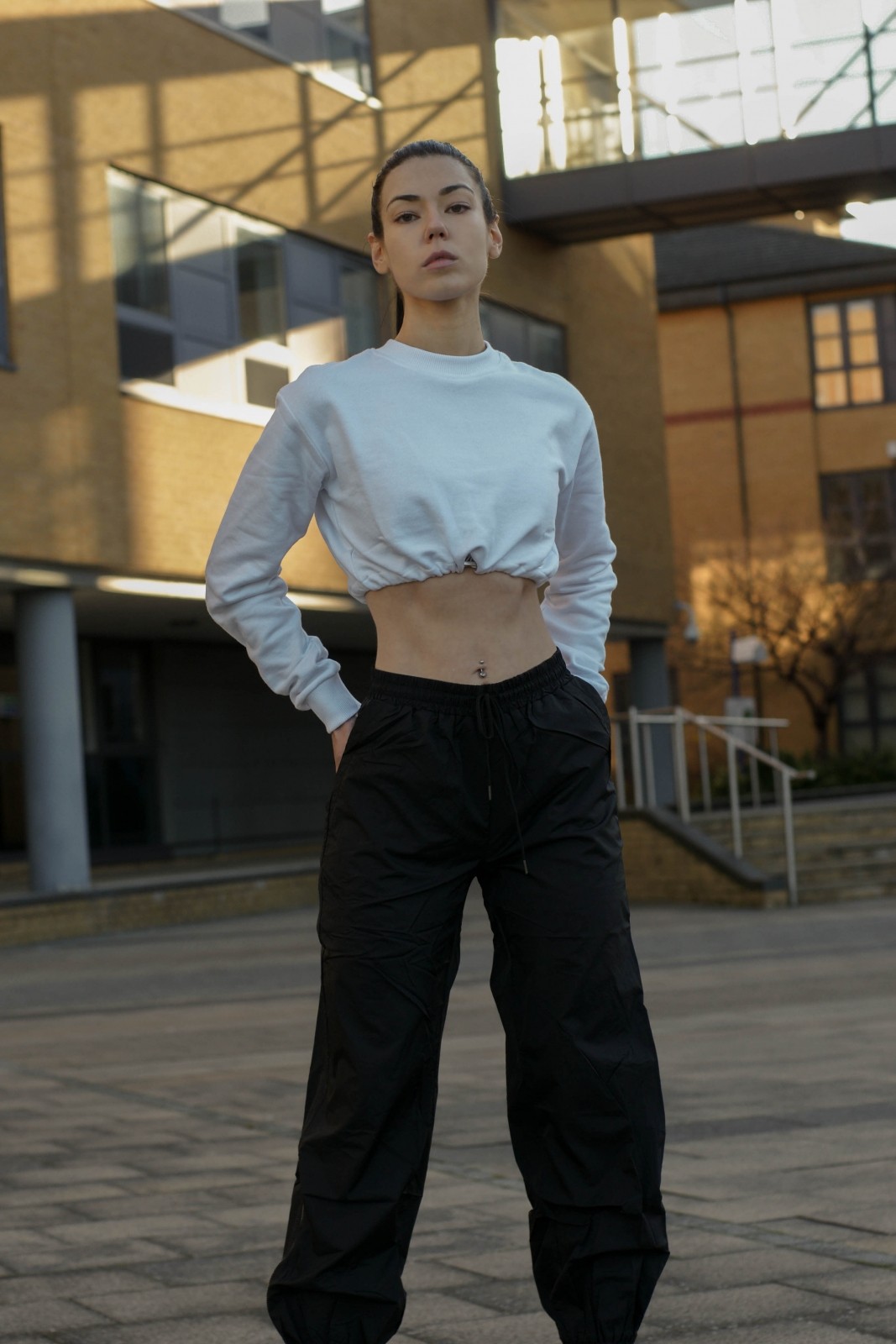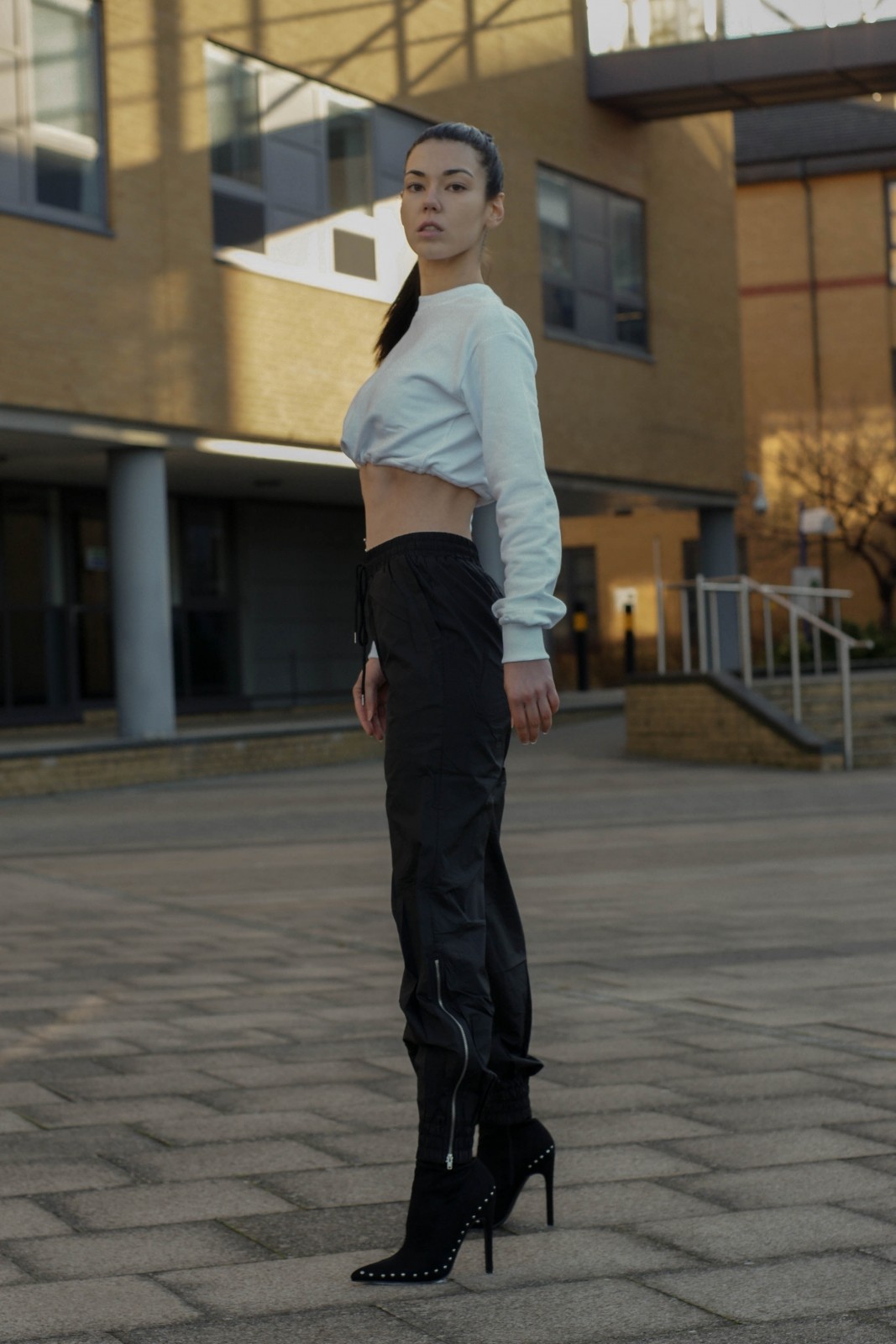 As funny as it may sound, that is why I like to try new outfit combinations. Also, that's why I tried this specific cropped sweatshirt and tracksuit pants outfit. To challenge myself. To see that nothing bad would happen. Yes, people might laugh or find it odd that I'm willingly freezing to death just to take some pictures. However, I wanted to face this difficulty. And you know what? If you act like you know what you're doing and you look confident in what you're doing, no one will question your choice of clothing.
SHOP CROPPED SWEATSHIRTS

Actually, as it turned out, people were quite amused. Nobody questioned why I was dressed like this. Moreover, they seemed to have thought they were in the middle of a photoshoot for a magazine or something.
I hope you've enjoyed this post and the pictures. We wanted to try something new and different. Even though I might look very serious, I was literally thinking of Beyoncé and what poses she would do! I also hope you have grasped the deeper meaning of this post.
What do you think, are you going to try the cropped sweatshirt and tracksuit pants outfit?
For more of my outfits, click here!
YOU MIGHT ALSO ENJOY:
3 Quick Tips To Successfully Style Vinyl Trousers
4 Quilted Jacket Styles To Fall In Love With
Must-Have Item Alert: The Checked Wrap Skirt