If you've read my previous outfit post about the outfit you need to try, you'd know that I've taken my style experimentation to a whole new level. The decision to start wearing more 'out-of-my-comfort-zone' outfits wasn't easy. Although people around me keep telling me that I look quite confident, on the inside my anxiety is reaching boiling point. Yet, I think pushing myself style-wise was the best decision I have ever taken! Thus, I've decided to try another outfit combination that a few months ago would have made my head vigorously shaking in disagreement. Behold, the vinyl trousers!
Despite the fact that this is a new style combination for me, I've learned quite a few tricks on the way as to how I can successfully style vinyl trousers! Today, I'll give you the most important 3 quick tips to successfully style vinyl trousers. Hopefully, you'll find these tips useful!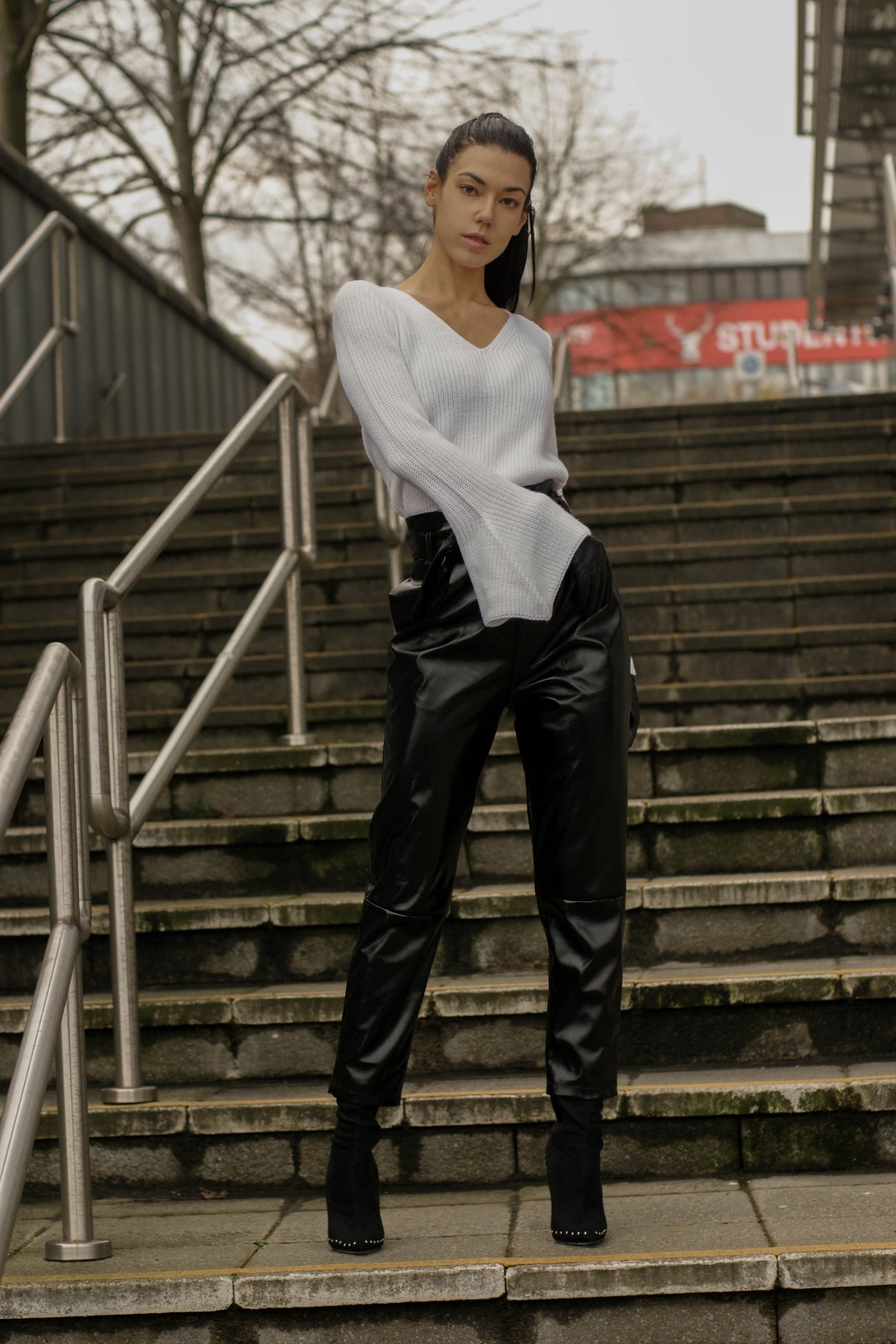 High Waisted Vinyl Tapered Trousers (similar) | V Neck Crop Jumper With Flared Sleeve | Black Studded Heeled Sock Boots
# Tip 1: Choose The Right Vinyl Trousers Style
If you haven't guessed this one yet, the first and foremost important tip has to be choosing the right vinyl trousers style. An appropriate style can do wonders, whereas the wrong one can turn your special evening into a complete nightmare!
So, how does one choose the right style of vinyl trousers?
The answer is simple: look at your body shape!
If you are pear-shaped, then I strongly recommend going for a pair of high-rise vinyl skinny jeans. The skinnier the better, as you'll be able to draw attention to your booty, making it the centrepiece!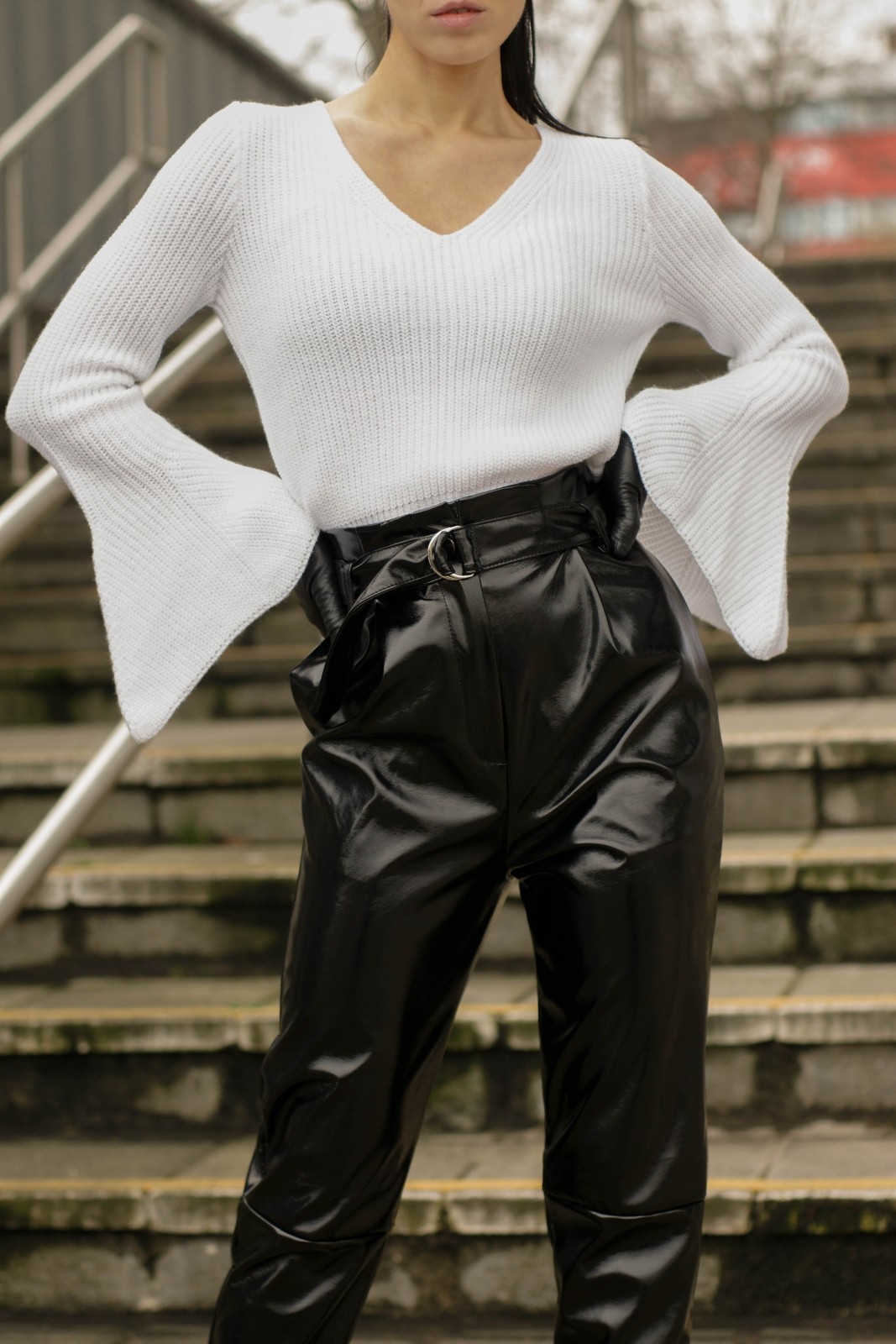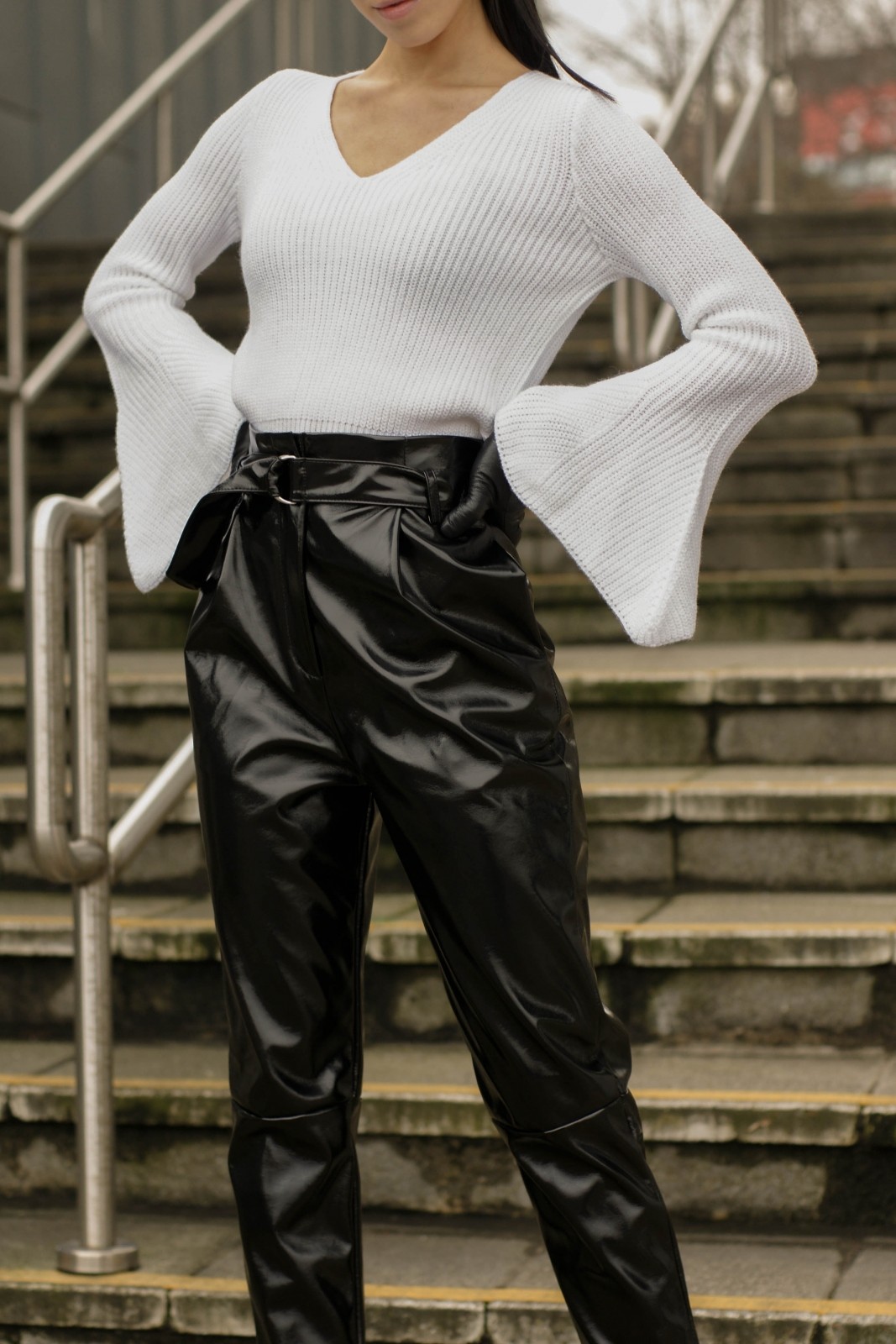 A tapered vinyl pants style is great if you have a straighter body shape. Also, they are perfect for those in-between moments when you're deciding whether you should go for a slim or a more relaxed fit. Moreover, tapered vinyl styles go well with both high heels and trainers!
Mid-rise straight fit vinyl trousers are among the most popular styles out there, assuring to fit most body shapes. You can wear them with a classic white T-shirt or an oversized sweater. High-heels and trainers also fit quite nicely with this particular style.
SHOP VINYL TROUSERS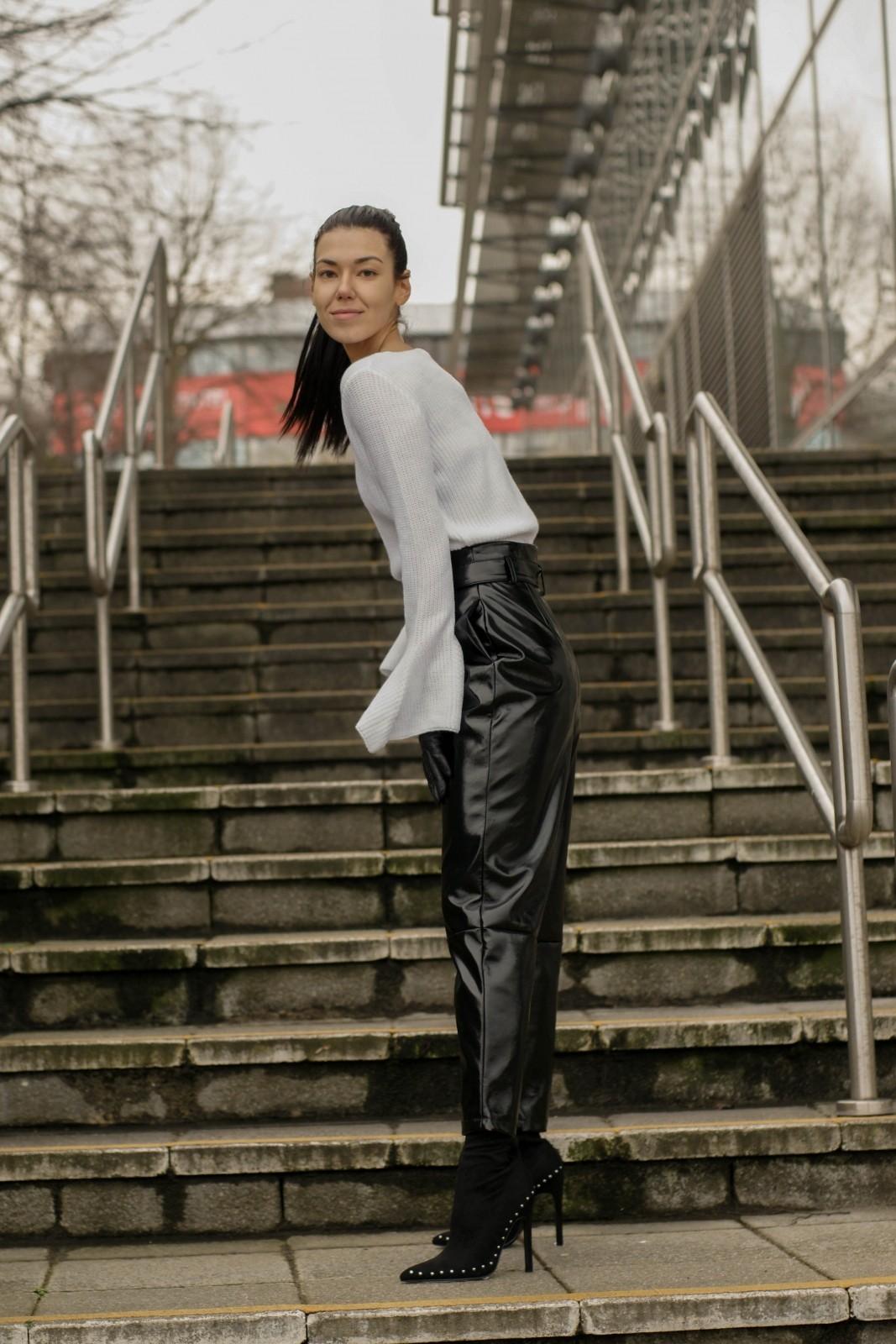 # Tip 2: Add A Pop Of Colour
The second most important and quick tip to successfully style your vinyl trousers is to add some vibrant colours into the mix! Yes, I know, I hadn't quite delivered on this one, as you can see. This was my first attempt at styling a pair of vinyl pants, so I think I can be forgiven. Nonetheless, the next time I decide to opt for a vinyl look, I'll definitely be switching things up by including some bright colours!
For instance, I would most definitely swap the white jumper for another colour. And I think so should you! Instead of your regular palette of colours like white, black, grey, etc, why not opt for something brighter? Something like this v-neck red jumper would successfully accentuate your vinyl trousers even more!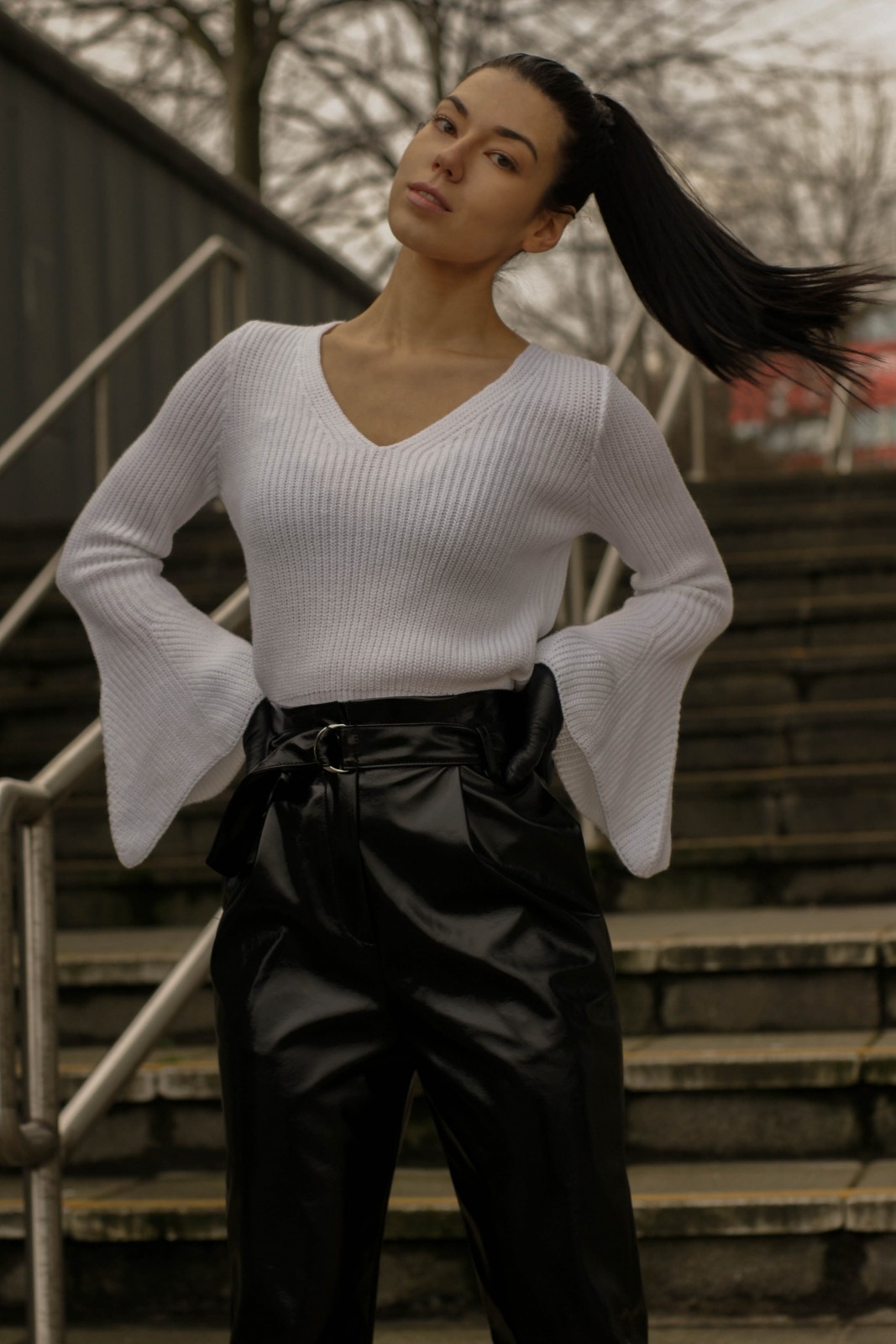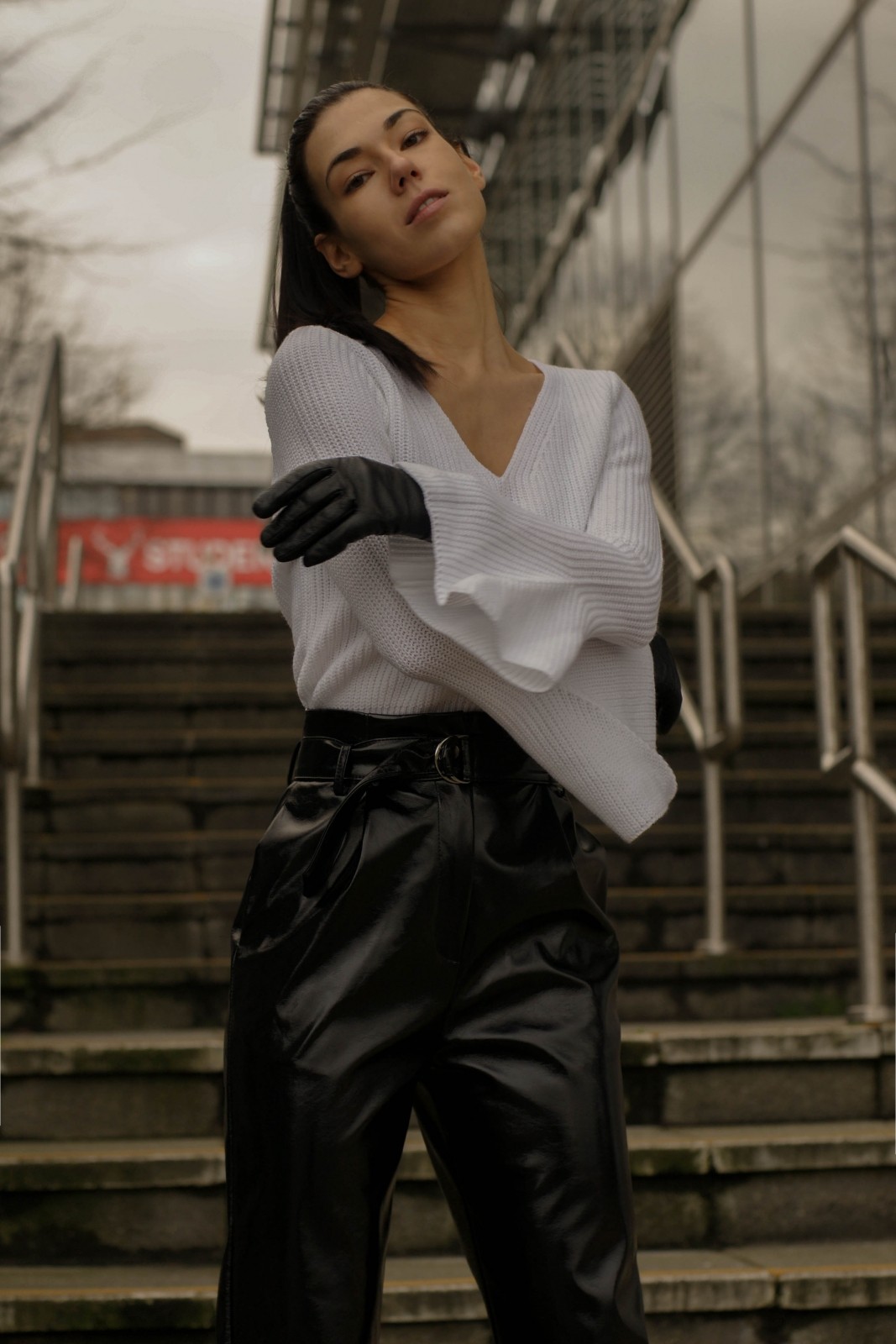 If you don't want to attract attention by wearing a big bright red sweater, style your vinyl pants with a pair of colourful leather high-heels! If you don't want to sacrifice your comfort, then the easiest way to include a bit more colour is by adding an accessory. Whether it is a clutch or big earrings in bright bold colours, it will certainly elevate your vinyl ensemble.
SHOP MORE JUMPERS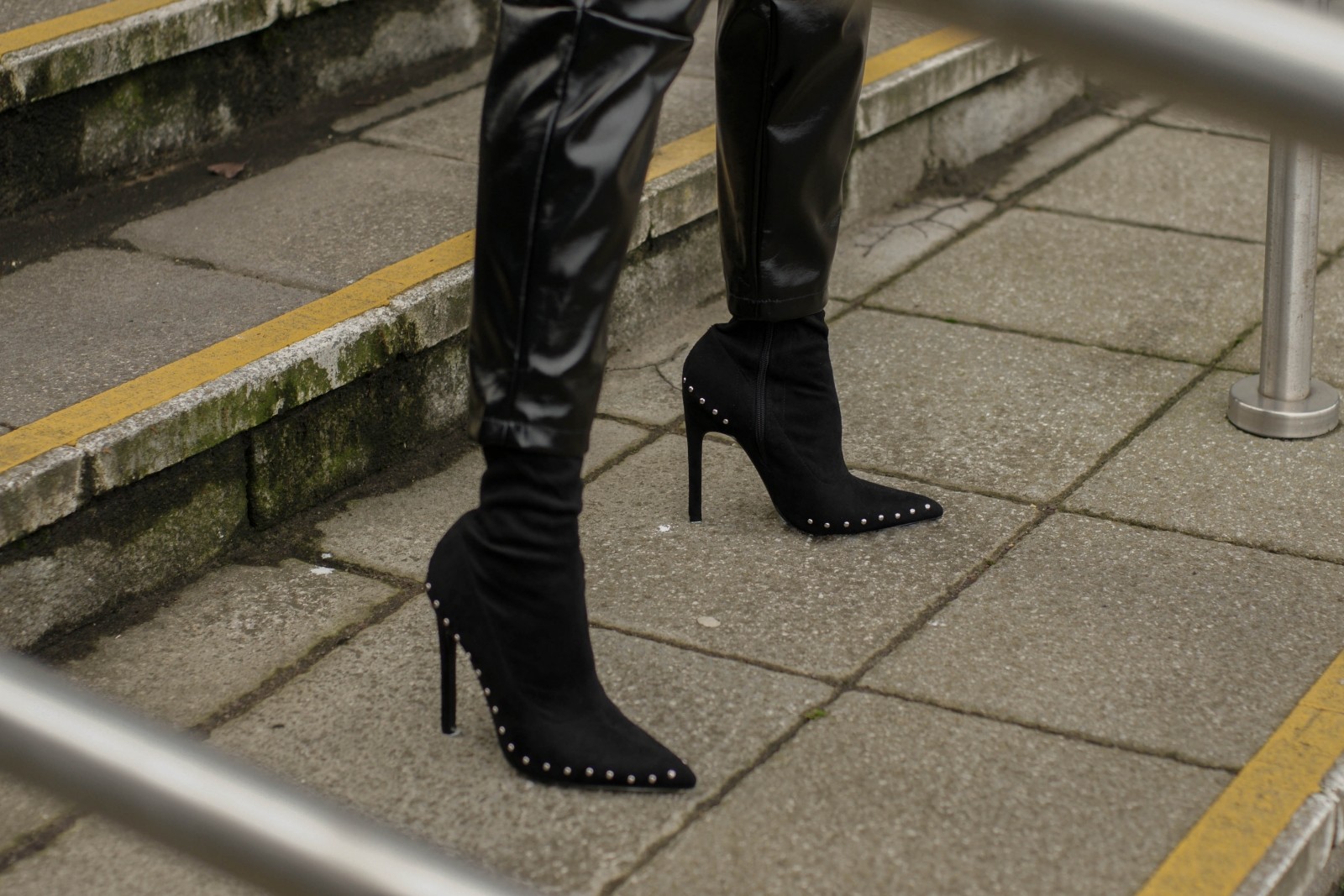 # Tip 3: Just Have Fun
The simplest and quickest tip I could give you at this point is to have fun! Vinyl trousers can be very tricky to wear. Not only do they immediately attract attention, but they can also be pretty uncomfortable. Remember that episode from Friends when Ross had a sort of middle-aged crisis and started dating a young student? To match her personality (and years!) he decided to buy a pair of leather pants! Consequently, he was sort of glued to them while being stuck in the girl's bathroom…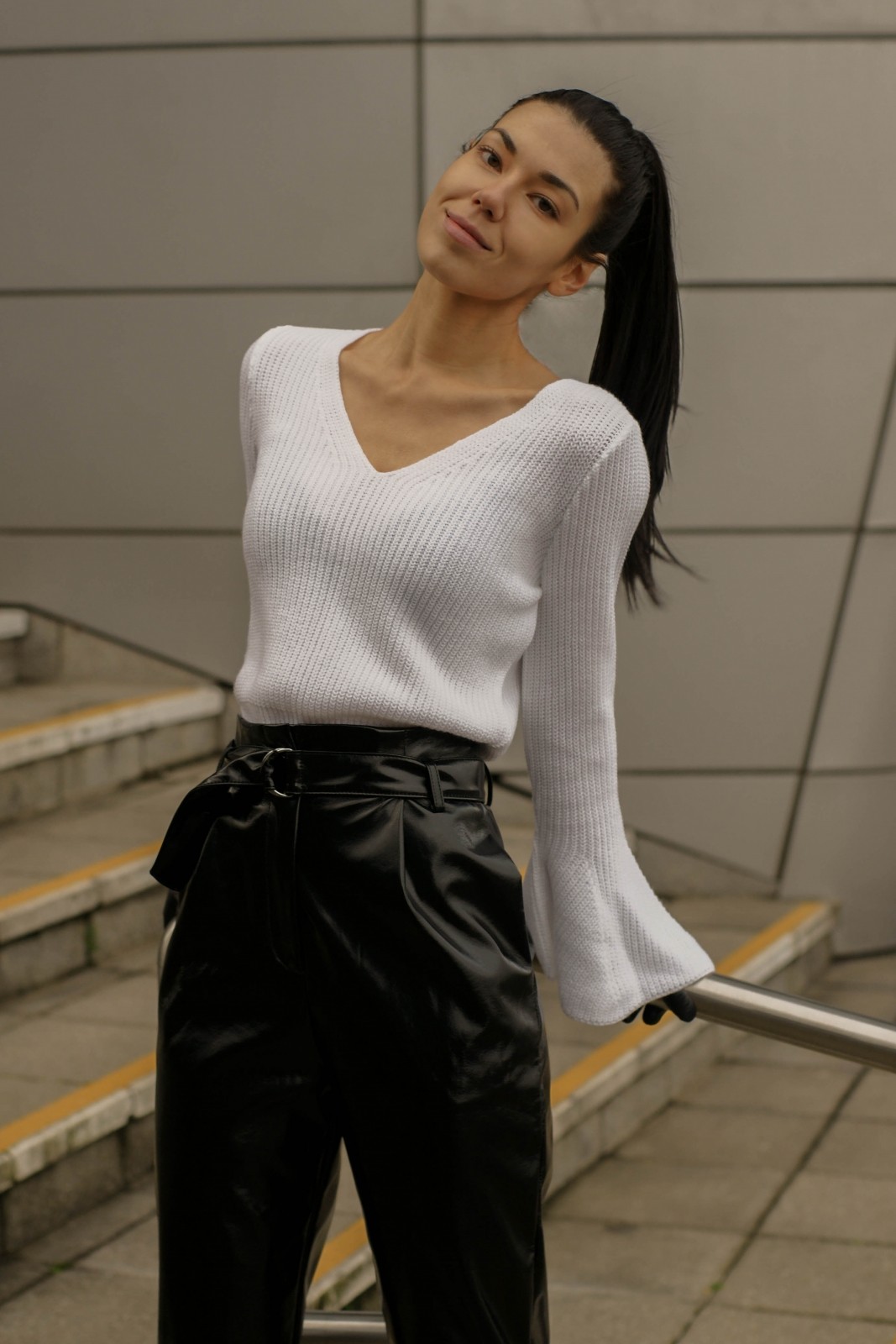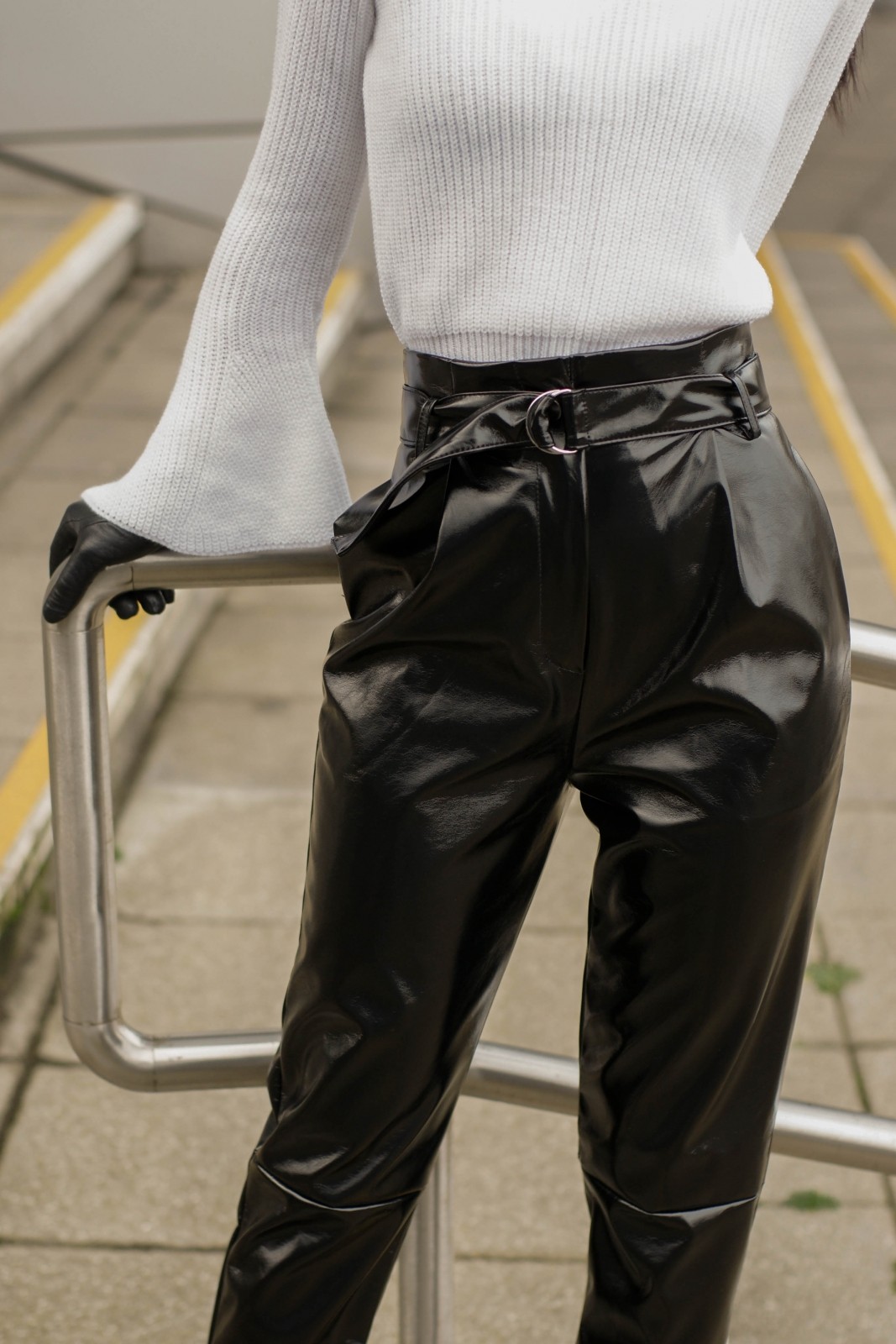 Well, that could easily happen to any of us while wearing our hot pair of vinyl trousers. In this case, the most important thing we could do is to shake it off! If you don't feel comfortable wearing this type of pants, just don't do it.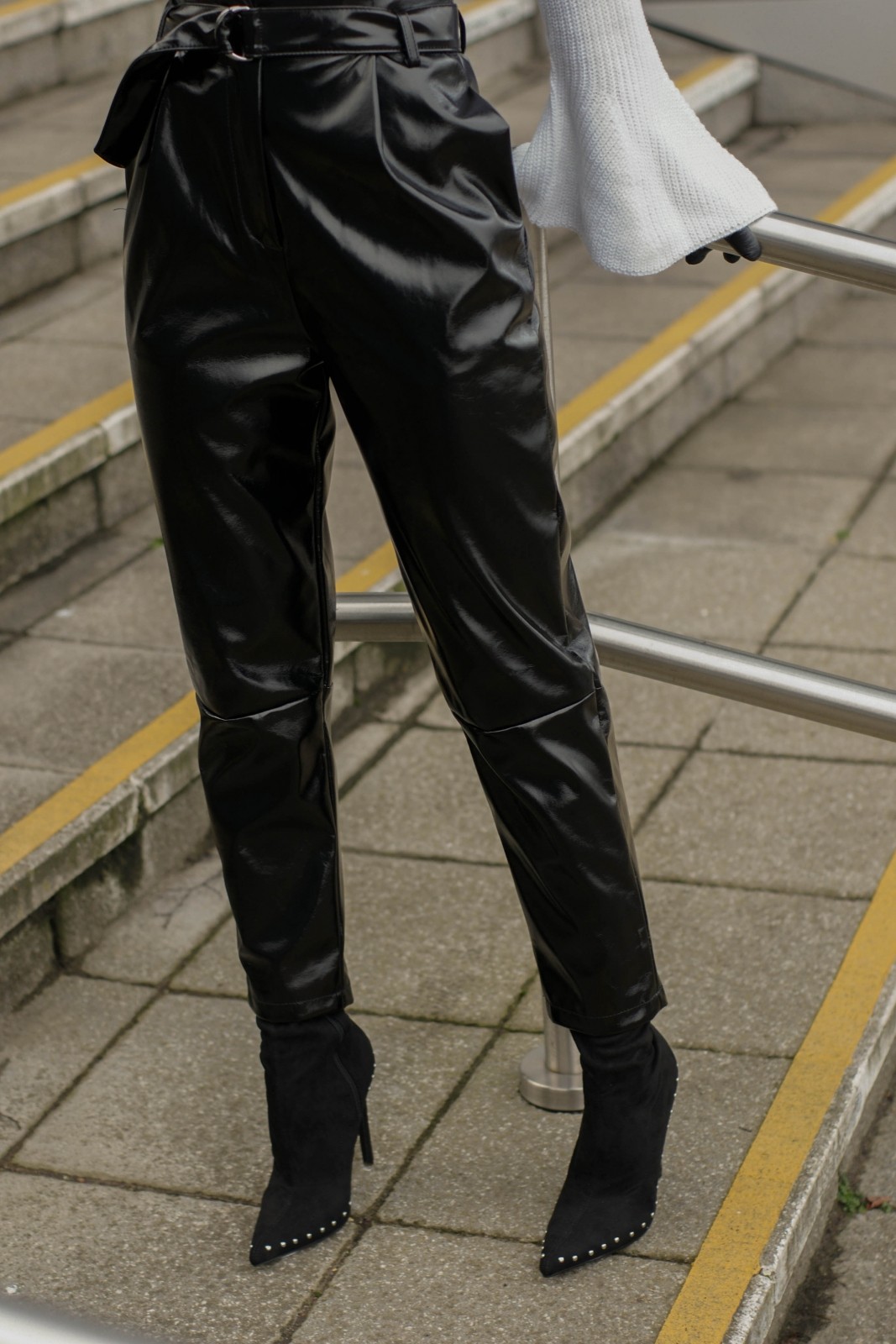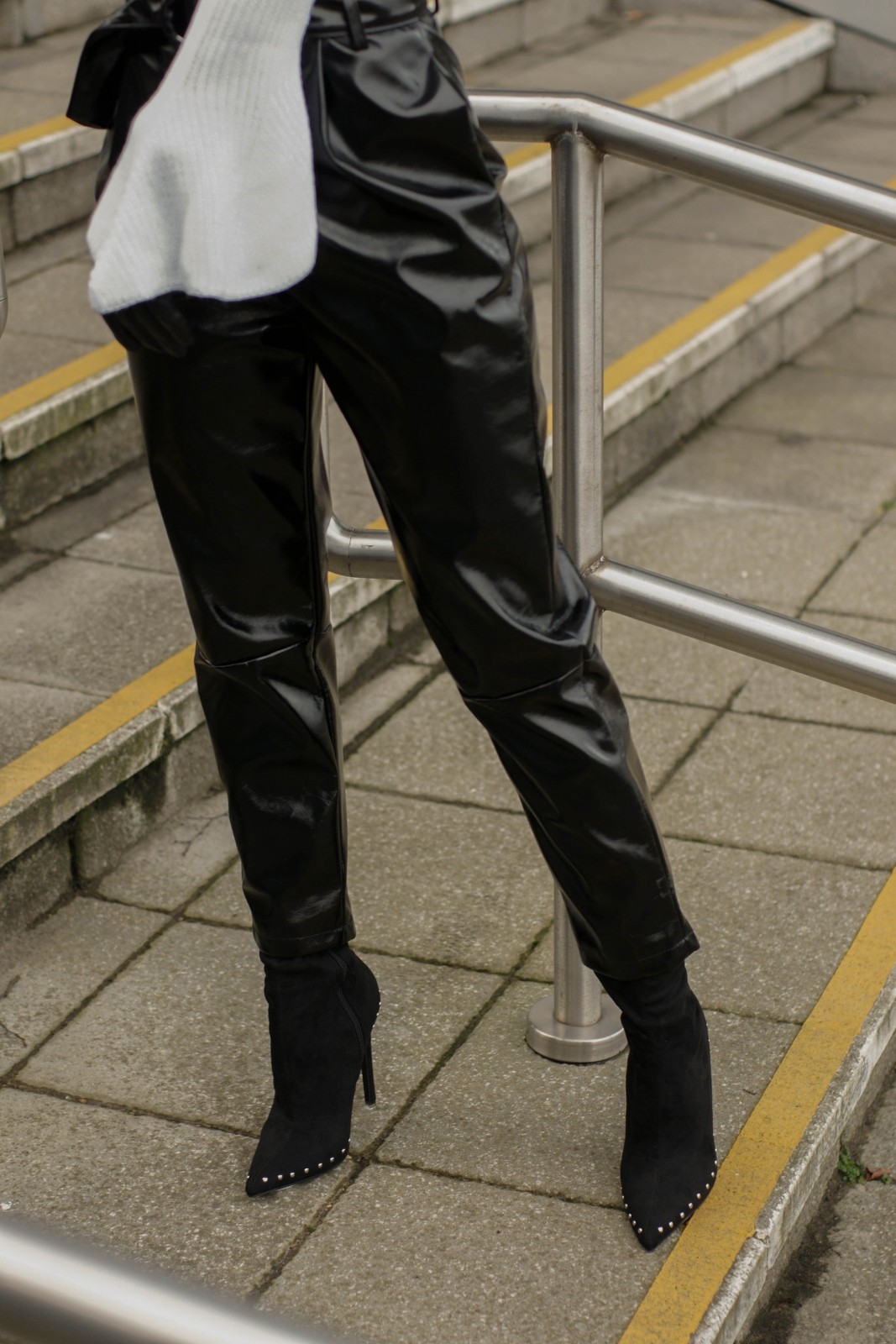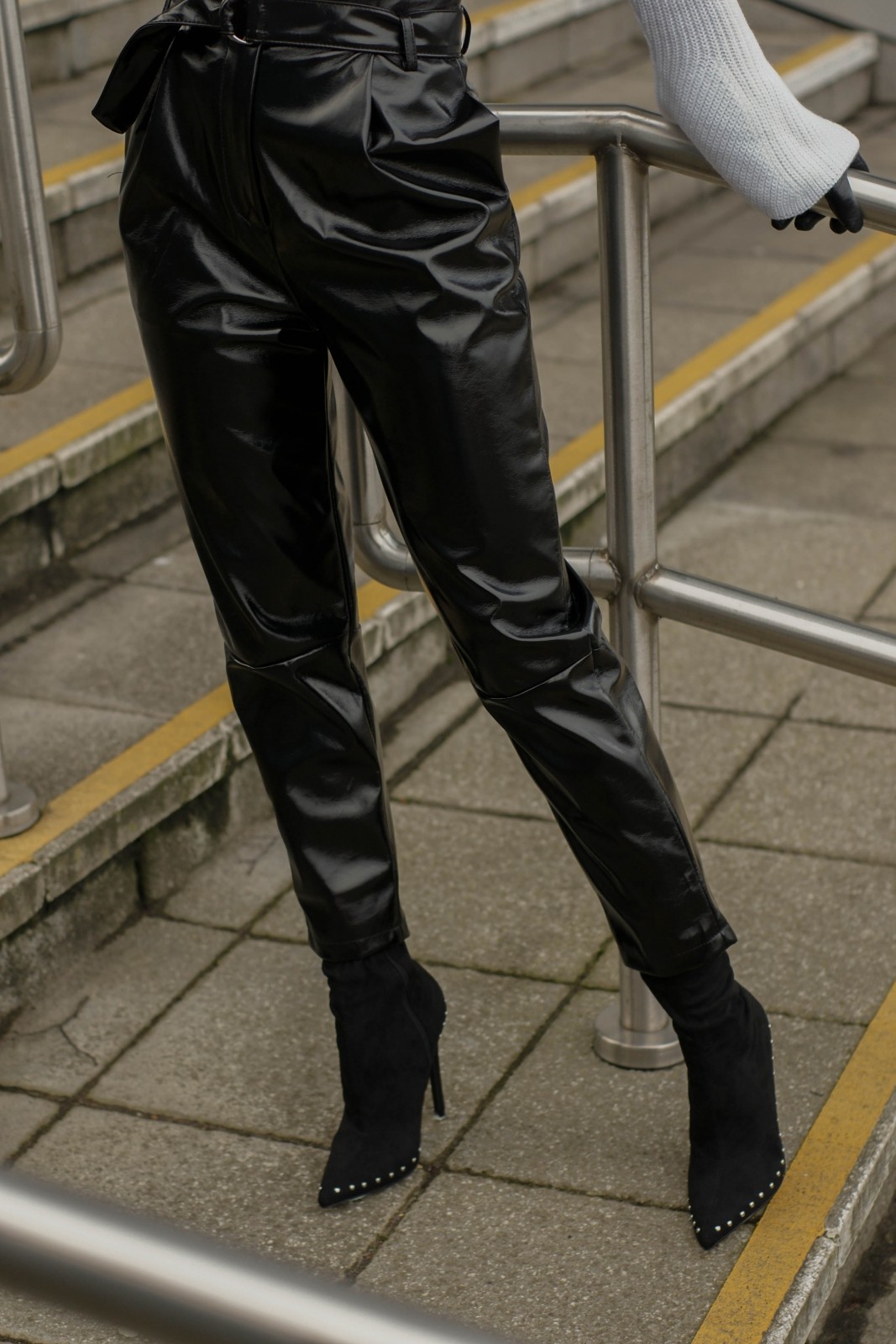 Personally, I wanted to try something new and different. In the end, I really enjoyed this vinyl look and I would most definitely wear it again. Hopefully, my 3 quick tips have been able to help in some sort of way!
What do you think of this look, would you give vinyl trousers a try?
More of my outfits here!
YOU MIGHT ALSO ENJOY:
The Red Biker Jacket In My Wardrobe
How To Style A Leather Pencil Skirt
Why Leather Pants Are Still In Style (& You Should Get A Pair!)