Aviator jackets are the perfect outerwear for the transitional periods between fall/winter and winter/spring. It is a must-have contemporary addition to your seasonal assortment. When it comes to picking the right shearling coat, the options are limitless. You can go for a classic aviator style, aka Tom Cruise's 'bomber' jacket in Top Gun, or opt for something more contemporary. Nowadays, the possibilities are endless. From cropped to oversized shearling coats, the choice depends on how you'd want to wear it.  Some styles offer a more casual look, while others present a seamless versatility. If you're wondering whether you should buy an aviator jacket this season, have a glimpse below! If you already have a shearling number in your wardrobe but are struggling with selecting what to pair it with, you're in luck!
Ahead, 3 simple options on how to wear your aviator jacket!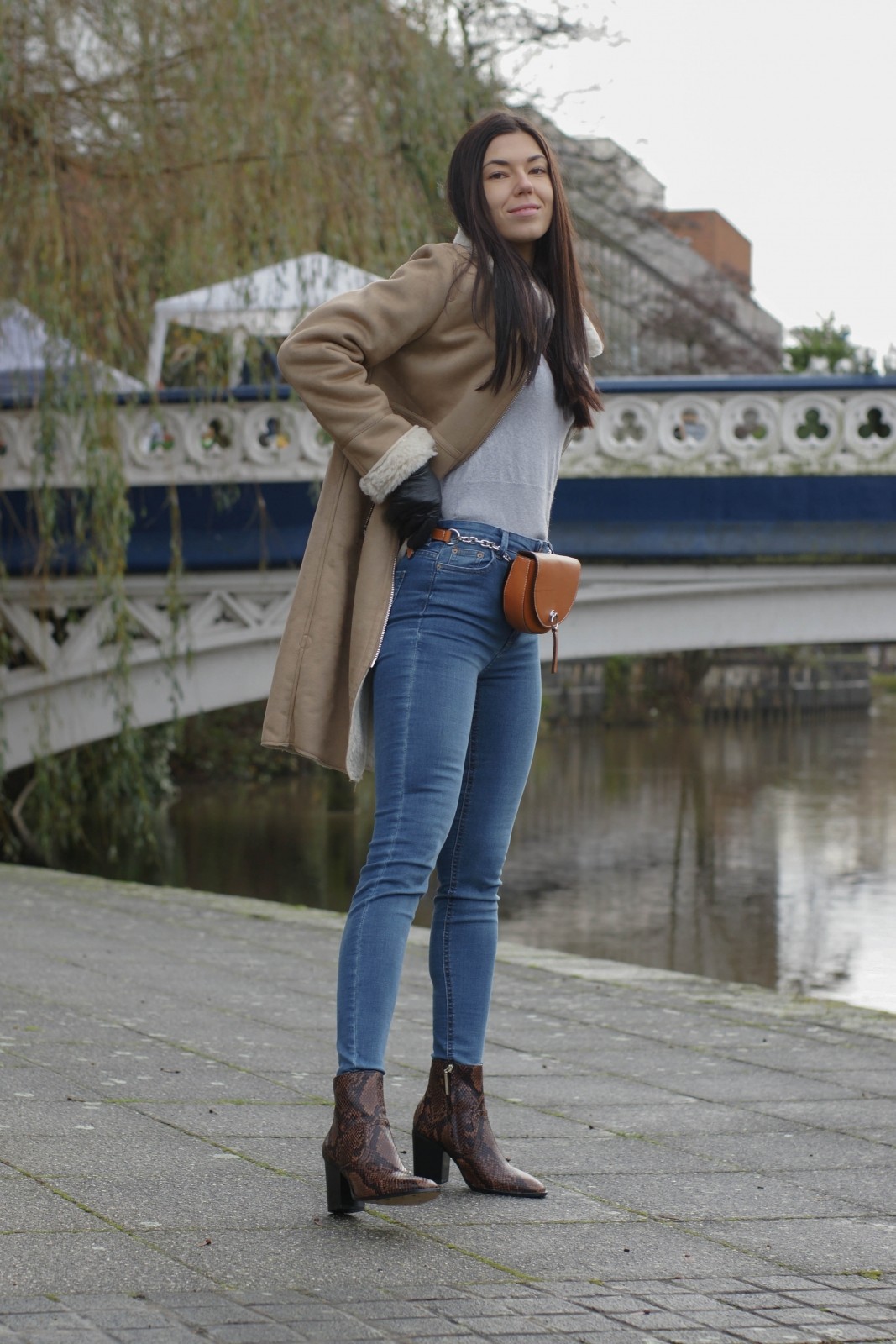 Faux Suede Aviator Jacket (Zara – no longer available!) similar here and here | Skinny High Waist Jeans (similar here) | Grey Wool Sweater | Animal Print High Heel Ankle Boots | Leather Belt Bag
SHOP MORE AVIATOR JACKETS

Your Favourite High-waist Skinny Jeans
Styling an aviator jacket might be tricky for some. However, you can never go wrong with a pair of high-waist skinnies! Take a look at this faux fur aviator jacket and tell me it won't go like bread and butter with a pair of figure-hugging jeans?! The light pinky beige colour is perfect for a daily look. The straight line also makes it look super cosy but not overly casual. This is perfect as it gives you options when it comes to choosing the colour of the jeans. Wear your aviator jacket a lighter pair of high-waisted skinny jeans if you want to achieve a more casual look.
For the evenings during weekdays, go for darker colours, like these G-Star shape high-waist super skinny jeans. They are my preferred choice when I know I'm going out for a dinner or to the next door pub. Darker shades will not only make your legs appear slimmer but also longer! Moreover, you won't be worrying about spilling something on your lap and rushing to the ladies' room to clean it up. Or is it just me?  Best of all, no matter what colour your aviator jacket is in, black jeans will always go nicely!
SHOP HIGH-WAIST SKINNY JEANS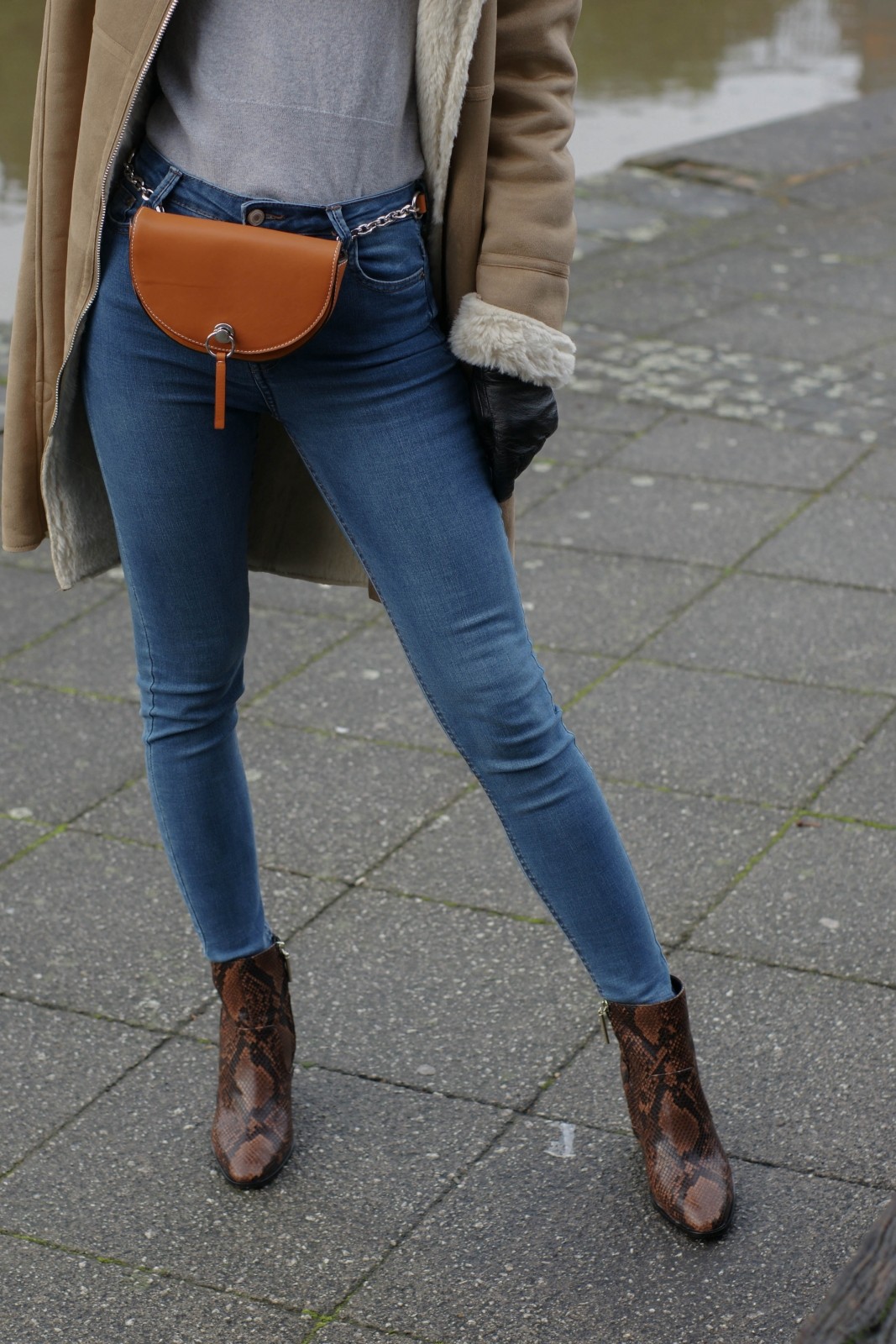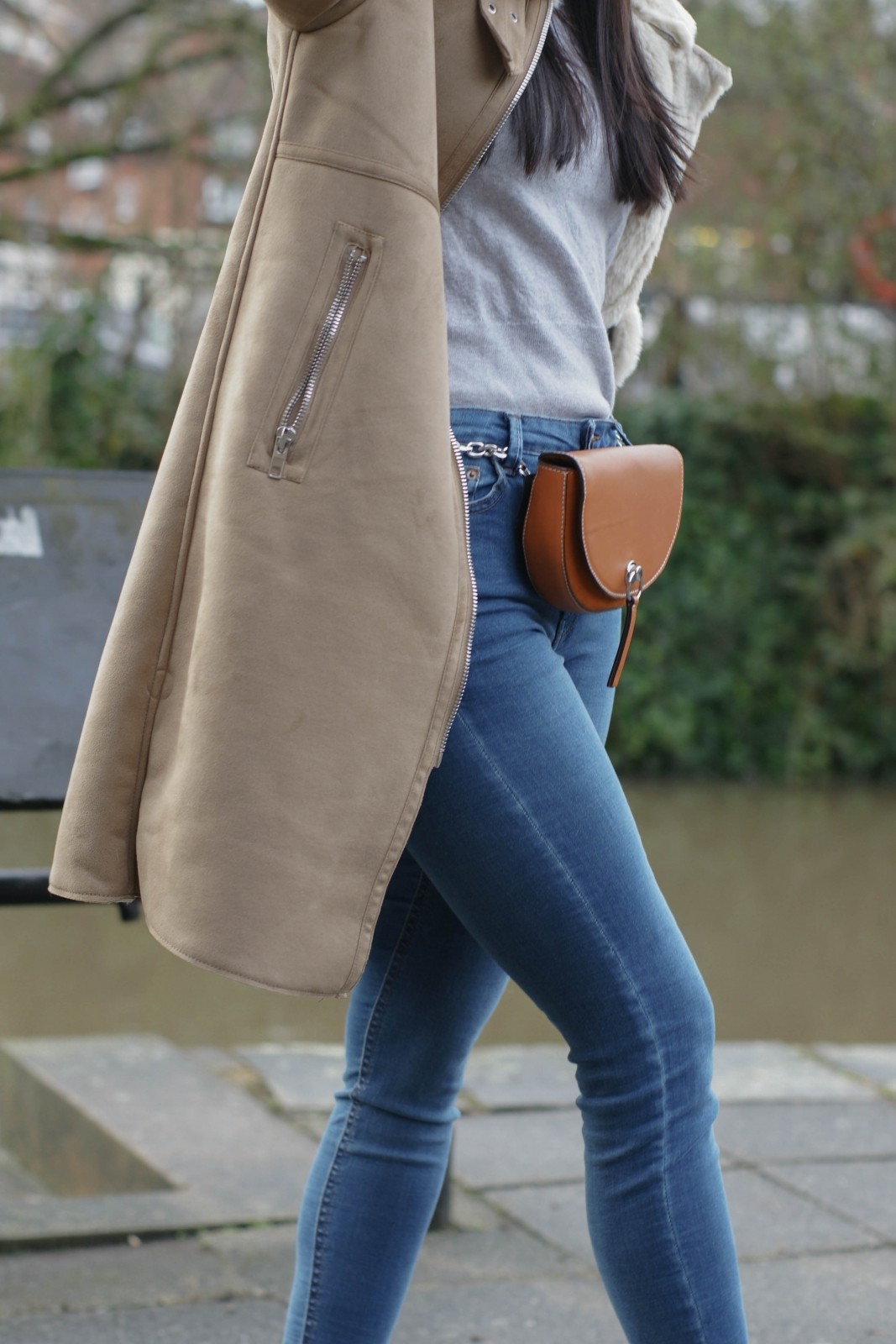 A Pair Of Biker Chick Leather Trousers
I'm really into leather trousers these days, just look at my latest addition of side-strap leather trousers! They are super trendy and versatile. You can wear them with pretty much anything. However, an oversized aviator jacket can seriously elevate your whole look! If you want to achieve that cool streetstyle-biker-chick presence, then this is the way to go. A pair of black leather leggings would be your safest option. This way, you'll not only hide any 'imperfections' (you do realise you're perfect, right?!) but also give yourself the freedom to experiment with the colour of your aviator jacket! You can go for dark and beige colours. Or you can go completely mad and get yourself a bright one. The choice is yours!
Also, the skinnier the better! We want that biker chick look, don't we?!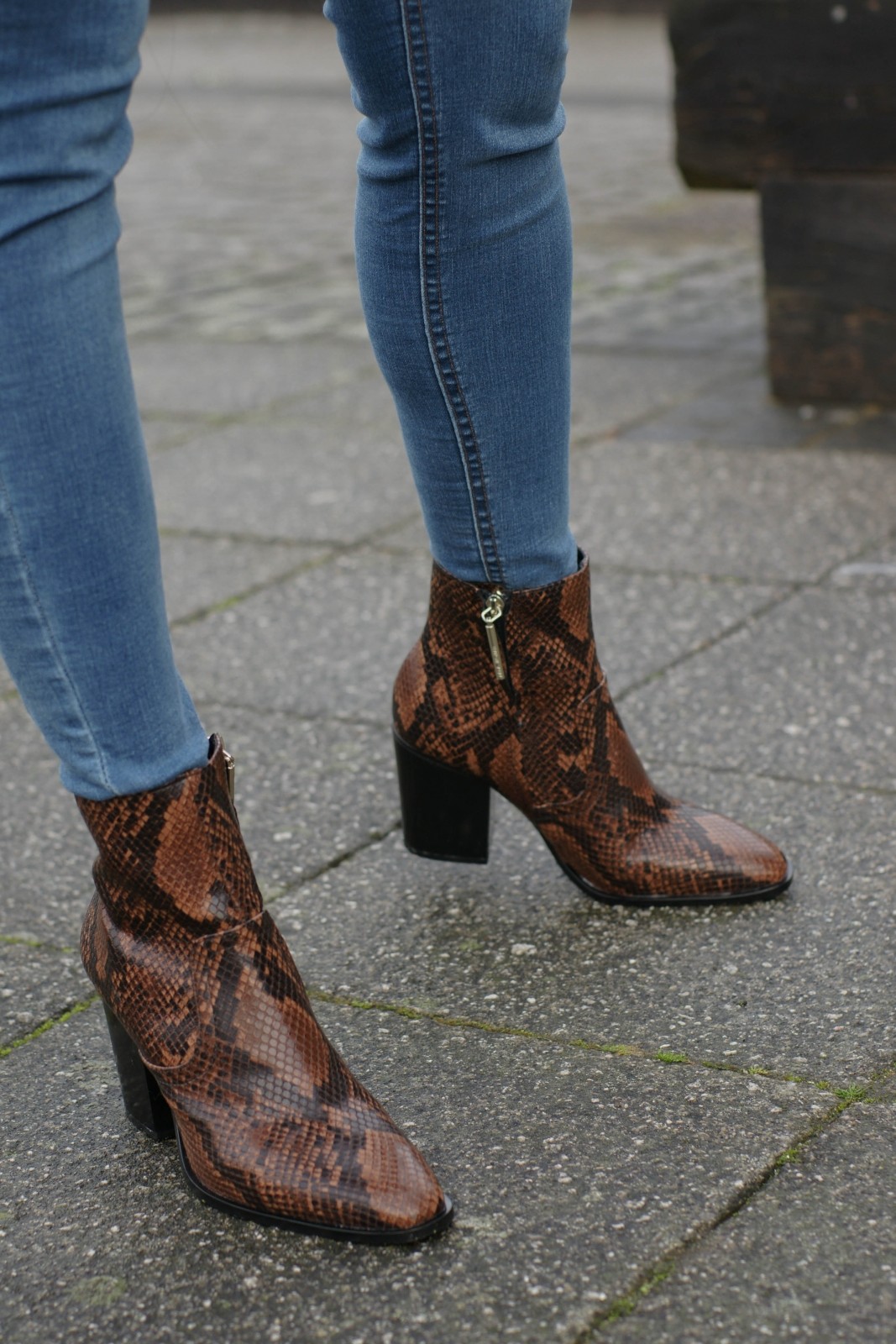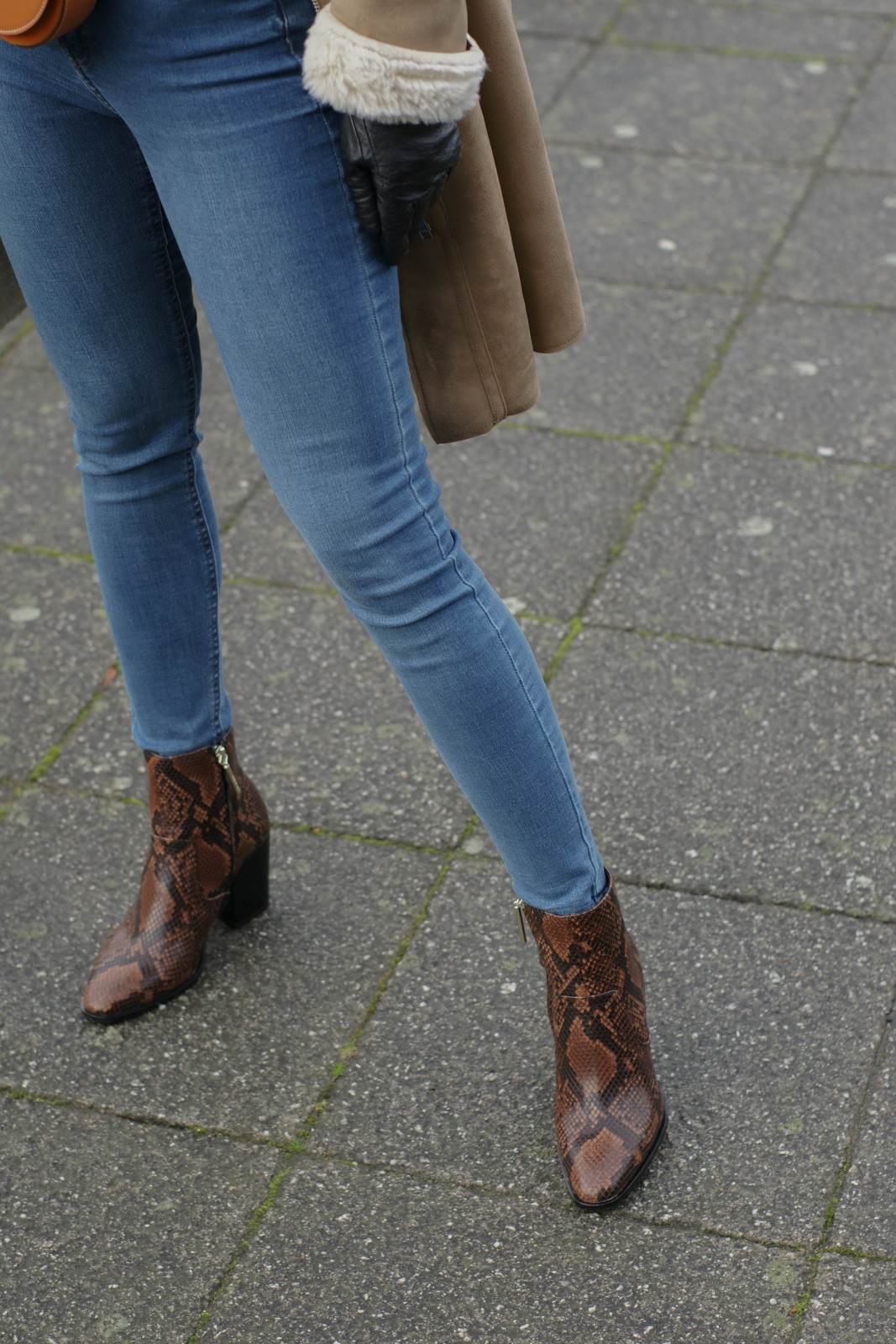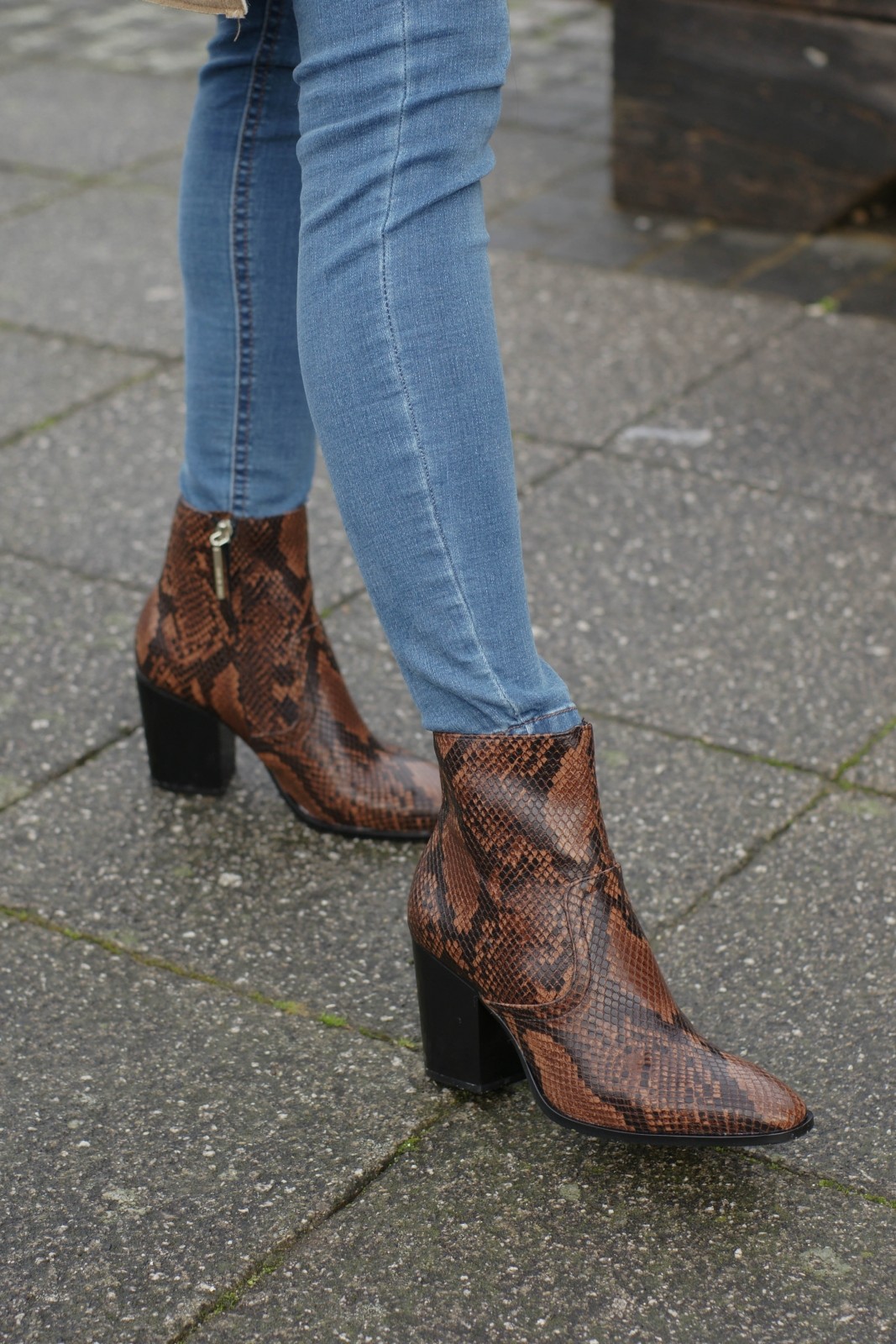 However, if you are really unafraid of experimenting and attracting people's attention, then choose something brighter. Wear these red faux leather leggings with your aviator jacket if you want to make a fashion statement on the streets! With a sleek finish, they have a figure-hugging silhouette without being too skinny. Thus, you'll be comfy and stylish at the same time! Style this leather pair with a black oversized shearling jacket and sleek ankle boots to achieve that cool girl look.
SHOP LEATHER TROUSERS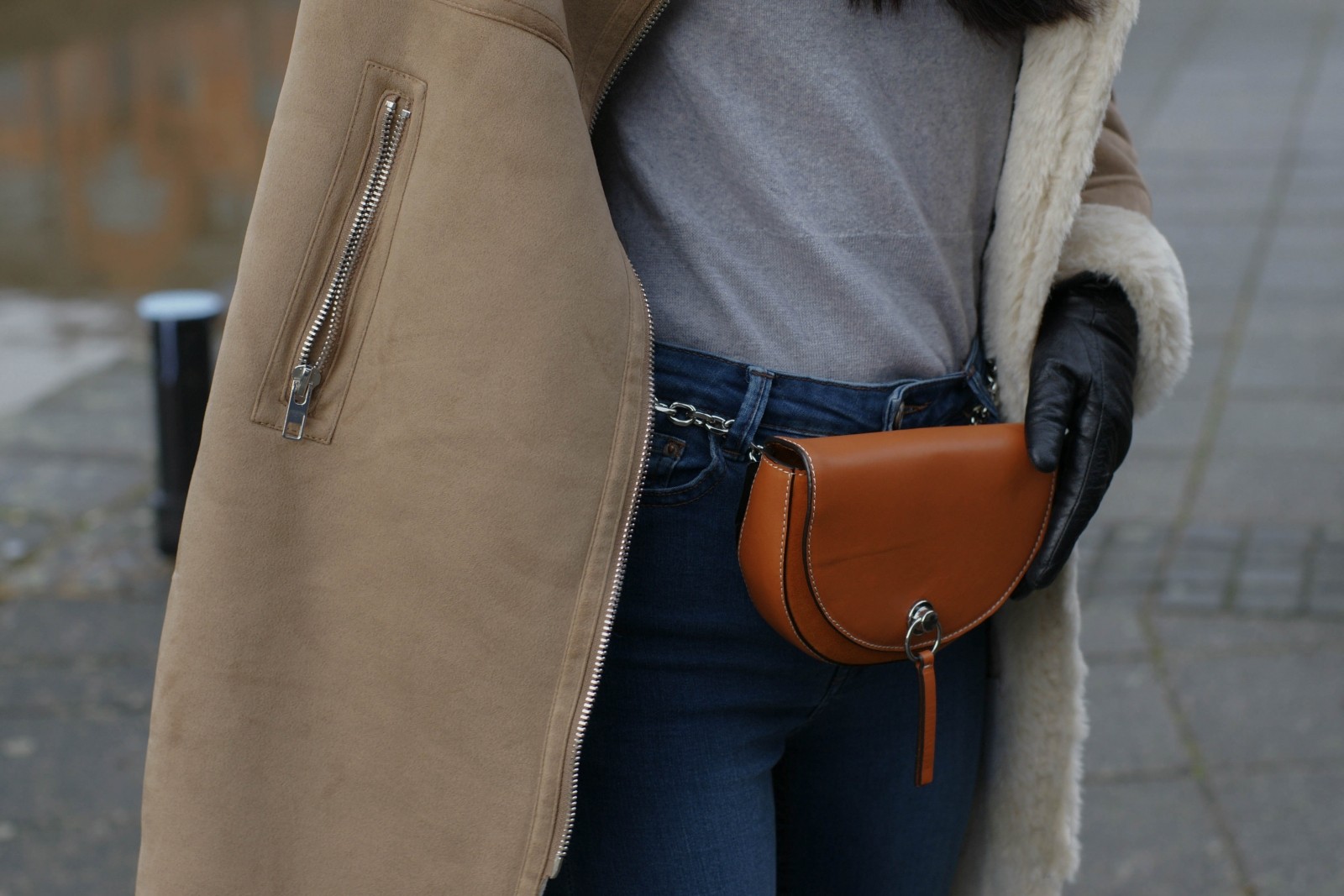 The Comfy Jumper Dress
Now, this option is the ultimate comfy choice! Wear your aviator coat with an oversized jumper dress for the comfiest look of your life. Be careful though, you might as well fall asleep while you're on the subway, or just sitting on the bench in the park. Oversized jumper dresses are not only comfy but also incredibly warm! You'll be surprised at how warm a knitted dress can be. Some wool styles can keep you even warmer than a pair of jeans. However, you can always put an extra pair of leggings to beat those dreaded winter chills.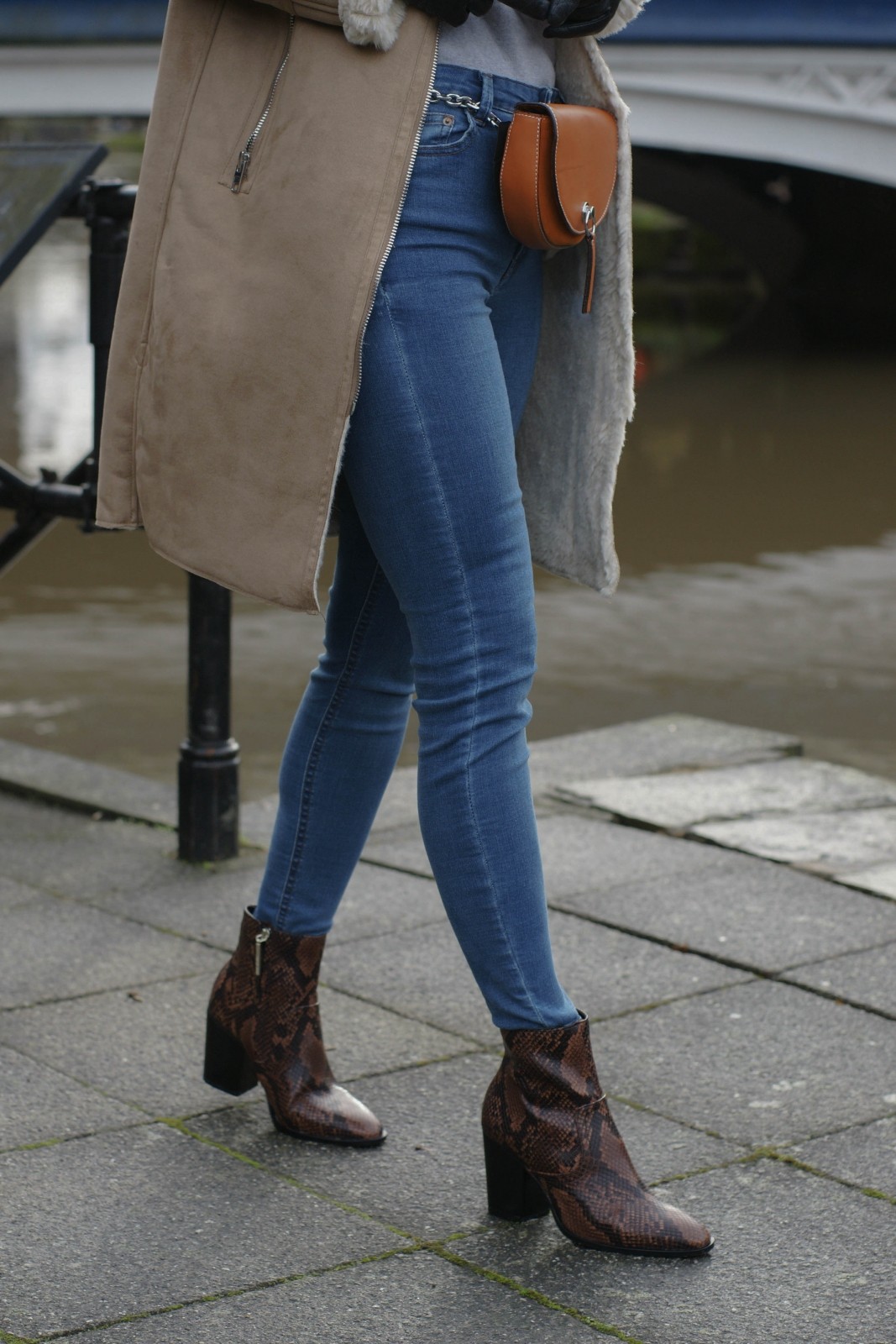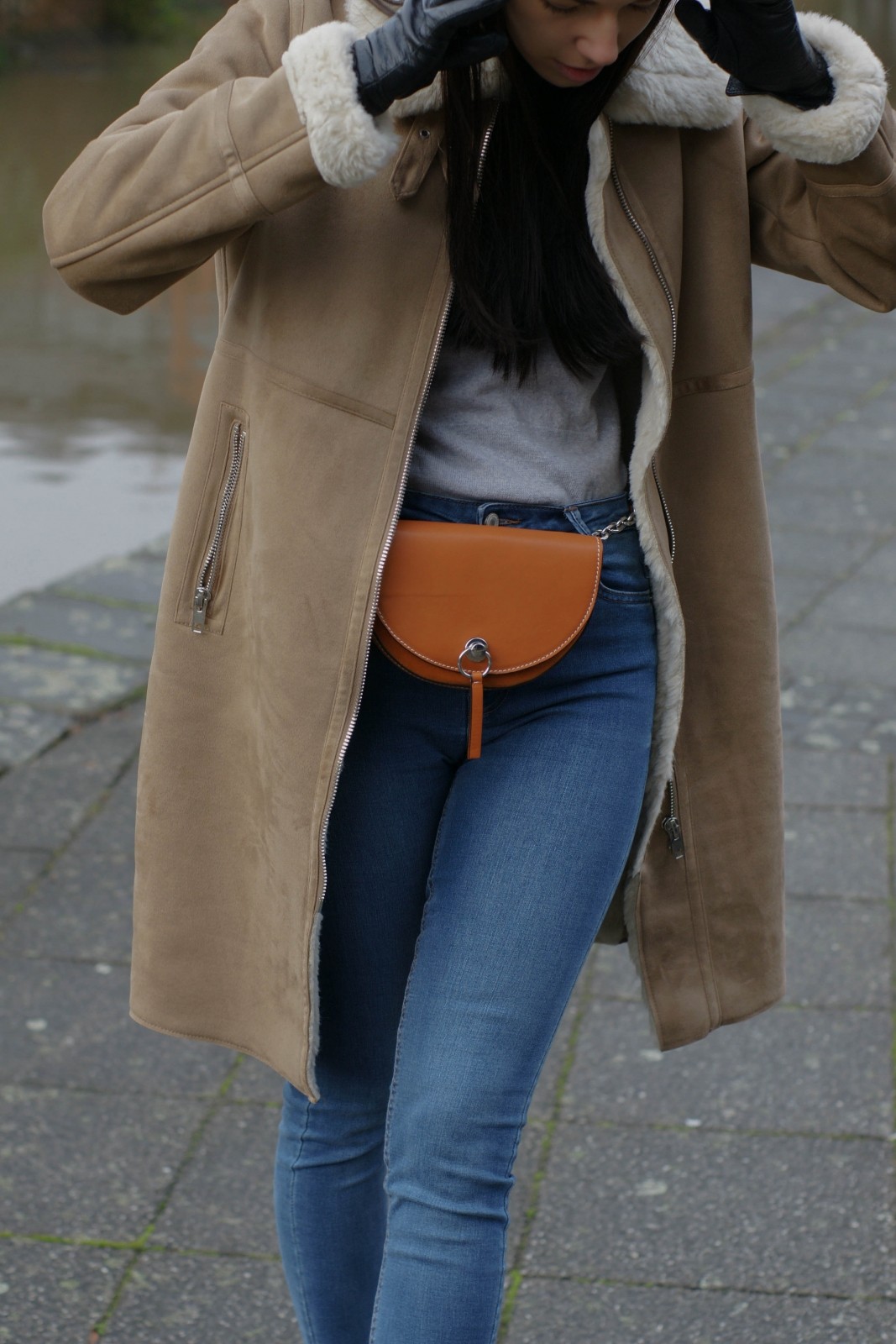 If you do decide to select this option, the length of the aviator jacket is extremely important. If you want to be more casual and rock 'n' roll, opt for a cropped shearling coat. A cropped jacket will also go perfectly with a pair of ankle boots. For a chicer look, I would strongly recommend an oversized A-line aviator coat. Opt for a neutral colour and pair it with an ankle-length jumper dress. Put on a pair of over-the-knee boots and you might as well go to the next fashion week, even uninvited!
SHOP JUMPER DRESSES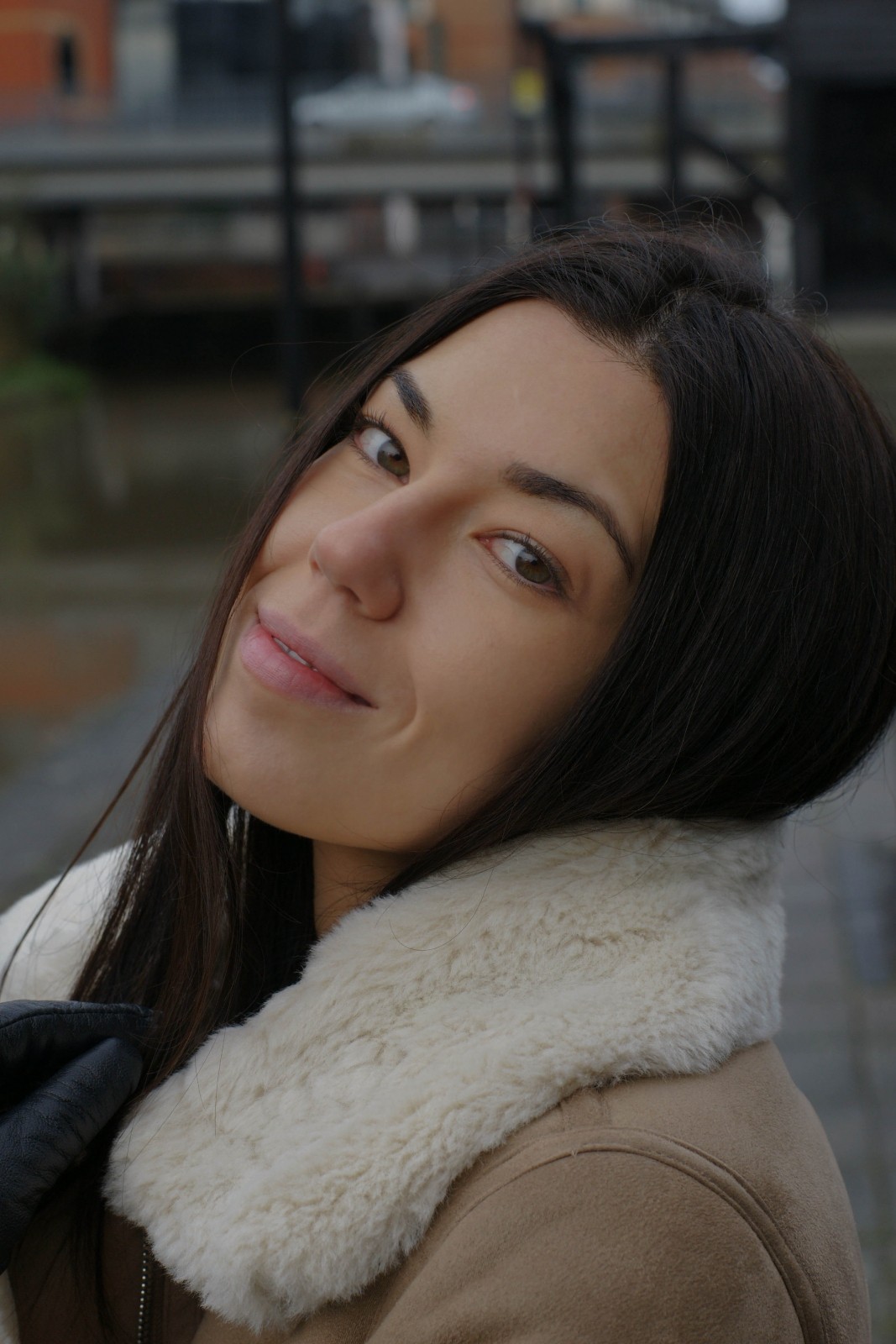 How would you wear your aviator jacket?
Check out the style category for more inspo!
YOU MIGHT ALSO ENJOY:
2 Reasons To Get A Trench Coat For Spring
How To Style A Leather Pencil Skirt
Why Leather Pants Are Still In Style (& You Should Get A Pair!)
20 Trendy Winter Outfit Ideas To Keep You Warm
The Red Biker Jacket In My Wardrobe