If I was facing the dilemma of choosing between having the perfect hair or blemish-free face, honestly, I would choose the hair. Always! Having a sleek, beautiful, shiny hair has been my main priority since first grade in school. I used to have very thick long locks, ending just below my lower back. When my mom was still alive she was obsessed with this idea of having a real-life doll (in a sweet way, not the 'real housewife of…' freaky way!). She also used to style my hair and dress me up to the latest fashion trends. Sadly, I looked nothing like your well-known Barbie doll or Disney princess. I was tall, chubby, with a broken front tooth and wearing a pair of glasses.
And my hair?
Sure, it was thick and long, but also very coarse and all over the place. As a result, I developed this love-hate relationship with my hair and I tried everything to calm it down. I used straighteners, curling irons and even a clothes iron to style this beast of a hair. It was all fun and games, as they say, until I woke up one day (2 years ago!) and realised my hair had lost its shine… and healthiness. You see, back in the 90s, we didn't have a lot of options when it came to protecting our hair from styling tools and their frying heat. Due to this, I never really learned the benefits of using heat protection sprays, mists and oils. I guess 2 years ago my hair had finally realised that and thought it was the right time to pay me back for my negligence. However, I'm not known for not giving a good fight back! I immediately started soaking my hair in masks, oils, sprays and whatever I could find on the market. There were some good and some bad ones, but also some real gems that I can't imagine living without.
Ahead, 3 of the best products I've used over the past 2 years to recover and protect my heat-damaged hair and bring it back to life!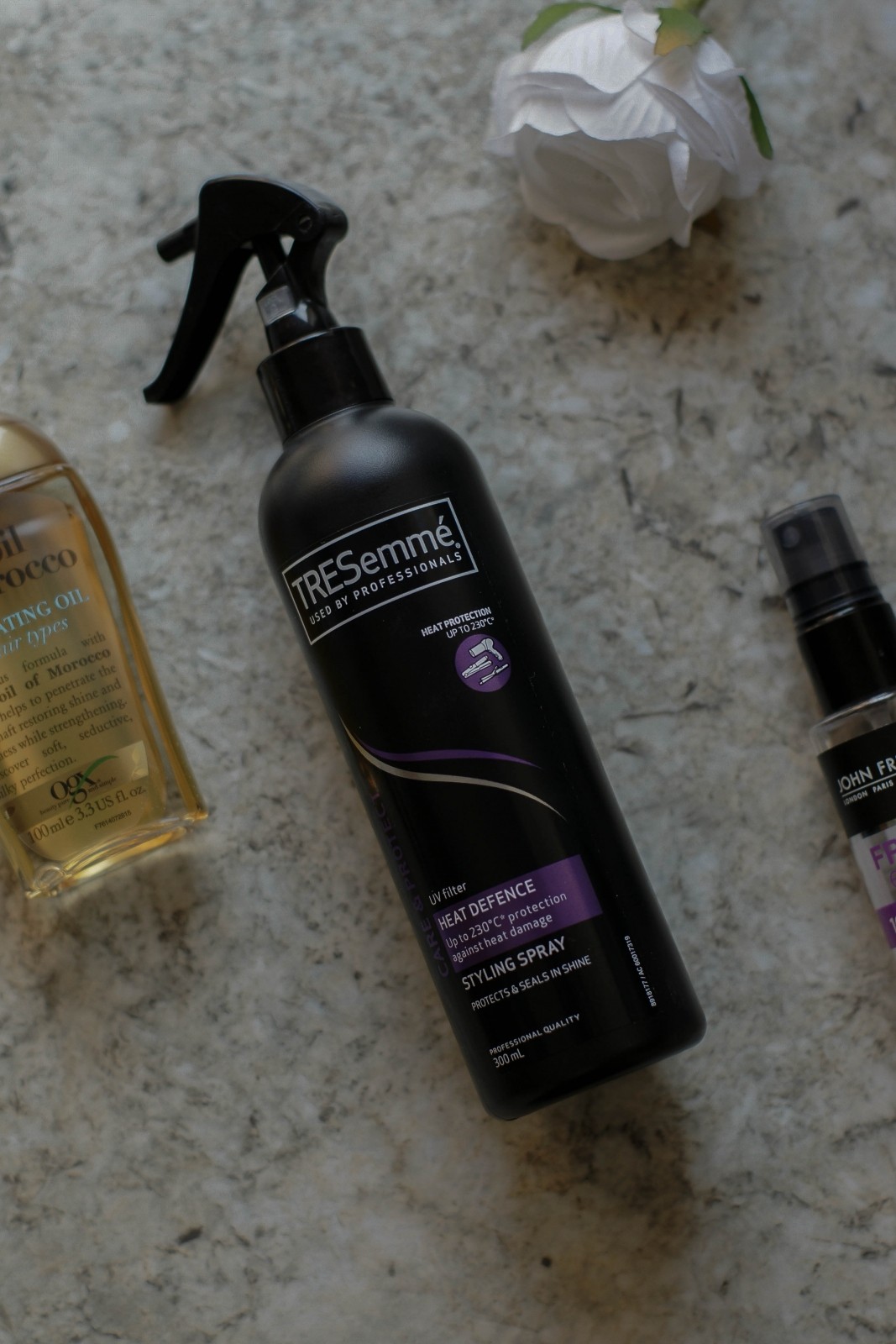 Tresemmé Heat Defence Smooth Styling Spray
I've used the TRESemmé Heat Defence Styling Spray for 2 years now. It was the very first heat-protecting product I'd started using since I realised my hair was seriously damaged. Put simply, it helps protect your hair from damage caused by heat styling tools at temperatures up to 230°C. And let me say this – it is the absolute best heat defence styling spray! No joke. During the past two years, I tried two other products – one was definitely this VO5 Heat Protect Spray. As for the other one, I honestly can't remember. I wish I could, as it was the most horrible heat protection product that you could buy. It was drying my hair, making it straw-like and tiny white fluffs were forming out of nowhere. On the other hand, the VO5 option was doing its job in terms of guarding my hair against the heat, but it was giving it neither softness nor shine.
Based on this experience, you can understand my absolute lack of desire to try any other heat defence sprays. In no time, I went back to the Tresemme styling sprays and never looked back. I spray it liberally onto my whole hair, keeping the roots dry, before blow-drying and heat styling. It has a nice perfumed scent and dries quickly once sprayed. What I've noticed is that this particular spray keeps my hair not only shiny but also incredibly soft. Best of all? Unlike the other two heat defence products, Tresemme won't make your iron plates dirty!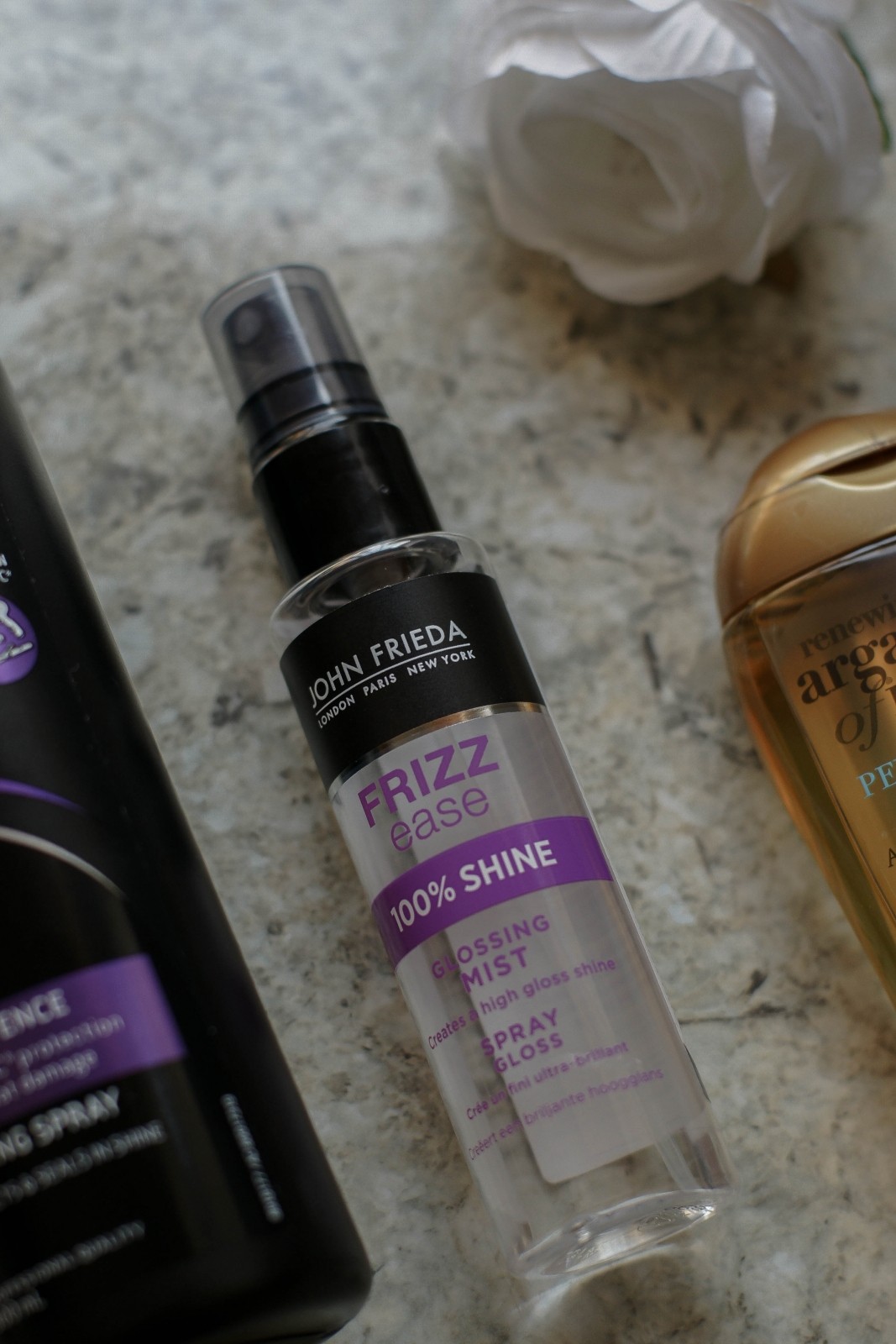 John Frieda Frizz Ease Shine Glossing Mist
After my successful DIY hair dye experience with John Frieda Precision Foam Colour Hair Dye, I thought I should try another John Frieda product. After reading so many good reviews, I bought the John Frieda Frizz Ease Shine Glossing Mist. I wanted something in-between washing my hair and this mist turned out to be wonderful. It has an ultra-light, non-greasy formula and smooths frizz and flyaways in no time. You only need to use a small amount of the product and spread it evenly with your hairbrush. It takes a bit of time to dry but after that, you can really see the instant shine. It is a great glossing mist and you will really get value for money.
One thing I've observed is that although it says it is non-greasy, I think my hair does get a little bit greasy after a couple of hours. However, that really doesn't bother me as I tend to spray the mist on to my mid-lengths and ends only. Having the right amount of greasy ends really helps during humidity overload, especially in the UK! Moving on from that, the John Frieda Glossing Mist is definitely one of those products that will instantly bring your heat-damaged hair back to life!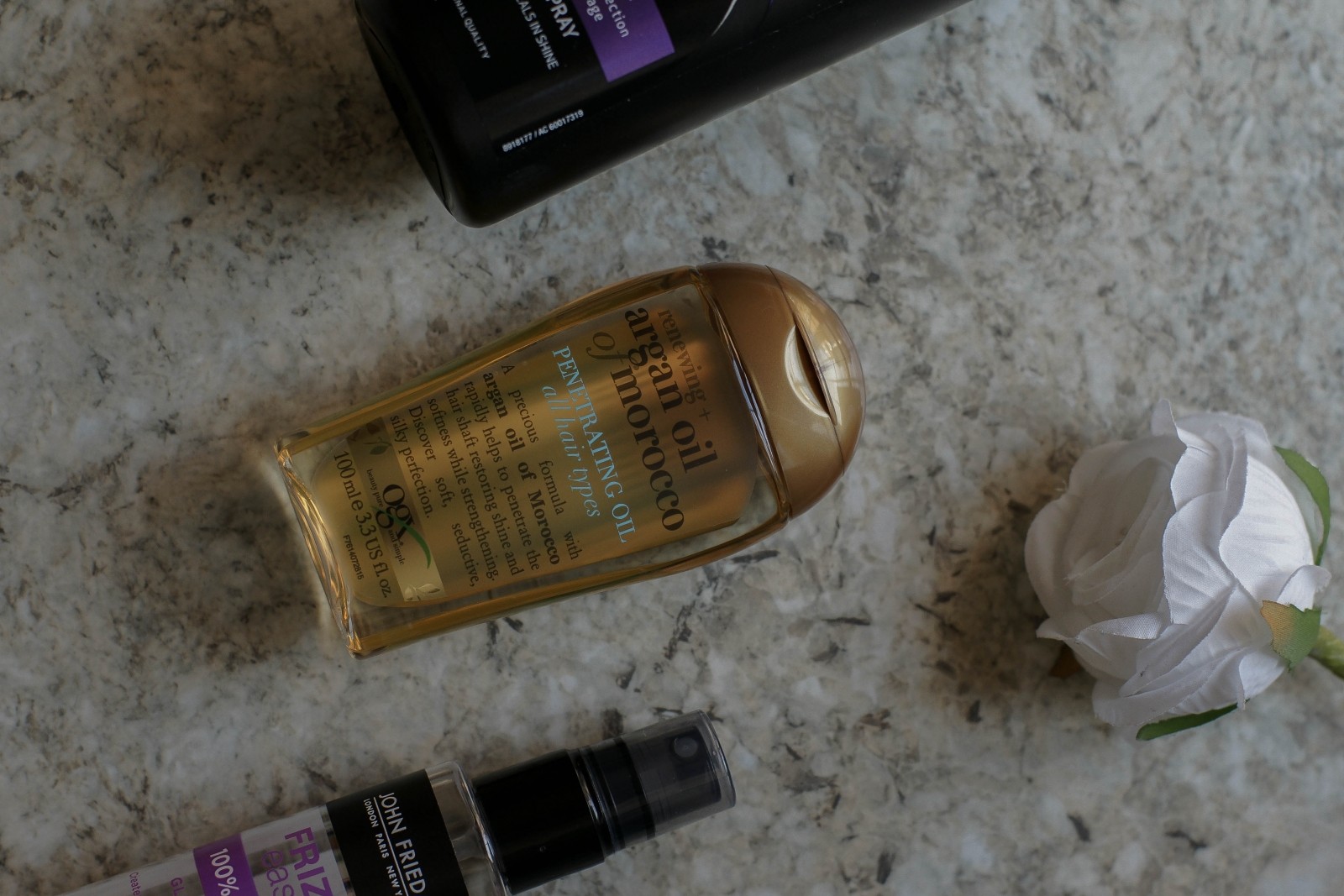 OGX Renewing Moroccan Argan Oil
Speaking of products that restore your hair back to life, I have no idea how I've lived without this Moroccan Argan Oil! After I seriously damaged my hair with an at-home hair dye, I frantically started searching for a quick fix. Et voila! That's how I found out about argan oil! Turns out that argan oil is an age-old beauty secret that only I didn't know about. It not only helps to restore strength and elasticity to your hair but also decreases ripping and tearing when combing through damp hair. Moreover, argan oil is packed with amino acids, antioxidants and vitamin E.
The OCX argan oil is a unique, precious blend of Moroccan argan oil which helps to rapidly penetrate the hair shaft, restoring shine and softness. You only need 3-4 drops of the oil to cover the whole hair. I apply it to damp hair and spread it out evenly, avoiding the roots. Once, I applied it on the roots and they ended up being super greasy. Apart from that, this argan oil is the quickest, safest and cheapest product to bring your heat-damaged hair back to life! Oh, also the most natural way to help restore your hair! One of these bottles could last you a whole year, depending on the length of your hair. Since I've started using argan oil, my hair has been shinier, softer and healthier-looking! I honestly can't recommend this highly enough!
What are your go-to products to bring your heat-damaged hair back to life?
Click here for more hair tips and product reviews!
YOU MIGHT ALSO ENJOY:
4 Permanent At Home Hair Dyes I've Tried
I Broke Up With My Heating Tools For Two Months