Welcome to the second and final part of my Giambattista Valli x H&M highlights and styling tips post. If you've somehow missed the news, H&M have done a collaboration with the Italian designer. The collection lands on 7th November online and in-stores!
In the previous post, I showed you my favourite daily and casual Giambattista pieces. From cosy leather jackets and sweatshirts to beautiful flounced blouses and skirts, I picked the best of all. Moreover, I tried to mix and match the items to give you some helpful styling tips!
Well, in part two, I've picked the best dresses and accessories from the Giambattista Valli x H&M collection! There are dresses for both formal and informal occasions. Furthermore, I also selected some shoes and jewellery from the collaboration to give you once again some handy styling tips!
Giambattista Valli x H&M: Dresses & Accessories Collection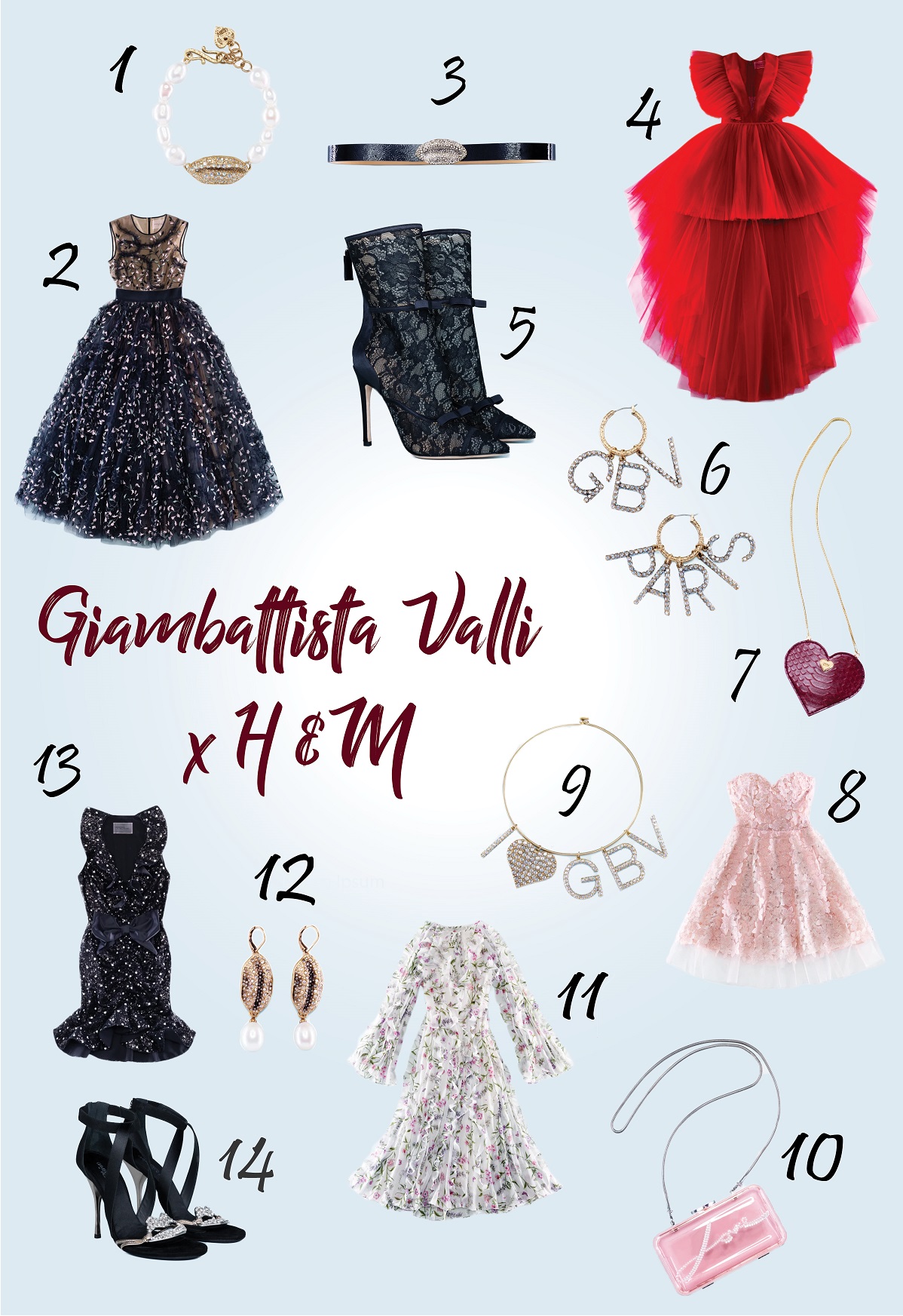 This (1) pearl bracelet by Giambattista Valli is absolutely gorgeous! Apart from the beautiful genuine freshwater pearls, the design also features a lip-shaped plate with hand-applied rhinestones. Moreover, the hook clasp fastening has a heart-shaped metal decoration engraved with the designer's initials! If you want to style the bracelet with a dress, then the (2) floral ball gown is the one to go for. With detailed embroidery and gathered flounces, it also has a tapered waist with a wide satin band. If you want to accentuate your waist even more, then you definitely need this (3) leather belt! The lip-shaped buckle is also decorated with hand-applied rhinestones.
Apart from the ball gown, the belt is also designed to be styled with this (4) red tulle dress. The asymmetric dress has a low-cut V-neck with several layers of wide flounces at the top, tapered waist, and a short, super-flared skirt at the front. Furthermore, the skirt is longer at back with several layers of tulle for added fullness and volume. If you're wondering how to style this tulle gorgeousness, then go for these (5) lace boots, (6) earrings and (7) heart-shaped bag. The calf-length boots are in thick, lace-covered mesh and have decorative satin details and bows at front. The earrings, as you can see, have the GBV initials and location in rhinestones! I particularly like the cute and tiny heart-shaped bag. Designed in red leather, it also has a decorative metal heart engraved with the designer's logo.
The Giambattista x H&M collection also offers this short (8) pink tulle dress! Designed with organza appliqués, decorated with sequins and beads, it also has several layers of liner skirts. One in contrasting lace, one in tulle for added volume, and one as lining in soft organza. Moreover, if you're afraid of a potential nip slip, you have detachable shoulder straps included! I thought that this (9) rigid necklace and (10) clutch bag will go perfectly with the tulle dress. The necklace has four-letter pendants and one heart-shaped pendant, all decorated with hand-applied rhinestones. The bag, on the other hand, is in transparent, tinted hard plastic with metal details. There are also bead and rhinestone stud decorations at the front and the clasp is engraved with GBV's logo.
If you're looking for a longer but more casual dress, then definitely get this (11) floral chiffon dress! Although it might be a bit too cold for it now, you can always save it for the warmer months. The dress is with a fitted upper section and a pleated, softly draped circle skirt. This dress is perfect for a dream date with that special someone on a beach or terraced restaurant. Oh, and the pink clutch bag will also go very well with this dress!
I think these (12) pearl earrings are part of a set with the bracelet but I thought you can wear them separately. Actually, if you're going to a special event, you can style them with this (13) sequined cocktail dress! This short, fitted dress is embroidered with white dots. It also has a low-cut V-neck with ruffles, large satin bow at the front, and flared flounce at hem. If you're looking for the perfect pair of shoes to match the dress, then have a look at the (14) suede sandals. They also have satin-covered straps at top, narrow metallic straps at front with a decorative, rhinestone-covered metal detail.
I don't know about you but I absolutely love the Giambattista Valli x H&M collaboration! The jackets, dresses and accessories are not only beautiful but also quite affordable. I hope you've not only liked picked a favourite item from the collection but I've also helped you with your styling dilemmas!
YOU MIGHT ALSO ENJOY:
Tips On Pulling Off A White Dress In Fall
5 Famous & Inspiring Celebrity Style Icons
Get Kylie Jenner's 22nd Birthday Wardrobe
20 Trendy Winter Outfit Ideas To Keep You Warm