H&M have done many designer collaborations over the years. Some of these include Marni, Balmain, Karl Lagerfeld and even Versace. You can see the rest of the collections here. Fun fact, actually, the Versace collab was even part of my dissertation! Well, now it's time for another fashion partnership – Giambattista Valli x H&M collection which lands on 7th Nov!
Over the years, I've seen and heard many unfavourable comments about the H&M designer collaborations. The negative remarks have been coming primarily from people who either don't know what the regular person earns or have forgotten where they come from. Personally, I don't see anything funny or embarrassing about such collaborations.
A lot of people can't actually afford to buy designer clothes but would love to. What H&M are trying to do by doing these collabs is absolutely applaudable. Not only they give their consumers the chance to own a designer clothing for less but they also give the designer the opportunity to create something affordable but equally beautiful!
The Giambattista Valli x H&M collection, for instance, is one of the most beautiful and creative collections I've seen. Thus, I thought I'm going to make a couple of blog posts with my favourite picks. This is the first part, in which I'll show my favourite daily and more casual Giambattista Valli items. Moreover, I've actually mixed and matched them for some helpful styling tips!
Giambattista Valli x H&M: Daily & Casual Collection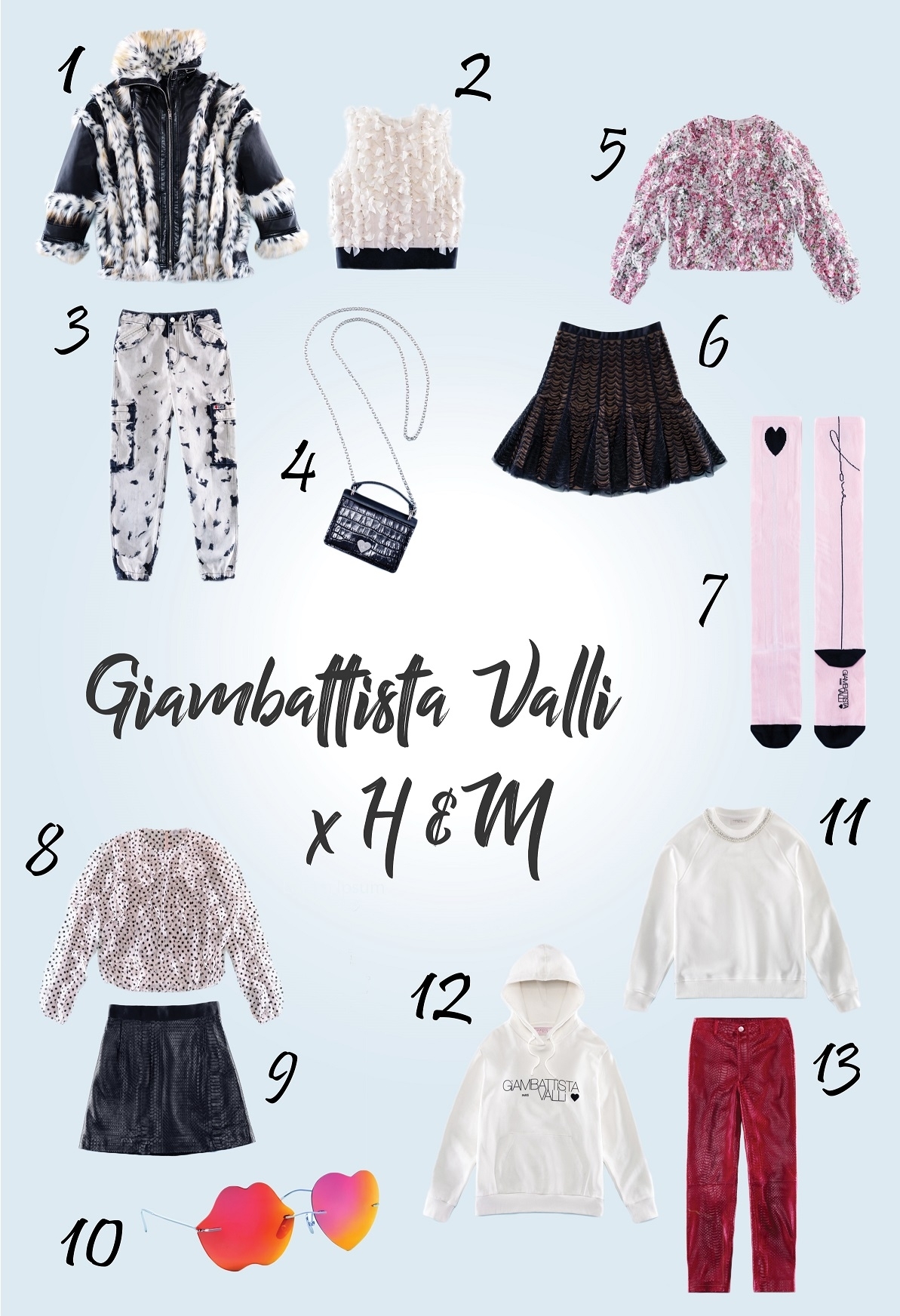 The (1) oversized leather jacket by Giambattista Valli must go onto your wishlist for Fall/Winter '19! This black extravagant leather jacket is lined with black and white faux fur details. Of course, you can style it with your favourite jumper or sweater but not why get some of the other amazing designer items? If you're off to a warm and cosy place, you can put the (2) chiffon top underneath. Although the top might look a bit more formal, I think it will look amazing against the two-toned (3) cargo trousers. To finish your casual Giambattista Valli look, grab the (4) mini leather bag in crocodile pattern!
Giambattista also designed some beautiful items for spring and summer, so you can actually start planning your outfits for the warm weather today! The (5) flounced blouse comes in a colourful floral and chiffon pattern. You can match it with the (6) bead-embroidered skirt in black and soft pink colours. If you feel chilly even in spring, then warm-up with a pair of these (7) jacquard-knit knee socks. Moreover, the contrasting details will add even more streetstyle points!
Another great set from the Giambattista x H&M collection for the warmer months is this (8) polka dot blouse and (9) leather skirt. Polka dots are never going to go out of fashion, thus, even though you might not wear this designer blouse now, you'll be making an investment. The leather A-line skirt is also another great fashion asset to own. Also, if the weather permits it, why not get these (10) colourful sunglasses?! Not only they will add a pop of colour to any outfit but they also won't go unnoticed. If you somehow missed the different-shaped mirrored lenses, you need to take another look!
If you're a lover of the colder months, then you'll fall in love with this (11) white cotton sweatshirt! Although it might look extra cosy, it actually has a ribbed trim with hand-embroidered faceted sparkly stones around the neckline. That's not to say it won't be super comfortable but you might not want to wear it just at home. If you want something more casual, then the (12) white hooded top will do the job! Made from soft organic cotton, this sweatshirt also has a flock print with the designer's logo on the front. Yet, if you want to wear it outside and want to add some colour, then get the (13) red leather trousers! These ankle-length, grained leather trousers have a relaxed fit which will perfectly match the style of either of sweatshirts.
Although Giambattista Valli is a fairly new designer, he's shot to fame in no time. His clothes are not only gorgeous but also very expensive, thus I'm glad that he has agreed to do this amazing collection with H&M! All of the items are absolutely stunning and also quite affordable.
I can't wait to show you what I've picked from this collaboration in the second part of this post!
Do you like the Giambattista Valli x H&M collection?
YOU MIGHT ALSO ENJOY:
Tips On Pulling Off A White Dress In Fall
5 Famous & Inspiring Celebrity Style Icons
Get Kylie Jenner's 22nd Birthday Wardrobe
20 Trendy Winter Outfit Ideas To Keep You Warm