I have almost forgotten all about the famous Valentino Rockstud pumps until recently! I was scrolling through Instagram when I spotted this gorgeous and elegant fashionista. Firstly, I noticed her classic nude outfit and how she has successfully styled her white Zara top with beige slim trousers, followed by the fabulous Celine Belt bag! Then I noticed the ever-fashionable Rockstud pumps and how many celebrities have fallen in love with the design. Unfortunately, not many of you would get the chance of owning a pair. Thus, I decided to have a look online and find the best designer inspired studded pumps for an affordable price!
Although they don't have the same design as that would be illegal, the pumps I managed to find still offer a classic and elegant feel with stud details!
Disclaimer: The products below do not infringe on the original brand's copyrights or trademarks – these are designer-inspired pieces.
Elegant Studded Pumps Available Online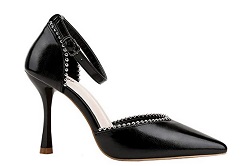 Elegant Pointed Toe Ankle Studded Pumps here
I think this is the true classification of designer inspired studded pumps! You don't really see any resemblance with the Rockstud, yet, these pumps still carry that elegant look that you're probably looking for. With a pointed and kitten heel, you can also get a pair in red and nude colours! Moreover, you can wear them with an all-black outfit to add a bit of glam!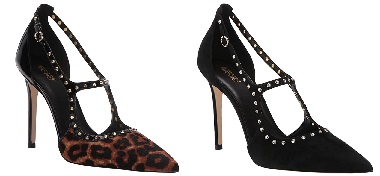 Michael Kors Ava Pump with Studded Straps here (UK) & here (US)
I've always liked Michael Kors' shoes! Here, they came up with a very sophisticated and bold design. Made in patent leather, these pumps come in black, gold and leopard print. Moreover, they have a buckle strap and little shiny studs all over the outline. You can wear them with jeans or skirts for the ultimate look.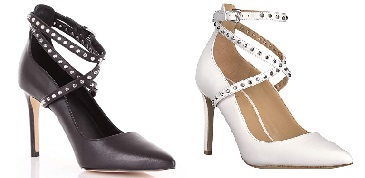 Michael Kors Jeannie Studded Pumps here (UK) & here (US)
Another great studded design from Michael Kors with ankle strap and pointed toe is available in black and white. You can check out the reviews by following the links. Either way, I'm certain that you won't regret buying a pair as they would look absolutely stunning with whatever you pair them with.

Circus by Sam Edelman Pumps here (UK) & here (US)
On the other hand, if you're looking for an all-studded style of pumps, then Sam Edelman's design is the one to go for! Offering an edgy and fun look, these studded pumps are available in black, white and red. Moreover, the heel is not very high, meaning you can wear them comfortably throughout the day and night!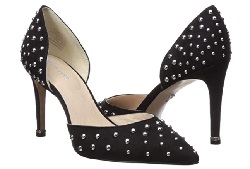 Kenneth Cole D'Orsay Pump here (UK) & here (US)
Another great studded pair of black pumps can be bought from Kenneth Cole through Amazon. Apart from the stud detail, these pumps also have an interesting arch design. Perfect for your little black dress or evening suit, your feet will feel elegant and comfortable with the memory foam footbed!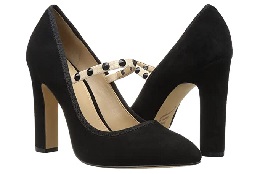 The Fix Studded Pumps here
If you like the stud detail but would prefer to get a more classic style of pumps, then you might like Amazon's brand above! As you can see, you still have a studded design but it's very subtle. Also, these pumps feature a block-heel style, which makes them perfect for a long day out and about!
What do you think? Would you agree that these are designer inspired studded pumps?
YOU MIGHT ALSO ENJOY:
Budget-Friendly Quilted Mule Sandals Worth Checking Out!
8 Red Slip Dresses To Consider For Your Next Date Night
Affordable Quilted Handbags To Fall In Love With
Kate Spade's Elephant Bags & More Collection