When you hear 'quilted handbag', perhaps the first thing that comes to mind is Coco Chanel and the classic 2.55 flap bag. Yet, the fabric's design originates from the 1930s and its primary use was to hold flour and grain during those times. Thanks to the creativeness of people, however, quilted handbags became more of a fashion accessory, rather than your basic shopping bag. Nowadays, you can find a lot of quilted bags in various shapes, colours and material. Still, today, I'm going to show you the best affordable quilted handbags to fall in love with!
Even better, they are currently being sold for under $100, check them out ahead!
Crossbody Quilted Handbags Options
The simple design of the crossbody bag permits you to style it with jeans, dresses, even suits! Just have a look at the various options below.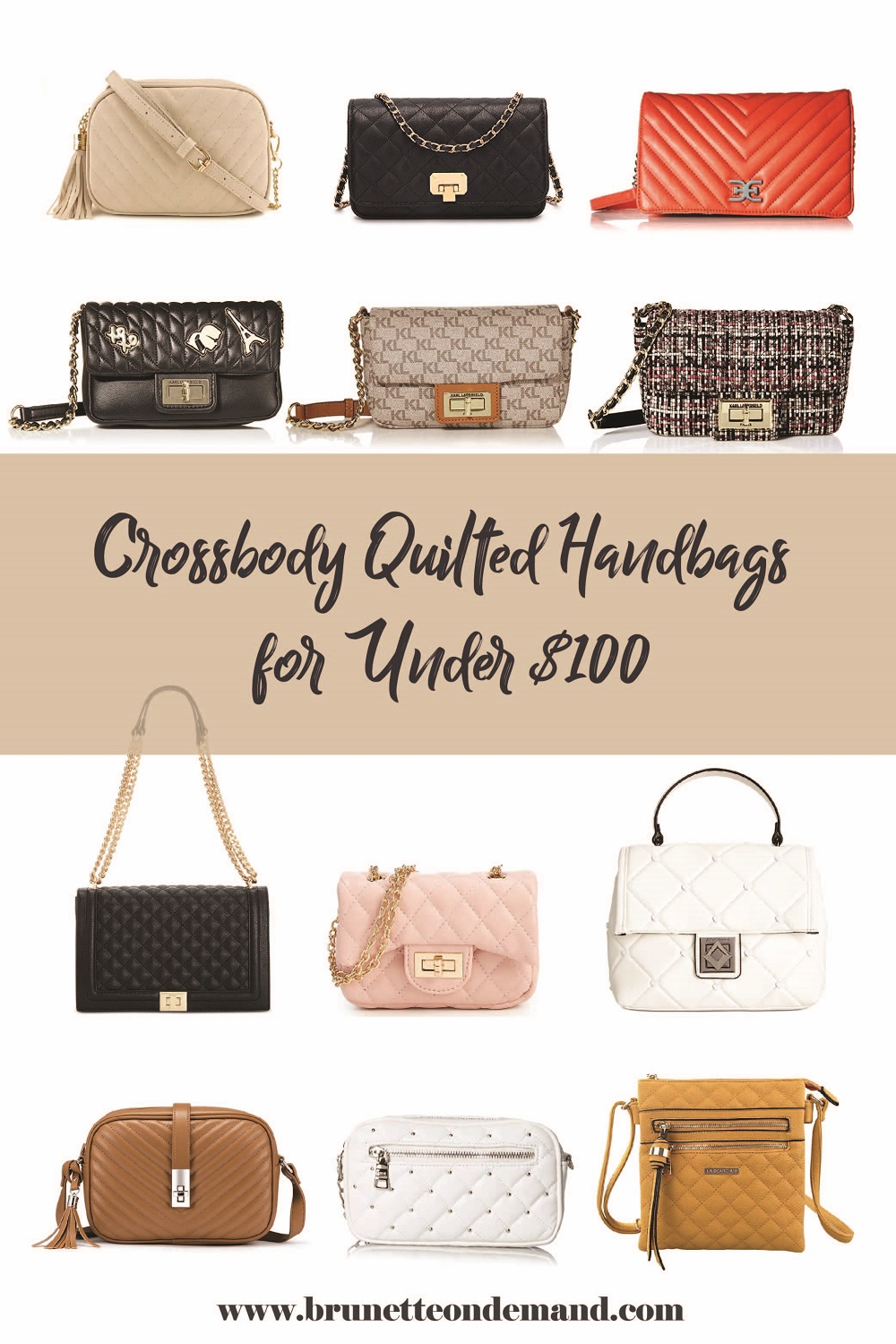 ROW ONE. This simple beige shoulder crossbody bag has a metal chain strap and a tassel top zipper. It's currently priced below $20! It also comes in a variety of other colours – black, red, dark grey, etc. Another simple, yet elegant clutch with a leather-metal chain, which you can wear to parties and cocktail nights with the girls! Usually, I associate Sam Edelman with shoes, however, I found this stunning quilted flap shoulder bag in a tangerine colour! It also comes in black, in case you're not a fan of bright colours.
ROW TWO. Usually, I find some absolutely amazing items, selling on Amazon, and this time is no exception! You can actually find Karl Lagerfeld's stunning Agyness quilted handbags for under $100 on Amazon. You can find leather, textile and even boucle designs. Some colours are more expensive than others, but there are plenty of the Parisian brand's handbags to meet your budget!
ROW THREE. This designer-inspired Ajae quilted bag is available on Macy's with a 25% discount! With gold-tone hardware, it is the perfect accessory to complete any ensemble. The light pink quilted bag, on the other hand, is perfect for the summer! When it comes to a 'super-puff' design, this white quilted bag with embedded little hearts is the one to go for!
ROW FOUR. Brown is definitely the colour for fall, thus, if you're looking for your new autumn accessory, then Realer's bag is the one to go for. It also comes in black and you can fit all of the daily essentials in it! Steve Madden also offers a cute white quilted bag, which is also available in other colours. Finally, a crossbody bag that will fit more than your lipstick, wallet and phone! This multi-pocket handbag is exactly what you need if you want a bit more space.
Affordable Quilted Handbag Totes
If the regular crossbody bag doesn't suit your needs, then you can opt for a tote!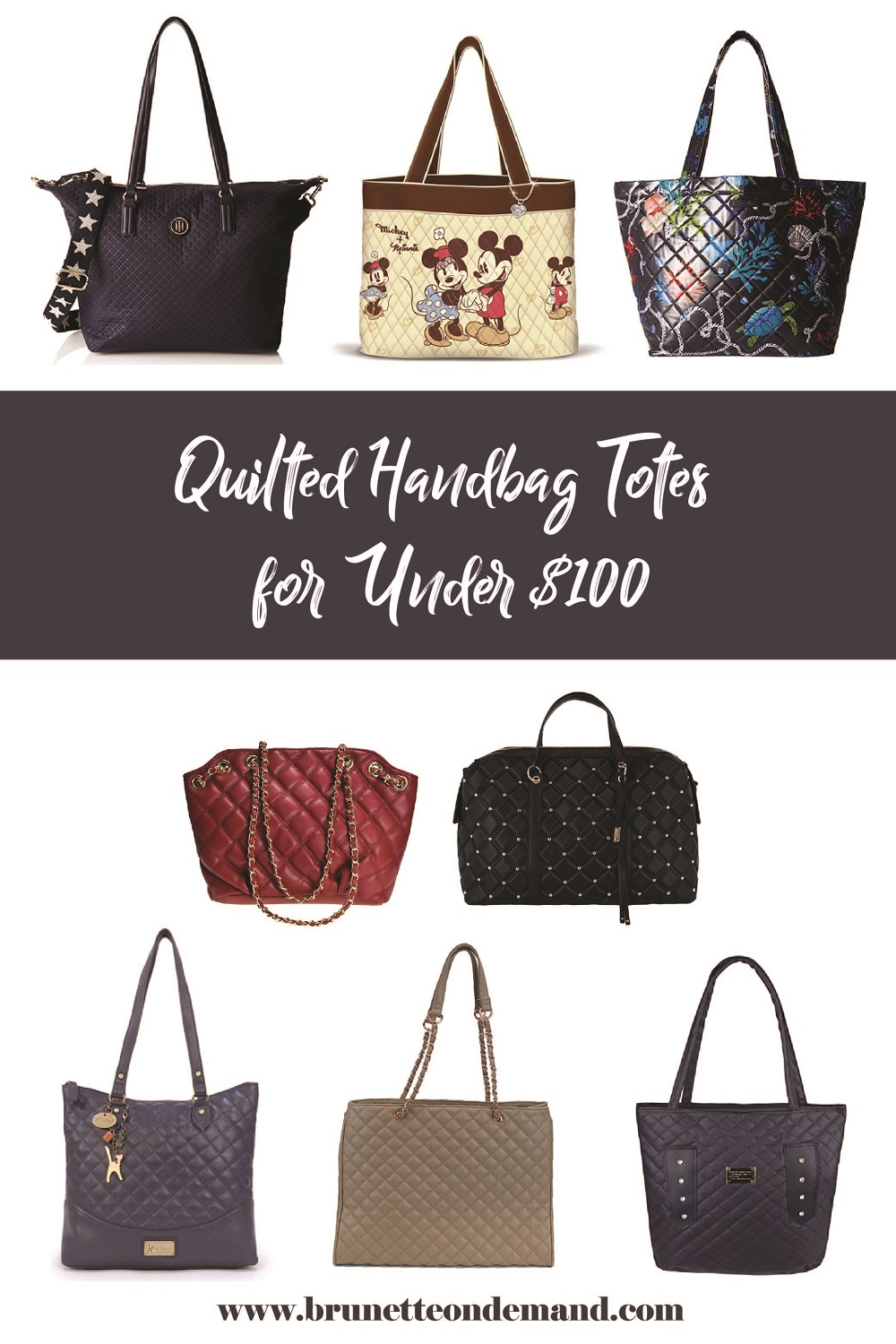 ROW ONE. Luckily, Tommy Hilfiger's quilted tote comes to the rescue! With the signature TH logo and star-embroidered strap, you are sure to draw attention wherever you go. A very cute option for all ladies that haven't lost their inner-child, then you should check this Mickey + Minnie tote. Moreover, the vintage art suits perfectly the beige hues of the bag. Another creative design comes from Vera Bradley and it is the perfect beach tote!
ROW TWO. This chain quilted tote bag is not only currently selling under $40, but you can also find it in black and white! Unlike the previous totes, this one you can wear during the day and night. This black weekender bag is designed by Badgley Mischka with studded front details, perfect for night outs.
ROW THREE. Definitely haven't seen this quilted option on the catwalk, yet, it is currently an Amazon's Choice! Made from genuine leather, it also wins customers' heart with its cat logo charm on the side. For anyone looking for a travel tote to fit a mini wardrobe, this one could be a lifesaver. Lastly, if you still haven't found anything affordable, then this budget-friendly tote is for you!
Quilted designs are one of my favourite simple, yet elegant, handbag designs. They can be worn with pretty much everything and also hit the spot sizewise. If you don't own one, then I urge to get one ASAP!
YOU MIGHT ALSO ENJOY:
Amazon Fashion | What I Bought In October '19
Classic & Contemporary Vibes From Marge Sherwood
6 Easy & Warm Outfits You Can Wear To Work
Amazon Fashion | What I Bought In January '20
Daily Look | Pencil Trousers & Cow Print Vibes