Teddy bear coats were a huge success in 2017 and this trend doesn't seem to become 'this- is-so-last-year' any time soon. As winter is just around the corner, what better reason does one have but to start looking for a snuggly teddy bear coat? None, right? Teddy bear coats are not only still trendy but also super cosy and warm. It will keep you warm and fuzzy while you battle the wind, snow, storms and whatever else this winter might bring upon you. Choosing the right teddy bear coat, however, might be tricky. There are so many variations of this garment that you might as well take a couple of days off just to have a scroll through the endless options from your favourite retailers. Just let your boss know that you have an emergency, tell your friends and family that you'll be off the grid for the next couple of days, grab your favourite snacks and drinks, and spend your week looking for the perfect teddy bear coat!
Thankfully, you won't have to do all that as I've rounded up 30 of the best teddy bear coats on the market! Just choose your preferred style and let winter know that it can't mess with you! Not this year!
Short Teddy Bear Coats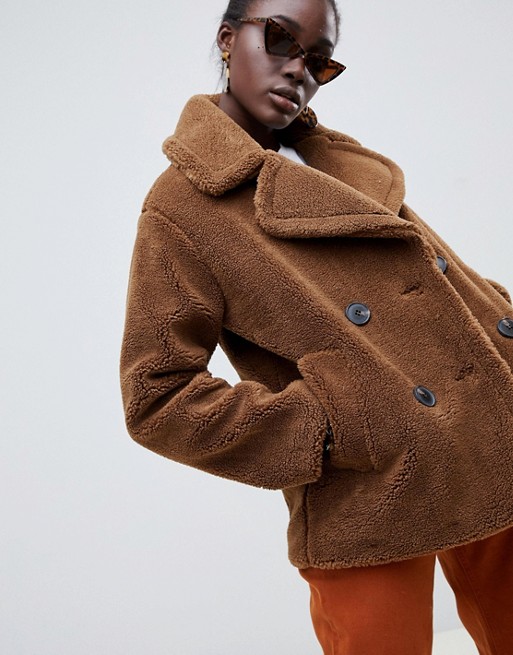 Short teddy bear coats can easily give you a fashion-forward appeal within seconds. Moreover, the short length of these coats is perfect for a more casual look. A simple outfit combining jeans and knit can be magically transformed into a fashion staple street style look just by putting on a short teddy bear coat! Most options come in light colours, primarily beige and camel tones. Preferably, women tend to go for darker ones but there is no reason not to try lighter tones. Lighter colours, especially during winter, can make your overall appearance healthier and happier. As for the little details on your preferred short teddy bear coat – you can opt for a version with or without buttons, the choice is yours. So why don't you give your favourite pair of jeans an upgrade this winter by including this teddy coat in your wardrobe?
SHOP THE RANGE

Long Teddy Bear Coats
Ever felt like you want to hide from the whole world and be invisible for a day? I don't know about you but I know this feeling quite well, especially during that time of the month. You know what I mean, right? Well, a long teddy bear coat might be the answer to your prayers. While it might not make you invisible (disclaimer, I'm sure it won't make you invisible!), it will make you feel protected and sort of hidden from the people around you. Just under or slightly below the knees, the length of this teddy bear coat will hide everything you feel that might need hiding. Bloated tummy? No worries, grab your favourite teddy! Feeling like your thighs are double the size during those days? I know mine are… Well, a long teddy bear coat will do the trick and you'll be sure to feel like a thousand bucks! Again, the colour selection mainly consists of lighter variations of beige and camel tones. For a sleeker and more chic look, opt for a long line version. For extra comfort and a more casual style, go for an oversized long teddy bear coat!
SHOP THE RANGE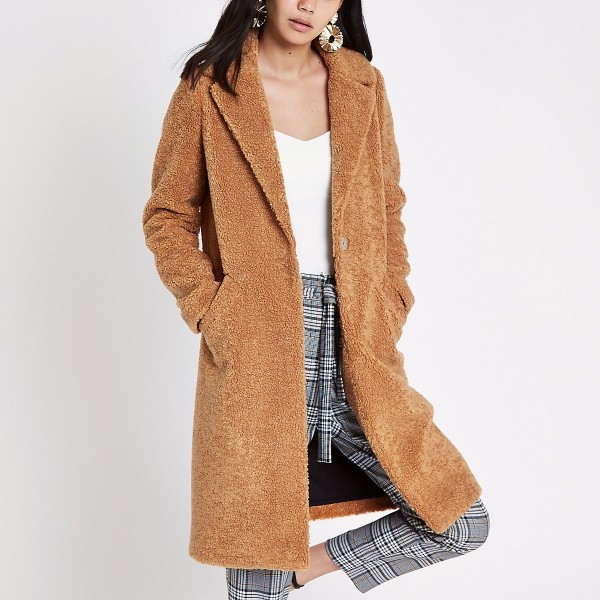 Colourful Teddy Bear Coats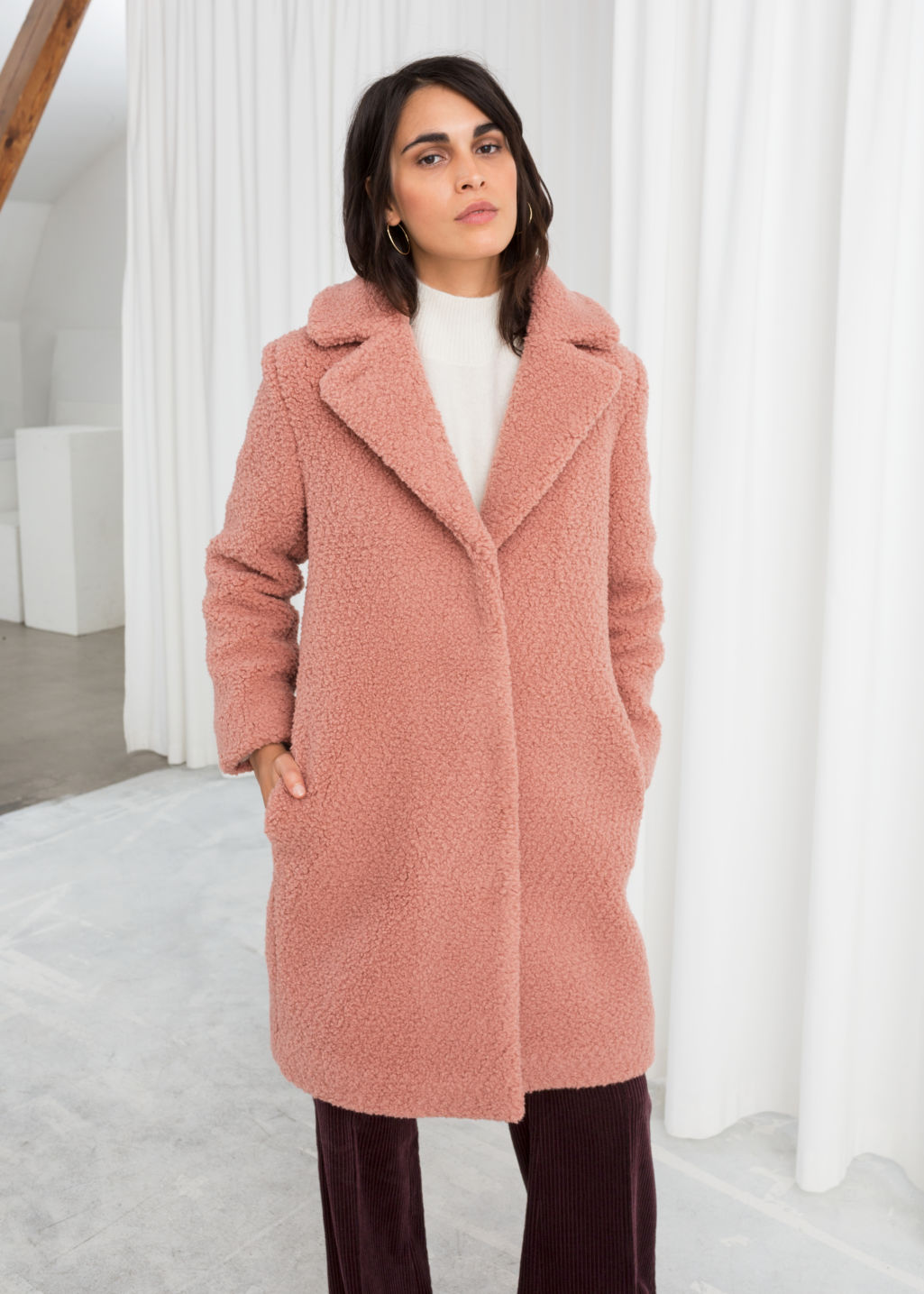 For those of you who prefer to stand out, I have the perfect selection of colourful teddy bear coats. Bright pink, violet, forest green or red, the choice is yours. If you have a funkier and more outgoing persona, get yourself a bright pink or violet teddy. If you're more on the shy side, opt for a darker colour such as dark grey or brown. You'll still be warm and stylish but also hidden in your own space of comfort. For those of you who really want to make an appearance wherever they go, I have the perfect bright red teddy bear coat for you! You'll not feel warm and fuzzy, but also super stylish and trendy. Who knows, you might even feel a tad more empowered than your usual self. The more the merrier as they say, right?
SHOP THE RANGE

Short, long, oversized or not, lighter or darker, teddy bear coats have been making some noise and the trend does not seem to be going anywhere. Whatever the occasion, make sure to include the trendy teddy bear coat as part of your wardrobe this winter! I'm yet to buy one of these furry coats, so wish me luck!
Do you own a teddy bear coat?
Is the teddy trend here for the long run?
Psst! Click here for more fashion tips and here to check out my outfits!
YOU MIGHT ALSO BE INTERESTED IN:
3 Reasons Why You Need A Teddy Bear Coat
20 Trendy Winter Outfit Ideas To Keep You Warm
4 Must-Have Over The Knee Boots Styles