L'Oréal is one of those brands that I've only heard extremely good or overly bad reviews about – there is no in between. Well, I guess I'll join the 'extremely good reviews' category. If you know what you're looking for and do your research, L'Oréal can provide you with everything you need. Be it haircare, makeup or skincare, I'm sure you've all bought at least one product from the French company. Today I'll be sharing a few of my L'Oréal favourites from their skincare line in the hopes that you might also try them and love them as much as I do!

I first discovered L'Oréal Smooth Sugars Cocoa Nourish Scrub while scrolling through Instagram. One of the brands' ambassadors had done a small video promoting three of their new scrub ranges, the nourishing scrub being one of them. The thought of cocoa mixed with sugars sounded so tempting that I immediately searched for the scrub. I was instantly sold when I saw the price (50ml for less than £10!). Needless to say that I tried it as soon as it arrived!
Upon opening the little jar, the smell of sugars and cocoa hit me! Let me tell you this – there is nothing better that can hit you! The L'Oréal Smooth Sugars Cocoa Nourish Scrub smelled absolutely delicious. I won't lie, I was very tempted to try it out. The Smooth Sugar Nourish Scrub is specifically formulated with 3 nourishing ingredients to tackle dry skin and patches. One of them is the cocoa butter, which is rich in essential fatty acids to moisturise and soothe dryness. Secondly, we have the coconut oil – packed with lipids, known to protect the skin's barrier. The last nourishing ingredient is the cocoa grains – to remove dead skin cells and to soften skin. L'Oréal Smooth Sugars Cocoa Nourish Scrub also contains 3 fine sugars! White sugar that melts on the skin while gently buffing away impurities and dead skin cells. Blonde sugar, which is a natural moisturiser, and brown sugar which is rich in minerals that help strengthen the skin's barrier.
Apply a small amount of the L'Oréal scrub after showering on a clean dry face. I usually spend at least a minute to gently spread the scrub and massage it into my skin. Afterwards, I wet my hands with lukewarm water and continue scrubbing until the sugars have melted. Once melted, I wash my entire face with lukewarm water and pat dry. Believe it or not, L'Oréal Smooth Sugars Cocoa Nourish Scrub immediately softens and smooths the skin. Use after use, my skin is more comfortable and nourished than ever before! I use the scrub 3 times a week and my skin is left with a baby-soft touch.
Best of all? It's suitable for all skin types!
SHOP: Amazon UK, Amazon US, Feelunique
If you're looking for a good toner without the price tag, then the L'Oréal Paris Fine Flowers Cleansing Toner is just what you need! This cleansing toner comes in a huge 400ml bottle that is sure to last you a lifetime! Well, slightly exaggerating here, but I promise you won't see the end of the bottle with the first 3 months. The L'Oréal Paris Fine Flowers Cleansing Toner combines extracts of rose and jasmine flowers, hence the pretty soft pink liquid. Moreover, the rose is known for its soothing and comforting properties, whereas jasmine – for its protecting and moisturising abilities. The scent of the flowers, especially roses, is also noticeable. Surprisingly, the toner itself has a slight texture, so if you're expecting pure water, then you are in for a surprise.
You only need a small amount of the toner, applied on a cotton pad. The product can be used morning and evening. I prefer to use it in the morning, before applying any serums or moisturisers. Make sure to wait for at least 3 minutes before applying other skincare products. As the consistency of the L'Oréal is slightly thick, the absorption process takes a little bit longer. After application, my skin always feels smooth and soft to touch. As far as the statement of eliminating impurities goes, I can't add any truth to that. Nevertheless, the L'Oréal Paris Fine Flowers Cleansing Toner is definitely good for prepping your skin in the morning!
SHOP: Amazon UK, Feelunique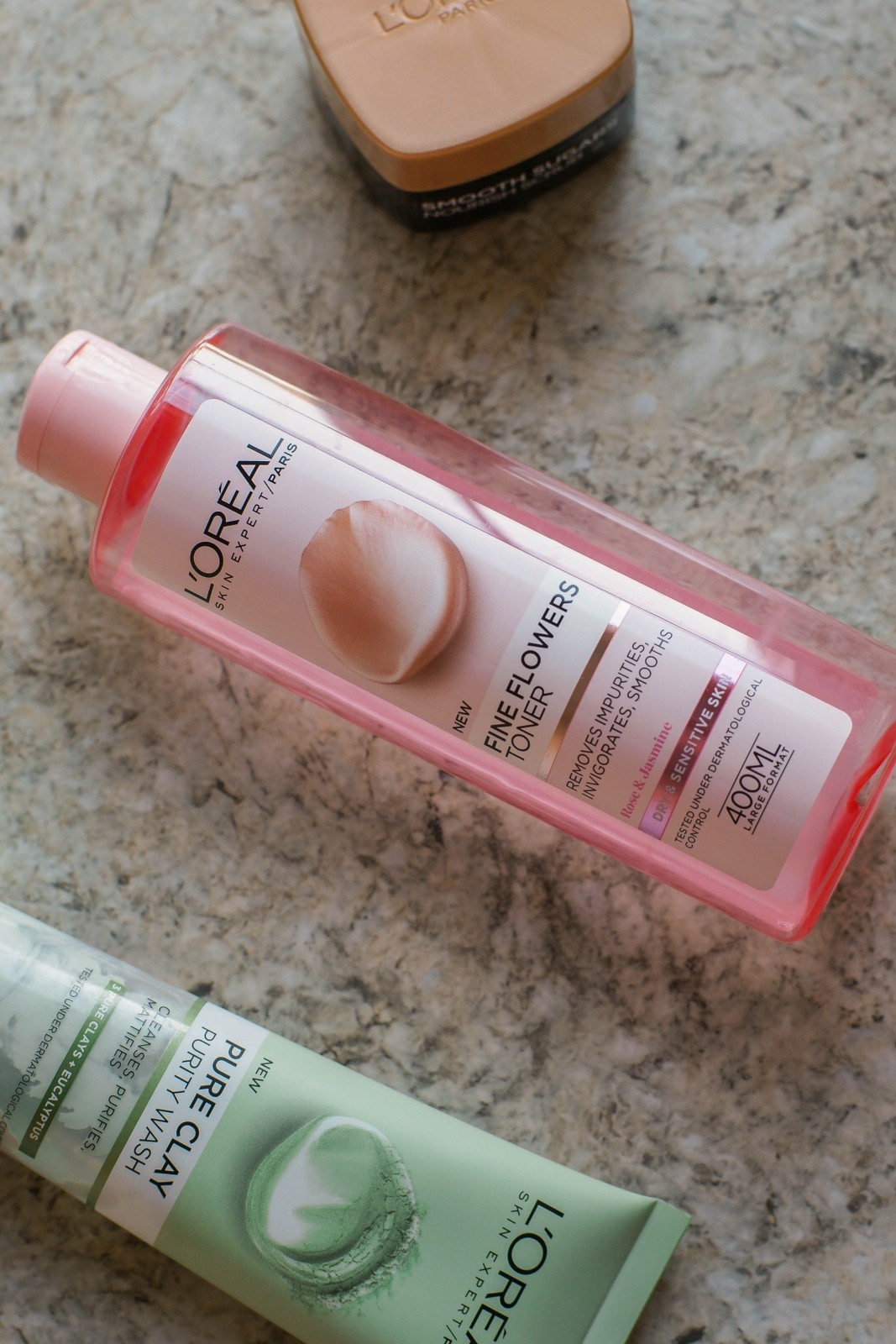 I must admit this purchase was a mistake. At least at first! Surprisingly, for the first time ever I didn't check if the product was going to be suitable for my skin type – dry! When the L'Oréal Paris Pure Clay Purity Foaming Wash arrived I immediately noticed the tiny labels stating that it was for oily skin types. I was prepared to return it but the hassle of returning only one tiny product prevailed, thus I thought I would give it a try. And I'm glad I did!
The L'Oréal Pure Clay Wash combines three pure clays – Kaolin, Montmorillonite and Ghassoul – with Eucalyptus extract. Kaolin is a highly effective natural clay, known to absorb impurities and excess sebum. Montmorillonite, on the other hand, is rich in minerals helping to eliminate imperfections. Ghassoul is a pure clay which is highly concentrated in minerals that are renowned to help clarify the complexion. Additionally, Eucalyptus is known for its purifying properties. Surprisingly, the clay has a non-drying gel texture, thus didn't dry my skin any further! The wash transforms into a light foam and you can see immediate results! Any dirt and impurities are removed, leaving the skin visibly clean and shine-free. Although the L'Oréal Paris Pure Clay Purity Foaming Wash wasn't for my skin type, it turned out to be a great face wash!
SHOP: Amazon UK, Amazon US, Feelunique
Psst! Check out skincare for more products reviews and skincare tips!
YOU MIGHT ALSO ENJOY:
Vichy Products: Liftactiv, Masque Peel, Nutrilogie, Aqualia Thermal
10 Best Face Moisturisers For Dry Skin To Try In 2018
3 Beauty Brands To Look Out For In 2018