Polka-dot print has always been one of my favourite prints for summer. You can wear it from day to night, achieving casual, formal, flirty, and any-looks really! Yet, if it wasn't for Fashion Jackson and her amazing collection with Amazon The Drop, I would have missed the opportunity to show you how to wear this ever-trendy summer print. As well as showing you the stunning polka dot pieces by Amy Jackson, I'm going to give you some inspiration to wear polka dot this summer!
Although there are hundreds of ways to incorporate the dotty print, there are simpler options. Definitely more versatile with a price tag to meet any needs, here are 3 ways to wear polka dot this summer!
1. As A Puff Sleeve Top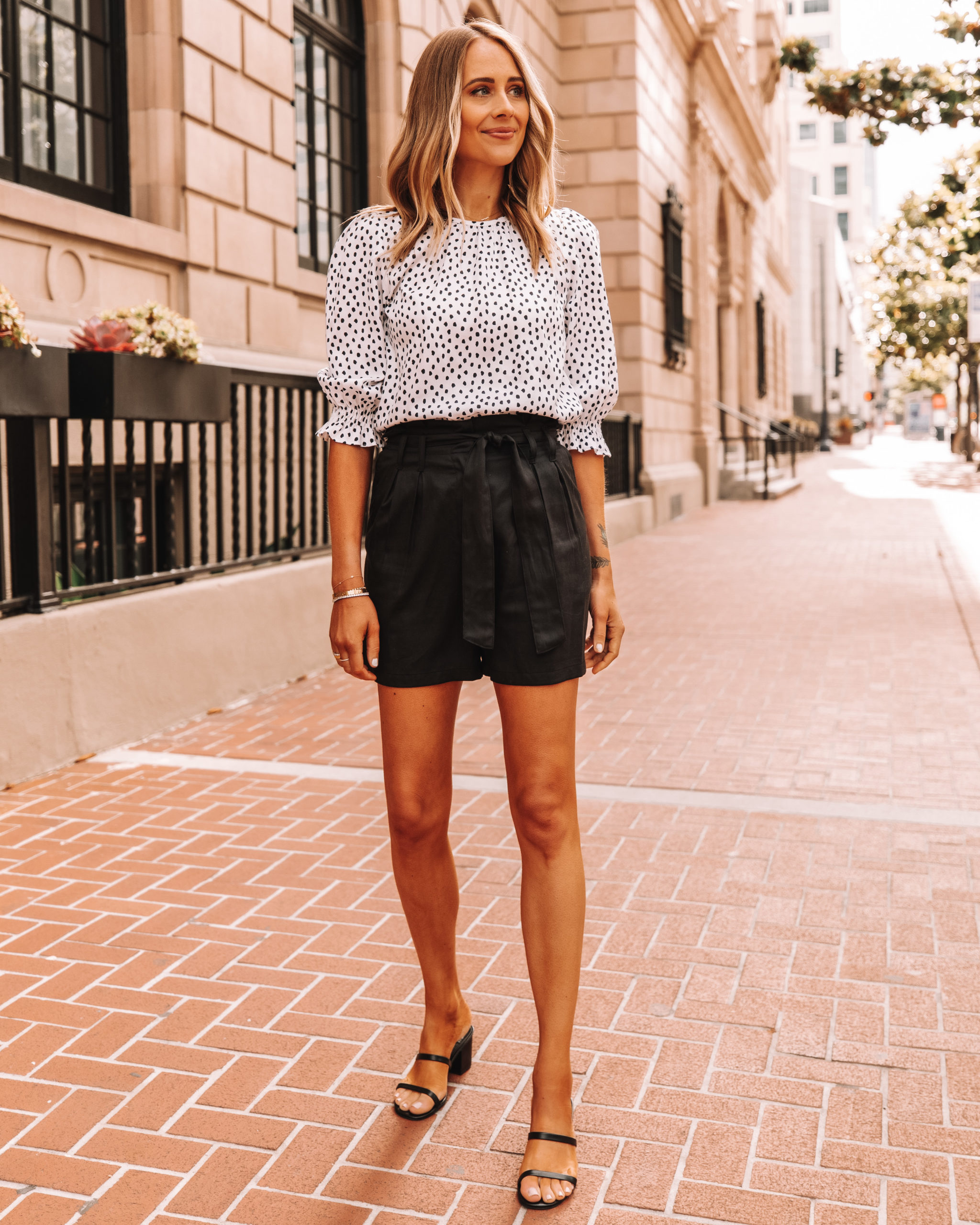 Polka-Dot Puff Sleeve Top | Black Paperbag-Waist Belted Short | Double-Band Slide Sandals
One of the most versatile ways to wear polka dot this summer is to invest in a puff sleeve top! Of course, you can also find the trendy summer print on regular tops, blouses and T-shirts. Still, nothing beats the sleek, elegant look of a polka-dot puff-sleeve top! Moreover, it has one of those versatile designs that you can transform from day to night, from casual to sleek style. You can style the top with jeans, shorts, skirts, and wear anything from trainers to high-heel sandals. There are plenty of colourful polka-dot puff-sleeve tops to choose from, yet, I would stick to the classic white and black combination. Not only the colour is the most versatile one, but you also wouldn't want to wear something dark under the hot sun!

2. As A Mini Dress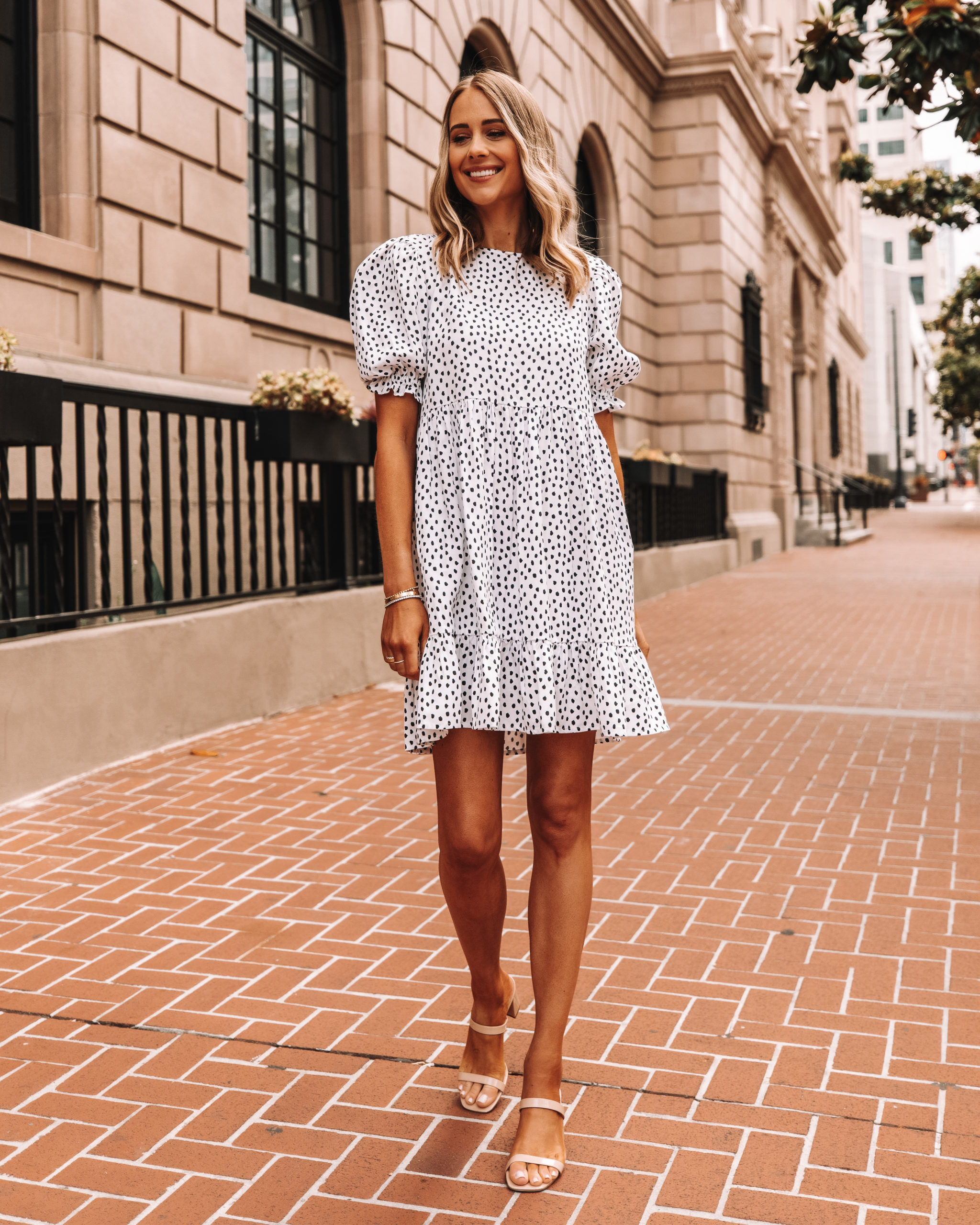 Polka-Dot Tiered Dress | Blush Snake Sandals
The second way to wear polka dot this summer is a really simple one – a mini dress! Simple, yet, effective – a polka dot mini dress is the perfect summer outfit to take from day to night. Go for sleeveless styles to get some extra vitamin D during the day or turn heads with a bodycon in the evenings. Of course, my favourite puff sleeve styles are perhaps the most comfortable choice! Besides, you can wear those with sneakers, flats, sandals and anything you can think of. Whatever style you decide to wear, though, stick with white and bright coloured polka-dot mini dresses during the day. Leave the darker colour options for the night or late afternoon summer walks.

3. As A Midi Dress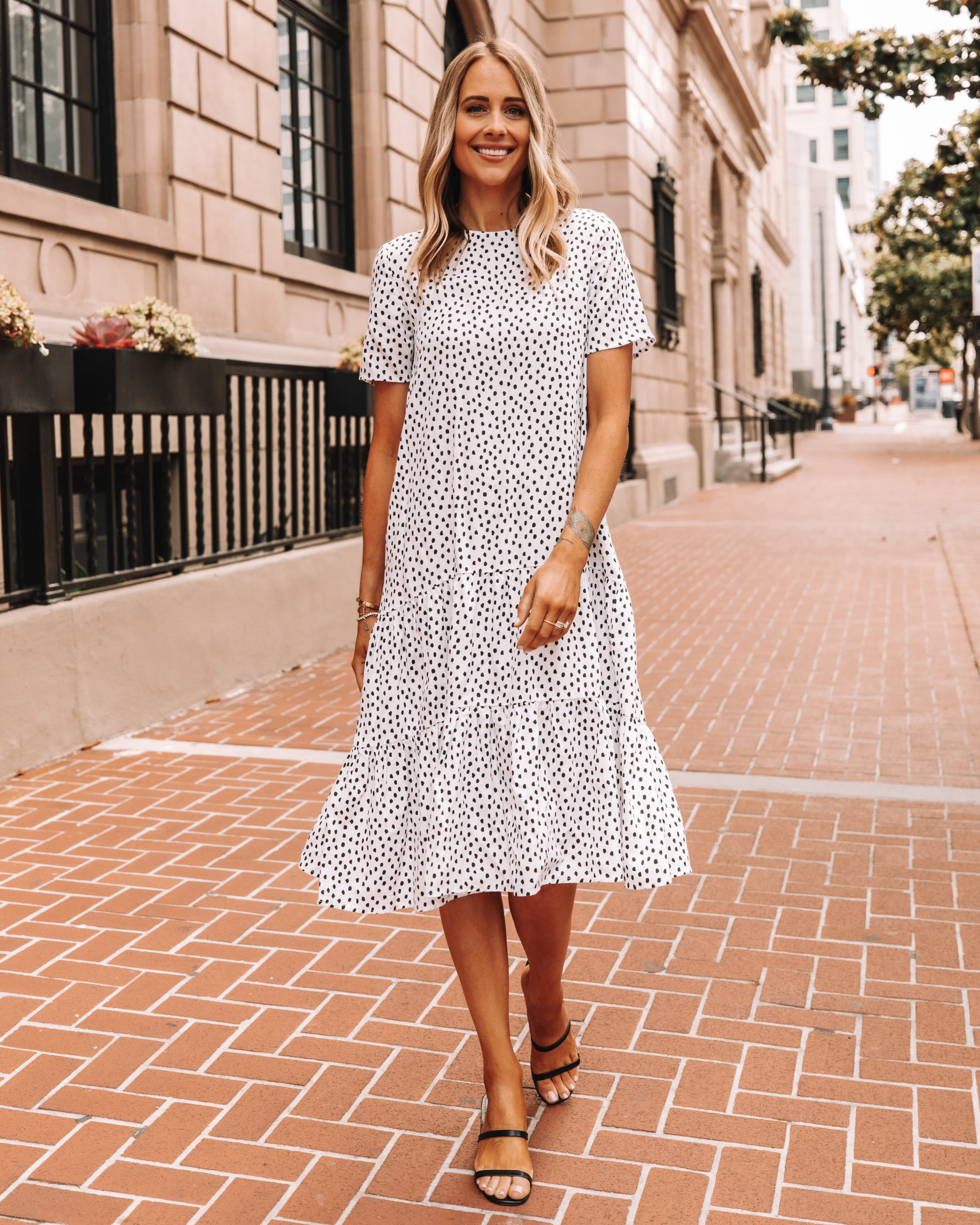 Another very effective and similar way to wear polka dot this summer is to opt for mini dress's bigger sister. Although I'm pretty sure that no one has ever referred to it like this, I'm talking about the midi dress! The midi length is perfect for those of you who'd like to cover a bit more and feel more relaxed. Moreover, the polka dot print is the perfect summer print to opt for. The majority of polka-dot midi dresses offer a very relaxed design with flare details. You definitely won't have to worry about if you have an extra cone of ice cream at the park!

Next time you're wondering how to wear polka dot this or any future summer, try these three ways!
For more style tips, click here.
YOU MIGHT ALSO ENJOY:
These Floral Dresses Will Make Your Summer Even Hotter
8 Red Slip Dresses To Consider For Your Next Date Night
Tips On Pulling Off A White Dress In Fall
Pretty In Pink | How To Style A Pink Suit