Since I can remember I've always been a Vichy fan. Maybe my mom has something to do with this. When I was young, she used to buy Vichy and only Vichy products. I used to ask her why and she always replied with one sentence: "because it is the only product that works!". It's now been 2 years since she passed away but I still remember those words whenever I purchase a Vichy product. Cross my heart, I've never been let down by the French skincare experts. Thus, I thought I would share the latest Vichy products that have taken a special place in my heart because… they work!
Vichy Liftactiv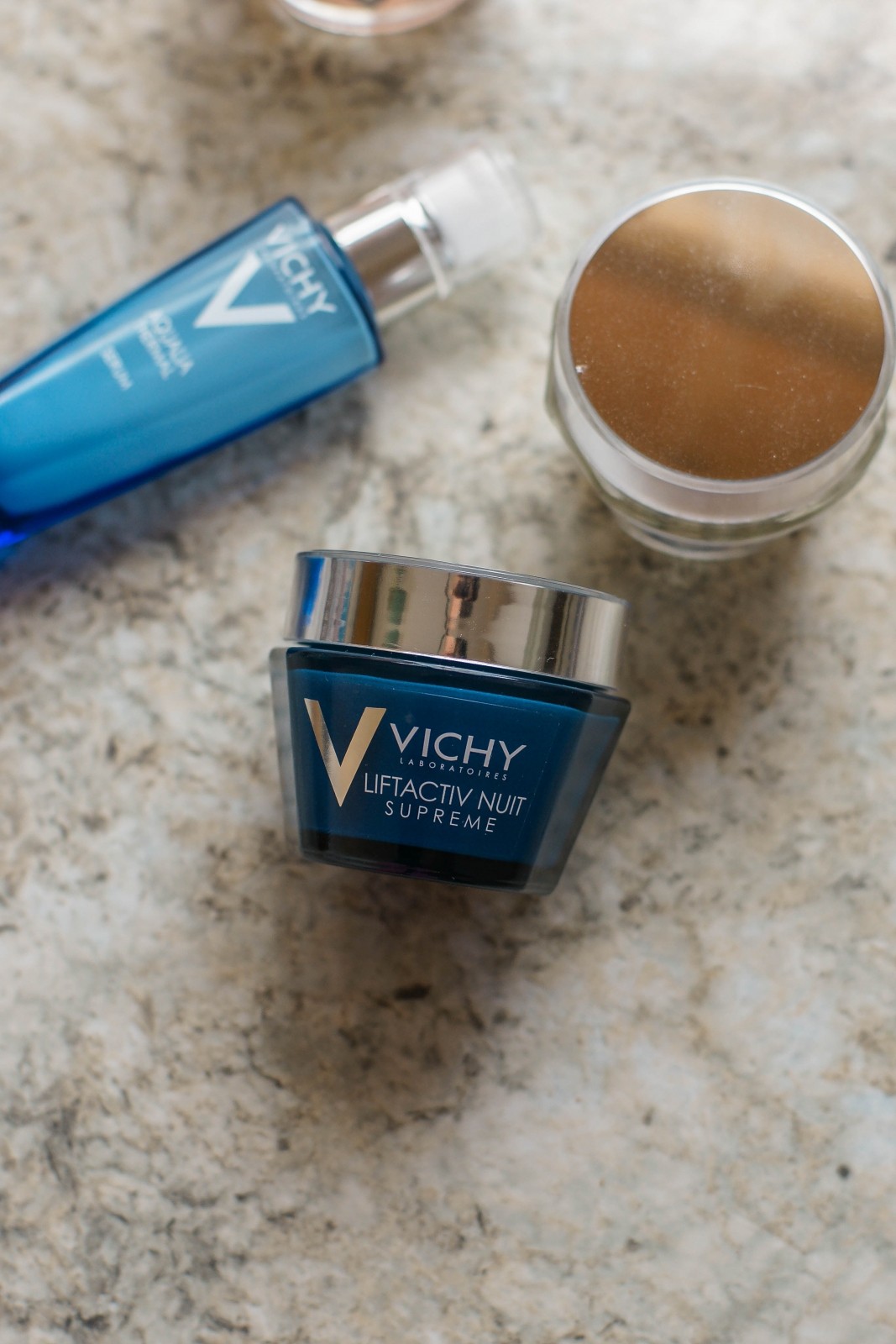 The Vichy Liftactiv Supreme Night cream is one of my most recent purchases. If you've been following my blog for a while, you would be aware by now that I'm a huge fan of skincare. After my experiment with the Lierac Magnificence range, I went on another skincare hunt only stumble upon the Vichy Liftactiv Supreme Night cream. Although the packaging states that this "is a refreshing antiaging night cream for women over 40 years", I thought I would give it a try. Let's start with the texture. The cream has a rich and comfortable texture with a mildly perfumed scent. Moreover, the Liftactiv night cream is enriched with the strengthening and soothing thermal spring water of Vichy. What's more, the cream fits all skin types, thus you can leave your worries behind.
Now let's talk about the actual benefits you can get from this cream. The Vichy LiftActiv Night Anti-Wrinkle & Firming Care instantly minimises the appearance of even the slightest wrinkles. You don't have to be in your 40s to experience the richly moisturised and firm feeling your skin will be left with. With the non-greasy, non-sticky texture your skin's youthfulness will be restored. Furthermore, Vichy have not only updated the packaging but have also enriched the cream with Rhamnose – a naturally active ingredient found in a Brazilian plant to leave your skin feeling velvety smooth.
SHOP Vichy Liftactiv Supreme Night Cream HERE (US) & HERE (UK)
Vichy Masque Peel
So far I've been a Vichy Masque, ahem, virgin. When I first saw the Vichy Masque Peel, I was more than sceptical. For £15 you get a 75ml jar of the product! You only need to apply a thin layer of the mask and let it do its job. To be honest with you, after months and months of application, there was still so much of the pink-ish jelly that I got annoyed with it – "where is the end, does it have an end?!". When I first applied this mask, I strictly followed the instructions: "apply, let it sit for 5min and rinse off". As the Vichy Double Glow Peel Mask contains fruit acid AHAs to create a double-peel action to remove dead skin cells, I couldn't take any risks.
My first application went well. The Vichy Masque Peel indeed improved the look of my dull and tired looking skin but not majorly. Hence, I decided to leave it for a little bit longer the second time – 10 minutes to be precise! Oh, should have seen the results. My skin looked not only brighter but also softer and… what's that?!… a glow! I then experimented with 15min, 20min and so on. My skin didn't react badly in any way, so I started using the Vichy Double Glow Peel Mask twice a week and left it for as long as I could. My skin was only improving and the light fragrance of cassis, apple and white musk was just making things better and better.
SHOP Vichy Double Glow Peel Mask HERE (US) & HERE (UK)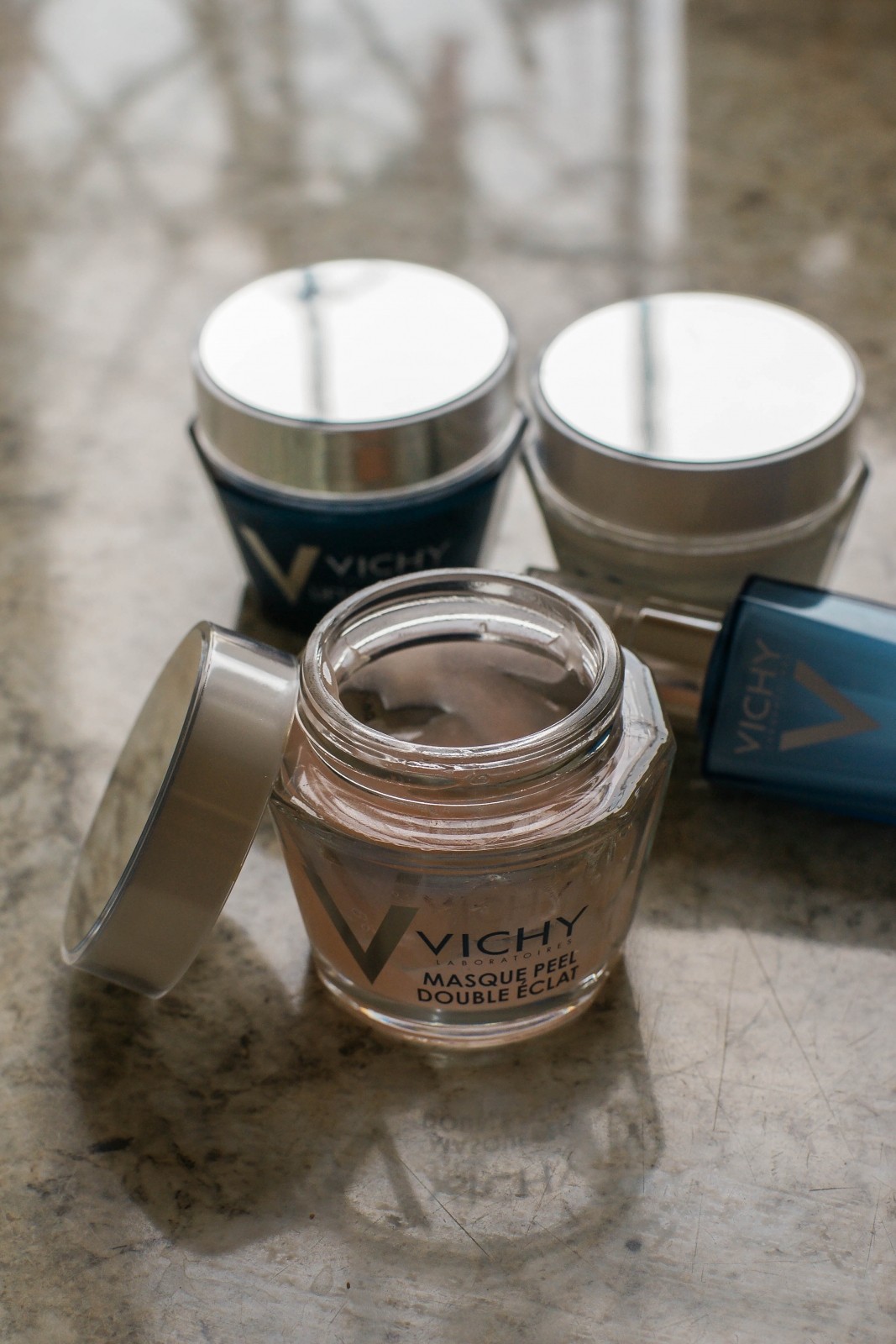 Vichy Nutrilogie 2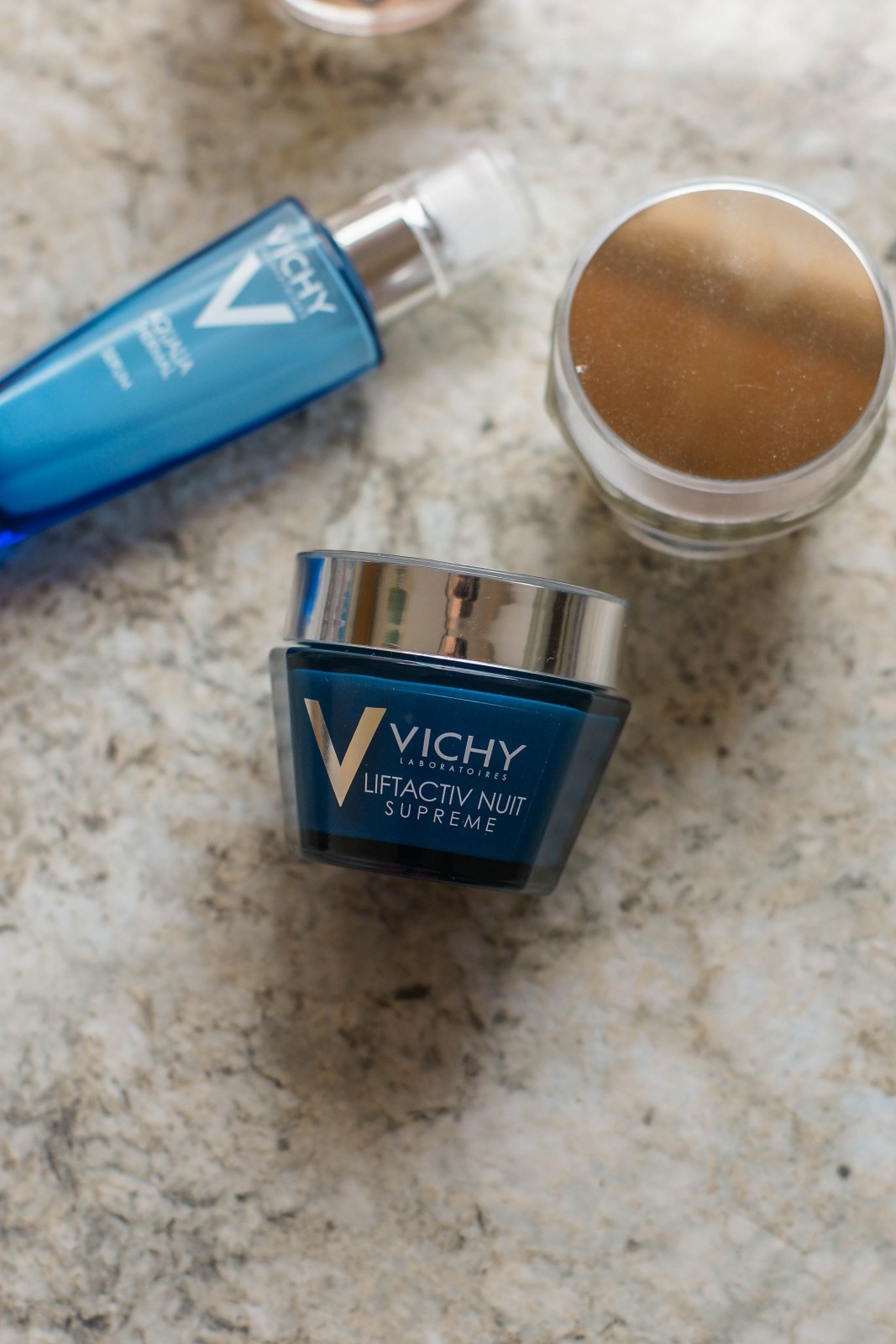 Another Vichy cream that says it is ideal for women over 35, but I was more than keen to try. The Vichy Nutrilogie 2 Intense Cream nourishes dry to very dry skin. My skin is super dry, especially during winter and this cream provides up to 24 hours of hydration and comfort. In fact, this is the first skincare range for dry skins with patented Sphingolipid which reconditions dry skin to normal skin.
I've only used Vichy Nutrilogie 2 in the morning after I've cleansed my skin. Although the description says that the formula is non-greasy, I've found it to be quite thick and greasy. However, once the cream is absorbed, the skin will instantly feel smoother and more soothed. For a moisturiser, I couldn't recommend this cream highly enough!
SHOP Vichy Nutrilogie 2 HERE (US) & HERE (UK)
Vichy Aqualia Thermal
You might have seen this little one not only once or twice across YouTube, Social Media and various magazines. There was a huge wave of positive reviews from all over the world. Thus, a few months ago I've finally decided to jump on the bandwagon and buy the Vichy Aqualia Thermal Serum! Oh, how amazed was I when I first applied it onto my thirsty skin! It not only made my skin moisturised, but it was also softer and smoother. As a matter of fact, that feeling didn't go away even after the promised 48 hours of hydration. I clearly remember the day when Vlad and I were coming back from the gym and I said: "I think this is the first serum that actually does what it is supposed to!".
I was even more impressed by the fact that 97% of the ingredients in Vichy's Thermal Rehydrating Serum formula are sourced from a natural origin. Moreover, the formula is enriched with mineral salts, naturally sourced Hyaluronic Acid and plant sugar mannose. This combination works more than well to lock in moisture and reduce water loss. What's even more astonishing is that the Vichy Aqualia Thermal Serum is suitable for all skin types!
SHOP Vichy Aqualia Thermal Serum HERE (US) & HERE (UK)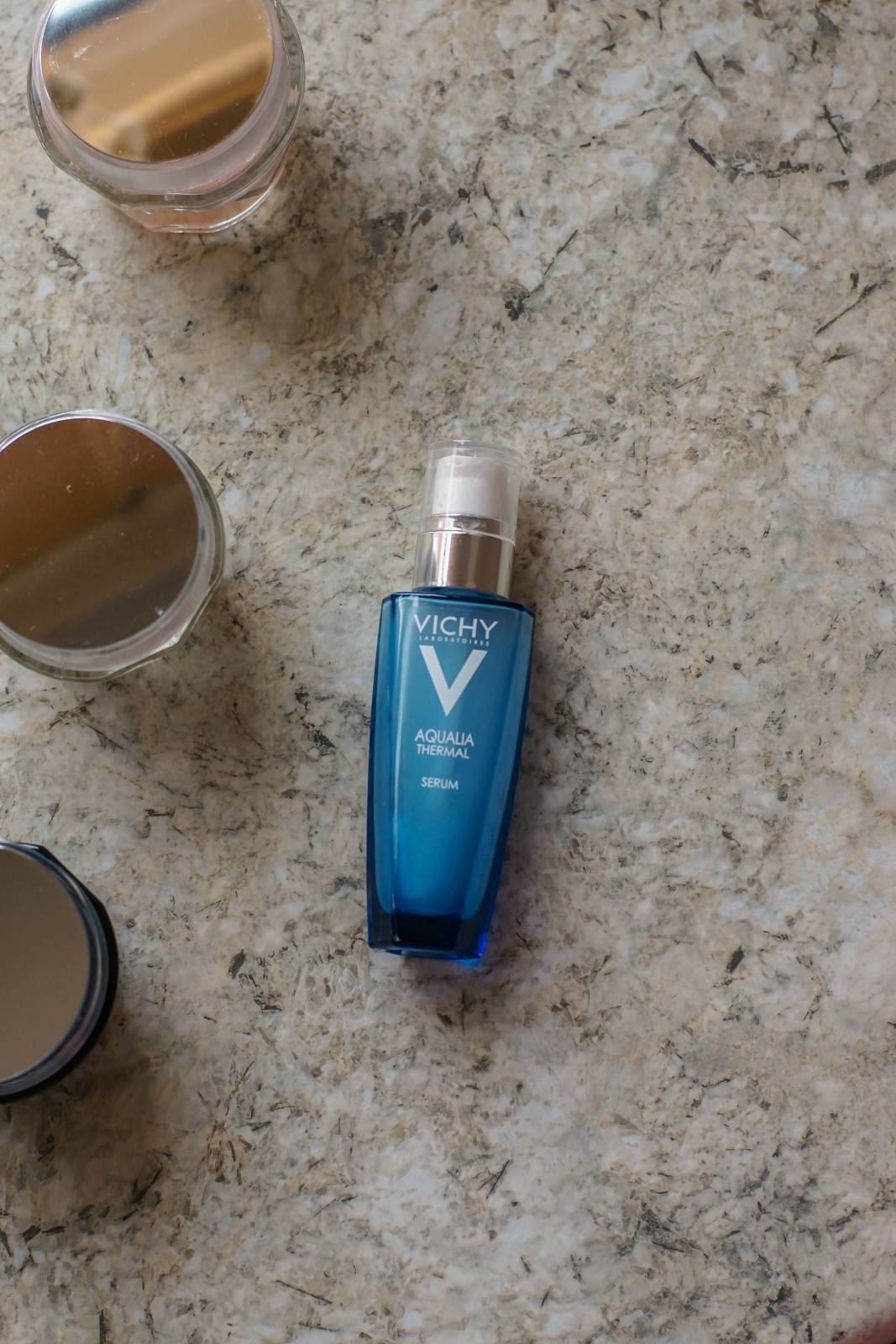 Have you tried any of these Vichy products?
Click here for even more beauty reviews and tips!
YOU MIGHT ALSO BE INTERESTED IN:
Are You Ready For The Lierac Magnificence Range?
10 Best Face Moisturisers For Dry Skin To Try In 2018
Avène Hydrating Cream, Moisture Mask & Barefaced Rice Oil Mask Review
3 Moisturising Products For Your Thirsty Skin
This post contains affiliate links.