I hope by now you would have scrolled through my blog and found something that tickles your fancy, if not – hopefully, my outfits section will do the job. The pictures you're about to see are dating back to the beginning of September – it's when, more or less, it all started. I was drinking my coffee, feeling miserable beyond measurement and was wondering what I can do to add that much-needed sparkle to my life. It sorts of hit me that I should give a go at blogging. It was an interest of mine for a long time, but I never really took myself as a blogger. Partly because I failed miserably when trying to blog at my first proper job, consequently I was told I don't have it to cut it. I've never truly believed in myself and back then (actually until a few months ago!) I relied on other people, human beings who don't know me, to define me as a person, co-worker, friend, etc. You know the drill – young girl trying to make it in the big bad world, people take advantage of her, people judge her! Young girl gets hurt and decides to hide in her own shell, pretending to like her life…
For this reason and many other reasons, I decided to challenge myself and give blogging another go! Moreover, I wanted to prove to myself that I, indeed, can blog in a well-constructed and interactive way. Firstly, I wanted to focus on fashion and fitness, because those are the two main things I'm interested in. Then again, I've learned so much over the last few years that I thought I should pass this knowledge over to you guys whether you like it or not. I'm hoping I can help people, even if it is a single lost soul out there! Long story short, I've started writing my other blog posts and left the fashion section for last – leaving the best for last, right?!
Vest and Jeans: How It All Started
It was one of the last warm, yet windy, days in September prior to saying goodbye to summer. It was a no-brainer to put my fav go-to-smart-casual look as my first fashion/outlook post. Unfortunately, I've bought most of the garments last year, yet managed to find some very much alike substitutes – take them or leave them! Let's trigger this post with the white denim jacket I'm wearing. I've had it for quite a few years (15 to be precise!) and I just can't end my relationship with the oldie. My mom bought it for me for my first day at high school – new beginnings = new jacket! I've wanted to give it away at least a dozen times, gladly I've made up my mind every single time. Following the latest trends, denim jackets are back on the shelves, hence my decision to keep it was a winner!
Vest and Jeans: The Vest
Vest and jeans is my favourite go-to-outfit. This white vest is a favourite of mine and I have a similar one in black – both from River Island! For the shoot, I decided to wear the back as a front as the v-neck was far too revealing for daylight and I didn't want to cause trouble! 😉 Strangely, it worked quite well! As a matter of fact, I'll consider wearing it like that much more often as I adore the cross back details. It just gives you a chicer look. I strongly recommend going a size up if you're into loose and flare fits! Just make sure to tuck it in whatever you decide to pair it with, otherwise, it'll look baggy and won't define your beautiful curves.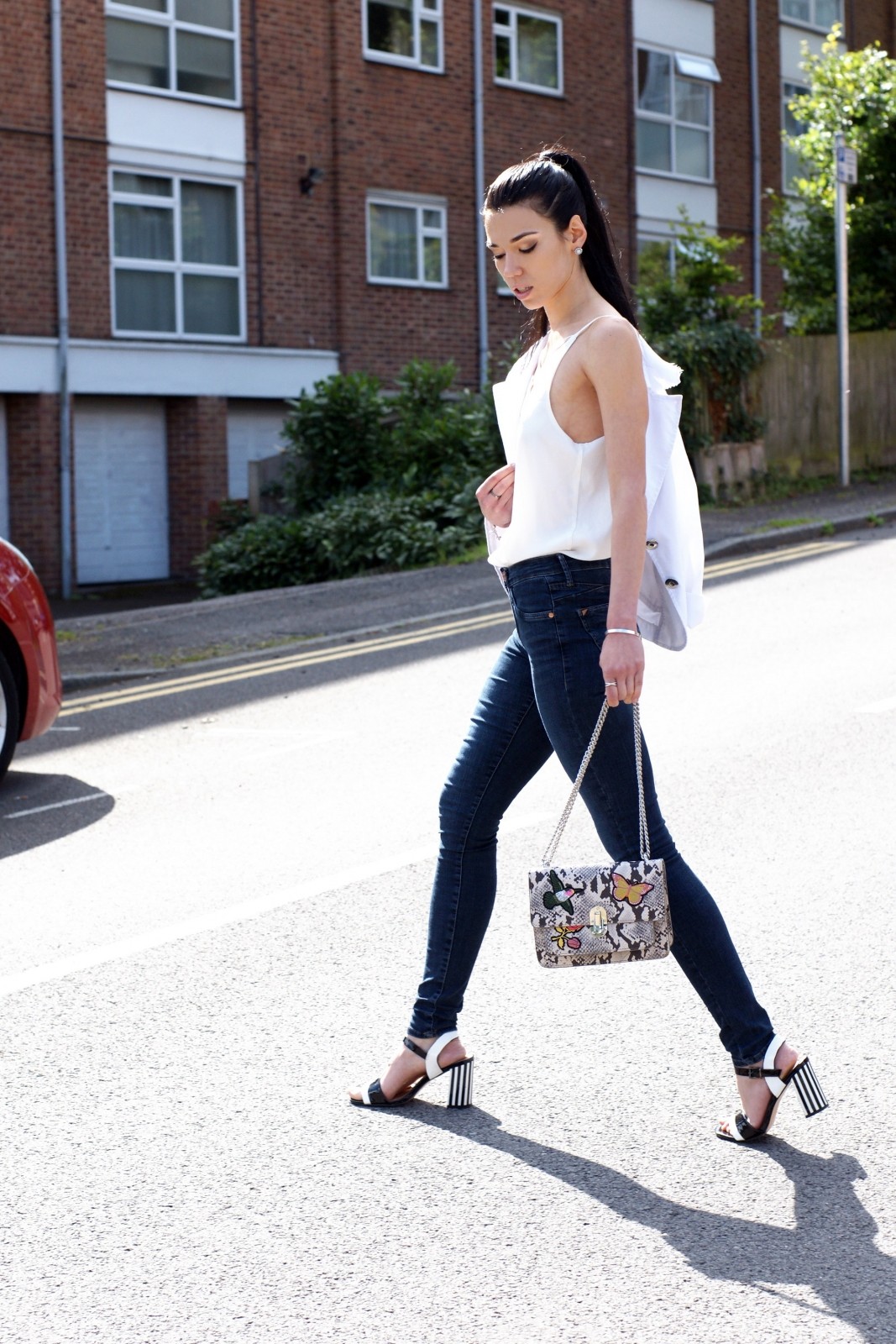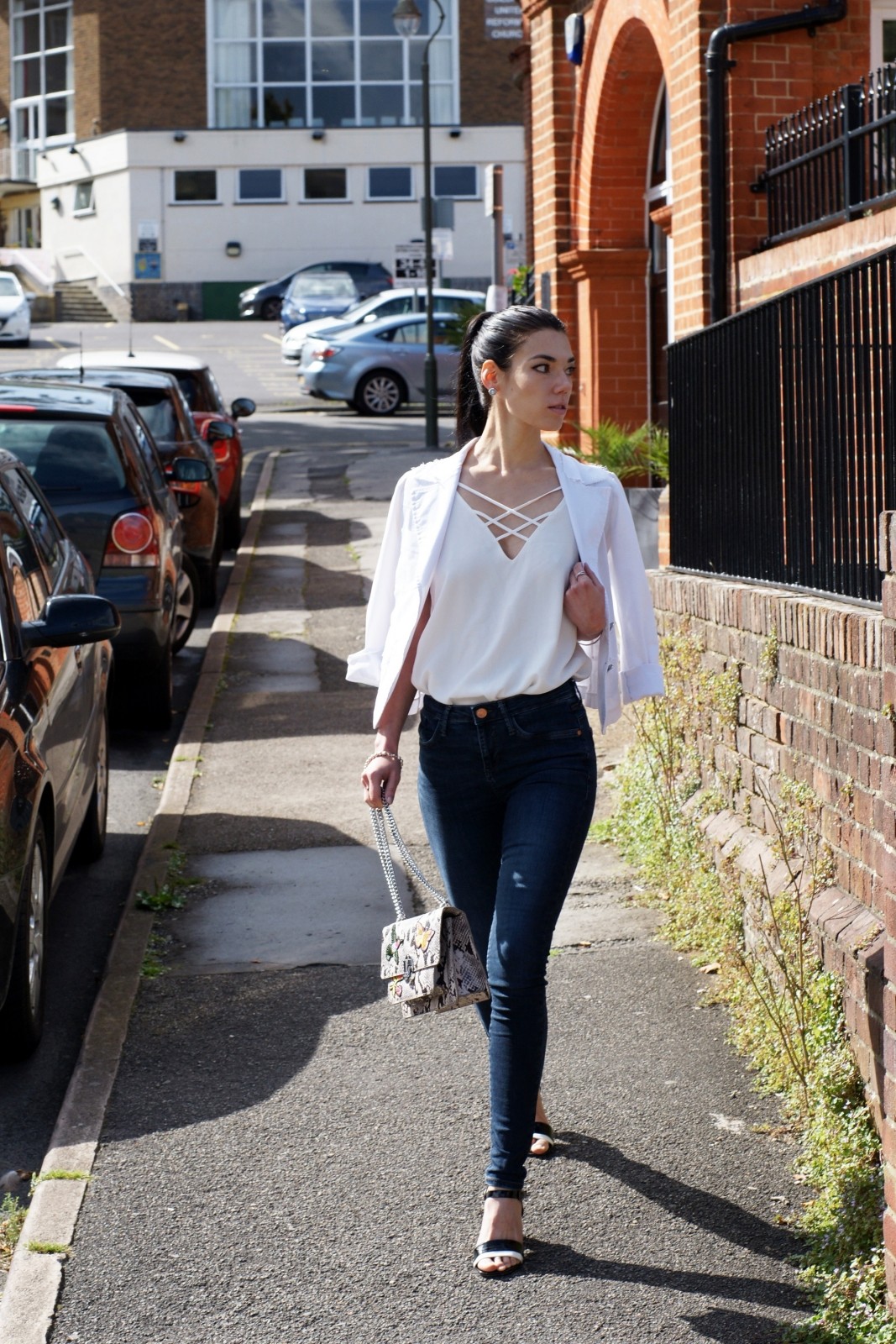 Vest and Jeans: The Jeans
Another key element for the perfect vest and jeans combo are of course the jeans! I love jeans and I would always pick jeans over everything else. Whatever the season or occasion, there's a pair out there to fit your needs! Situationally speaking, River Island hit the spot every single time! Honestly, I can't praise them enough… Their jeans always fit… or at least they fit me! You know when you finally manage to get a good one that compliments your legs, derriere, basically everything?!  Then the horrible realisation of the waist gap hits you?! Well, I haven't had that problem with RI… If you haven't had the chance to try a pair, go on and do it – strongly recommend the skinny fit! I've always worn skinny fit jeans, they make me look and feel great i.e. feeling fabulous. Ok, maybe not always, especially during that time of the month, but they fill the bill.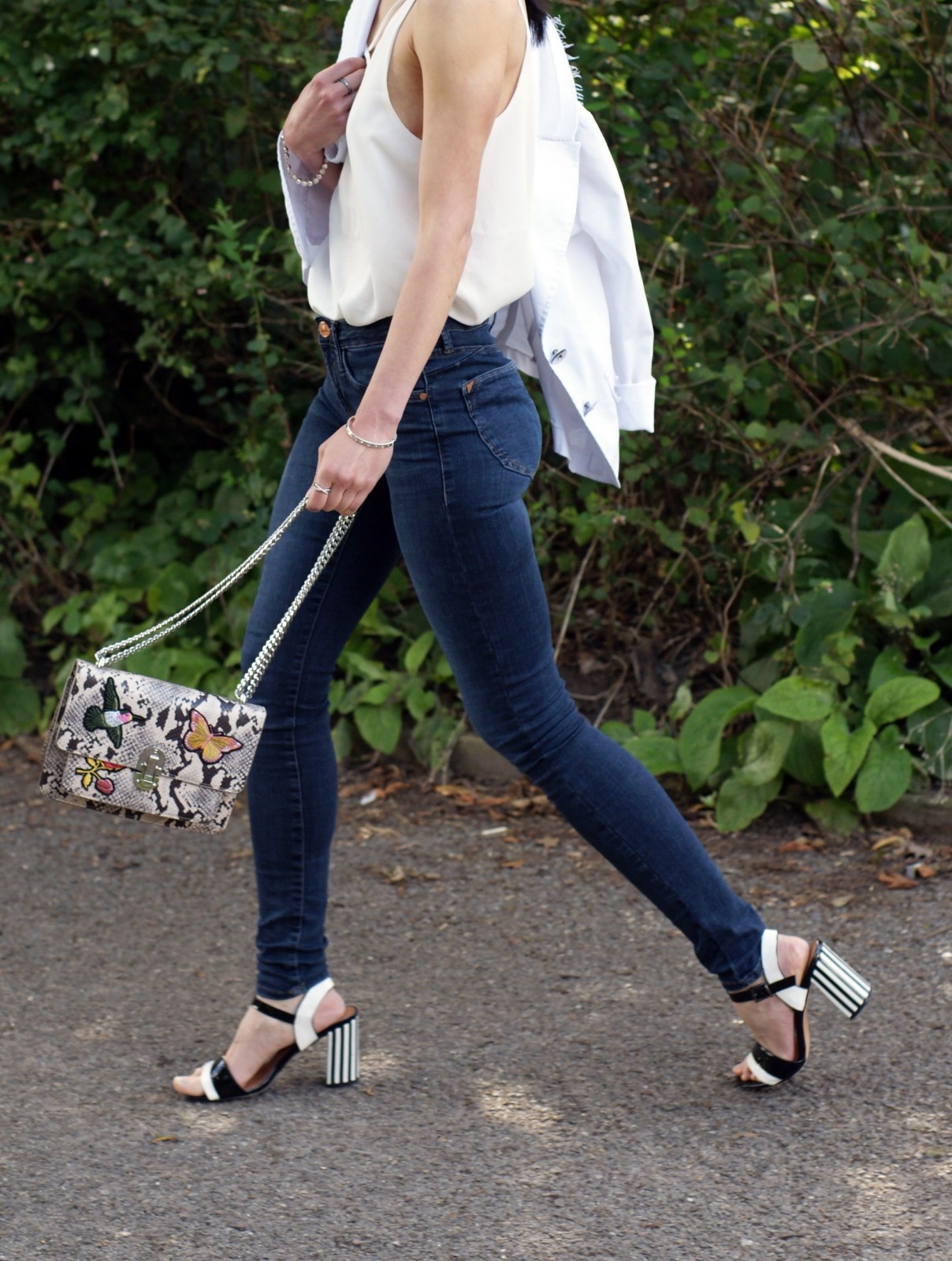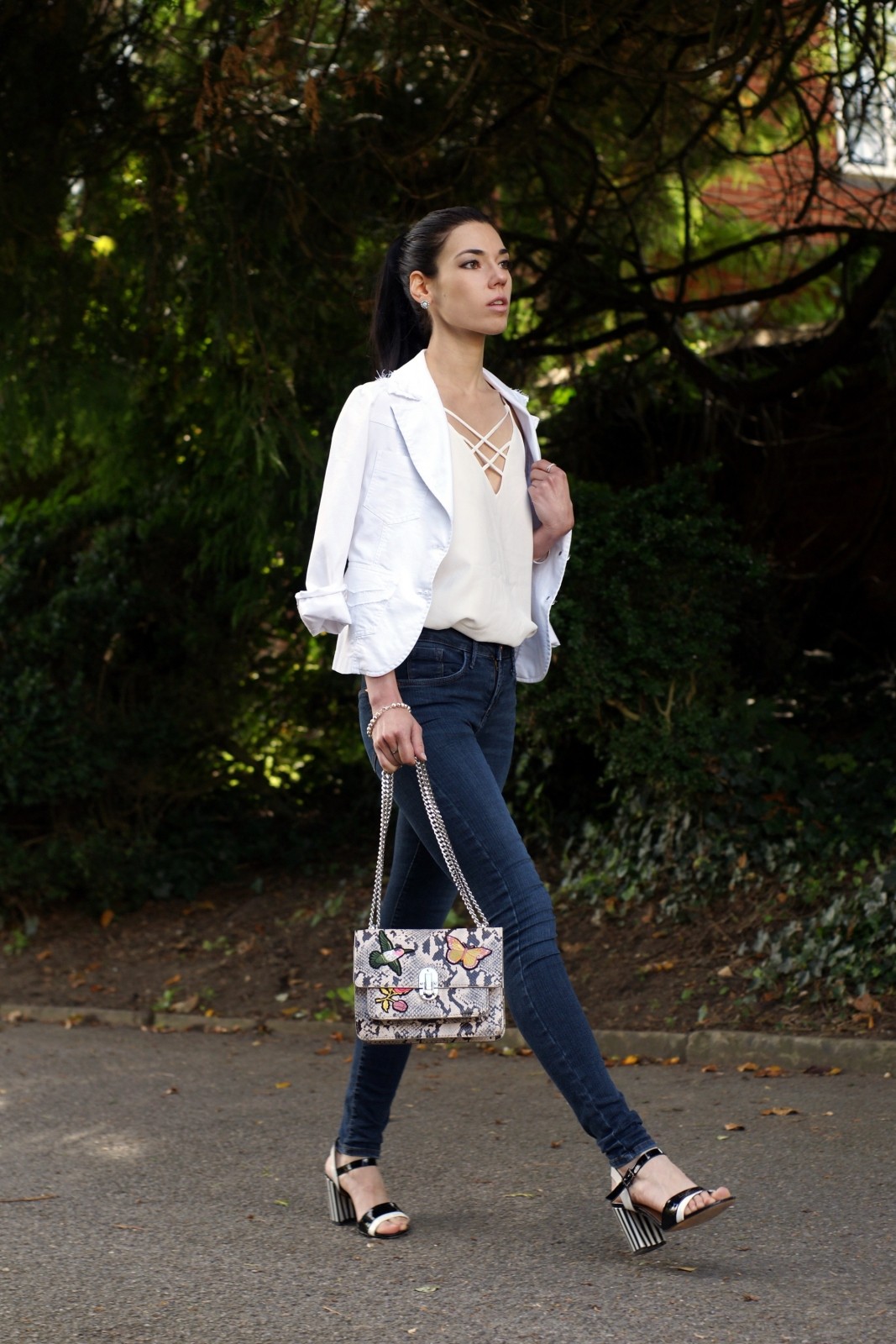 Vest and Jeans: The Shoes
Next on the list, shoes! This pair is one of the last things I got from my mom before she passed away and I'll probably never throw them away… Hopefully, wearing them in my first outlook post will bring me some much-needed luck! Then again, aren't we all making our own luck? With the risk of stepping into a philosophical territory, I'll try not to change the subject. White and black open sandals are a must in my shoedrobe! Colour-wise – a match made in heaven; block heels – super comfy, won't break your ankles (I tend to trip a lot!); round open toe – let your piggies breathe!
Vest and Jeans: The Bag
Moving onto this beautifully designed bag from Mango! I'm a sucker for a good attaché, just ask Vlad aka the boyfriend! I mean it, seriously, ask him through the comments below or stalk him as every other normal human being… and he'll say I'm absolutely mad about bags! I'm like the mad hatter, but a toter?! Mad toter? Can I use that? I should patent it… I'm catching flies again, sorry. In fact, Vlad bought me this one as a present after I was thinking about buying it myself for a couple of days… so indecisive sometimes… I first saw it in Insta, being featured in a post by this gorgeous girl I'm following from Vienna and I knew I had to have it. I immediately asked her where she got it from and got Mango as a reply. Bad news – it was sold out, good news – I found a similar version through House of Fraser. The funny thing is that I've never been too keen on snakeskin. However, the combination with embroidery made a huge difference. It reminded me of the oh-so-adored Gucci bags! consequently, I had no other option but to fall in love with the details offered by Mango.
Well, there you have it, my story and outfit of how I decided to start this blog. Hopefully, you'll enjoy reading my nonsense, if not – I'm more than happy to perform a monologue!
Outfit details: Super Old White Denim Jacket (similar here); River Island Cross Back Vest (similar here); River Island Skinny Jeans (similar here); Black & White Sandals (similar here); Mango Snake-Effect Bag (similar here)
x Mariya
P.S: Don't be a stranger, leave a comment below!
YOU MIGHT ALSO ENJOY:
The Red Biker Jacket In My Wardrobe
Obsessed With Beige – I Regret Nothing!