Launched in 2014, the Urban Decay Naked 2 Basics palette screams anything but 'basic'! As far as I'm concerned – it's above your average nude-like palette. I've had this Urban Decay palette for quite some time and I'm finally ready to do a review. It's my number 1 palette for an everyday look. As proclaimed by Urban Decay, the Naked 2 Basics gives you that extra beauty with an edge factor. The pocket-sized palette contains six eyeshadows – five have matte finishes whereas one has a satiny finish. I find the shades quite cool-toned with some warm undertones. Most of the shades have good pigmentation but are rather powdery, even though they don't give that impression at first glance.
Moreover, a little goes a long way – you can choose to go for an everyday look or build-up for a more dramatic going-out effect. Personally, I tend to use the Naked 2 Basics palette for casual/everyday looks as the shadows have matte finishes. For night outs I prefer darker and sparkle finishes as it gives me an extra edge to my look. However, Urban Decay hasn't disappointed and you can create a night look by using the Undertone shade. I've used this palette for both occasions during all seasons. Surprisingly or not, the shadows survived and didn't smudge, hence the Naked 2 Basics has won a valuable place in my makeup bag!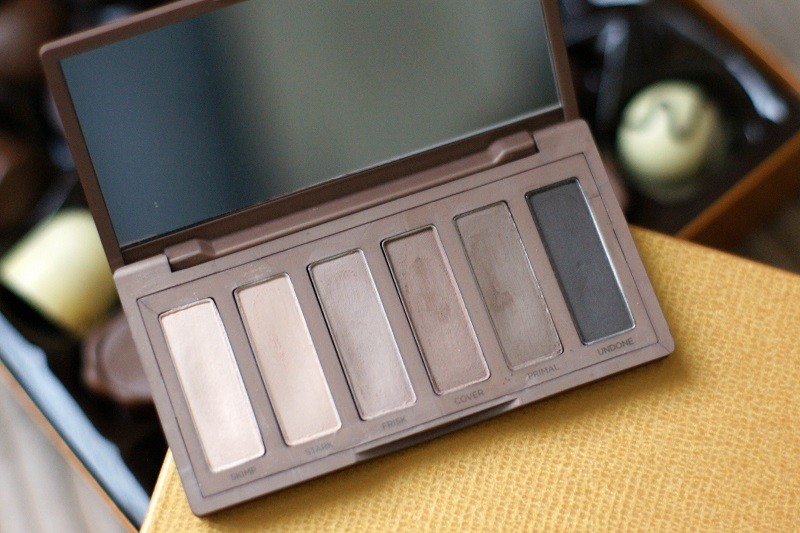 Naked 2 Basics Shades Review
The Lighter Range
Skimp. Described as a "pale nude satin", skimp is the barely-there eyeshadow of the whole bunch. I have light-coloured skin with yellow undertones and this shade doesn't really stand out. Furthermore, this is quite noticeable from the swatches. I usually apply skimp on my brow bone for a lifting effect and on my inner lid corner to open the eye. The texture is blendable with a good colour payoff. Although I feel like this colour would be more suitable for very cool or very warm-toned people, skimp is one of my favourites.
Stark. This Naked 2 Basics eyeshadow is described as "nude-pink matte". It might not be visible from the photos, but stark is my most 'abused' shadow out of the whole palette! I love this shade so much, that I apply it as a base, on my middle lid and above the crease. It's a peachy-beige with a matte finish and warm undertones. It's perfect for an everyday look and has a good pigmentation.
Frisk. The second most 'abused' shade in my Urban Decay palette! Frisk is a "warm-grey matte" and I apply it to my middle lid. It's very powdery and you need to build it up in order to get a good colour payoff. However, if you use primer you should be ok and the colour will reward you with the loveliest light-medium taupe you've seen. I would love it to be slightly more pigmented as it fades quite quickly, but I still can't get enough of it!
The Darker Range
Cover. Described as "muted red-brown matte", cover is the first out of three darker shades from the Naked 2 Basic palette. It's a light to medium-dark warm-toned taupe brown with a matte finish a high pigmentation! Withal, I always forget how pigmented it is and tend to get more on the brush than I actually need. It's super blendable and long-lasting, and I tend to apply it above the crease or middle of the lid.
Primal. Second darker shade from the Urban Decay palette. "Muted brown matte" with soft and warm undertones. It nicely pigmented and you can build it up for a more dramatic look. I use this shade for my outer lid and lower lash line. It blends quite well, but I find it to be more on the powdery side than I would like it to be.
Undone. My least favourite shade of the bunch, hence I've barely used it. Described as "deep, smoky brown matte" with cool undertones, I find it to be under-pigmented. The colour doesn't payoff and it is very powdery when applying. In order to do the swatch, I had to dip my finger five times before I could get the results I wanted. As mentioned above, I rarely use this colour – it's difficult to apply and I don't get the results I want. Maybe I should try using a damp brush?! Only trouble is that I really don't like this technique as it leaves my eyeshadows with a thin hard layer…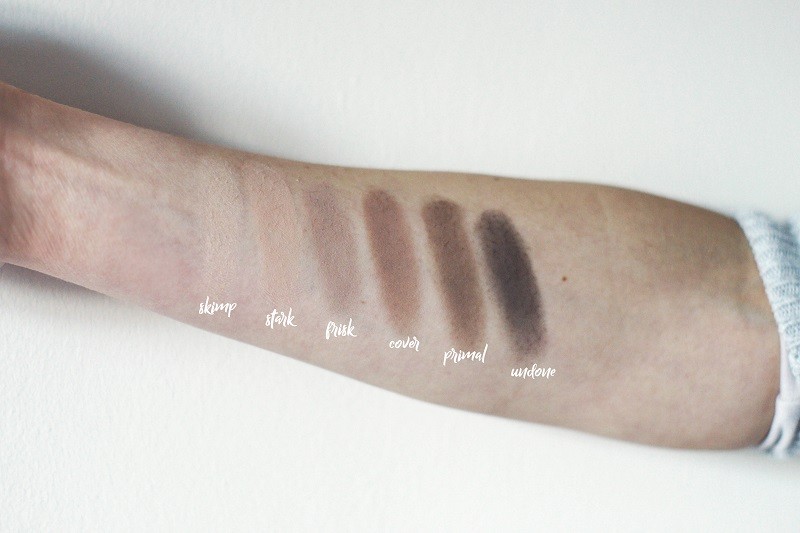 Overall, I adore the Urban Decay Naked 2 Basics palette. For £21.60 RRP (it's discounted at Feelunique!) you definitely get value for your money. Also, for some strange reason, it's been giving me chocolate cravings every time I look at it… I used to experiment a lot more with this palette, however, I've learned what looks best and what not. Hence, I've created my everyday look by using this palette in the photos below and I hope you like it. It's a very gentle, feminine and classic warm-toned makeup look.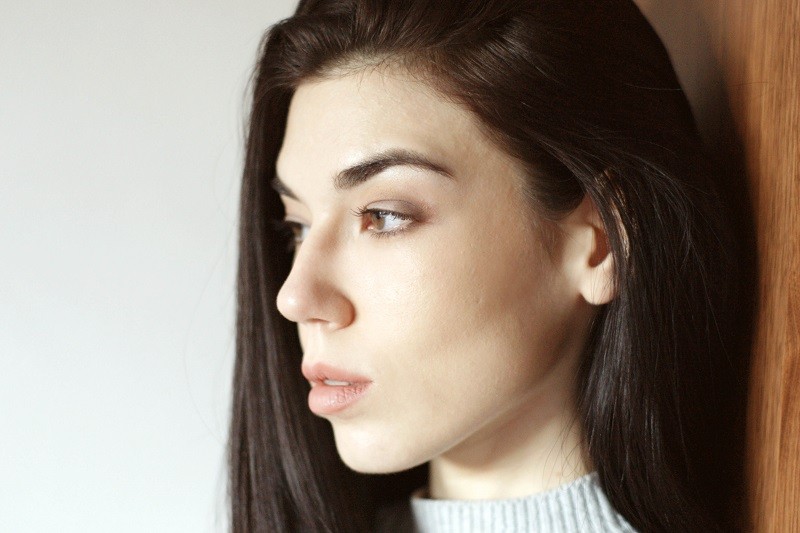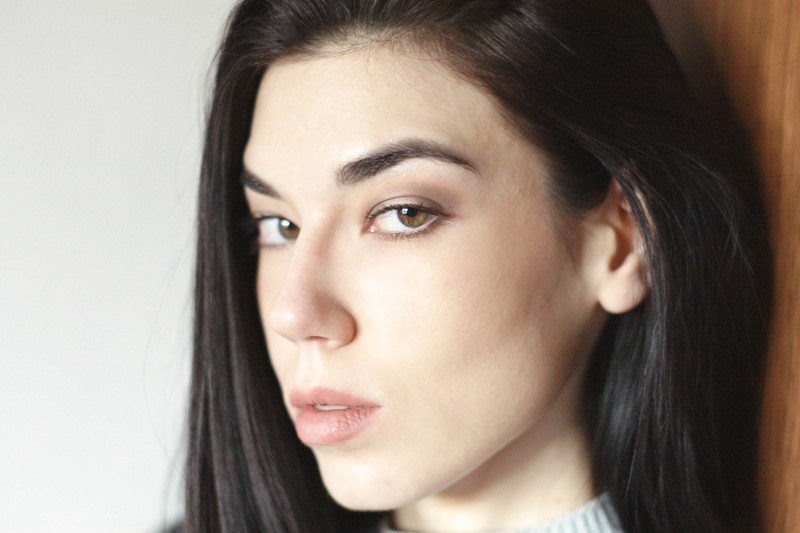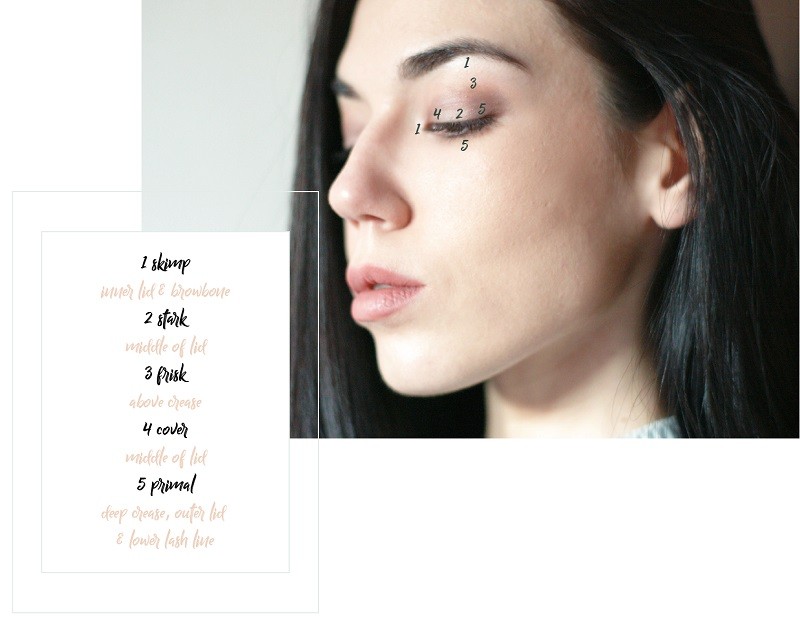 What are your thoughts of the Naked 2 Basics palette?
P.S: In case you're wondering, I'm using one of my favourite MAC matte lipsticks – Velvet Teddy!
x Mariya
YOU MIGHT ALSO ENJOY:
5 Under £5 Makeup Must-Haves I Swear By
MAC Matte Lipstick Swatches – Top 5