Back in December, I've posted my first protein bar review on Oh Yeah Protein Bars, followed by a second protein bar review on Fit Crunch & Sci-Mx Pro2Go Protein Bars and I've asked you whether you'd like me to continue reviewing protein snacks and bars for you. Well, as you've might have guessed it already – the answer was yes! Thus, here I am with another protein bar review – this time focusing on BPI, Dymatize and PhD Smart protein bars.
BPI Best Protein Bars
Serving Size: 1 bar (64g) | Calories: 230 | C 28g; F 8g; P 20g; Fibre 16g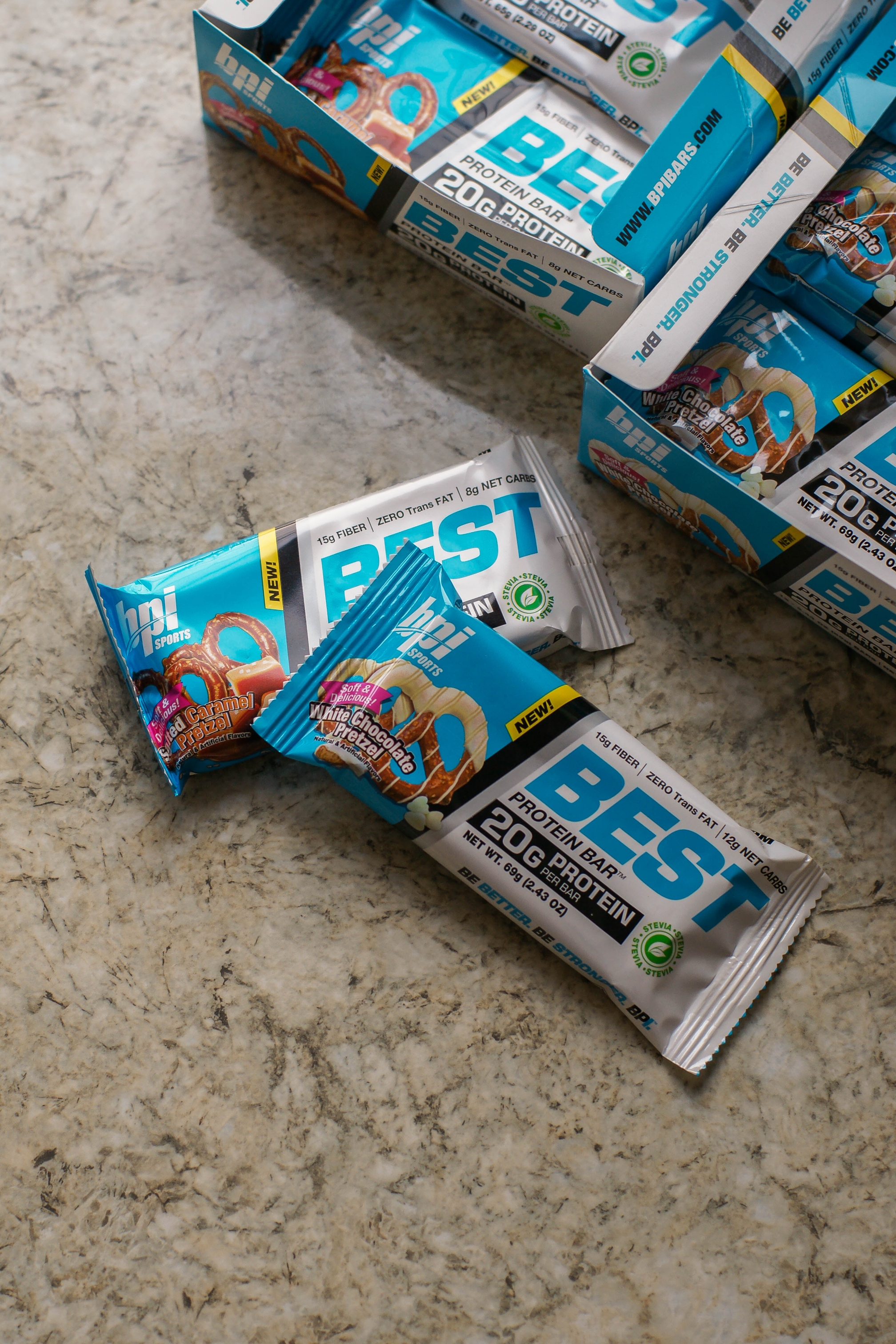 BPI Best Protein Bars are one of the first protein bars I've tried. The flavours I bought are the Salted Caramel Pretzel and the White Chocolate Pretzel. Although BPI states their bars have a soft base texture, I must admit they are most definitely not the softest protein bars out there. As a matter of fact, they are quite hard and chewy but I actually like that. The Salted Caramel Pretzel is packed with crunchy caramel bits with the slightest hint of salt, whereas the White Chocolate is filled with round biscuit balls. Each protein bar has 20 grams of protein and 16 grams of much-needed fibre. What's even better about BPI Best bars is the incredibly low amount of sugar – only 3 grams!
Get your BPI Salted Caramel Pretzel from HERE (UK), White Chocolate Pretzel HERE (UK)
PhD Smart Protein Bars
Serving Size: 1 bar (64g) | Calories: 238 | C 23g; F 11g; P 20g; Fibre 2g
Caramel Crunch and Dark Chocolate Raspberry are the two protein bars I tried from the PhD Smart Protein Bars range. The first thing that might strike as odd about these bars is the shape. Unlike your usual rectangular-shaped protein bars, PhD offers more of a long tube version of your favourite protein snack. After you get used to the Twix-shaped protein bar, you'll soon realise how delicious it is. You can compare the taste to a delicious chocolate dessert rather than a protein snack. Each PhD Smart bar is triple-layered with protein, very low in sugar and offers you 20 grams of protein. The Smart Bars contain a super-soft gooey centre with your choice of flavour, coated in dark chocolate and protein crispies.
Smart Bar™ is available in 6 delicious flavours: Caramel Crunch, Choc Peanut Butter, Chocolate Brownie, Cookies & Cream, Dark Choc Raspberry and the latest addition, White Choc Blondie.
Get your PhD Smart Protein Bar from HERE (US), and HERE (UK)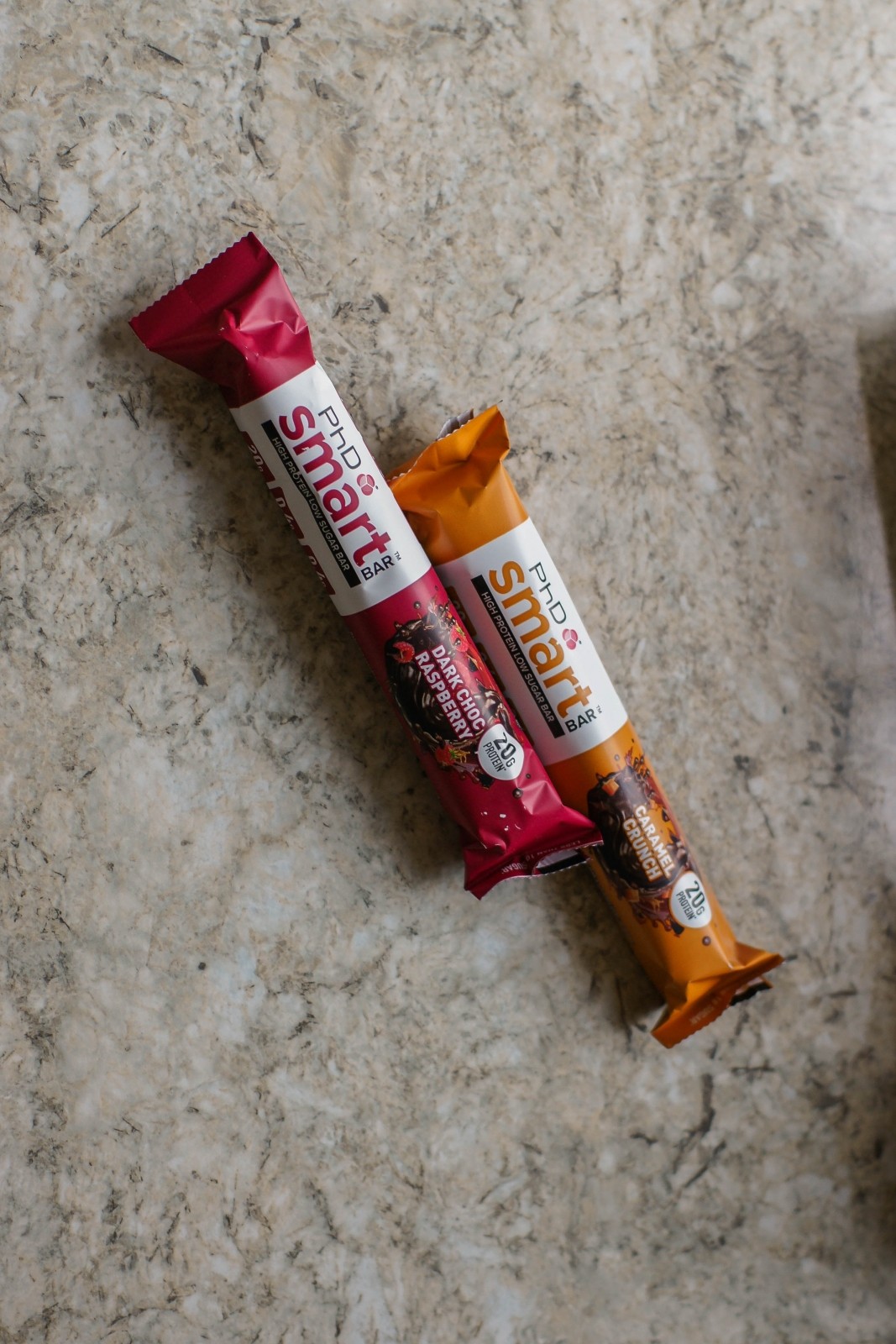 Dymatize Elite Protein Bars
Serving Size: 1 bar (70g) | Calories: 216 | C 20g; F 6.7g; P 20g; Fibre 12g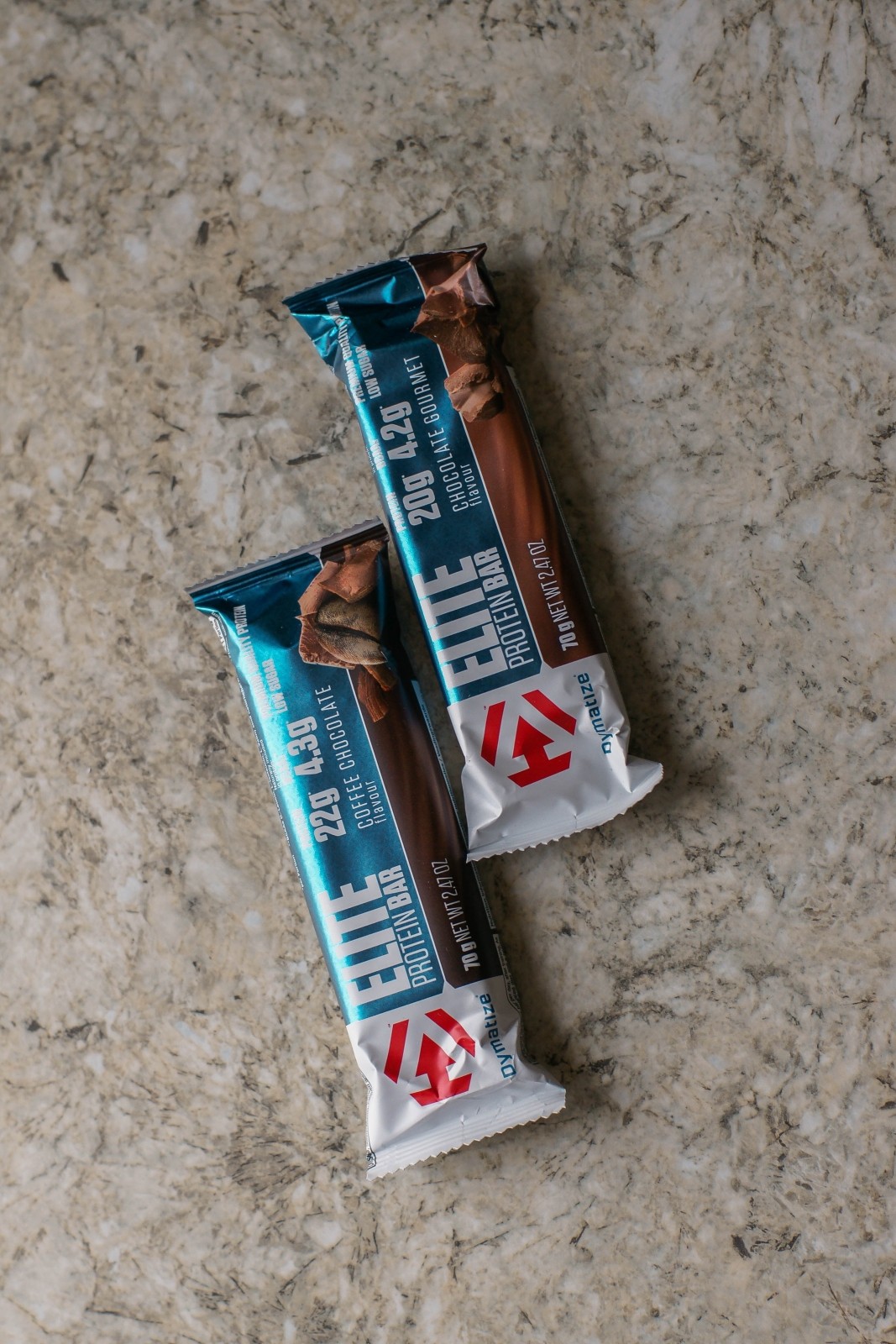 The Dymatize Elite Protein Bars are exactly what you think – ELITE! Dymatize is one of the few supplement companies that offer high quality, premium protein supplements. They are slightly bigger than your average protein bars but have fewer calories!  Each Dymatize Elite Protein bar offers 20 grams of protein, of which 4 grams are BCAAs (branched chain amino acids: L-leucine, L-isoleucine, L-valine, which are naturally occurring in protein). Very low in sugar and fat, but high in fibre, they will keep you fuller for longer. The flavours I tried are the Coffee Chocolate and Chocolate Gourmet, with Coffee Chocolate being my favourite out of the two bars! Each bar has a nice soft and gooey texture, sure to make you drool before you even take a bite.
Get your Dymatize Chocolate Bar from HERE (UK), other Dymatize Elite Protein Bars Flavours HERE (US)
To cap it all, I would say Dymatize is my favourite out of the 3 brands. I prefer softer textures and they offer it! If I'm craving something sweeter and crispier, I tend to go for the BPI Quest protein bar. PhD Smart, on the other hand, is a bit of a deluxe dessert that you'll want to enjoy after a meal instead of a snack. I hope you've enjoyed yet another review of my favourite protein bars. Don't forget that protein snacks and bars shouldn't replace a regular meal full of nutrients and vitamins! Protein bars are simply a better choice when you're facing the dilemma to either have a delicious, but highly unhealthy pack of crisps or go for a healthier protein-packed option. As usual, thank you for reading and let me know what you think of these protein goodies in the comment section below.
Have you tried any of these protein bars?
This post contains affiliate links.
For more protein snacks and health tips, click here!
YOU MIGHT ALSO ENJOY:
FitSpo, FitJoy & King Whey Protein Bars Review
Protein Snacks: Fit Crunch & Sci-Mx Pro2Go Protein Bars