Nostalgic! That's the word to describe the latest offerings from H&M A/W '18 studio collection. Recently, I've been admiring their collection and I just couldn't resist sharing my wishlist with you. This autumn H&M have taken inspiration from iconic TV characters and movie stars. From heritage checks to neon fuchsia colours, there is something for everyone. The collection offers some double-breasted cotton coats in light brown and black colours alongside a signature black leather jacket and a patterned piece that will make every suit stand out. My personal favourite is the light brown double-breasted coat.
In terms of dresses, there are options for business and leisure. The offerings include a very flattering sleeveless V-neck checked piece for the boss babes out there and a beautiful black calf-length dress with puff sleeves. For those of you, who'd like to make a statement, there is a very bright dress in that fuchsia colour I've mentioned above and you can style with a warm polo sweater or shirt underneath. However, if I had to choose one, that would be the straight-cut checked dress in dark brown. It simple, yet elegant and very flattering with the little bowl going around the neck and the barely-there pleats at the front and back.
The turn-up selvedge jeans from the H&M A/W '18 Studio Collection are sure to bring back vivid flashbacks from any '50s movies you've recently watched and my eyes are set on these straight 5-pocket dark blue jeans. The denim is stretchy so I can comfortably give them some bonus points for comfortability. Straight legs and raw-edge hems give the opportunity to style them with some of the denim shirts displayed on the website, the wool-blend polo-neck jumpers or the white tie-collar shirt with a bow that I've included in my wishlist.
There is plenty of choice in the skirt section too. Denim, leather or woven fabric – the choice is yours. Mine is the gorgeous pleated knee-length leather skirt, that, of course, has sold out, probably within minutes… My luck is nowhere to be found lately! As for the accessories – I really liked these heart-shaped earrings in a mix of light and dark brown. Aren't they gorgeous?!
Have you seen H&M A/W '18 Studio Collection?
Which are your favourite pieces?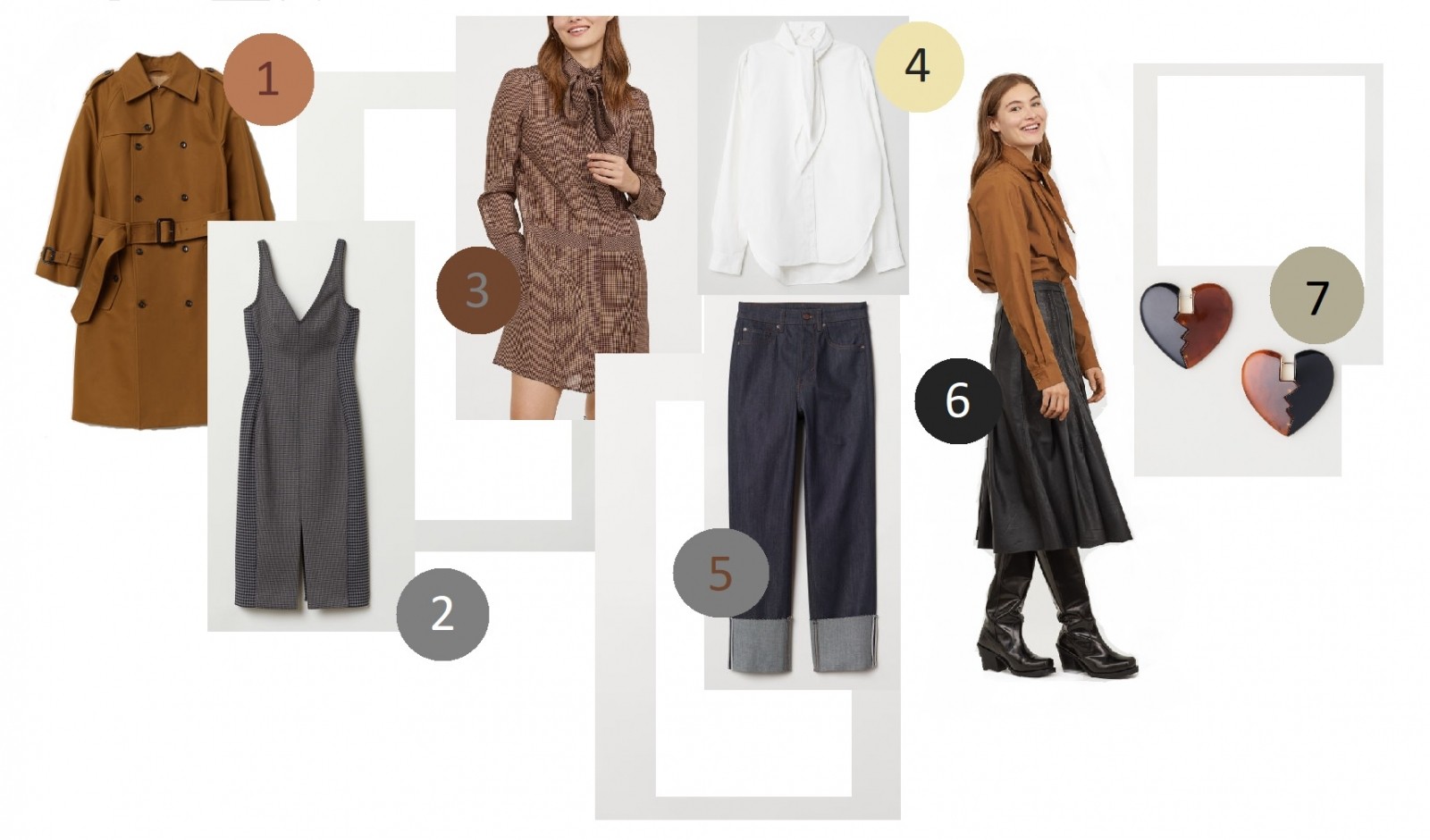 Double-breasted Cotton Coat | V-neck Dress | Checked Dress | Tie-Collar Shirt | Straight Loose Jeans | Knee-length Leather Skirt | Heart-shaped Earrings 
This post contains affiliate links.
Check out the runway + trends category for more fashion tips and runway highlights!
YOU MIGHT ALSO ENJOY:
20 Trendy Winter Outfit Ideas To Keep You Warm
30 Teddy Bear Coats To Keep You Warm This Winter