You might have heard that off-the-shoulder tops gained their popularity around 2016 during the spring runways. However, that couldn't be further from the truth! Off-the-shoulder ensembles have been an on and off trend since the 1800s. Well, the off-the-shoulder tops weren't quite popular at that time. Actually, I don't think they'd even been invented back then… Yet, off-the-shoulder designs were especially prominent in high couture dresses!
Although a lot has changed since that time, showcasing your shoulders still remains one of the most feminine ways to flash a bit of skin. Whilst couture off-the-shoulder dresses are probably not your most affordable (or versatile for that matter!) choice, you can always opt for an off-the-shoulder top!
Nowadays, the style and colour options these must-have pieces come in are countless. Thus, I came up with three main categories of off-the-shoulder top styles you need to try… if you haven't done so already!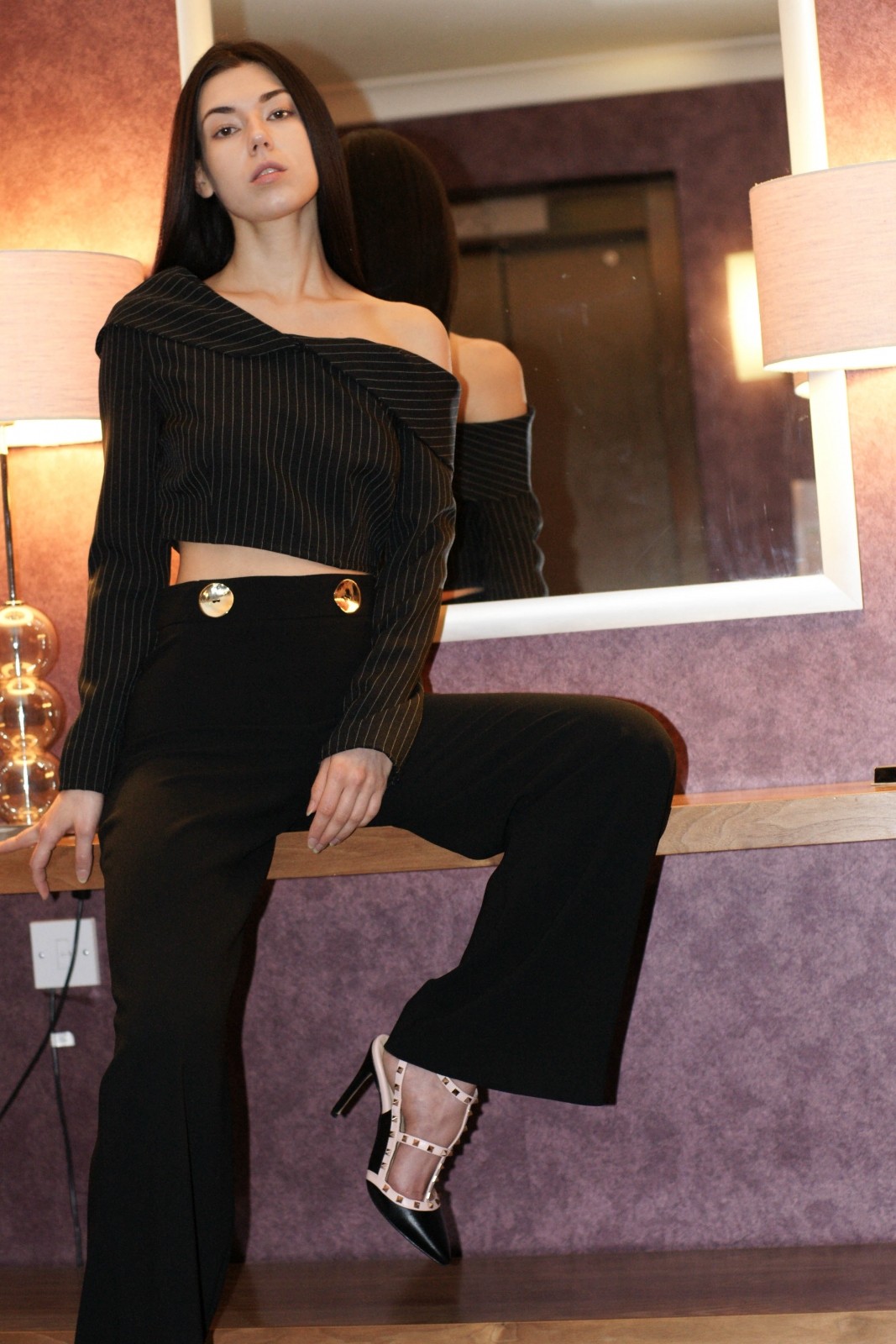 Bardot Crop Top (sold out) | Zara Wide-Leg Trousers (Zara, old, similar here) | Rockstud Shoes
Casual Off-The-Shoulder Tops
The first off-the-shoulder top style you must try is the casual. Although I've seen this particular style worn all year round, I myself would refrain from wearing it if the temperatures are anything below 20 degrees!
Nevertheless, the casual off-the-shoulder top style is perfect for those warm late spring and hot summer days! If you're looking for a simple, yet feminine solution for an everyday outfit, then this casual top is your answer! Moreover, you can choose from cotton, denim or acrylic fabrics. Cotton off-the-shoulder tops will be your best choice during the long hot summer days owing to the breathable fabric. Denim, on the other hand, will keep you warm enough during those chilly spring evenings.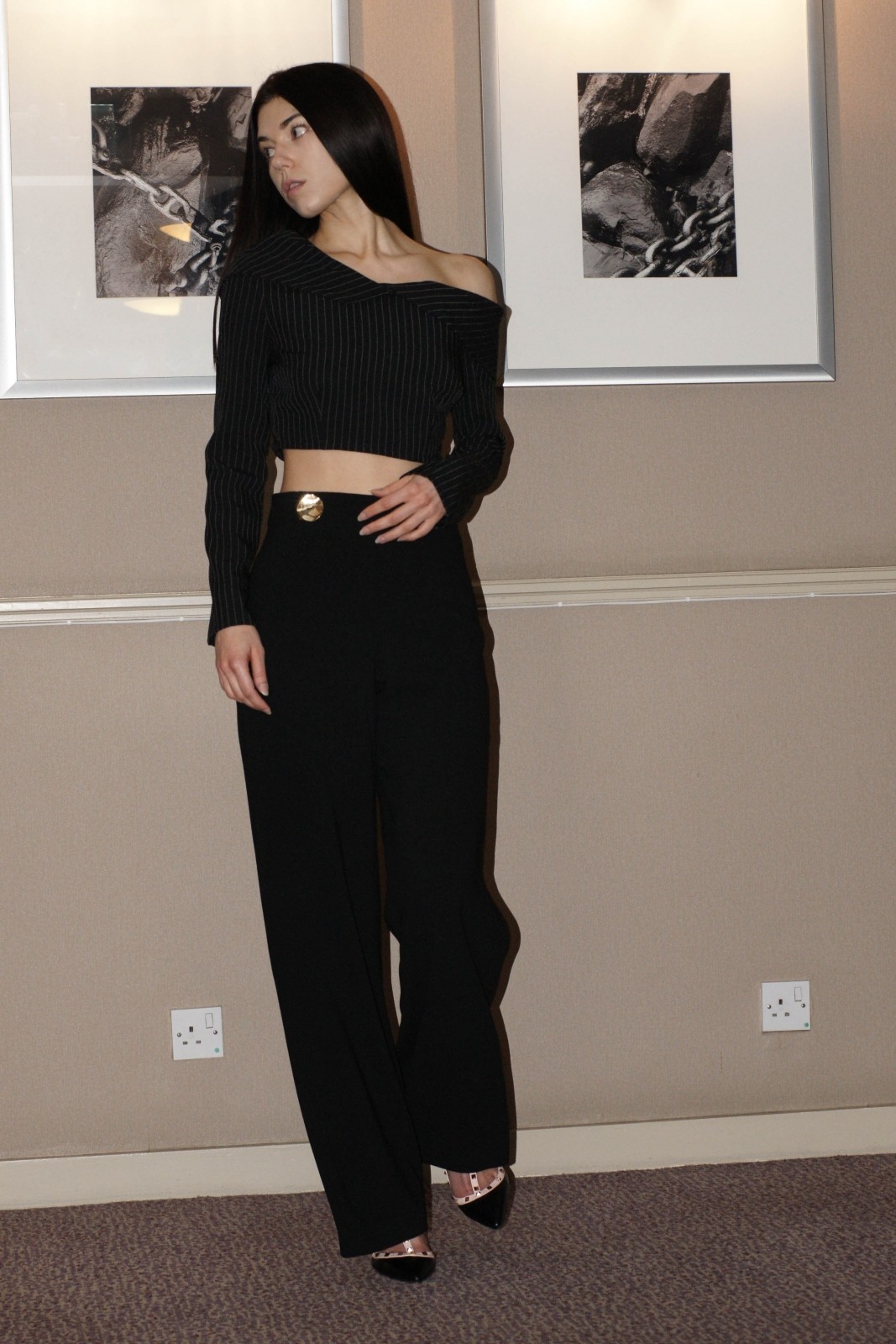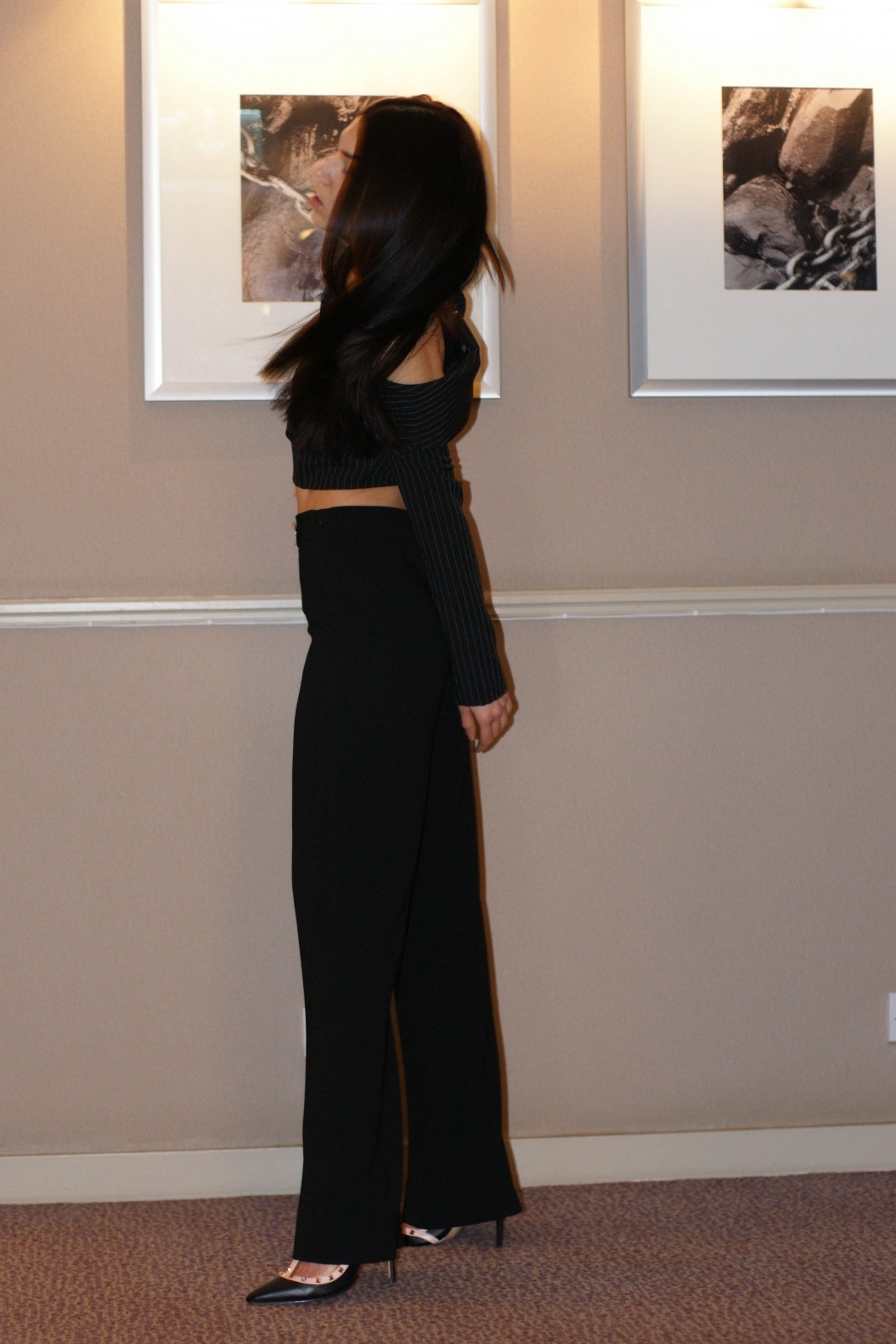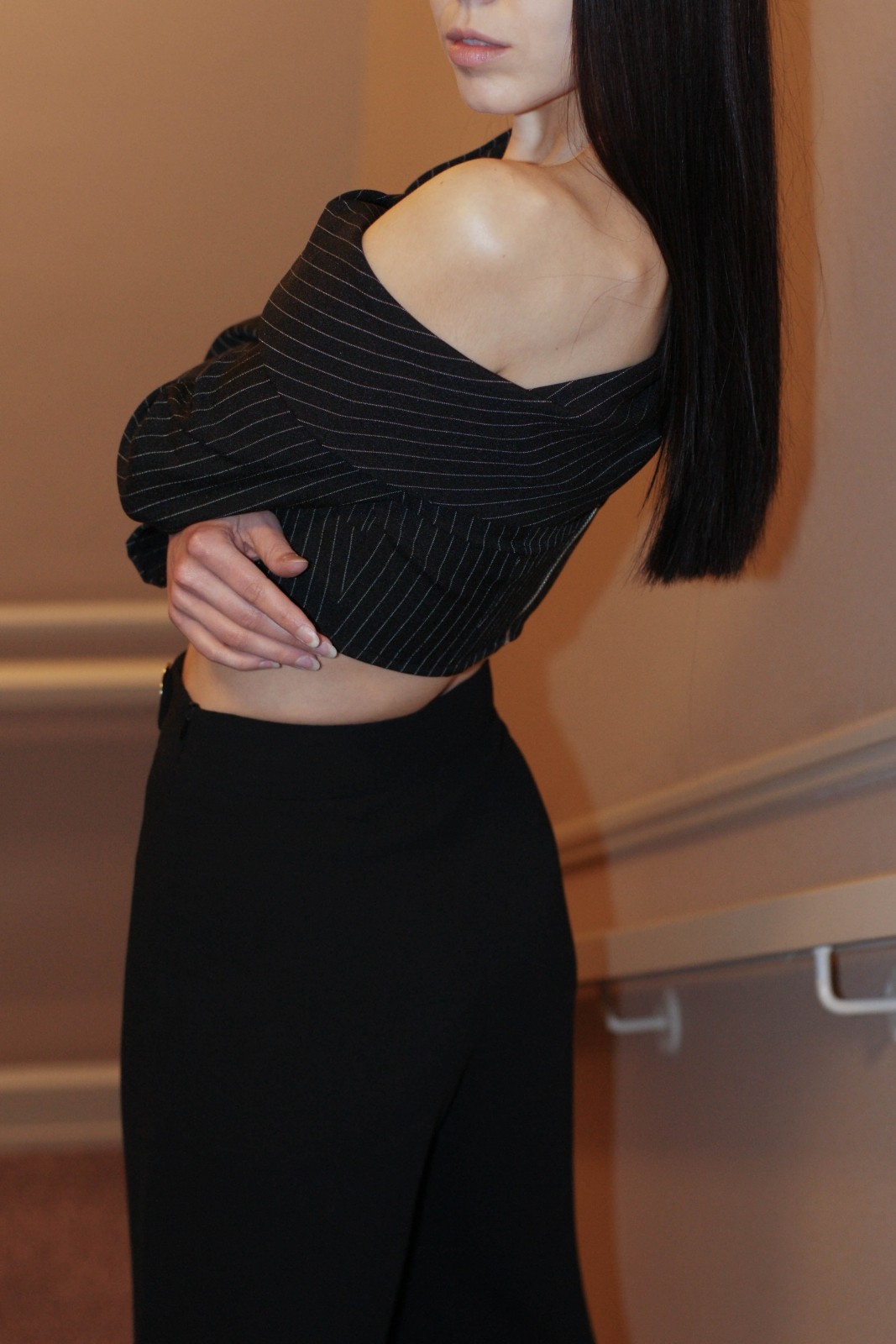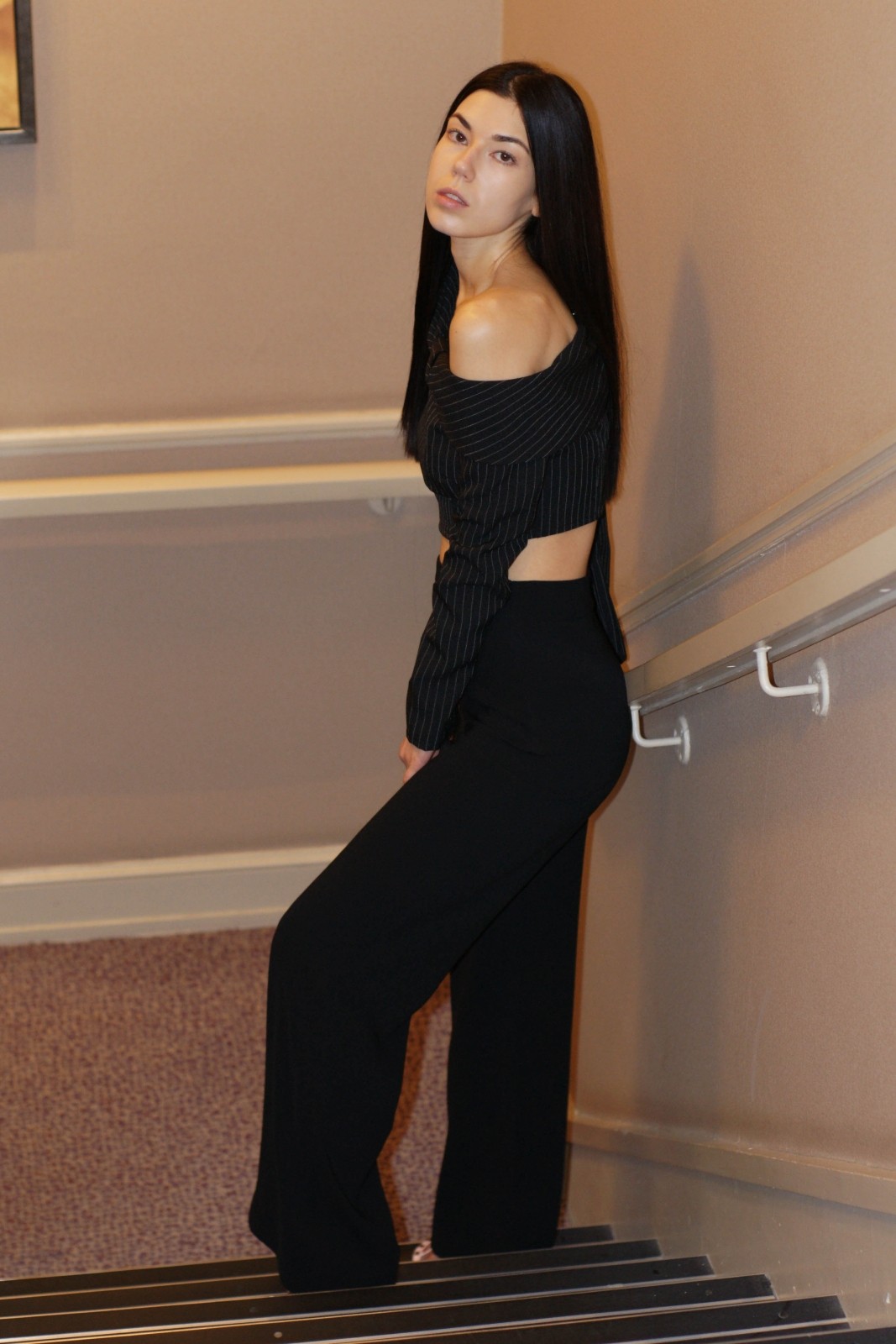 Casual off-the-shoulder tops also come in a variety of colours, making them an excellent alternative when you want to add some colour to your everyday outfit. You can go for a bright yellow or blue colours to bring something extra to your jeans outfit. My preferred choice, however, is a white off-the-shoulder top with frill sleeves! Nothing beats a white and denim everyday look!
SHOP CASUAL OFF-THE-SHOULDER TOP STYLES

Evening Off-The-Shoulder Tops
Evening off-the-shoulder top styles, on the other hand, are perfect for any season. As you can always put a warm teddy bear coat over it, opting for a revealing evening top won't give you a nasty cold!
Usually, evening off-the-shoulder tops come in sleek, minimal and structured styles. Although they are often within the darker range of the colour palette, you can still choose from some brighter numbers as well. This baby pink off-the-shoulder top would be an excellent choice for a cocktail night out in the city. The origami-like twist at the front will give not only feminine but also a sophisticated touch to your evening attire. Match the top with a pair of crepe flared trousers and metallic leather sandals for an extra wow-factor!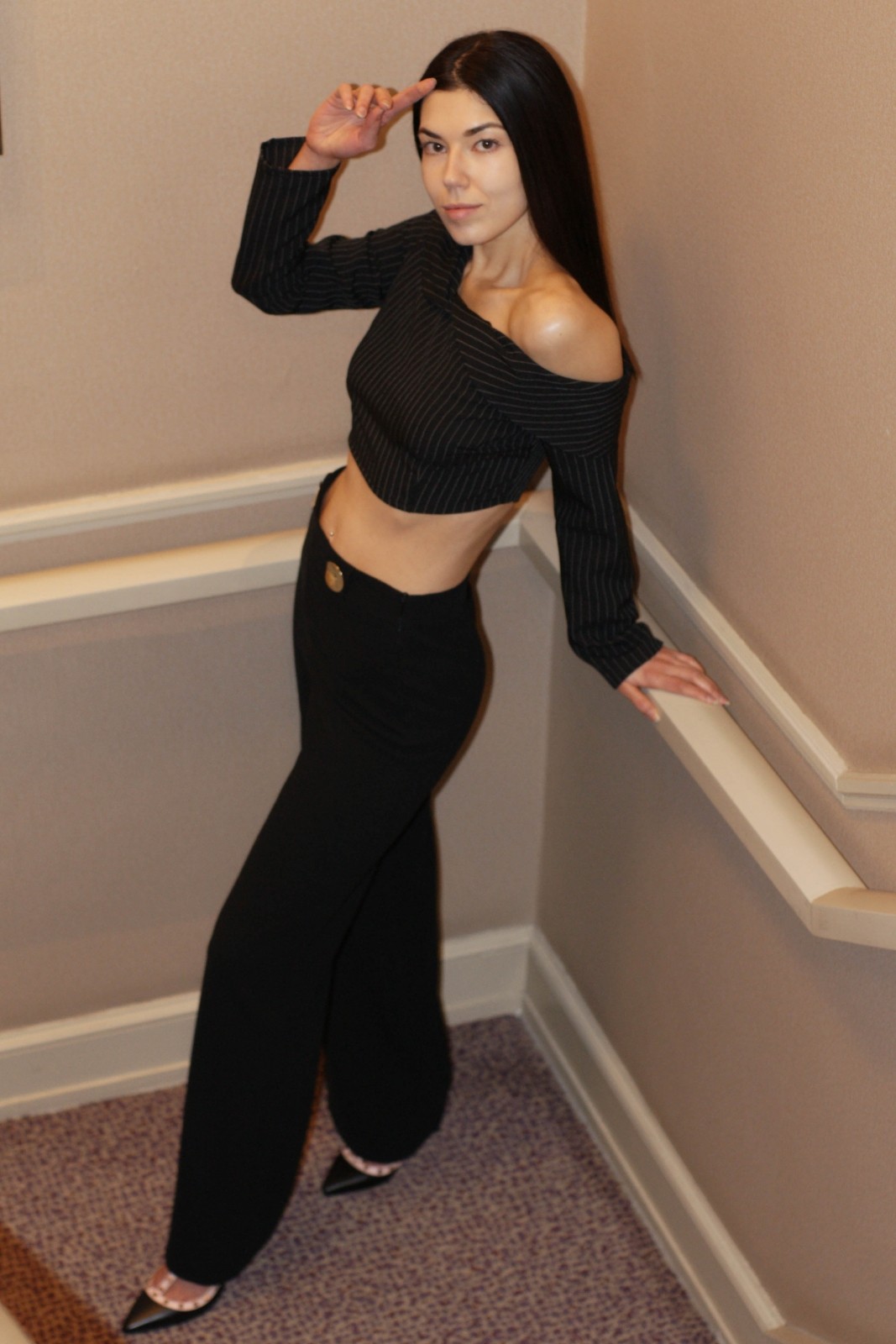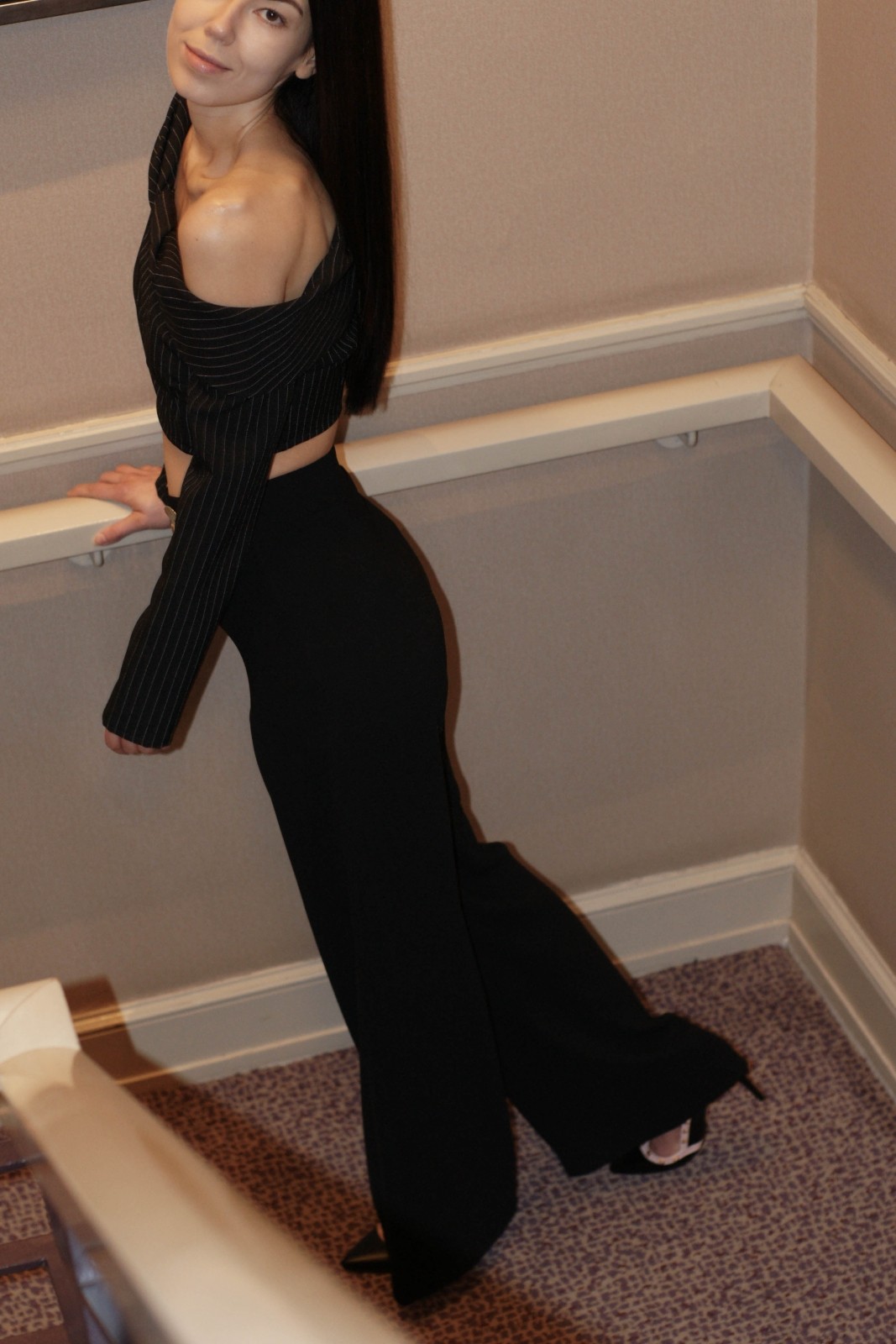 As you can see, I opted for a black off-the-shoulder top style. There are a number of details that really set it apart from other evening styles. Firstly, the pinstripe print is giving it a more creative design compared to other black tops. Secondly, the twist front feature draws a lot more attention to the neckline. Lastly, this off-the-shoulder top style 'gives away' only one of your shoulders, while keeping the other one covered! I've matched the top with black flared trousers for the perfect all-black outfit!
SHOP EVENING OFF-THE-SHOULDER TOP STYLES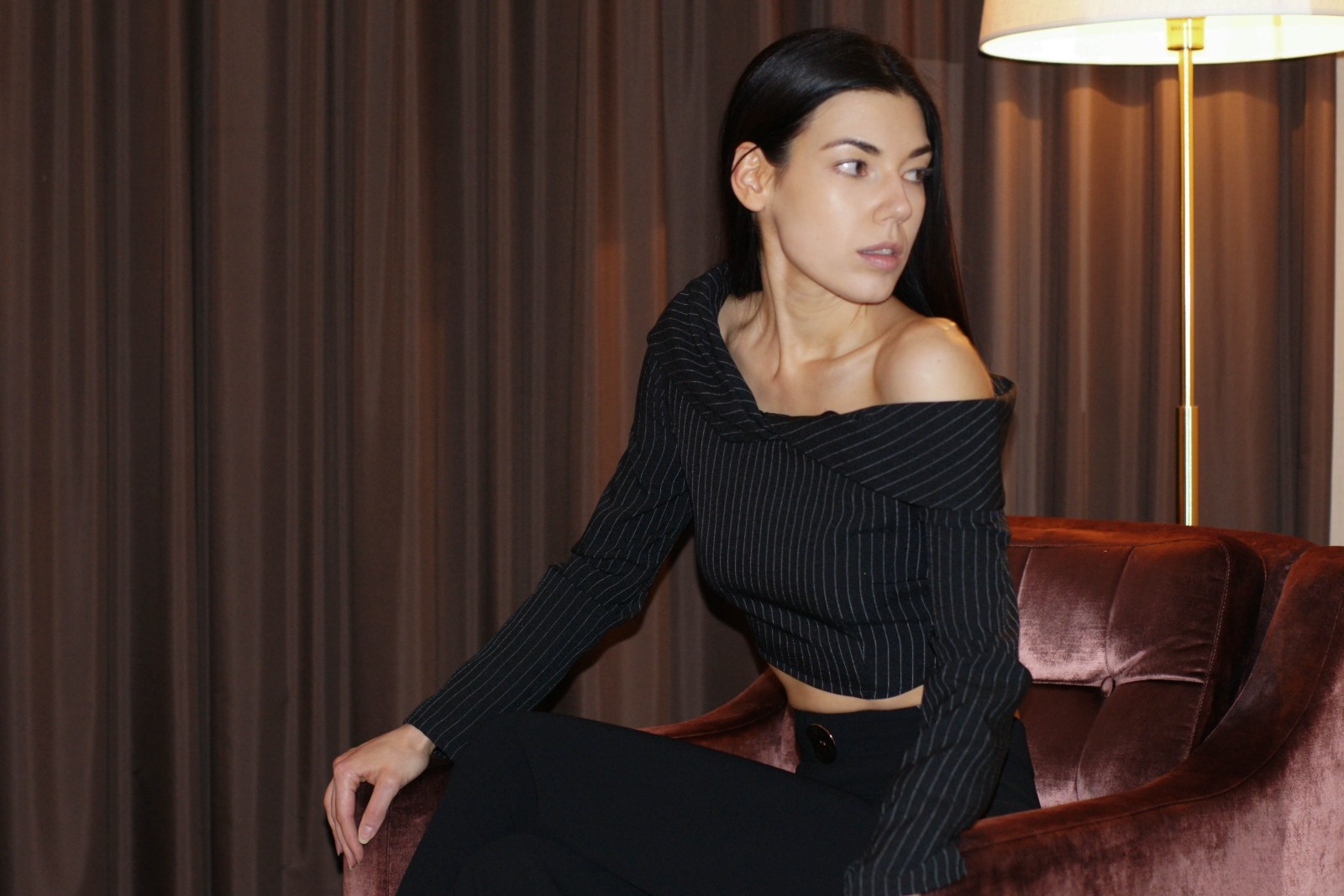 Statement Off-The-Shoulder Tops
Although comfort is key no matter what the trend is, there are times when you have to sacrifice the physical ease for some real fashion. Statement off-the-shoulder top styles are meant just for that! Whilst they are probably not the most appropriate clothing pieces for your grocery shopping, they can certainly turn heads during fashion weeks!
When you want to turn a wardrobe piece into the focal point of your whole outfit, opt for a statement top! To achieve that wow-factor, you'll be looking for styles with unique shape, colour or pattern. Get a ruffled lace off-the-shoulder top in opulent navy for a royal evening look. Wear it with jeans for a more 'casual' look, or trousers for a night out.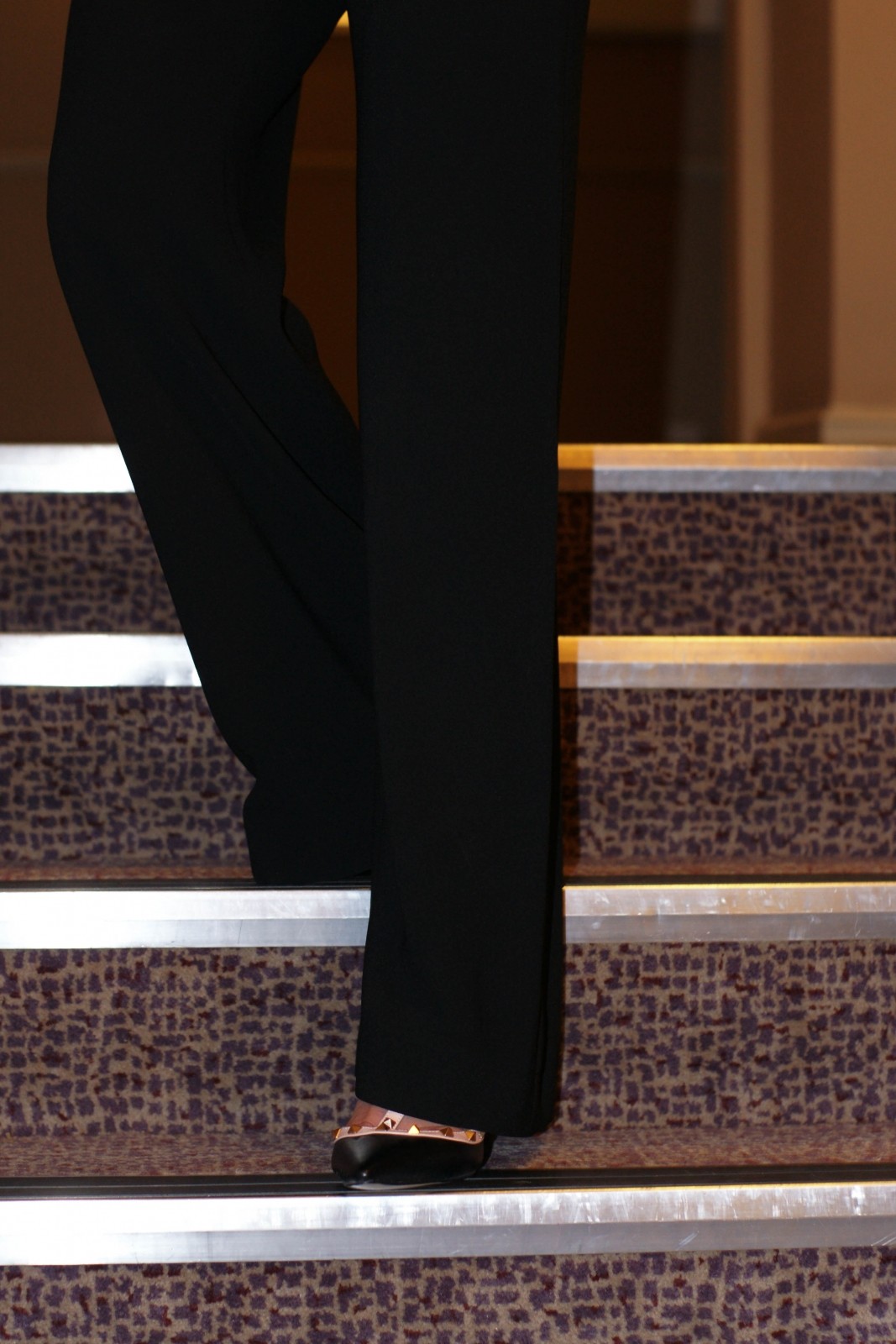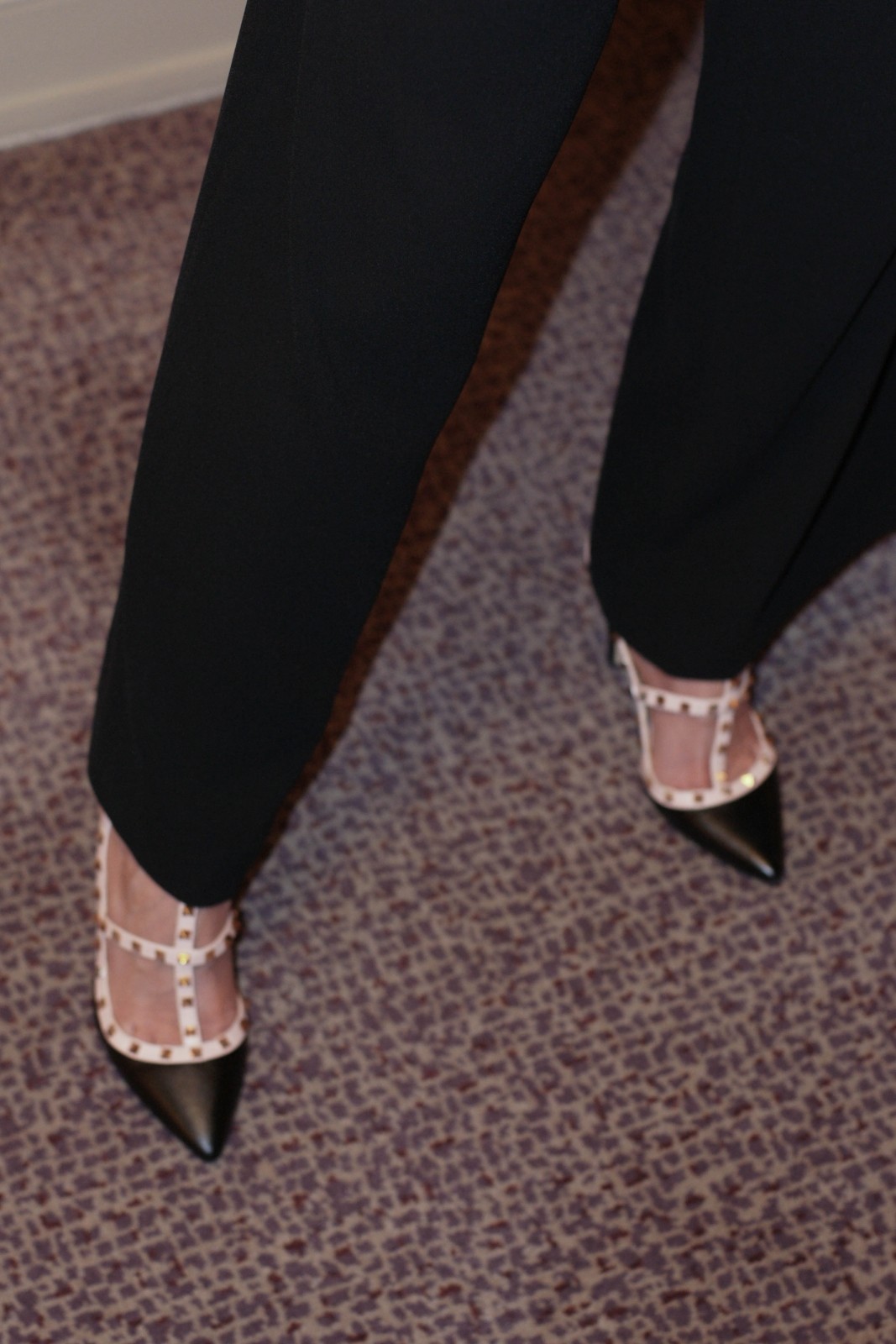 Other styles you can choose from include oversized sleeves, long tunics and off the beaten path patterns. There is really no limit in terms of fabric choice either! Apart from your usual ones like cotton, acrylic and denim, there are choices galore in the velvet, silk and satin departments!
SHOP STATEMENT OFF-THE-SHOULDER TOP STYLES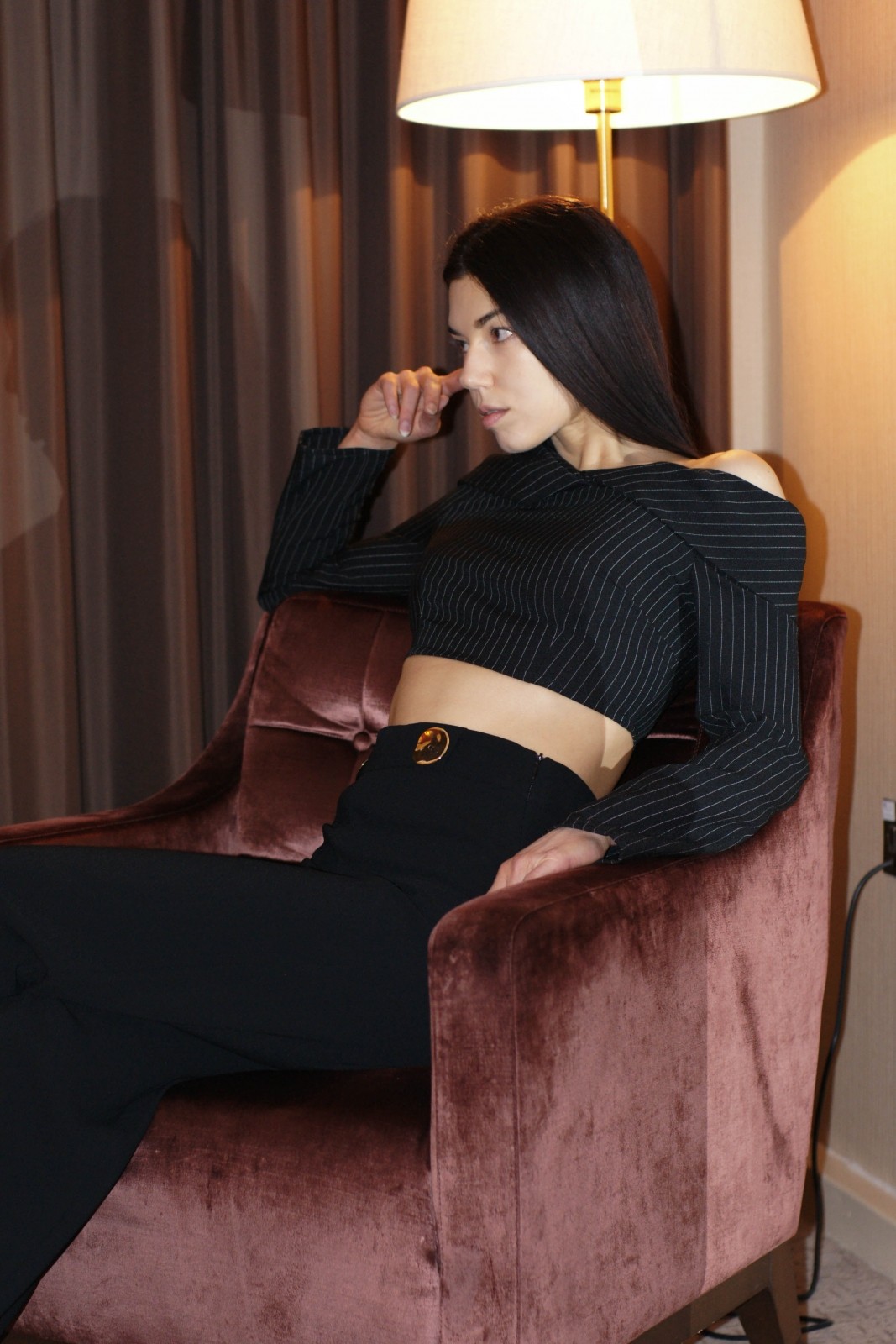 If you haven't done so already, I hope I've talked you into trying at least one of the above three off-the-shoulder top styles! Although it's hard to choose, I would say that casual styles are my favourite ones. Nevertheless, off-the-shoulders tops are extremely versatile and feminine, deserving the 'must-have item' title!
Are you a fan of off-the-shoulder tops?
Which is your favourite style?
More of my outfits, here!
YOU MIGHT ALSO ENJOY:
3 Quick Tips To Successfully Style Vinyl Trousers
The Outfit You Need To Try: Cropped Sweatshirt & Tracksuit Pants
3 Denim Jumpsuit Styles To Try This Year
4 Quilted Jacket Styles To Fall In Love With