Can you believe 2018 is just 3 days away?! This year has been full of ups and downs. Actually, I'm planning to do one last post to sum up my 2017 highlights. Before that though, I thought I should give some New Year's Eve outfit ideas for those of you who are still struggling to find the perfect dress for the big day. I know there has been a huge suit trend lately, however, dresses are still the go-to-party outfit for most of us gals. Hence I decided to do a quick roundup post of the dresses that have been trending throughout 2017. Particularly, I've been eyeing more and more of the velvet, lace and sequin types of apparels. Hence I decided to focus on these 3 categories for New Year's Eve outfit ideas. Ahead, tips on styling each fabric plus galleries to get a good eyeful.
Velvet Dresses. Velvet fabrics have always reminded me of a pair of old pillowcases that my late grandma used to have. She always thought they were a nice addition to make the sofa in the living room stand out. Looking back, I never thought I would like something like this. However, I now think that velvet fabrics are also a nice addition to have in your wardrobe. I'm yet to become a velvet-anything owner, but there is no reason you shouldn't get a velvet dress straightaway for a next day delivery. If styled properly, they won't look like your grandma's pillowcases. On the contrary, they make a great New Year's Eve outfit idea. Nowadays, there is plenty of choice in terms of style and design that won't break the bank.
Lengths are varying from mini, midis and maxis with wrap and off-the-shoulder designs. Furthermore, V-necklines and spaghetti straps are also trending at the moment. The colour-choice is unlimited – one or two-toned, bright or dark colours. There is something for everyone's taste. Personally, for a New Year's Eve outfit, I would opt for a brighter colour with a pair of over-the-knee boots to keep me warm. However, you can style your velvet apparel with a pair of strappy heels or even some sparkly sneakers! The latter will keep you extra comfy for sure.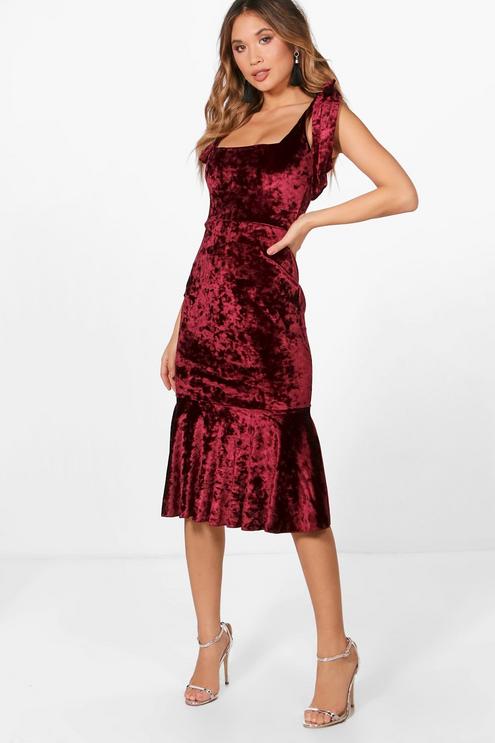 Lace Dresses. Lace has been one of my favourite fabrics over the last few years! It's one of those materials that delivers both sexy and feminine. I admire how designers manage to create these lace dresses in such delicate manner, yet some look extremely bold and gothic. Ahead, in the gallery, I've focused on black lace dresses. Personally, I think black is the go-to colour for a New Year's Eve outfit idea.
Opt for a long lace dress with cami straps for sheer sexiness or a long-sleeved number for a more gothic feel. Most of the dresses feature my beloved ruffled elements and fixed waist details. Another outstanding feature that contributes to the feminine side of design is the flared skirt. All of the lace dresses I've chosen deliver a full flared skirt. In terms of shoe styling – heeled sandals and under-the-knee-cowboy boots are the most favoured choices.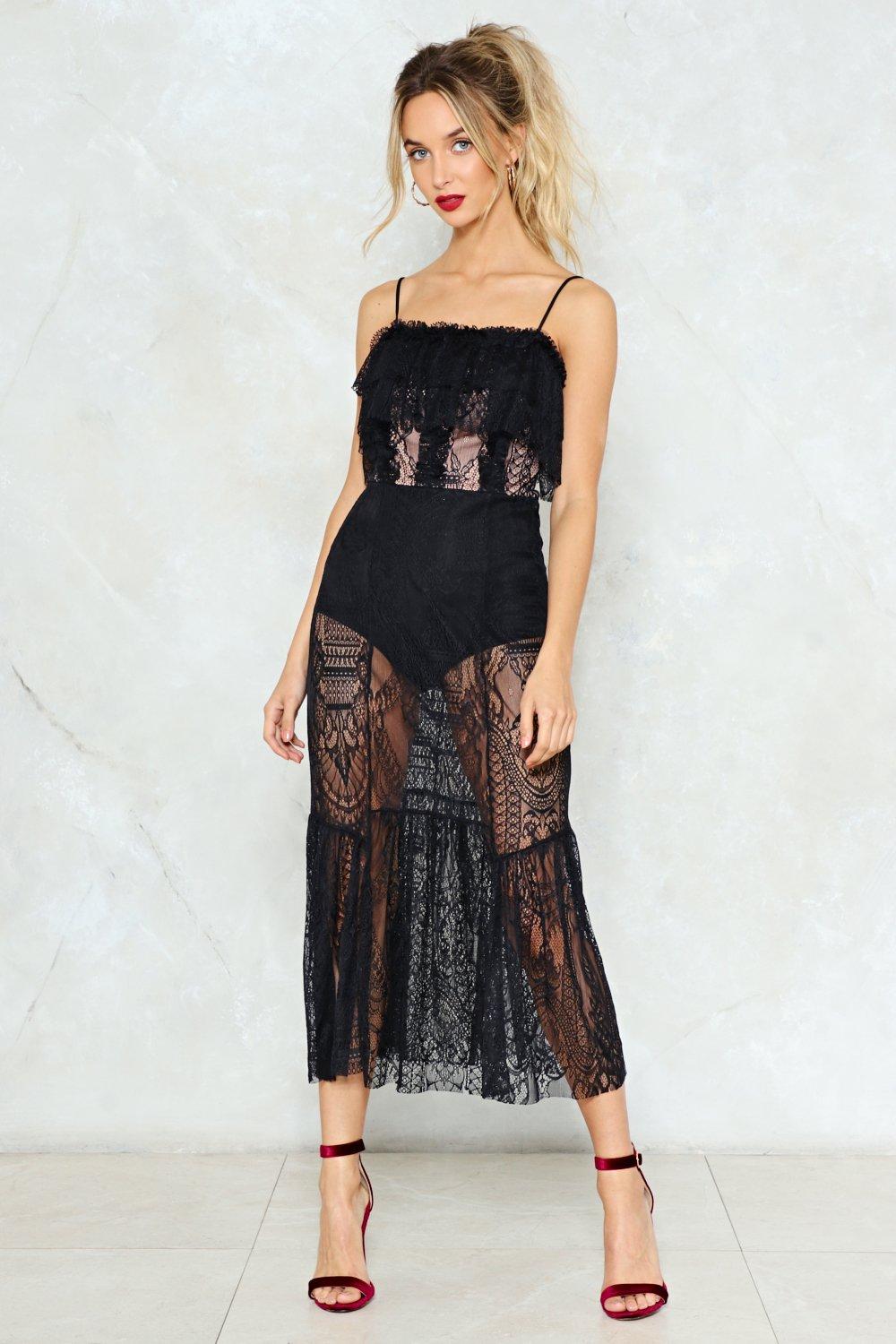 Sequin Dresses. Speaking of New Year's Eve outfit ideas, sequin is to all appearances the most glamorous choice you can make. When the event calls for something really sensational, a sequin dress is a must-have! Nowadays, the design choices are unlimited. Mini, midi and maxis lengths are present. Moreover, fitted or flared silhouettes with padded shoulders and sequin detailing throughout have been a huge trend this year.
Opt for leg-lengthening stilettos for an extra touch of glam, not that you would need it. In my experience, all that glitters will most probably distract people from anything else that you might be wearing.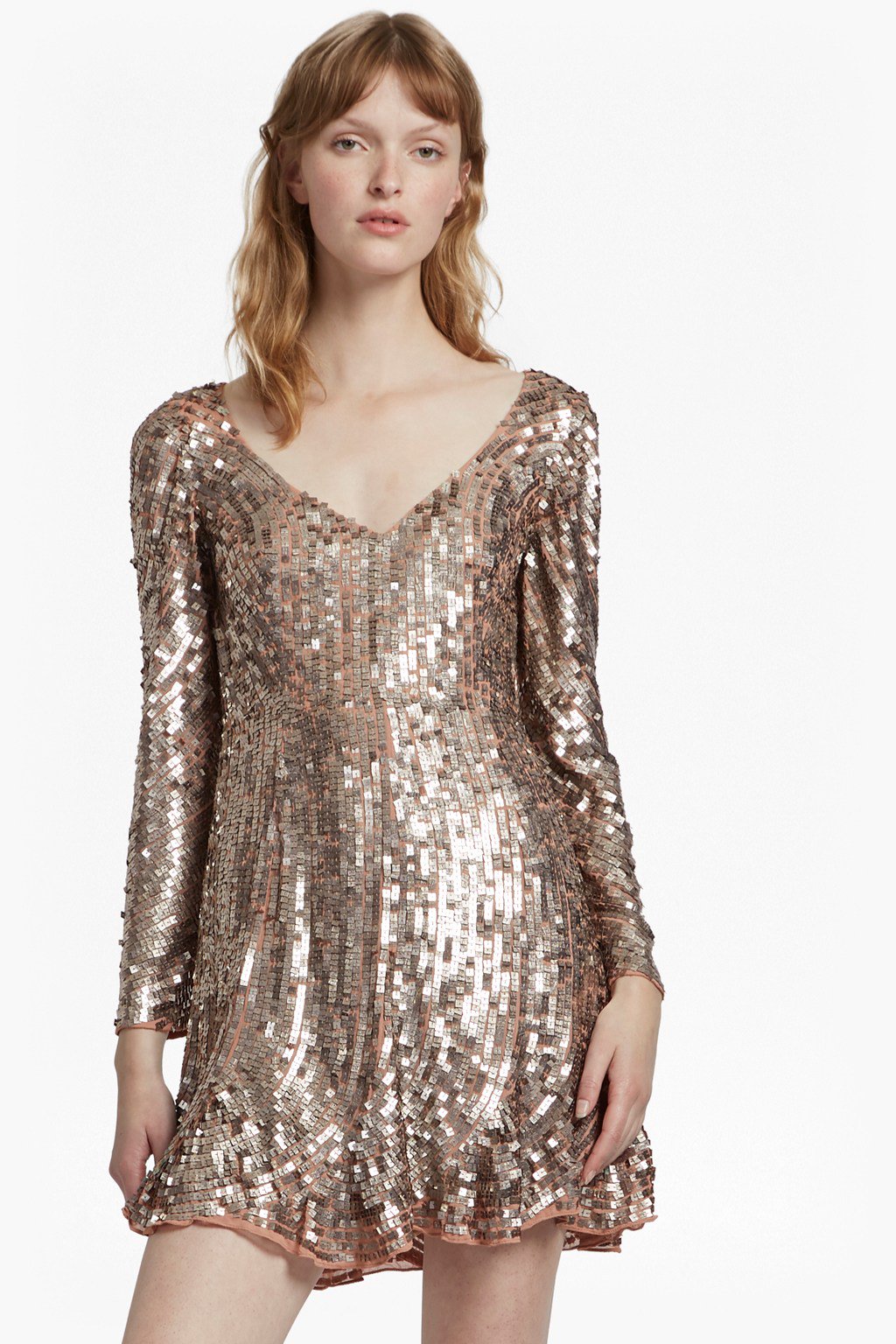 Hopefully, you'd have found some New Year's Eve outfit ideas to take on your next shopping trip – be it physical or digital. Living in the 21st century has its perks – same day deliveries are now a thing and you can do your shopping from the comfort of your own home! Nevertheless, there is still plenty of time to find the right dress for the big day! Most of all, whatever you choose, make sure to be comfortable and have fun!
What are you wearing on New Year's Eve?
x Mariya
YOU MIGHT ALSO ENJOY:
20 Trendy Winter Outfit Ideas To Keep You Warm
30 Teddy Bear Coats To Keep You Warm This Winter