Hi all, I'm hoping you've already read some of my posts; if not – what are you waiting for?! I'm super excited to write about Mario Badescu today! I'm going to do a Mario Badescu Glycolic Eye Cream review plus the Collagen Mask I bought a few months ago! Most of you have probably heard about this brand long before me and, yes, I do feel ashamed. My late acknowledgement of this particular skin label is due to the fact that I've only recently (the past year or so!) became terribly conscious of my skin. Nowadays, my skincare routine is very strict. I tend to use some sort of purifying, tightening or brightening facial facade five times a week! Sometimes I spent an astonishing amount of time on the world wide web before I finally make my mind up on what product to buy. That's how I discovered the brand and its miracle collagen mask! I'm also excited to give you my Mario Badescu Glycolic Eye Cream review!
Mario Badescu Collagen Mask Review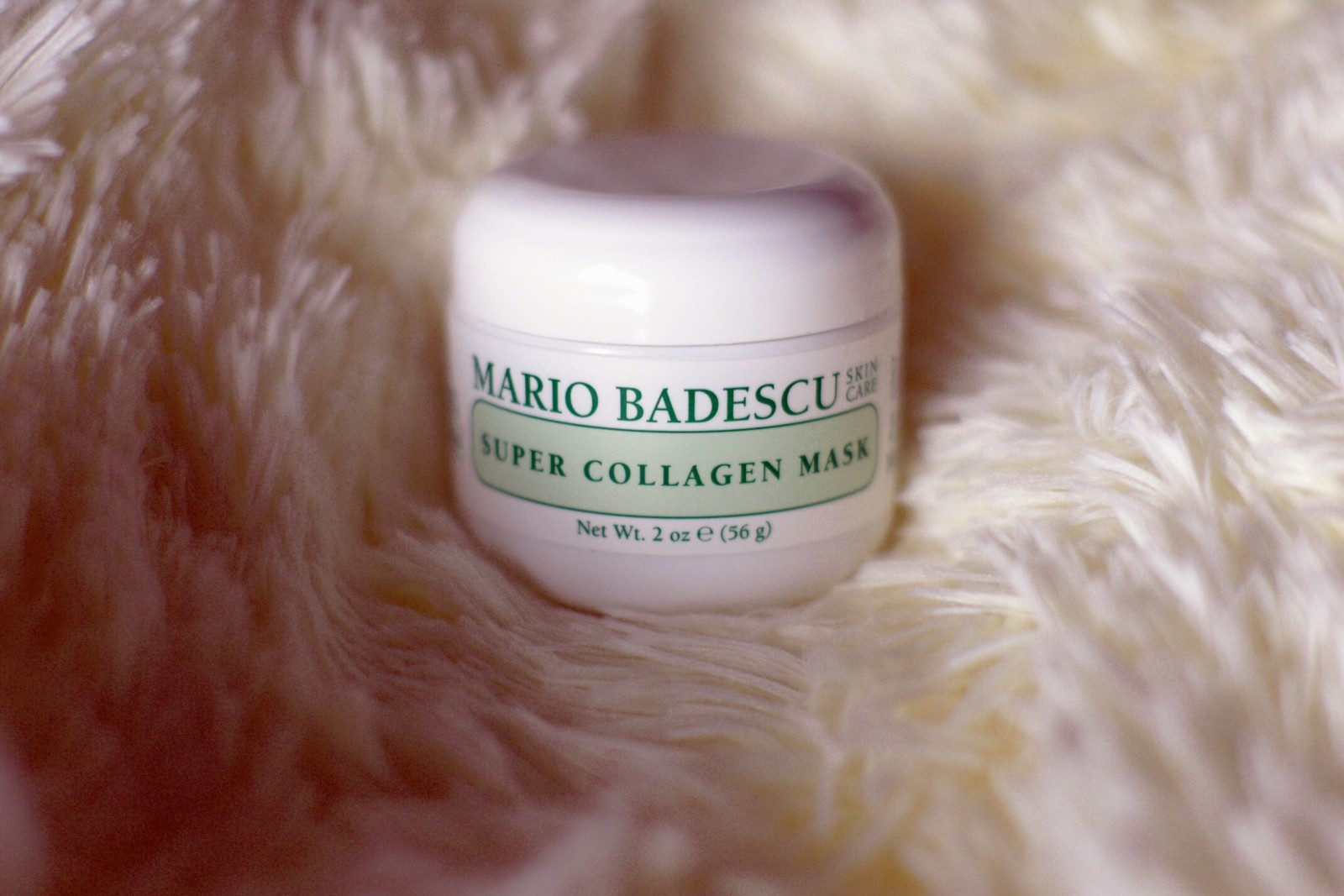 I was on my usual wild-goose chase to find a collagen-based mask that can actually do the job. After many reviews, I've decided to give Mario a chance. Truthfully, I was very sceptical at first as the packaging wasn't very appealing, especially considering the £18.50 face value. I know I shouldn't judge a book by its cover or in this case – a mask by its packaging, but I'm a sucker for a high-calibre, well-thought wrap! It's probably my marketing side talking and I just can't help myself but appreciate well-designed products.
Consequently, Badescu didn't win me with their pharmaceutical-looking-white-green-duo cover. However, they've managed to redeem themselves with the miracle clay-based goodness that was inside! And isn't that the most important part of the whole buying/trying process?! Targeted for combination, dry and sensitive skin types, the mask purifies and gently pore-refines the skin. Enriched with nourishing botanicals and collagen, it helps tighten and brighten skin over time. The clay-based goodie also features Azulene and Oatmeal which reduces redness and irritation on sensitive skin with an anti-inflammatory effect.
Mario Badescu Collagen Mask Application
Following the instructions, I applied the mask twice a week in order to get the results. The description says to wait for 20 minutes, then rinse. Actually, if you're a regular mask user, you have probably noticed that the majority of the masks on the market will say 20 to 30 minutes waiting time. However, I tend to leave them for an hour or so. Unless you have a very sensitive skin, you can't go wrong with leaving the product for longer. In Badescu's case, I apply a thin layer of the clay mask immediately after my steamy shower. I let it do its job while I enjoy a good hot cuppa of whatever! It's not the easiest application due to its clay-based consistency, however, the results are well worth it!
Make sure not to move your face too much, i.e. don't laugh. Otherwise, you're risking small clay particles to go all over your shirt or in my case – food! Yes, I made the mistake to eat my dinner with my mask on and I ended up with unwanted clay bits in my chicken thigh… So, you've been warned! After an hour or so I rinse my face with lukewarm water and finish with a moisturiser. You'll see the tightening effect immediately and over time you'll notice an overall tighter skin! I've also read that it helped people with eczema! So, if you're on the lookout for a collagen-based mask for your combination/dry/sensitive skin, make Mario Badescu Super Collagen Mask part of your weekly skincare routine! Now, onto my Mario Badesco Glycolic Eye Cream review!
Mario Badescu Glycolic Eye Cream Review + Application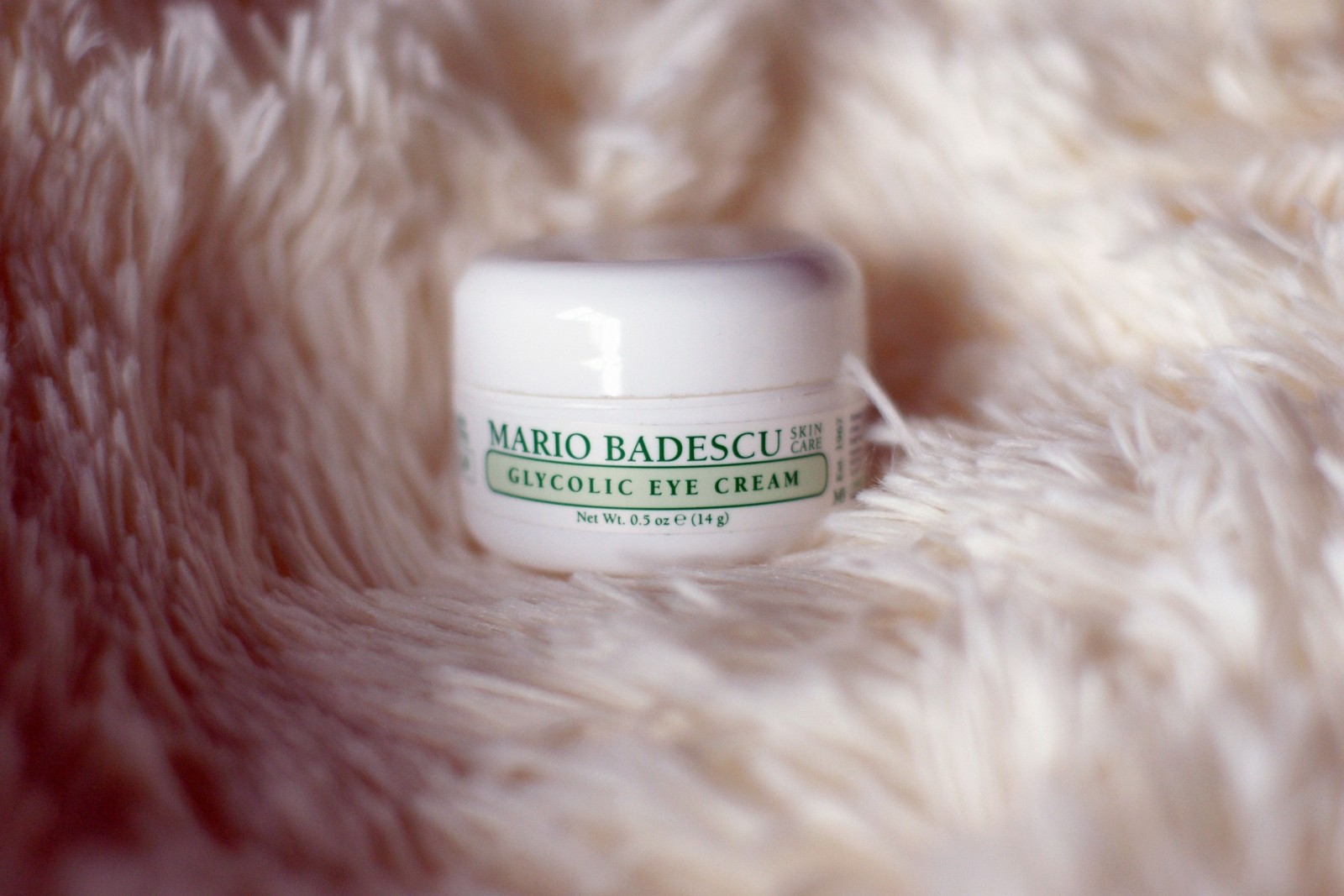 Following my collagen mask success, I decided to get and give you a detailed Mario Badescu Glycolic Eye Cream review. I was looking for a super-rich creamy consistency that will moisturise my under eye area. Badescu's glycolic eye cream was a no-brainer after I fell in love with their mask. This product does not disappoint! Although this rich eye treatment is ideal for mature skin, I highly recommend it to everyone over 20. The cream is high in antioxidants, Vitamin E and Glycolic Acid. The luscious blend of essential oils nourishes and smooths skin whilst the delicate eye area appears radiant and youthful. I've read people use this in the morning and haven't had the effect they desired! This is a night cream and  I wouldn't recommend using it in the morning. Its consistency is very rich and the skin needs a lot of time to absorb the creamy texture.
Consequently, you'll just end up with a greasy puddle under your eyes if you use it in the morning. I can't speak for the anti-ageing claims as I don't have wrinkles around the eyes. However, it's the only cream that actually helped with my deep dark circles. Personally, up until now, I've had no success with other eye creams and I've always looked tired. It does very little with the darkness, but the skin does look plumper and softer. The under eye area appears less dull and dry, making me feel less self-conscious about how tired I might look.
Overall, it's a very good moisturising eye cream and a little goes a long way! I've had it for months and I've only used a 1/8 of the product. You really need a tiny amount of the cream with each application! Basically, for £19 you'll get yourself a yearly supply of a night eye cream! That's it folks, my Mario Badescu Glycolic Eye Cream review plus Collagen Mask!
Have you ever tried any of Mario Badescu's products before? Make sure to leave a comment or two below!
If interested, check out how I saved my dry skin with Eucerin!
x Mariya
YOU MIGHT ALSO ENJOY:
3 Beauty Brands To Look Out For In 2018
Are You Ready For The Lierac Magnificence Range?