I sure wasn't when I first got my hands on these two little jars of pure magical heaven. It's fair to say that buying any of the Lierac products wouldn't have crossed my mind if it wasn't for my thoughtful boyfriend. I clearly remember the day when we got our frequent box of goodies with beauty essentials. When I opened the box something wasn't adding up – there were two extra small square packages. I thought we got some freebies with our order but when I saw the brand I thought 'nah, these are no freebies!'. Turns out I was right! Vlad has surprised me once again! Apparently, he remembered that I was on one of my usual wild goose chases to find the next 'it' firming cream and he thought of doing his own little research. Well, the outcome was the Lierac Magnificence range.
If you've been reading my blog for a while, you'd know that I've been completely addicted to skincare products for the past two years. Something hit me, figuratively speaking (of course!), when I turned 25 and all of a sudden I started buying every single beauty product that had hyaluronic acid listed on the ingredients label. You might think that 25 is far too young to start using acids but every skin is different. This was the case with my skin – loss of firmness, collagen and one or two skin pigmentations from not using SPF when out and about. My skin was ageing prematurely and I had to do something about it. Thus, I first started using night creams with hyaluronic acid, then gradually introducing serums, toners, masks and, finally, day creams with the magical molecule. There were some good, and some not so good finds, but the Lierac Magnificence creams have been by far the best products I've ever used.
In the next two short paragraphs, I'll tell you why the price tag is definitely worth it!
Just keep reading…
Lierac Magnificence Night Cream
Lierac Magnificence Night Cream was the first of the two creams that I started using. Upon opening the jar, a divine smell of pomegranate flower and silk tree will turn your head and transfer you to the mystical parts of South and Central Asia. After you realise that you're still stuck between the four walls of your own bedroom, you'll get to experience and feel the consistency of the Lierac Magnificence Night Cream. Now, don't be fooled by the small jar that this cream comes in! Good things come in small packages, you know?! The consistency is very thick, but it is easily applied and absorbed by the skin. Do not make the mistake of applying the same amount as your usual night cream! It took me two or three tries before I realised that a pea-sized (or two) drop is all I needed. After application, your skin will look and feel softer, especially if you're on the drier side (like me). The morning after is when you'll see the real magic.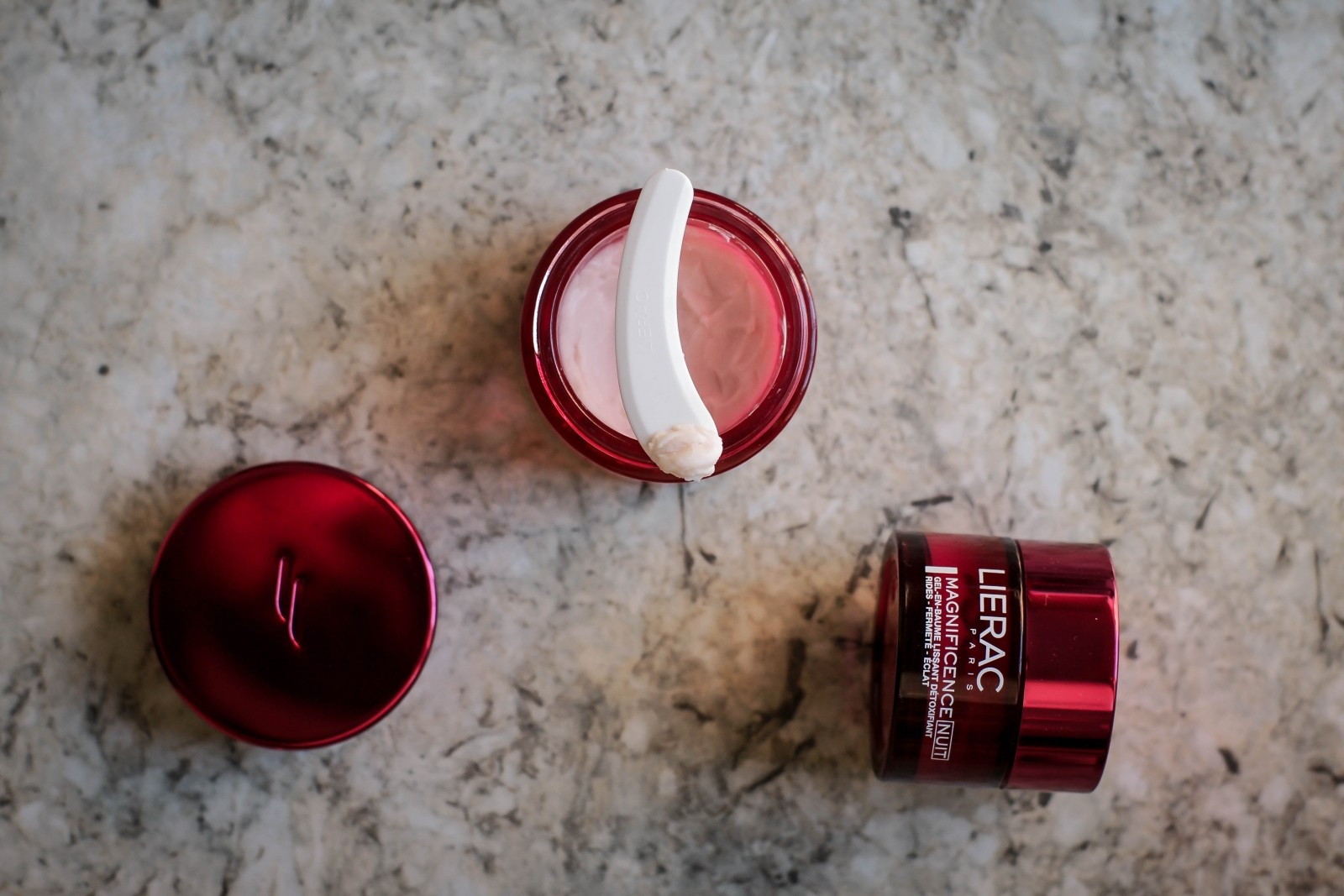 Upon awakening, my skin tone was evened out and retextured. I looked a little less fatigued and somewhat refreshed. My complexion was definitely smoother and revitalised. 'The first cream to do what it says it is going to do!' – I thought. I wasn't let down by this cream. Oh no, not even once! Night after night I was seeing more and more improvements in the morning after. No fatigue, no pigmentation, just soft and firm skin.  The Lierac Magnificence Night Cream does work wonders and it will last you a good few months before you start saving for your next jar.
Lierac Magnificence Day & Night Cream

As I already had the Lierac Magnificence Night Cream, I thought I should use this little one for my everyday morning routine. Again, the consistency is thick and works more like a mask that is gradually absorbed by the skin throughout the day. For this reason, you'll have to wait for a minimum of 20min before applying your makeup or any other skin products. Serums, toners and other lighter skincare products should be applied prior to the Lierac Magnificence Day Cream.
The results are instant! This velvety and rich cream immediately firms and plumps the skin, making the makeup application easier than ever! The most surprising part is how hydrating this cream actually is. As my skin is extra dry, especially during the cold winter days (those are fast approaching!), the cream keeps it moisturised throughout the whole day.
Honestly, the Lierac Magnificence range is by far one of the best skincare brands out there. The price tag is definitely worth it and your skin will thank you. The results you will see are not only instant but also long-term. After finishing the two jars, I've switched to other products just to give my skin a bit of a break and not let my skin get used to the same ingredients. Well, the results were still there, day after day!
And now that fall is coming, I sure know where to look for my next luxury skin experience. Have you tried Lierac?
Check out the beauty and skincare category for more cream and mask reviews!
YOU MIGHT ALSO ENJOY:
Vichy Products: Liftactiv, Masque Peel, Nutrilogie, Aqualia Thermal
10 Best Face Moisturisers For Dry Skin To Try In 2018
Mario Badescu Glycolic Eye Cream Review + Collagen Mask
Avène Hydrating Cream, Moisture Mask & Barefaced Rice Oil Mask Review