There were times when leather pants were a must-have item for musicians, especially rock stars. I'm almost definitely sure that if you were trying to get somewhere as a musician during the '60s, you had to own a pair of leather pants! Otherwise, how were people supposed to take you seriously, right?! Apart from rock stars, the only other people that have been successful in their attempt to pull off a leather look were actors and models. Just recall the '90s and Kate Moss in her leather pants!
Not sure whom we should be thanking but leather pants are back in style and it seems like this trend is here for good. Thankfully, we live in times when you don't necessarily have to be a musician or a model to wear leather trousers.
Gladly, nowadays we can all own a pair of leather pants and score a success!
Still sceptical on whether you should own a pair or not?
I'll give you exactly 3 reasons to head over to your favourite fashion retailer and get a pair ASAP!
Just keep reading.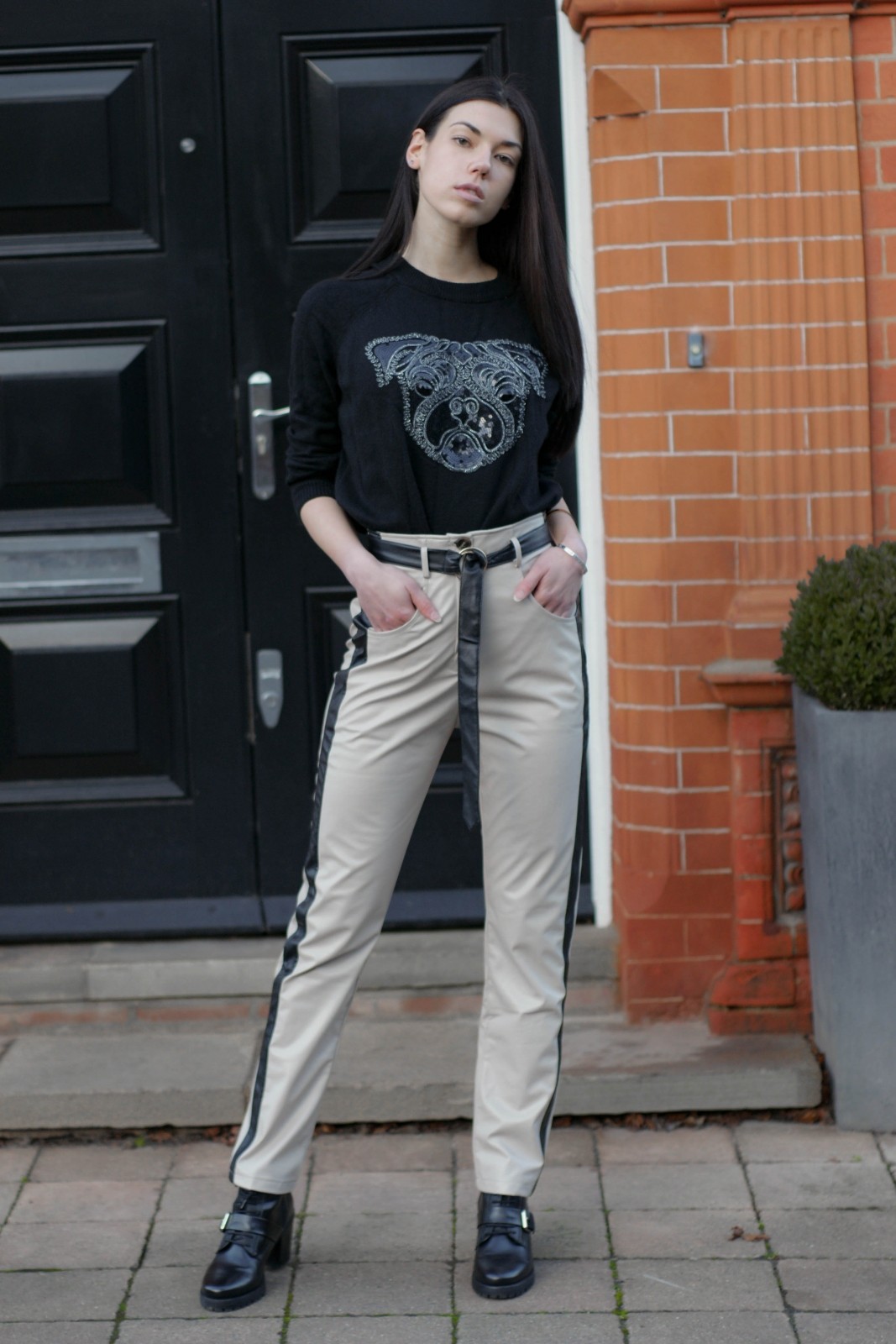 Black Sequined Pug Sweater | Taupe Faux Leather Side Stripe Trousers | Leather Chunky Lace Up Ankle Boots (similar)
Leather Pants Are Versatile
Going on a date? Have an important meeting at 9am at the local Starbucks? Yes, people actually do that! Meeting the girls for a quick cocktail after work?
The answer: LEATHER PANTS!
Honestly, leather trousers can be super versatile. That is, of course, if you get the right style and colour and match them with the appropriate outerwear. If you're going on a date, you have the option to exercise a bit more freedom. Rather than going for the obvious choice – straight black leather leggings, like these Mercer Nappa pants – try to be a bit more creative. Experiment with styles and colours. Why not get something like these denim-trimmed striped leather kick-flare pants? They are in a lovely Merlot colour and feature kick flare design, making them slightly more interesting. Match them with this black cold-shoulder silk-satin top and your date will be more than impressed.
What about that important business meeting, you ask? No worries, you can still wear leather pants. You might think it's inappropriate or bad taste, but you'll be surprised at how many people will actually approve your leather look. Also, if your meeting is at the local coffee shop, then they are most probably already 'chill' about you. In this situation, opt for the obvious pair of trousers, like these Helmut Lang Stretch-leather leggings. Put on a pair of patent-leather slingback pumps and shake things up with a ruffle-trimmed stretch-crepe blazer!
As for meeting the girls for a cocktail, the possibilities are endless! These straight leg metallic leather pants or these printed skinny ones would be perfect for a night out. The freakier, the better! And if your friends disapprove of your choice, are they really your friends?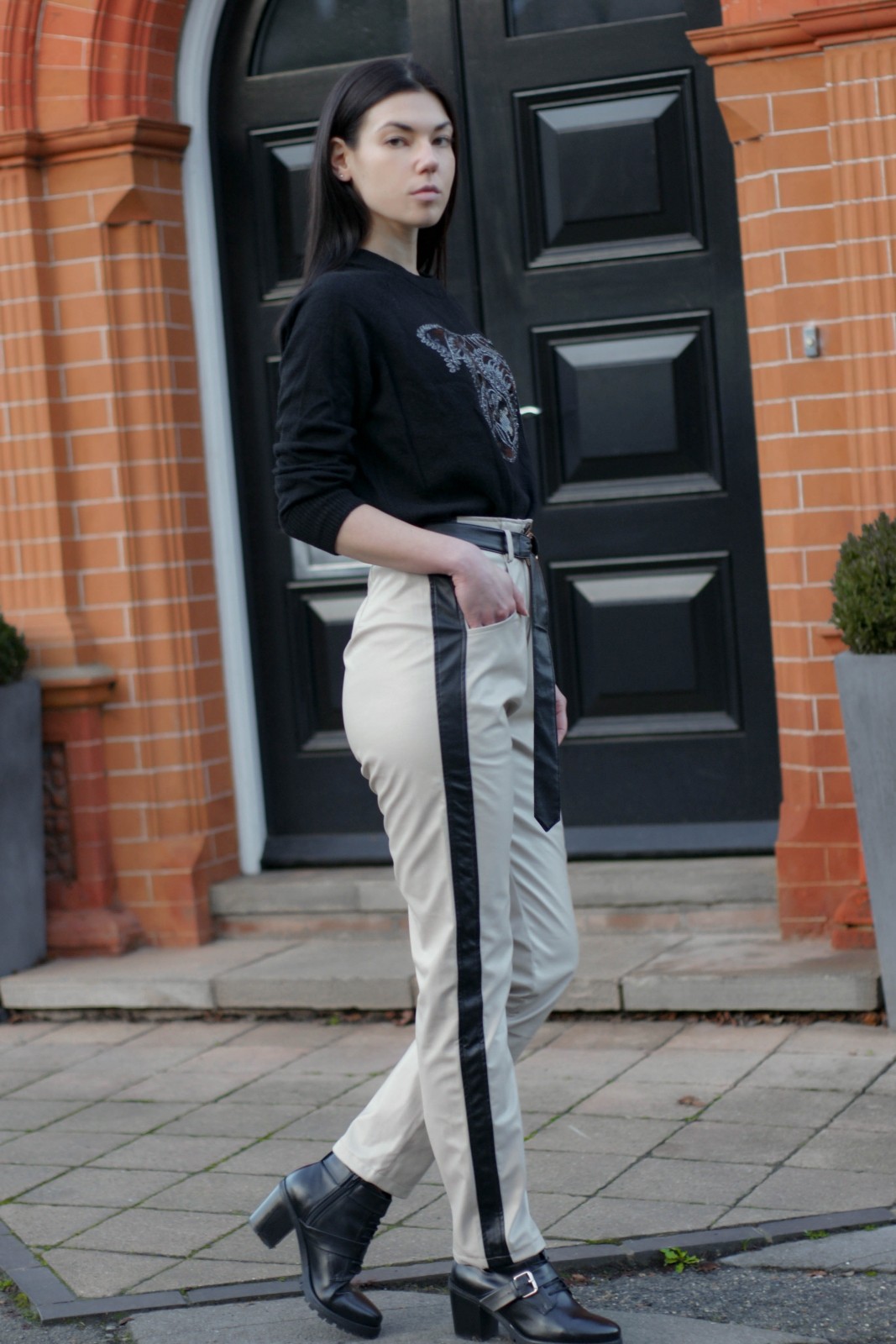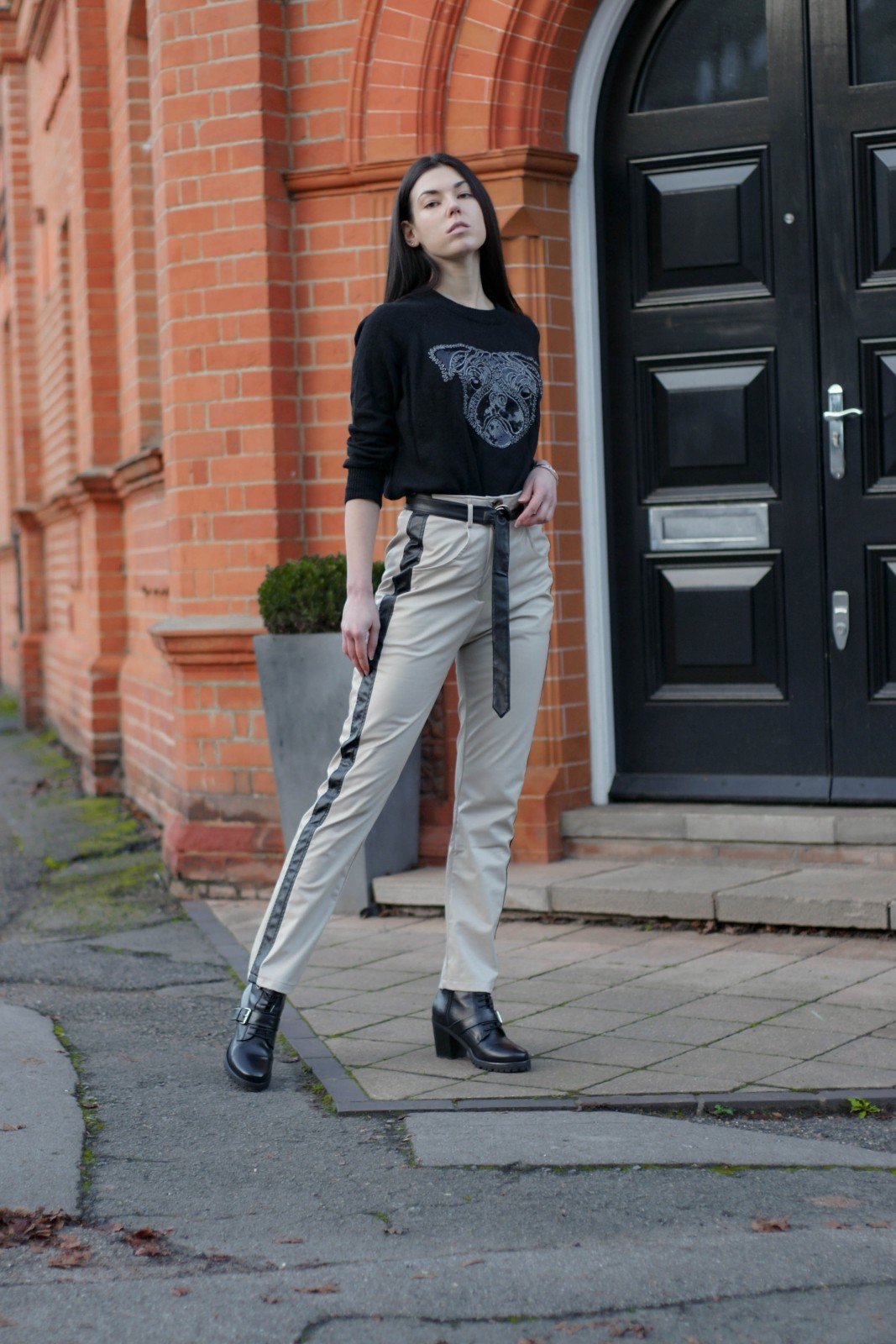 SHOP LEATHER PANTS

The Right Style Will Flatter Your Shape
You don't have to be a model or Kylie Jenner to look gorgeous in leather trousers, but certain styles can be rather unflattering! You need to be aware of your body shape and know which styles work in your favour.
If you have a booty, then own it, don't hide it! Opt for high-rise stretch-leather skinny pants to accentuate not only that booty but also your waistline. Same goes for the petite girls out there. High-rise skinny leather style is your best friend as it will make your legs appear longer. Trust me, you'll look like Kendall Jenner in no time! Just never ever go for kick flares or straight leg – they will accentuate bits and things that are not even there.
For those of you who have an hourglass shape and are above 5'8, then congrats – I think you can wear pretty much anything. For my leather look, I decided to go for these taupe faux leather side stripe trousers. Although I think I would look much better in a high-rise skinny number, as I have a booty, I thought I should shake things up a little bit and try something different. These trousers are still high-rise but have a straight leg design. I wanted to achieve a more casual day look but still make a statement. The taupe colour is perfect for a daily outfit while the dark stripe details alongside the legs add a bit of chic. Another great advantage of these leather pants is that you can take them from day to night pretty quickly. Instead of a sweater and ankle boots, try on a pair of stilettos and a spaghetti straps top for a night look!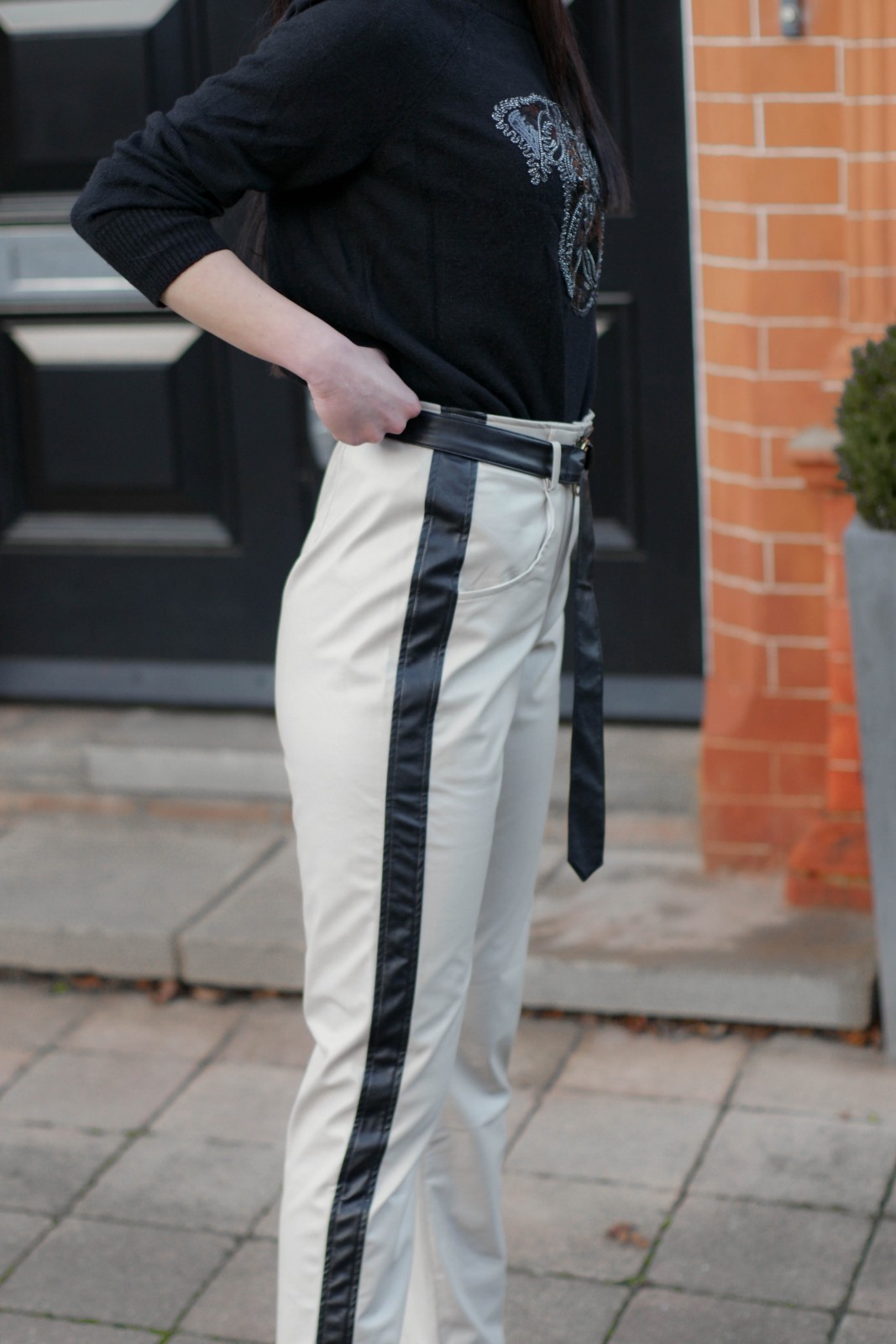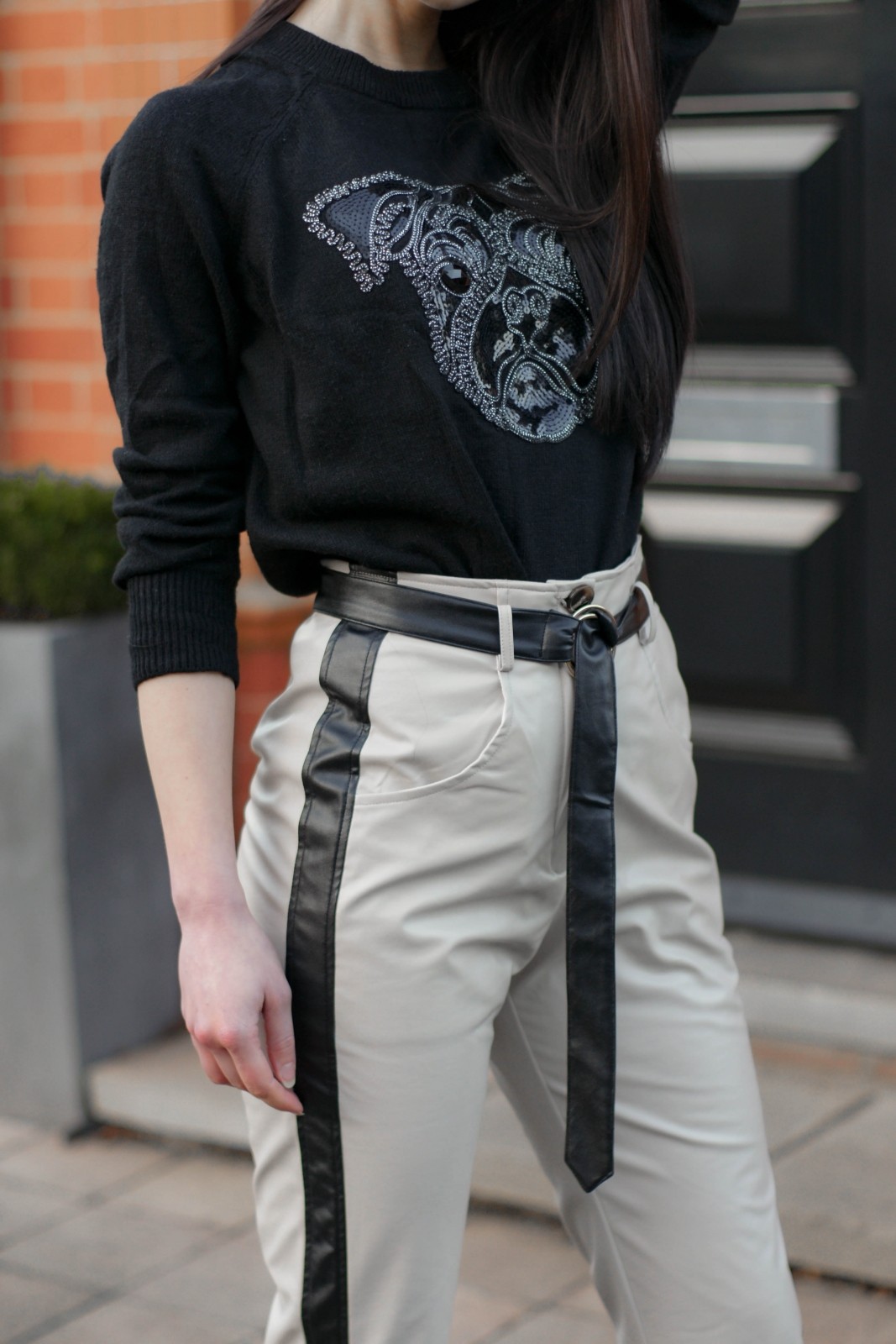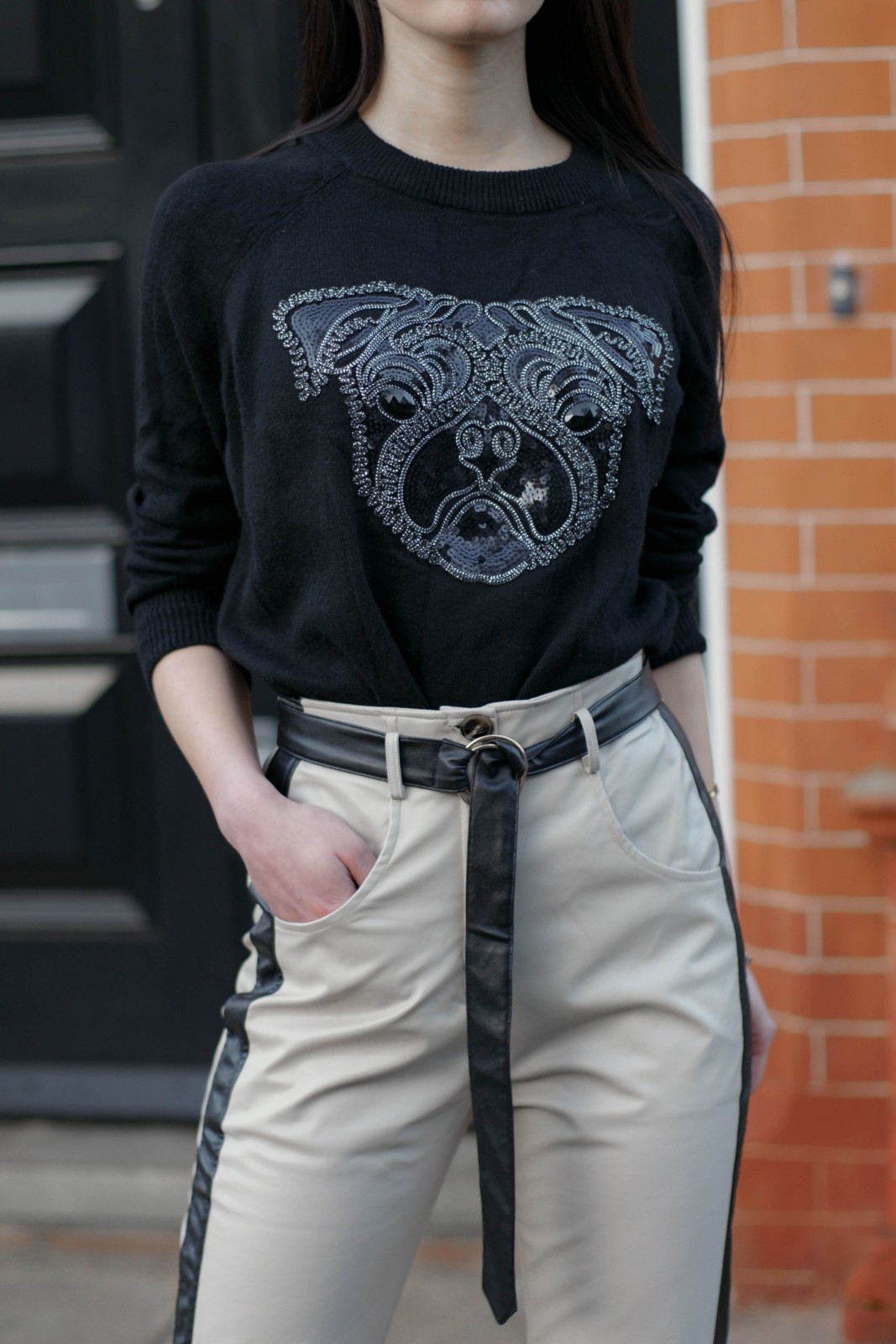 They Will Make You Feel Like A Rock Star
Well, I already said it at the beginning of this post, didn't I?
Personally, I'll always associate leather pants, trousers and garments with musicians, more specifically – rock stars! Thus, I think a pair of leather pants will undoubtedly make you feel like one too. And why shouldn't you? You've probably been admiring celebrities rocking the leather look your whole life, wishing to look like them. While we'll never look like them (not because they are more beautiful, they just have better stylists and hairdressers! … ahem), there is no reason not to at least try a pair of leather pants!
You'll never know until you get yourself a pair! Also, leather trousers might bring a whole different side of you. You might randomly pick up a guitar and become the next Jimi Hendrix. My point is, if you haven't got it already, you need to make leather pants part of your wardrobe. Just make sure to pick the right style and pair them with the appropriate apparel to achieve the perfect rock star look!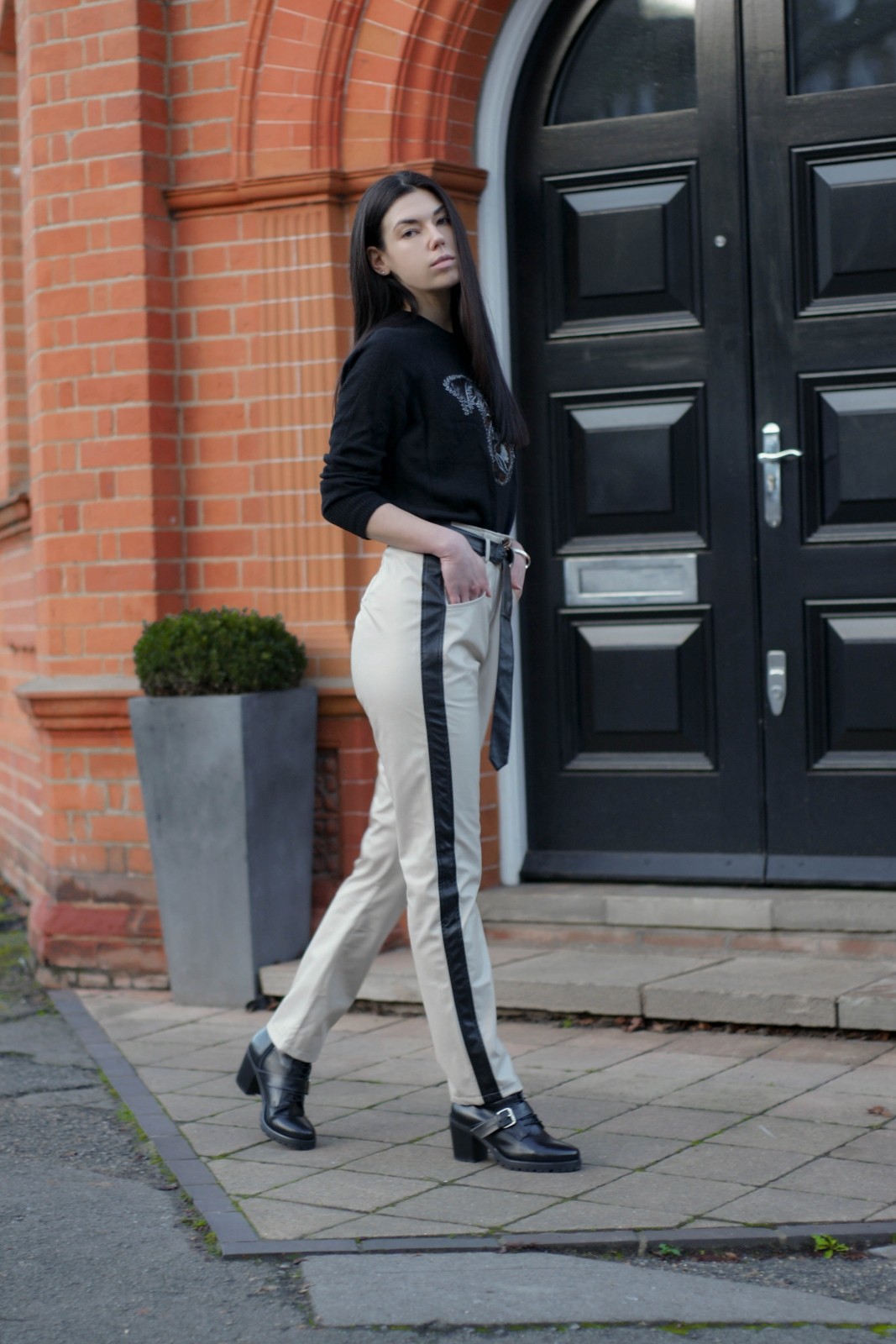 Psst! Click here for more of my outfits!
How do you style your leather pants?
YOU MIGHT ALSO ENJOY:
20 Trendy Winter Outfit Ideas To Keep You Warm
The Red Biker Jacket In My Wardrobe
3 Quick Tips To Successfully Style Vinyl Trousers
The Outfit You Need To Try: Cropped Sweatshirt & Tracksuit Pants