It's that time again! Yes, another skincare review from moi. The products I'm going to review today have been everywhere in the past couple of years. In case somehow you've missed the title and clicked the second you've seen my new post update, I'm talking about the La Roche-Posay Effaclar Duo + and the Anew Clinical Lift & Firm Eye Lift System. They've been hitting the beauty charts like Ariana Grande's new single Thank U, Next! I'm also going to be reviewing the La Roche-Posay Hydraphase Intense Eye Cream and the Avon Anew Lip Plumping Conditioner. If you're struggling with blemishes, acne, dehydrated dark circles and dry lips, then scroll on and pick your skin saviour!
La Roche-Posay Effaclar Duo +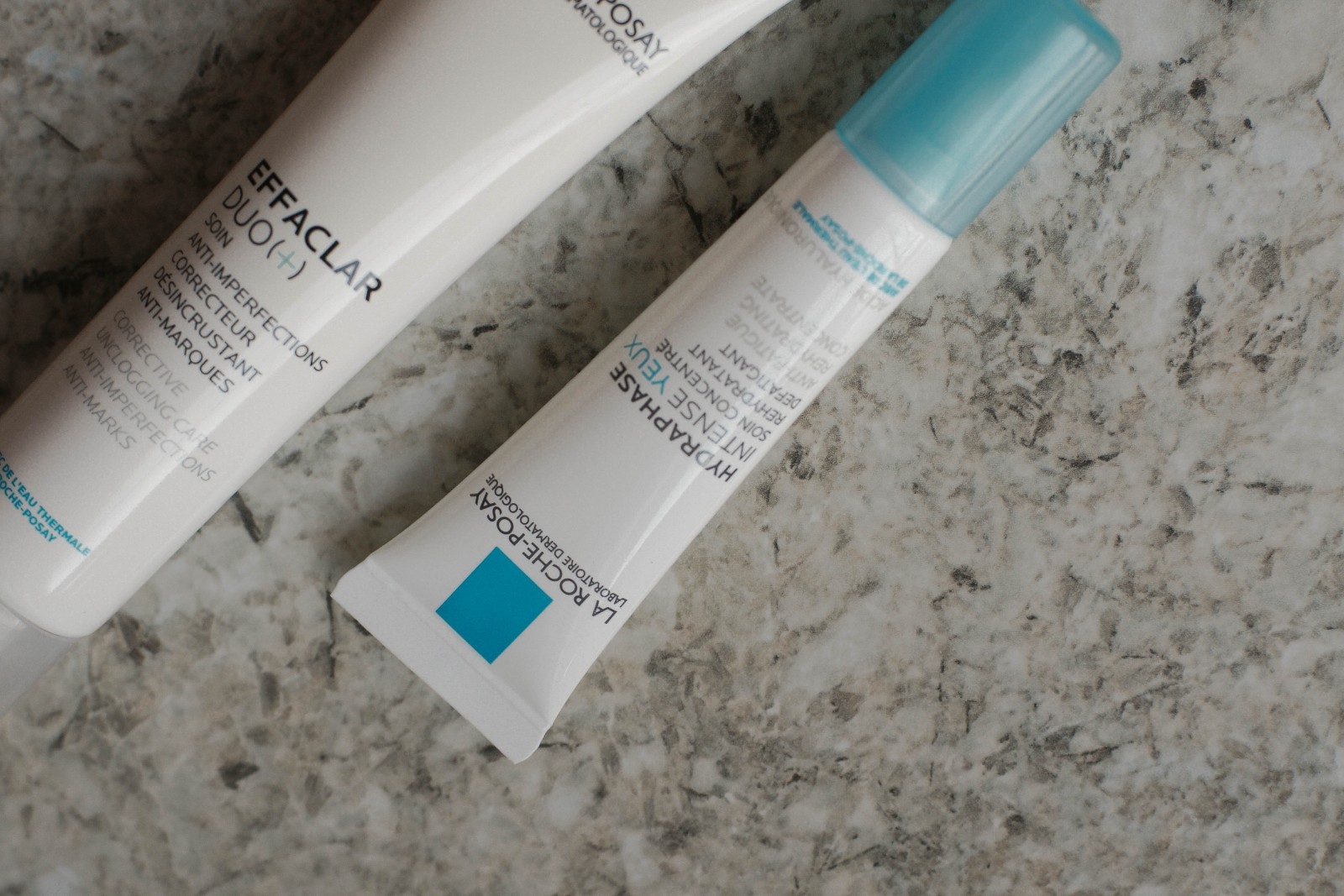 The La Roche-Posay Effaclar Duo + became a must-have a couple of years ago. Everyone with oily or blemish-prone skin was trying it out. Although my skin is far from oily, I read amazing reviews from customers with dry or combination skin who had very good results when using the Effaclar Duo. I was struggling with a couple of blemishes here and there, thus I thought I should give this moisturiser a try. On paper, the Effaclar is a dual action daily gel moisturiser that reduces the appearance of blemishes and blackheads. Moreover, it also claims that it controls shine and helps protect the skin from the causes of red and brown coloured marks that are often left by sun exposure. Furthermore, it hydrates your skin for 24 hours. Hypoallergenic, the La Roche-Posay Effaclar Duo + is suitable for use on even the most sensitive skin. The Effaclar Duo is packed with Niacinamide to visibly reduce the appearance of spots, Lipo Hydroxy Acid and Salicylic Acid to unclog blocked pores and Zinc to control your skin's sebum and shine. The little bottle is also packed with Procerad to reduce the appearance of coloured marks and Glycerin to keep your skin hydrated throughout the day.
Now that you know what you're getting, let's move on to the review. When I first tried the Effaclar Duo it dried my skin a little bit. Considering the fact that this moisturiser is suitable for oily skin, I thought this was a normal effect. It was nothing a bit of rich moisturising cream couldn't fix. However, I didn't want to risk drying my skin during the day, thus I stuck to applying it during the evenings, before going to bed. It really took a couple of days before I saw a massive improvement on my blemishes. Weeks passed and my skin was indeed becoming clearer! Over time I found it works better if I only apply it to specific blemish-prone areas, as I didn't like the dry feeling on my skin. Ignoring that, I would really recommend the La Roche-Posay Effaclar Duo +. I can only imagine what it would do for oily skin types but it definitely helped my dry skin to get clearer!
La Roche-Posay Hydraphase Intense Eye Cream
After my success with the Effaclar Duo, I quickly decided to try another product from La Roche-Posay. This time I went for the Hydraphase Intense Eye Cream. I was in a desperate need of a good new eye cream as my DHC Eye Bright was nearly gone and I wanted to try something new. Specifically formulated for sensitive and dehydrated eye contours, the Hydraphase Intense Eye Cream supposedly reduces the appearance of under-eye circles and eyelid puffiness. The cream is enriched with hyaluronic acid combined with caffeine. It also contains high concentrations of La Roche-Posay Thermal Spring Water to intensely rehydrate and reduce the appearance of puffiness. It is 100% hypoallergenic, thus suitable for those prone to allergic reactions.
The first time I tried the La Roche-Posay Hydraphase Intense Eye Cream was in the morning. It felt very hydrating and had a slight cool effect which I really like, especially in the morning, before that hot cup of coffee starts to do its job. Sadly, there is only so much to say. I didn't see or feel any improvements during the morning. Yes, the eye cream felt hydrating but didn't look like it hydrated my under eye area at all. Saddened, to say the least, I didn't give up on this one. I applied the cream again before going to bed and surprise-surprise I did wake up with a brighter look! I kept experimenting with day and night applications until I was ultimately convinced that it does a better job overnight. It is light and absorbs quickly, thus there is no tacky feeling. It won't do miracles, but the La Roche-Posay Hydraphase Intense Eye Cream is a lovely hydrating eye cream with no parabens that feels good on the skin and I would get it again when I need a break from my usual eye creams.
Avon Anew Clinical Lift & Firm Eye Lift System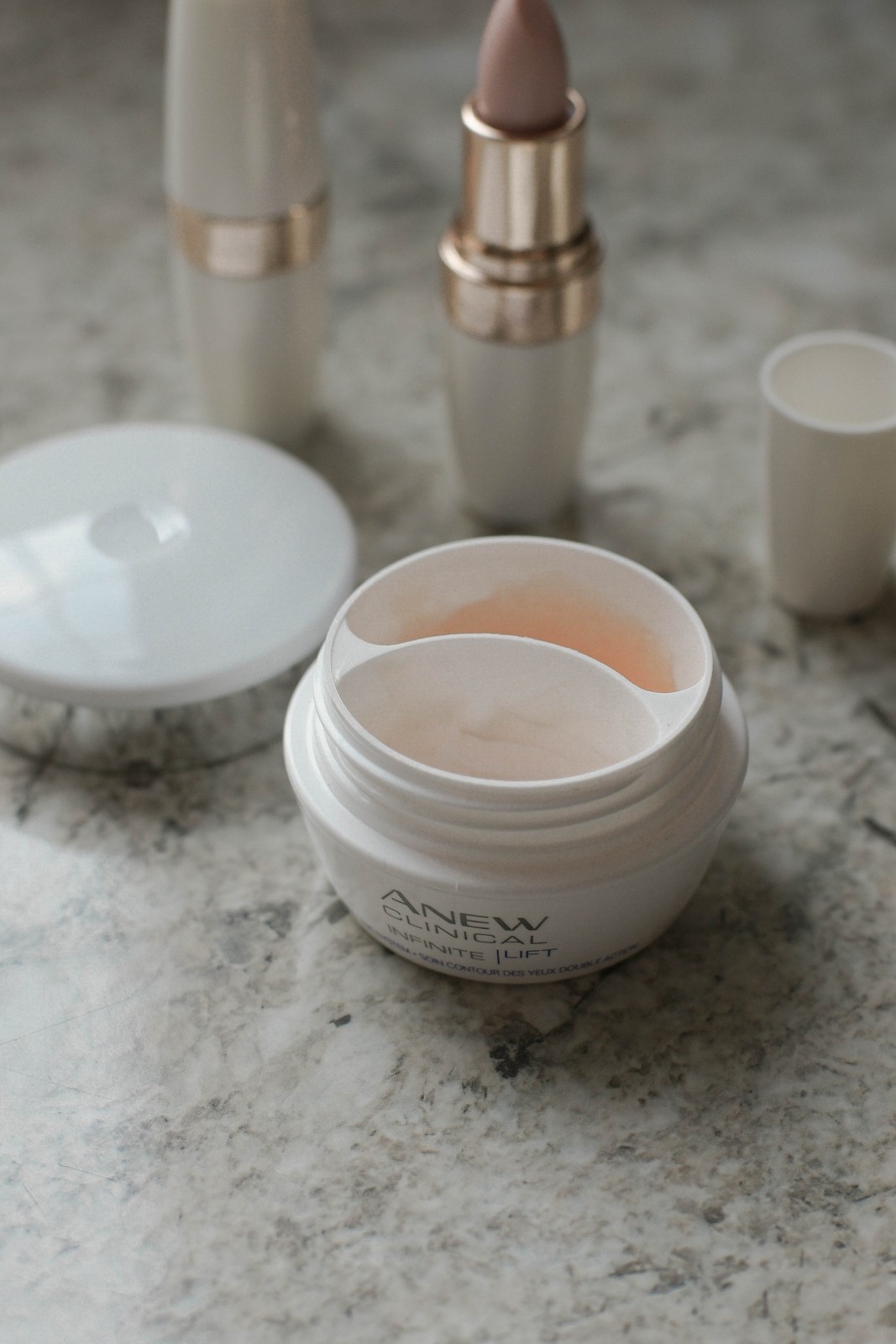 The Avon Anew Clinical Lift & Firm Eye Lift System is Avon's best-selling and award-winning eye cream, people! Formulated with amino acids and Polypeptide Lift Complex, it claims an instantly lifted and, over time, more youthful look. The Eye Lift System features an Upper Eye & Brow Bone Gel infused with Arginine which helps blood vessels relax and also improves circulation. You also get an Under Eye Cream with Derma-Refine Technology for your under eye area. The first cream will tighten your upper eye, while the second eye cream will instantly hydrate your under eyes for a refreshed glow.
I was very excited to try out this cream! The second hydrating cream didn't excite me much but the hope of a lifted eyebrow was taking the better of me. My eyelids are very puffy and droopy, thus I was really hoping that the Brow Bone Gel would do some sort of magic. On the first try, the gel feels hydrating and has a cooling effect. It takes a couple of minutes to dry but it really does give your eyes a slight lift. A barely-there lift, but in my case, it is quite noticeable! Over time, I even saw a massive permanent improvement. Unfortunately, in the name of science and beauty, I stopped using it for two months. I wanted to see how long the effect would last for. Huge mistake, as I went back to square one. However, I'm using the gel once again and I'm never stopping it! The Under Eye Cream, on the other hand, feels good and moisturising. I can't say if works for fine lines but it does a good moisturising job. The only downside – I wouldn't recommend using it in the morning as it doesn't absorb quickly and you'll have problems with your makeup application. Overall, I would get the Avon Anew Clinical Lift & Firm Eye Lift System just for the Eyebrow Gel!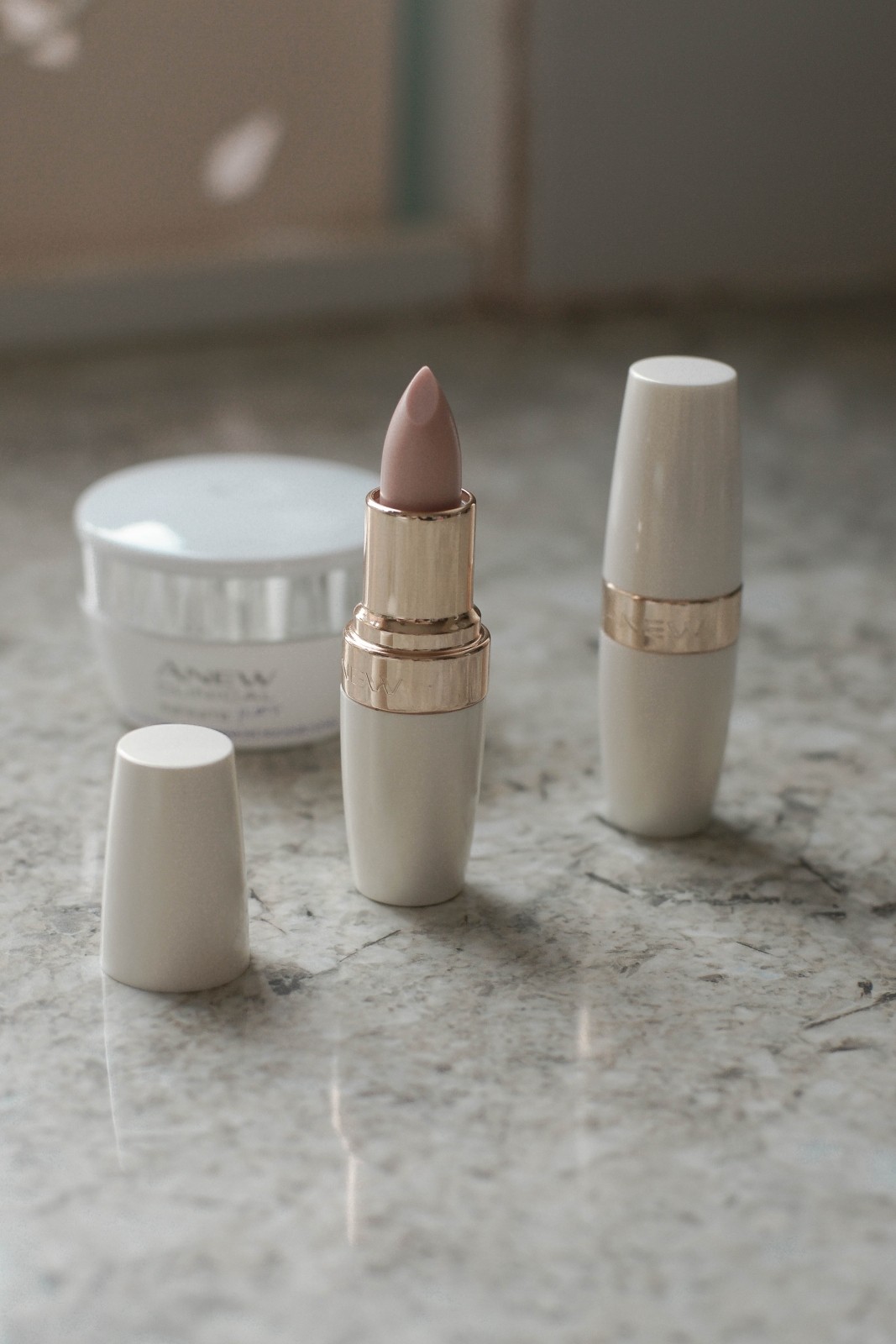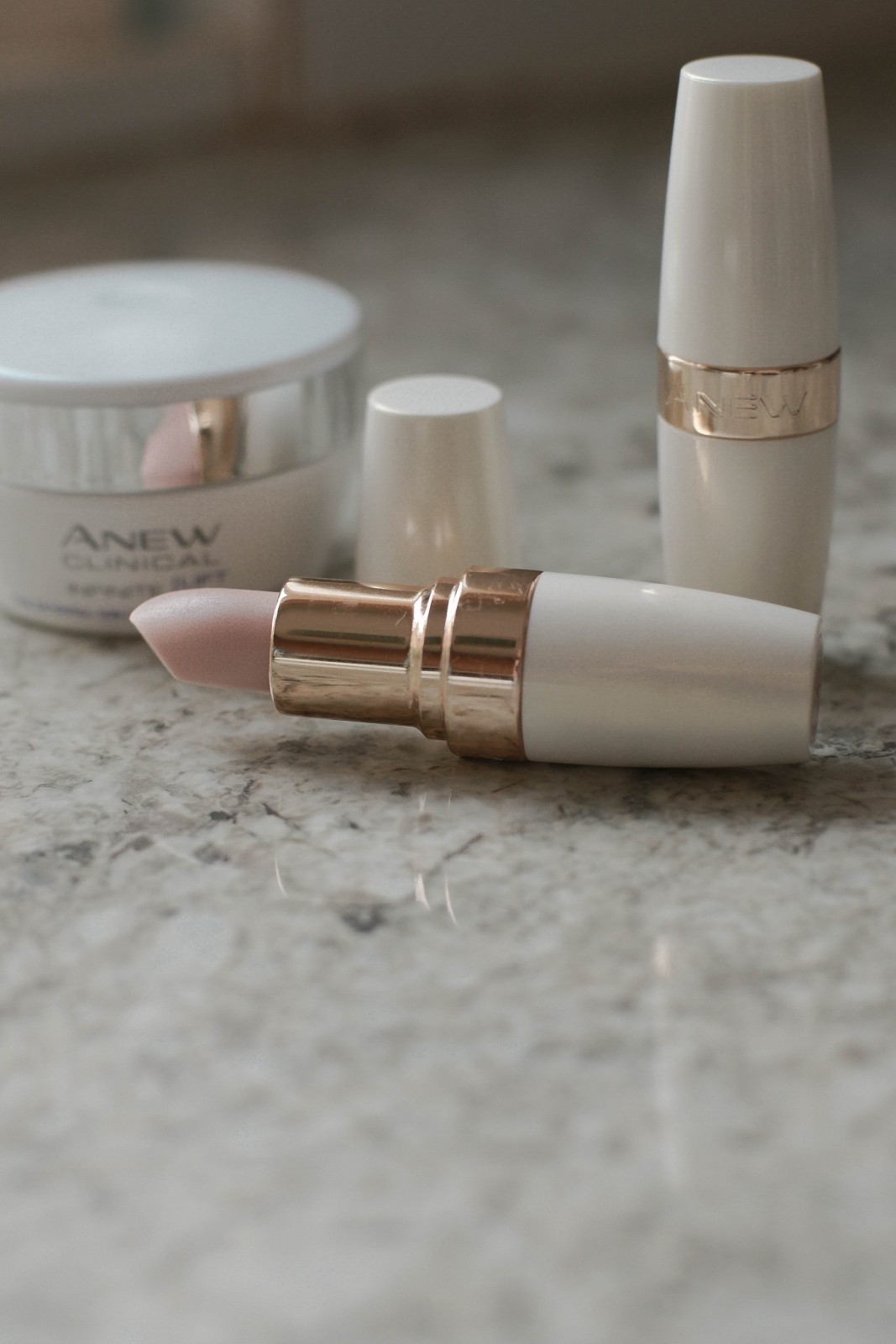 Avon Anew Lip Plumping Conditioner
The Avon Anew Lip Plumping Conditioner is another great product from Avon! I wouldn't usually write about it in the skincare category but I wouldn't put it in the makeup one either. Although it says it is colourless, it does have a slight pearl pinkish tint. It contains plumping retinol and collagen for fuller-looking lips. Moreover, it has SPF15 to protect your lips from sun exposure! Let me just say – it is an amazing product! So amazing that I got three of these Lip Plumping Conditioners! It really does moisturise and plump your lips. However, I find it to be quite thick in texture and feel. Also, my lips don't absorb it – it rather stays on them like a thick layer. Personally, I don't like this feeling, thus I've been using the Avon Anew Lip Plumping Conditioner only in the evening before going to bed. In the morning I wake up with plumped, moisturised lips!
Have you tried any of these products before?
Psst! Check out the skincare category for more product reviews!
YOU MIGHT ALSO ENJOY:
DHC Face Wash Powder & DHC Eye Bright Review
L'Oréal Favourites: Smooth Sugars Scrub, Pure Clay Wash & More
Vichy Products: Liftactiv, Masque Peel, Nutrilogie, Aqualia Thermal