On 10th August the social media, reality star and absolutely successful businesswoman Kylie Jenner turned 22! Most folks out there will probably go out with their family and friends and enjoy a nice evening with some booze and cake. I think I spent my 22nd birthday with my then-boyfriend in my room with a bottle of wine.
Kylie Jenner did more or less the same – gathered her family and friends and celebrated her birthday. Instead of going to a club or the local pub, though, Kylie decided to celebrate her 22 on the 300-foot mega yacht Tranquility! Yep, she took her boyfriend Travis Scott, her baby Stormi, family, and friends to South of France. Apart from all of the lavish booze and food, Kylie's wardrobe also hit the headlines!
In today's post, I'm going to help you get Kylie Jenner's 22nd birthday wardrobe! Not only I'll try finding all of the designer clothes she wore but I'll also attempt to give you some affordable alternatives!
The Hot Pink Feathered Dress
The first outfit Kylie 'threw on' to kick-off her 22nd birthday was a hot pink feathered dress, matched with neon green shades and a diamond necklace, gifted by her boyfriend Travis Scott. The diamond accessory had the iconic lip logo, paying homage to Kylie's multi-million-dollar company – Kylie Cosmetics!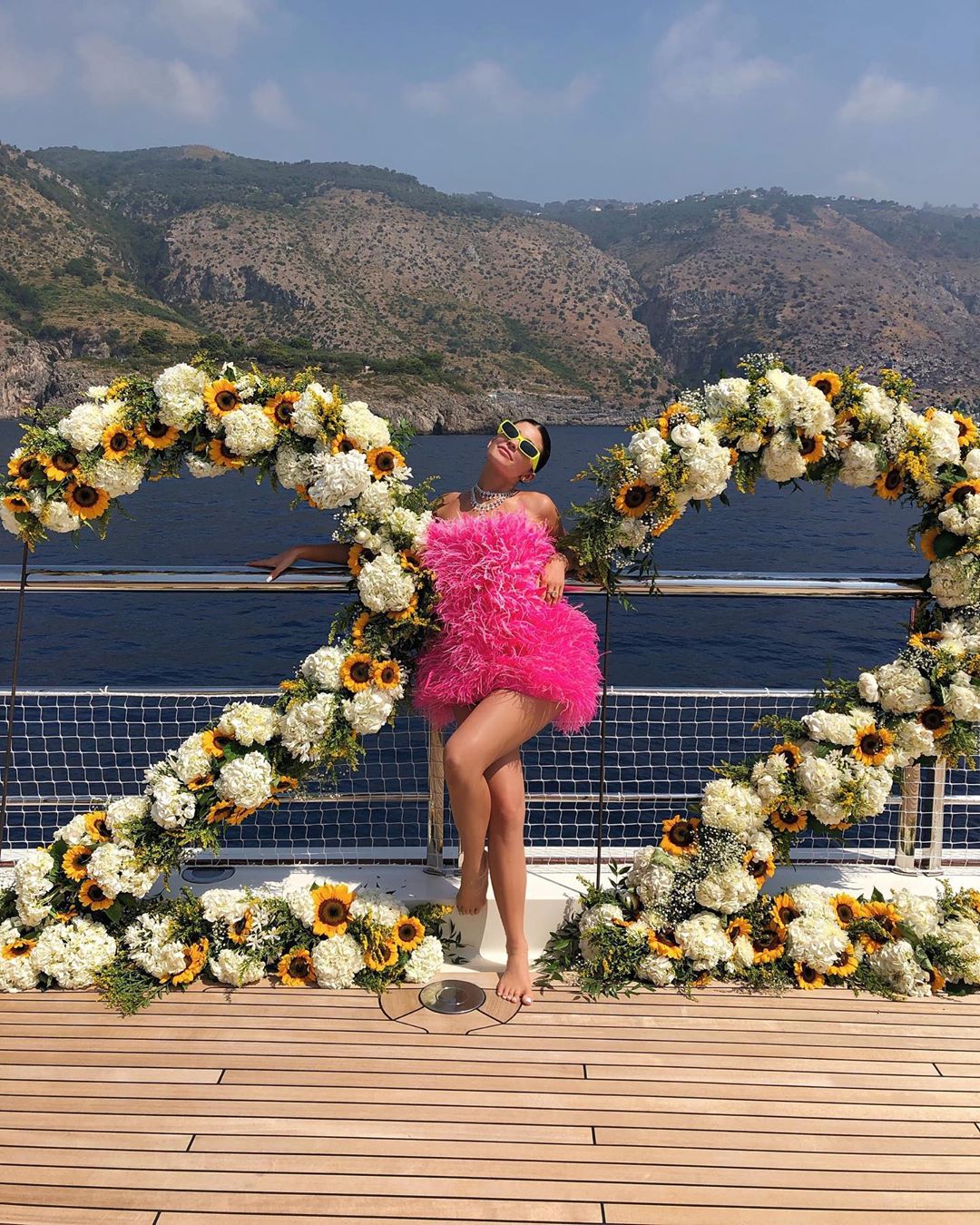 SOURCE: KYLIE JENNER INSTAGRAM
This gorgeous feather-trimmed pink dress comes from The Attico and will cost you nearly $4,000! This was the first outfit, part of Kylie Jenner's 22nd birthday wardrobe. The vibrant pink dress is adorned with ostrich plumes for a head-turning finish. The style has a rather simple silhouette. Strapless and thigh-skimming, the feather details take precedence.
Unfortunately, I couldn't find anything similar that wouldn't cost 'an arm and a leg'. There is this Black Feather Skirt Bodycon Dress from Pretty Little Thing, yet it is not all-fluffy nor pink. Moreover, it is super fitted, featuring a sheer long-sleeved bodycon style top and a feather skirt.
Otherwise, if you have a couple of thousand in your bank account and are looking to spend then on an Attico feather dress, then you have three more options! If pink is not your color, go for this cobalt-blue mini dress or this gold bow-embellished feather option.
SHOP MORE ATTICO DRESSES

The White Striped Shirt Dress
Thanks to the little Jacquemus white leather belt bag, I figured out that the oversized striped shirt dress might be the same brand! Luckily, I was right. Sadly, however, it is sold out everywhere. I did find it with 70% off here – you can get it for just under $150, yet the website looks quite dodgy.
SOURCE: KYLIE JENNER INSTAGRAM
Although I wasn't able to find something similar, Nordstrom offers plenty of striped shirt dresses for as little as $50! There are white, blue and more colorful options right here. Furthermore, you can choose from a variety of lengths – mini, midi and maxi striped dresses. With a belt or no belt, the choice is yours. Either way, you won't regret getting one of these gorgeous shirtdresses. They are perfect for the summer season and you can wear with trainers, sandals, flat – literally everything!
SHOP MORE STRIPED SHIRTDRESSES

The Blue Ruched Mini Dress
Also part of Kylie Jenner's 22nd birthday wardrobe is this blue denim ruched dress by TLZL Femme. Moreover, little Stormi matched her mom's style with a similar blue ruched dress. Surprisingly, this dress will cost you only $175! However, it's made to order, thus you need to complete a form with your measurements. This curve-enhancing ruched style mini dress also features ruched detailing front to back. Furthermore, the ruched sleeves can be worn on or off the shoulder.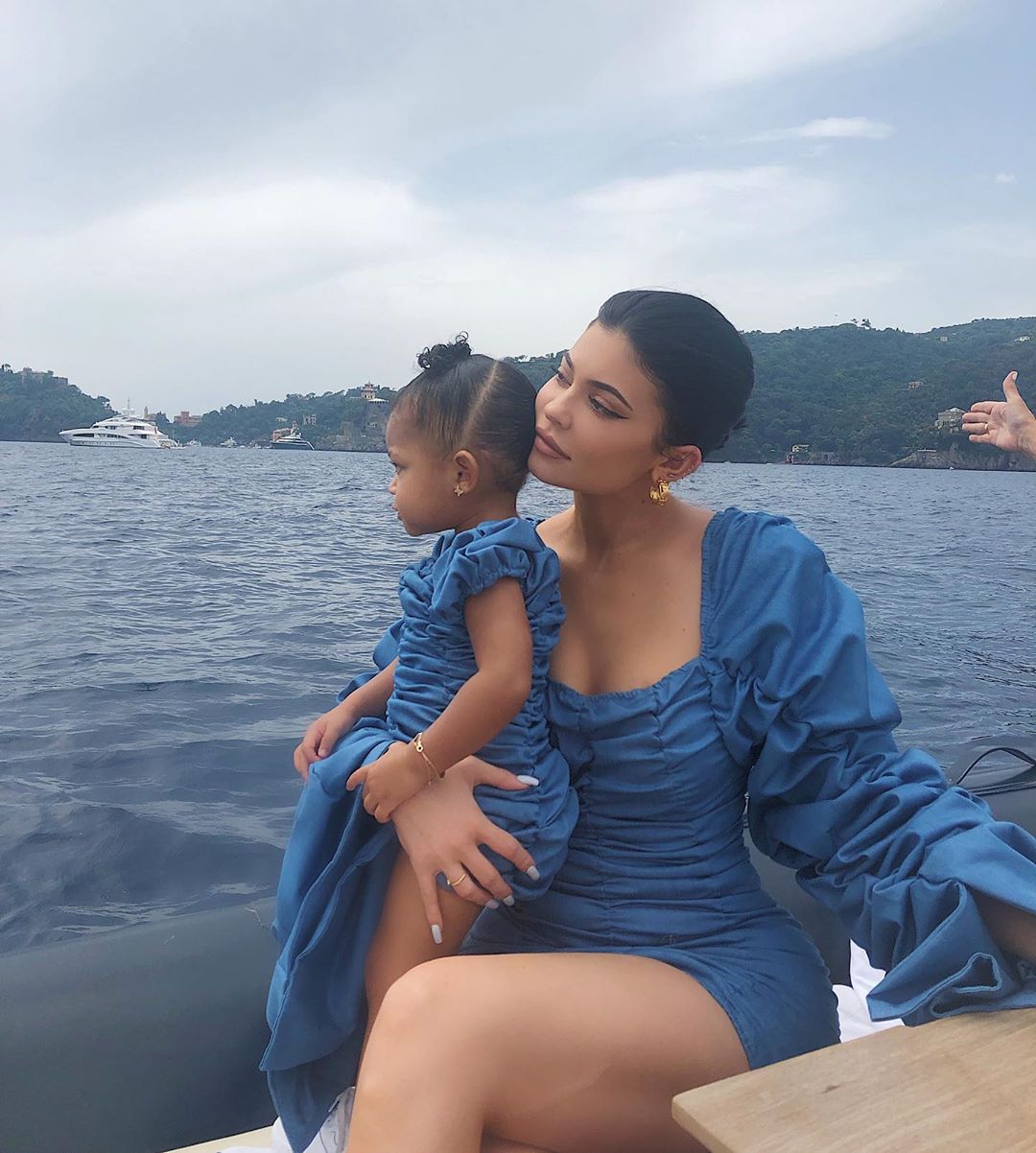 SOURCE: KYLIE JENNER INSTAGRAM
Needless to say, I failed to find anything similar to the gorgeous blue dress. Yet, I did come across a couple of cute ruffled designs. This Puff Sleeve Ruched Mini Dress, for instance, is under $20. The white color is perfect for your next trip to Italy or France!
SHOP MORE RUCHED DRESSES

The Floral Corset Dress
Kylie Jenner's 22nd birthday wardrobe also featured this Duygu Ay floral corset dress.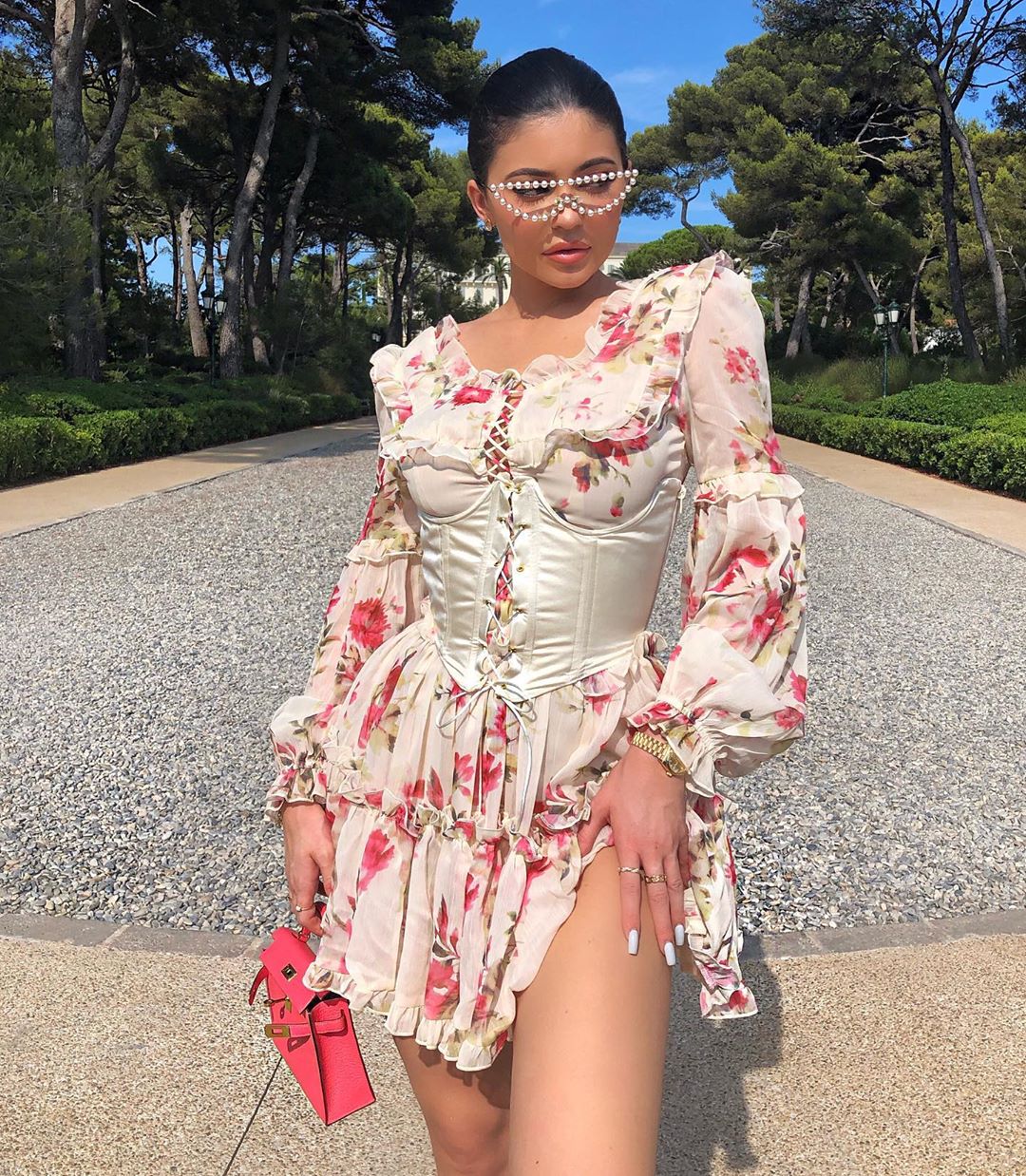 SOURCE: KYLIE JENNER INSTAGRAM
For just $529 you can get this asymmetrical ruffle and hem detail silk corset dress. Kylie upped her corset style with a pair of Gucci shades and Hermes Kelly bag. Unfortunately, I couldn't find anything similar, thus you'll have to spend those $529 if you really want to own this birthday outfit!
The Versace Crop Top & Skirt
Part of Kylie Jenner's 22nd birthday wardrobe is also this Versace set! It's an absolutely new Versace collection featuring a Voyage Barocco Print Pleated Skirt and a matching Print Bralette. The high waisted, pleated twill midi skirt and bralette are in the Voyage Barocco print – inspired by a theme of travel and the meeting of Milan and New York. You can get this whole set for just under $2,000 from the designer's website.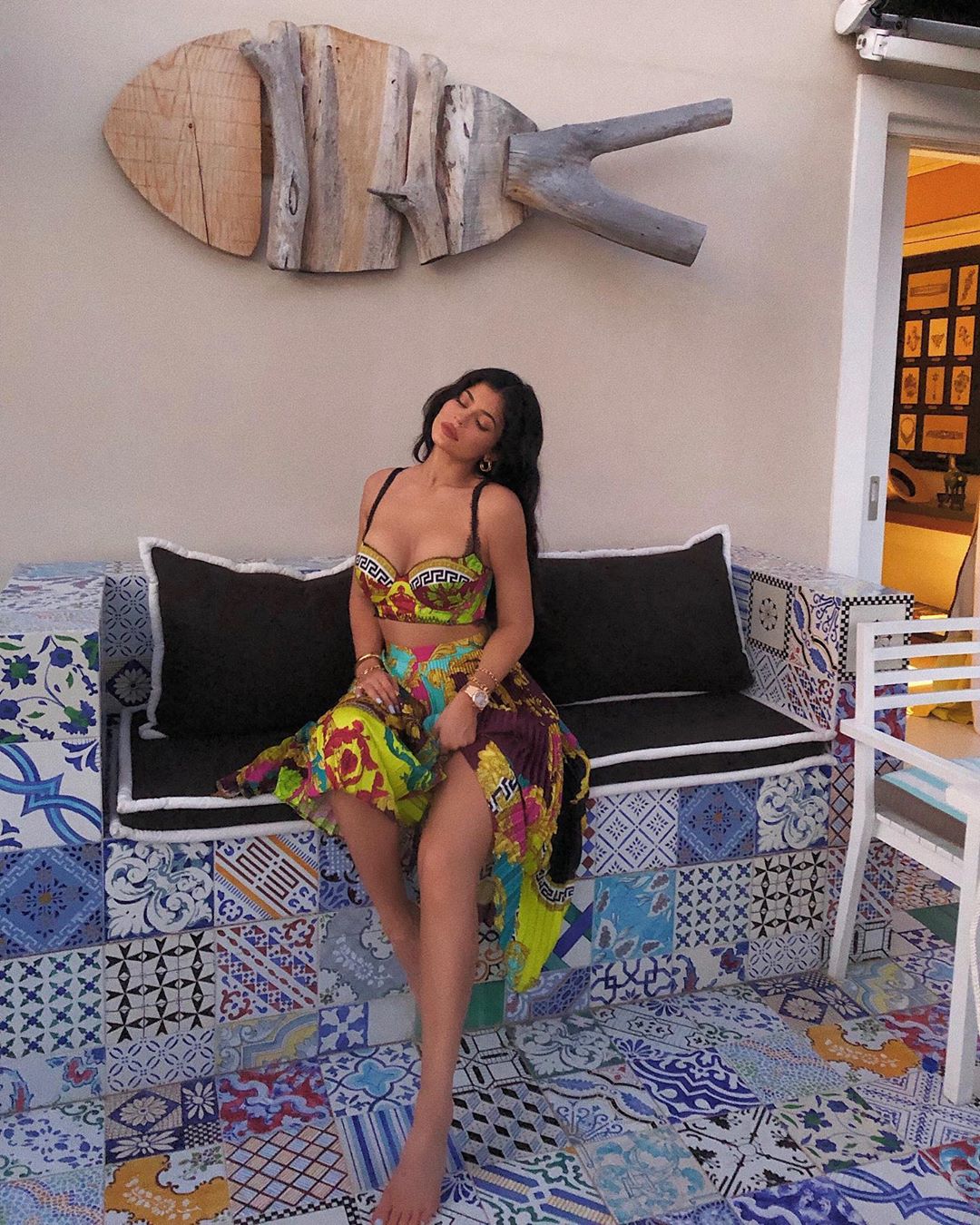 SOURCE: KYLIE JENNER INSTAGRAM
For half the price ($510!), you can get this Uni pleated printed crepe de chine midi skirt Mary Katrantzou. No matching crop top, but, hey, it is still something. Also, for under $20, you can get this pleated skirt in bottle green print by Stradivarius. It certainly has that Versace vibe, don't you think?
The Swimwear Collection
Needless to say, for her birthday week in France and Italy, Kylie had to bring a collection of swimwear!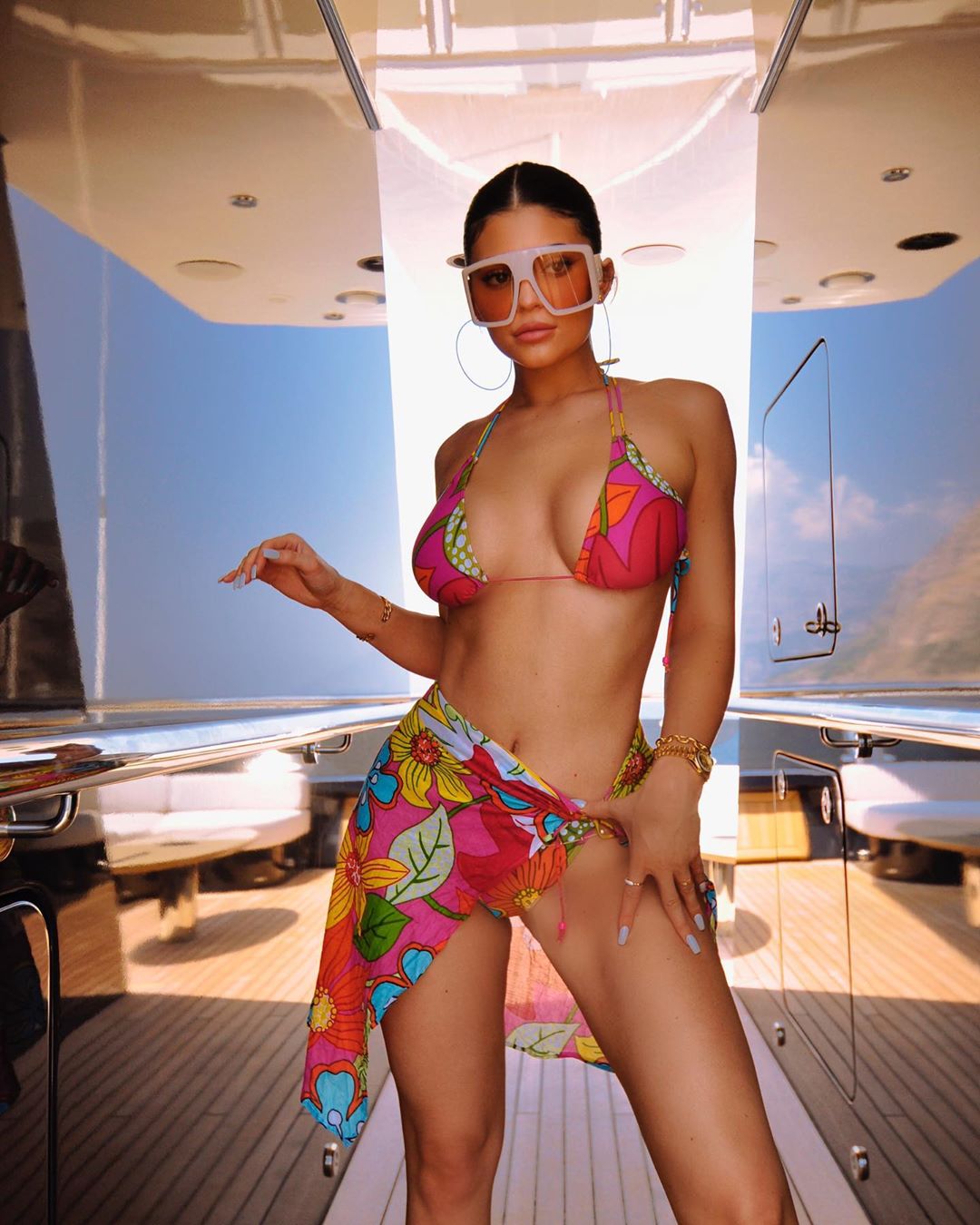 SOURCE: KYLIE JENNER INSTAGRAM
Firstly, she changed into a three-piece colorful tropical swim set by Dior! I couldn't find the exact print but this one also has that summer tropical vibe. If you're a fan of this print, then this affordable alternative by River Island might do the job!
Part of Kylie's swim-drobe was a two-piece blue Chanel bikini set. I couldn't find the exact one but this triangle bikini set by Matteau has the nice Chanel blue shade. Simple design, yet it will turn heads on the beach!
Kylie also wore a neon green cutout whole swimsuit. Unfortunately, I don't have the designer's name but I stumbled across a swimsuit in a similar neon green shade.
I'm guessing we haven't actually seen on Instagram every single outfit that Kylie wore for her birthday, yet, from what we've seen – there's plenty to drool over!
Which outfit of Kylie Jenner's 22nd birthday wardrobe is your favorite?
YOU MIGHT ALSO ENJOY:
Milan Fashion Week SS19 Highlights
London Fashion Week SS19 Highlights
Paris Fashion Week SS19 Highlights
New York Fashion Week SS19 Highlights