Talking about sisters' goals, Gigi and Bella Hadid certainly know how to throw a matching-outfit party! If you're not sure what I'm talking about – it's the duo's matching nude outfits at the 2019 MTV VMAs!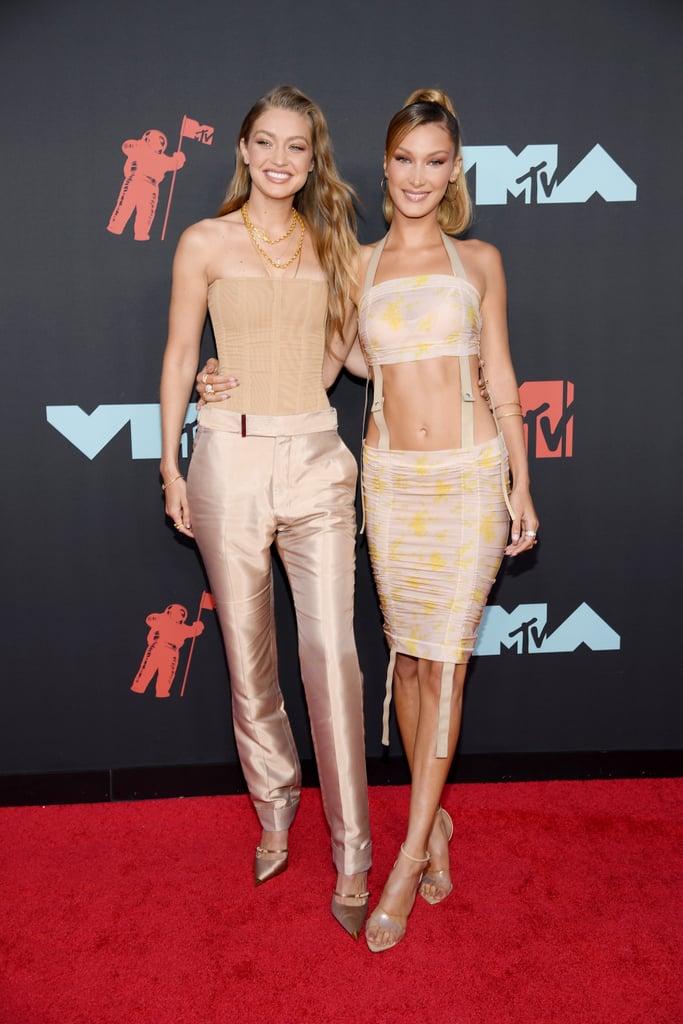 Image Source: Getty / Dimitrios Kambouris
This is the first time we've seen the famous sisters together since Bella Hadid went blonde. In case you don't remember, Bella was previously a brunette. However, that isn't her natural colour. The younger Hadid model has explained a number of times that she wants to differentiate herself from her older sister Gigi. Changing her natural blonde colour was a way to do that!
Now, that both Hadid sisters have blonde locks, they decided to complement their twining hair colours with matching outfits! The red carpet at the VMAs couldn't look more glamourous nor golden. Apart from the shine blonde looks, the outfits also took centre stage.
Ahead, get Gigi and Bella Hadid outfits at the VMAs!
P.S: As always, I've also tried to find some affordable alternatives.
If you're looking for more style tips and inspiration, check out the main fashion category!
Get Gigi Hadid's Nude Outfit At The VMAs
At the 2019 VMAs, Gigi Hadid wore a nude Sunniva Corset by Are You Am I with tan metallic pants by Tom Ford.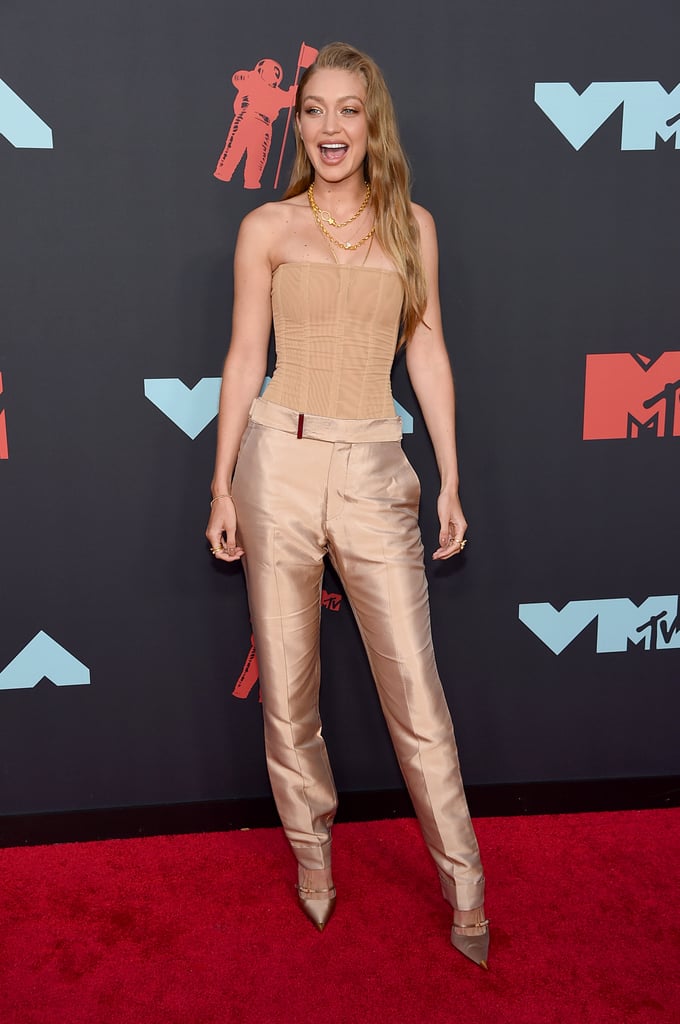 Image Source: Getty / Jamie McCarthy
The corset is currently selling at just under $75, unfortunately, it's sold out! That shouldn't be a shocker, considering the exposure on the red carpet. Something similar (but not as expensive!) is this stone ribbed bandeau bodysuit by Top Shop. A more revealing option is this camel basic jersey bandeau. Apart from a pair of metallic trousers, these tops are also perfect with skinny jeans!
Sadly, I couldn't find the exact same Tom Ford tan pants. However, I did find a silver version of the designer metallic trousers. They look exactly as Gigi's VMA's tan pair which troubles me as these are men's pants! Although not nude, these straight leg jeans in rose gold metallic pink cost $60.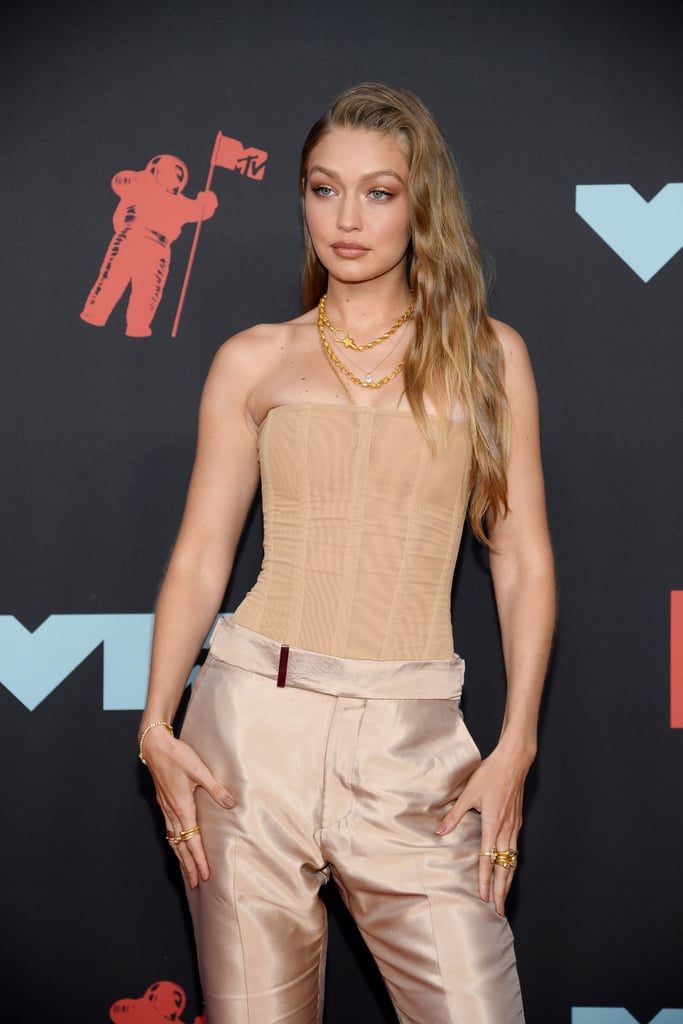 Image Source: Getty / Dimitrios Kambouris
Gigi Hadid's neutral outfit at the VMAs was also matched by the same shade pumps. Part of Tom Ford's collection, the Mary Jane pumps are satin-covered with a gold-tone cap and high heel. Unfortunately, I couldn't find an affordable version of these amazing pump. Yet, these pumps are currently selling with 30% off the price tag!
To give her look some extra shine, Gigi piled on gold chain necklaces. Furthermore, her makeup look was also within the neutral and gold tones. Her wavy hair gave a feminine touch to the boss-babe look!
Get Bella Hadid's Nude Outfit At The VMAs
Leaving aside the matching neutral tones and blonde locks, Bella's outfit at the VMAs was the complete opposite! Stepping out in a figure-fitting midi dress, the model bravely exposed her midriff.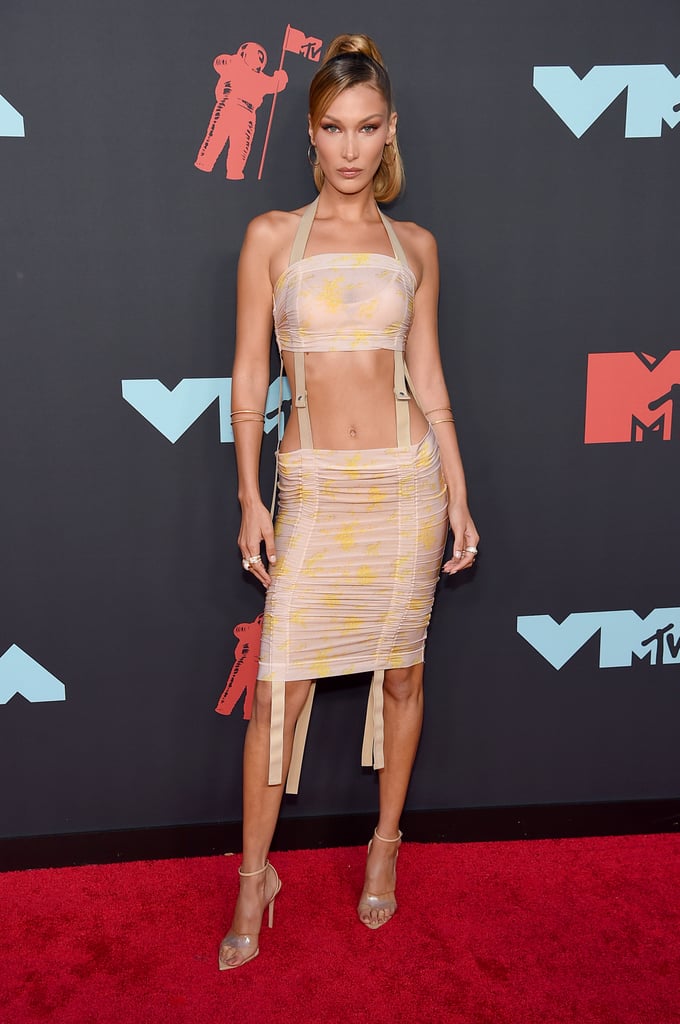 Image Source: Getty / Jamie McCarthy
The strappy revealing dress is designed by Charlotte Knowles. On a closer look, the straps seem to be removable. Thus, you can wear the dress as two separate items – top and skirt. To my huge disappointment, the designer is not selling her clothes anywhere at the moment!
Bella's VMAs outfit also features yellow flowers, so I found this completely different, yet cute sequin cut out mini dress in nude floral lace. The only common detail both dresses have is the exposed midriff section.
Unless Charlotte Knowles decides to make her design available to the public, there's nothing similar to this dress. The only thing a can suggest is to get something like this strappy top and bandage midi skirt co-ord set.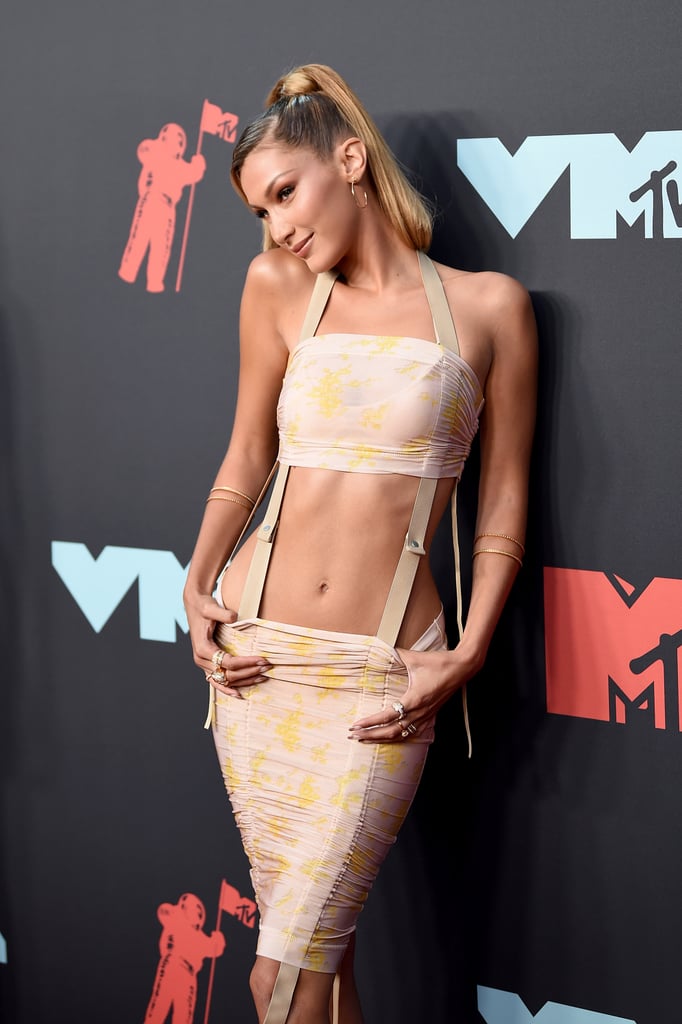 Image Source: Getty / Dimitrios Kambouris
To complement her look, the blonde model opted for PVC sandals. I couldn't find an exact match but Gianvito Rossi Plexi sandals have a similar design.
Unlike Gigi's beach waves, Bella opted for a soft ponytail and topped off her look with plenty of gold rings and a set of hoops.
Although I didn't find everything, I hope I did help you to get Gigi and Bella Hadid outfits at the VMAs!
Which one is your favourite?
YOU MIGHT ALSO ENJOY:
Get Kylie Jenner's 22nd Birthday Wardrobe
3 Must-Have Transitional Pieces For Fall
The Outfit You Need To Try: Cropped Sweatshirt & Tracksuit Pants